Sofa is the center of the living room, the heart of the space, where most of the situations happen. While choosing a perfect lounge, we can go with 'safe' options, choosing a universal one that will look good with most of the interior design styles. But the other option is to choose a colorful sofa that will be a 'queen' of the space, making a statement in the area.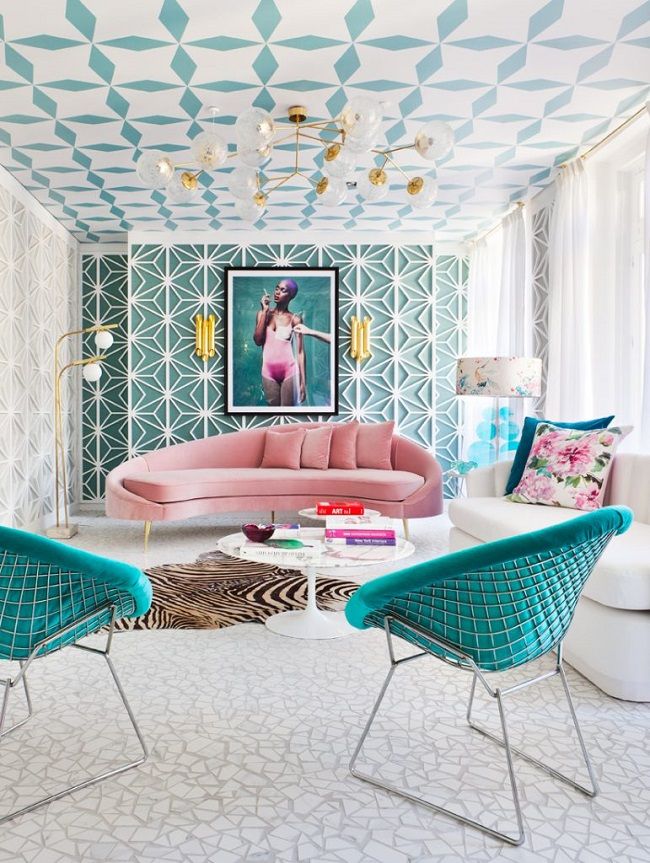 Colorful sofa designs are gaining popularity. They bring more fun and extravagant vibe into the interior while leaving space for luxury and functionality. You can choose from monochromatic sofas, in green, blue, sand or red tones, that will look both sophisticated and unique. But you can also go wild, turning your eyes into those in crazy patterns and textures. Hommes Studio presents a selection of some of the unique colorful sofa designs for your next living room project inspiration.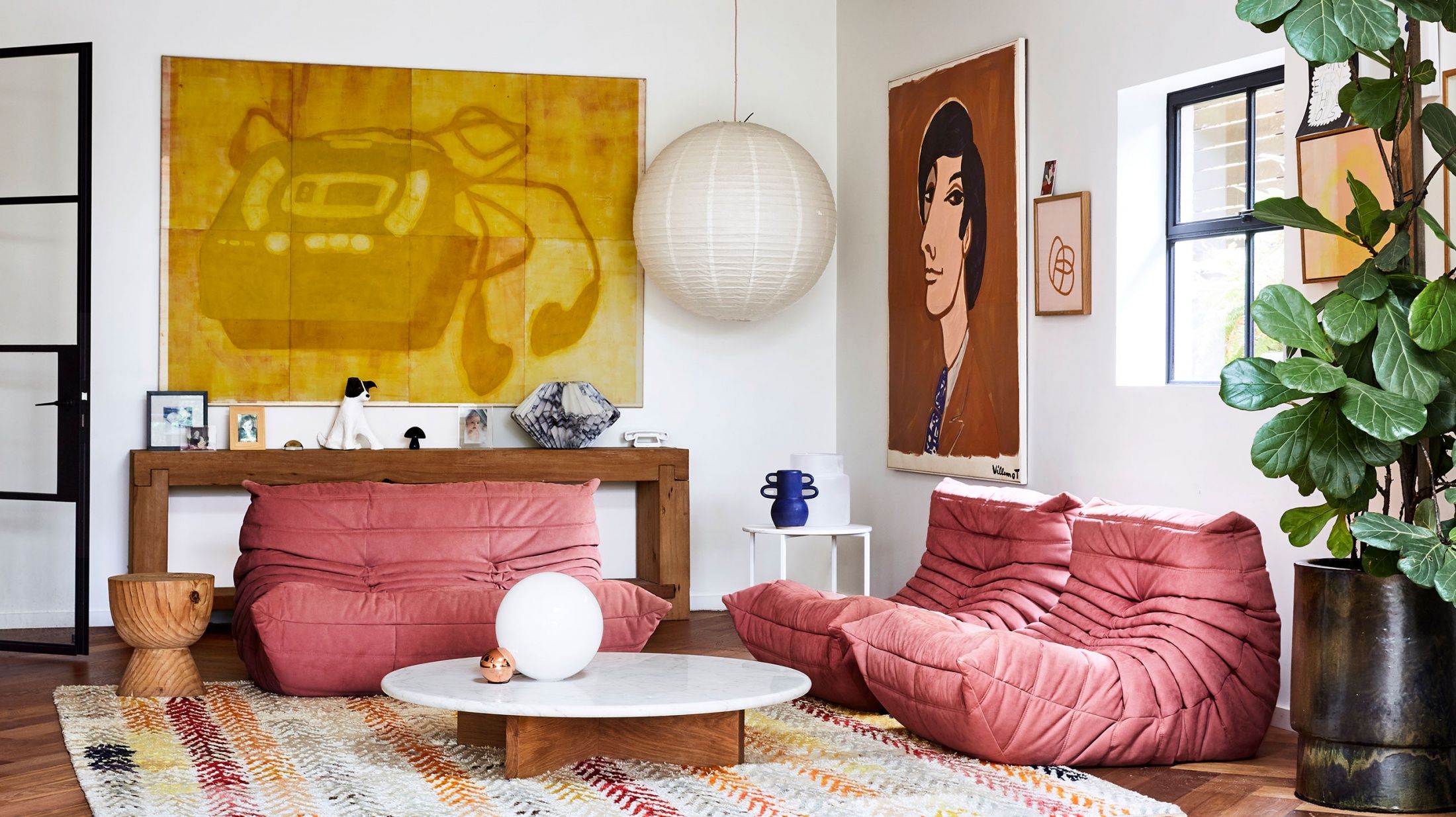 Keep it trendy with Pantone 2020 Ocean Blue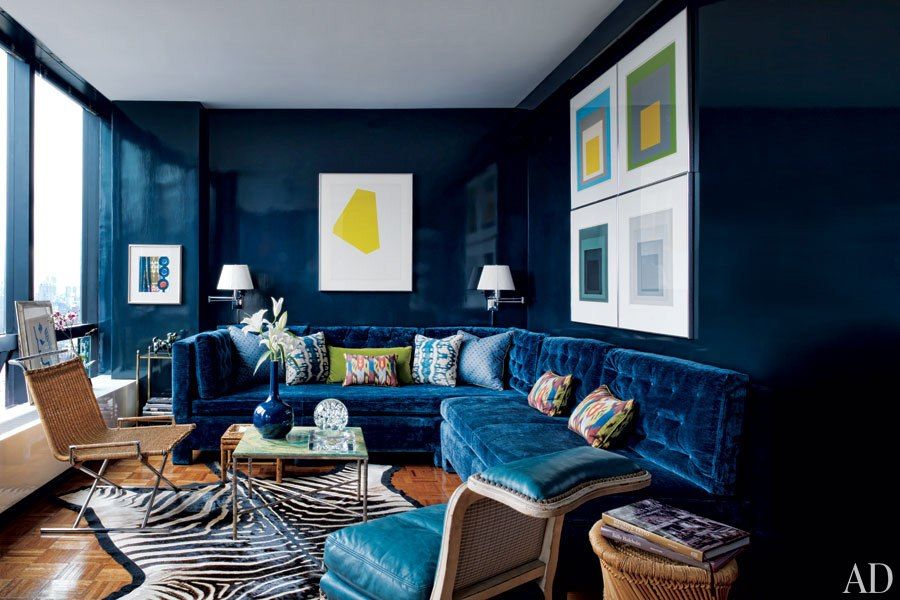 Image Source: ArchitecturalDigest
The winner of Pantone 2020, Classic Blue, is described as "communication, introspection and clarity". According to experts in chromotherapy: blue – from classic blue to night blue – symbolizes breathing, space, relaxation. No wonder that this year so many people chose shades of blue for their living room sofa, as it is a perfect invitation for relaxation!
Check out Memphis colorful sofa designs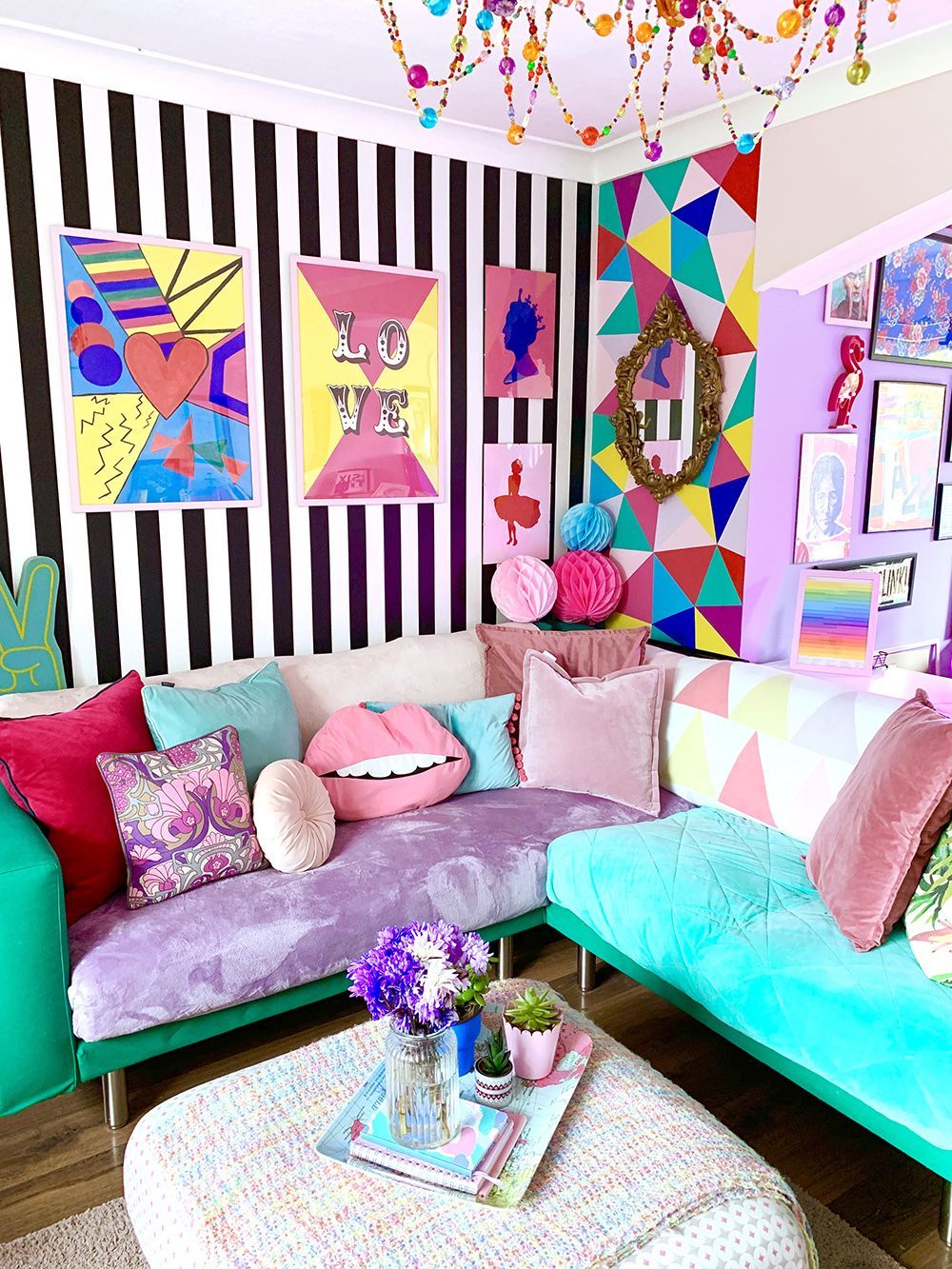 Memphis interior design style, once looked up as a kitch, now comes back to glory. Bold colors, geometric shapes, wild textures, colorful sofa designs, this is what makes this style unique. If you're looking for a true revolution in your living room, this is the way to go!
Chic and classy mix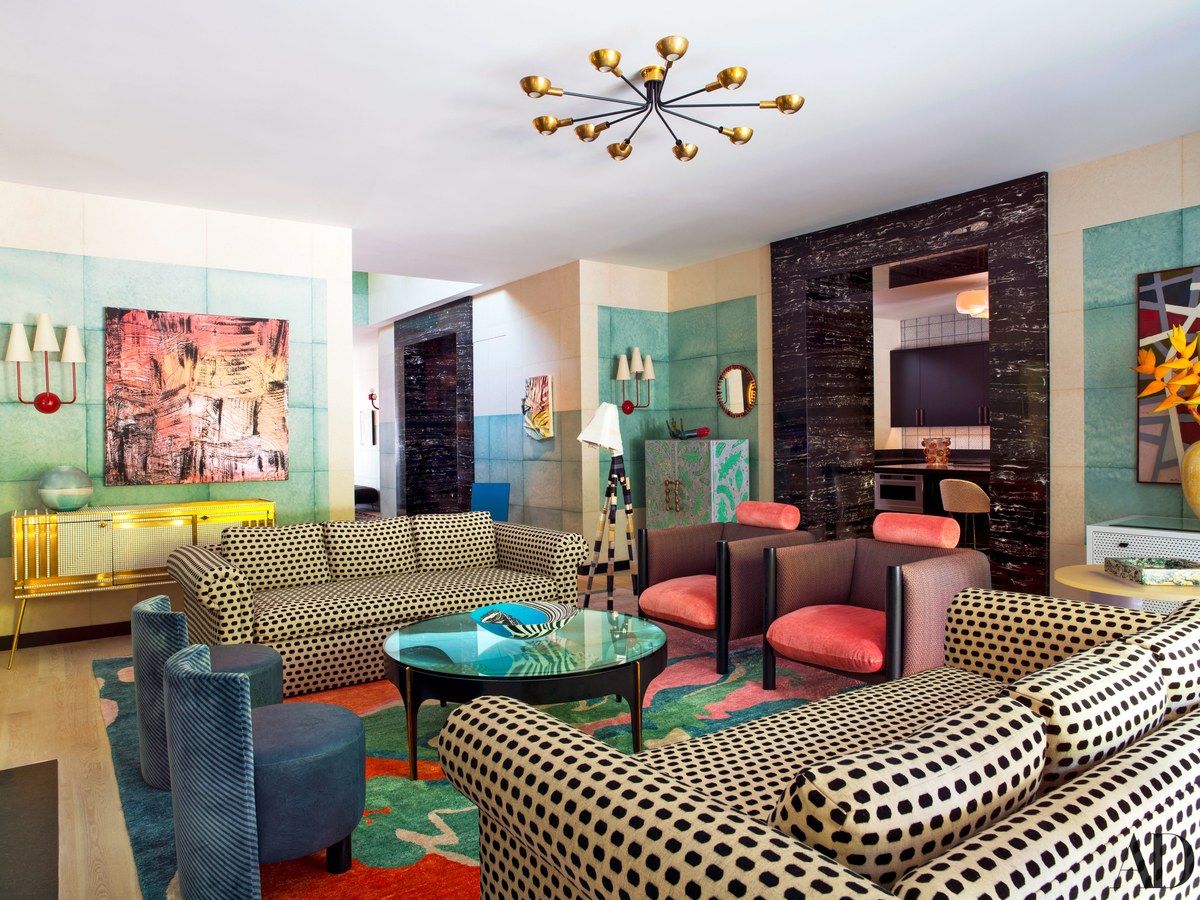 Image Source: ArchitecturalDigest
This amazing living room project by Kelly Wearstler stole our hearts. Boosting with colors, patterns and life, this interior looks very unique and luxurious. Although there are so many colors in this area, the designer was not afraid to use black and white dotted lounges, that perfectly complement this amazing whole.
Royal greens colorful sofa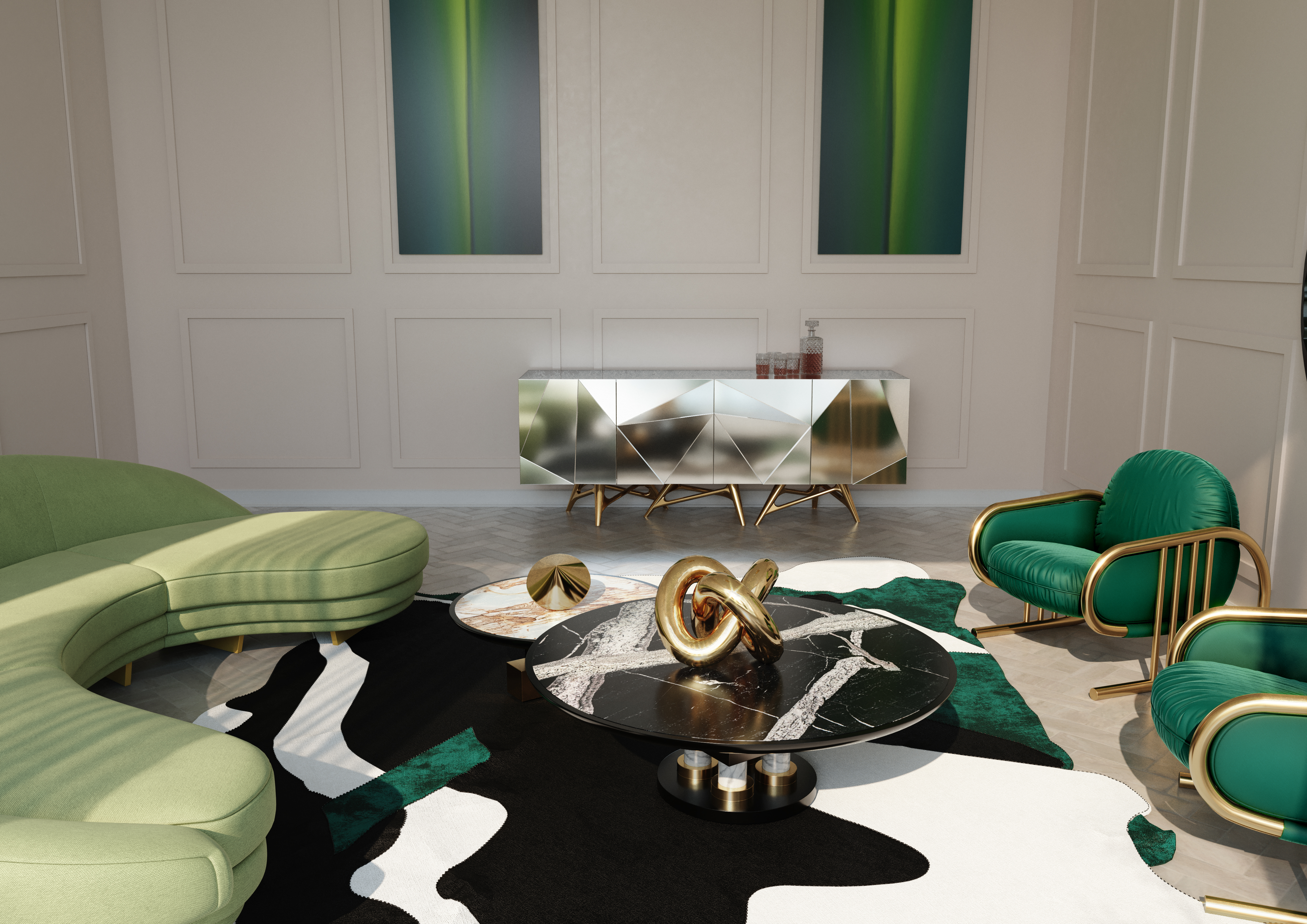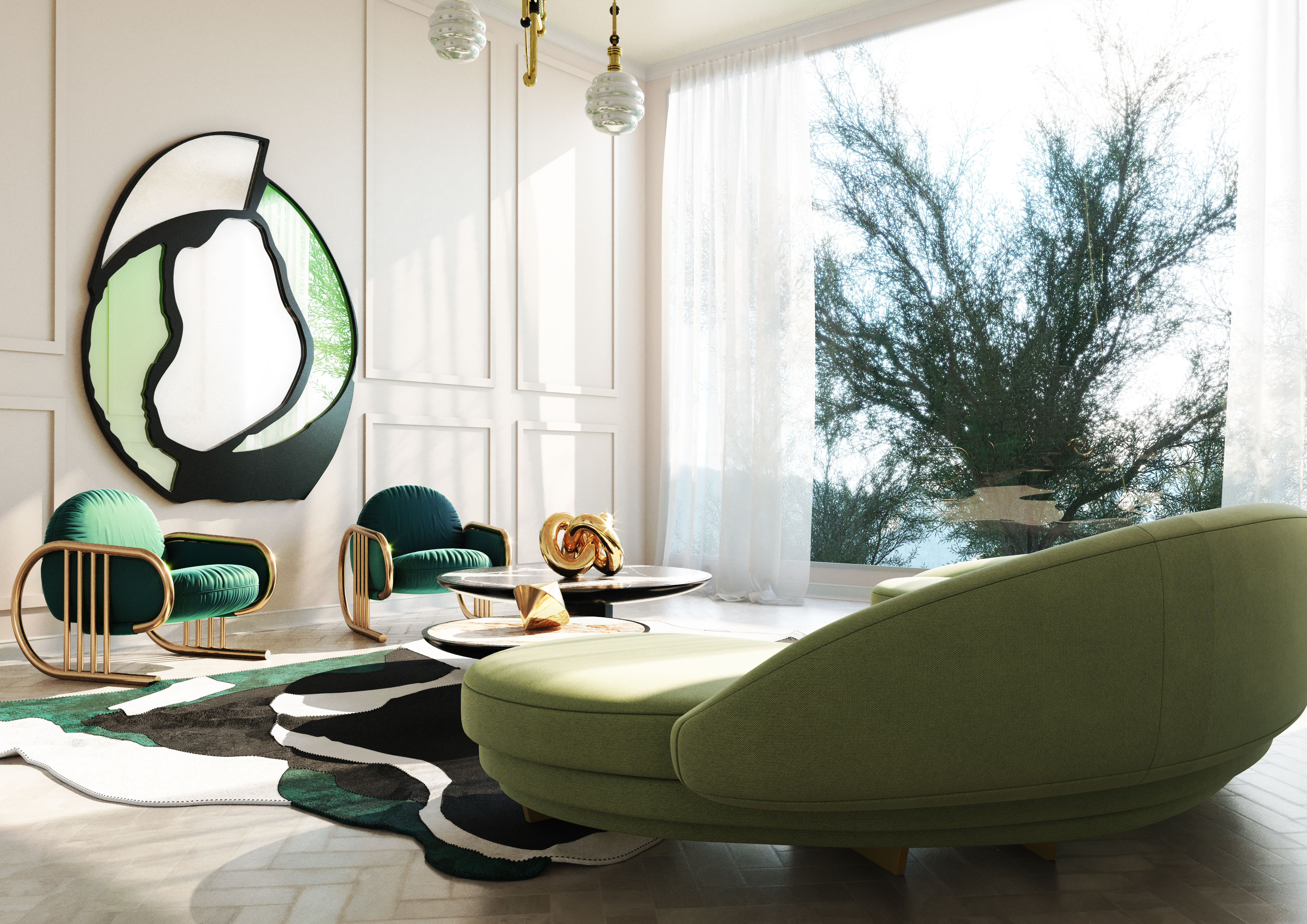 The green hues of this remarkable design set evoke an immersive experience with the peaceful natural scenario. This connection is rediscovered through green details, textures and patterns. A pastel green sofa perfectly complements the set, while a shiny luxurious sideboard add glamorous touch to the interior.
Combine bold colors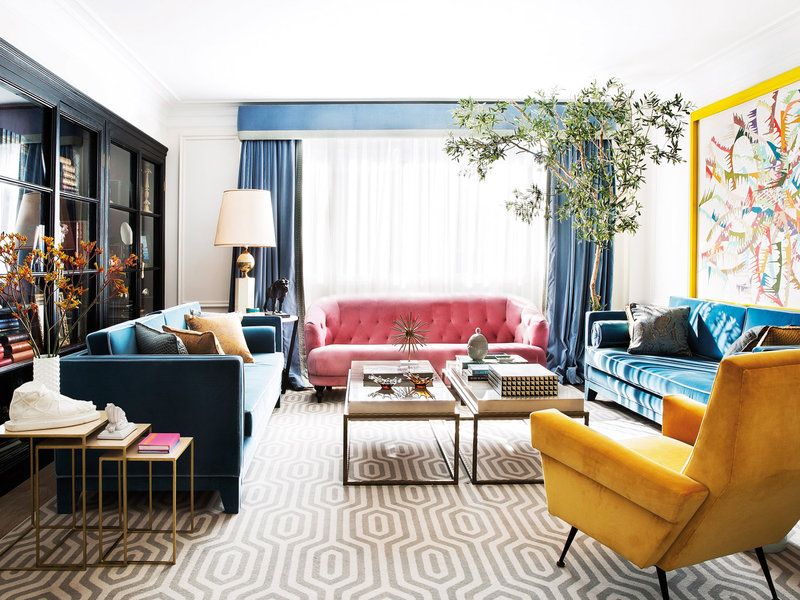 This diverse and daring living room area designed by Spanish designer Jean Porshe spreads joy and dynamism. It's not only because of the good use of tones, but also thanks to a fantastic mixture of modernism and baroque pieces. This great choice of bold colors for the lounges create an intriguing space welcoming guests with energy and harmony.
Go maximalist!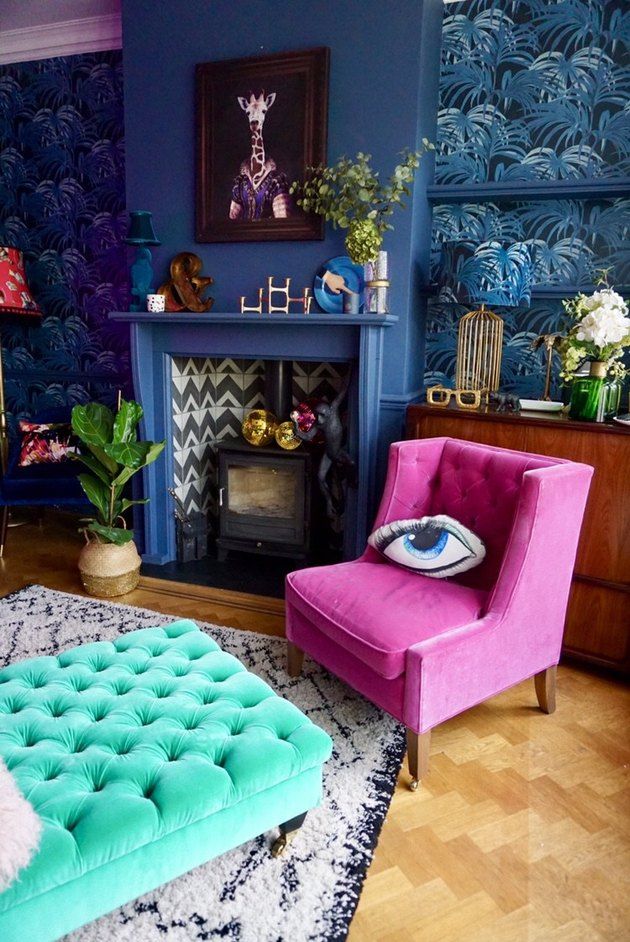 Minimalism – from interior design, through fashion, to lifestyle – has managed to achieve cult status over the last decade. But for the past years it's slowly been going out of style. People started looking for more bold and extravagant solutions. Maximalist – with its loud and chaotic features, is now experiencing its five minutes!
Calming sky blues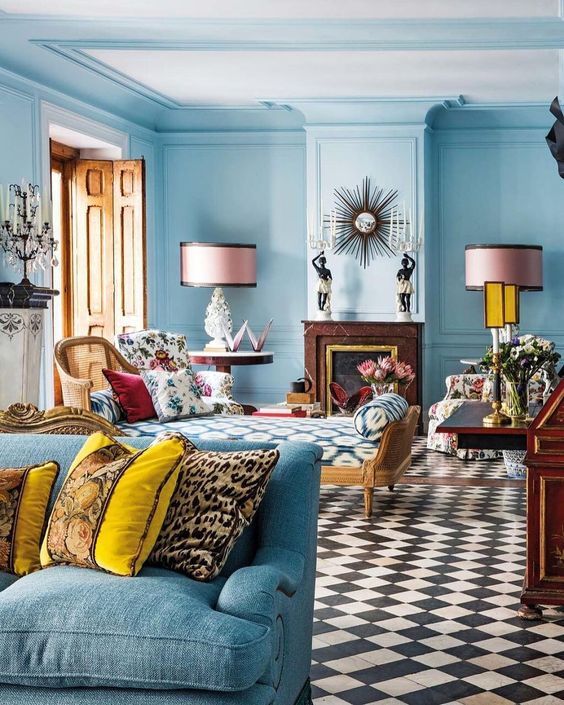 This charming blue living room design brings warm feelings of summer blue sky and sea. It brings an impression of peace, freedom and freshness. If you are looking for some calming space to relax after work, a blue couch will definitely be a great choice!
Mid-century elegance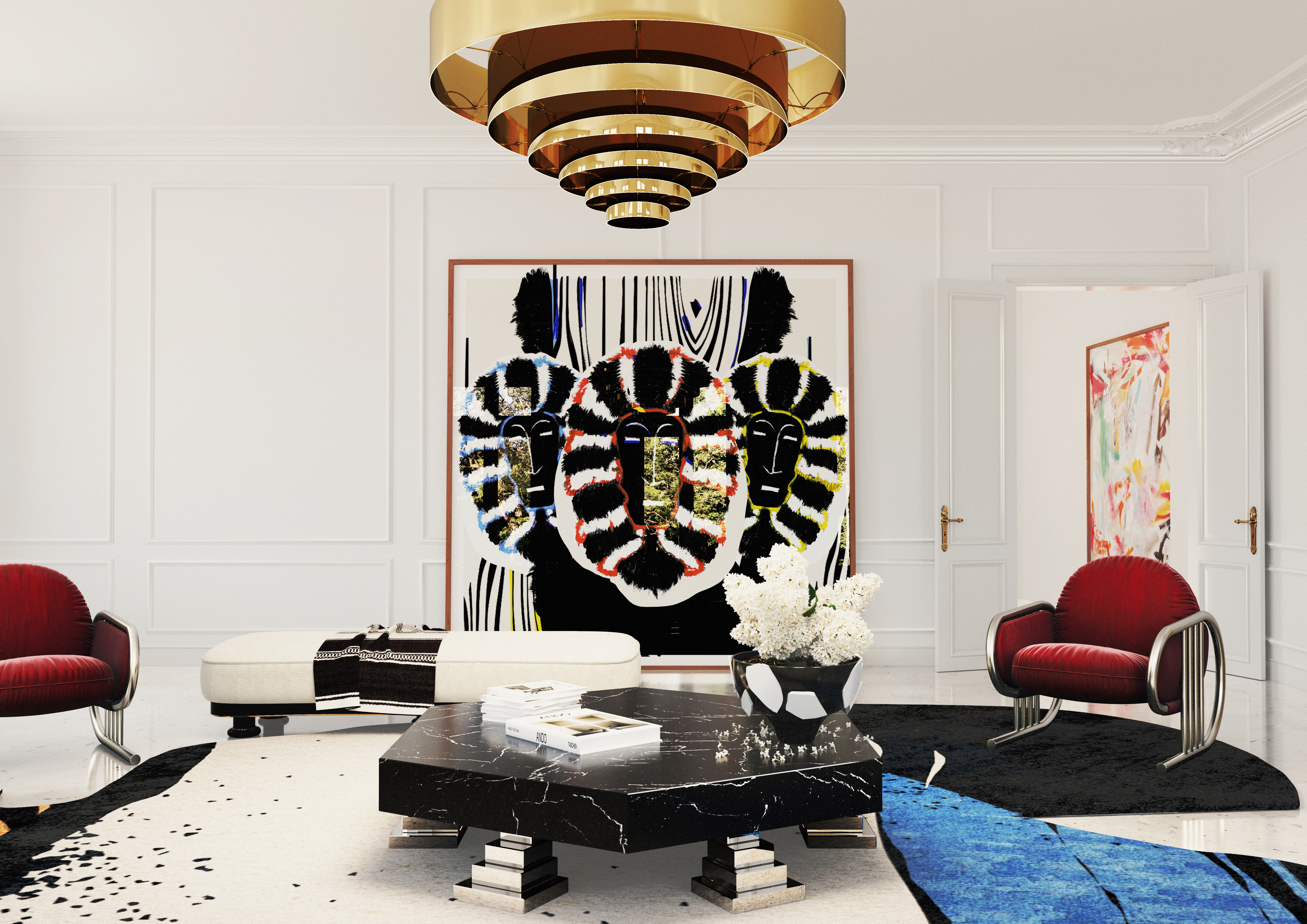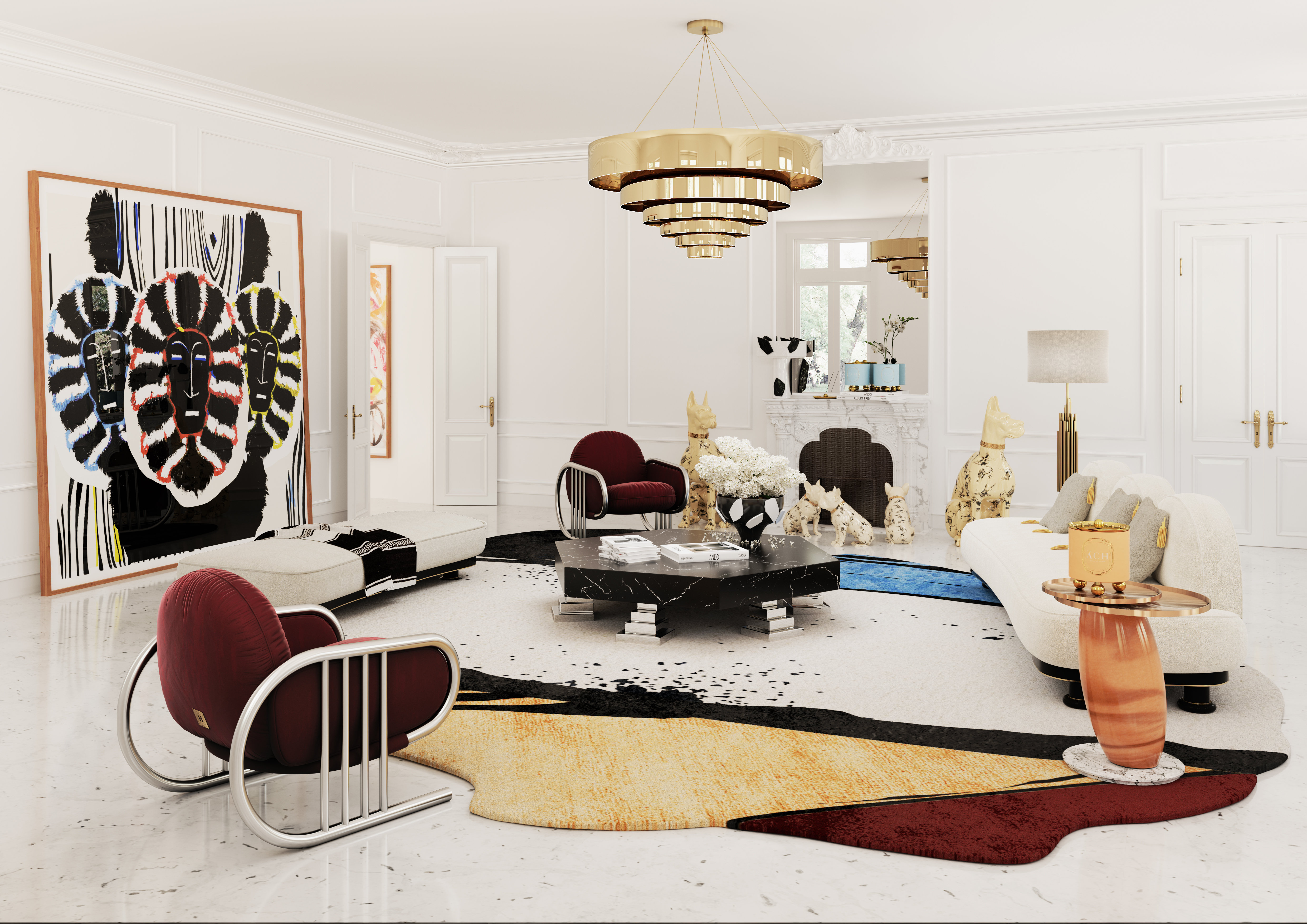 "Color touch living room" by Hommes features a white classy sofa that perfectly blends into colorful furniture and décor pieces, creating an interesting whole. This mid-century interior displays wisely blend vibrant colors with a neutral pallette, that connect the space with emotions.
Classy Gucci-style colorful sofa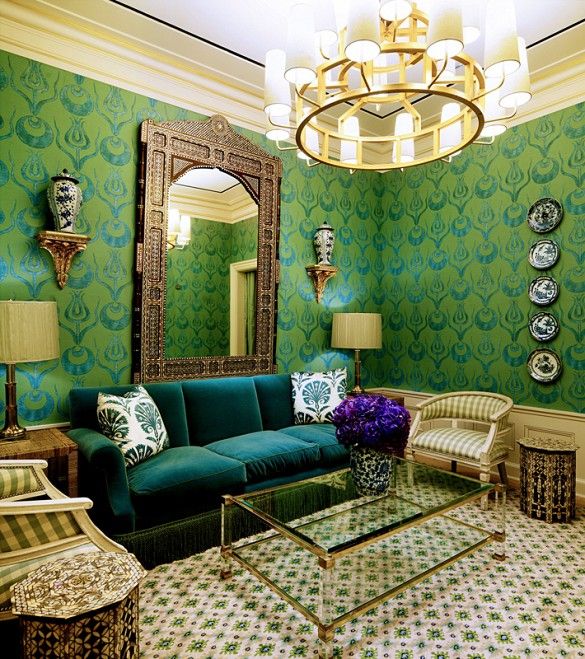 This green living room area is yet another interpretation of maximalism, that ressemble some of the Gucci designs. An explosion of colors, materials, textures and modernity with traditional elements captivate attention. The green velvet sofa with its intense color definitely makes a statement in this daring interior.
Middle-East sand tones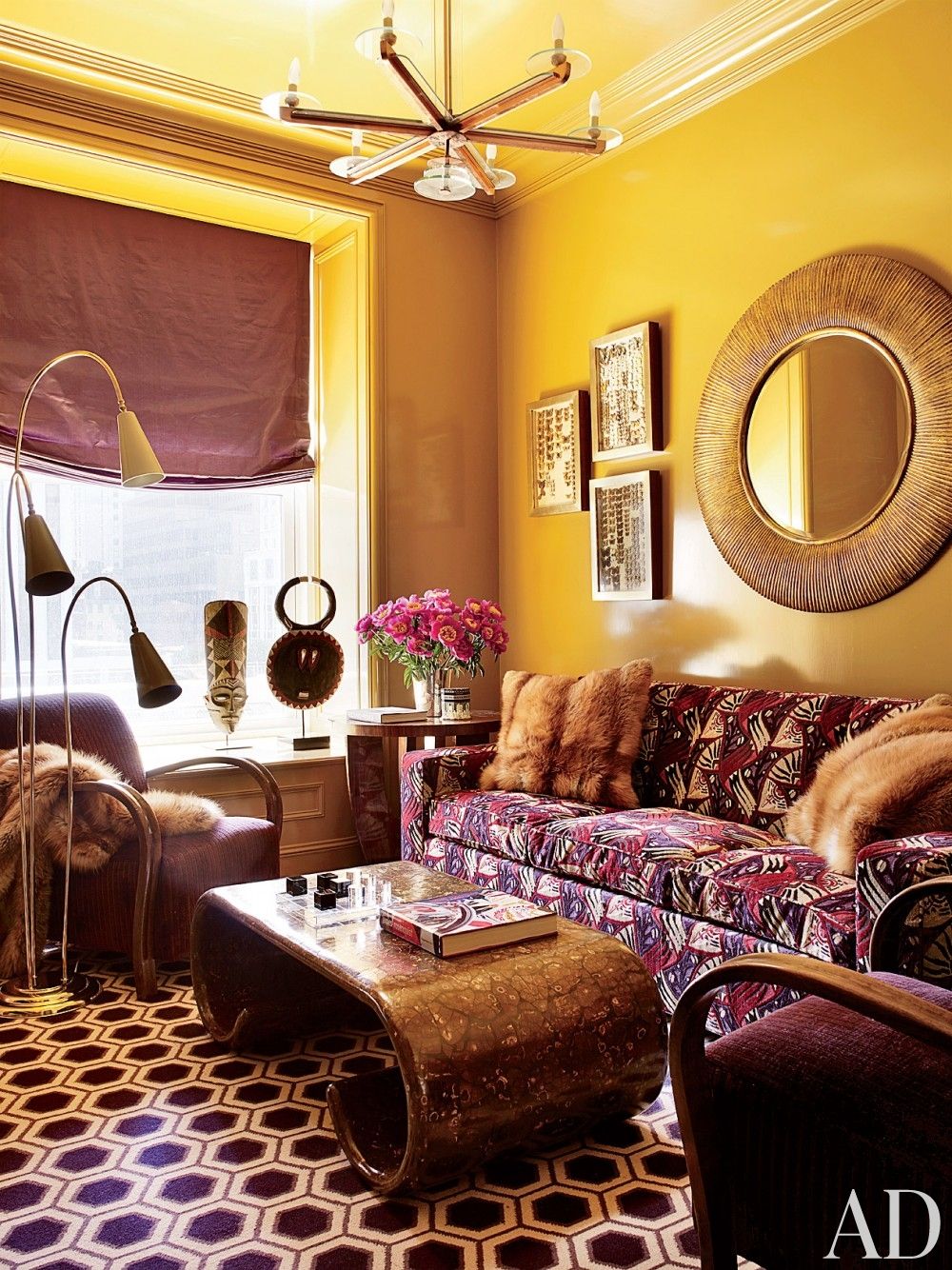 Image Source: ArchitecturalDigest
The last hit of interior design are motifs from the Middle East. Extremely colourful sofa designs, warm colours of walls and decorations make the apartment more cosy and original. It used to be associated with the kitsch of the Eastern bazaar. Today, it has been used to extract the unique – patterns, saturated colours and traditional craftsmanship. Lively colours such as red or orange are inspired by African sunsets and desert shades.