Maximalist interiors are full of splendor and colorful. Maximalism is, among other things, people's response to the routine of everyday life.
Although Minimalism – from interior design, through fashion, to lifestyle – has managed to achieve cult status over the last decade, recently, however, something has been changing – minimalism is losing its importance, making space for a new trend.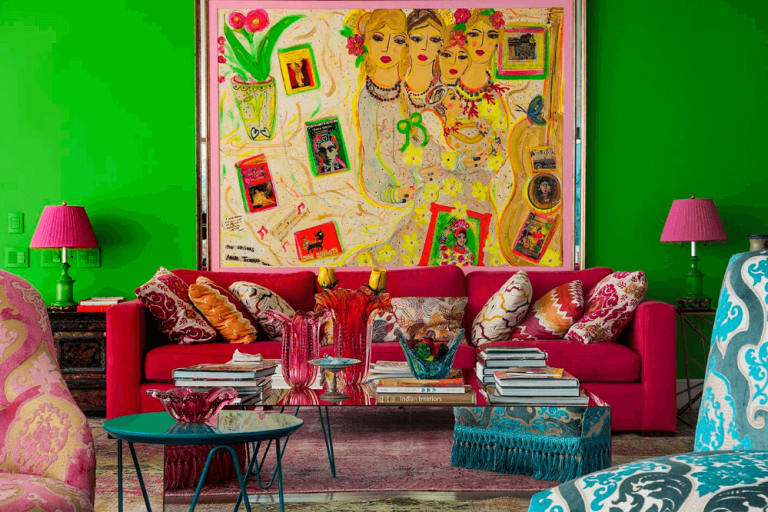 So what exactly is Maximalist Interiors?
Maximalist interiors are loud, chaotic and very colorful. However, this chaos is, contrary to appearances, tamed and thoughtful. It is a contrasting combination of colors, materials, textures, and modernity with traditional elements. All this is accompanied by a large number of accessories and decorations.
Very often people who prefer maximalist interiors are collectors of art or souvenirs and design in such a way as to best expose them. It should be remembered that in this case of maximalist interiors, the line between good style and tacky splendor is very thin. Therefore, when arranging your own space, while following the principle "the more the better", you have to be very careful.
How do you recognize maximalist interiors?
Maximalist design is a "slight disturbance" in interior design, but it makes ordinary four walls gush with the personality of their owners. Minimalism as a style in interior design is based on clear and simple rules. Maximalist interiors are much more difficult to define and it is not easy to push it into organized structures. It is much more personal, diverse, and particular. However, some common features can be found, such as:
Rich and Intensive colors
Maximalist interiros are an intriguing trend, mainly in terms of colors. An intensive color palette is definitely in the lead. In interiors, such colors as emerald, navy blue, violet, sapphire, black or fuchsia often play the first violin. Some people decide to mitigate their effect with light furniture and accessories. Others will highlight them even more by adding colorful furniture.
Repetitive patterns such as florals, abstract and animal prints
A huge change that can be seen in maximalist interiors are patterns. Previously promoted white walls and subdued shades go into oblivion, giving way to loud wallpapers. Usually extremely colourful, original and with a claw attract the eye. As the designers are currently promoting tropical combinations, sometimes we are greeted by walls dressed in palm leaves, royal strelicia flowers or banana shoots.
Unique statement pieces
Maximalist interiors are full of items, very often those collected over the years or brought by their owners from numerous journeys. We can find many family souvenirs and strange objects, which are very often unique. In such interiors we should not be surprised by interesting furniture or mirrors in decorative, golden frames. Birdcages, skulls, retro furniture and such things give the place an individual character. The more eccentric the better. There can be lanterns made of shells, multi colored floral compositions or figures of exotic birds.
Plush and velour fabrics
Playing with colors and textures is not all. Plush, which is very soft and fluffy, is important in maximalist interiors. Velvets are also characterized by a wonderful, subtle gloss that adds chic and elegance to interiors.
The more intense the color of the upholstery fabric, the better. Velvet prefers strong tones such as turquoise, sapphire, violet, emerald, yellow or ruby red.
Golden accents
Golden accents give the interiors a bit of glamorous splendor. When decorating a room with a touch of tropical features, you can bet on gold-plated decorations in the shape of the fruit, golden lamp bases, decorative mirror frames, and fancy, glittering candlesticks.
Blending of styles and colors
Maximalist interiors are, in a nutshell, all you'll like. It shouldn't come as a surprise that the mix of retro style with art-deco or modernity. In maximalist interiors, retro furniture and accessories often reign supreme, and recently macramé, i.e. openwork wall decorations, have become a hit.
Macramé is an old art of tying strings without needles, wires, or crochet hooks. The artistic craftsmanship has been known since antiquity – it has been introduced to Europe from ancient Assyria and Babylonia.
It might seem that the maxi style of living is simple, but there is nothing more confusing. For an interior to have arms and legs you have to work much harder than with other styles.
Although maximalism is characterized by a great arrangement tolerance, all elements should be chosen carefully, while maintaining high-quality materials.
Maximalist interiors are very personal, diverse, and particular. It cuts itself off from uniformism, breaks with conventions, giving priority to individualism. Maximalist interiors are an ideal solution for creative people to furnish their homes. It allows you to let go of your fantasy, experiment, and fully reflect on yourself in the interior.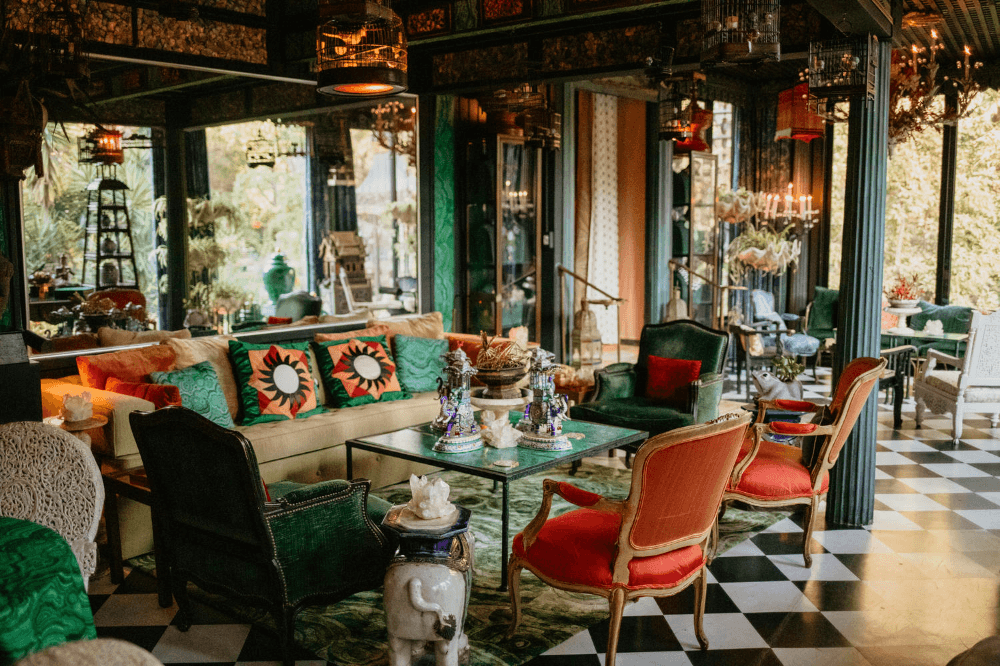 Now that you understand more about the main characteristics of this style, check out 10 stunning Maximalist furniture to complete your interior design project