The sofa is the heart and the main theme of the living room. It can be universal enough to fit into different styles of the interior. Which sofa is the perfect one? The one so comfortable, that we could spend all day just sitting on it. The one in the perfect size, so it can accommodate the whole family and friends, including the four-legged ones. We have the perfect solution for you – Hommes Studio Vonkli Luxury Sofa is a great choice for all styles and luxury lovers!


Vonkli Sofa is a modern sofa with a chaise longue. This is a modular design piece composed of a three-seater sofa, a chaise longue, a side table, and a book storage back compartment.
Velvet upholstery gives it a classy and chic look. The other highest-quality materials, which are brass, black lacquer and Labradorite Feldspars Precious Stone turn this furniture into a true piece of art that will make a statement in every interior!

With which style should you match Vonkli Sofa?
Vonkli Sofa comes in different colors and materials and can be custom-made to meet the customers' needs.
Mid-century and modern interiors
Vonkli Sofa will look very well in all kinds of modern and mid-century interiors. The modern style living room is the quintessence of unpretentious elegance. The colors of the modern style living room are maintained in monochromatic tones. The project is complemented by minimalist accessories such as marble tables and consoles. This sofa's simple design and velvet upholstery will add elegance to your modern arrangement but it won't look too pretentious or cocky. Get inspired by the living room projects above: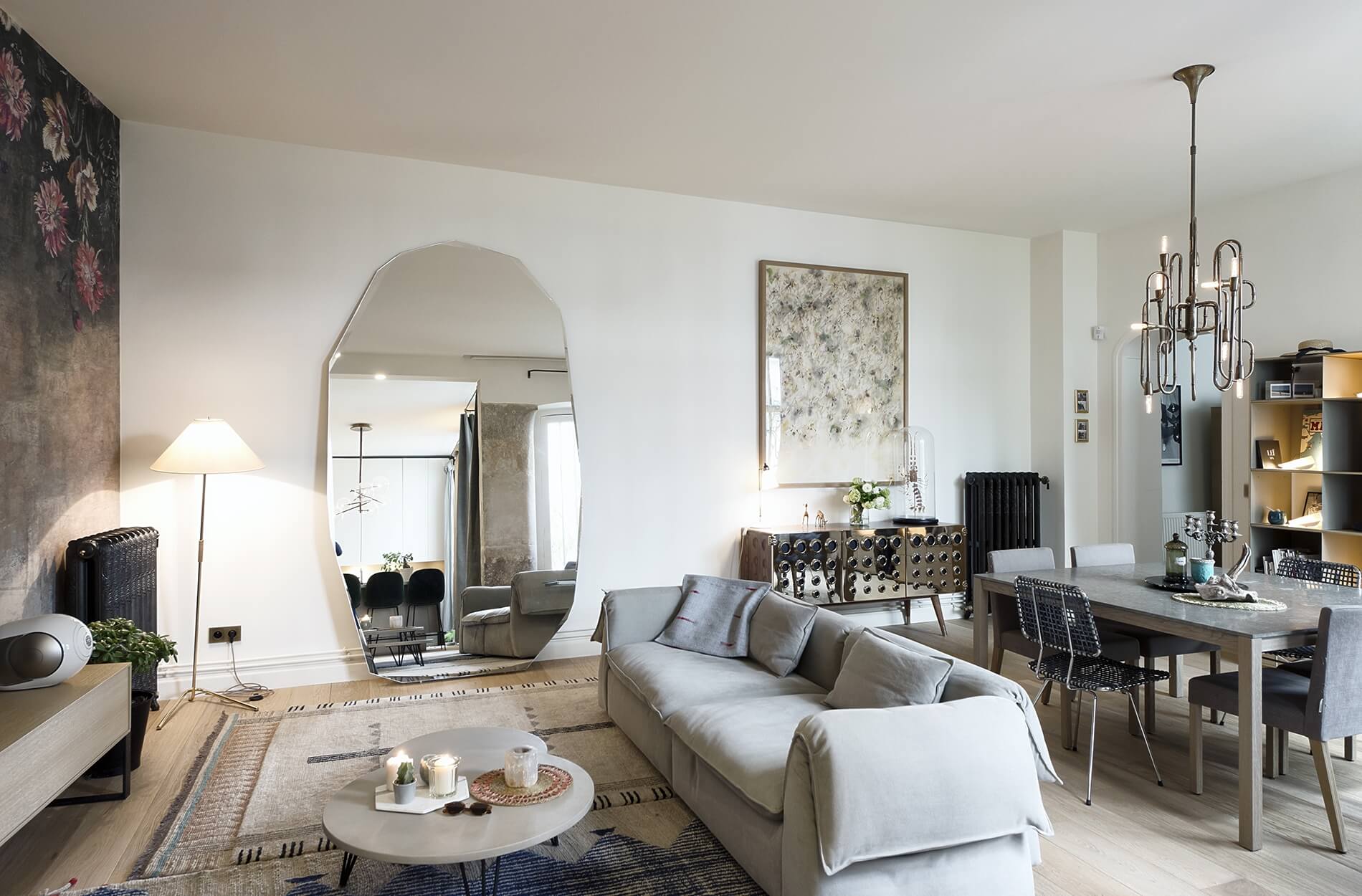 Hollywood glam interiors
Hollywood stars are famous for their love of luxury. Already in the 1930s, a style in interior design was established that can be described as Hollywood glamour. It is distinguished by chic, elegance, glamour, but also refinement. The luxury is smuggled in in the highest quality materials, impressive furniture, and carefully selected accessories. Golden and black accents of Vonkli sofa in combination with velvet upholstery is a perfect choice for this type of arrangement! Get inspired by the living room projects above: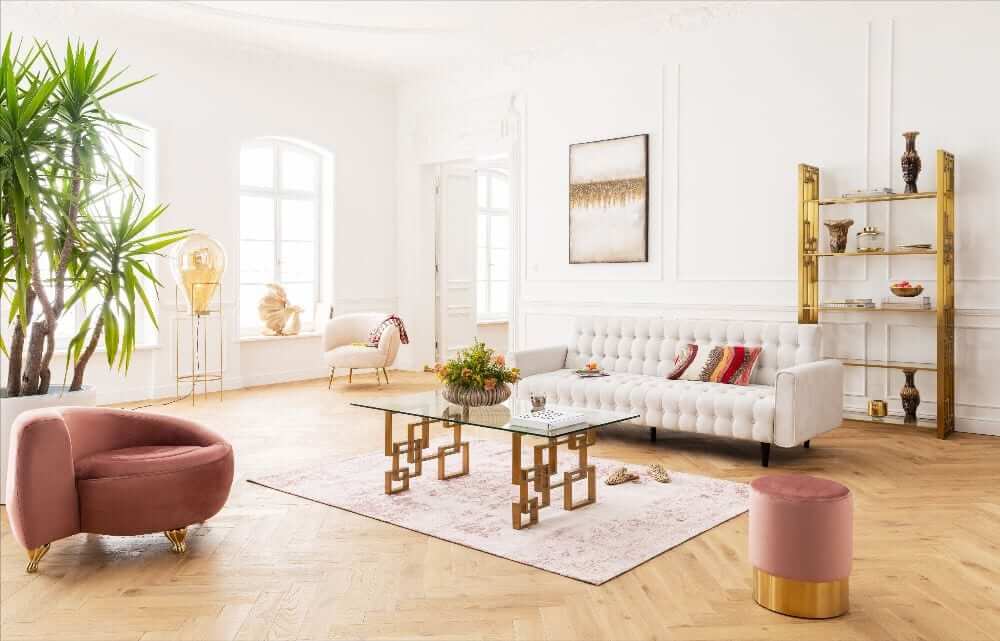 Art-deco interiors
Luxury, elegance, high quality, sentimentalism – this is how art deco style can be described in short. On the one hand, it is sentimental about past epochs, on the other hand, it looks forward to the future, looking for new and above all functional solutions. It loves rounded forms, highly glossy textures, and elegant, richly decorated materials. Art-deco sofas are usually upholstered with velvet with some golden finishes. Get inspired by the living room projects above: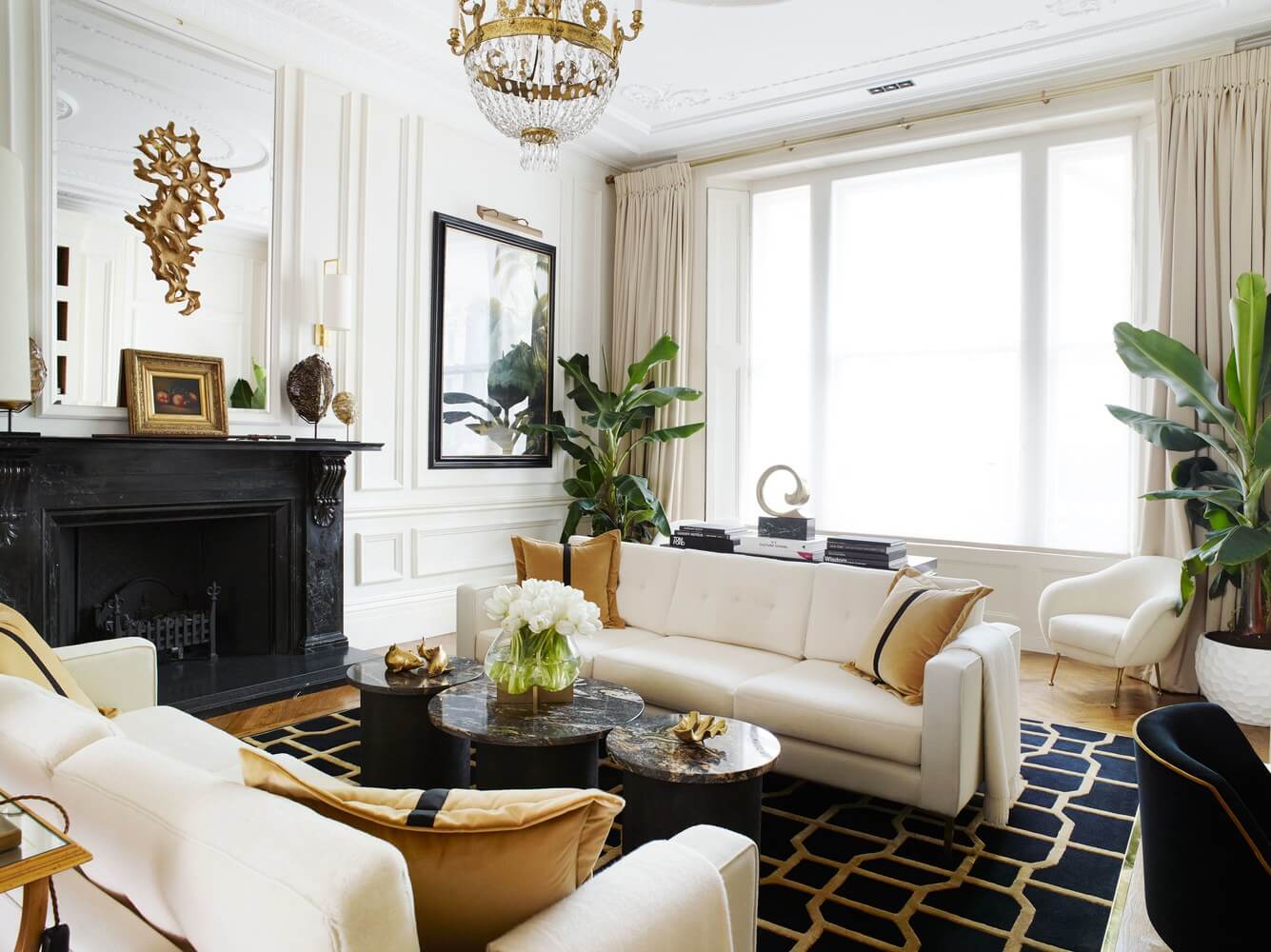 French-style interiors
The French style in its most updated form combines two extremely different worlds – elegant, sublime with light, contemporary, and casual. The result of juxtaposing these two extremes is an interior that is not obvious, avant-garde, but still tasteful. And so is the Vonkli sofa. Its' elegant look with marble and brass elements is mixed with its' functionality obtained by soft velvet seating and an additional side table and book storage compartment. Get inspired by the living room projects above: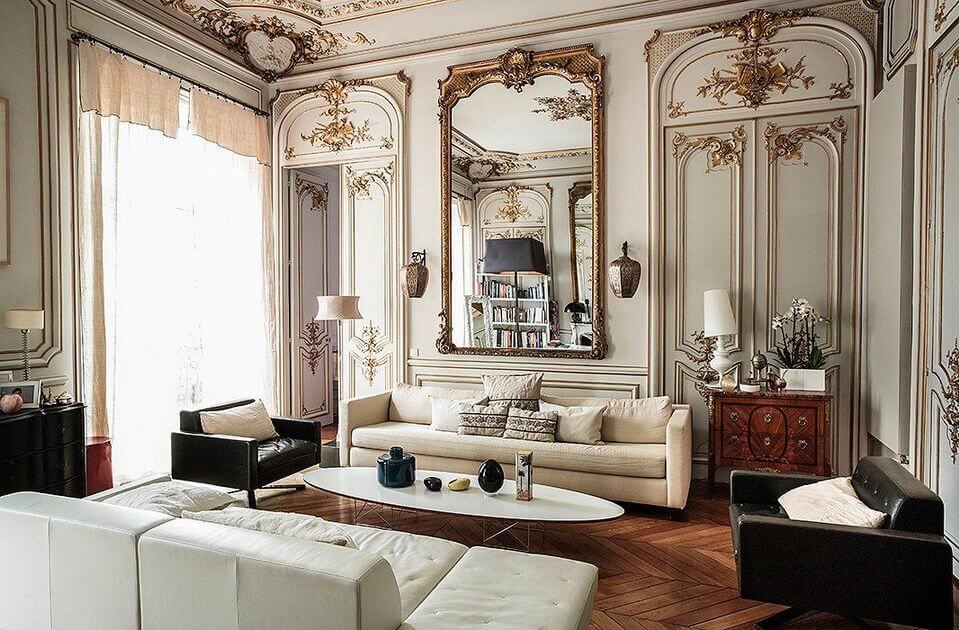 "A timeless sofa that will completely fulfill your guest's comfort needs and admiration in your modern living area."
We really hope you liked our article. Feel free to pin all the images to your favorite Pinterest board or to print it and use it on your projects' mood boards. You can also visit our Pinterest boards in order to get more inspirations.
Get more ideas for your projects and find functional, stylish, and sizable lighting and furniture choices: