From top interior designers' projects to shining up your layout! We have selected 9 wonderful interior trends to inspire your work; check them out.
Inspiration and trends are two important things when creating a new interior design project; with inspiration, we can discover more ideas and get out of our common zone, experiment with new concepts, and find the references that better match our client's needs and dreams, on the other hand, trends helps to update a project and get into what the world is aiming for.
When we combine inspiration and trends, the result is the right amount of motivation and new ideas to create a stunning interior design project. We have selected nine interior trends from top designers' projects to start the year in the best way. Scroll down to discover them.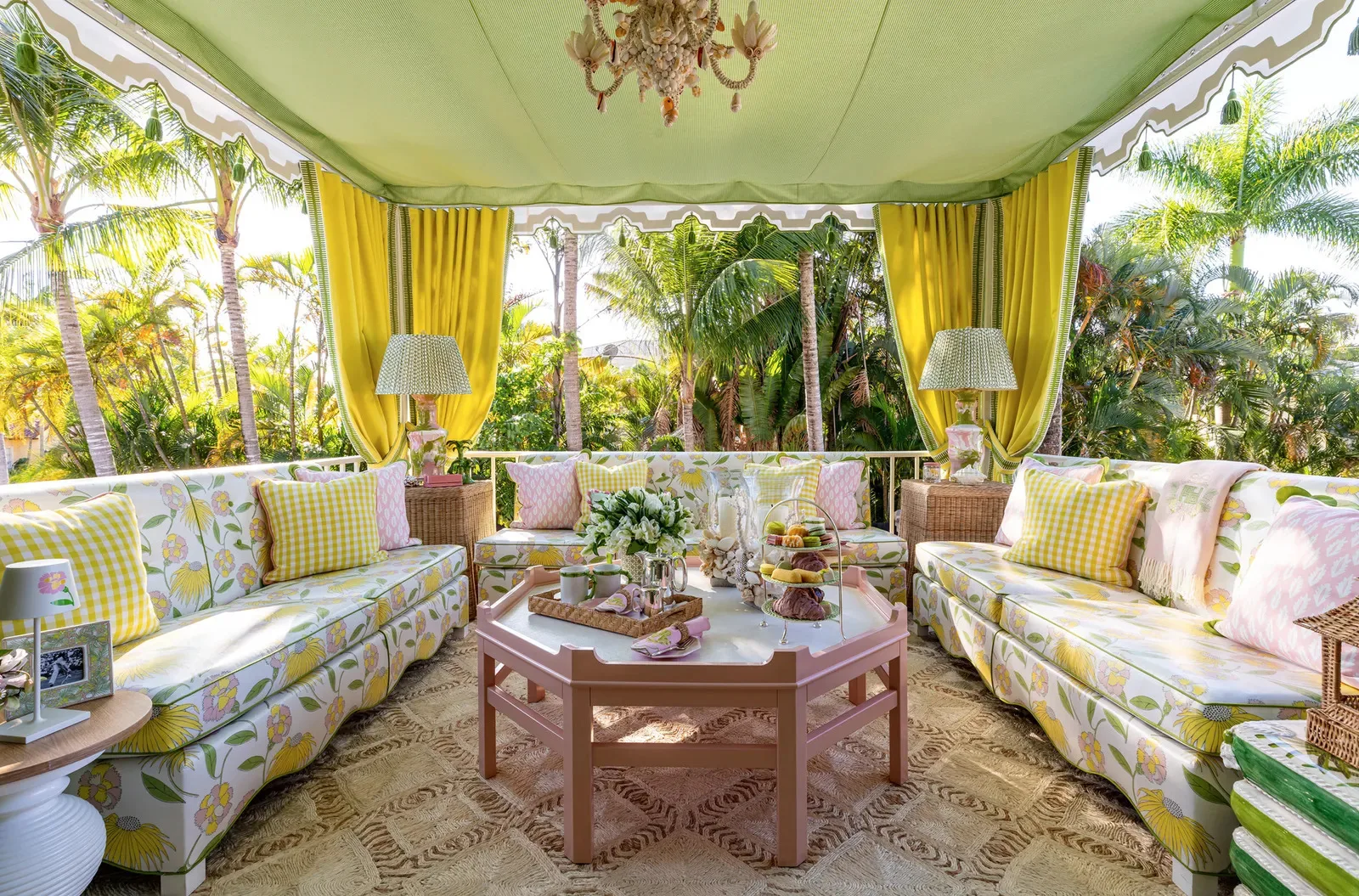 From top interiors to your projects: 9 Interior Trends
If there is one space known for reunited trends and inspirations, it should be the trades fairs – where designers from all over the world meet to discover new tendencies and get inspired for their upcoming projects. With different styles and purposes, we selected nine eye-catching spaces that gather the best of these events and can be the inspiration to find interior trends for 2023.
1- Colorful and Bold Interiors
There is no surprise that 2023 will be bold – the interior trends for this year share the aim for a home where dreams can be true, and this colorful and bold children's room by JDK Interiors at the Brookly Heights Designer Showhouse translates it into a beautiful way. In this stunning scenario, the upholstered headboard is backed by a huge mural that covers the full wall and resembles a gigantic, vintage lollipop with swirls of yellow, blue, green, and pink.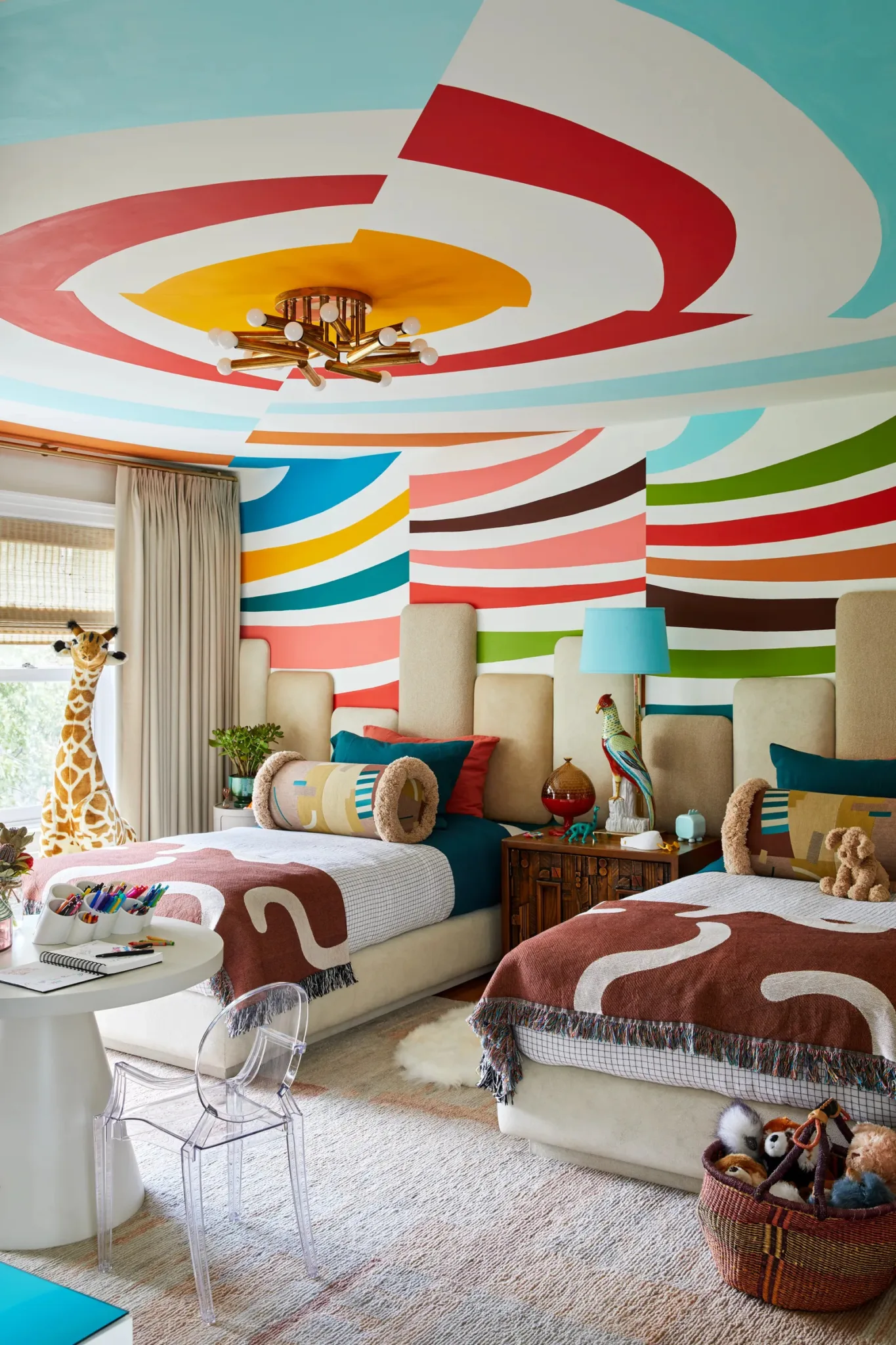 2- Multi-functional room
More than just a home – for many people, the last years have directly impacted their relationship with the living space – with that also becoming a spot for work. Due to the new needs, home offices are even more requested in interiors design projects – this multi-functional room by A-List Interiors at Holiday House NYC is two areas in one – during the day, the space can be used as an office, and the evening it began a den room.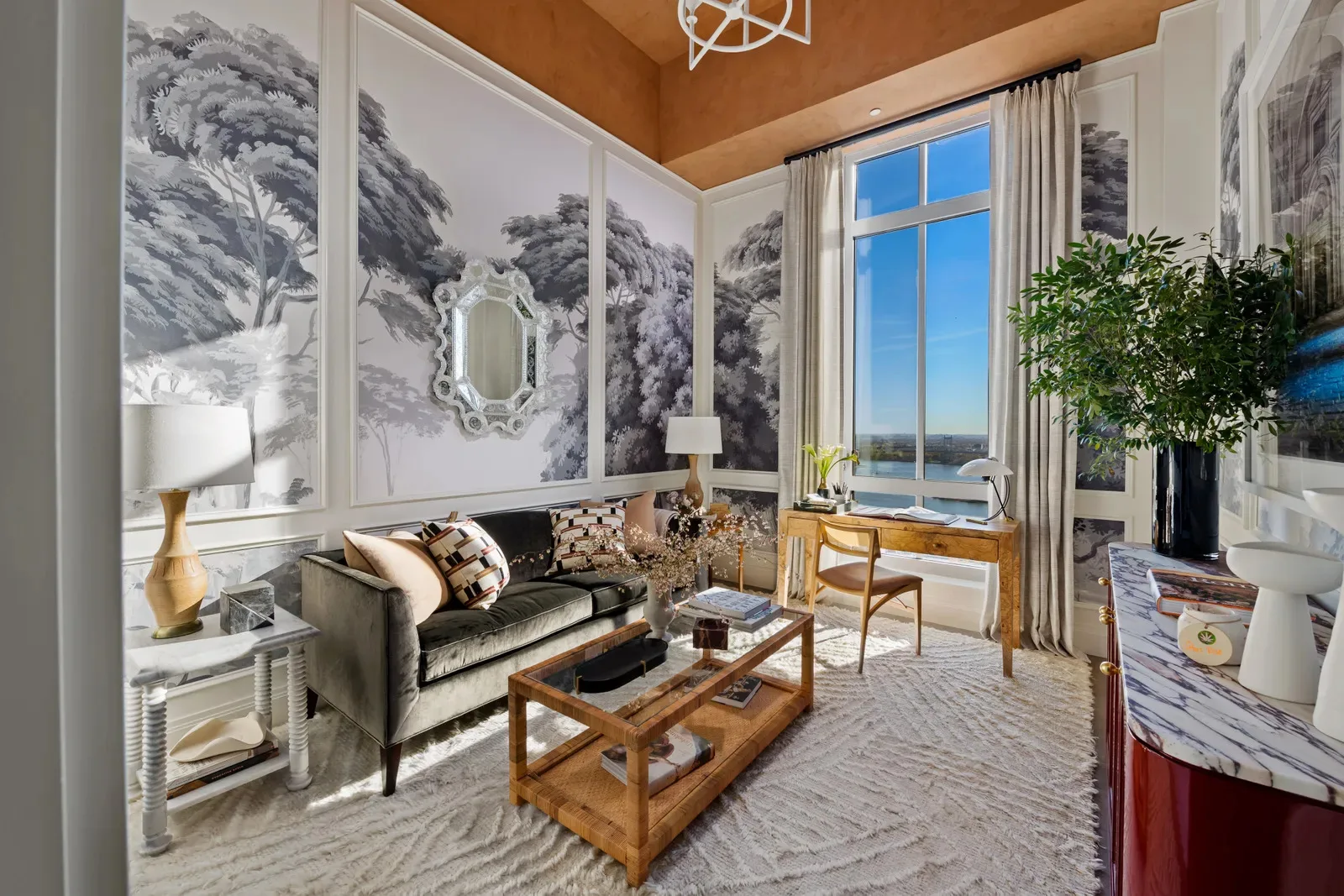 3- Outdoor-Indoor
Prepare yourself to see more outdoor-indoor spaces; the interior trends for this year reveal that home is becoming more integrated with nature. This living room, designed by Alessandra Branca and showcased at Kips Bay Decorator Show House Dallas, is a beautiful example of this interior design trend that promises to make the home greener.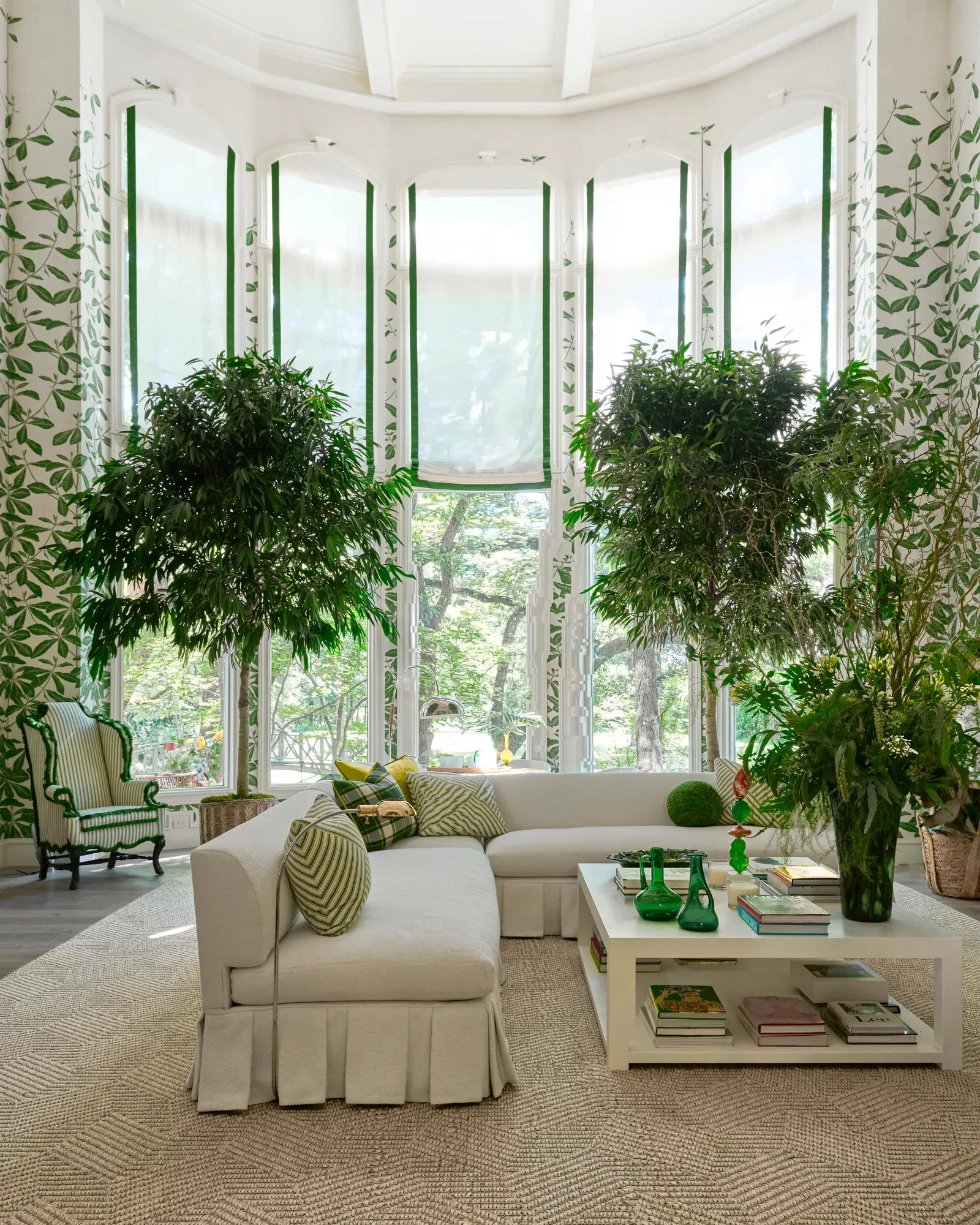 4- Art Deco Inspired
Art Deco is making a comeback as a mirror of a century ago; by 2023 interior will share much more sparkle and glamour. Verticality, repeated patterns, and metallic details are interior trends of 2023 that will dominate modern art deco interior design projects. In this Primary bedroom by Steven Cordrey Design at Pasadena Showcase House of Design, the metal panels that border the headboard make the most striking statement thanks to their undulating curves.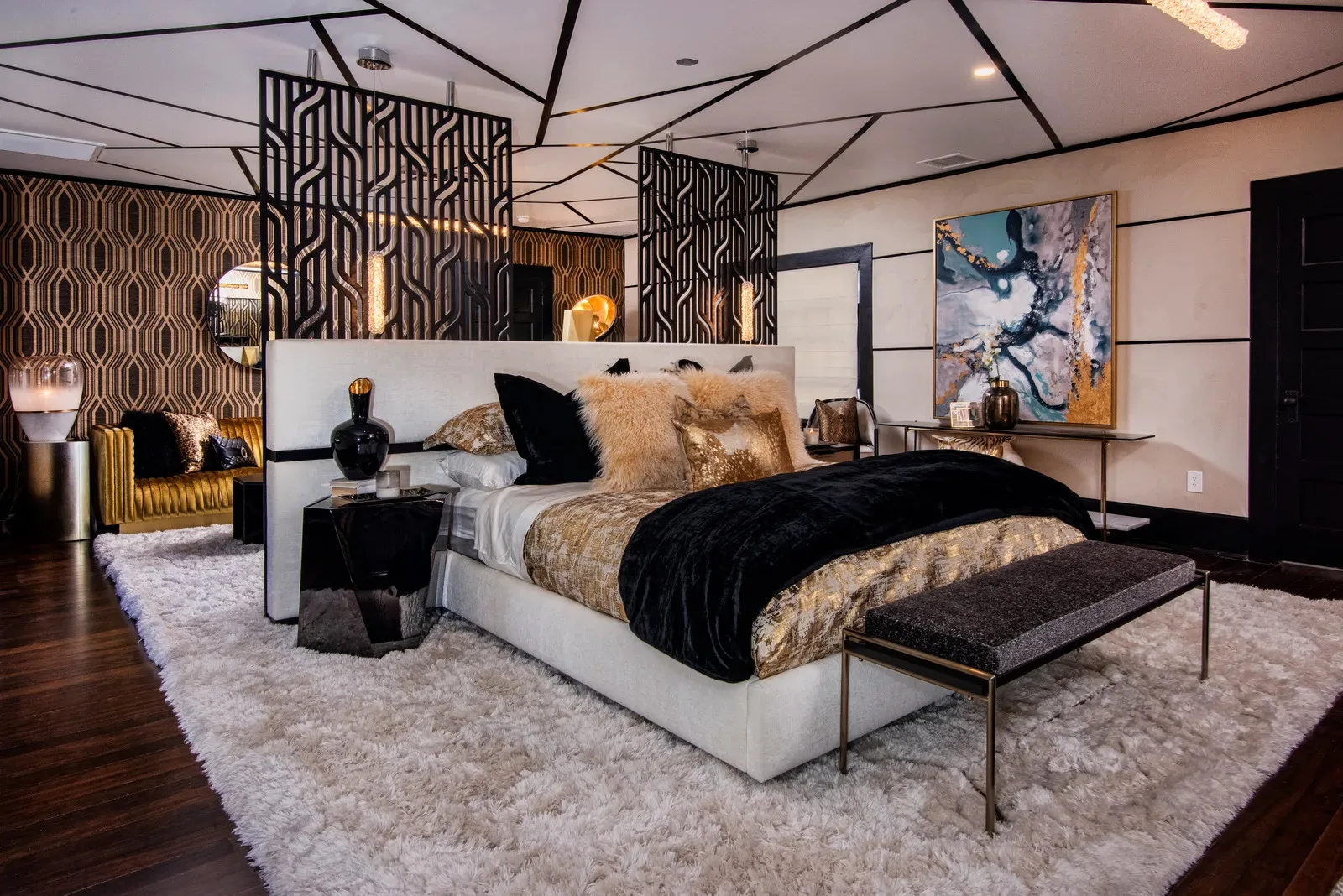 5- Lush Outdoor
Some interior trends are forever – such as lush outdoors. This glamorous balcony by Amanda Reynal Interiors at the Kips Bay Decorator Show House Palm Beach accentuates the lush environment and retro-glam emotions associated with Palm Beach, more than an outdoor area; this spot is also a retreatment spot that invites relaxing moments. The colorful palette, lacquered furniture, and stunning rugs are some interior trends that aim to add more interest to the outdoors in 2023.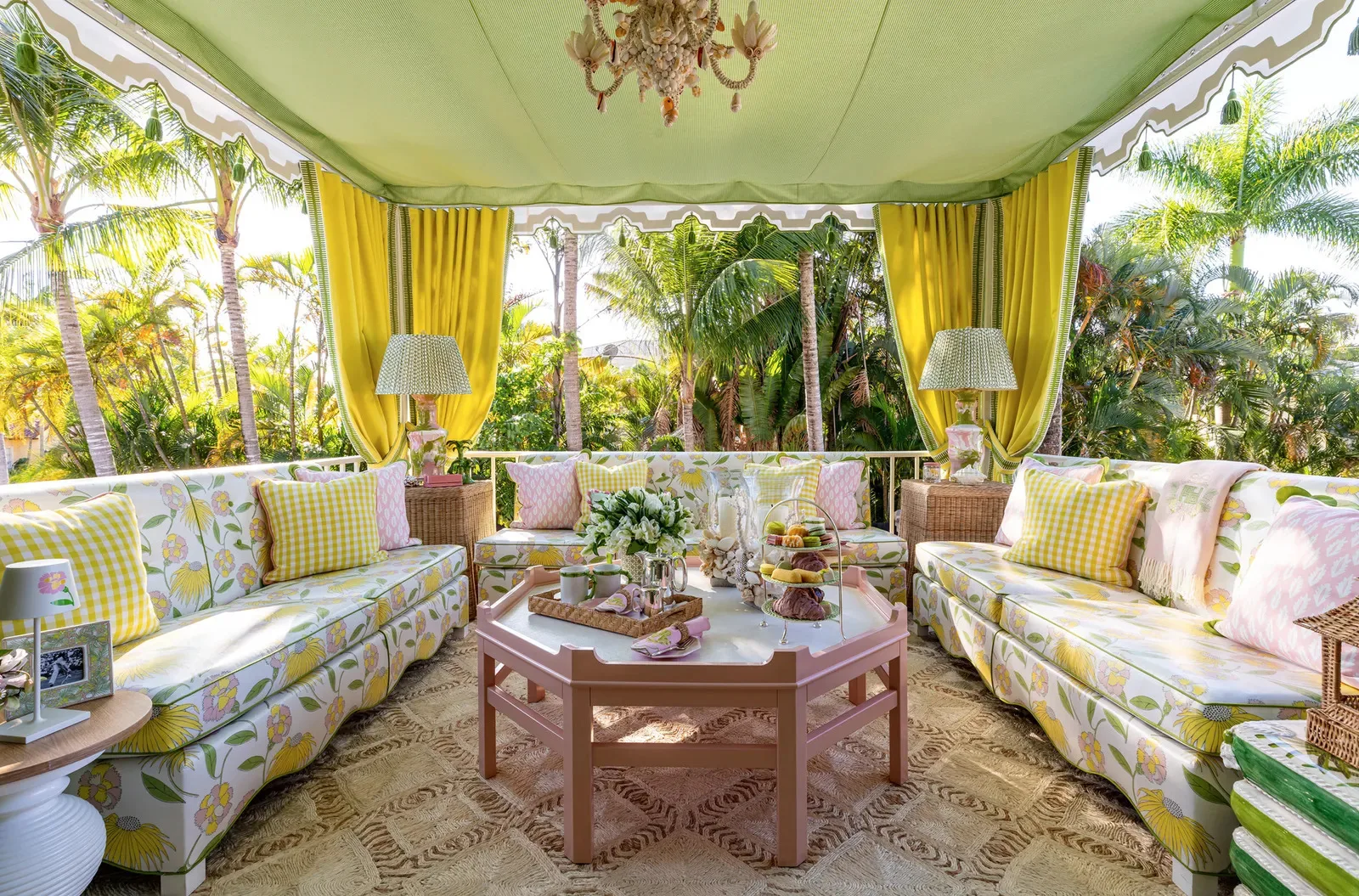 6- Vintage furniture
One of the interior trends for 2023 is sustainability – and what is more sustainable than getting a new life for what has already been produced? Decorating with vintage furniture is a sustainable – and fashionable – practice. In this gentleman's dressing room by Don Easterling and Nina Long of Easterling at Flower Magazine Atlanta Showhouse Flowers, the vintage pieces give the touch of glam that the room needs.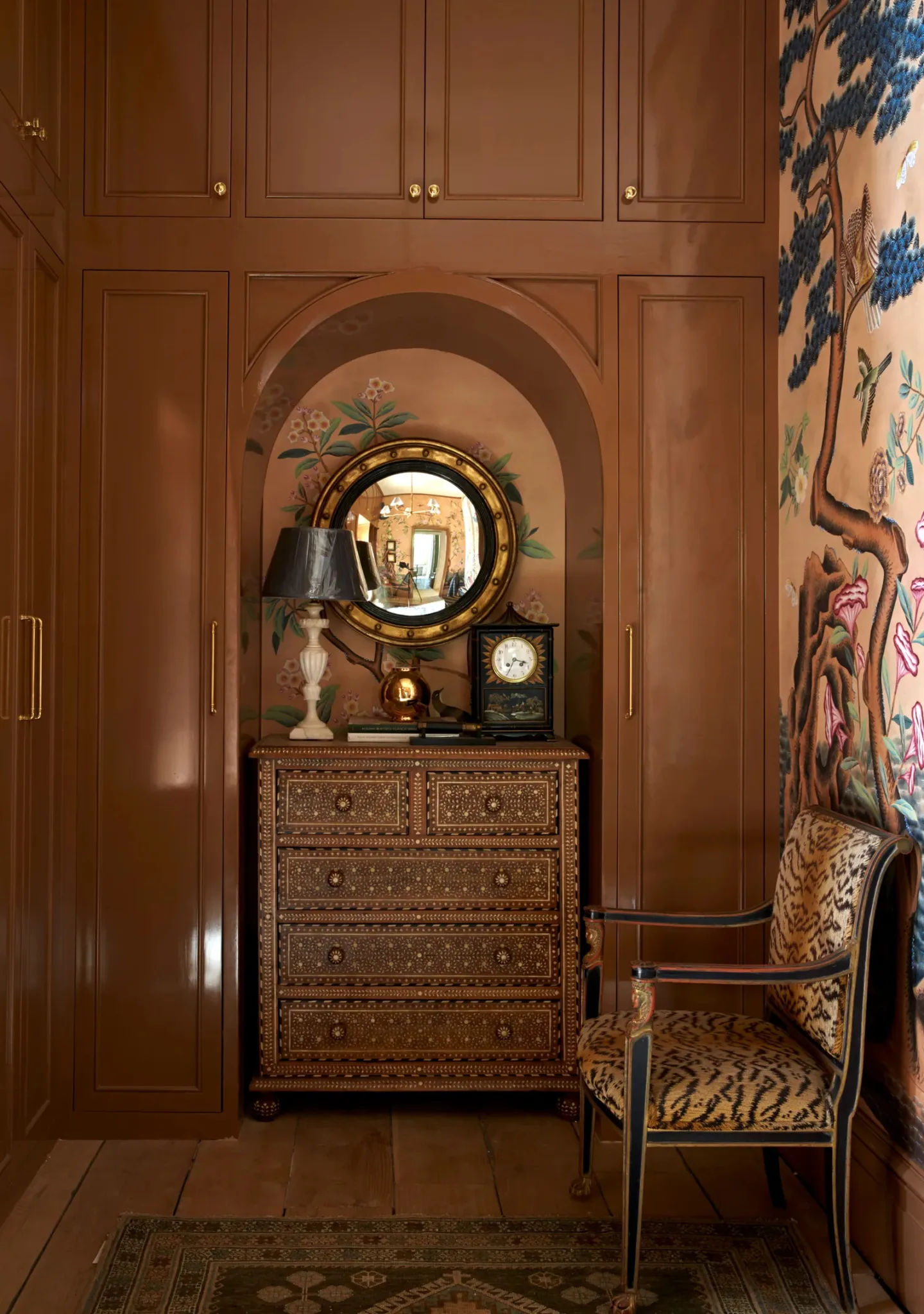 7- Pastel Colors
Besides the maximalist interior trends for 2023 – there is also space for minimal and neutral interiors. Pastel colors can be an excellent way to have a colorful interior yet peaceful; this year, we expect beautiful interiors full of charm and soft hues. A beautiful example of how to active a colorful interior without overwhelming the space with bold and strong hues is this charming kitchen designed by Baxt Ingui Architects at  Brooklyn Heights Designer Showhouse, here the creamy pink covers the cabinets and walls and helps to make the room looks bigger and charming, the sophisticated hue is paired with rose gold details, rich textures, and white marble, which gives a lush vibe to the room.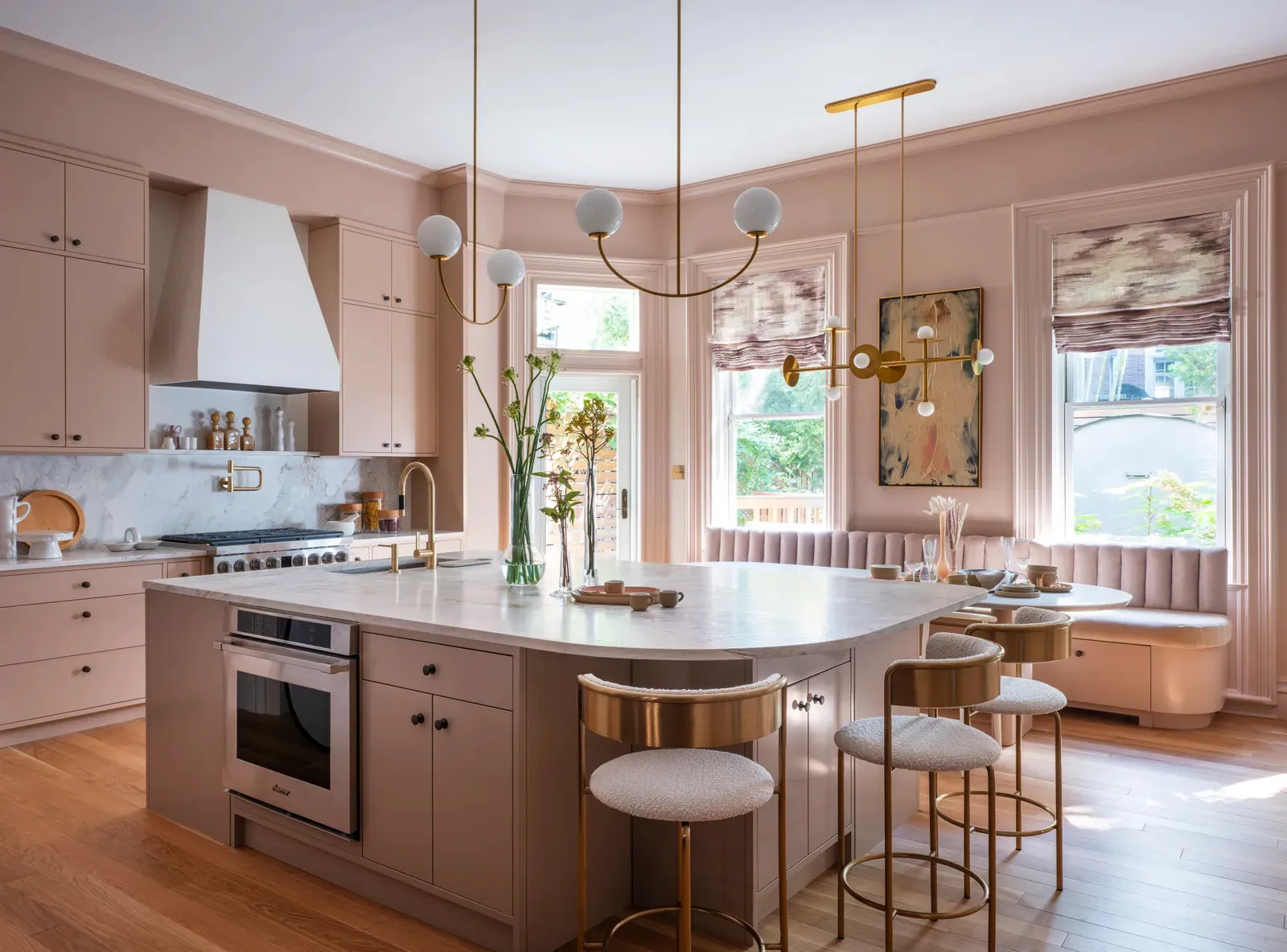 8- Maximalist interiors
2023 aims to be a bold year – the interior design trends already highlight it. This will be the year for maximalist interiors where designer and homeowners can explore their creativity and create the dream home. From the Kips Bay Decorator Show House Palm Beach came another stunning interior to inspire the exquisite tendencies of 2023. In this bold powder room designed by Andrea Scmacher Interiors, blue is the background for a space that shows no limit for imagination – mixing styles, materials, and artworks; the space shows that going for more is never too much.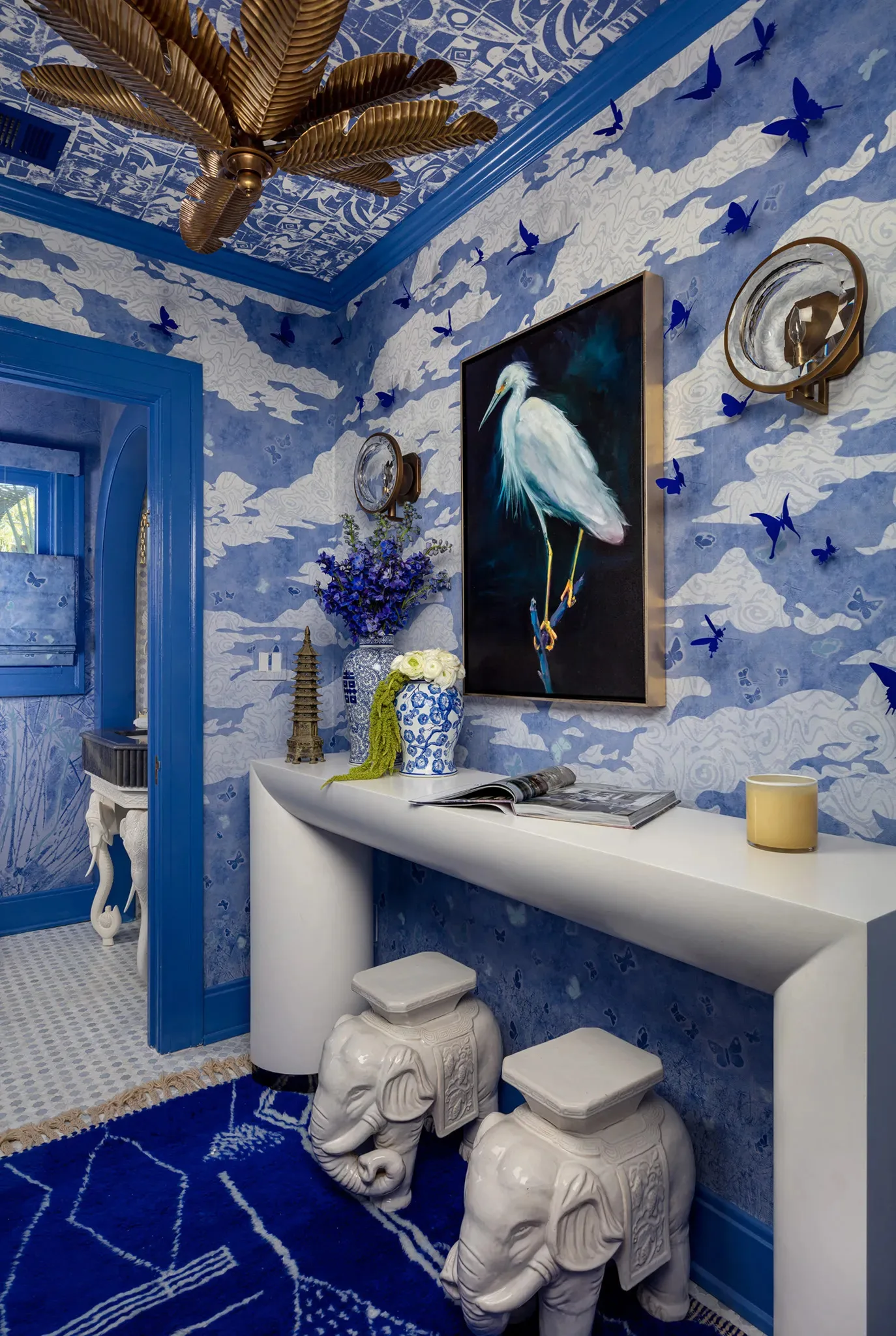 9- Mix and match styles
Boldness is the word that better describes 2023, and to create a stunning interior full of personality and brave touch, the interior trends reveal that in the next year, we are going to see many layouts mixing and matching different styles – from furniture, artworks, and decors, blending different references will help to create an impactful layout. An incredible example of this trend is this living room designed by Linda Boronkay at Wow! house London, where a mix of contemporary furniture and vintage items give an extra touch of personality.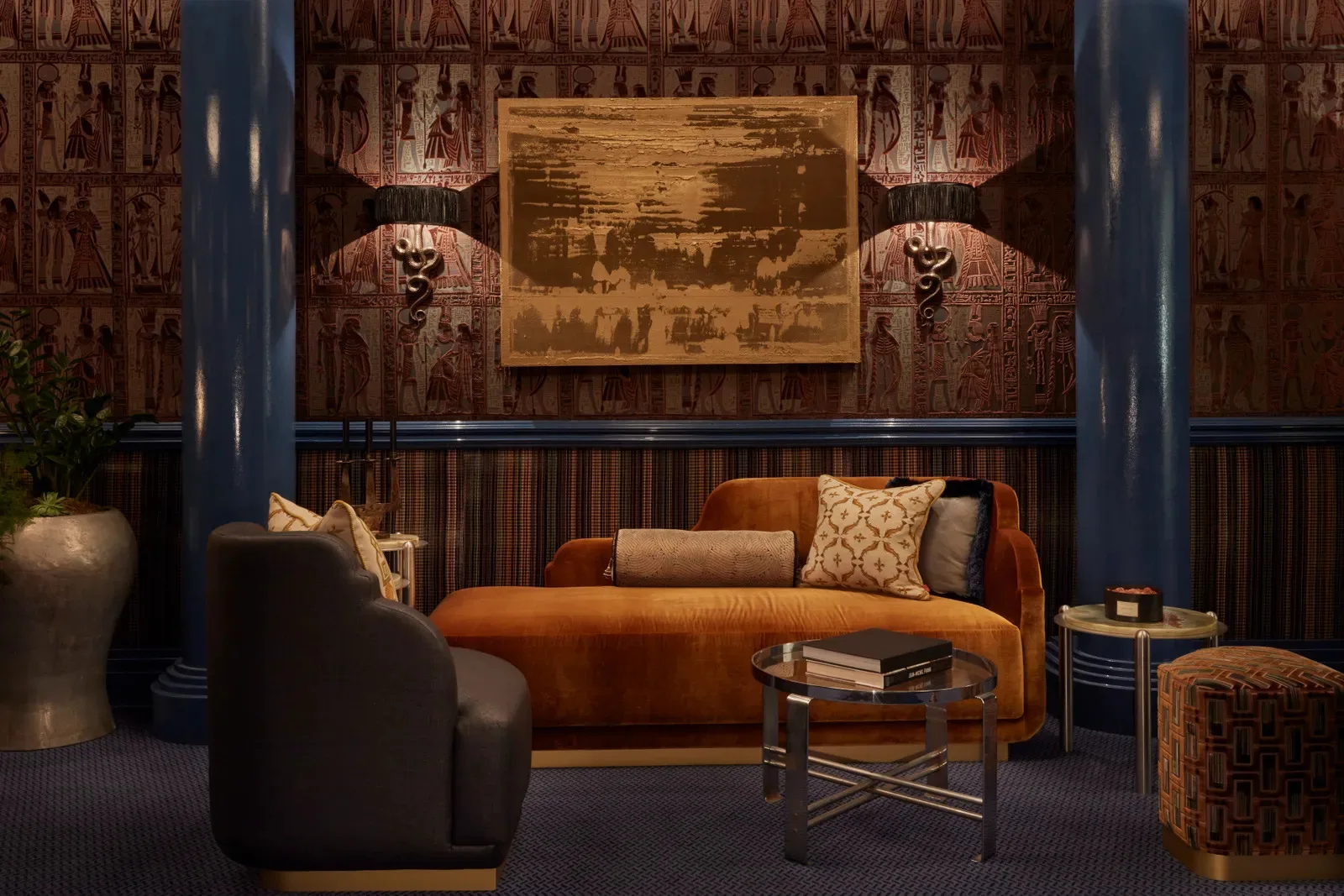 Nine projects, nine beautiful inspirations, and nine trends to follow in 2023. We hope you have enjoyed our selection of interior trends to boost your interior design project and find everything you need to create a stunning interior. You already have the inspiration and the trends, so now you need to find the perfect furniture to complete your projects; enjoy checking out 10 maximalist furniture to give the bold touch this year is asking for.

Source: AD