With a warm color scheme and cutting-edge furniture, this modern rustic project by Ashe Leandro manages to be both elegant and timeless.
Welcome to a house where modern meets rustic, an Upper West Side townhouse in New York City for a family of 5.
That was the challenge that was thrown at the design duo Ariel Ashe and Reinaldo Leandro, an accomplished team "dedicated to crafting spaces that innovate by virtue of experience, instinct, ingenuity, and humor," and who made sure to take on this exact challenge with that same mentality.
Now, here laid for us are the fruits of their labor, which we will walk through in a second. But first, let's get to know a little bit more about the minds behind this project.
About Ashe Leandro
Ashe Leandro is an architecture and interior design practice in New York City established in 2008 by Ariel Ashe and Reinaldo Leandro.
This design team has worked on multiple projects worldwide that carry their signature aesthetic synonymous with relaxed, contemporary luxury but that still honors the past with polished, timeless energy. Furthermore, they affirm to "embrace instinct, ingenuity, and humor over traditional design convention.' and that this defines their design philosophy.
So let's take a look at this design team's modern rustic home design.
Comfort Comes First
When we first enter this house, there is something pretty obvious about it besides its modern rustic design, and that's that the designers made sure to prioritize comfort above anything else. To the Ashe Leandro team, it doesn't really matter if something is new or old cause "beauty is derived from the conversation between the history of the space (…) and the history of the person living in the space", and when it comes to this project the challenge was to craft a home for a family, so comfort must be the first thing in mind.
Hence the warm color scheme, which fills this house with earthy tones (from rich woody browns to deep oceanic blues) and manages to bring a sense of calmness and a natural feel to this design.
Besides the color palette choices, the design team also paid great attention to the materials, opting mainly for wood and fabric as the main components, with some occasional stone or metal, but still trying to avoid the latter due to its colder feel.
These choices (both regarding the color palette and the textures) bring the rustic style to this design project, giving it a more rough and natural feel.
A Pop of Color
Once comfort is guaranteed, there's time to focus on bringing life and excitement to this house. To do so, the Ashe Leandro team decides to give a pop of color to every room through unique pieces of furniture in strong colors and exciting patterns.
So the dining room gets some fantastic turquoise chairs, the secondary living room a colorful sideboard while the main one gets two indigo sofas, and the study gets a stunning English-style black and white striped sofa.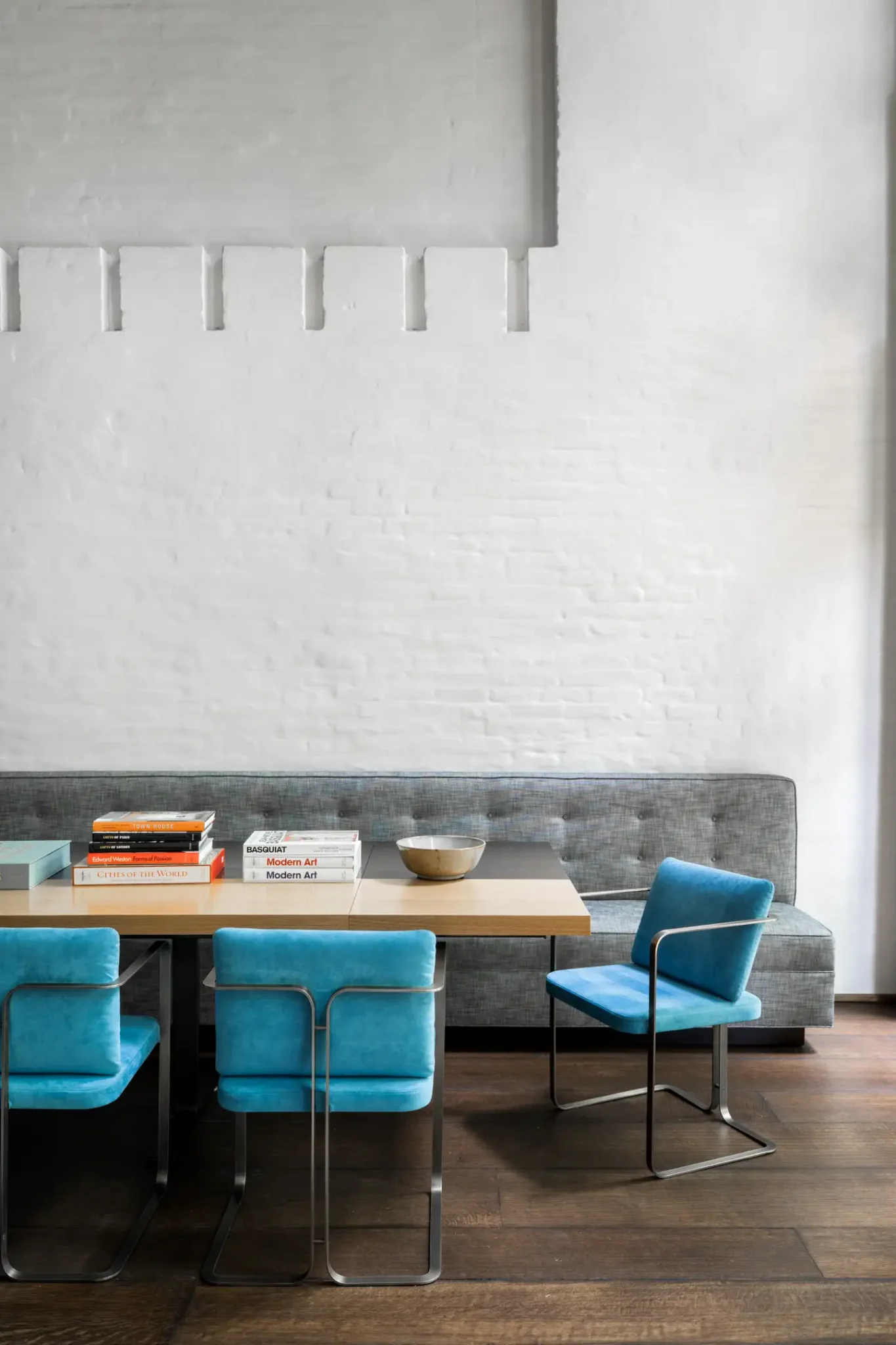 When It Comes to Furniture…
When it comes to furniture, it's pretty clear that the modern part of the modern rustic approach is the stronger of the two, being that there's a substantial investment by the designers in minimalistic design, smooth surfaces, and clean and straight lines that bring this house to the principles of modern home design.
This is also where the use of metals comes in, where otherwise, in a rustic approach, it wouldn't really have a place in. But even the choice of rugs enlightens this argument, showing us pretty clear examples of modern tapestry.
The Devil is In The Details
Last but not least, it's not because we're talking about a modern rustic house with a minimalistic, smooth, and clean approach that there is no room for decorative objects. These are actually a big part of this design project that helps give more depth and detail to it, from beautiful abstract and not abstract paintings to intriguing figurines and modern lamps.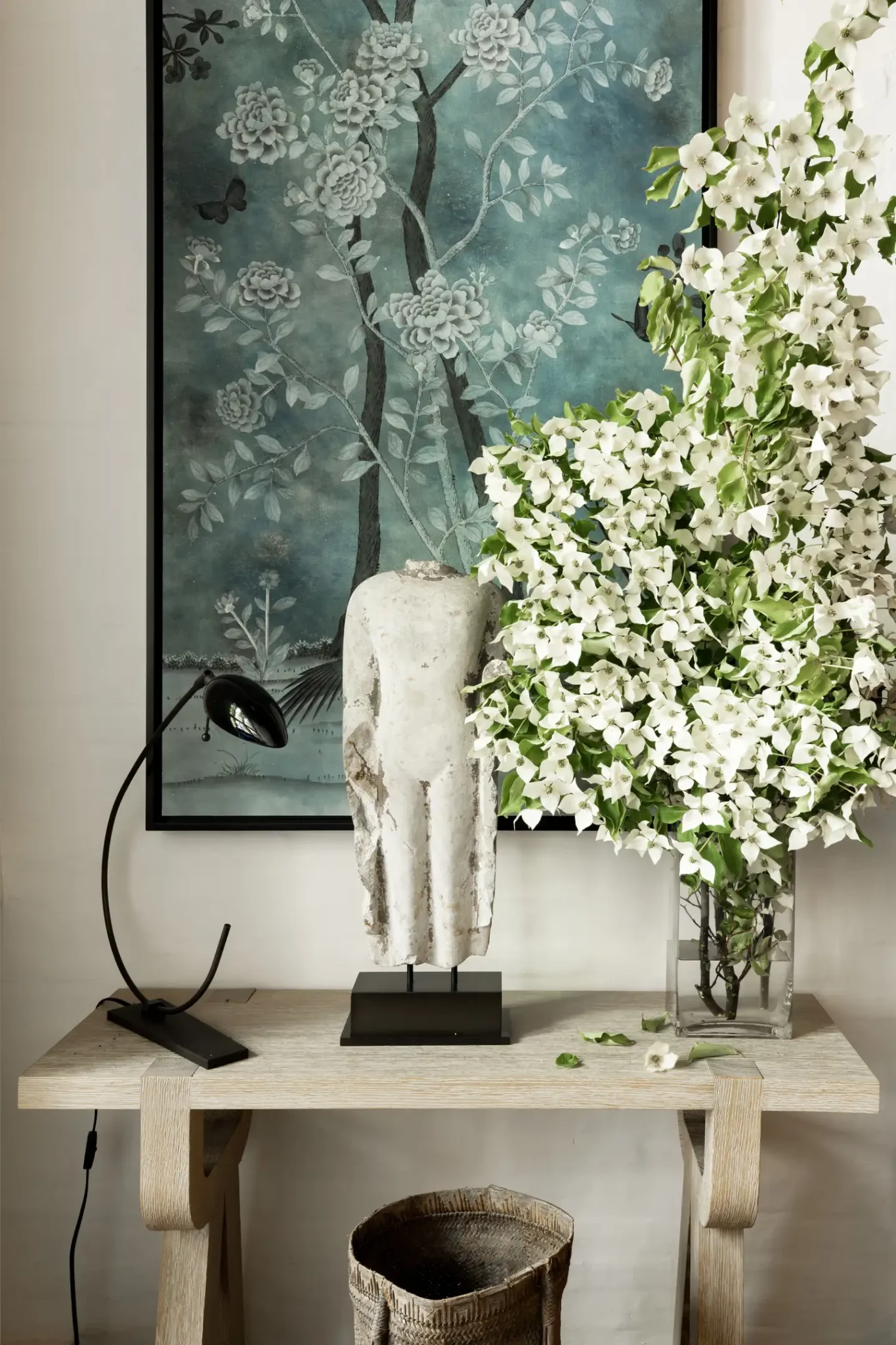 Modern Meets Rustic
"Welcome to a house where modern meets rustic" – This is how we started this article before taking you on tour through this modern rustic townhouse by Ashe Leandro, and now it's time for us to ask – did you enjoy this journey? Cause we sure did!
To us, this project felt like coziness, even just from looking at it through the screen. So just imagine stepping inside this new york city home, with its cozy warm color scheme, iconic furniture, and great details. How great would it feel?
Well, the truth is that you, too, can craft a project just like this. And here at HOMMÉS Studio, we have just the right furniture to help you. So check out our article on Modern Marquetry Furniture For Contemporary Interiors and make comfort the star of your next project.

Source: Ashe Leandro