Art adds personality, emotion, and visual interest! Discover how to decorate with Art to boost your living room project with an extra dose of character and beauty.
Art is one of the beautiful human expressions; through creative skills and imagination, it reflects life, culture, and feelings. Decorating with Art echoes not just the magnificence of the Artwork but also its meanings and emotion.
No matter the style – from Modern to Art Deco, an artistic vibe is always welcoming – especially in the living room, where it can be the perfect complement for an extra dose of personality and beauty. Adorning a space with Art can set the ideal mood, add an extra amount of visual interest, unify the colors in a room, and start exciting conversations.
Art is a great way to add a unique flair, tell stories, and much more! To boost your living room design project, we have gathered some tips on how to decorate with Art and stunning ideas to inspire your upcoming projects.
How to Decorate With Art?
Art is incredibly beautiful and an excellent addition to any room – it adds a unique flair, visual interest, and an extra layer of story that any charming living room needs- but have you ever asked yourself how to decorate with Art? So, here you will find some steps to help you to boost your living room decor with the extra dose of character and uniqueness that an artwork can add!
1- Think about the room feeling!
Art is all about feelings, so before selecting a specific artwork for your living room layout, the first step is to think about the feelings you want to achieve in the room! According to the sensations you are looking for – you can determine the type of Artwork that better suits the room´s needs.
2- Consider the color scheme
With the room´s feelings in mind, we jump to the color scheme! When decorating with Art, you must ensure that it matches the color scheme. For that, you can work in two directions: the first is by selecting a piece that fits your living room palette, and the second is by thinking about the Art as the element that dictates the room concept.
3- Don´t forget the room´s composition
Your art piece needs to follow room composition – for that, you can work similarly with the color scheme; the first is selecting an art piece according to the existing room´s set, and the second is by creating the composition centered in the Art that you selected! But the important thing here is that you must ensure a dialogue between the Art piece and the rest of your design choices. In this subject, you will plan how to use the Artwork in your layout.
4- Understand the Scale & Proportion
Finally, the last requirement on our list: is scale and proportion! Before deciding which piece you will place in your living room project, knowing the right size and scale is imperative. These two principles are essential to balance the furniture and accessories with your Art piece.
With these steps in mind, it will be much easier to decorate with Art and make your project stand out! Now, we can head to our last stop: the living room art ideas to inspire you to create a space that breathes Art and emotions. Read on!
Living Room Art Ideas
Decorating with Art is the best way to add a dose of personality to your living room projects and elevate it by bringing feelings, story, and beauty. No matter which style you are working on, these living room art ideas will help you to create a space that breathes character and charm; get inspired:
1- Make a Statement with an Artsy Furniture
Art can be reflected differently – from painting, sculpture, and furniture! A stunning way to decorate with Art is by making a statement with artsy furniture – an exquisite coffee table, an impressive sideboard, or a charming side table. Besides boosting your living room layout with beauty and character, a piece of furniture will also have practical use in your design.
In this charming living room signed by Simone Haag, the interior designer chose to stylish the room with the Picasso center table, an exquisite marquetry coffee table with an artistic pattern inspired by Pablo Picasso´s gorgeous work; the piece of furniture makes the statement that the spot needs while also creating a conversational area full of character that makes the statement that the room needs.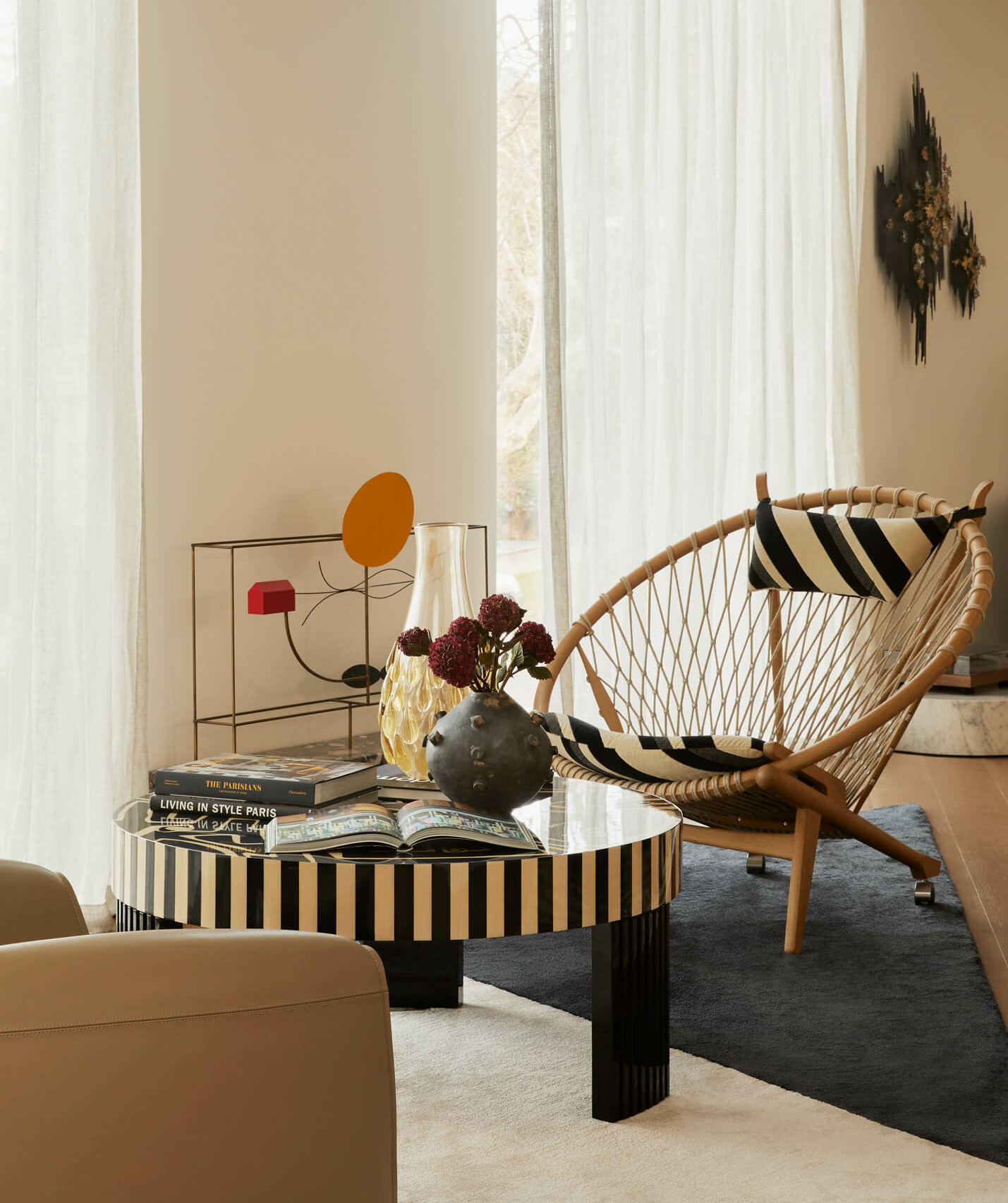 2- Mirror the Art in your Living Room Decor
Another living room idea to decorate with Art is to mirror the Artwork into your decor. Starting your decor with a piece of Art gives you an immediate focal point and an instantaneous color palette, which makes the process much easier.
In this colorful living room, everything started with Art; the designers Katie Glaister and Henry Miller-Robinson, from K&H Design, found the room decor inspiration in an oil painting that the homeowners already owned and loved. From the abstract Artwork, the professionals set the room´s vibe and color palette and search for the furniture that better composes the scheme; the result is a room with Art as a focal point and a charming and light atmosphere.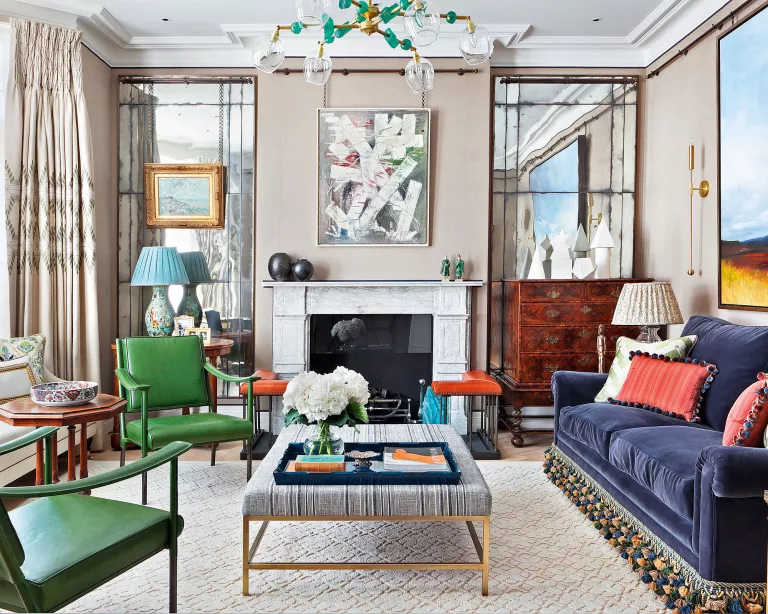 3- Tell a Story with the Artwork
You can use the Artwork to create storytelling in your project and elevate it with more personality. We usually say that more than beautiful, an interior design should reflect meanings and stories; as one of the center rooms of any home, the living room is the perfect scenario to embrace beautiful tales.
To create a living room that inspires, the architect David Mooney incorporates in this living room a linear theme that helps to create storytelling with the help of different painting, which also gives an extra dose of character and interest to the room; while keeping it personal and straightforward.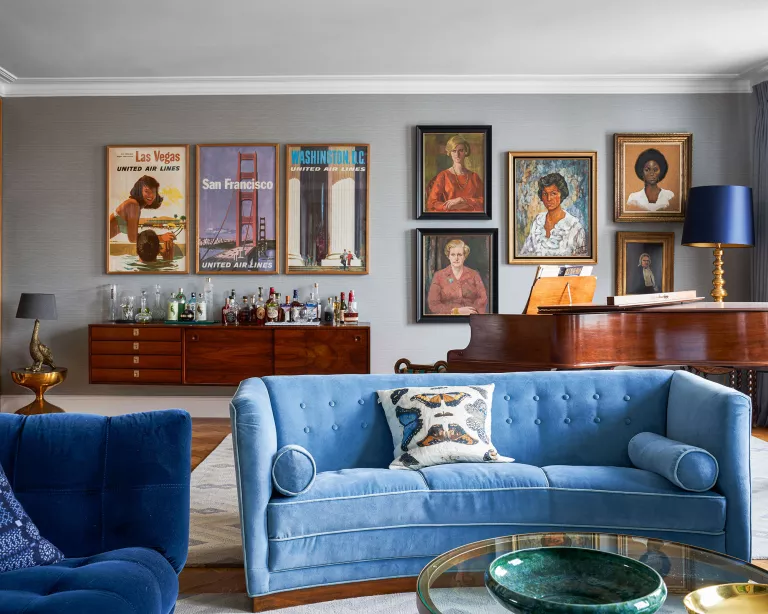 4- Anchor your Living Room with large-scale paint
Another attractive way to decorate with Art is by anchoring your living room layout with large-scale paint, making the Artwork the focal point of your space, adding essence and beauty to the room.
The decorator Steven Gambrel and architect Gary Brewer chose the beautiful painting by Helen Frankenthaler to anchor this living room, where traditional and contemporary references set the home decor tone.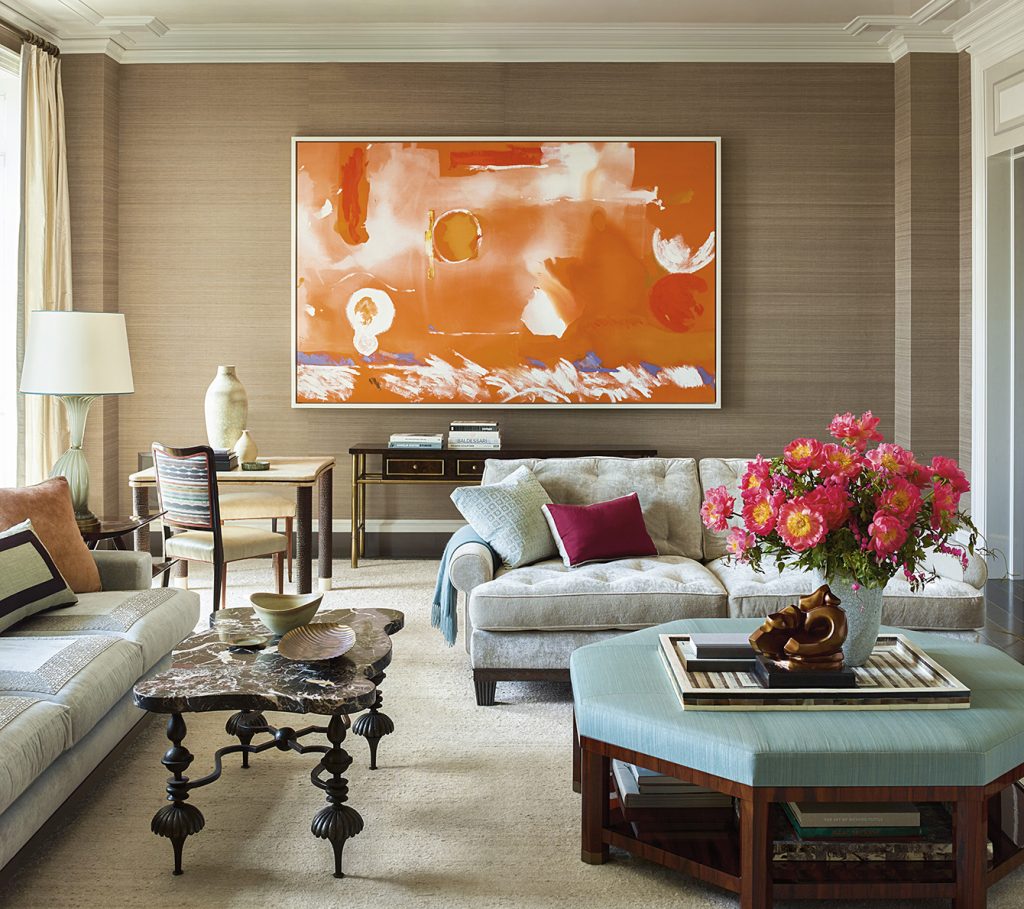 5- Embrace more colors with Art
Our journey through living room art ideas is ending, and to finish this inspiration trip, our last idea is about embracing colors in your living room decor. You can select a piece of artsy furniture or a kaleidoscope painting to give the right amount of vibrancy that your layout needs.
For this idea, we choose to share this beautiful open-plan living room decorated by Sophie Harvey to show that colorful Artwork can also improve minimalist decor; as this one where neutral colors are all around the room, and the stunning large-scale work by Michael Chow gives a hint of color to brighten up the space.
In summary, to decorate with Art, you should pay attention to the feeling, color scheme, composition scale, and proportion of your room. Once you have all that steps done, you could be ready to embrace the power of Art and welcome a creative space.
As you discovered in this article, many living room art ideas are waiting to highlight your project; start now by exploring our ART Genius Collection and find the perfect art piece to give more character and charm to your project.

Source: Gallery | Homes&Gardens