The design studio redesigned and renovated a historic penthouse in New York. A modern art deco interior design project for a high-profile client.
This luxurious penthouse in New York is a modern art deco interior design by HOMMÉS Studio. The design studio and furniture brand revamped the space and changed the dimensions, materials, and finishes of furniture, home accessories and lighting fixtures to create a high-end residential project where all textures, colors, and objects make the owner feel at home.
The homeowner fell in love with HOMMÉS Studio's furniture collection and wanted her new home, a penthouse in a 1930s New York residential building, to be fully fitted with furniture and home accessories from HOMMÉS Studio. With restrictions regarding the property's bones, many products underwent changes to fit perfectly in each room. HOMMÉS Studio's design team includes skilled interior designers, product designers, and visualizers who promptly designed the interior of this modern art deco penthouse.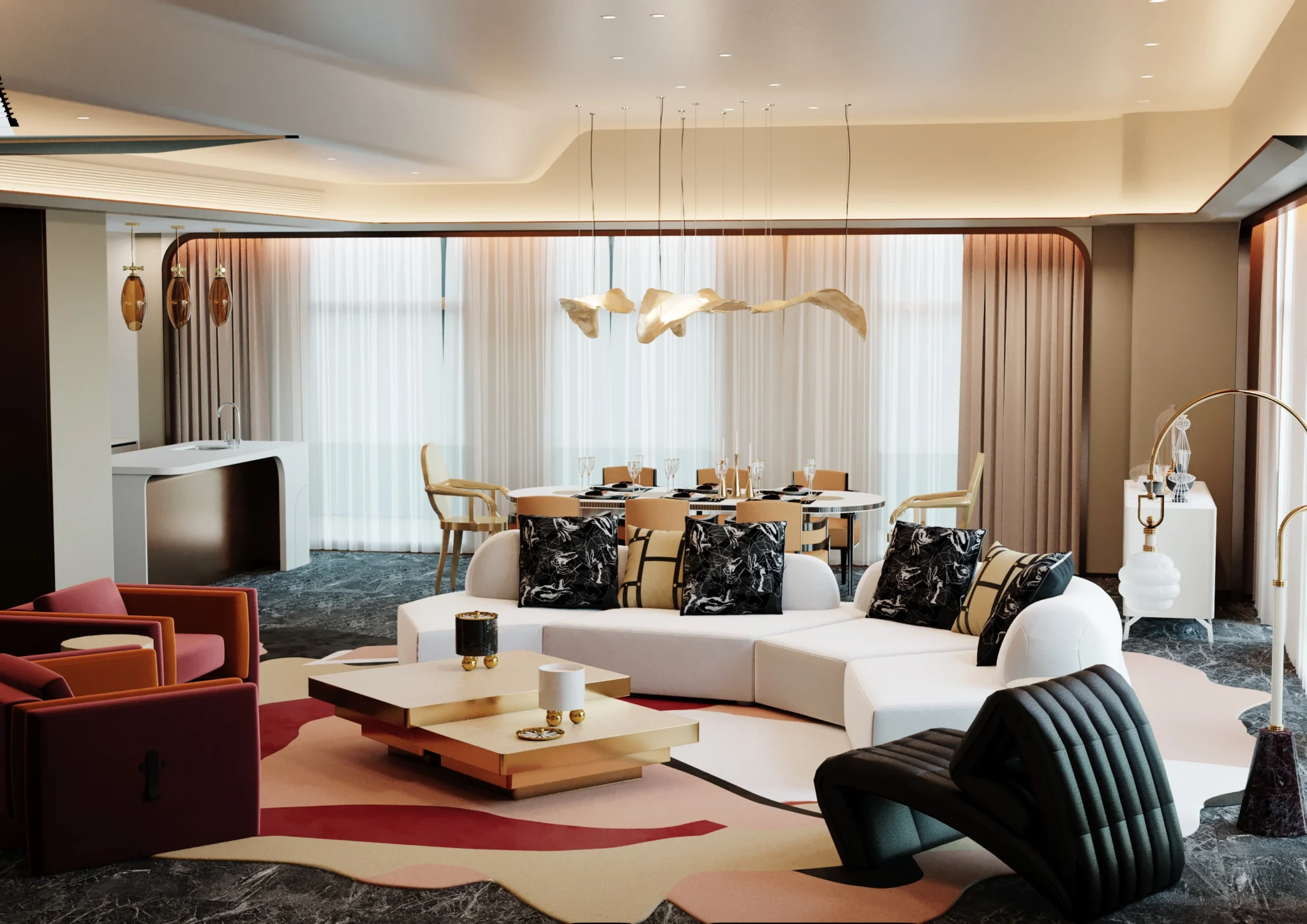 Entryway
The stunning entryway of this modern art deco interior design project is a reinterpretation of timeless interior design styles, like Art Deco, Memphis Design style, or Mid-Century Modern, and merges them into cohesive aesthetics.
A palette of classic colors known for its elegance highlights the design details of each furniture item – the black and white pedestal table with a sculptural foot, the grey and blue rug with an organic shape, the olive green stools with handcrafted details, the glassblowing modern art deco suspension lamp with green shades, the eclectic vase on top of the entryway table, and a shaped rug with Memphis Design Style flair as wall rug that makes a stunning first impression.
Since the majority of furniture and fixtures fitted in the foyer is art deco style, the entryway has a lush look but a warm and welcoming feel. Using two rugs, one under the pedestal table and another on the wall, as an art piece, the design studio balances extravagant finishes from the custom suspension lamp and modern stools.
Despite being ultra-glamorous, the layout of this modern art deco entryway encompasses essential items to create an entryway that makes a great first impression in any interior design style.
Bedrooms
The perfect disposition of the modern art deco rug by TAPIS Studio in the bedrooms remarks on the benefits of custom and bespoke furniture. The rugs with an irregular shape has changed its dimensions to fit perfectly in the modern art deco room. With the capacity to cover the floor from wall to wall, the rug is a refreshing floor covering solution that rivals conventional carpets.
In a modern art deco bedroom thought-to-detail like this one, the area rug brings together bold shapes, a plethora of textures, and several design pieces with a strong character. Some of these pieces were also adapted to give the bedroom cohesive aesthetics. For instance, the Malala Dressing Table is adapted to fit perfectly in a nook within the four walls of this high-end bedroom. Usually larger, this dresser creates a beautiful and functional moment with a smaller version specially designed in a synergy between in-house interior and product designers.
The room's richness of details is extraordinary. The custom modern art deco wallpaper behind the bed's headboard mimics the marquetry pattern of the two nightstands siding the luxurious bed. These nightstands reveal a curated choice from HOMMÉS Studio's interior design team. To respect the room's walls with round edges, the design studio picked out from the brand's catalog a round nightstand that respects the room's streamlined structure and gives a calming sense of motion.
The main bedroom also makes the most out of a sophisticated rug by TAPIS Studio. In this room, this stunning piece is paired with other statement furniture designs by HOMMÉS Studio.
The custom wallpaper behind the headboard is the backdrop for a modern bedroom with art deco, mid-century modern, and Memphis Design style furniture. The plethora of textures and shapes give the luxurious bedroom a whimsical atmosphere, as seen with the irregular Matrioska Nightstands matching the iconic Matrioska Chest Of Drawers.
Designed to spend long hours in, this bedroom evokes quietness and healthfulness and has a cozy nook for reflection and relaxation.
Dining Room and Living Room
With an open plan that shelters the kitchen, dining room, and living room, this HOMMÉS Studio's interior design project uses a color gradient to delimitate these three areas. Even though HOMMÉS Studio's interior design team didn't intervene in the kitchen, the design studio includes this ultra-minimalist area in a cluster of delightful natural pigments that gets more intense and warmer as we walk towards the living room, where elegant and passionate hues culminate. Starting from the all-white kitchen, the dining room is a swirl of cream, beige, taupe, and brown, leading to the living room, where sandy hues are combined with blush and scarlet pigments.
Similarly to the entryway, the modern art deco dining area of this open plan designed by HOMMÉS Studio reinterprets timeless interior design styles.
In the dining area, the long oval dining table with a marquetry table top and two contrasting legs is a sophisticated approach to Memphis Design style furniture. The elegant dining chairs obey the crips proportions of mid-century modern furniture, and the marvelous suspension lamp in hammered brass emanates a whimsical glow over the tablescape. With impeccable construction and a neutral color palette, HOMMÉS Studio's interior design team creates an eating area that brings the luxe fine dining experience to any home.
Reaching the living room, pristine whites, sandy beiges, and peachy pinks set a romantic atmosphere, perfect for a serene napping session, an evening reading a book or engaging conversations with loved ones. In this living room, modern and mid-century modern furniture with bold silhouettes design a scenario that looks sophisticated and feels comfortable. The bulky sofa is upholstered in cream fabric, and the corduroy armchairs are connected by two travertine coffee tables and side tables. All these features lay on a large rug with organic shape in white, beige, pink, and red, the predominant colors of this open space living room. Hand-tufted with all the colors from the living room's palette, this modern rug symbolizes thought-to-detail interior design.
The open plan demonstrates the benefits of an integrated interior design project. HOMMÉS Studio can plan the space and adapt the dimensions, materials, and finishes of furniture, home accessories and lighting fixtures to designing a room where all textures, colors, and objects live in harmony, affecting healthfully how one feels at home. The kitchen, dining, and living areas are three distinguished spaces within the same room. While each has a unique identity, the modern art deco space looks and feels whole.
Home Office
This modern art deco interior design project by HOMMÉS Studio includes a luxurious home office. In this room, nothing is by chance. The colors, materials, furniture, and fixtures blend in with other rooms of the house. However, everything is arranged inside the streamlined four walls to promote focus and productivity.
The soothing colors, calming effect, natural materials with compelling textures, and comfortable seating arrangements are essential in office design. Paying attention to form and function, HOMMÉS Studio's design team mixes furniture and fixtures with different design styles – the geometric rug with art deco influence, the luxe bookcase with Memphis Design flair, or the playful armchair in bouclé are some of the statement pieces chosen by HOMMÉS Studio interior design team to create a modern art deco home office that is filled with creative energy.
This modern art deco interior design project exemplifies HOMMÉS Studio's virtues. The design studio offers sophisticated furniture, impeccable custom and bespoke design, and interior design services. Discover another modern art deco interior design project in Chicago or discover more Interior Design Projects with HOMMÉS Studio's iconic designs in projects by HOMMÉS Studio and top interior designers like Nate Berkus, Kris Turnbull, or Simone Haag.