We know that you feel tired of staying at home looking at the same good old walls. And that is exactly why we selected luxury tropical wallpapers… to escape and to dream! If you're seeking an interior design renovation, this article is just right for you.
Wallpaper adds color to a room. But much more than that. In addition to color, decorating with wallpaper adds texture, movement, and dynamism. A room with wallpaper will never bore you. Furthermore, a wallpaper with natural motifs, such as exotic animals and green leaves, is timeless. Think about the '30s and the epitome of art deco interior style. Then think about the exuberant '80s as well, with plant-filled interiors. Now you're ready! Enjoy the best tropical wallpapers ideas from top interior design brands. Let's renovate!
Dreamy renovation of The Colony Hotel Palm Beach in 2020. A pink custom-made deGournay wallpaper adorns the entrance hall. The tropical wallpaper homages the Floridian fauna and flora.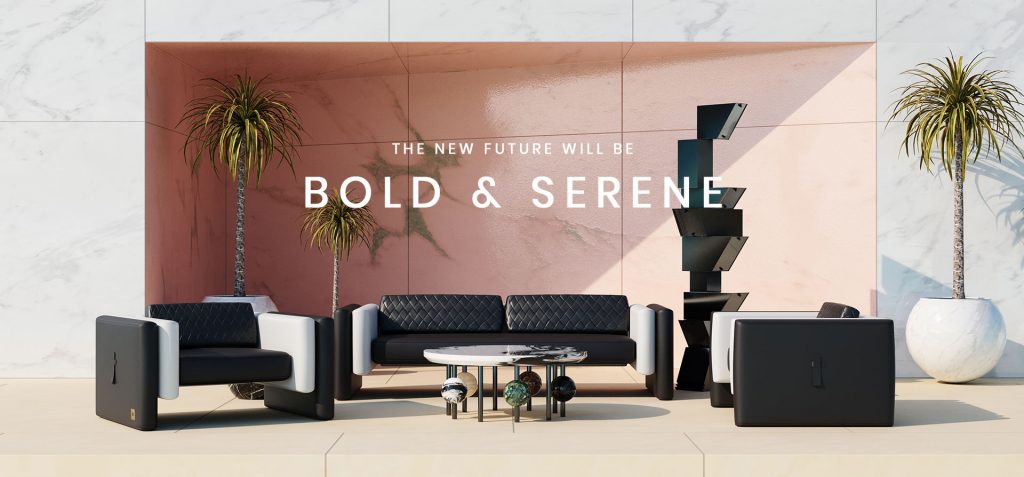 TROPICAL WALLPAPERS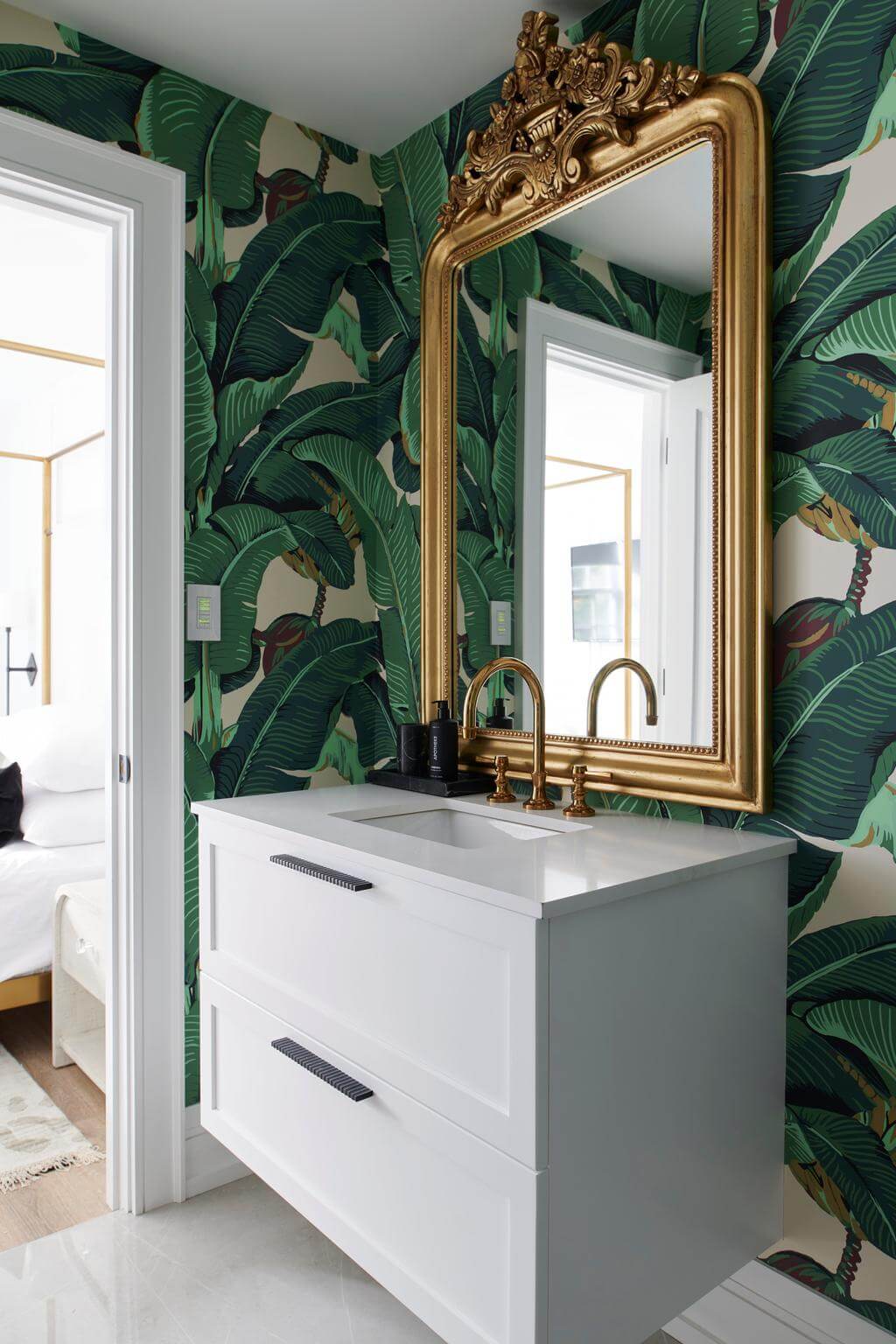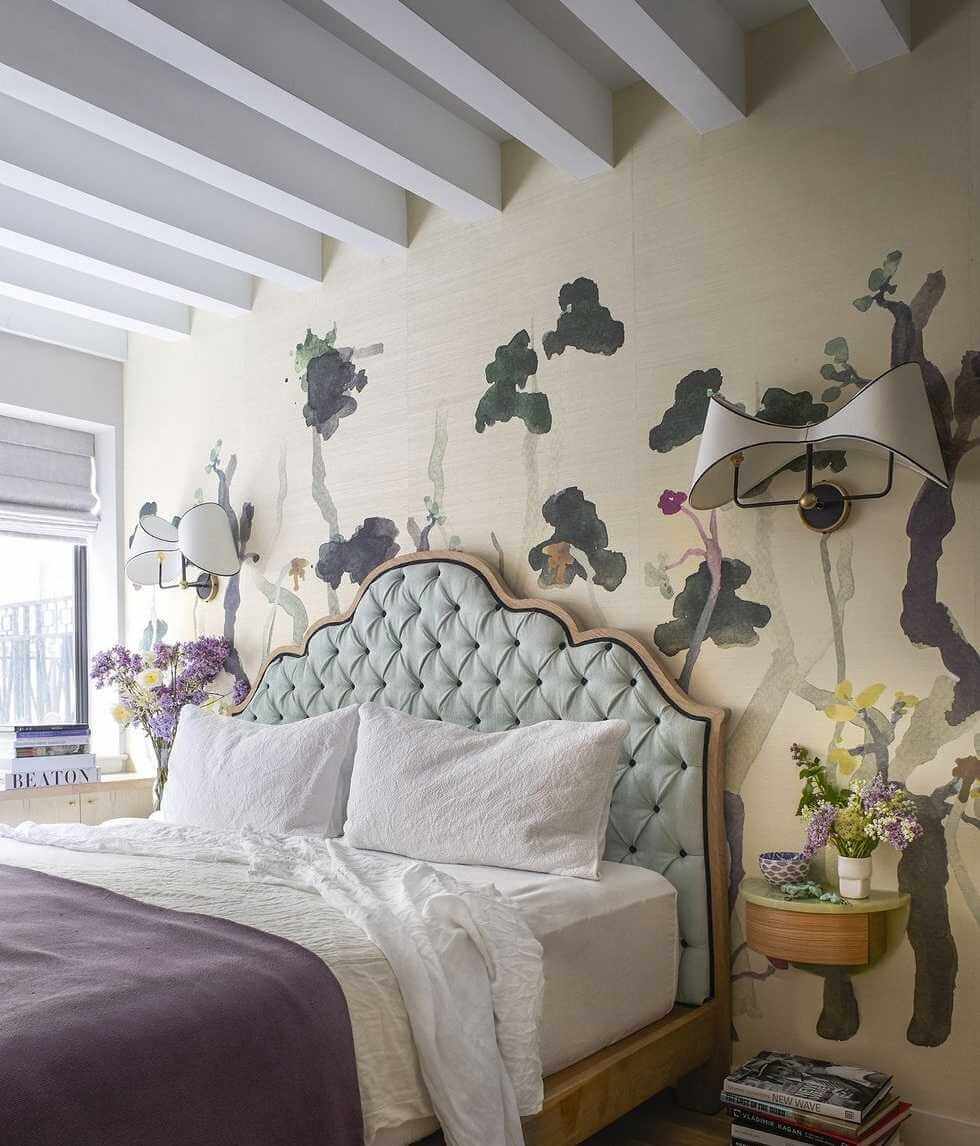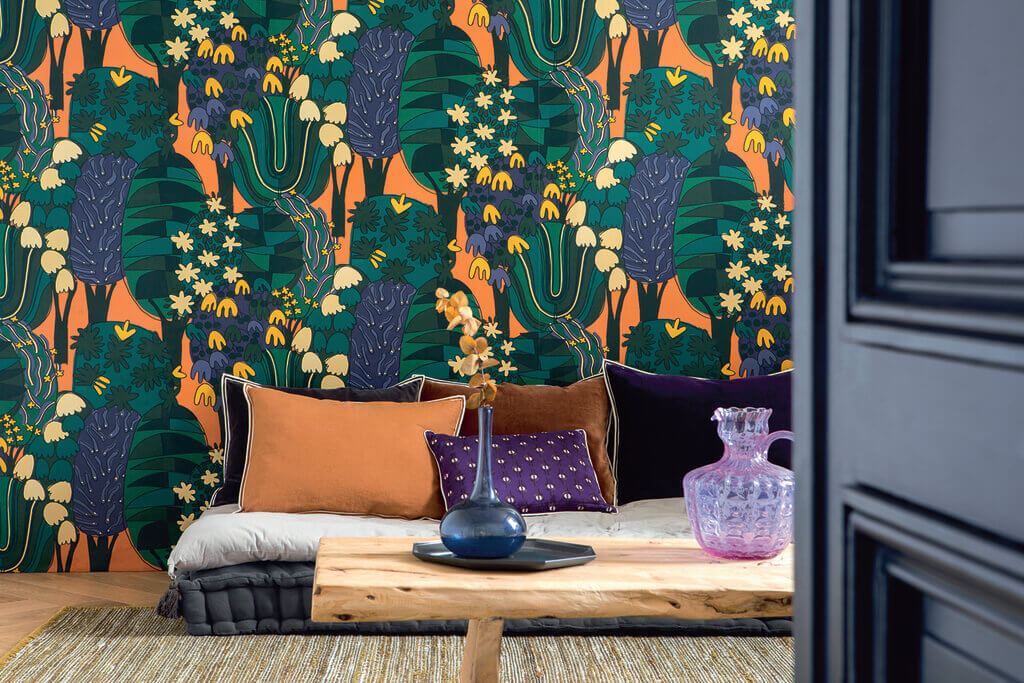 WORKING ON A BUDGET
If you're working on a budget but still want to create an impactful room, work the powder room! Why the powder room? Powder rooms are small, so you'll need to invest less money on paper. Covering the guestroom in wallpaper will also luxe it up. That shouldn't be a lifeless room nor go unnoticed So if you want to renovate your house this Spring but you're lacking time, just go for the powder room.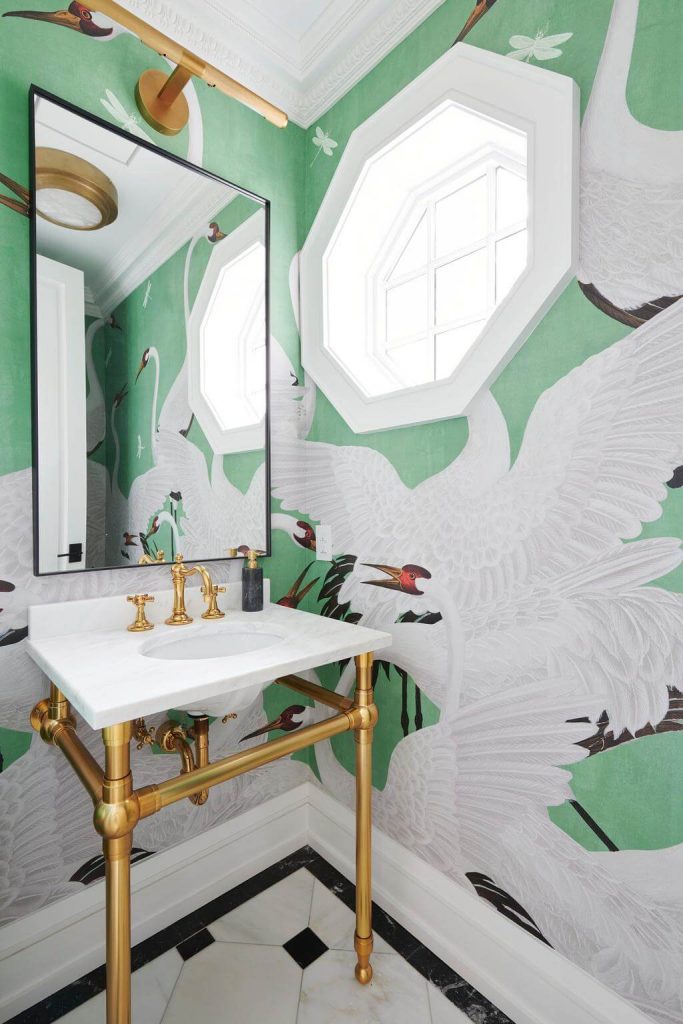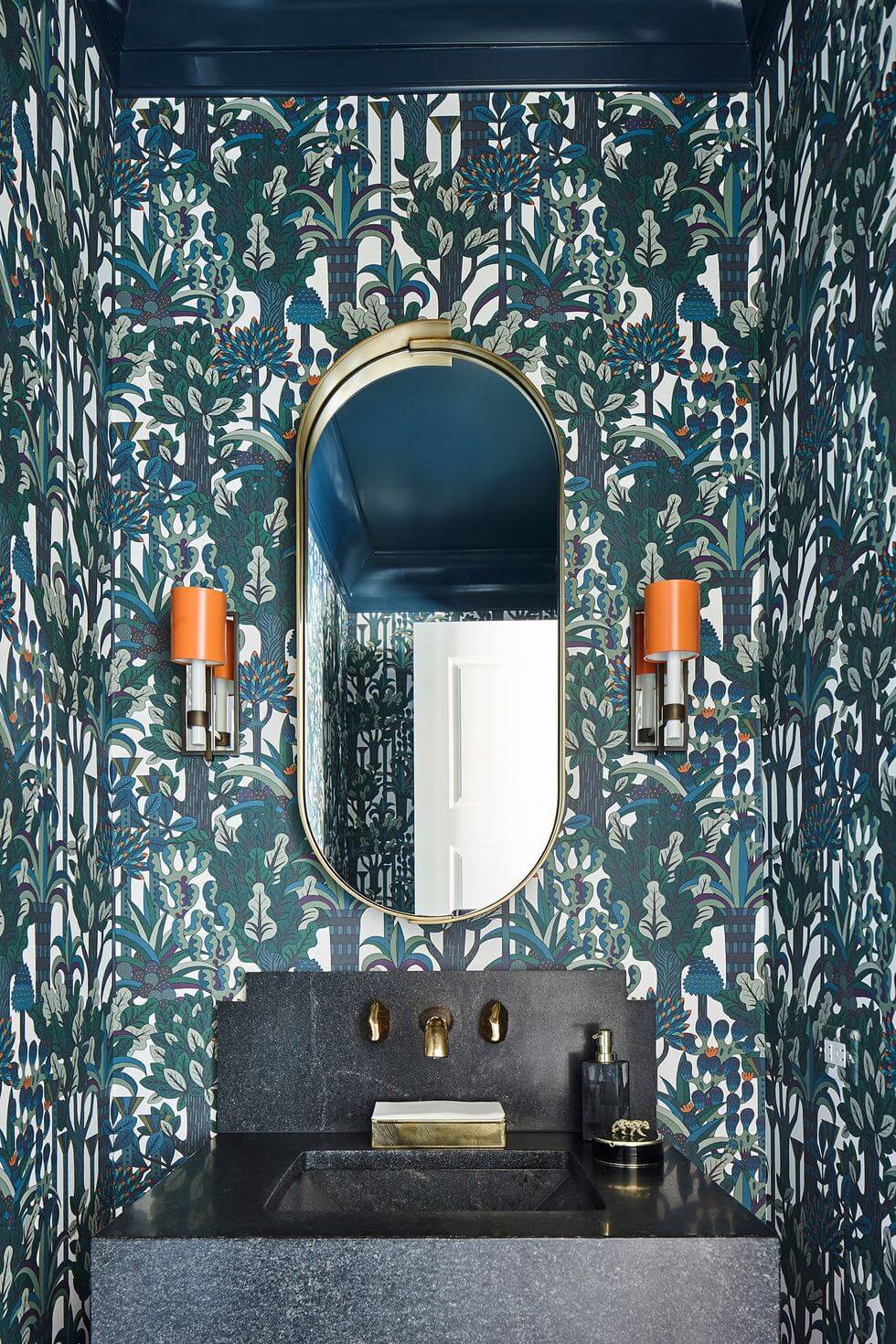 HOW TO CHOOSE THE PERFECT TROPICAL WALLPAPER?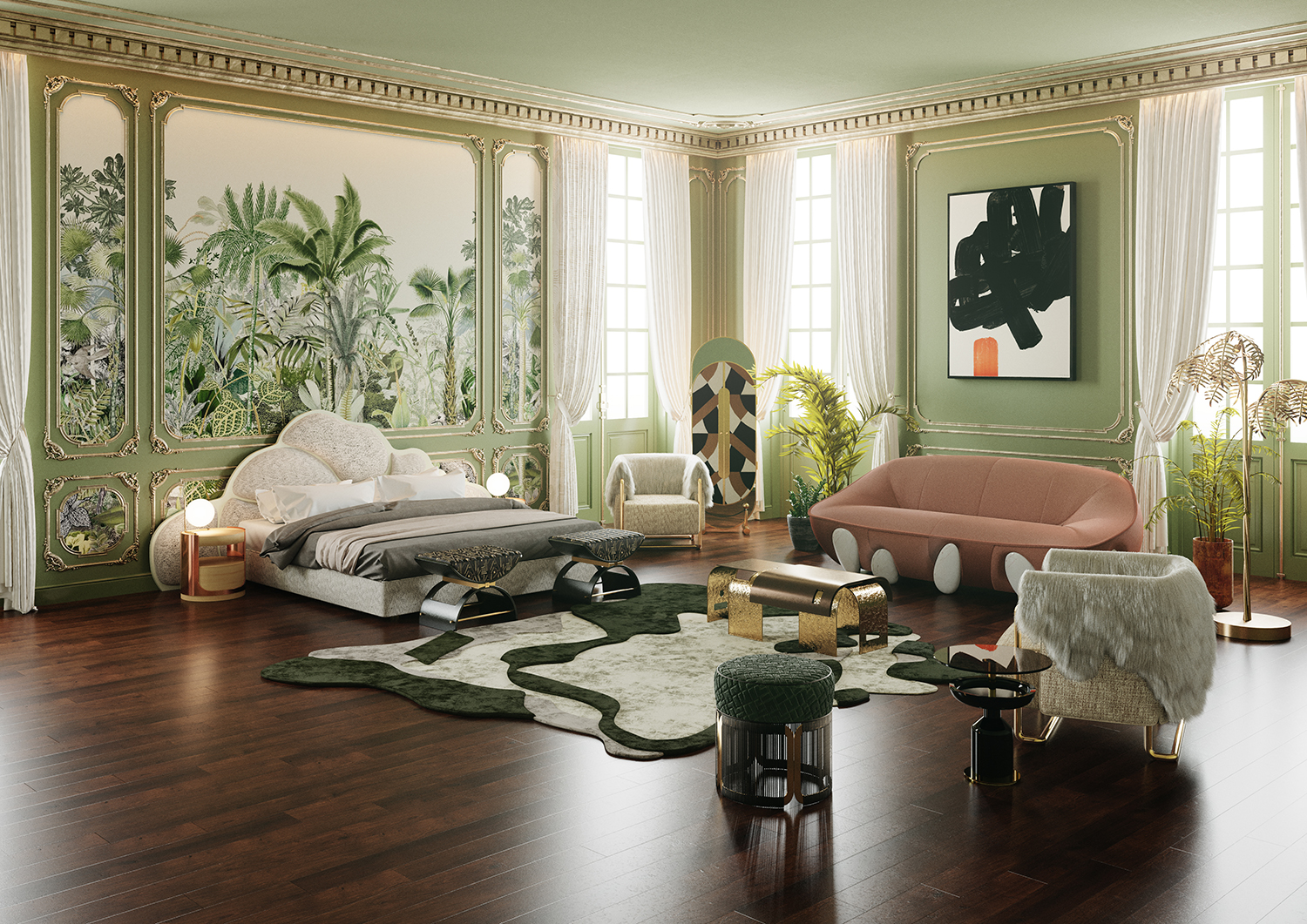 Despite having similarities, tropical wallpaper doesn´t look all the same, right? In addition to the different imagery and the colors, each one of them gives away different vibrancies. So… how to choose the perfect tropical wallpaper?
First of all, choose good quality wallpaper. Good quality wallpaper is more expensive, and might be out of your budget. But there are advantages that will make the money worth it. Good quality wallpaper last longer, looks better, and causes no damage on the walls when properly applied. So if you're buy expensive wallpaper you really should consider hiring professionals to have it installed.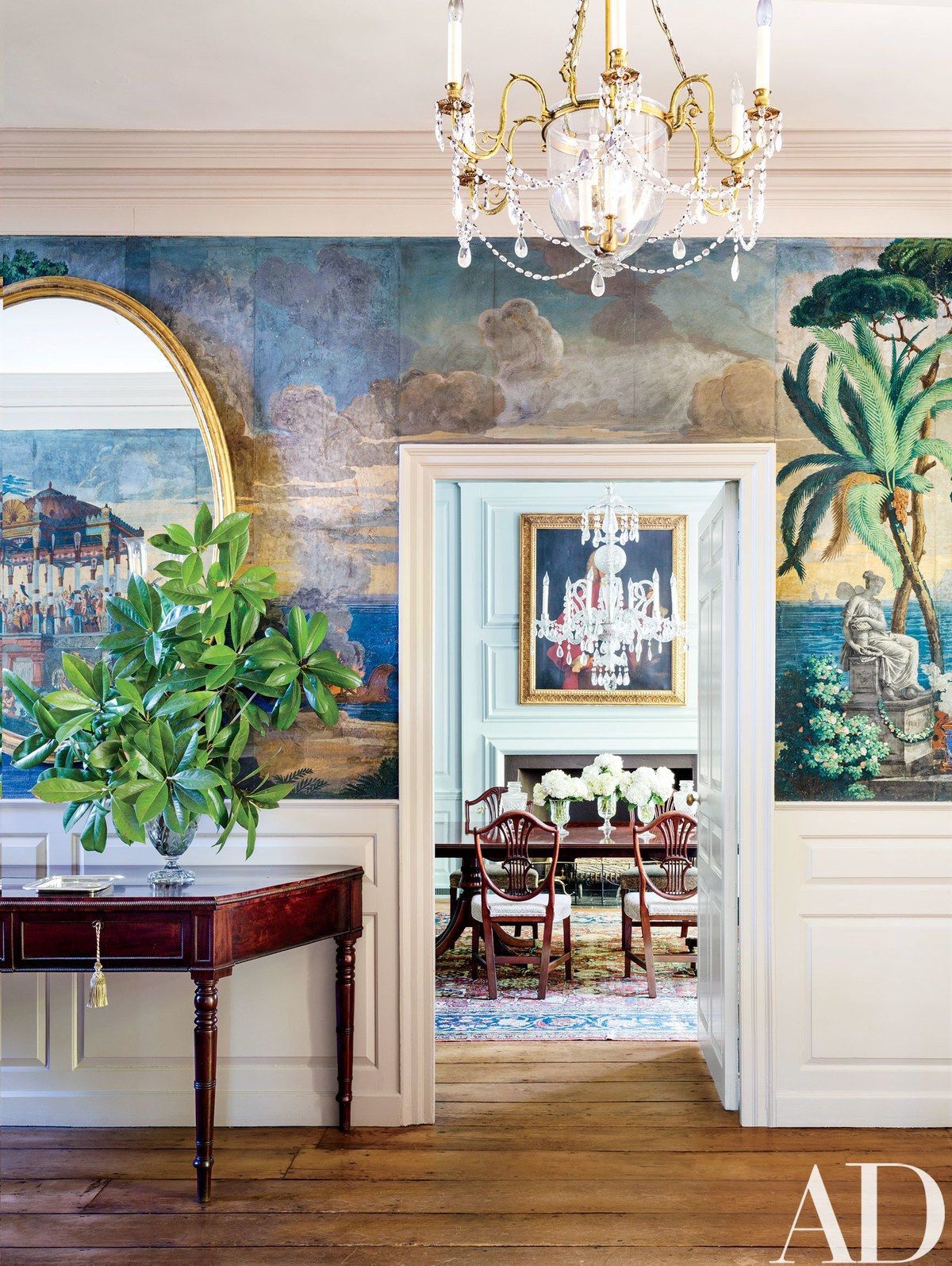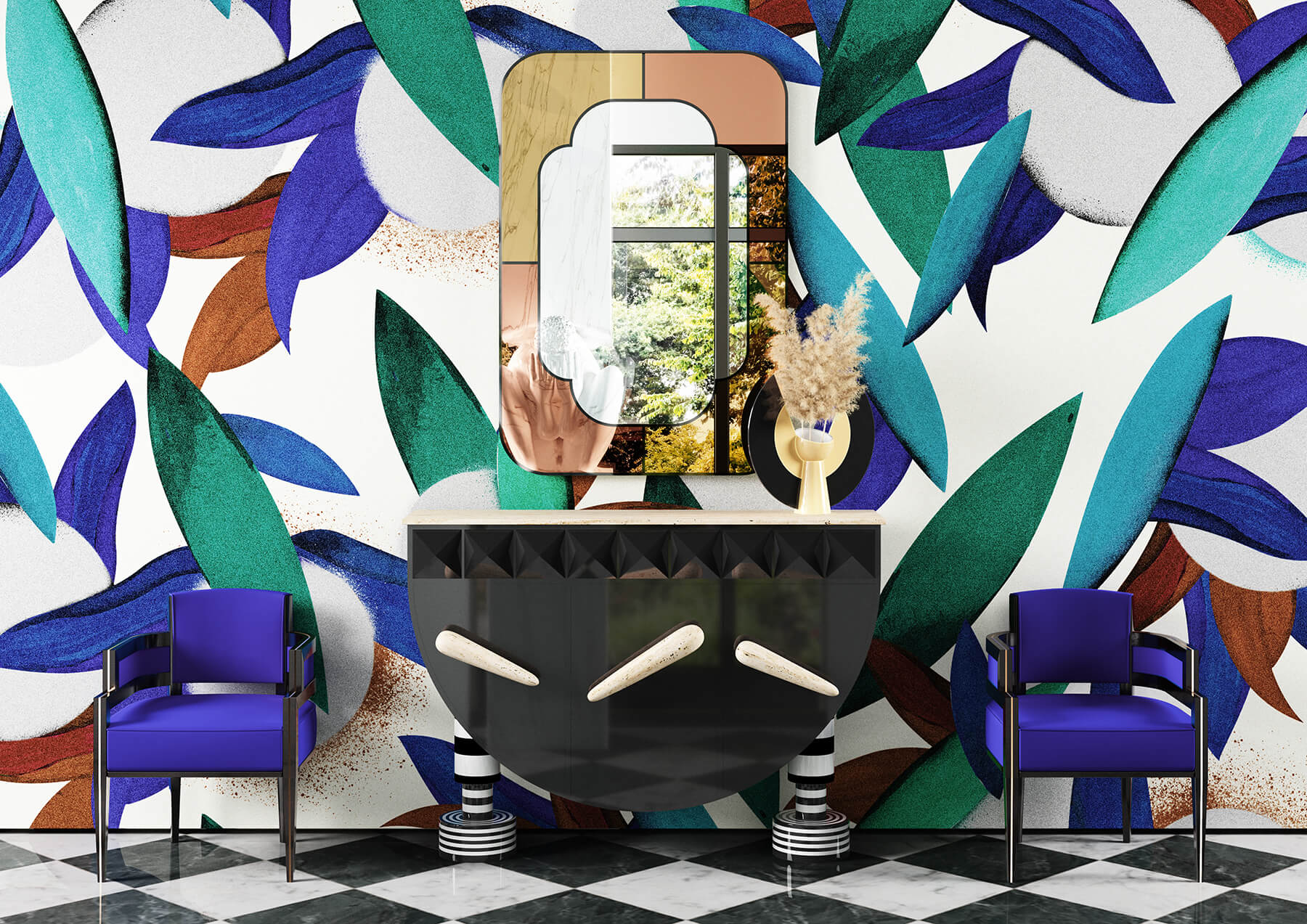 After having in mind that you should choose a good quality wallpaper, you should care about its appearance. Tropical wallpapers are mainly green, blue, and orange. Therefore, this highly aesthetic wallpaper theme comes in earthy tones. Nevertheless, its hue always varies. Some of them have strong earthy colors, such as blue cobalt, or brick orange. Others are mainly olive green and have more romantic hues, like pale pink. If the room has a modern or contemporary interior design style, we strongly advise you to go for more graphic tropical wallpapers with stronger color hues.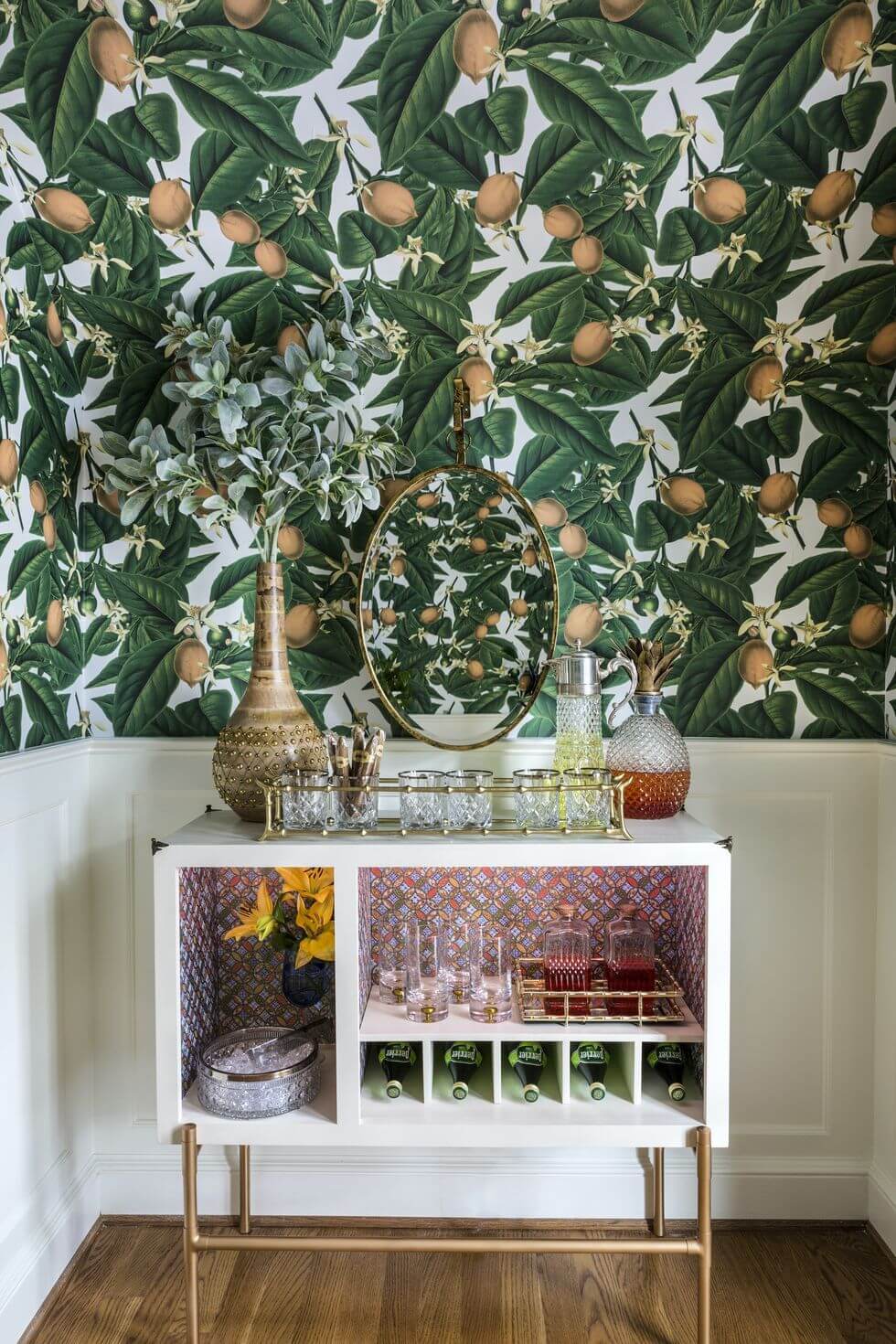 On the other hand, if you're more of a classicist and want to achieve a mid-century interior style, or even vintage, go for softer earthy hues.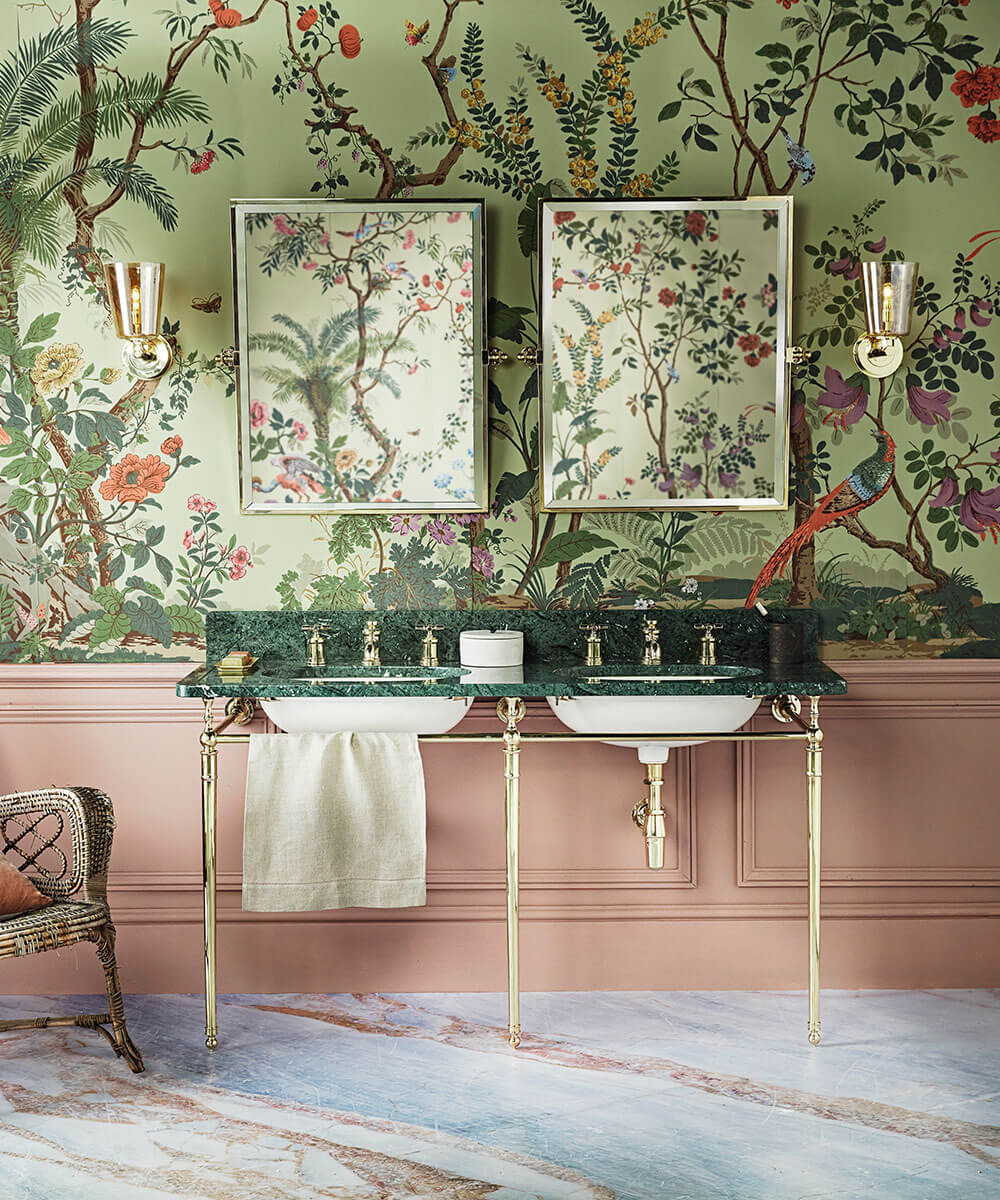 WHERE TO APPLY THE WALLPAPER?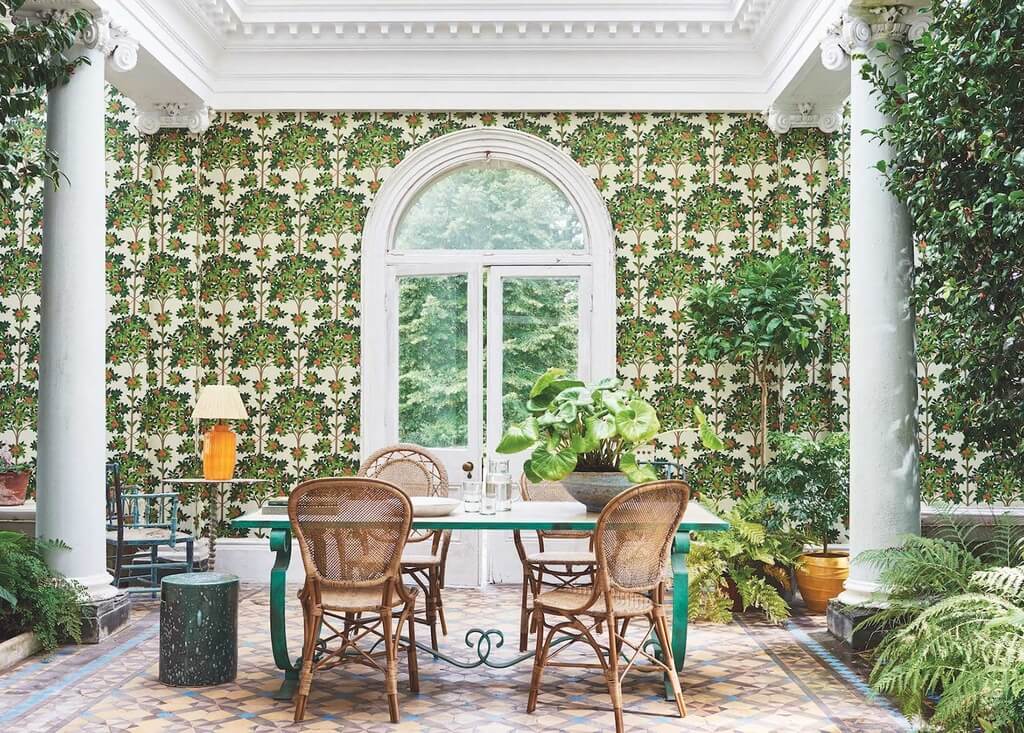 Maybe you're just passionate about tropical wallpapers. Maybe you just get mesmerized by the beauty they carry with them. And maybe you just want to be surrounded by that beauty, but don't know where to put it. Well. the possibilities are endless. As already said, covering the wall of your guestroom would be impactful enough. In case the idea doesn't appeal to your senses, think that you can cover as many walls as you want, and as much of a wall as you want as well. In fact, wallpaper can be used as a headboard or window frame. You can install wallpaper in the entrance or in the ceiling. It's not a common move, but decorating the ceiling with wallpaper gives charisma to the dullest of the rooms.
However, our favorite Spring decor idea with tropical wallpapers is to decor the indoor-outdoor dining area. Do you have a terrace, yard, or any kind of outdoor patio? Is it somehow covered and able to resist harsh weather? Then you should consider making it a tropical dream.
For more wallpaper decor ideas for this Spring, discover 20 stunning wallpaper ideas.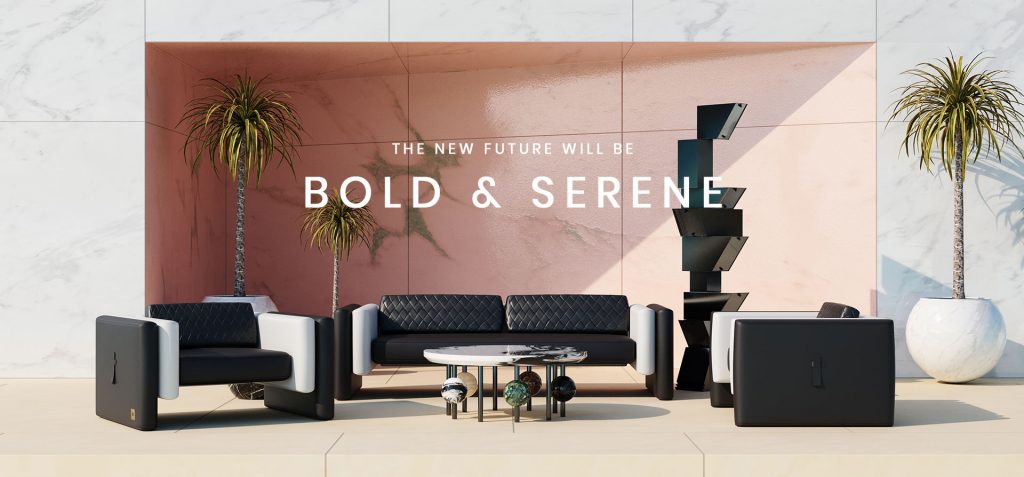 Source: https://www.galeriemagazine.com/spring-2021-tropical-wallpapers/