From opulent living spaces to refined details, this luxurious interior design by Thomas Hamel & Associates is a jewel in itself.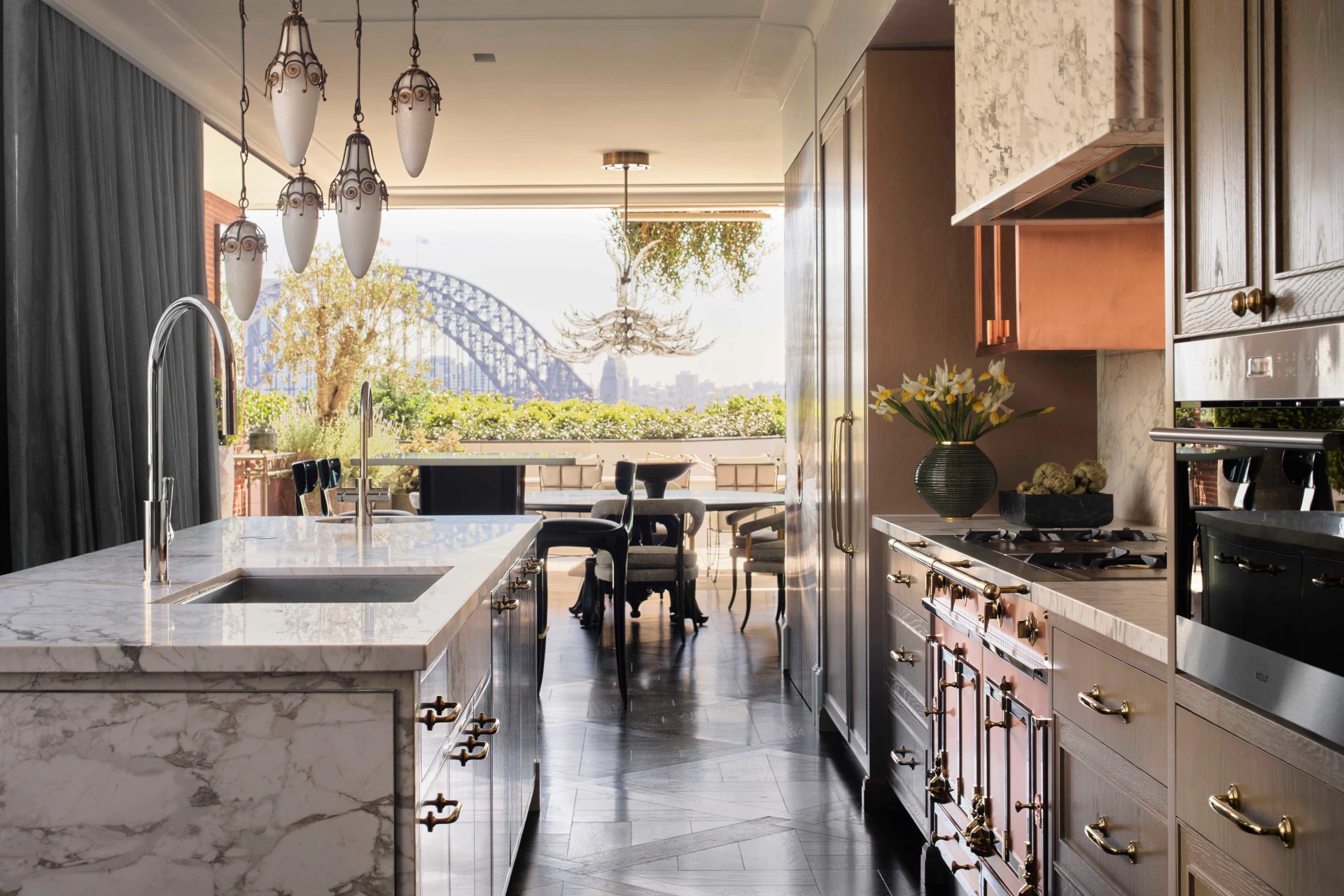 Perched high above the vibrant city of Sydney and with showstopping views of the Harbour, a penthouse stands as a true testament to the beauty of luxurious interior design. This breathtaking residence, crafted by the talented team at Thomas Hamel & Associates, is a stunning showcase of impeccable taste and refinement. From the grandeur of its living spaces to the meticulous attention to detail, this penthouse is a masterpiece in every sense of the word.
So, join us on a journey through the opulent interiors of this luxurious interior design, and discover the ultimate in luxury living.
A World of Opulence and Elegance
As soon as you enter this penthouse, you're immediately transported to a world of opulence and elegance. Every space is adorned with beautiful artwork and elegant furnishings, as well as amazing floor-to-wall features and intricate details that take the design to a whole other level, making it clear that no expense has been spared in the creation of this exceptional home.
From a living room filled with plush seating and beautiful decor that boasts a neutral color palette with accents of gold and burgundy, to an equally impressive dining room (in that same shared space) that counts with a beautiful artistic chandelier, to the even more remarkable kitchen which perfectly walks the line between opulence and elegance, this luxurious interior design takes a significant focus on lavish entertaining spaces.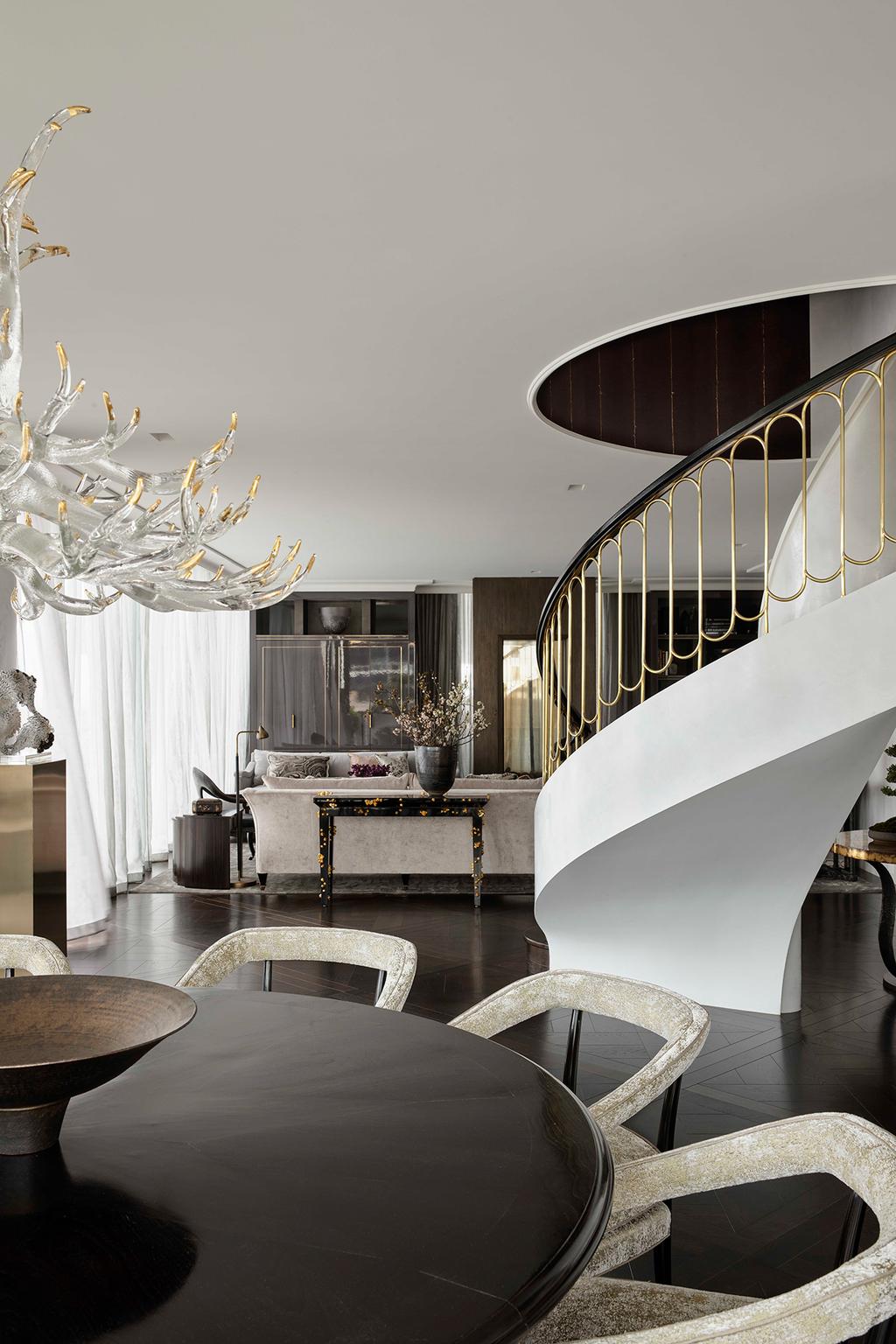 However, this is not the case in every room, with the apartment featuring some purposefully quieter and more intimate spaces, like the guest bedroom, in which the design takes on a more simple yet elegant direction, characterized by a calm color palette and use of soft textures.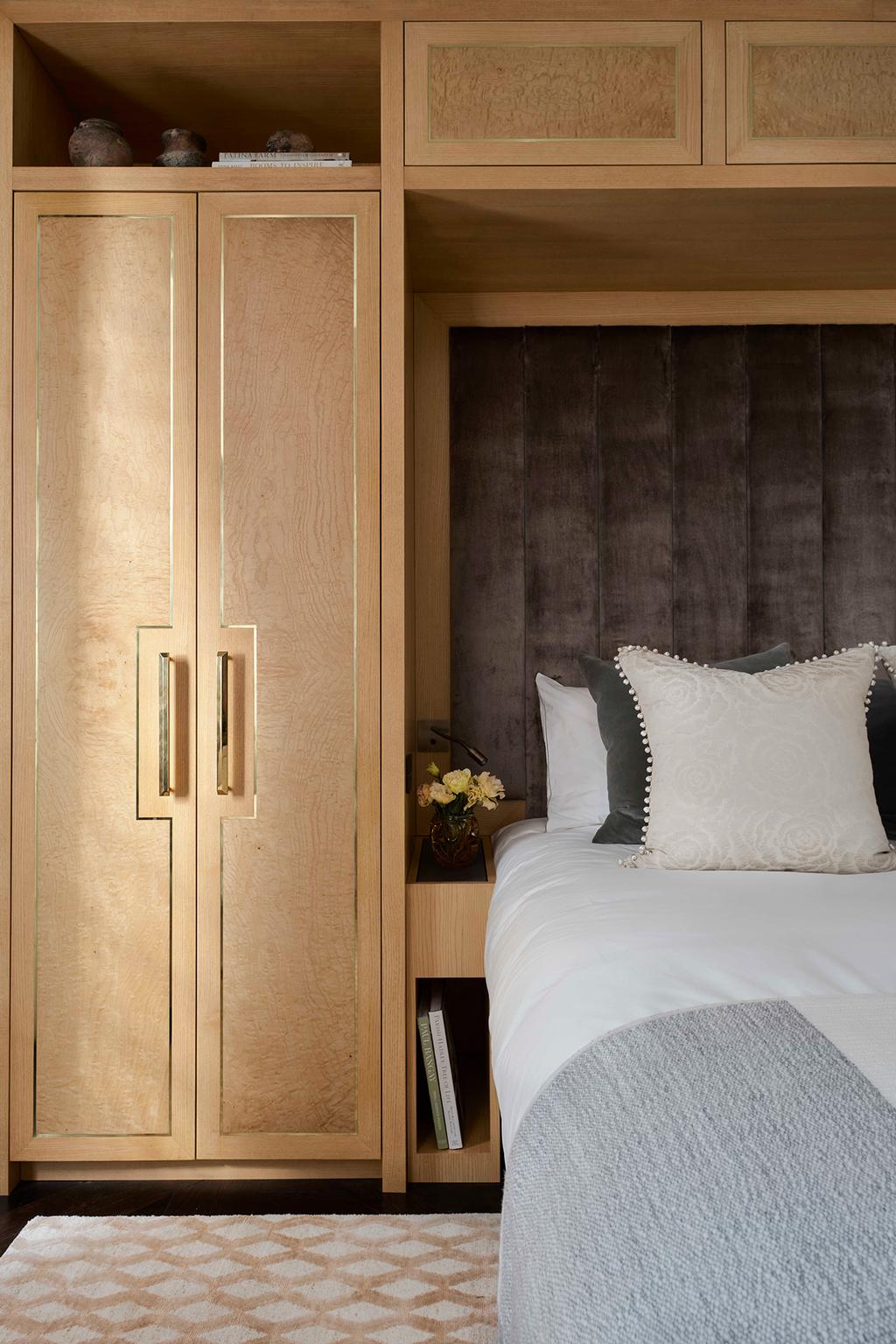 A Luxurious Eclectic Mix of Furniture
But even in the same room, many different design approaches are taken, with the designers exploring a blend of traditional and modern styles through unique furniture pieces that come together to create a sometimes cohesive, sometimes opposing, but overall stylish look.
In this sense, some signature pieces can be spotlighted, such as the fantastic art deco pendants in the kitchen (which were actually created by master French ironworker Edgar Brandt in the 1920s), the maximalist detailed gold chair upholstered in zebra print next to the central staircase (which itself is upholstered in some sort of animal print) or the modern stone dining table in the terrace (which complements beautifully with the dining chairs around it).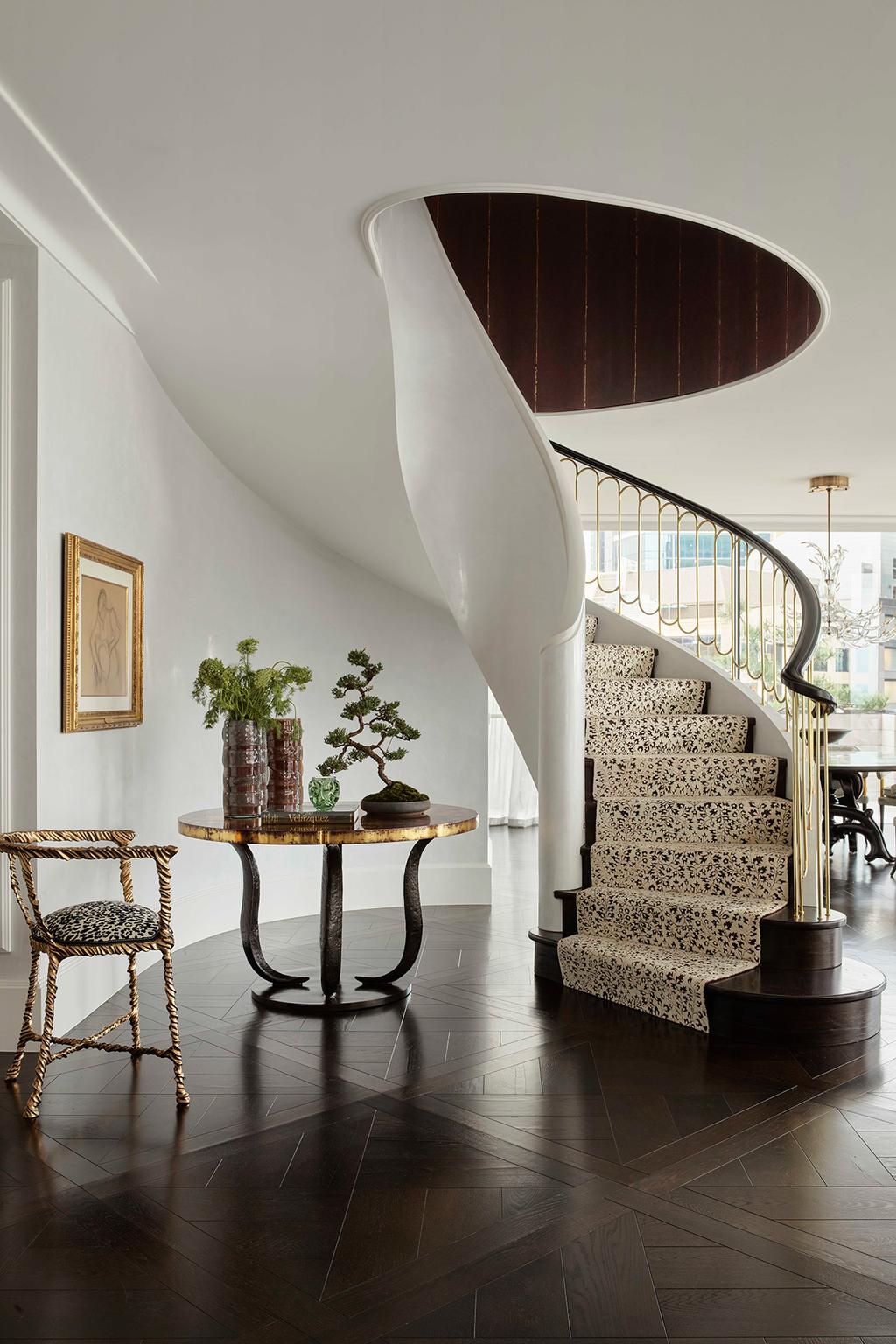 Paying Close Attention to Details
What really defines this luxurious interior design is, however, the great attention to detail paid by the designers. Every room in the penthouse has been thoughtfully designed and meticulously crafted, with each detail carefully considered to create a cohesive and luxurious living space
From intricate architectural features (like crown molding, ebonized timber doors, brass detailing, and patterned stone and timber floors) to the carefully curated wallpapers (like that amazing black and golden floral pattern in the powder room) and detailed decorative objects, the designers of this penthouse have left no stone unturned in their pursuit of perfection. Even the smallest details, such as the door handles, have been chosen with care to ensure they contribute to the overall design aesthetic.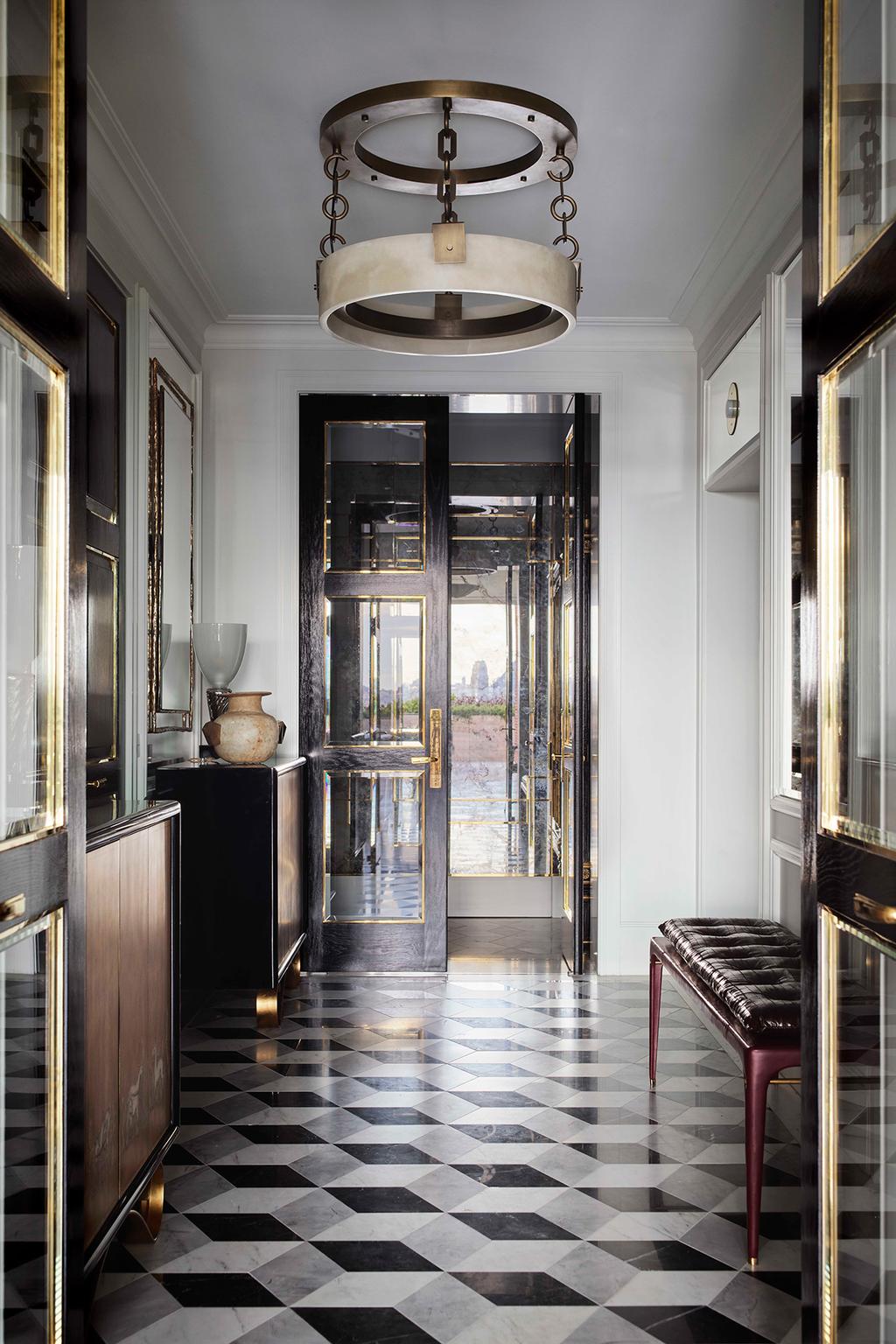 Opulent and Luxurious Interior Design
And the only way to describe this aesthetic is "opulent and luxurious interior design", so we think Thomas Hamel & Associates did a great job with this project, creating a stunning example of what can be achieved with creativity, skill, and attention to detail. From an indulgent living room, with plush sofas and elegant armchairs, to an outstanding kitchen with elegant details, an amazing master bedroom that evocates sophistication, or even a bathroom that screams opulence, this luxurious interior design stands up even to the level of the show-stopping views of the Sydney Harbour Bridge.
Overall, the luxurious interior design of this Sydney penthouse is a true work of art and an inspiration for anyone looking to create a luxurious living space.
Shop The Look
Inspired by the luxurious interior design of this penthouse, we here at HOMMÉS Studio decided to gather a few of our favorite pieces to complement this project's aesthetic and inspire you even more. Check them out!
If you're interested in discovering more unique furniture for your luxurious interior design, make sure to check our Products Page to find the catalog of your dreams.

Source: Anson Smart