Each of these remarkable outdoor lounges provides a sanctuary from the hustle and bustle of everyday life, inviting you to immerse yourself in the serene beauty of the outdoors.
From urban retreats to idyllic natural settings, each magnificent space offers a tranquil oasis for the senses, with a design that seamlessly blends with the surrounding environment.
As you explore each of these outdoor lounges, you'll be transported to a world of serenity and beauty, where the refreshing breeze and gentle rustling of leaves create a symphony of natural sounds. These peaceful havens invite you to slow down, relax, and connect with the awe-inspiring wonders of the natural world.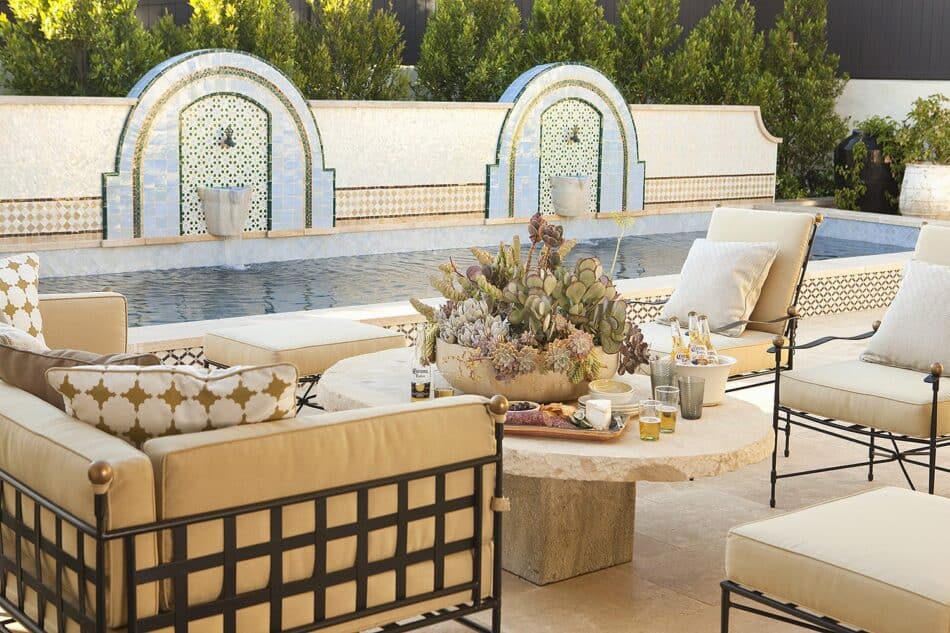 Each of these stunning lounges has been carefully crafted to reflect its designer's unique style and creative vision, resulting in an awe-inspiring array of diverse and captivating outdoor spaces.
Whether you're drawn to the sleek and contemporary designs of urban lounges or the rustic charm of natural retreats, these exceptional outdoor spaces represent the pinnacle of interior design excellence. Each one is a masterpiece of aesthetic harmony, seamlessly blending form and function to create a beautiful and practical space.
Villa in Santa Barbara
Cliff Fong, the founder of Matte Blacke Inc., is a master of creating comfortable yet elegant settings that showcase the natural beauty of the surrounding environment. In a recent project, he designed a charming villa in Santa Barbara that perfectly captures his vision of casual sophistication.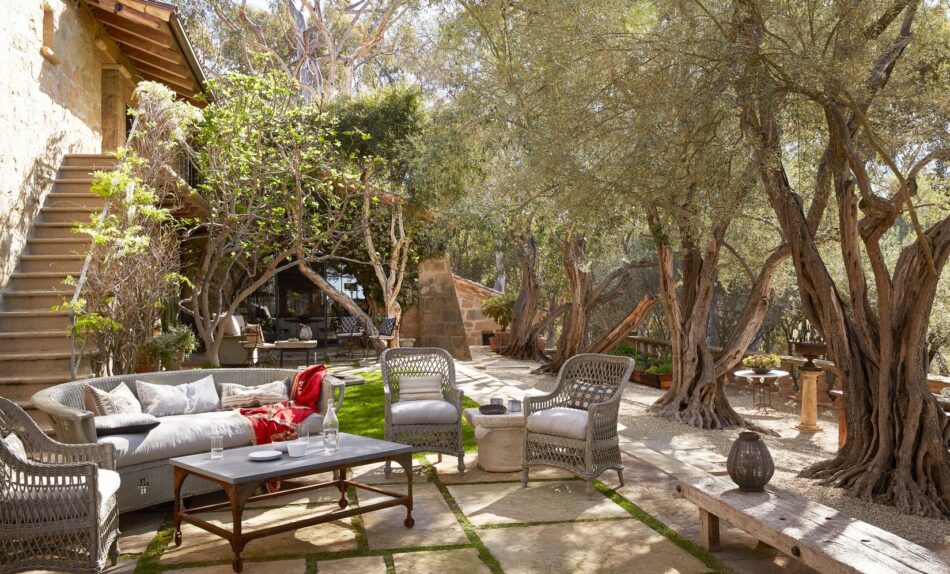 Fong carefully selected wicker seating and a vintage coffee table to achieve a sense of effortless grace while maximizing the property's stunning coastline views. Additionally, he incorporated this outdoor lounge with sculptural potted plants to add an element of exoticism and a touch of age to the grounds.
The result is a magnificent outdoor lounge that seamlessly blends elegance and comfort and creates a welcoming atmosphere that encourages relaxation and contemplation. Fong's design perfectly embodies the essence of a luxurious coastal retreat and offers a glimpse into the transformative power of exceptional design.
Hamptons country home
Designer David Kleinberg has a talent for creating outdoor spaces that are both timeless and sophisticated. In a recent project, he focused on the back deck of a Hamptons country home, opting for a classic and minimalist aesthetic.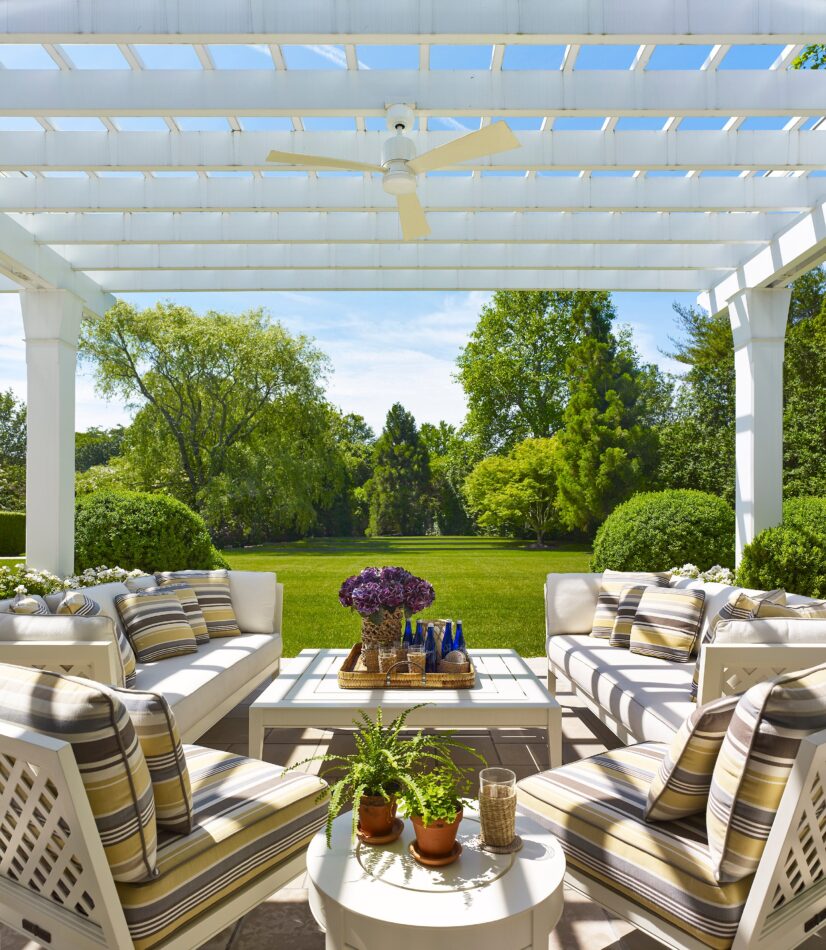 To achieve this look, Kleinberg selected seating and a coffee table by McKinnon and Harris that pay homage to the clean lines and symmetry of Roman architecture while also incorporating elements of Jeffersonian Virginia. These pieces perfectly complement the gridded pergola roof and the sleek columns, resulting in an understated and elegant design.
The overall effect is a stunning outdoor lounge that exudes an air of refined simplicity. The space invites relaxation and conversation while also showcasing Kleinberg's keen eye for detail and his ability to blend historical influences with a contemporary design seamlessly—an appeal of classic simplicity and a reminder that sometimes, less is truly more.
Tropical Escape in the Dominican Republic
The beauty and tranquility of outdoor living have always inspired renowned designer Bunny Williams; for her tropical retreat in the Dominican Republic, La Colina, Williams, and her husband, John Rosselli, set out to create a space that would allow them to fully immerse themselves in the natural surroundings and embrace the ocean breeze.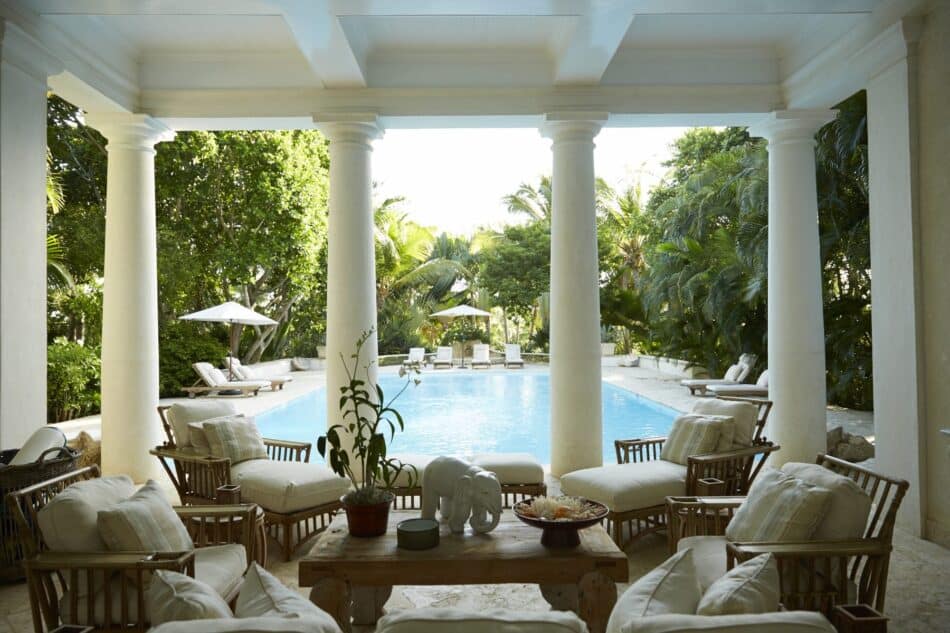 Williams designed the pool house to double as a guest cottage, taking inspiration from the iconic Greek temples with granite columns extending to the edge of the pool. The result is a stunning blend of ancient architecture and modern design, creating an atmosphere of timeless elegance.
The designer completed the look by outfitting the pool house with teak outdoor lounge seating, offering the perfect spot to relax and enjoy the stunning views. The result is a space that seamlessly integrates indoor and outdoor lounge and perfectly encapsulates the essence of tropical luxury.
Their unparalleled design vision and ability to create intimate and inviting spaces while showcasing their surroundings' breathtaking natural beauty.
Modern House in Venice
Proem Studio is a design firm that understands the importance of creating spaces that truly reflect their client's unique personalities and backgrounds. For the patio of a modern house in Venice Beach, they drew inspiration from the client's primary residence in South Africa, a wildlife safari park.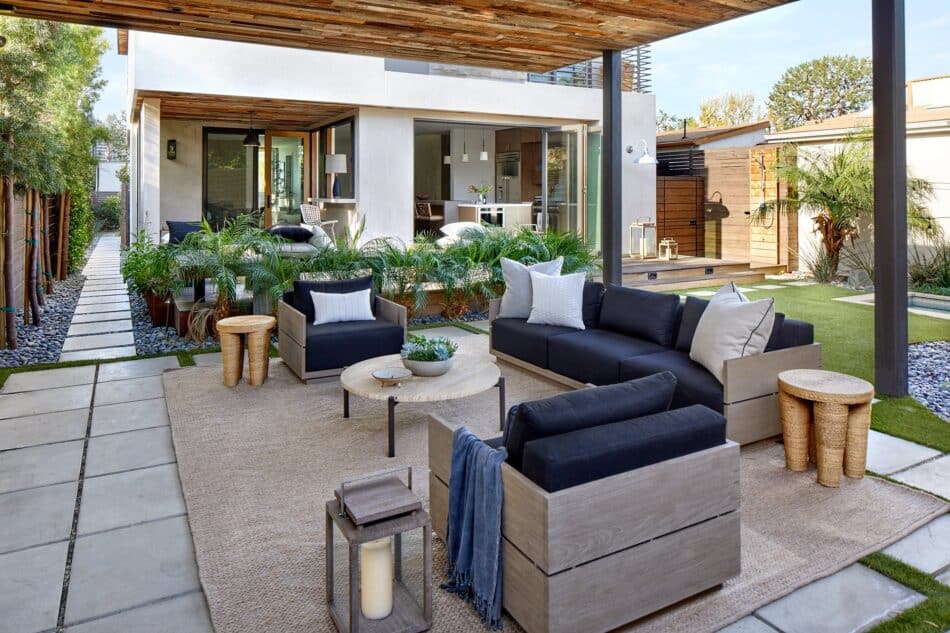 "We wanted to give him the feeling of South Africa when he stays at his pied-à-terre in Los Angeles," explains Proem Studio cofounder Ashley Drost. The team achieved this by incorporating natural materials and a neutral palette while infusing the space with an easy California vibe.
Modular seating, textured side tables, and a Lawson-Fenning coffee table all work together to create a welcoming and relaxed outdoor lounge. The result is a space that seamlessly blends the best of two worlds, allowing the client to feel at home in Los Angeles and South Africa.
Proem Studio's attention to detail and commitment to creating unique, personalized designs is evident in every aspect of this stunning outdoor lounge.
New York Apartment
Designer Wesley Moon understands that a beautiful outdoor lounge can be a valid extension of living space. When working on an expansive private terrace off the leading suite of a New York apartment, he turned to landscape architect Aaron McIntire to help him create the perfect outdoor lounge oasis in the middle of the bustling city.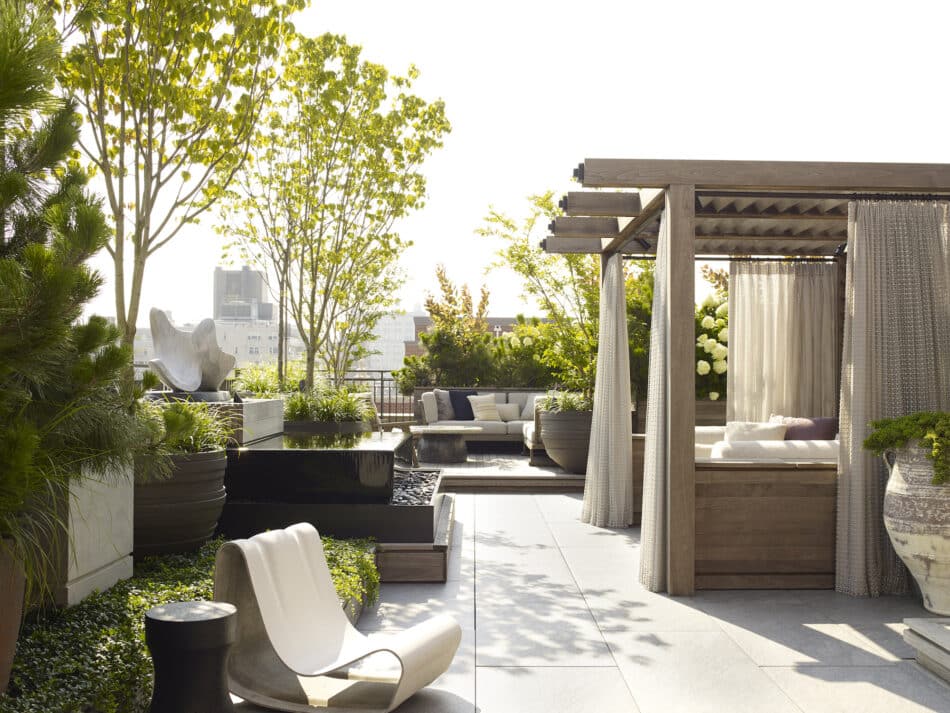 Moon wanted to create a space that exuded tranquility and serenity, and the soft curves of the furniture he chose perfectly accentuated this feeling. From the sculptural concrete Willy Guhl chair to the lava-stone end table by Christian Liaigre, every piece was carefully selected to enhance the natural beauty of the outdoor lounge.
One of the standout features of this outdoor lounge is the custom mosaic coffee table designed by Moon with Sicis. This beautiful piece seamlessly blends style and function, adding a touch of sophistication to the outdoor lounge environment while providing a perfect spot to enjoy a cup of coffee or a glass of wine.
Laguna Beach
In Laguna Beach, many homes are built around a central courtyard, and Taylor Borsari's Spanish Colonial design is no exception. According to Borsari, it was important for the yard to feel connected to the rest of the architecture while being both decorative and functional.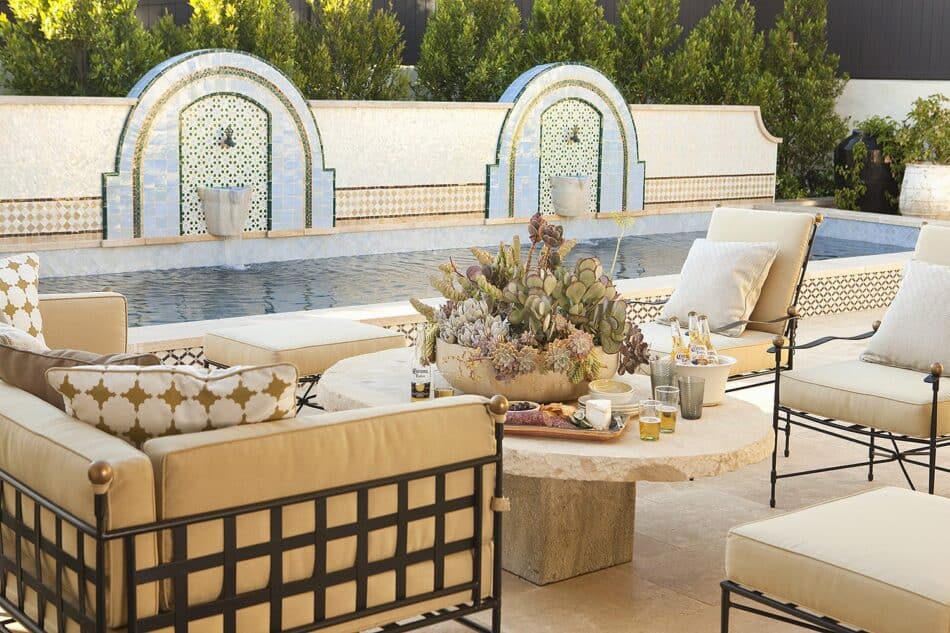 The result is an outdoor lounge that seamlessly blends the home's Spanish Colonial architecture with its surroundings, creating a beautiful and functional space perfect for relaxing and entertaining.
Borsari's attention to detail and thoughtful design choices make this courtyard a standout feature of the home, one that is sure to be enjoyed for years to come.
Monarch Bay patio
Emily Turner, Barker of M. Elle Design, created an outdoor lounge that seamlessly extended the client's living room was essential for this Monarch Bay patio. The goal was to encapsulate the quintessential California indoor-outdoor living and lifestyle.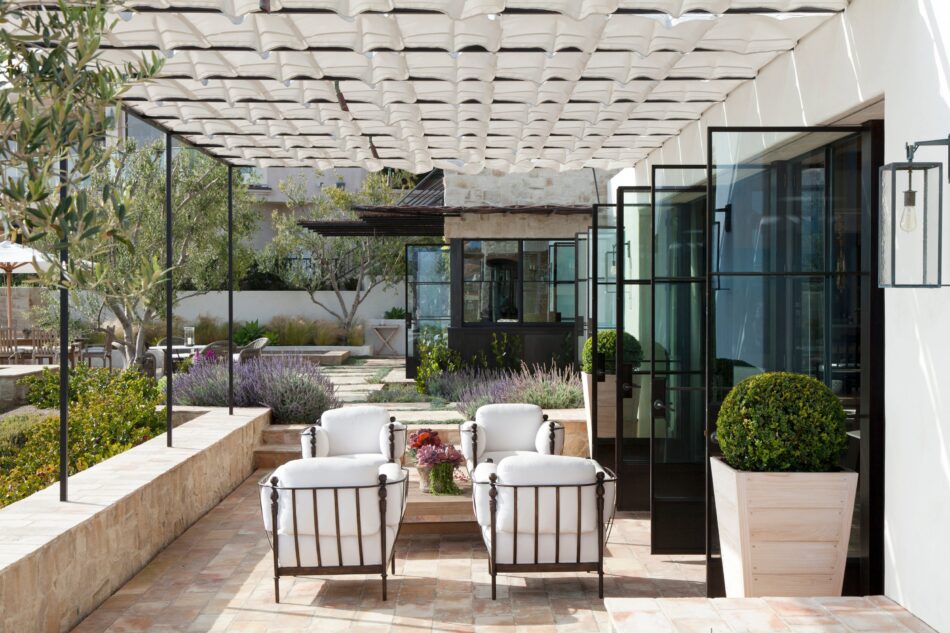 The standout features of this outdoor lounge are the Michael Taylor chairs that add a touch of elegance and sophistication. At the same time, the retractable Forest Studio canopy creates a unique and peaceful atmosphere reminiscent of a sang out on the water.
Attention to detail and the thoughtful design choices made by Barker have resulted in a beautiful and functional outdoor lounge that embodies the very essence of California living. With its seamless blend of indoor and outdoor spaces, this patio is the perfect place to relax and entertain while enjoying the beautiful weather and stunning views.
New York City Rooftop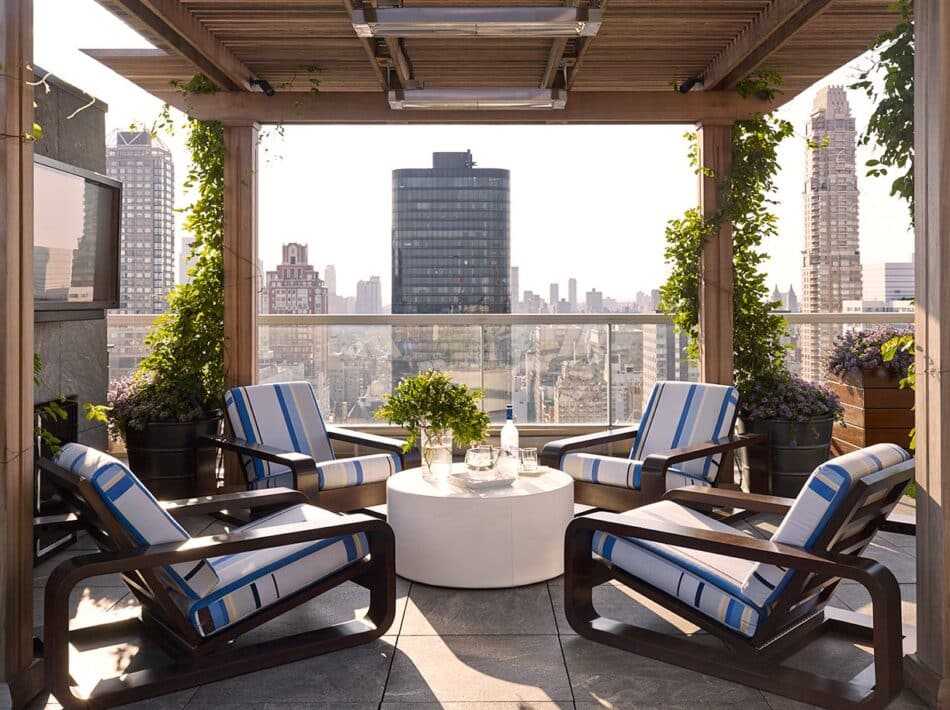 Ernest de la Torre's rooftop design in New York City exudes a sense of elegance and playfulness with his custom Jean Royère lounge chairs. The dark wood frames beautifully complement the fabric's nautical motifs, offering the client a sense of being on a luxurious yacht while enjoying the stunning view of the East River.
As a centerpiece, these chairs enhance the rooftop's visual appeal and create a unique outdoor lounge experience that embodies the perfect blend of sophistication and whimsy.
Minimalist San Francisco
Sean Leffers and architect John Maniscalco joined forces to create a minimalist San Francisco patio that offers both comfort and style
According to Leffers, the primary objective was to provide cozy seating harmonizing with the architecture. Maniscalco designed the built-in benches and fireplace to achieve this, while Leffers selected Janus et Cie chairs with dark gray terrycloth upholstery.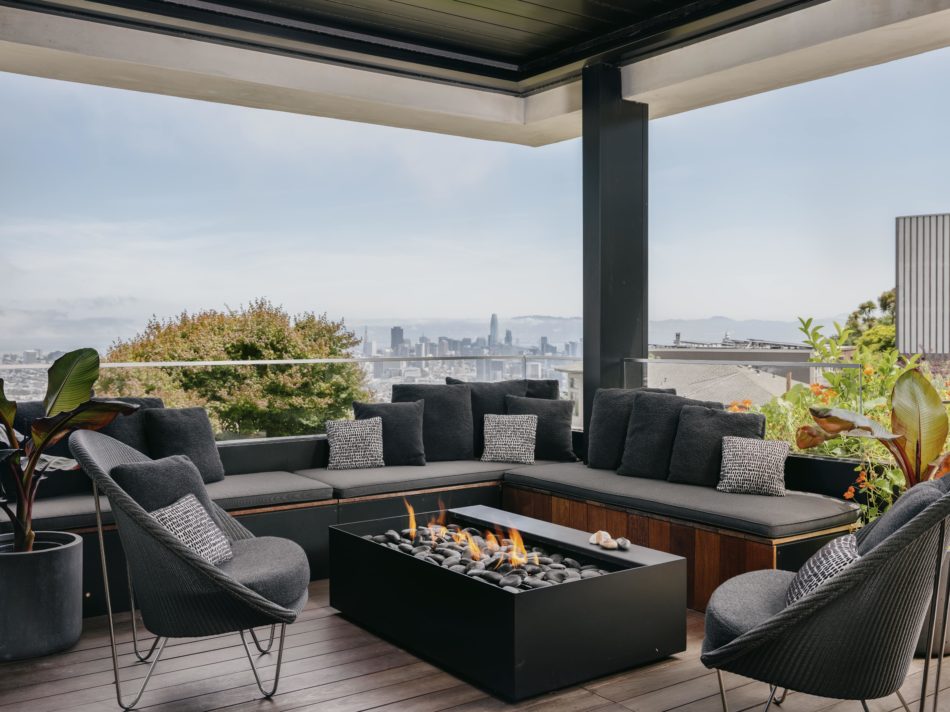 Leffers highlights the space's cozy ambiance on chilly San Francisco evenings as its most appealing feature, citing the pleasure of snuggling up around the fire in soft fabrics while gazing at the city's downtown skyline.
Behold these awe-inspiring outdoor lounges that range from idyllic countryside settings to the bustling terrace of a New York apartment. So why not take inspiration from these harmonious and tranquil designs to elevate your outdoor space? Let these incredible designs spark your creativity and transform your outdoor space into a work of art that blends seamlessly with the natural world. For more of these inspirational projects, please visit our Outdoor Projects.