After a long day, all we need is a calm space, like a Zen bedroom design, where we can unwind without being disturbed.
White paint and white bedroom décor carry a huge punch to help turn your bedroom design into a calm space, regardless of whether the rest of your house is similarly minimalist or your Bedroom is wallpapered, crowded, and outright maximalist.
In here we will see some stunning bedroom designs and stars like Robert Couturier, Jean-Louis Deniot, and Victoria Hagan provide you with only the best white bedroom ideas. These neutral bedrooms are dreamy retreats thanks to luxurious layering, sculptural furniture, and eye-catching accents.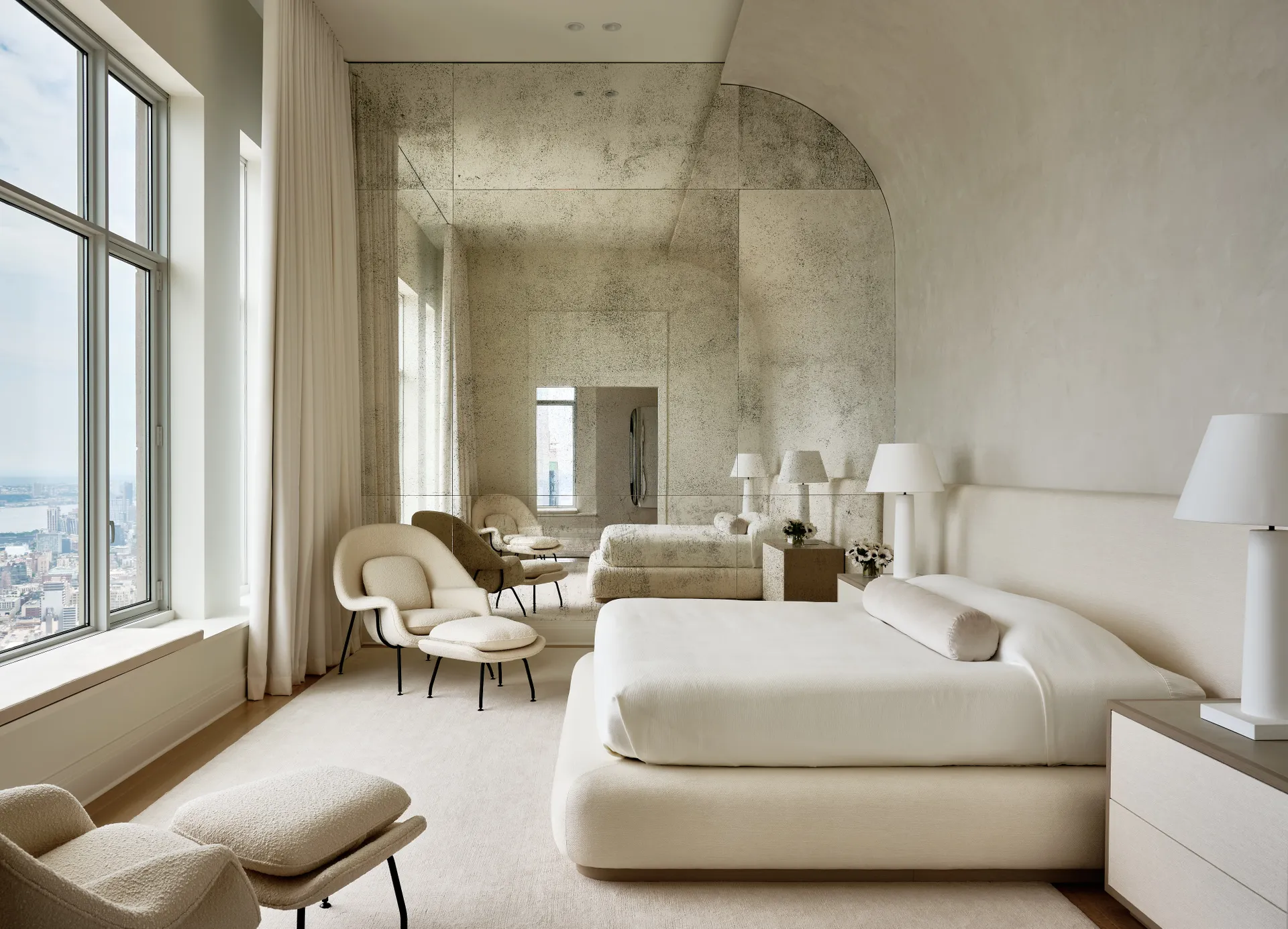 The idea of straightforward interior design and architecture has been practiced all around the world and throughout history. Feng shui was a Chinese philosophy that was reinvented to create zen-style houses with straightforward furnishings and positive energy. It predates hygge, the Scandinavian idea of warm interior design. They all shared the same ideal "Simplicity is the way to a content home."
But how you can create the desired yet elusive minimalist bedroom design in your own home is a question we might pose. According to designer Krista Hermanson, having "snuggle spots," or calm spaces that are "ideal for a cup of tea," is the most crucial aspect of minimalist bedroom design.
We'll provide you with some timeless ideas to help you create a tranquil bedroom.
1. Try limewash paint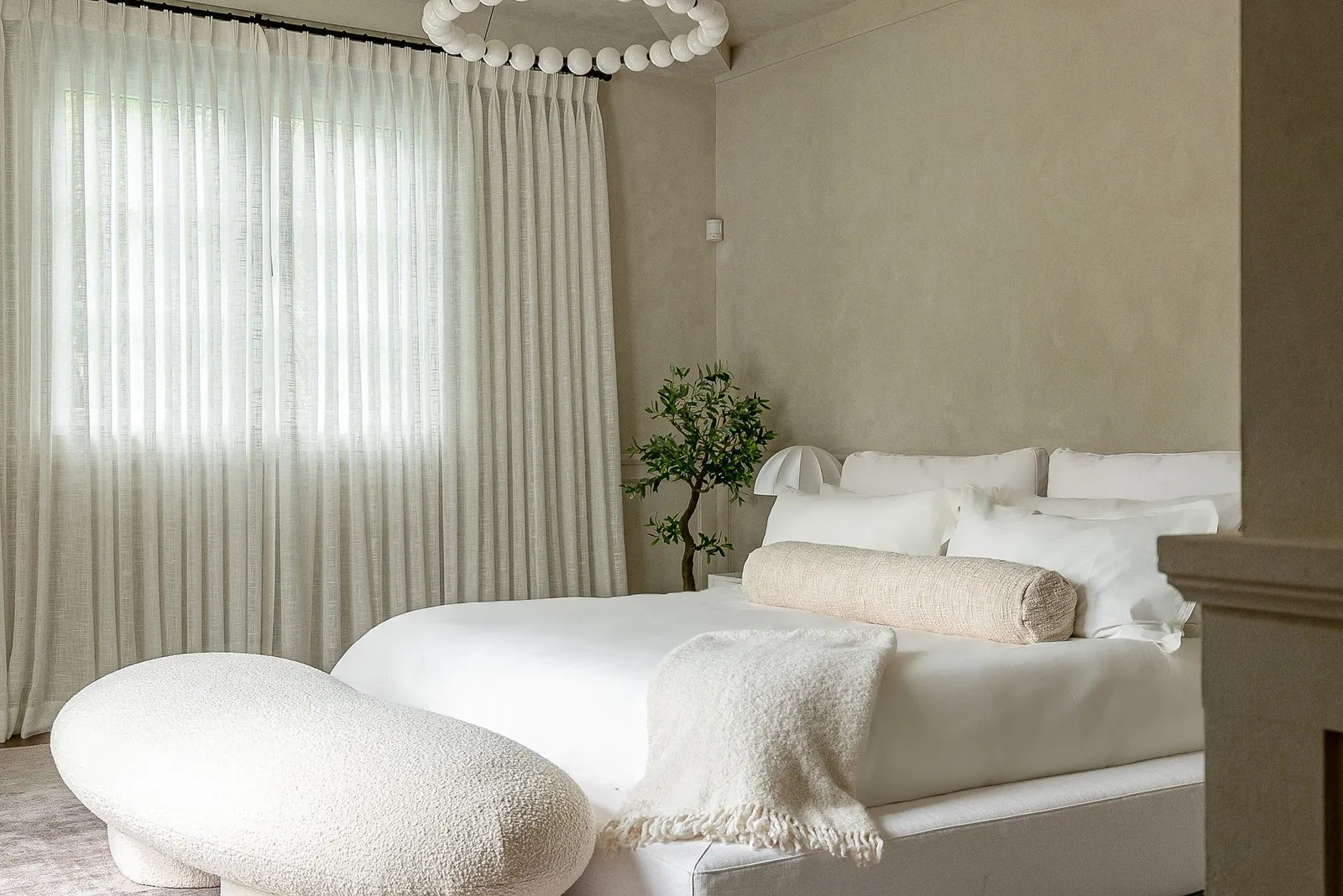 It might be difficult to add texture without adding too many other features, but Elisa Baran, who designed this bedroom design for influencer Alisha Marie, discovered the ideal remedy in limewash paint. Limewash, one of the first house paints, is a mainstay of Belgian design and is created from crushed lime, water, and pigments. The end product is a textured, aged-looking paint that is ideal for adding depth to a minimalist bedroom.
By using its paint, extraneous artwork aspects are eliminated, and the area is made to feel cool and be the perfect calm space. 
2. Nightstands should match the floor's finish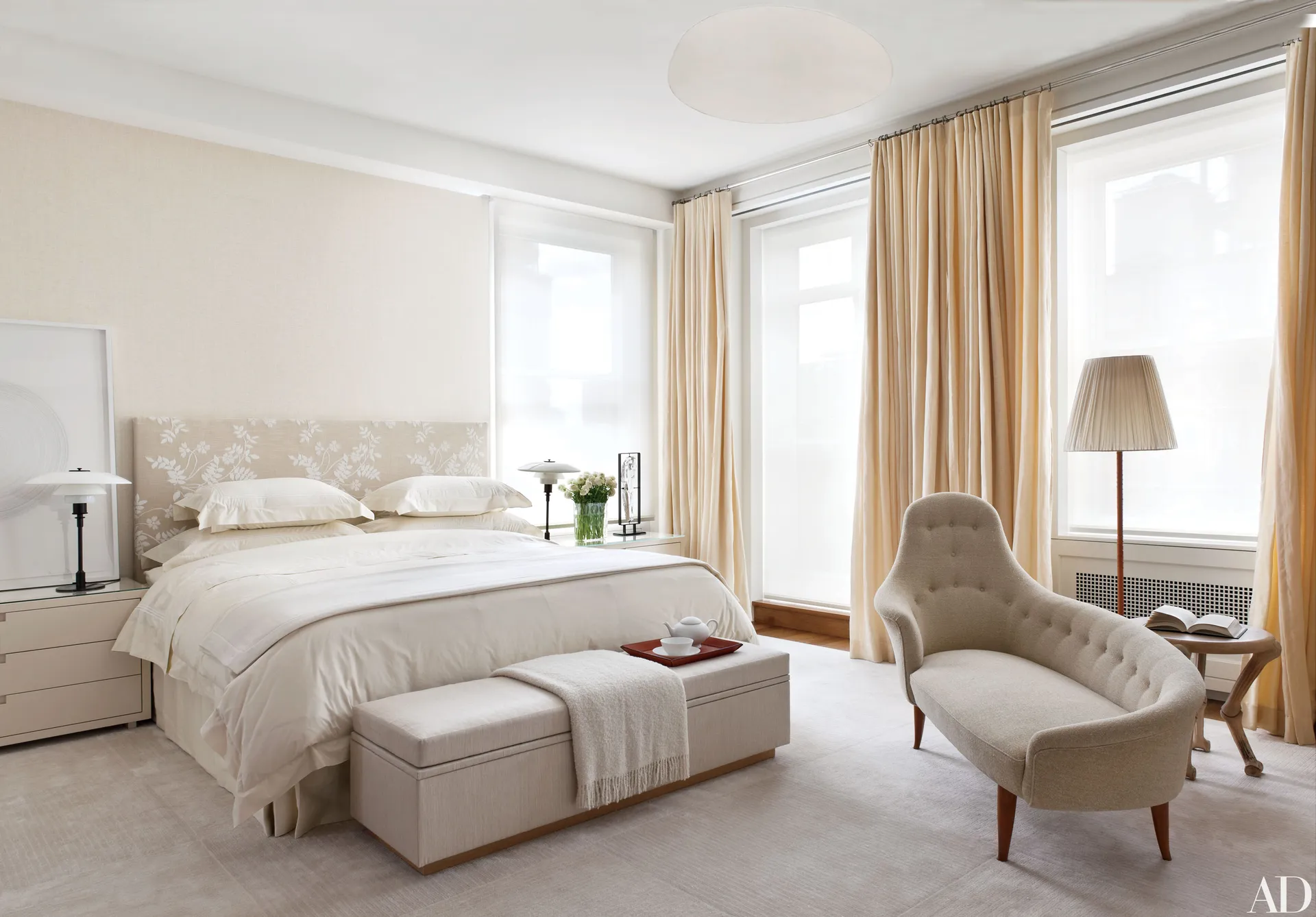 By matching the nightstands to the floor, the designer was able to create a heaven for this customer in their bedroom. In the bedroom design shown above we can see that the large rug covers almost the bedroom. In essence, what we observe is that the furniture blends with the rug, and the chair detailing and other components are a wonderful match for the floor's wood tone.
This bedroom design focuses on a texture-heavy neutral color palette to produce a calm space with a truly harmonious, peaceful vibe.
3. Add a subtle accent wall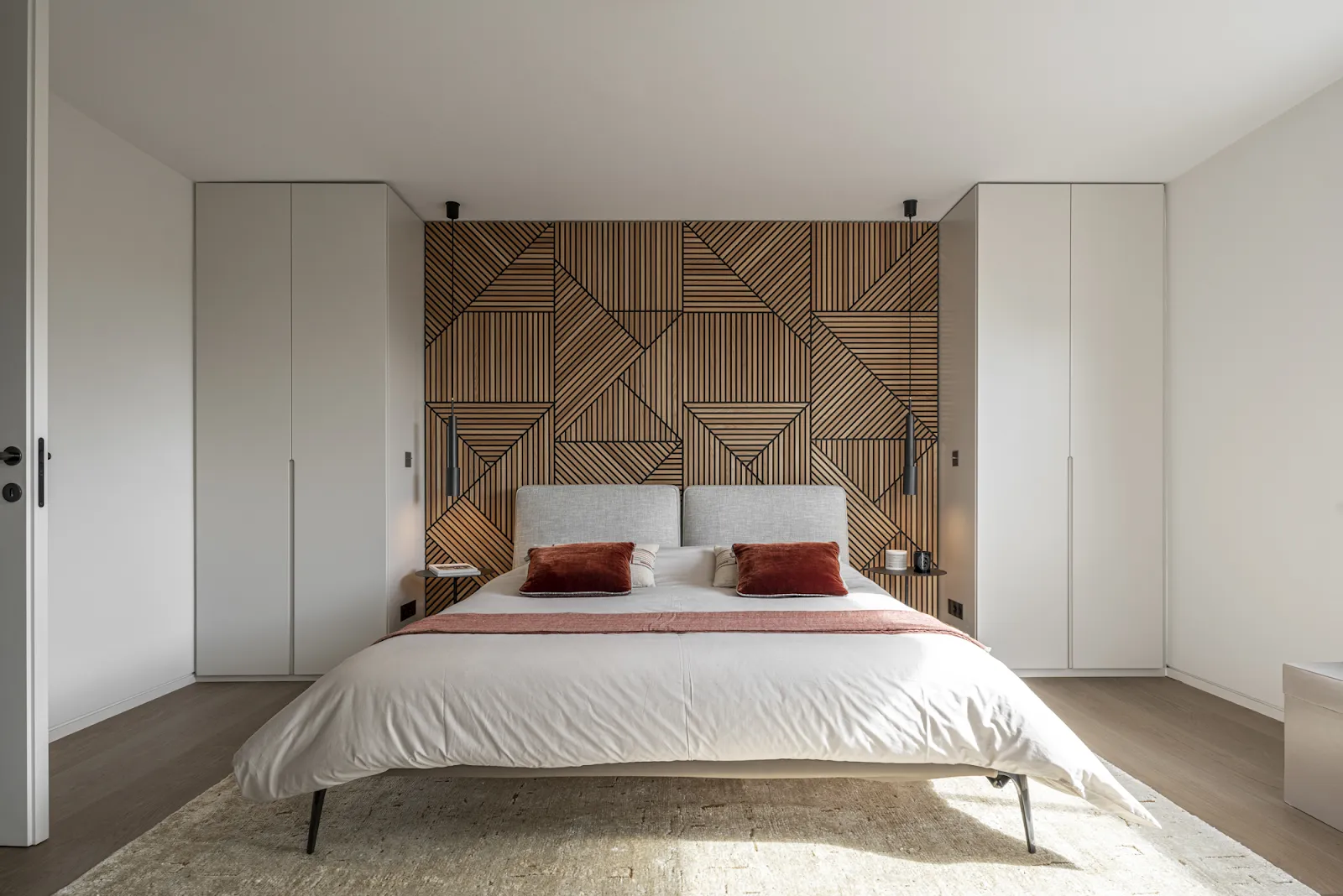 With an accent wall, you can show off your maximalist tendency while still aiming for cozy vibes. With the right bedroom design, the space will remain basic while allowing the focal point to shine and make the calm space more harmonious.
This wood-paneled accent wall was created by Laurence Beysecker, who describes it as "creating a pleasant nook for the sleeping area." So that the accent wall can be the focal point of the space, and keep the rest of the furnishings straightforward and symmetrical, such as matching lights and closets.
4. Choose bold lighting
In the picture on the left side is a bedroom design by Veere Grenney, of the London rowhouse. On our right side, is this minimalist bedroom design by Victoria Ninette.
For the lighting in this minimalist bedroom, designer Victoria Ninette was searching for "something distinctive that wasn't too loud." It had to have a subdued impact throughout the day and a gentle, soothing effect at night. These requirements were satisfied by this frosted glass chandelier with a dimmer, which also complemented the room's curves in the bed frame, mirror, and lights.
5. Mix shapes and textures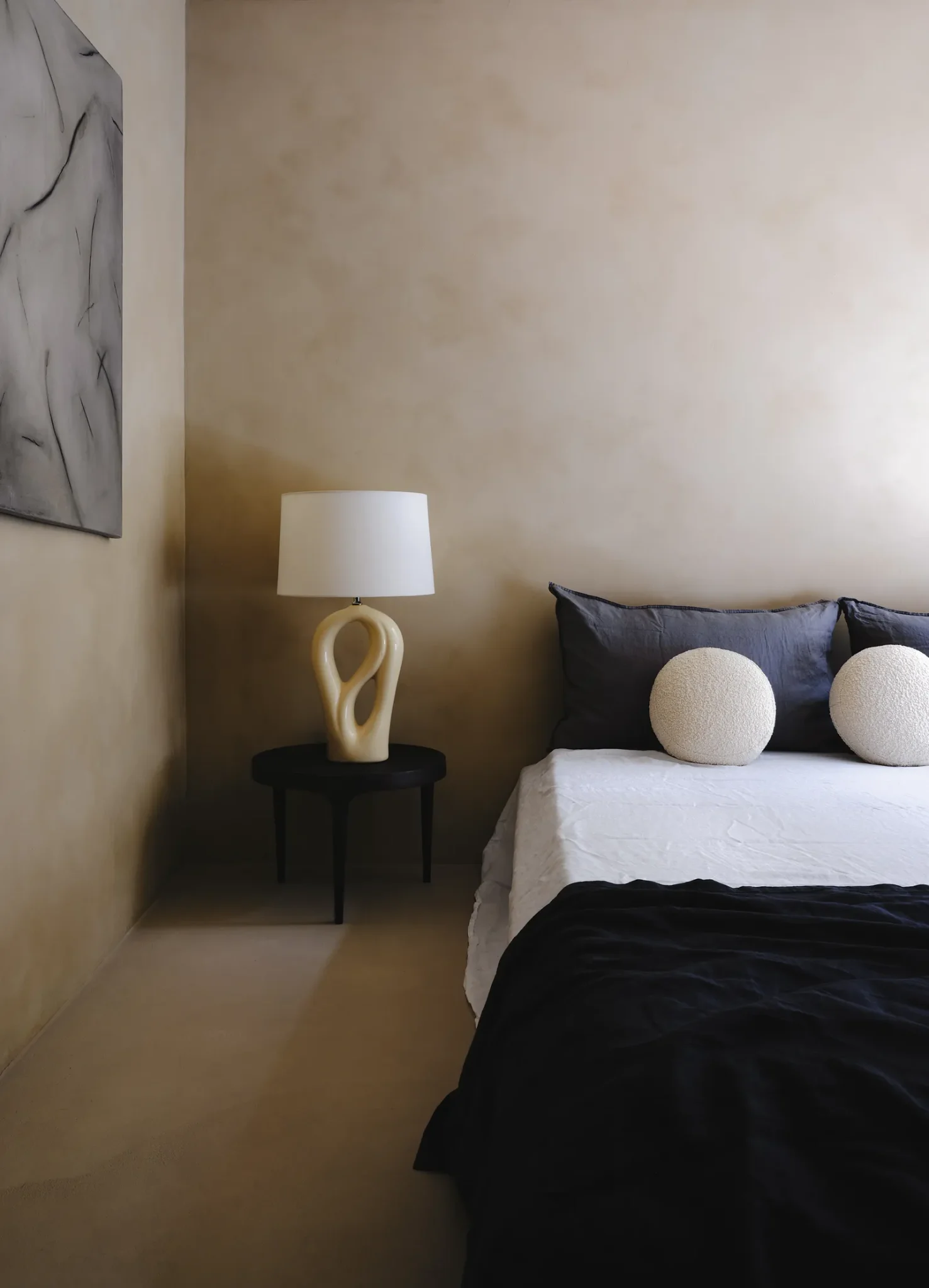 Director of Ecru Studio Jin Chen asserts that minimalism should not be dull. His team carefully selected the lines and textures for the left-side bedroom design creating a calm space. Without overcomplicating things, the curved light, the round wool cushions, and the rectangular silk pillows all add visual interest. These merged components are the ideal complement to a minimalist color scheme since they "enrich the space and make it more artistic and lively."
On the right side of this bedroom design is an understated blue and red color palette introduced in the contemporary bedroom of interior designer Fiona Byrne's own apartment with the addition of a bold red lamp, blue flowers, and blue artwork. Minimalism is more than just bland rooms painted in one color.
Complementary colors and a tiny bit of symmetry can also help to create a calm space with simplicity, and just the right amount of design to grow. Based on the artwork you currently own, take an approach and curate your palette.
6. Rely on natural resources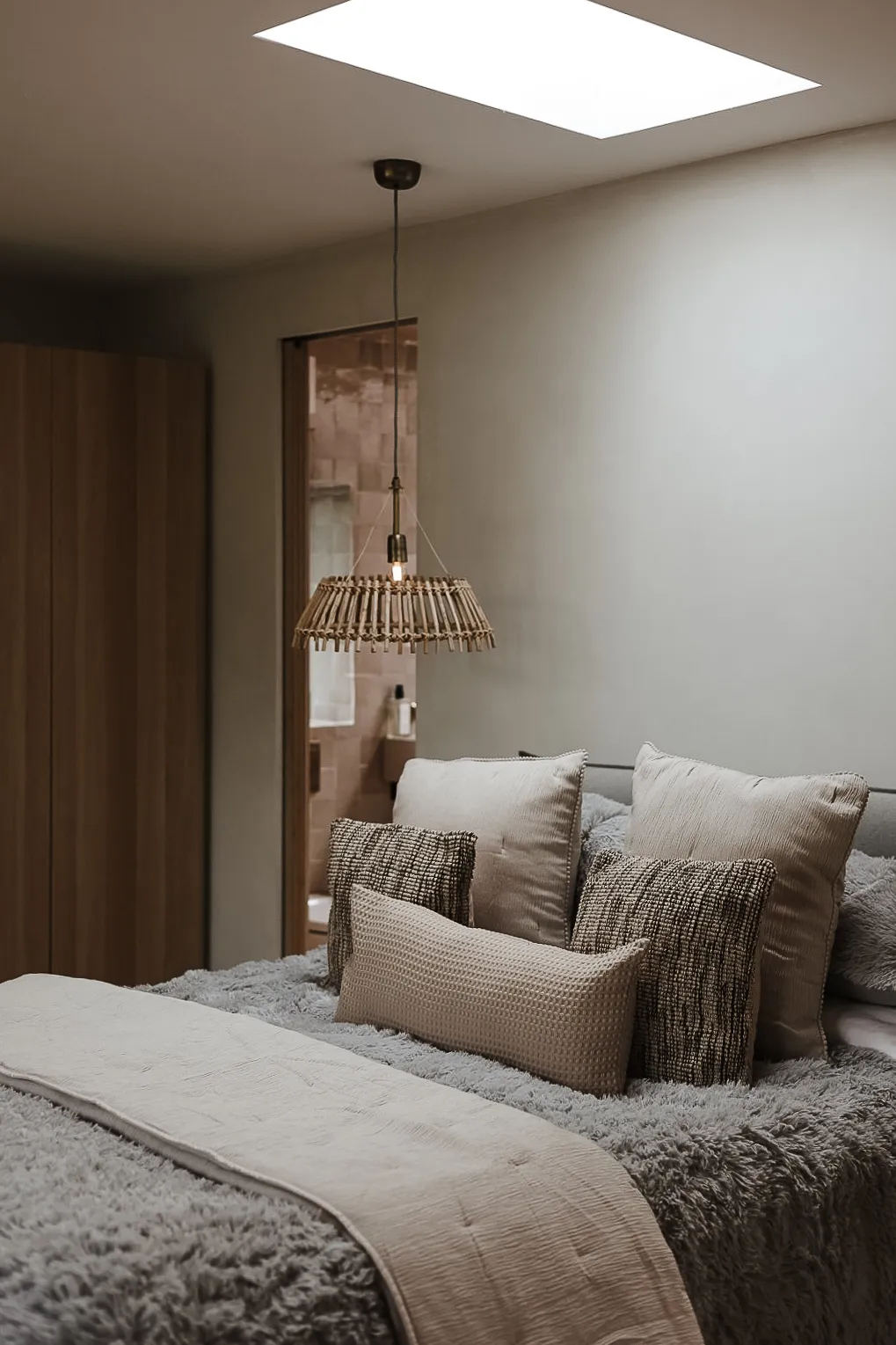 Designer Reena Simon claims that bringing nature indoors is a terrific technique to create a minimalist atmosphere for a bedroom design. Simon wished to replicate the calm space surroundings of her home in her serene environment. We feel as though we are cocooned in among the trees in our bedroom because it has floor-to-ceiling windows and is encircled by them.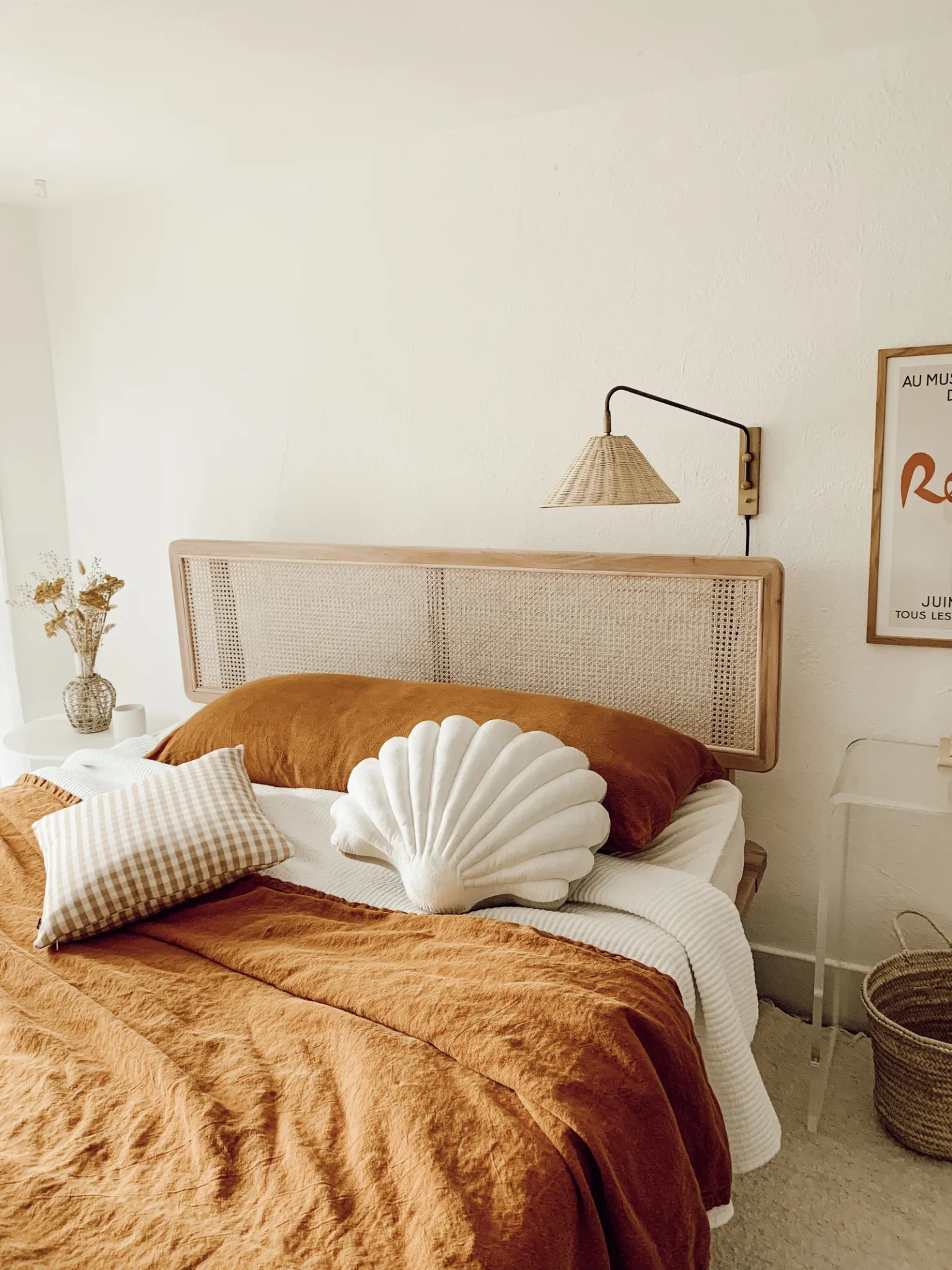 Simon's room is the ideal hygge retreat thanks to the wood light fixture with a dimmable bulb, the pillows and bedding made of natural materials, and the rough-sawn wood flooring. More of this usage of natural materials can be seen above in the different calm space creations.
7. A substantial bed frame adds depth.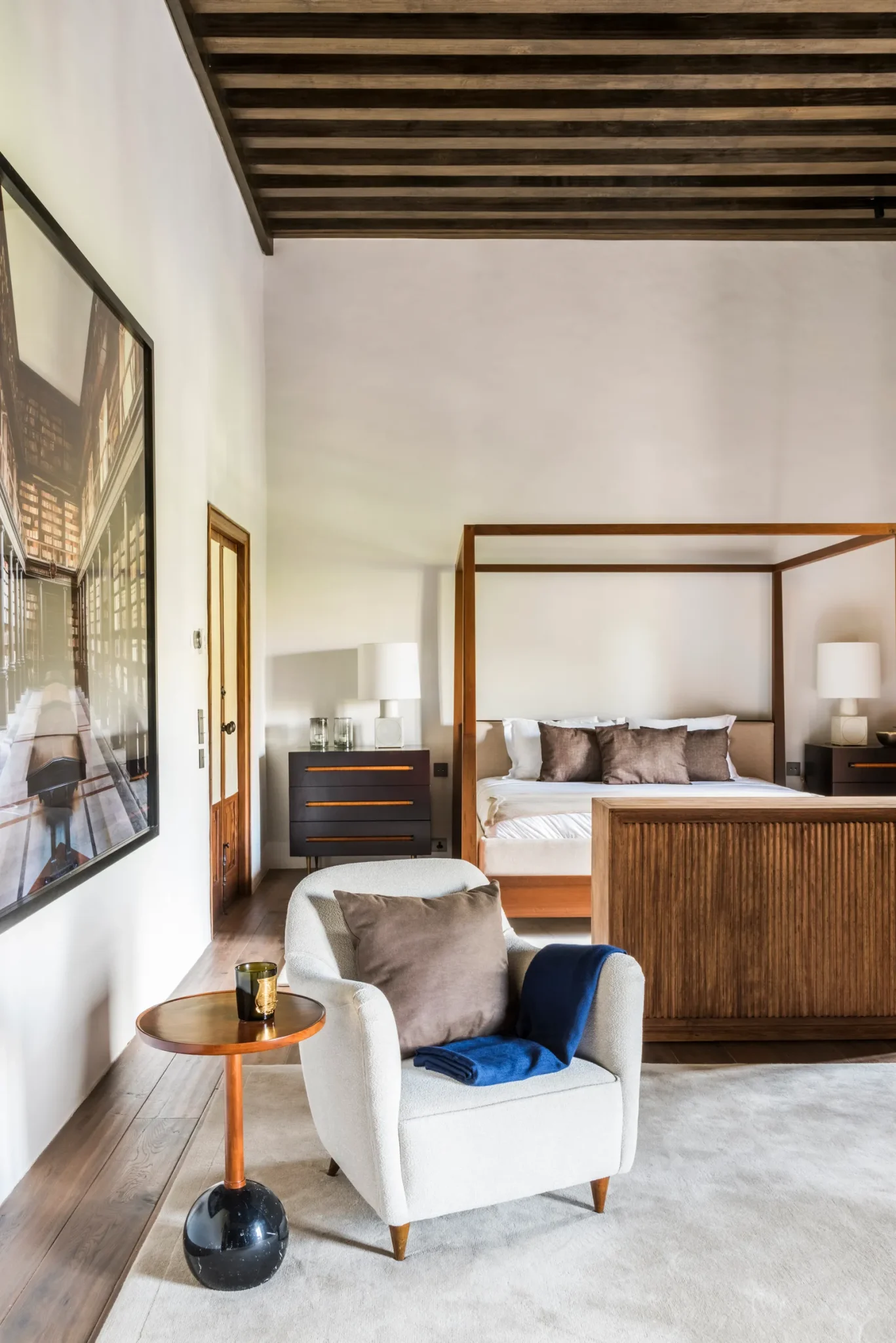 A big minimalist bed frame, like this stained oak bed that fits wonderfully in a client's baroque-style home and embraces a clean look, is what designer Luis Laplace of the Paris-based firm Laplace suggests. "Using a bed like this in a room with high ceilings gives the room height, almost like a shelf," The bed adds depth to the minimalist calm space rather than adding an unnecessary layer despite its size.
8. Hang curtains from floor to ceiling.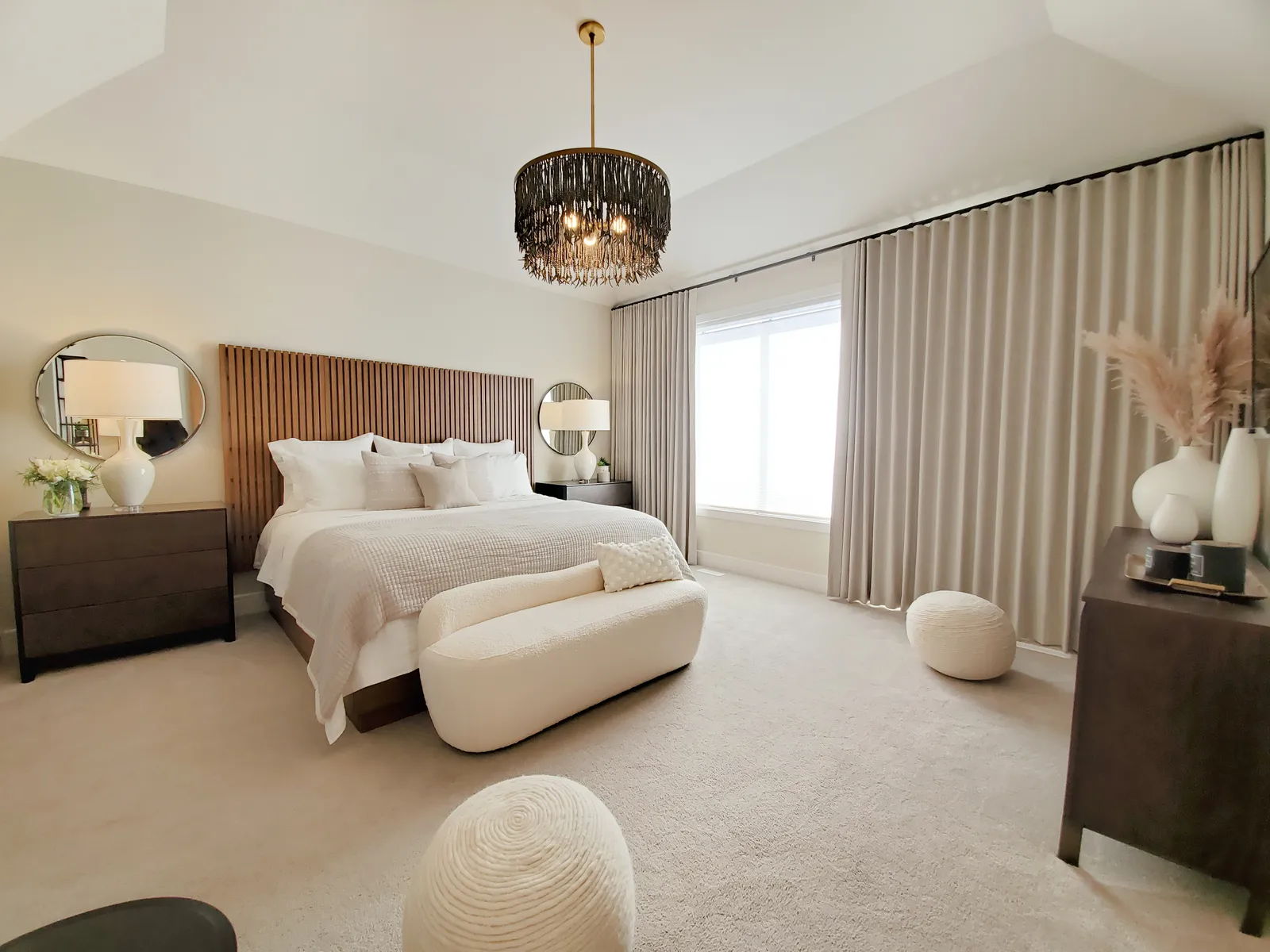 Hygge and minimalism can seem difficult to combine at first, but by concentrating on small details like window curtains, you can give a calm space a really comfortable vibe very quickly.
The room feels bigger and has white space when the drapes are drawn all the way up to the ceiling creating a lovely calm space. The designers at Krista Hermanson Design & Construction in Calgary, Alberta claim that using a lovely delicate neutral with a warm texture produces a pleasant night-time setting.
We truly hope that you enjoy these ideas and that they soon assist you in creating your breathtaking Calm space in your projects. Check out our bedroom products for more design ideas that can help you give your home a personal touch