Discover the exquisite modern classic interior design of a New York apartment by Studio Todd Raymond, where timeless elegance meets contemporary sophistication.
In the bustling city of New York, where architectural diversity thrives, the interior design of apartments plays a vital role in creating unique and inspiring living spaces. It is within this dynamic urban landscape that Studio Todd Raymond, renowned for their exceptional design prowess, has recently unveiled a stunning project that seamlessly merges modern aesthetics with classic elements, delving into the world of modern classic interior design.
Nestled in the heart of Manhattan, this extraordinary apartment stands as a testament to Studio Todd Raymond's remarkable ability to strike a harmonious balance between old-world charm and contemporary sophistication. From the moment you step through its doors, a captivating sense of elegance and refinement envelops you, transcending time and beckoning you to embark on a journey into a world where design brilliance awaits.
Soothing Hues
The apartment's color palette has been thoughtfully curated to create a serene and inviting atmosphere that serves as a canvas for the captivating blend of modern and classic elements. Studio Todd Raymond has skillfully selected a range of neutral tones, including soft cream, beige, taupe, and rich brown shades, which envelop the space in timeless elegance.
These soothing hues provide a backdrop that allows the carefully chosen furniture pieces and accessories to shine. Each item boasts exquisite lines and captivating shapes, a testament to meticulous attention to detail. From the sleek and streamlined to the ornate and intricate, this design seamlessly marries the worlds of modernity and tradition.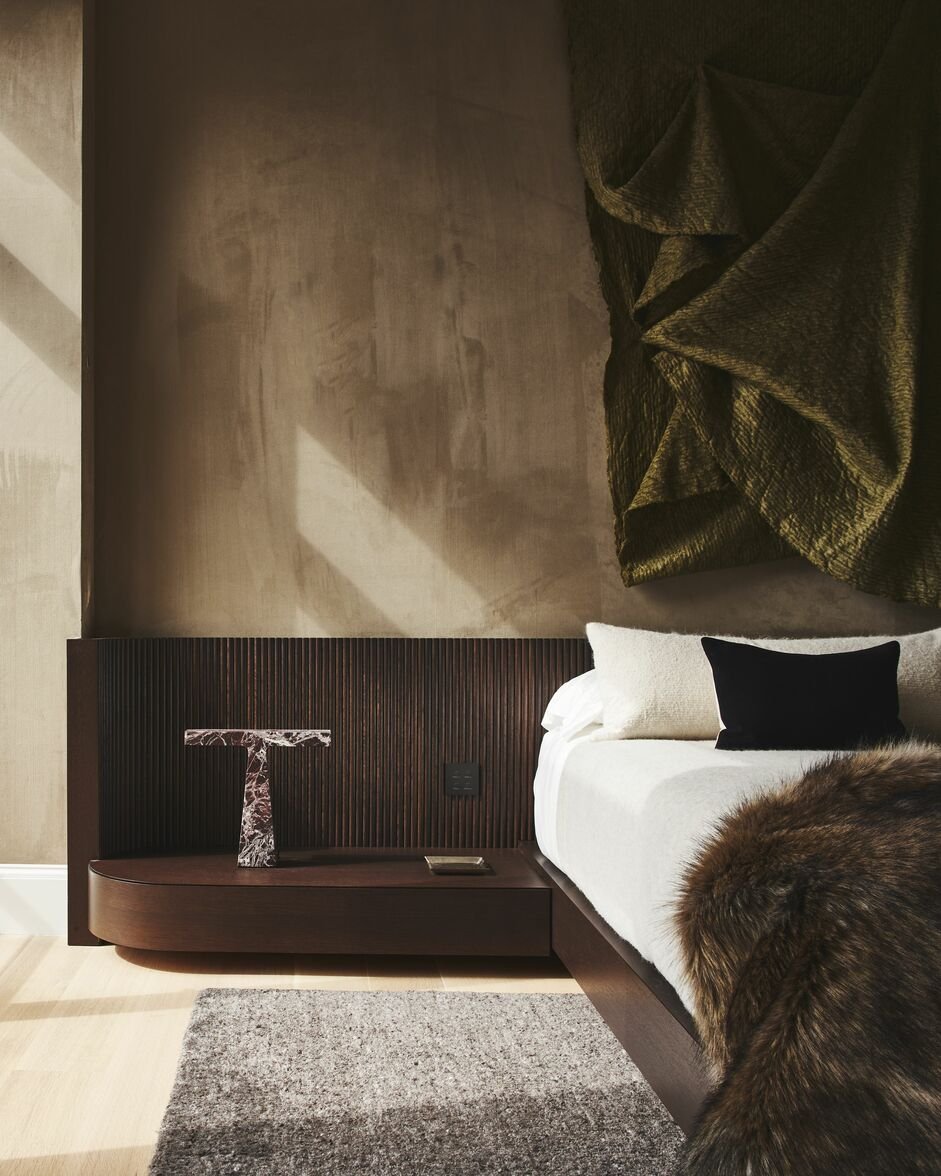 The furniture selection
The furniture selection is a standout feature of this interior, reflecting the fusion of modern aesthetics with classic sensibilities. Clean lines and sleek silhouettes create an atmosphere of contemporary sophistication, while artisanal detailing and intricate craftsmanship pay homage to the timeless allure of classic design. The juxtaposition of these elements creates a captivating visual narrative, where the best of both worlds intertwine in perfect harmony.
As you explore the apartment, you'll encounter striking pieces that effortlessly capture attention. From sculptural chairs with clean, angular forms to a gracefully curved sofa that invites relaxation, each furniture item has been carefully chosen to contribute to the overall modern classic interior design aesthetic.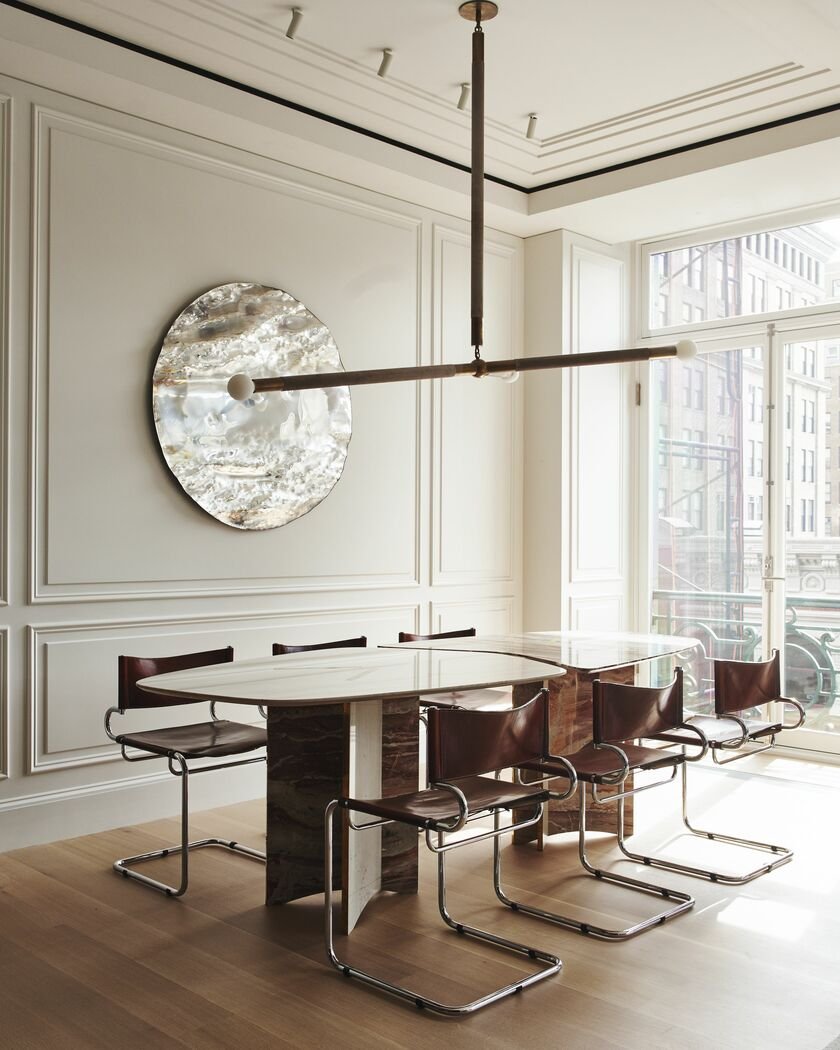 Playing with Texture and Pattern
Yet, in addition to the seamless fusion of modern and classic elements, what truly elevates this project is the remarkable combination of textures and patterns. This exploration of the modern classic interior design approach introduces an intriguing interplay of tactile sensations and captivating visual motifs.
Texture assumes a pivotal role in crafting a luxurious and inviting atmosphere within the apartment. Studio Todd Raymond's designers have displayed their expertise by deftly incorporating a diverse range of textures, encompassing everything from smooth and sleek surfaces to more tactile and rough materials. Plush velvet upholstery on the furniture entices you to immerse yourself in its sumptuous softness, while textured wallpapers and intricately woven rugs introduce layers of depth to the rooms. The presence of elegant marble surfaces not only adds a touch of natural allure but also imbues the home with a refined ambiance. Furthermore, carefully selected leather and fur accents contribute to the integration of classic charm within this modern classic interior design.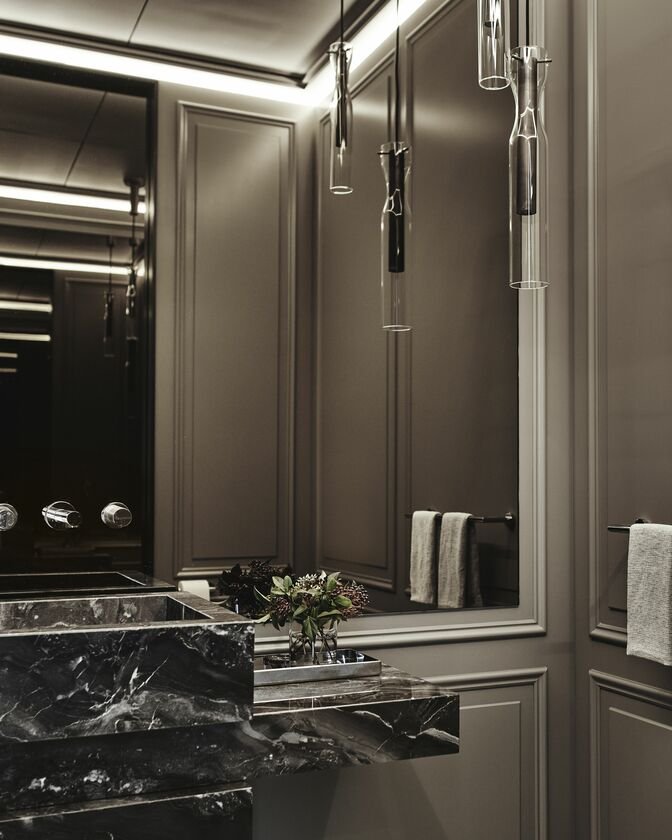 But patterns, too, make a bold statement in this apartment. Studio Todd Raymond has adeptly mixed and matched patterns to create a cohesive and visually striking environment. The selection of patterns is carefully curated, ensuring that they complement each other rather than compete for attention. Classic vintage patterns and modern geometric designs coexist harmoniously, adding a touch of dynamism to the overall aesthetic.
The interplay between textures and patterns within this modern classic interior design amplifies the senses and creates an atmosphere of refined opulence. The diverse array of textures engages the sense of touch, while the carefully curated patterns ignite a sense of intrigue and delight for the eyes.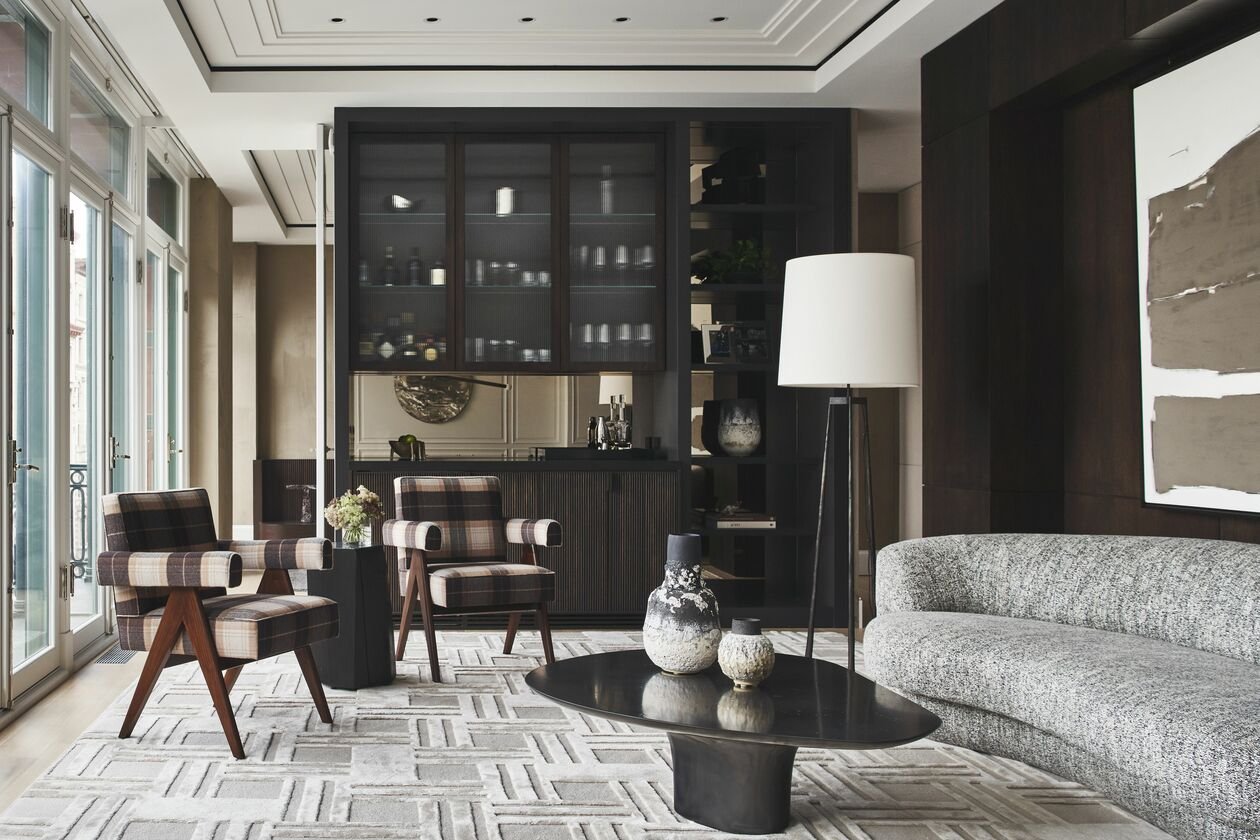 Exploring Modern Classic Interior Design
The modern classic interior design of this New York apartment by Studio Todd Raymond is a true masterpiece that seamlessly merges timeless elegance with contemporary sensibilities. It serves as a testament to the enduring appeal of classic design elements while embracing the functionality and style of the modern era.
In the realm of interior design, where trends come and go, this New York apartment stands as a testament to the power of blending timeless aesthetics with modern sensibilities. Studio Todd Raymond has created a space that will continue to inspire and captivate for years to come.
And if you, too, aspire to create a modern classic interior design that feels timeless and elegant, then take the next step and explore our article featuring 10 Stunning Modern Style Furniture pieces by HOMMÉS Studio.

Source: Studio Todd Raymond