Get to know ten stunning Modern style furniture by HOMMÉS studio that will give a unique vibe to your following projects.
Modern Style interior design refers to the movement that comprehends the early midcentury. Emerging after Art Deco, it was influenced by German and Scandinavian architecture. This style evokes a simple yet elegant lifestyle and inspires many stunning pieces of furniture. Check out ten gorgeous Modern Style furniture by HOMMÉS Studio that will add a new perspective to your following projects.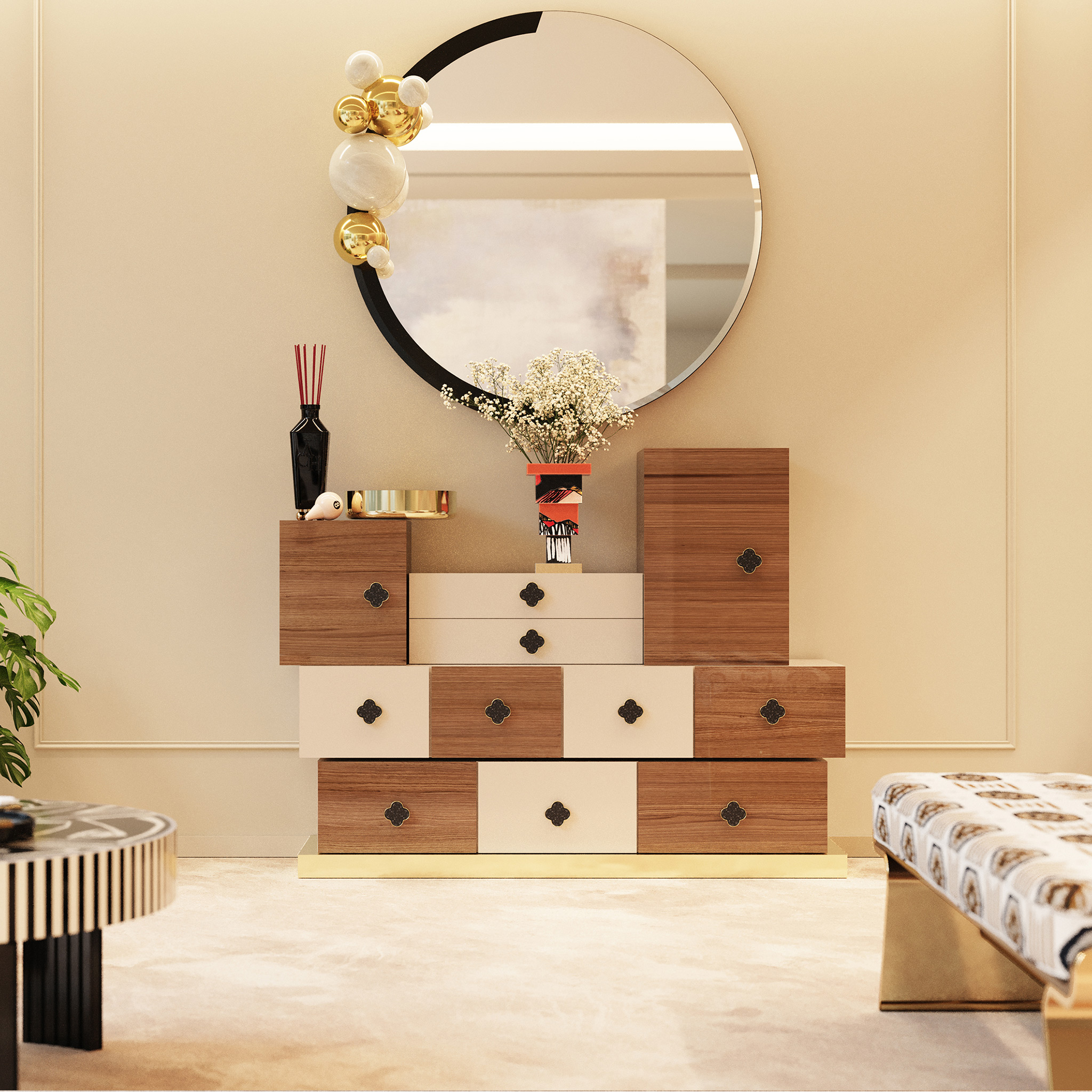 MODERN STYLE FURNITURE
The Modern style emerged after Art Deco as a movement that regrets ornate designs and believes that form follows usability. For that reason, Modern style furniture highlights sleek lines, shiny surfaces, neutral colors, and natural materials. The pieces inspired by Modern style are simple yet refined and useful, being a perfect choice for daily needs and adding a beautiful touch to any interior design project.
Even though Modern style furniture represents Modernism, the pieces inspired by this movement can perfectly match other styles.
MODERN INTERIOR DESIGN
The Modern home is more than a beautiful space – following the principle that form follows usability; it is a place with a purpose. A Modern interior should blend the daily needs with the style aesthetic, highlighting characteristics such as nude colors, sleek lines, and open space.
Nearly any interior design style can be turned into a Modern one. For that, you can combine modern style furniture, neutral colors on the walls, and natural materials and rethink the functionality of your design. If you would like to understand better what a modern interior is, you can check the article 5 Modern Style Interior Projects and then come back to discover stunning pieces for your following projects.
MODERN STYLE FURNITURE BY HOMMÉS STUDIO
From console tables to mirrors, we selected some stunning Modern pieces from Hommés Studio that will add to your project's elegance and Modernism. Check it out:
1. ROSALIA SIDEBOARD
Following the principle that form follows usability, the Rosalia sideboard can be used as storage in a Modern living room or as a stylish piece in a Modern entryway. Sideboards present many uses, but the rosalia will also improve any space with elegant shape and rich materials.
2. MALALA CHEST OF DRAWERS
Another key piece for a stylish home is a chest of drawers, and after you meet our Malala, we are sure you will realize how much you need it. Malala combines an incredible stunning aesthetic with the functionality that any home needs – this is the perfect storage piece for a Modern bedroom or a bold living room.
3. PRYMO DINING TABLE
Primo dining table is the perfect Modern style furniture, highlighting natural materials and nude colors; this piece is made in travertine with details in polished brass and will add elegance and charm to any dining room.
4. TITAN MIRROR
Titan mirror will make your Modern interior design look outstanding – this incredible mirror inspired by Saturn's largest moon will make any space shine.
5. PLUME CONSOLE TABLE
The Plume console table is the best option for an impressive and Modern entryway. Thanks to its finishes and shape combo, this wood console table with a marble top adds a timeless value to any interior design project.
No products were found matching your selection.
6. UTAH CENTER TABLE
Even though the Modern style highlights nude hues, there is also space for a touch of colors. Utah Center Table has charming pink hues and can embrace any space with its surprisingly form and rich materials. Inspired by the peculiar shapes of the Moab pools in the Utah Desert, this nature-inspired marble center table can add the perfect touch to a Modern living room.
7. MAGNUS CONSOLE TABLE CONCRETE
The Magnus console table is the best option for Modern outdoor areas. This Modern style furniture shows that it's possible to go bold and preserve simplicity; Magnus is simple yet stunning, combining a geometric shape and concrete grey stone that will elevate any outdoor space.
8. QUEENA DESK
There are some essential pieces when decorating a home; a desk is one of them, and Queena promises to be the next statement design for a Modern office project. This beautiful piece combines elegant lines with the luxury of marble and gold metal, matching perfectly a Modern and glamorous look.
9. ELEKTRA PARASOL WHITE
Elektra Parasol is a multifunctional travertine and nero marquina marble parasol that can be turned into a side table. Another stunning Modern style furniture to complete any outdoor area and make the moments outside full of glamour and beauty.
Elektra Parasol White

Parasol

$

9.746


10. LISOLA SOFA
If you were missing a sofa on our list, it's why we reserved the best for the end. Lisola is a piece of timeless Modern style furniture that will complete any living room. Created with the most refined design and delicate materials, this sofa can elevate any space.
Lisola Sofa

Sofa

$

9.322
Modern style furniture is all about elegant and practical pieces to create a perfect layout – and this selection reflects it beautifully.
Source: MasterClass