These are our favorite celebrity bathrooms to inspire you on your bathroom remodel project. Inside the best celebrity homes – from Melbourne to Beverly Hills – we find stylish and homey bathrooms that set the perfect ambiance for self-care moments.

The Australian Flack Studio, mother and son duo Clements Design, and everyone's favorite Martyn Lawrence Bullard are just a few of the talented creatives that deliver stunning modern bathrooms.
From Kendall Jenner to Mila and Ashton Kutcher's house, the many interior design styles and the subtle details will give you limitless bathroom inspiration for your bathroom remodel project.

ADAM LEVINE AND BEHATI PRINSLOO'S ART DECO REVIVAL BATHROOM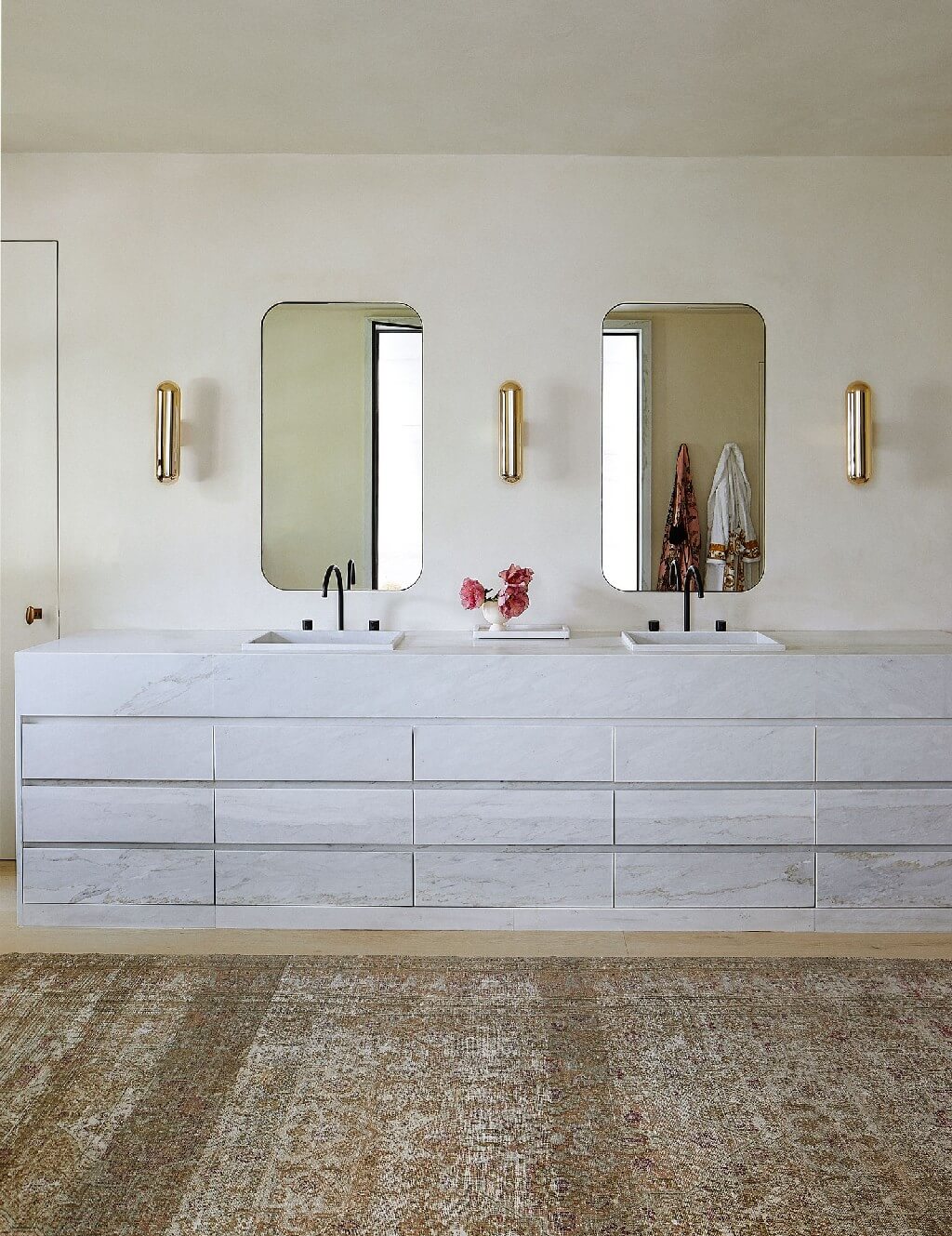 Clements Designs is the studio behind some of the best celebrity bathrooms. The art deco revival concept for Adam Levine and Behati Prinsloo's bathroom implies an extensive modern marble vanity. In addition, the design duo chose home accessories, such as wall mirrors and sconces, with a straightforward approach to modern art deco design.
DAKOTA JOHNSON'S MODERNIST BATHROOM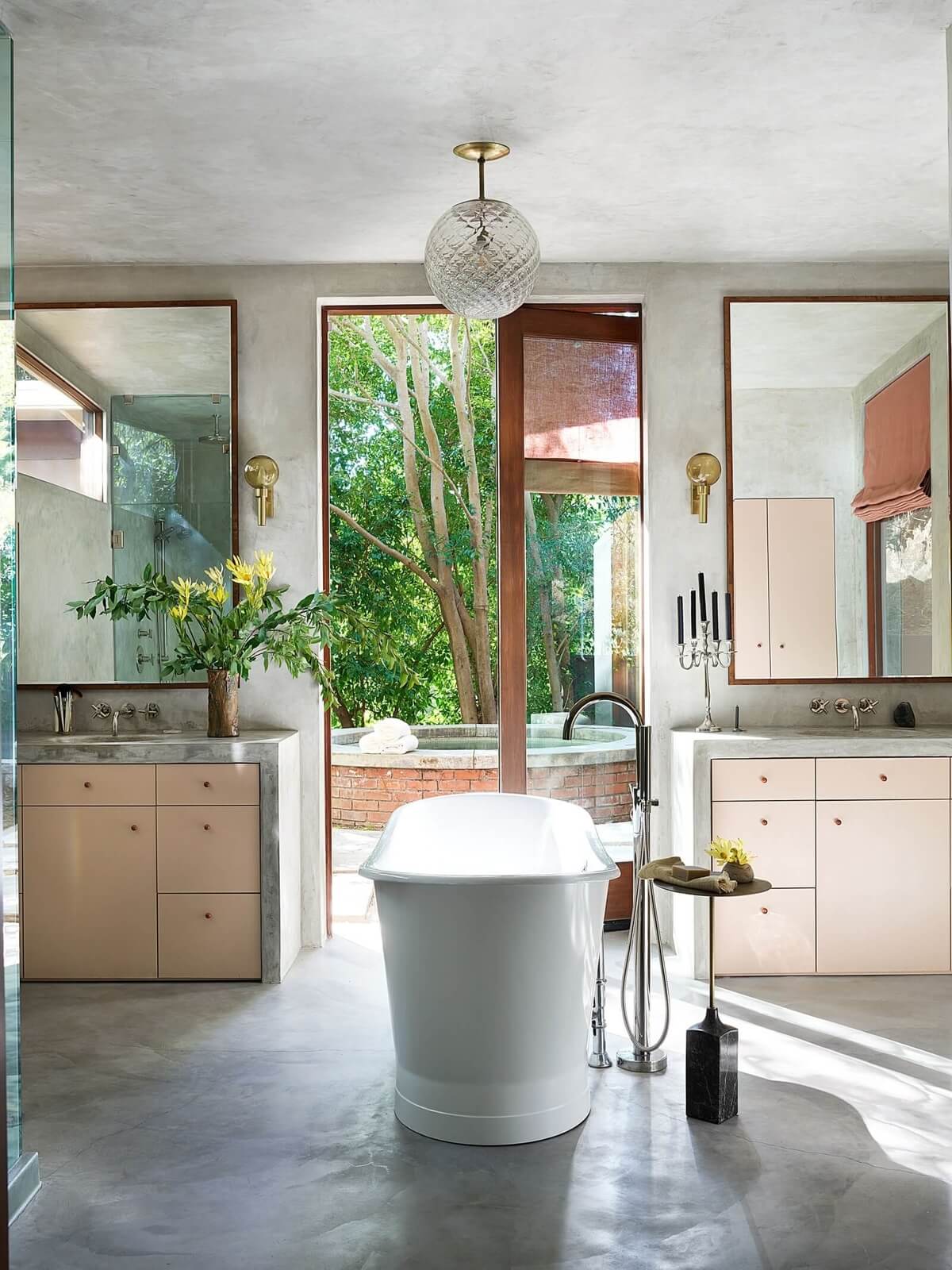 On a dead-end street of a calm neighborhood of Los Angeles, Dakota Johnson found a midcentury modern home designed by the modernist architect Carl Maston. Her master bathroom is a concrete box with big wood-framed windows and bespoke cabinets with peachy hues.
KAROLINA KURKOVA'S MINIMAL BATHROOM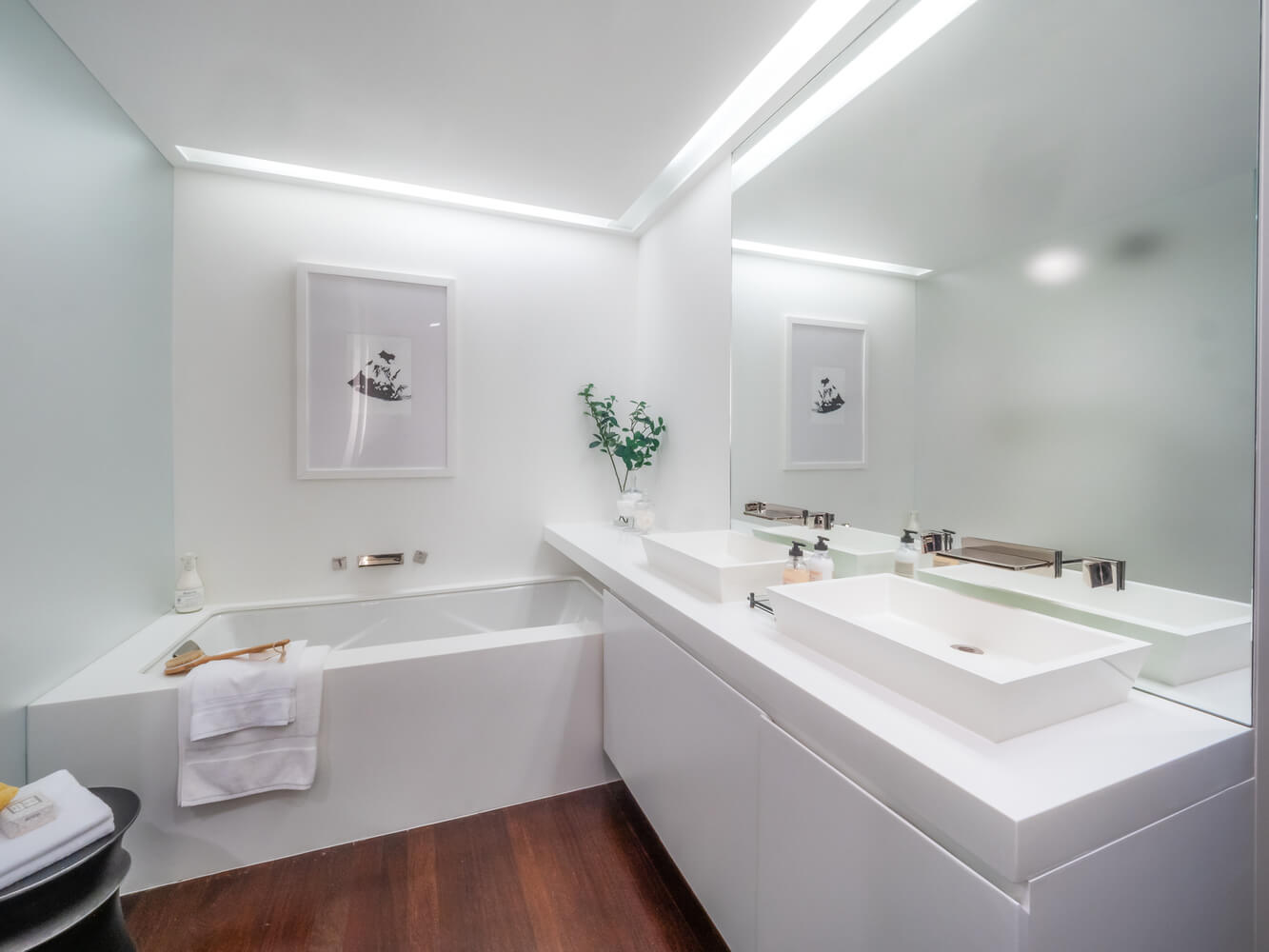 Karolina Kurkova's bathroom at her Tribeca apartment (now on sale) is an immaculate all-white bathroom. The crisp lines and the blocky white bathroom vanity as well as the sculptural bathtub make his celebrity bathrooms' exemplar the most perfect minimal bathroom.
ELTON JOHN AND DAVID FURNISH'S MODERN GLAM BATHROOM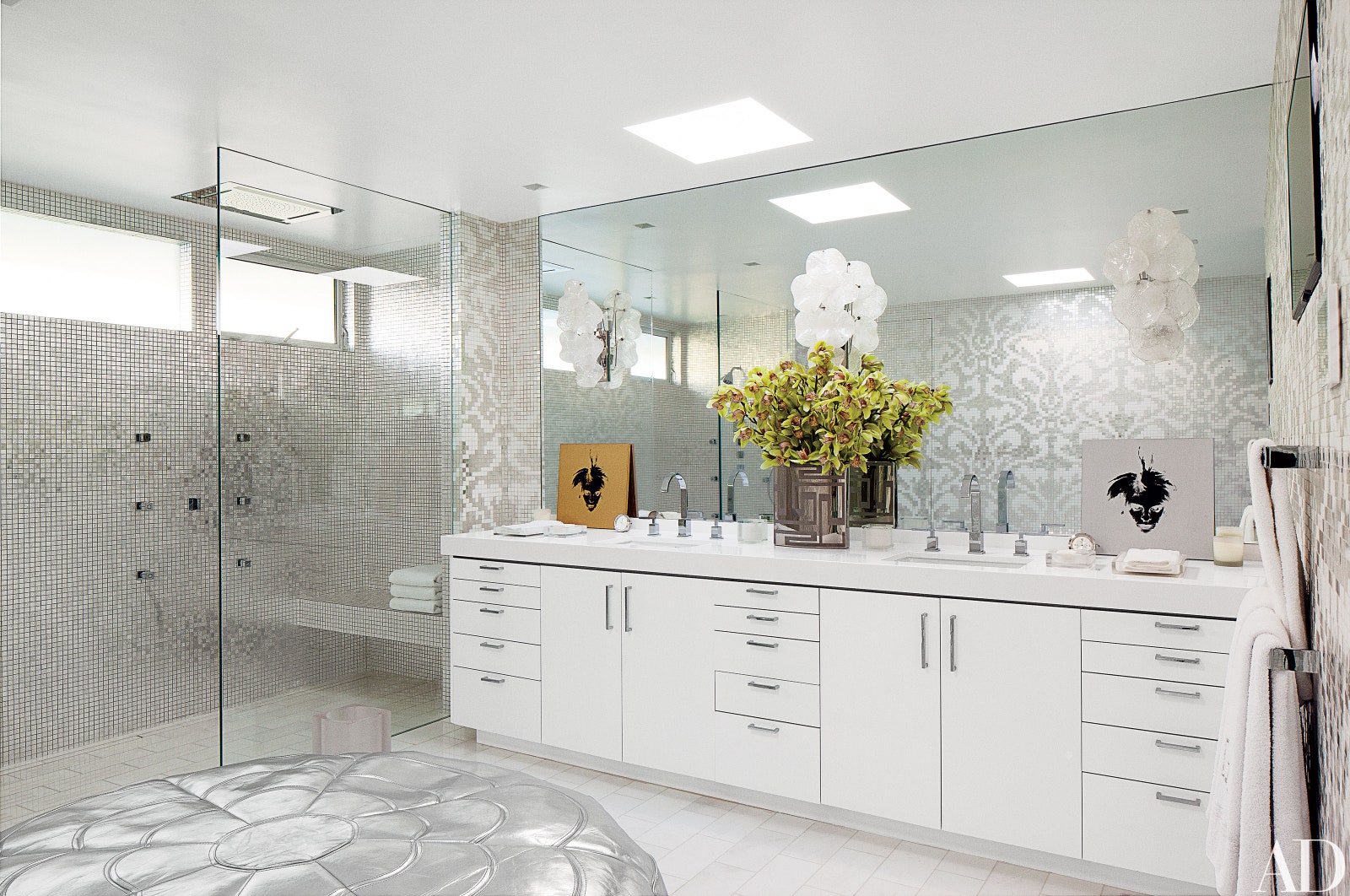 Martyn Lawrence Bullard is not just one of the celebrities' favorite interior designers, he is also the creative behind some of the best celebrity homes and… celebrity bathrooms. To Elton John and David Furnish's modern glam bathroom, the interior designer picked a white base to which he added a 70s' style silver pouf and a glamorous wallpaper in silver and white.
SERENA WILLIAMS' MODERN BATHROOM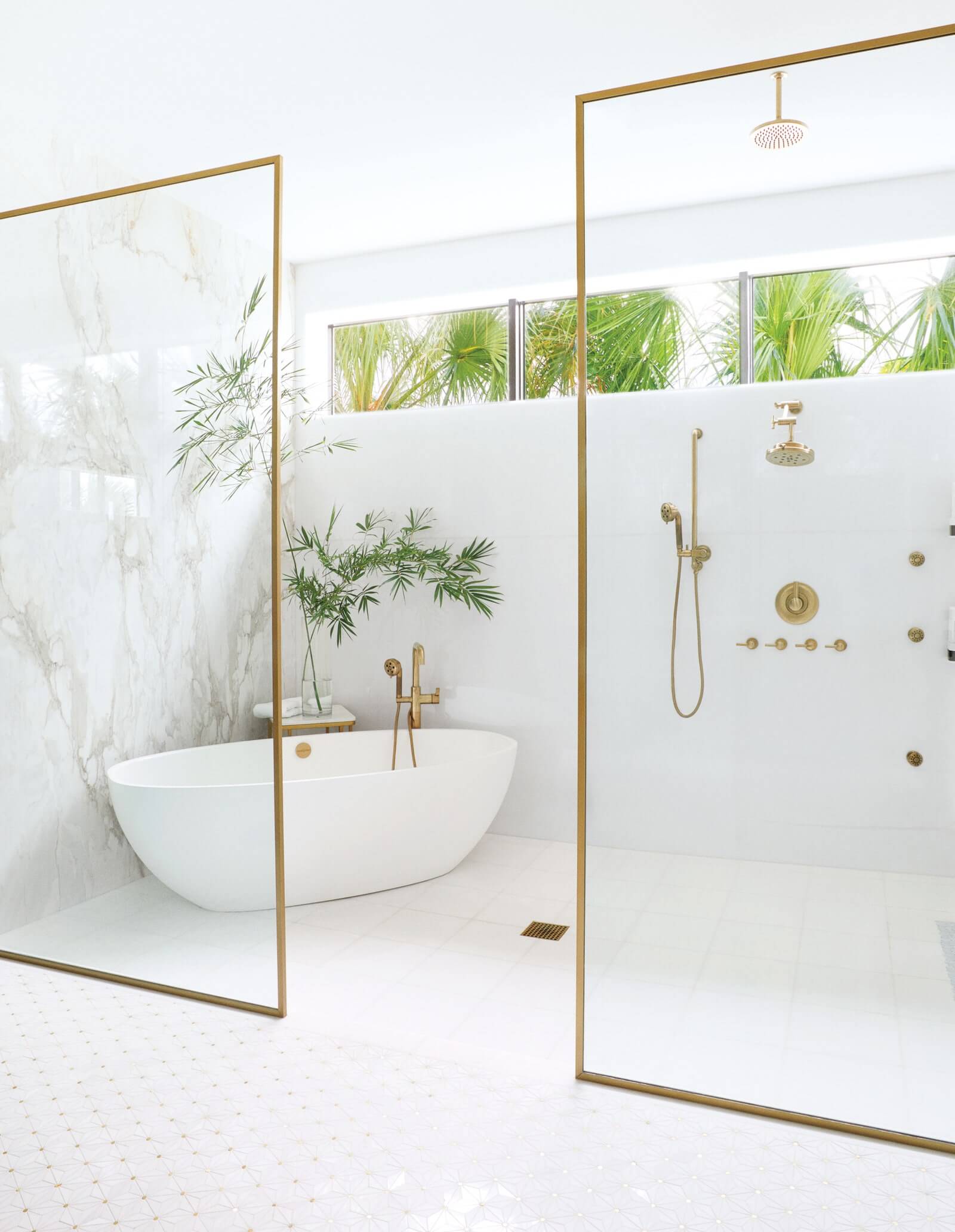 In the tropical modern home of Serena Williams in Florida, the master bathroom has a modern design. The modern bathroom juxtaposes contemporary features with classic accents, such as the golden faucets.
MILA KUNIS AND ASHTON KUTCHEN'S RUSTIC BATHROOM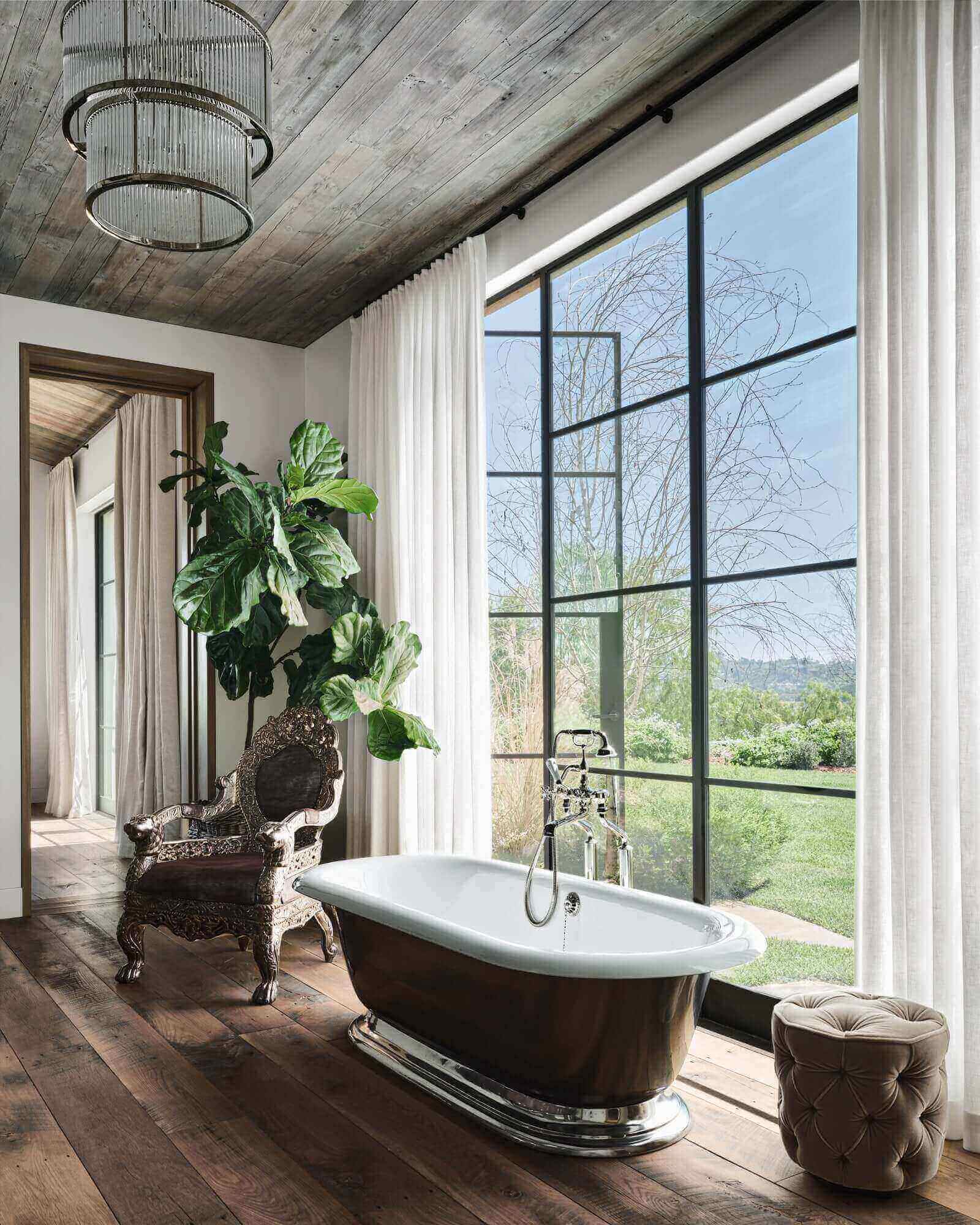 A dream house in the dreamy and exclusive Beverly Hills, made from scratch on the hilltop of Los Angeles. Mila Kunis and Ashton Kutcher's bathroom exhales a unique rustic flair.  Vicky Charles of Charles & Co. was in charge of the interior design, which follows the rural aesthetic. As a result, the master bathroom of Mila Kunis and Ashton Kutcher is surrounded by earthy colors and has a privileged view over the couple's private garden.
LENNY KRAVITZ'S MAXIMALIST BATHROOM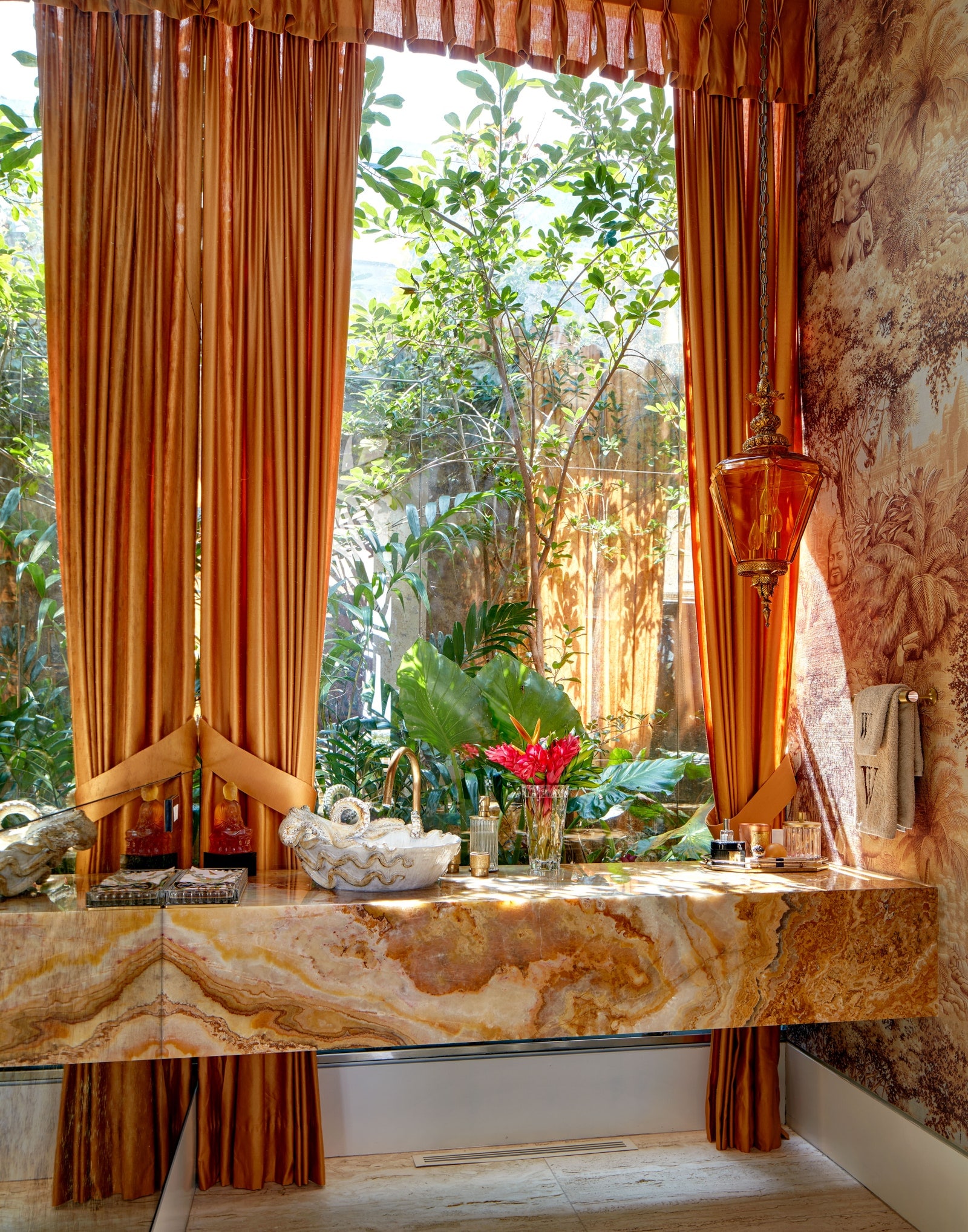 The maximalist bathroom of Lenny Kravitz home in Beverly Hills is addictive. The master bathroom has an orange onyx bathroom vanity with a bespoke octopus sink. Kravitz's bathroom inspiration combines indoors with outdoors – the room opens onto an outdoor shower. Both tub and the floors are Italian travertine.
JESSICA ALBA'S INDUSTRIAL BATHROOM DESIGN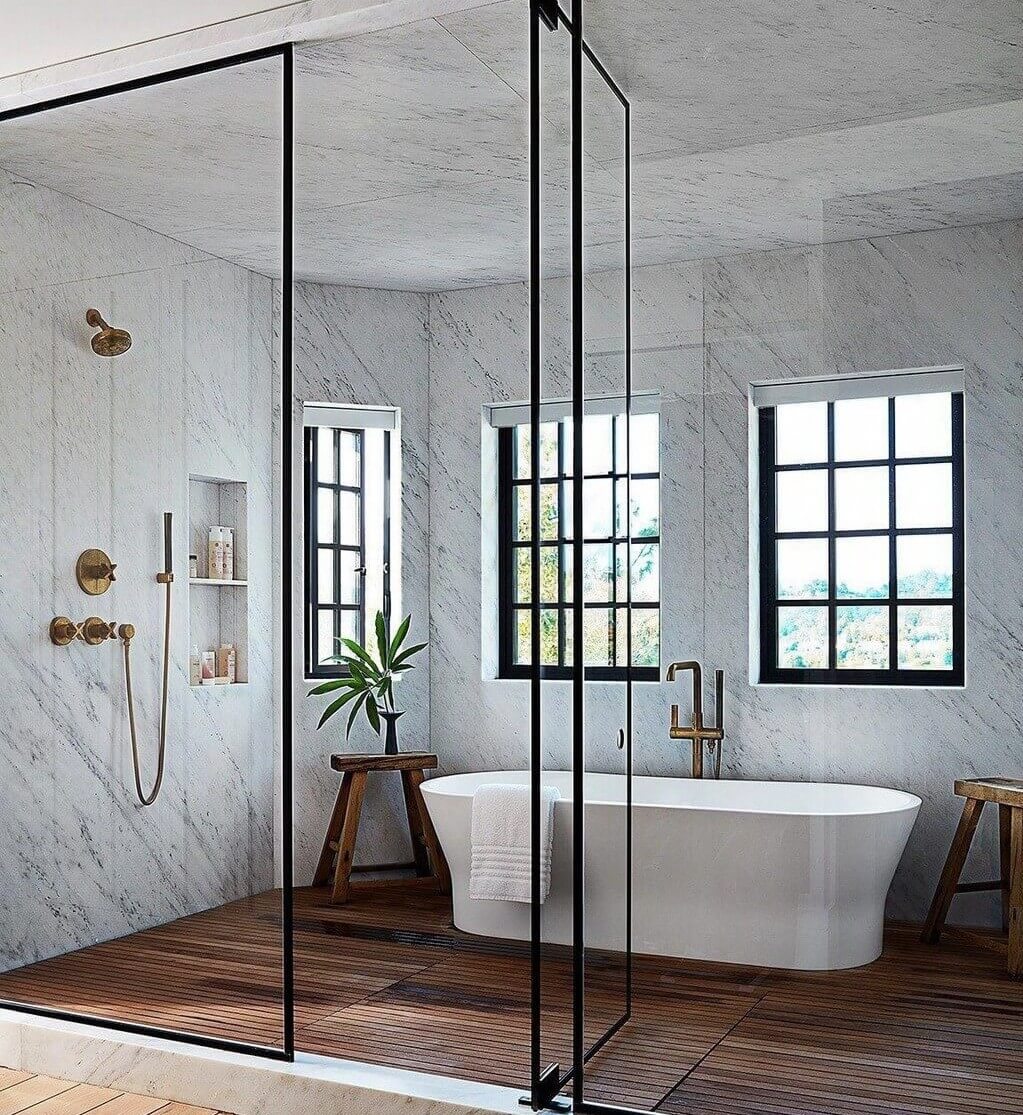 Clements Designs prove that they own creatively the best celebrity bathrooms with Jessica Alba's industrial-chic bathroom. Floor-to-ceiling marble surfaces, glass and steel room dividers and made-of-wood bathroom accessories, namely two rustic side tables.
TROYE SIVAN'S EARTHY BATHROOM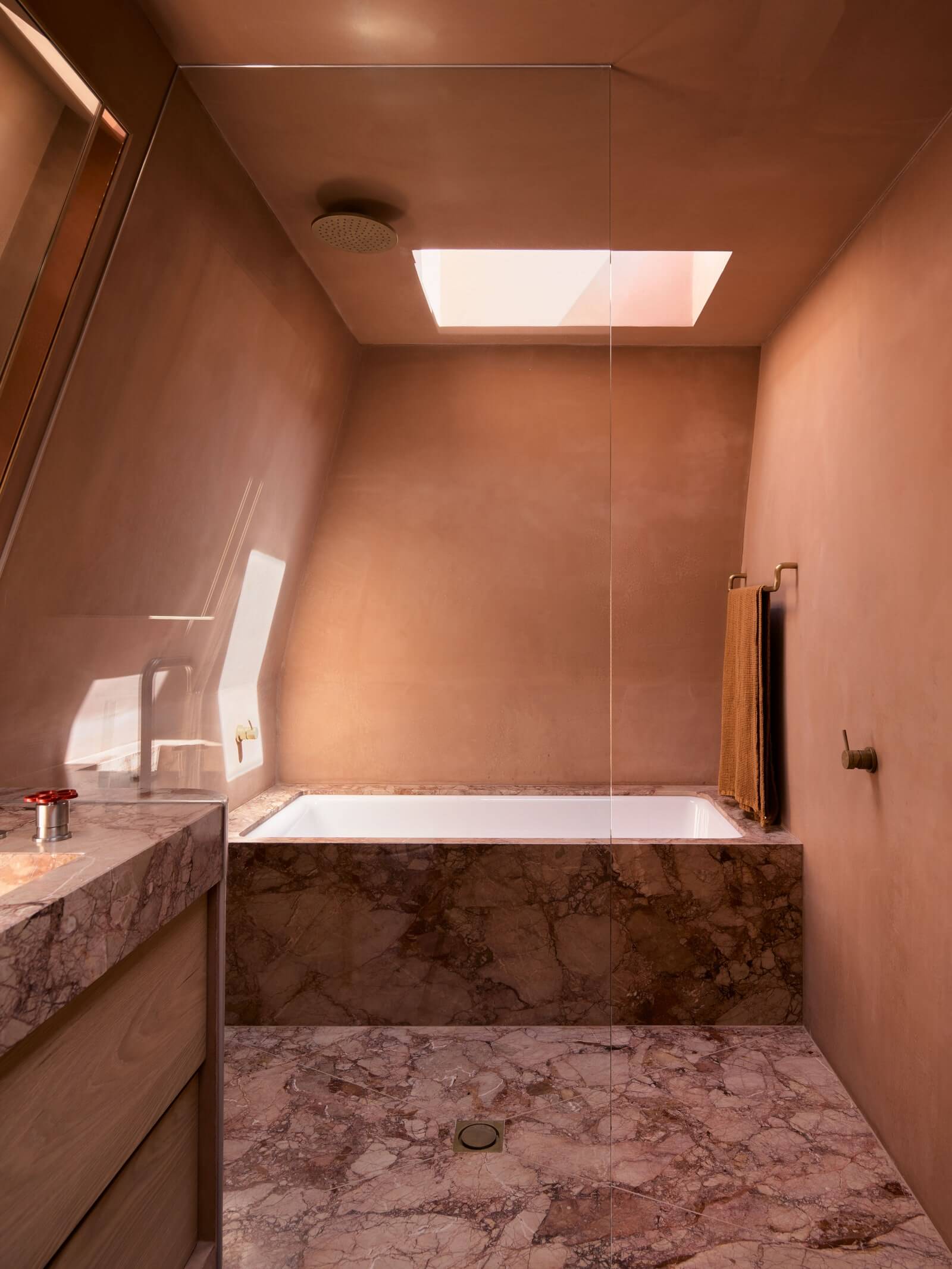 For those who love earthy tones, Troye Sivan's master bathroom was designed by Flack Studio for the star's Melbourne pad. The Australian design studio combines wood and marble with terracotta and fiery pigments.
KENDALL JENNER'S OLD HOLLYWOOD GLAM BATHROOM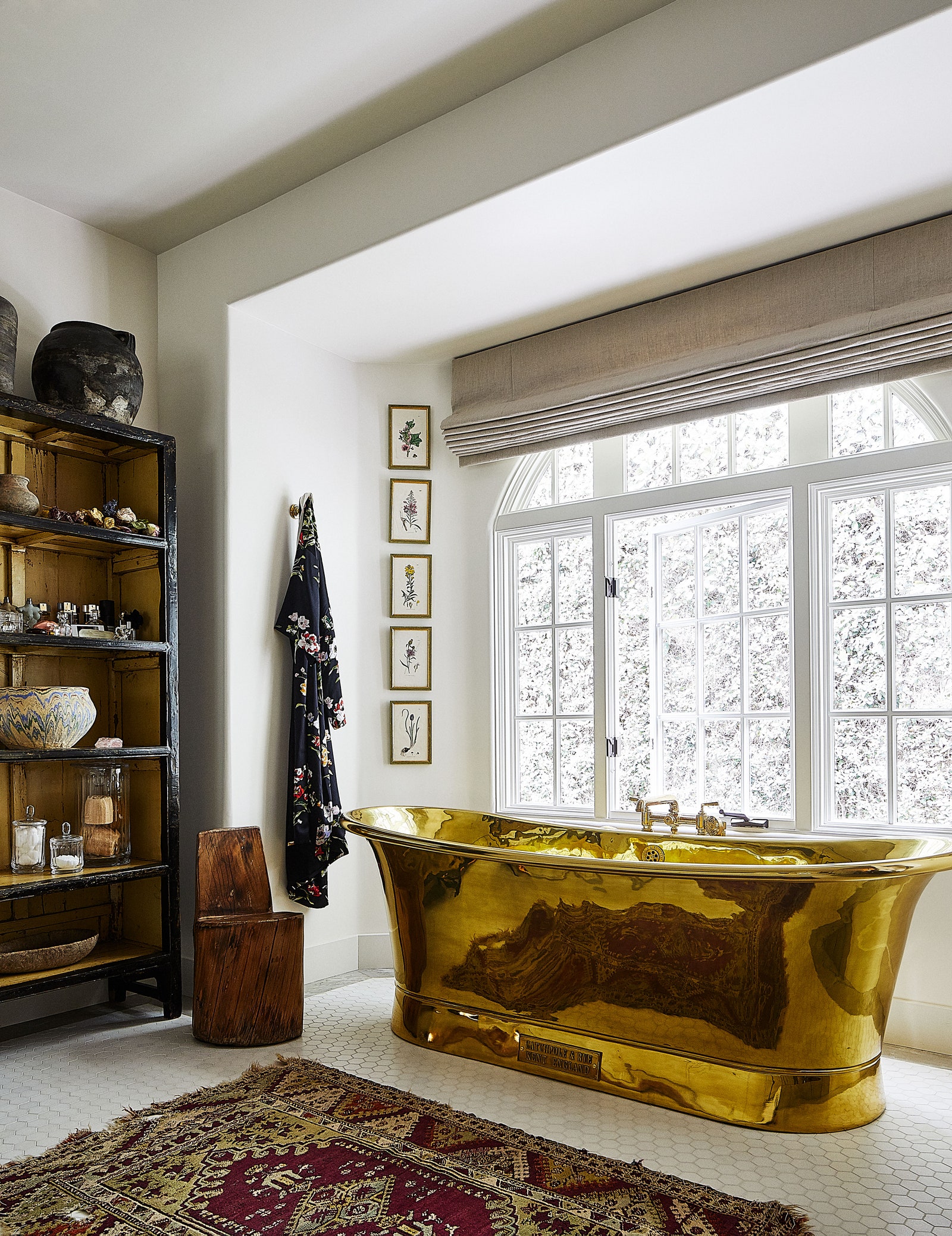 Kathleen and Tommy Clements, the mother and son design studio named Clements Design came up with an old Hollywood glamourous bathroom. To achieve the exquisite look, Clements Design used brass sconces, faucets and an exuberant golden bathtub. The home of Kendall Jenner in Los Angeles is eclectic and is full of unique vintage pieces.
MARBLE DELUXE: SHOP THE LOOK
Since you came this far, we kindly suggest you discover Marble Deluxe, a luxury bathroom design with luxury bathroom accessories with high-end materials and modern design that you can mimic on your bathroom remodeling mission.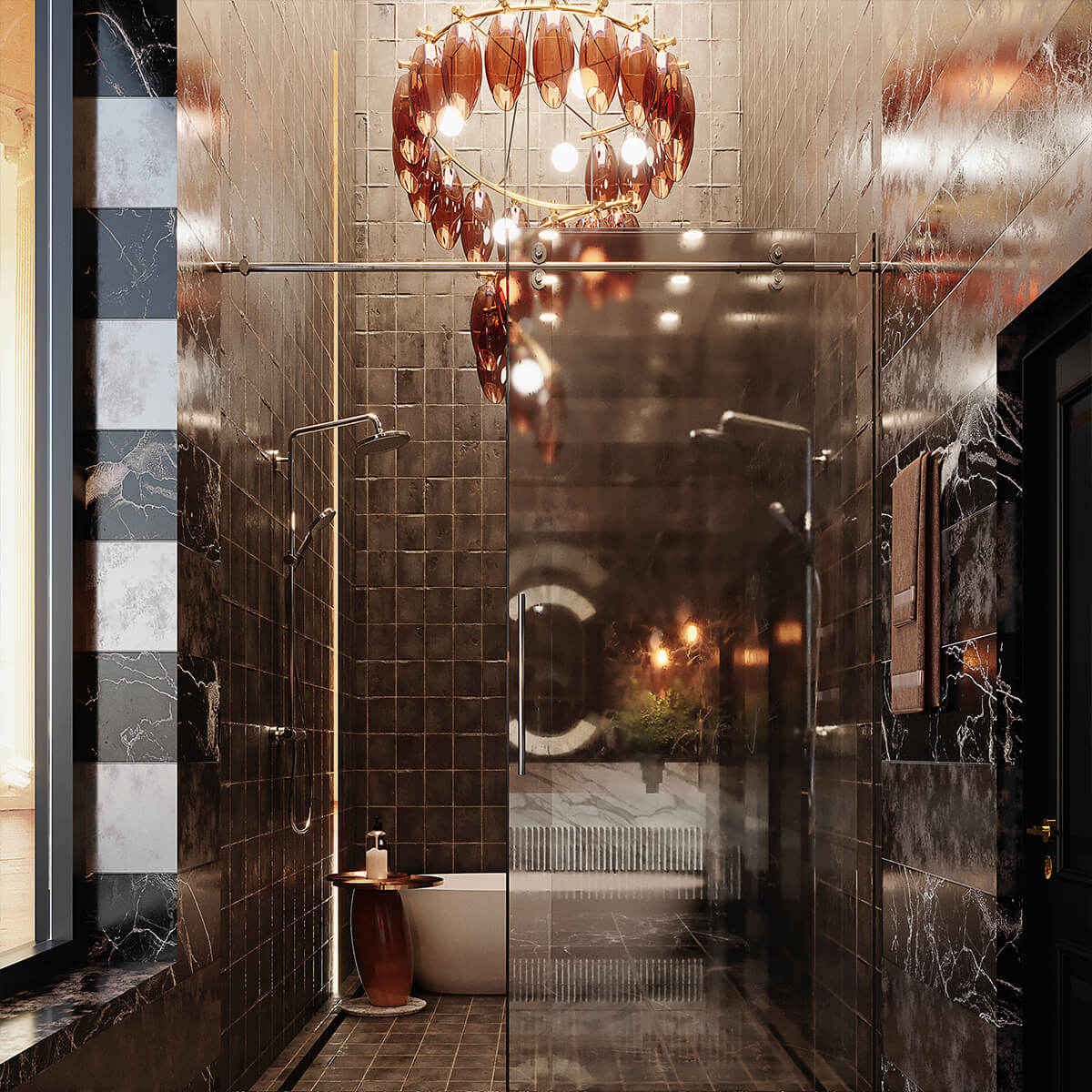 Download the Hommés Studio catalog and discover furniture, lighting, and home accessories to design a modern and elegant bathroom.
Pay a visit to ACH Collection website as well and discover high-end homeware and pet accessories for a wholesome modern lifestyle.