A treehouse on a boat – that's how Dakota Johnson's Midcentury Modern Home is described by the actress. On a dead-end street of a calm neighborhood of Los Angeles, Dakota Johnson found a midcentury modern home designed by the modernist Carl Maston – from the same generation (and social circle) of architects John Lautner and Richard Neutra – for himself and his wife to live in.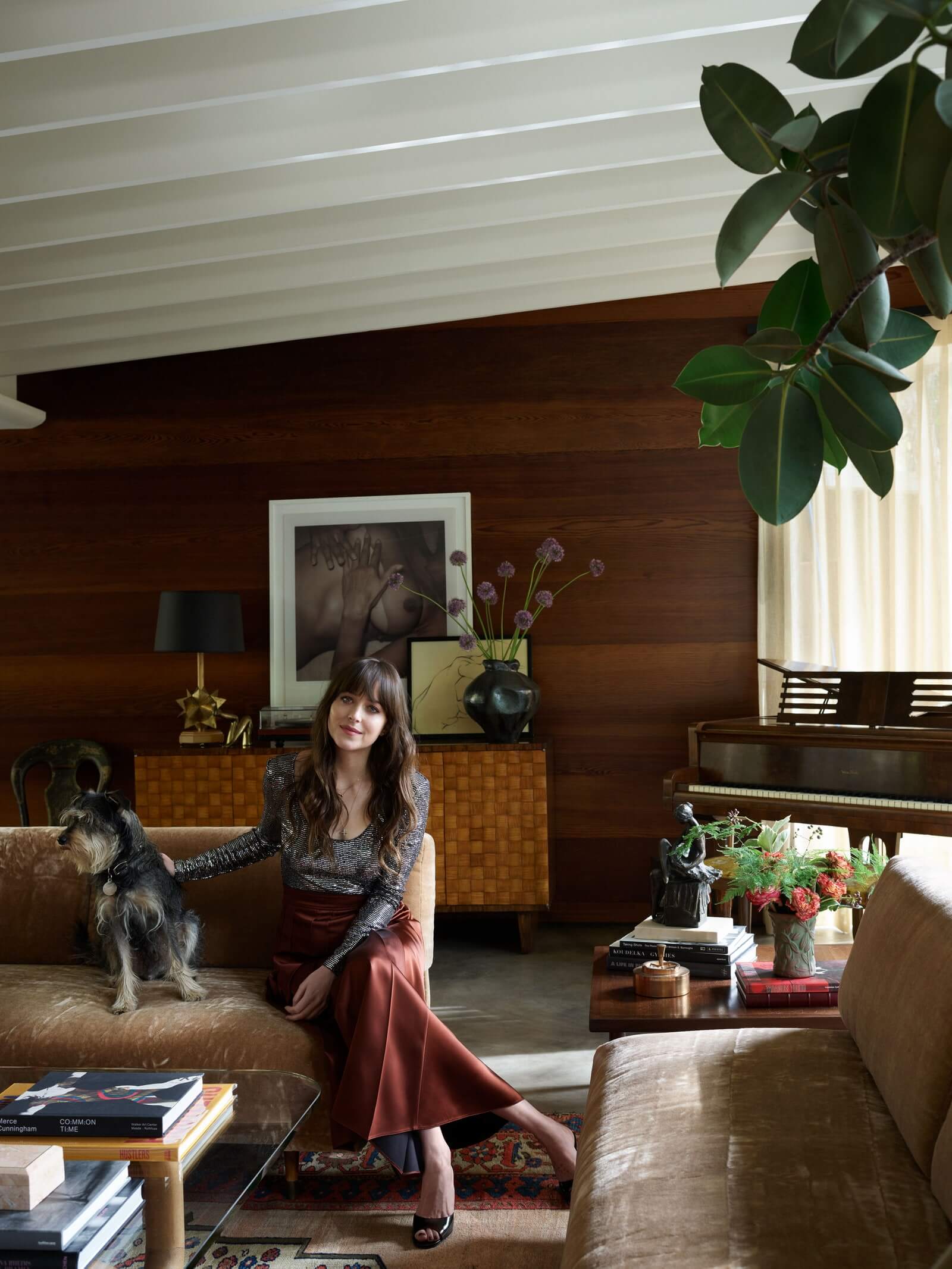 Dakota Johnson's midcentury modern home is everything that midcentury modern architecture in Los Angeles is – concrete, wood, big windows, and a breathtaking landscape design. The home runs towards a lap pool, surrounded by a vast garden.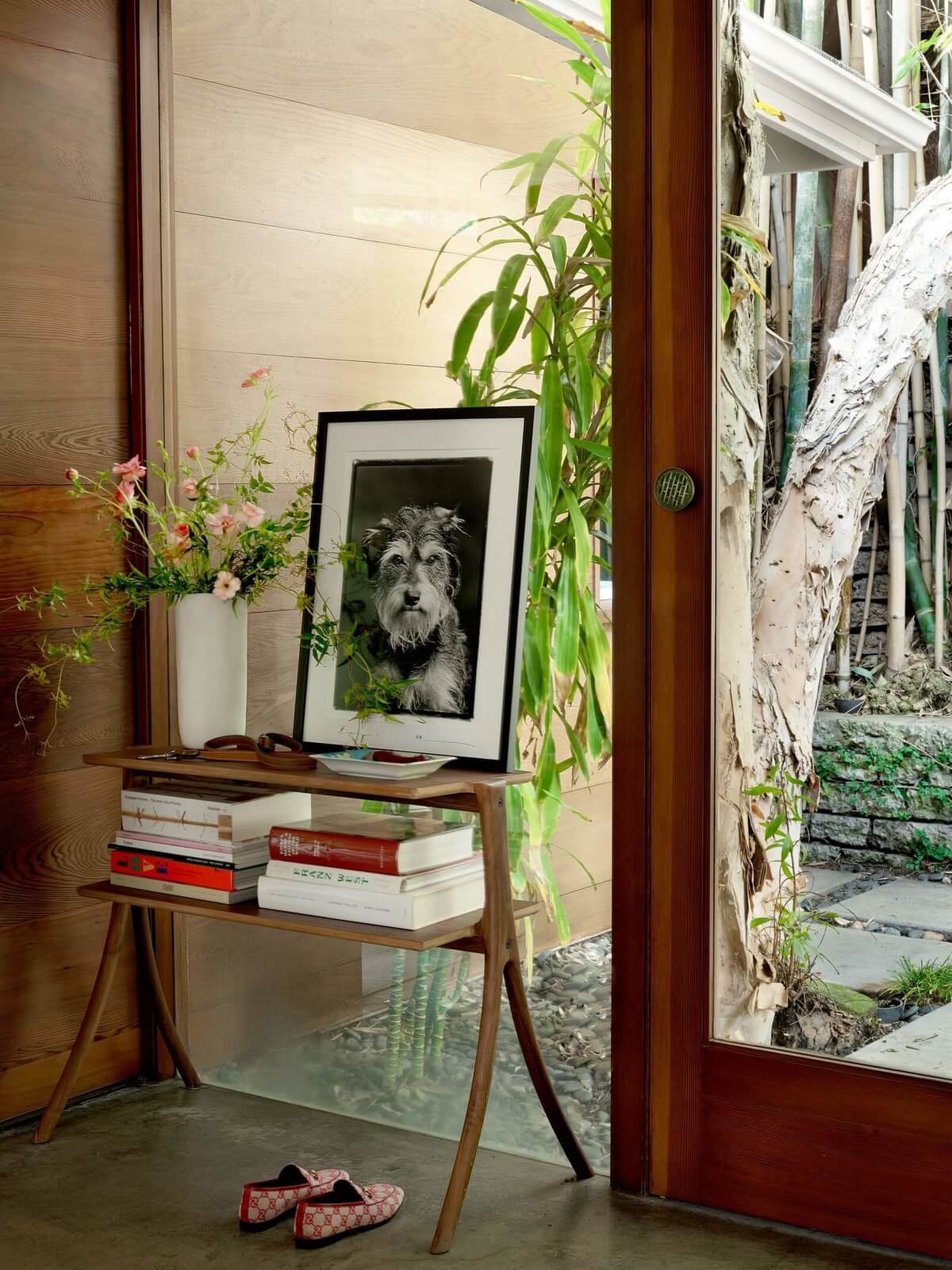 DAKOTA JOHSON'S MIDCENTURY GYPSY LODGE
As designed by Louisa Pierce and Emily Ward from Pierce & Ward, the house's interior depicts Dakota Johnson's essence – a nomad and bohemian life fully committed to memories and artistic manifestations. A sophisticated gypsy lodge.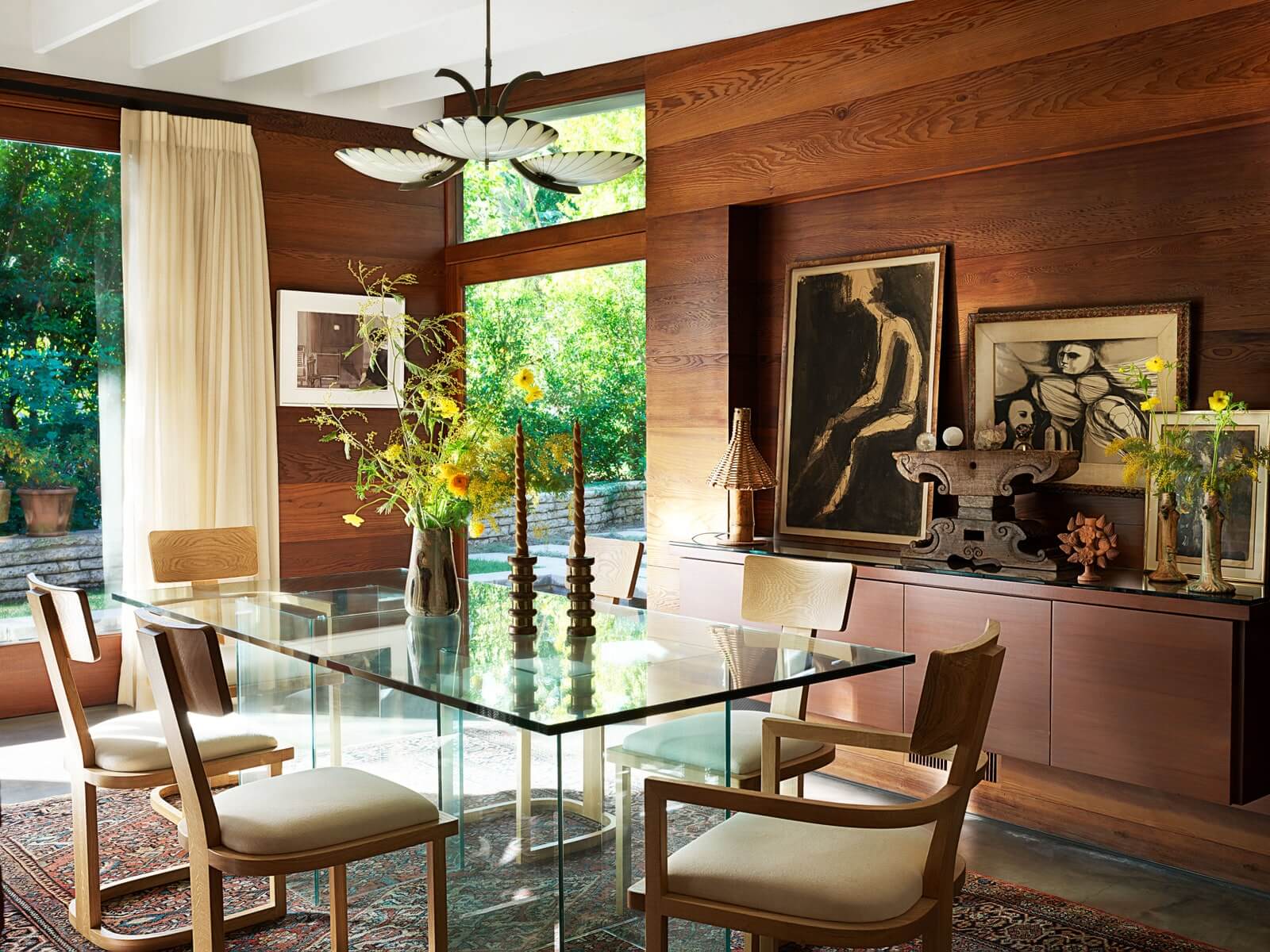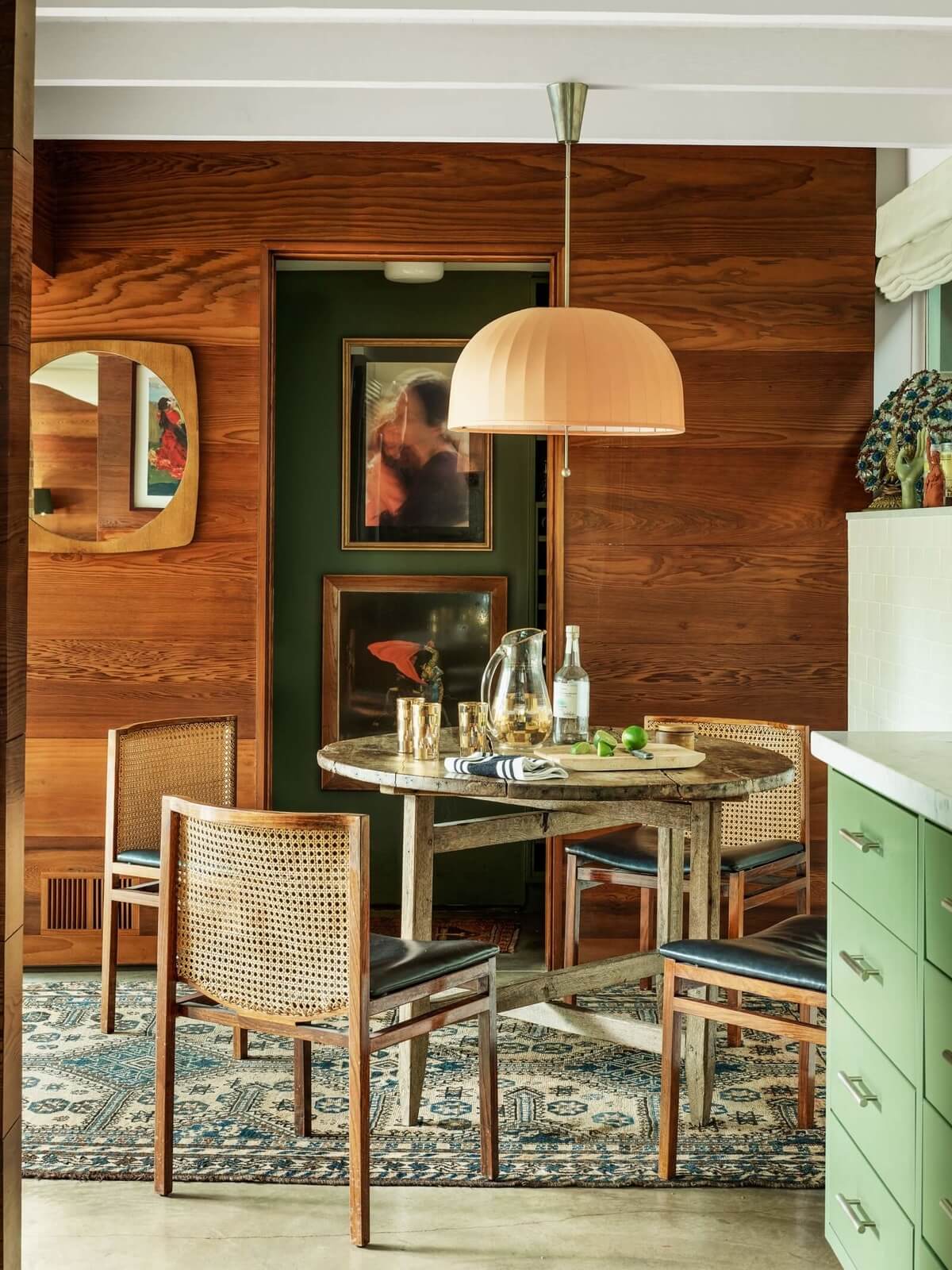 The midcentury modern interior design of Dakota Johnson's house in Los Angeles has a concise color palette – the hypnotic brown from the wood pairs with a boho hue of green and the sensual energy red and orange objects and home accessories, such as eclectic carpets and rugs.
Even though the kitchen area is small, the green cabinetry and a bohemian rug speak the same tone of voice as the rest of the house.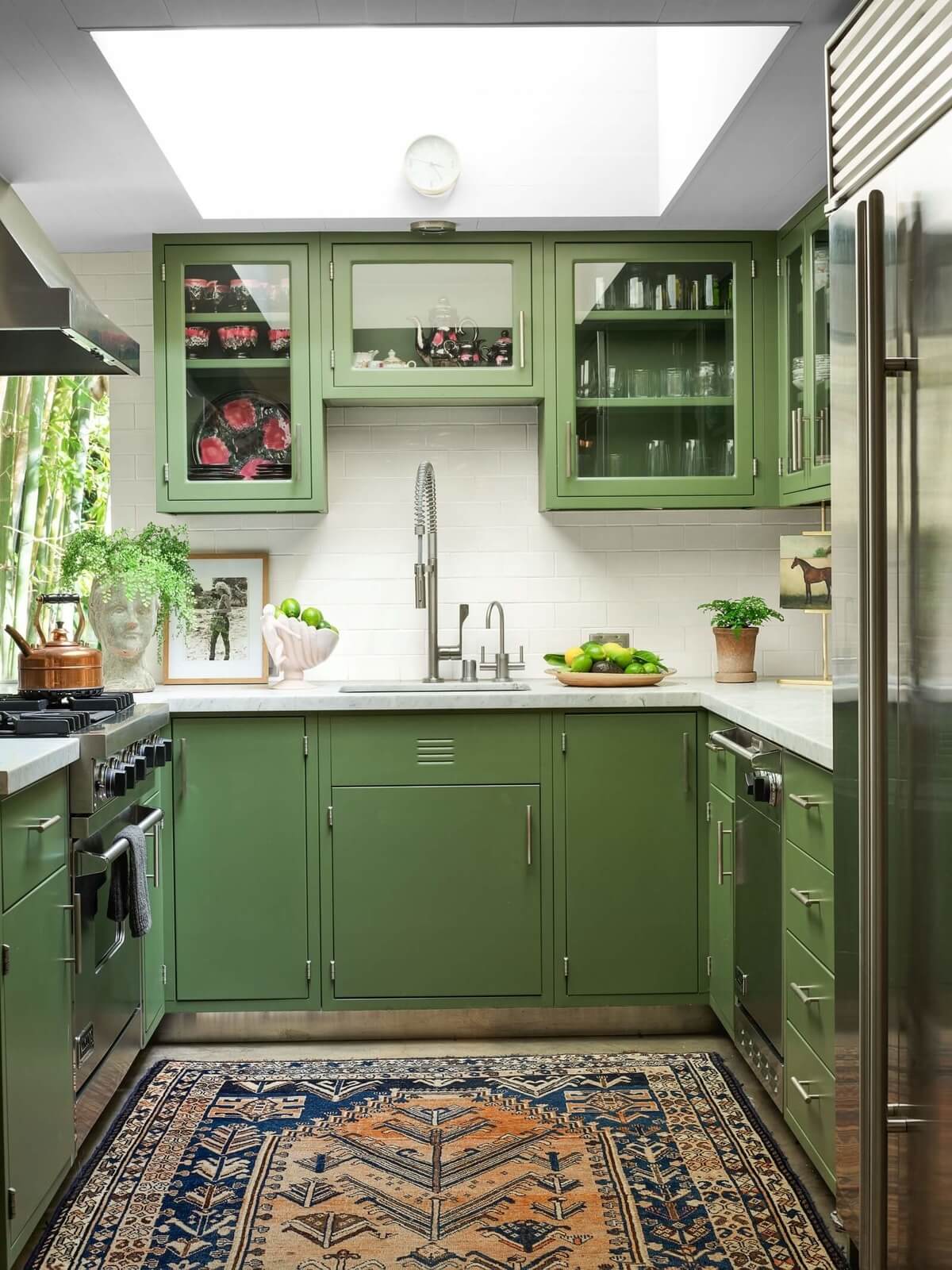 Wood creates a mysterious ambiance and involves every room – it panels the living room, the walls of the home office, and the ceiling of the master bedroom – that formerly was in cork. Wood also assures Dakota Johnson's midcentury home the treehouse organic aesthetic and the gypsy lifestyle.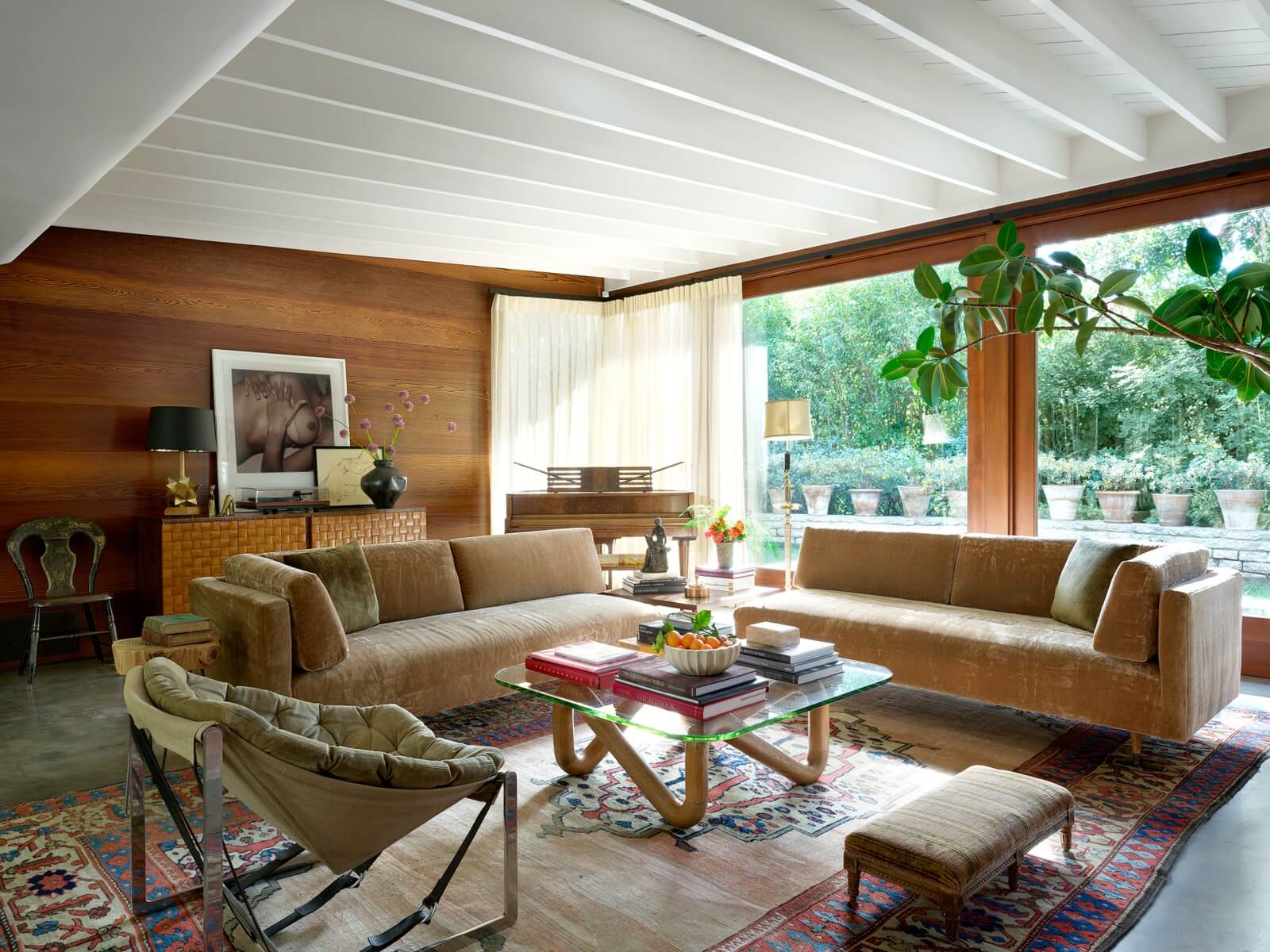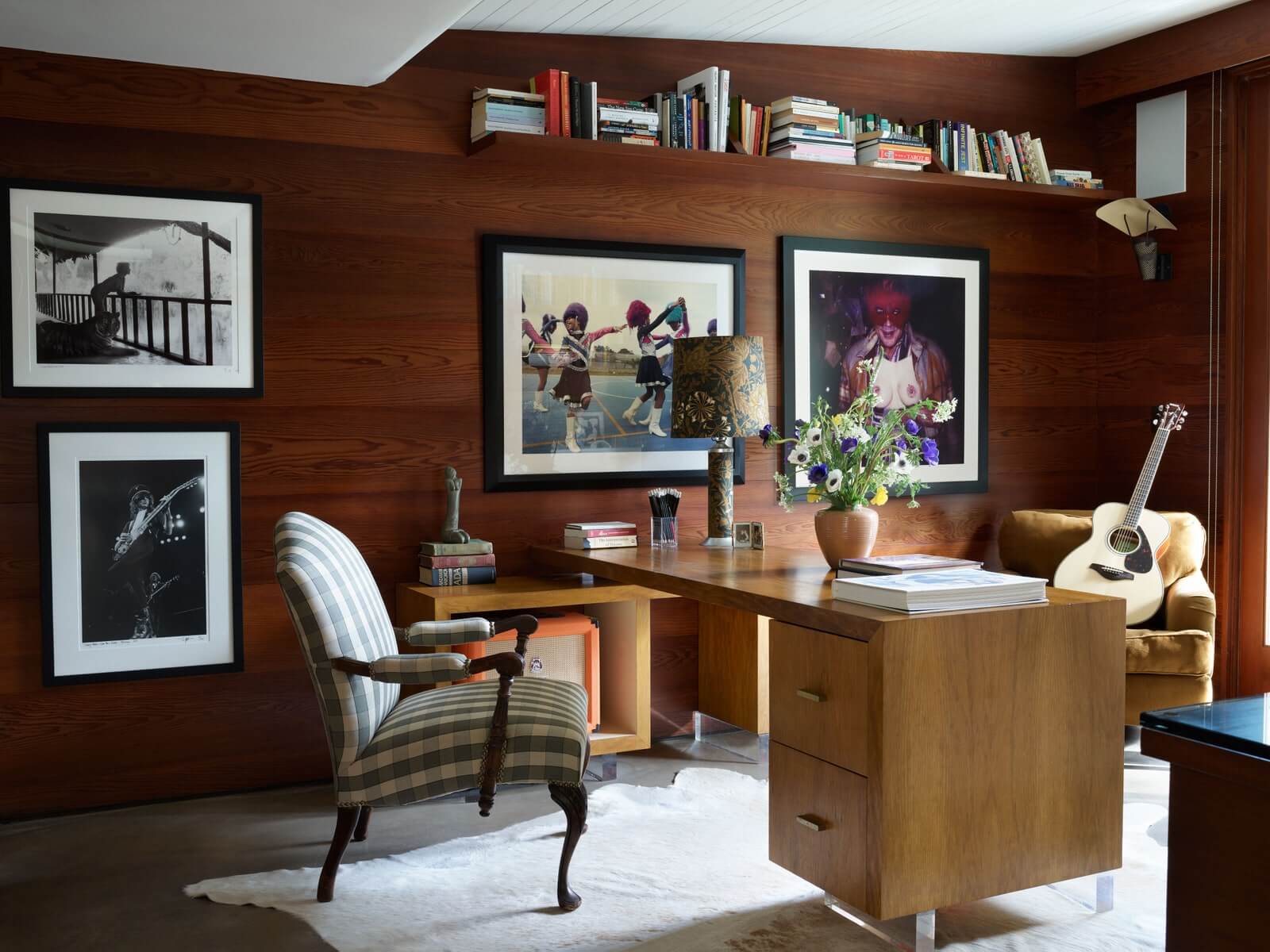 Antique and vintage findings make Dakota Johnson's midcentury modern lodge magical. Home accessories, such as vintage lamps and flower vases melt over midcentury modern furniture and 1970s aesthetic signature. The house of Dakota Johnson in Los Angeles has everything – vintage sideboards, antique sofas, iconic chairs, eclectic rugs, rattan furniture, and velvet upholstery in mustard hues.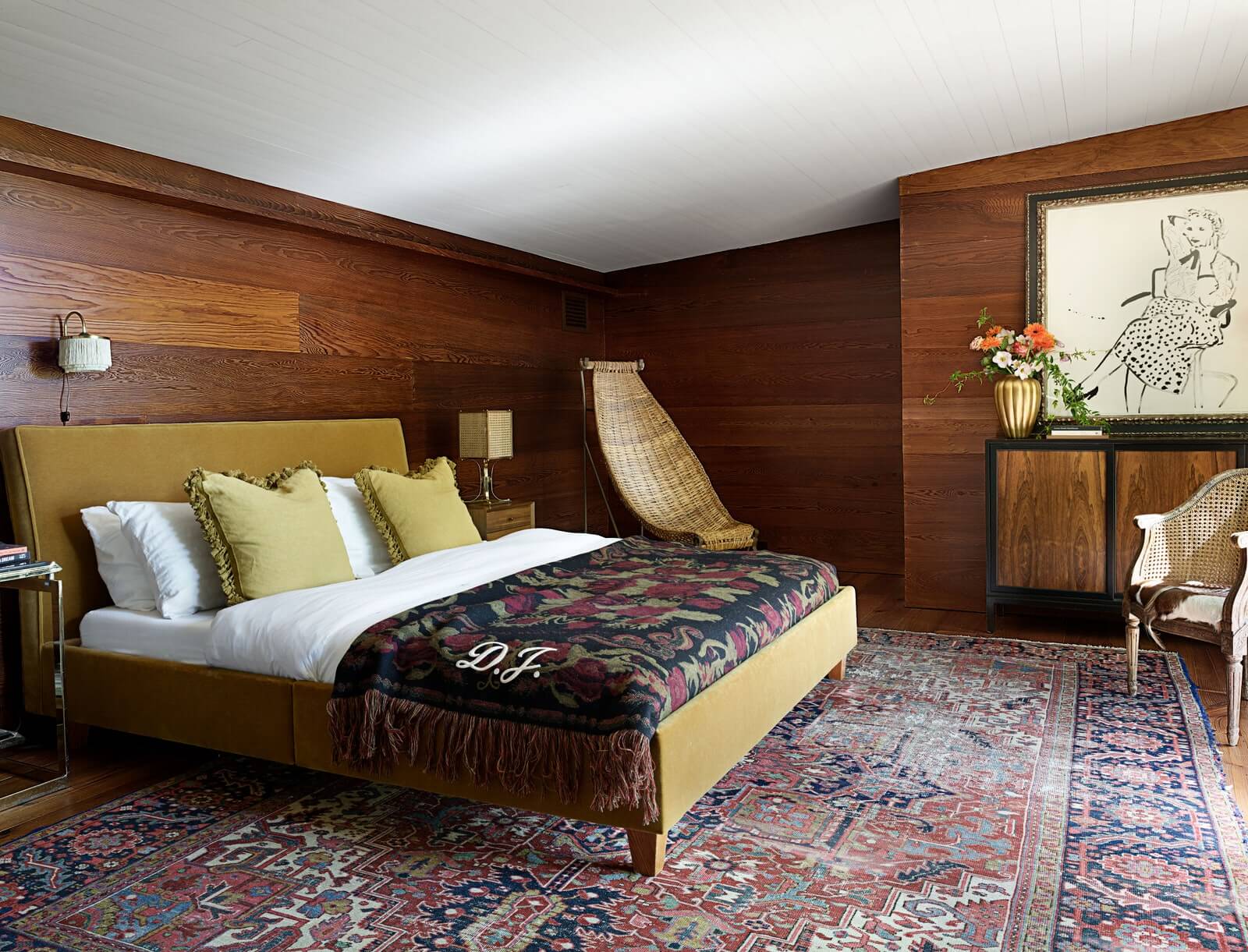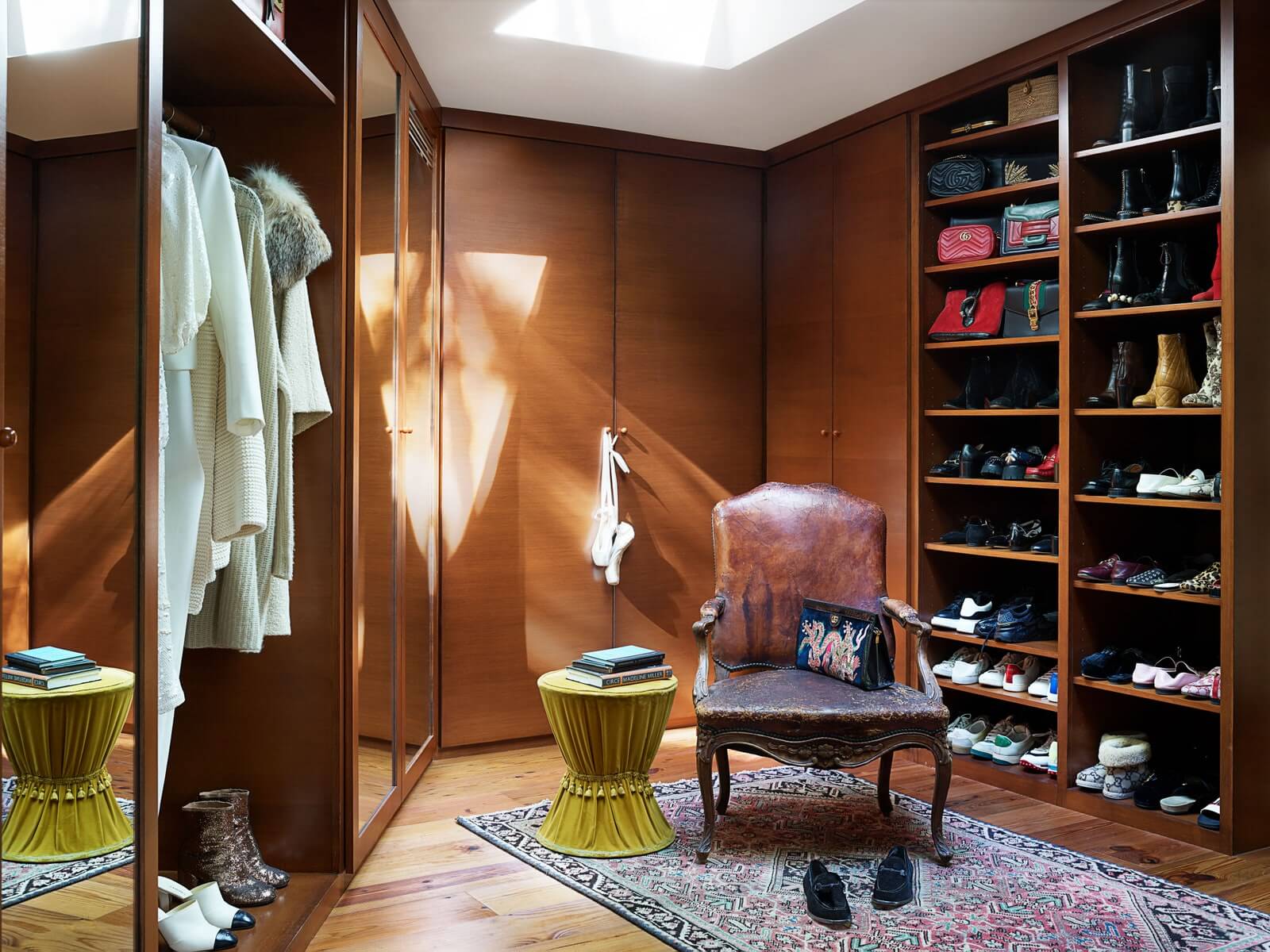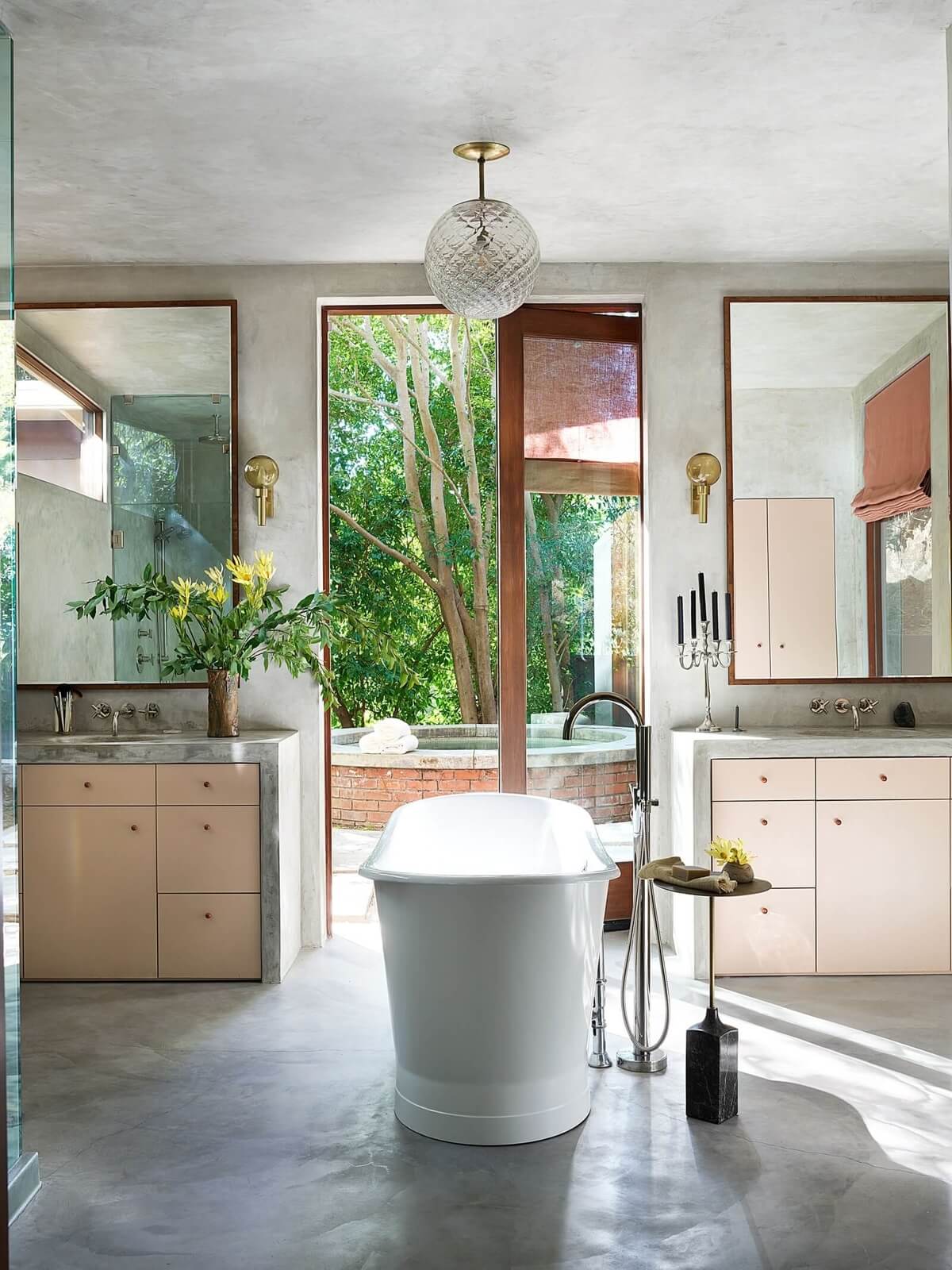 The master bathroom of Dakota Johnson's midcentury modern home has an inspiring modernist layout – the concrete floor meets the large windows that open to the garden. Lighting brass and glass fixtures highlight the bathroom's modernist aesthetic. Two custom-made bathroom vanities are painted in a dreamy pale pink, as imagined by Dakota Johnson and delivered by Pierce & Ward.
Like Dakota Johnson's midcentury modern home, Elsa Hosk owns a modernist home designed by Richard Neutra. The midcentury modern interior is filled with Elsa Hosk's AMAZING COLLECTION OF VINTAGE FURNITURE, which you can discover here.
For designing a midcentury modern interior, download the Hommés Studio catalog and discover our collection of modern furniture and trendy home accessories.

Source AD