Discover This Vibrant and Colorful Home Decor in the Only 1 Bedroom Apartment in Bebek, Istanbul Designed by Merve Kahraman.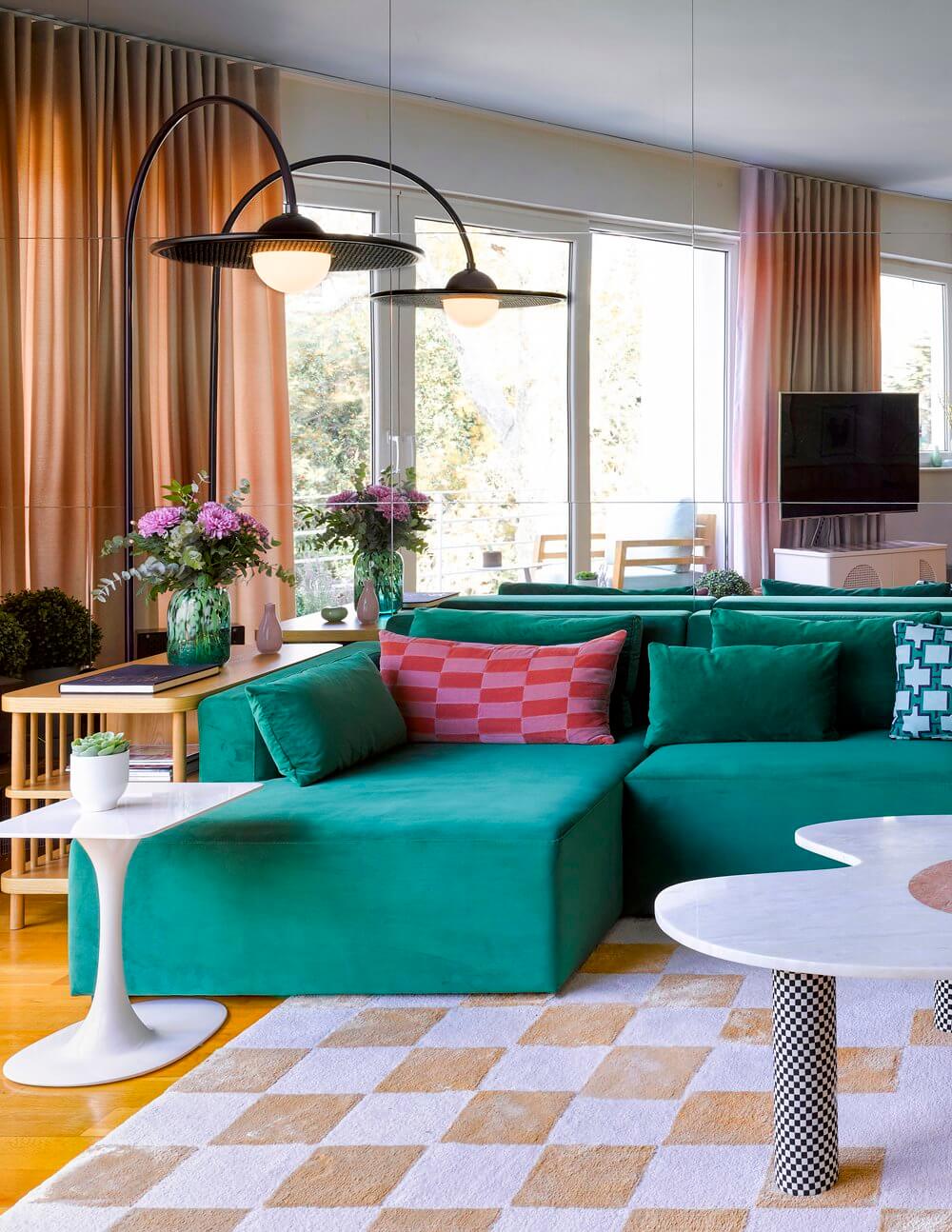 This interior design project can be not very extravagant in terms of size, but the vibrant and energetic colors in the most varied forms present in the home decor of this one-bedroom apartment turn this space into a fascinating and memorable spot.
Located in Bebek, the Pied-á-Terre by Merve Kahraman has a view of the Bosphorus. This outstanding apartment was designed to be the second home for a new york-based single professional. The 110-square-meter property was developed by combining vibrant and colorful home decor. The homeowner decided to acquire this explosion of vibrant colors and energetic forms to spend more time with friends and family.
When Kaharman had already designed the client's home when he was in New York, he risked adding some playful and out-of-the-box shades and finishes. It could have gone wrong, and initially, the client hesitated, but at the end of the project, she absolutely loved every detail as well as the chosen colors – greens, pinks, and blue hues.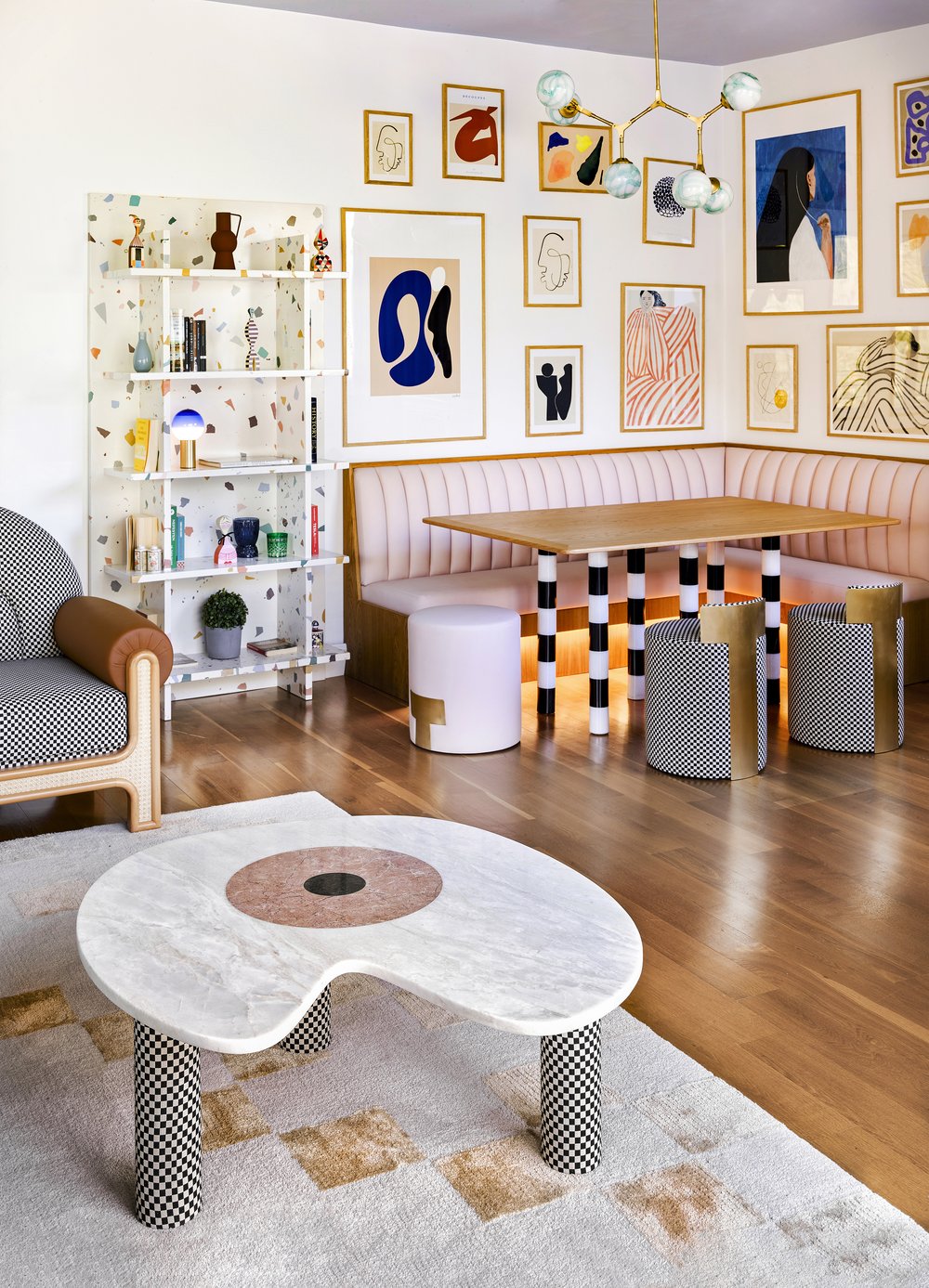 The idealized concept was to create diversity and distinguished home decor by designing multiple spaces with different aesthetics in this fresh and cozy apartment situated in the heart of Bosphorus. The designer also desired to create variety in order to turn this space into a delightful place, and not a tiny and dull space, regarding the volume's long rectangular shape and uneven walls – a typical characteristic of old buildings in Turkey.
Most of the furniture, lighting, and rugs were custom made by Merve Kahraman design studio, combining together vintage founds and modern accessories.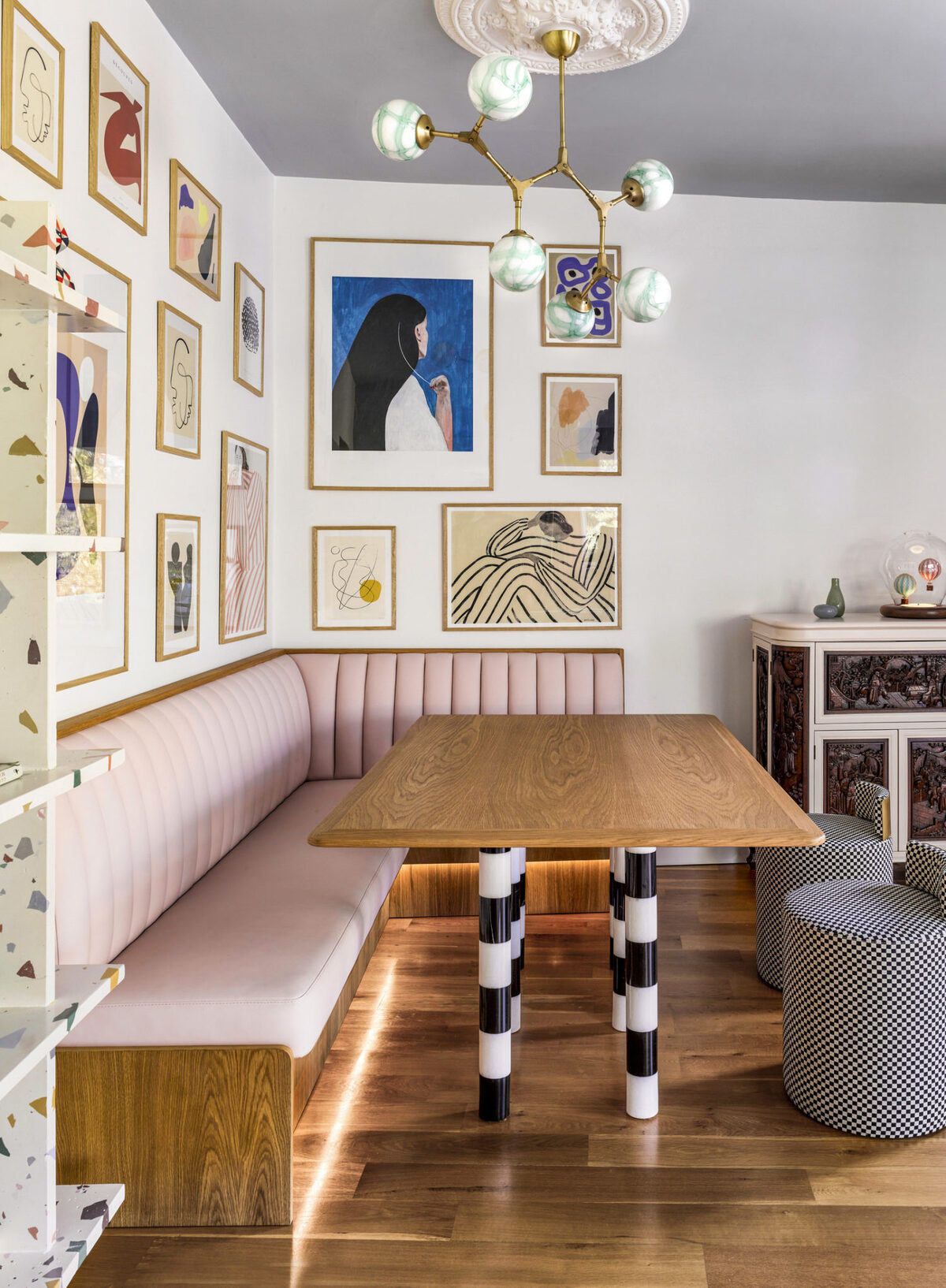 Such as the green velvet sofa in the living room, there are many other remarkable home decor pieces in this apartment. With a solid pink presence in this interior design project, the pink leather banquette gave continuity to the color scheme idea. This unique piece with vintage vibes is used as a working and dining area with integrated lighting and an electrical outlet.
The pastel pink seat is combined with a white oak dining table with marble legs and a pair of checkered black and white poufs. Every element of this space is unique, such as this stunning mint green chandelier and its white base.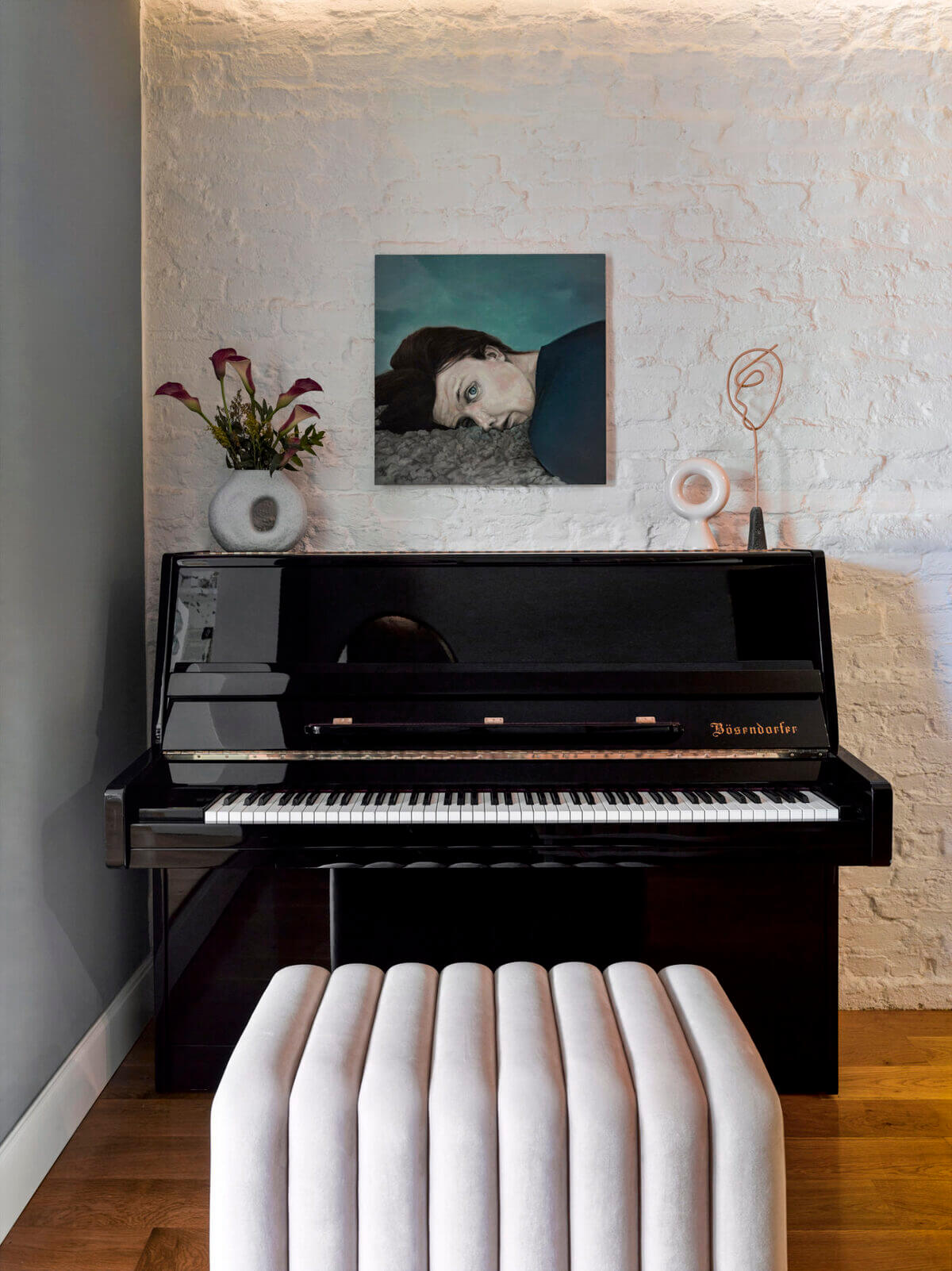 While the interior layout was a challenge, some elements simply feel that make sense to fit in, like this piano that is situated across the entrance, giving a memorable factor as soon as the visitors come along, working almost like a welcoming item. This home decor piece is positioned alongside a charming velvet stool and a painting above it.
Our EROS STOOL is also a great seating suggestion: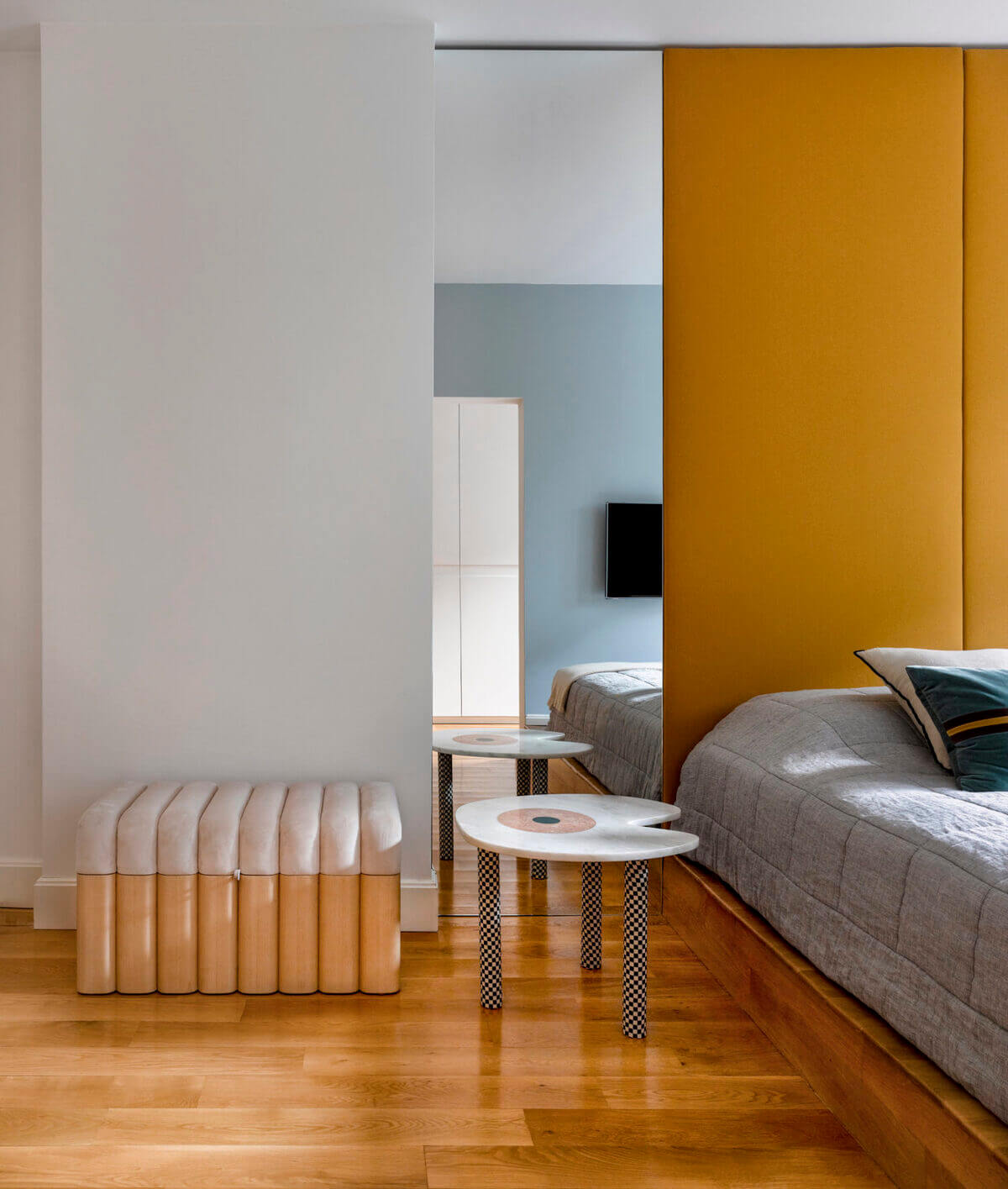 The details are extremely important in this interior design project. Kahraman emphasized the matter of the wood marquetry technique in this apartment by utilizing it in various home decor items. They are entirely handmade, and all of the shelves and drawers inside were only produced after a process of measuring all the shoes and documents the client has for those spaces.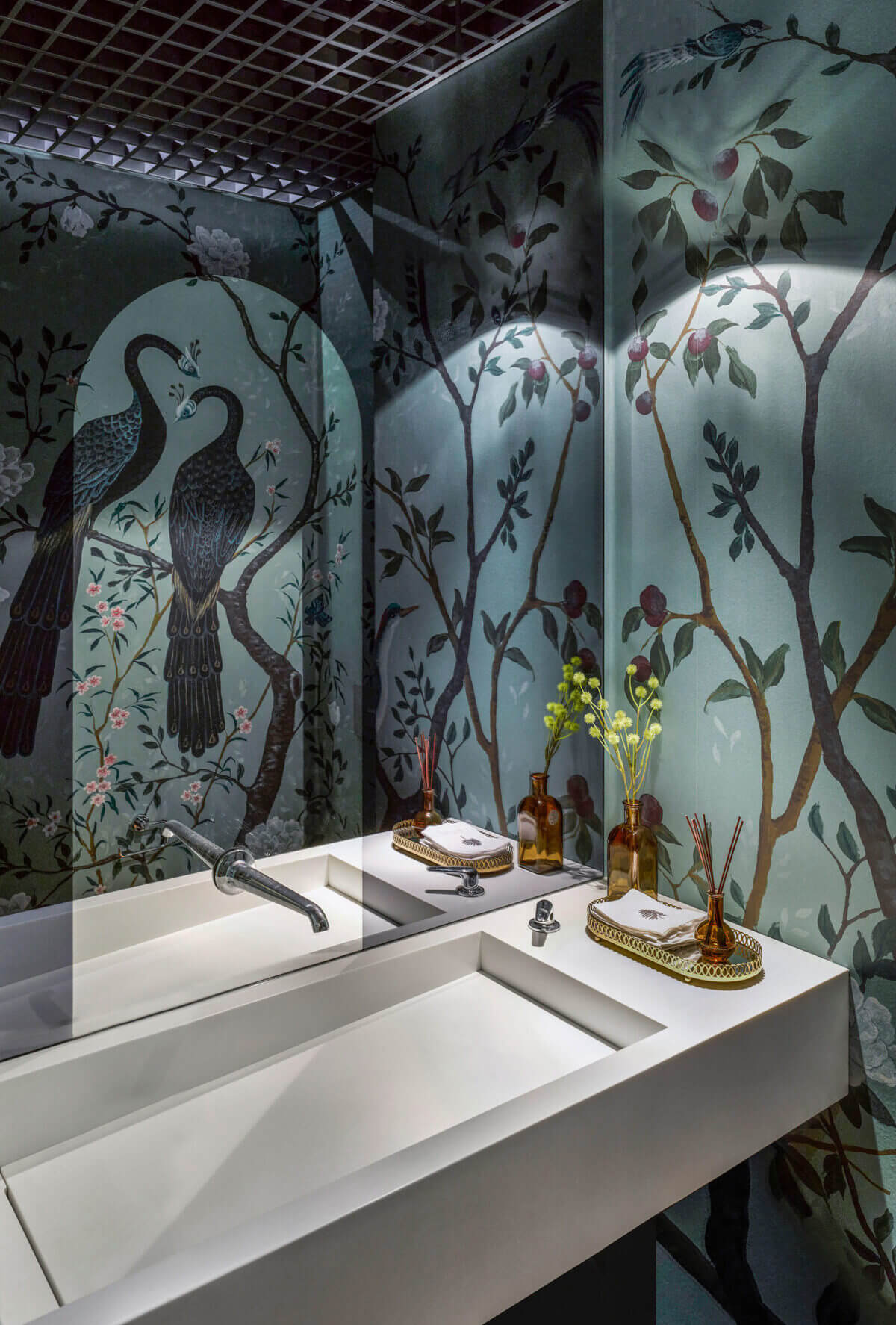 For the powder room, the designer opted for an enchanting wallpaper that it's the prominent feature of this space, giving it an utterly differentiated look. In this room, there's also a custom-made arched mirror with two different shades and a few home decor accessories.
Alongside the wallpaper, the ceiling also gives authenticity and refinement to the powder room.
There is a delightful nook in the bedroom that works as a reading area and a bed for visitors with storage under it. The nook has blue stucco-painted walls and a bookshelf. It is decorated with red and white striped seating, cushions, and valance.
For the terrace, Kahraman chose furniture with custom selected green and white striped seating with a classic vibe.
While the project was delayed by manufacturing and production uncertainties, the final project resulted in this eclectic and playful second home.
Source: YellowTrace
ARE YOU INTO INTERIOR DESIGN?
If so, discover modern furniture and lighting designed by design lovers for design lovers. All you need is to download the Hommés Studio catalog. To complete your interior design project, choose the high-end homeware by ACH Collection.