Due to the avant-garde adventures of his friend designer Job Smeets, this colorful penthouse of Viktor & Rolf's Rolf Snoeren puts a smile on his face from morning to night.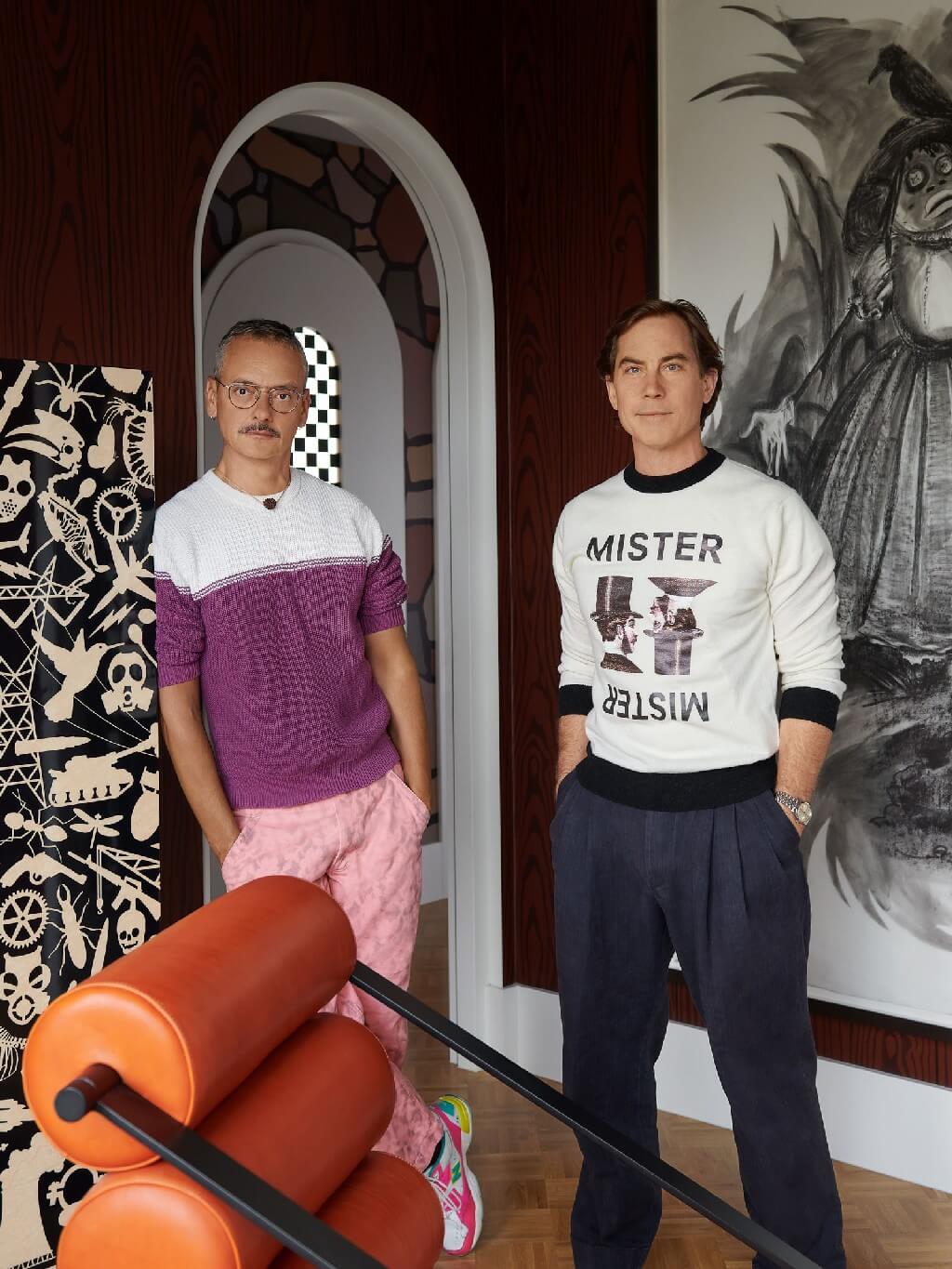 Entertainment parks are for the young. At least, that is the traditional knowledge. Job Smeets, however, has never put away childish things. For the founder of Studio Job, headquartered in the Dutch city of Tilburg, in 1998, the seductive product-design firm, youthful memories of Efteling -the largest theme park in the Netherlands – form the DNA of his bold projects.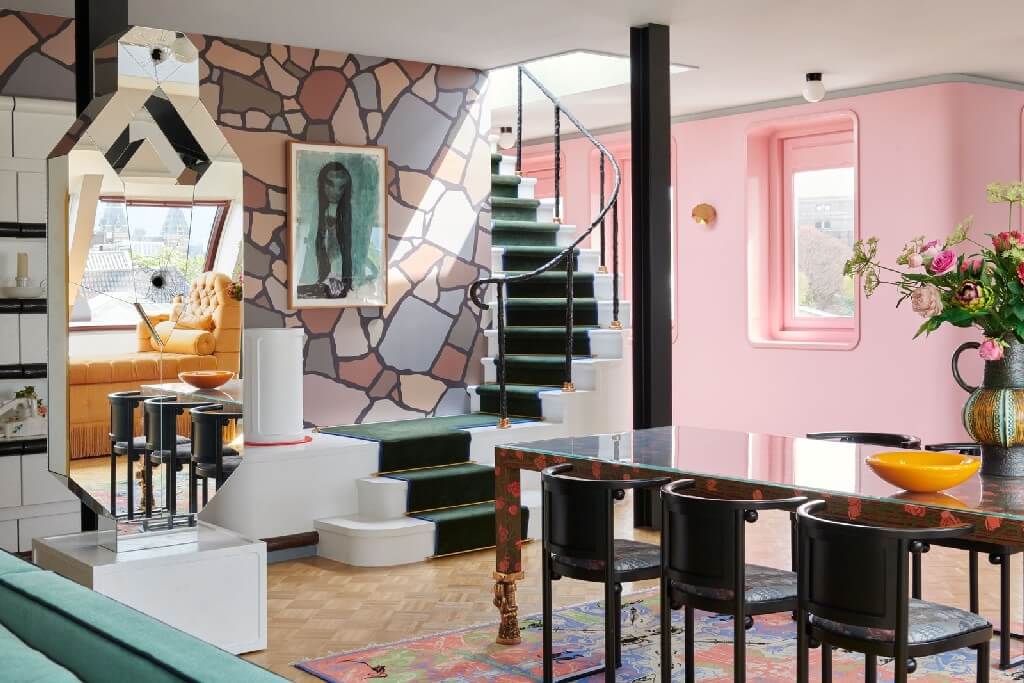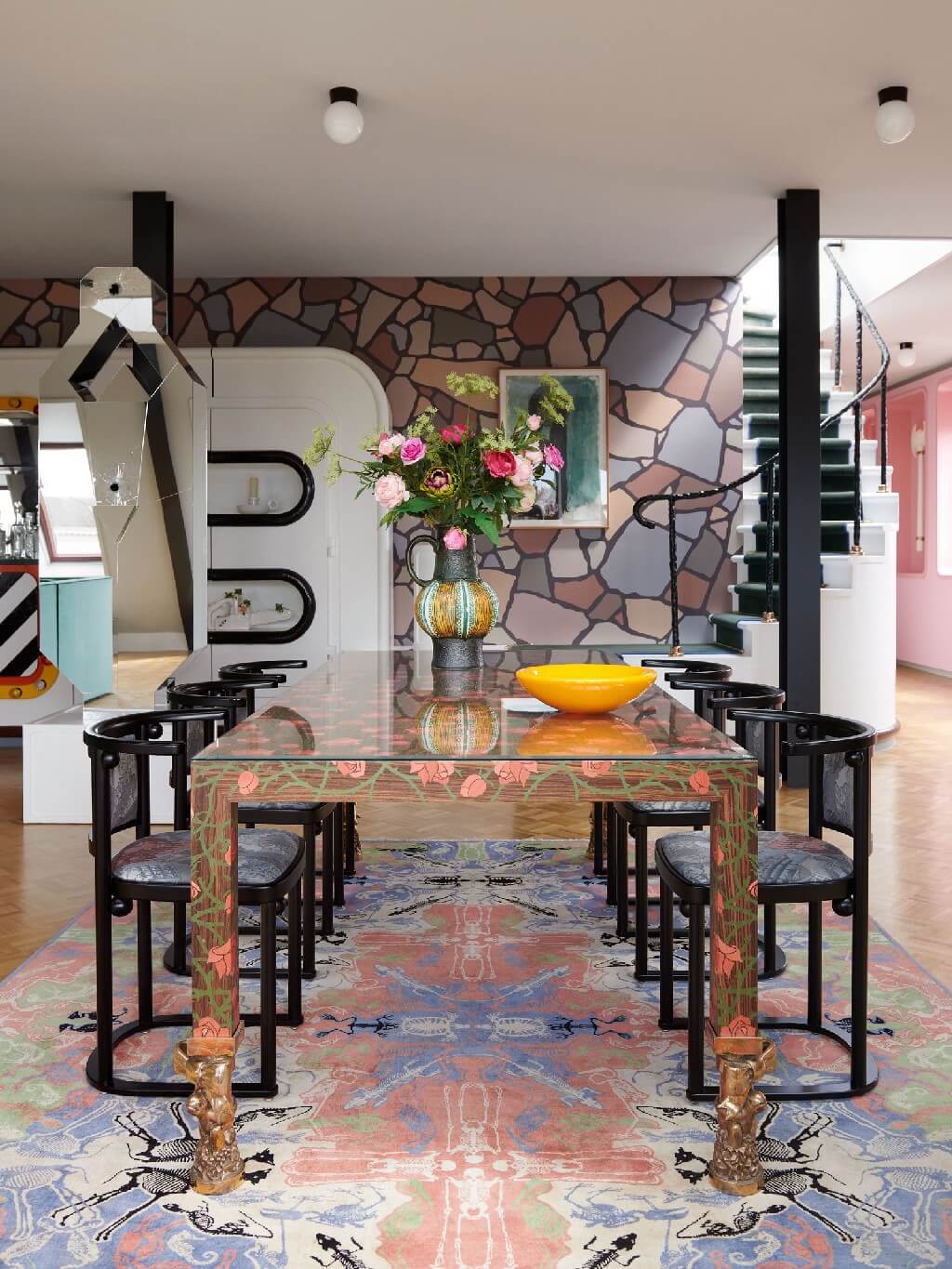 Imagine an armchair in the form of a hamburger, a punching bag that appears to be made of red brick, and a table lamp that simulates a half-peeled banana.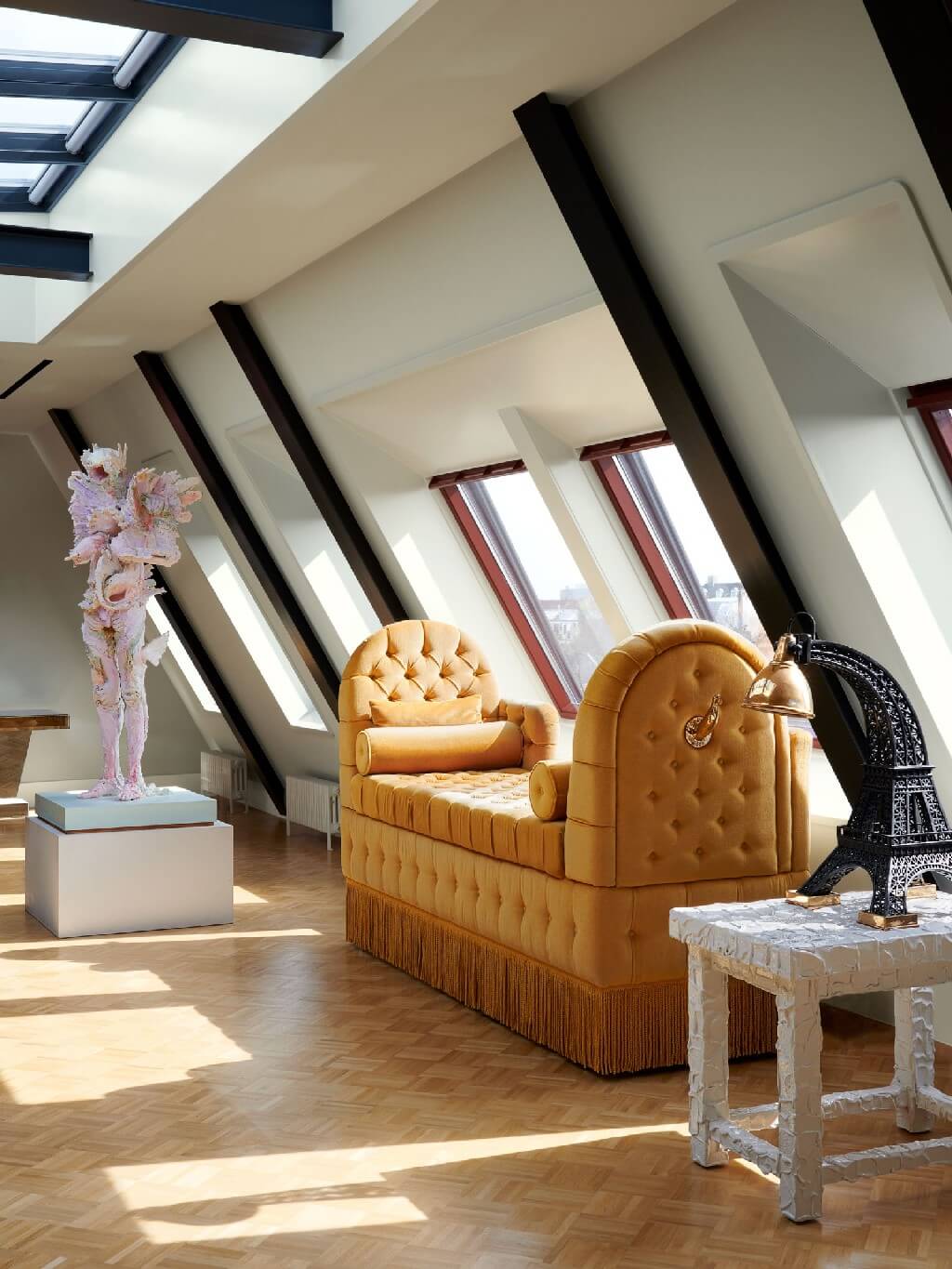 That would include Rolf Snoeren, one half of Viktor & Rolf, the Amsterdam fashion house renowned for surrealistic haute couture that would not look out of place in Efteling's mock castle. "We try not to lose the inner child," he explains of his and creative partner Viktor Horsting's fantastical outfits. "What they do in fashion," Smeets responds, "I do in design."
The designer's American husband, Brandon O'Dell, the director of the Amsterdam Dinner Foundation, calls the designers "cosmic brothers." Born on the same day and in the same year, Snoeren and Smeets grew up only about 12 miles apart and likely crossed paths at Efteling.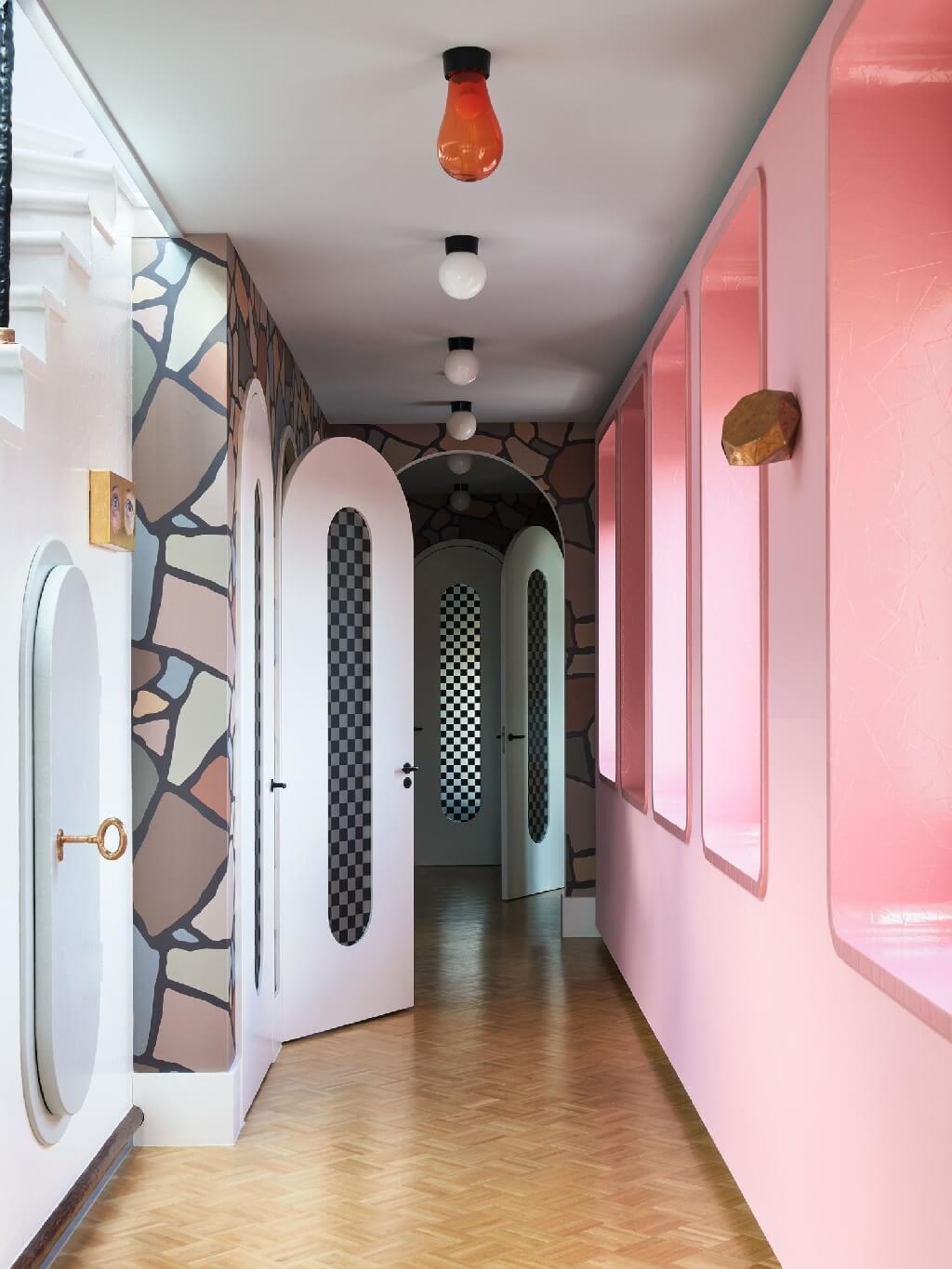 Snoeren also happens to be the godfather of Elvis, Smeets's toddler son, with art and design consultant Rebecca Sharkey. So when he and O'Dell purchased a penthouse in an 1890s former bank building on Keizersgracht, or Emperor's Canal, Smeets was the only name on their shortlist.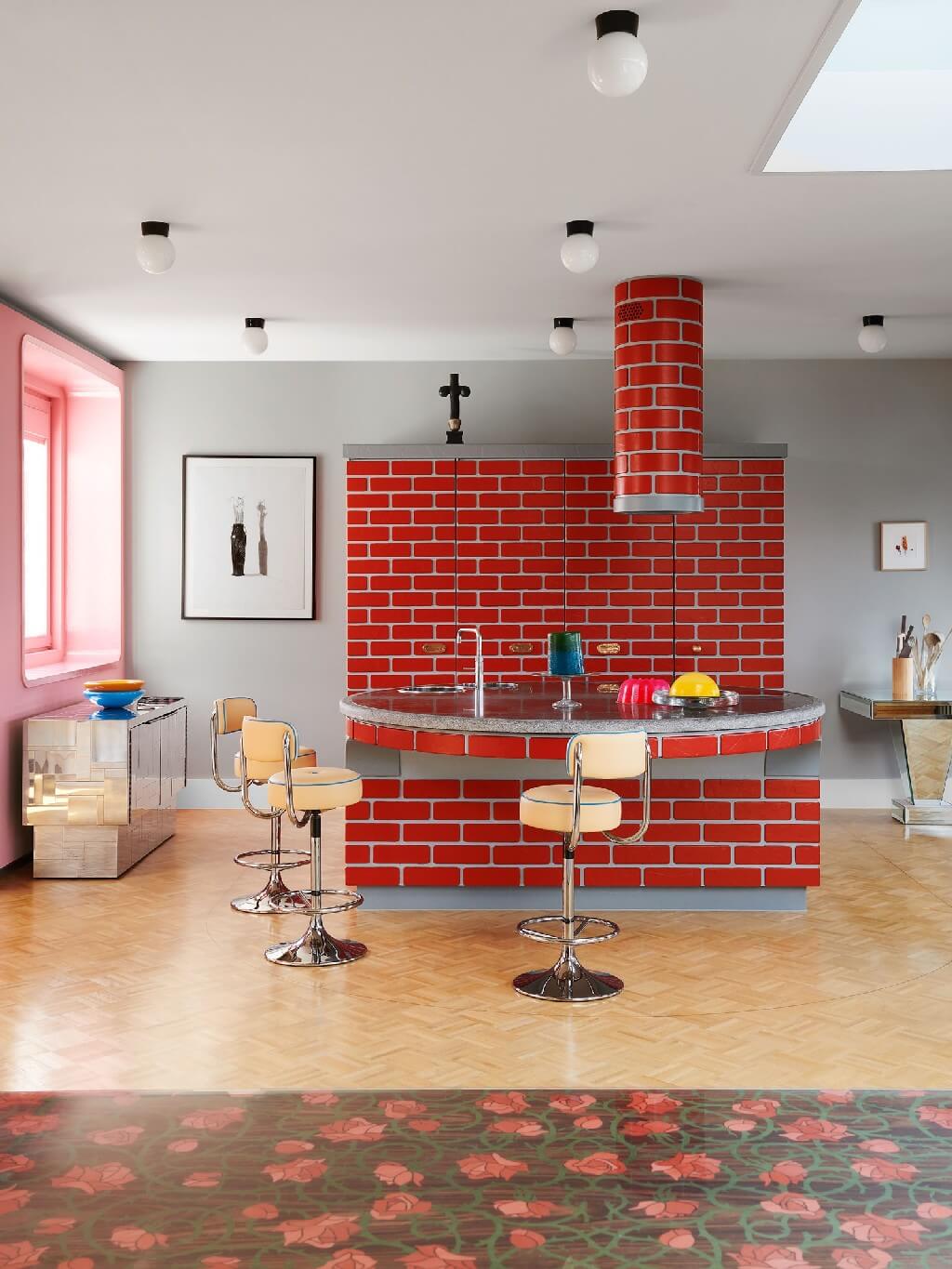 The results? Call it a temple to silliness. However, after an 18-month renovation challenged by terrifying permit accidents and discussions, Snoeren and O'Dell settled into a happy Gesamtkunstwerk. In this colorful penthouse, every element from checkerboard-pattern glass panels to the button-tufted daybed was conceived by Smeets.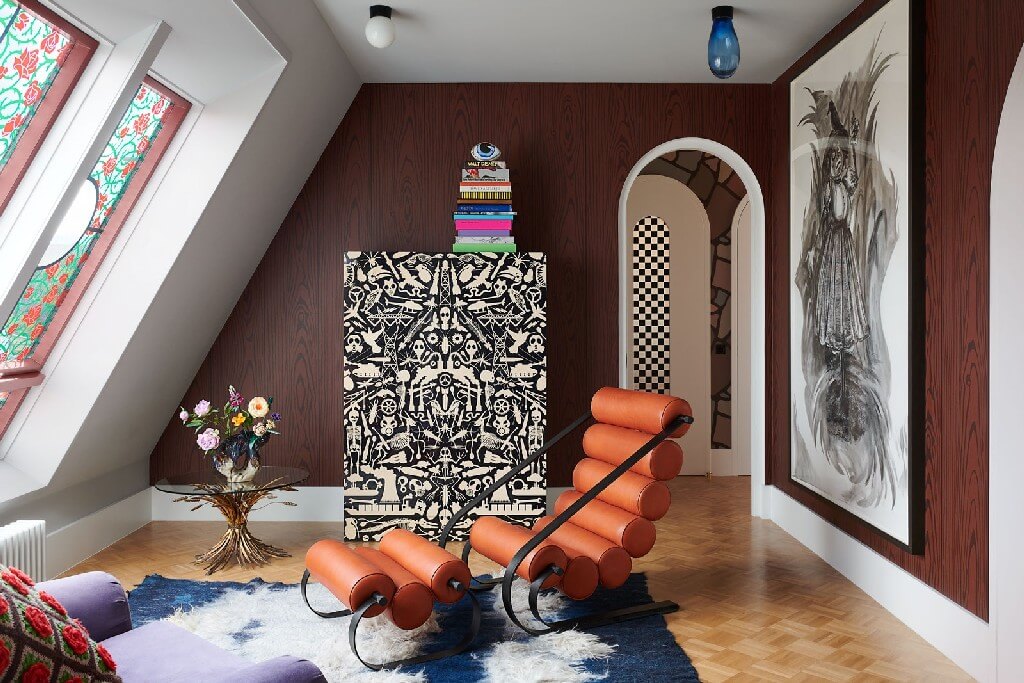 "It is a celebration of our friendship," Snoeren says, stating that the colorful penthouse was finished in March 2020, days before Amsterdam went into lockdown.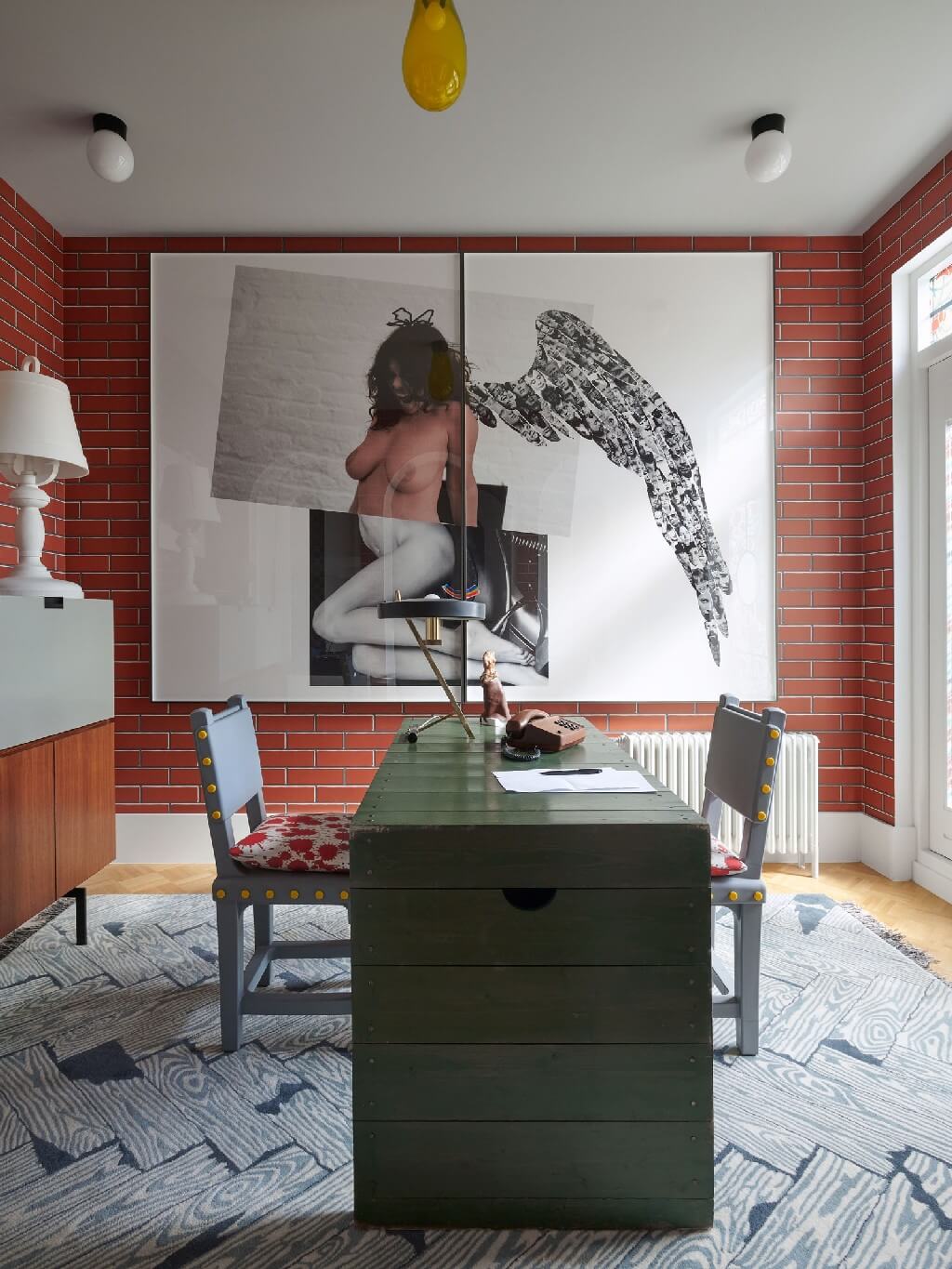 Given the wonderland that Smeets created, they were delighted to stay put. The front door is made of shiny brown resin textured with a hearty three-dimensional wood grain.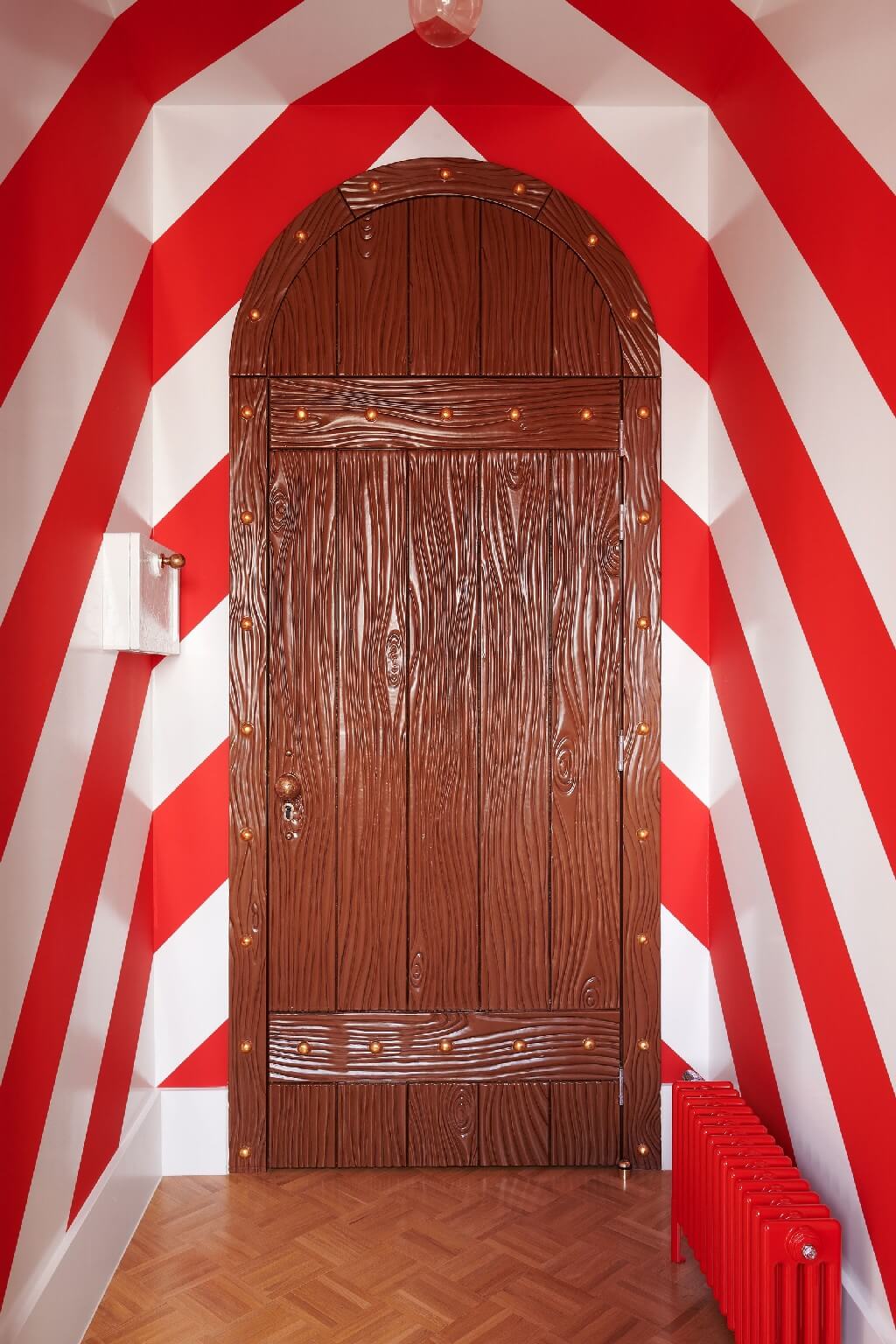 The living area's gas fireplace is fronted by a gaping bronze mouth, flames flickering behind bared teeth. A built-in cabinet resembles a grinning robot face, and, à la Studio Job's punching bag, the kitchen appears to be made of cartoon brick.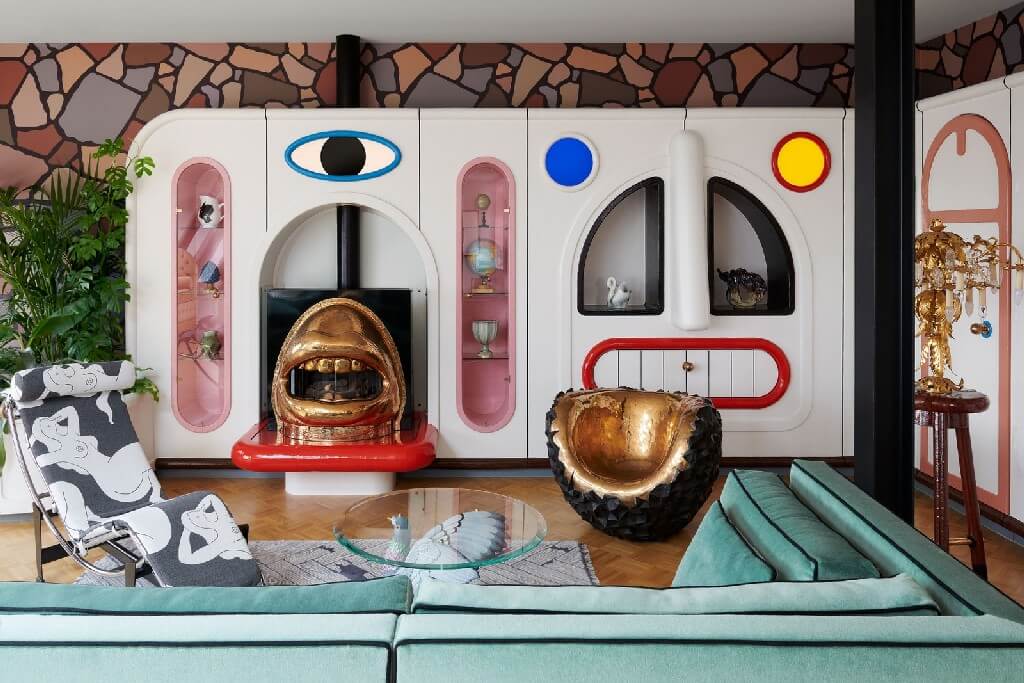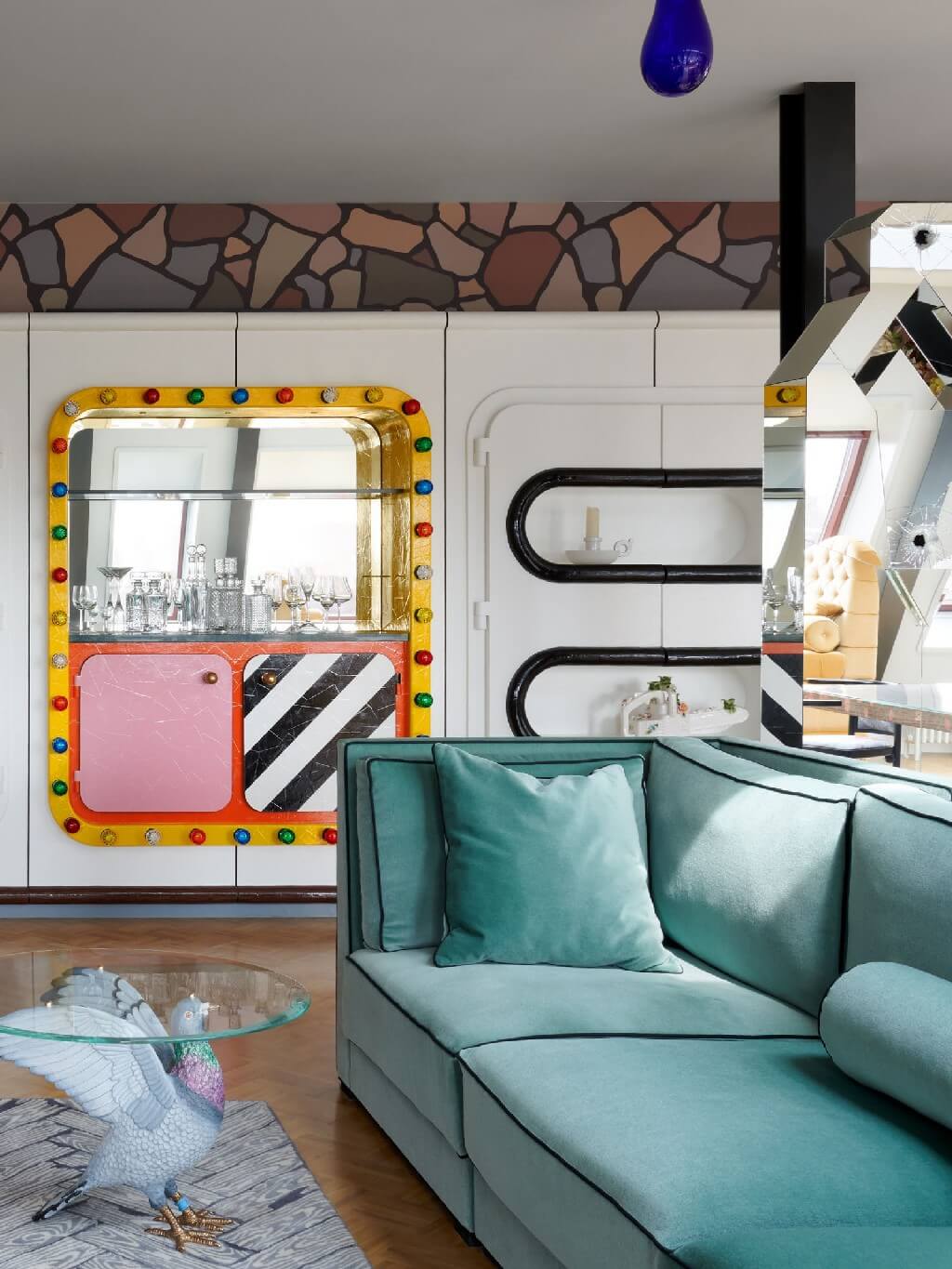 The curved staircase adjacent to the dining area leads to a fire-engine-red roof terrace shaped like a heart. The eccentricity is a decisive rejection of the five-story canal house, just down the street, that Snoeren called home for a decade.
"Creating crazy and stunning is easy for him, but creating warmth, which Brandon wanted, is a bit more of a challenge." Nevertheless, the process went much more smoothly than he expected. O'Dell got the comfort and softness he desired, but he remembers that as the project progressed, "there were a few moments of 'Oh, my,' to be very honest." The primary bath, on the other hand, is a seemingly message-free shade of salmon.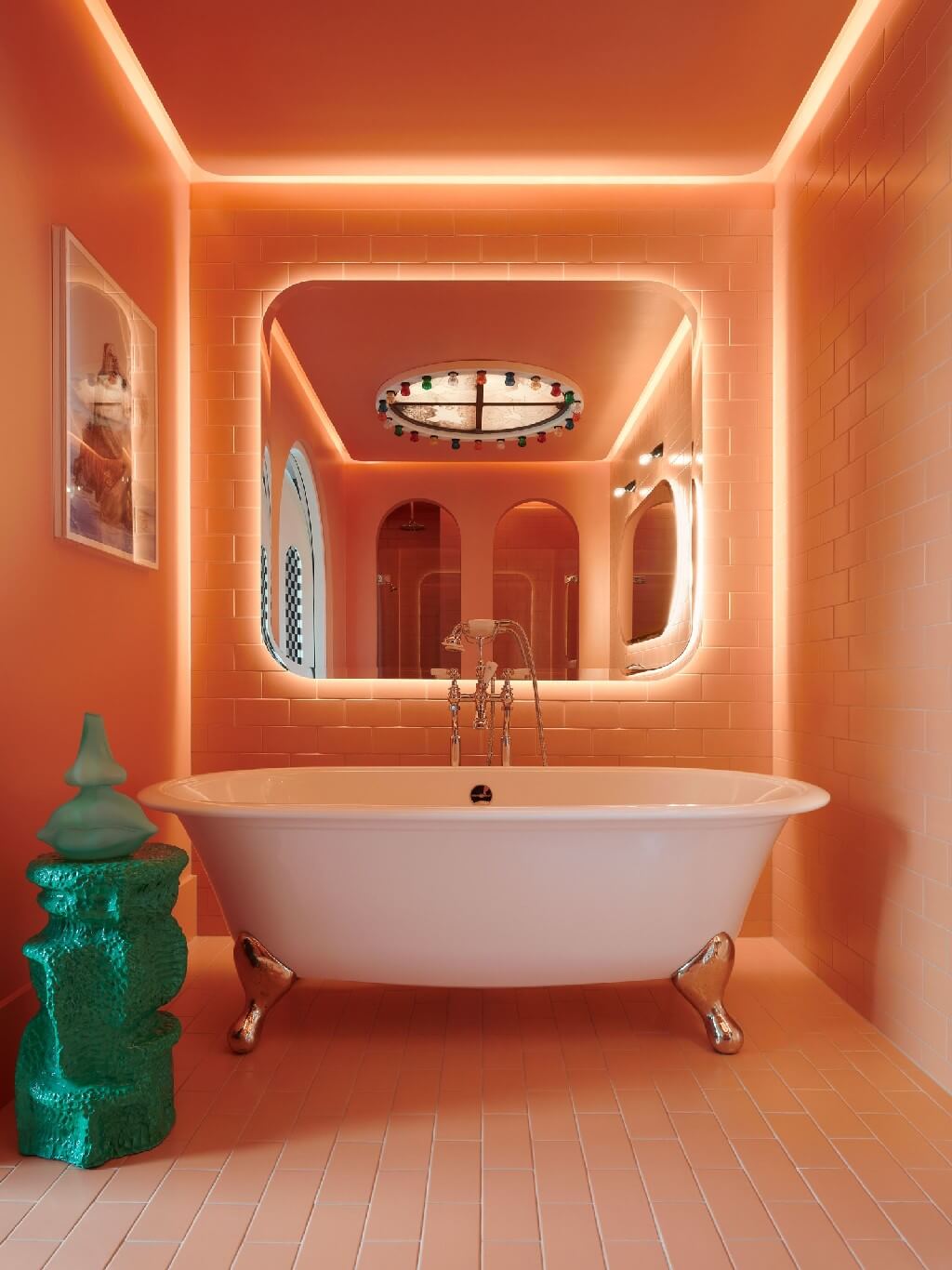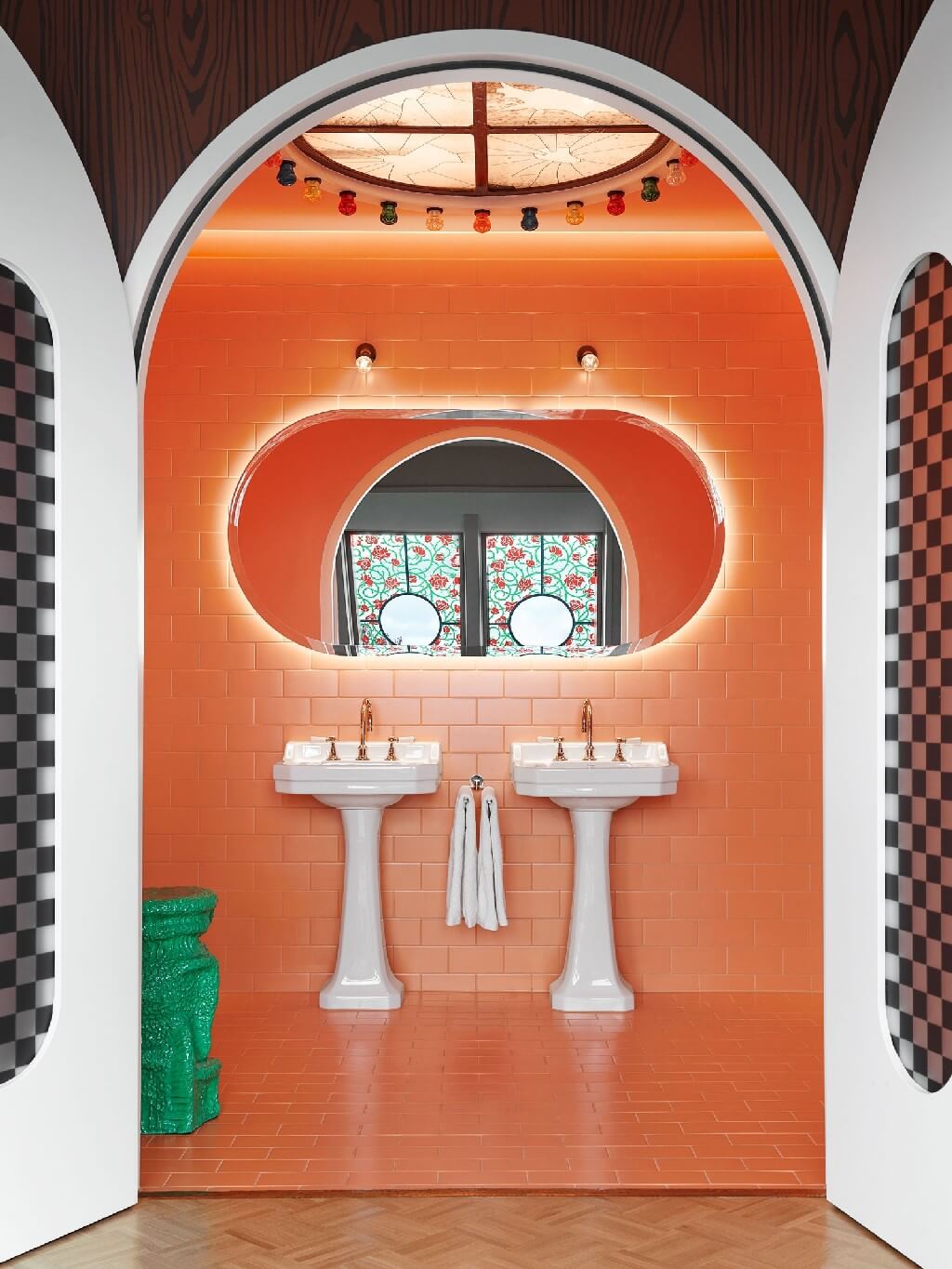 If you still want to collect inspiration for your interior design project, discover the Lifestyle Interiors board by Hommés Studio on Pinterest or read our article VIBRANT AND COLORFUL APARTMENT THAT TAKES DESIGN TO A WHOLE NEW LEVEL here.