Explore the fantastic work of Britto Charette, located in the United States, as you dive into the realm of interior design.
The visionary creator's Jay Britto and David Charette conduct a symphony of creation and innovation from their bustling offices in the exciting cities of New York and Wynwood, Miami, with an unrelenting devotion to fine craftsmanship.
Renowned for their mastery in curating opulent residential interiors, Britto Charette exudes a resplendent elegance that transcends boundaries. Their discerning eye for detail, coupled with a profound understanding of their client's desires, allows them to orchestrate spaces that breathe life into the aspirations of a global clientele.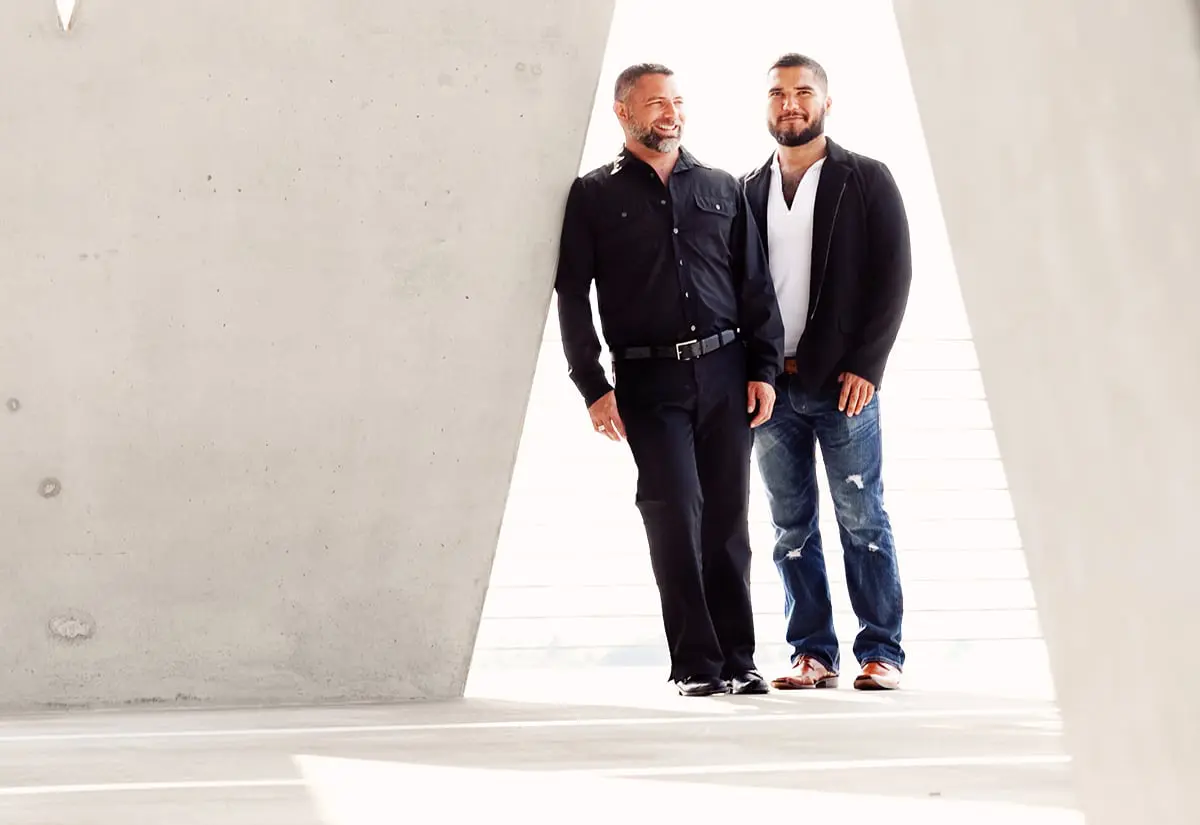 From the bustling streets of New York City to the sun-drenched shores of Miami, Britto Charette's portfolio radiates with a mesmerizing blend of elegance and inspiration. Their creations transcend mere functionality, inviting occupants to immerse themselves in enchantment and tranquility.
Their legacy of excellence has not gone unnoticed, as accolades and awards have become a testament to their exceptional talent and unwavering commitment to surpassing expectations. Britto Charette stands at the forefront of the industry, setting new standards of sophistication and elegance and leaving an indelible mark on the world of interior design.
1. Milina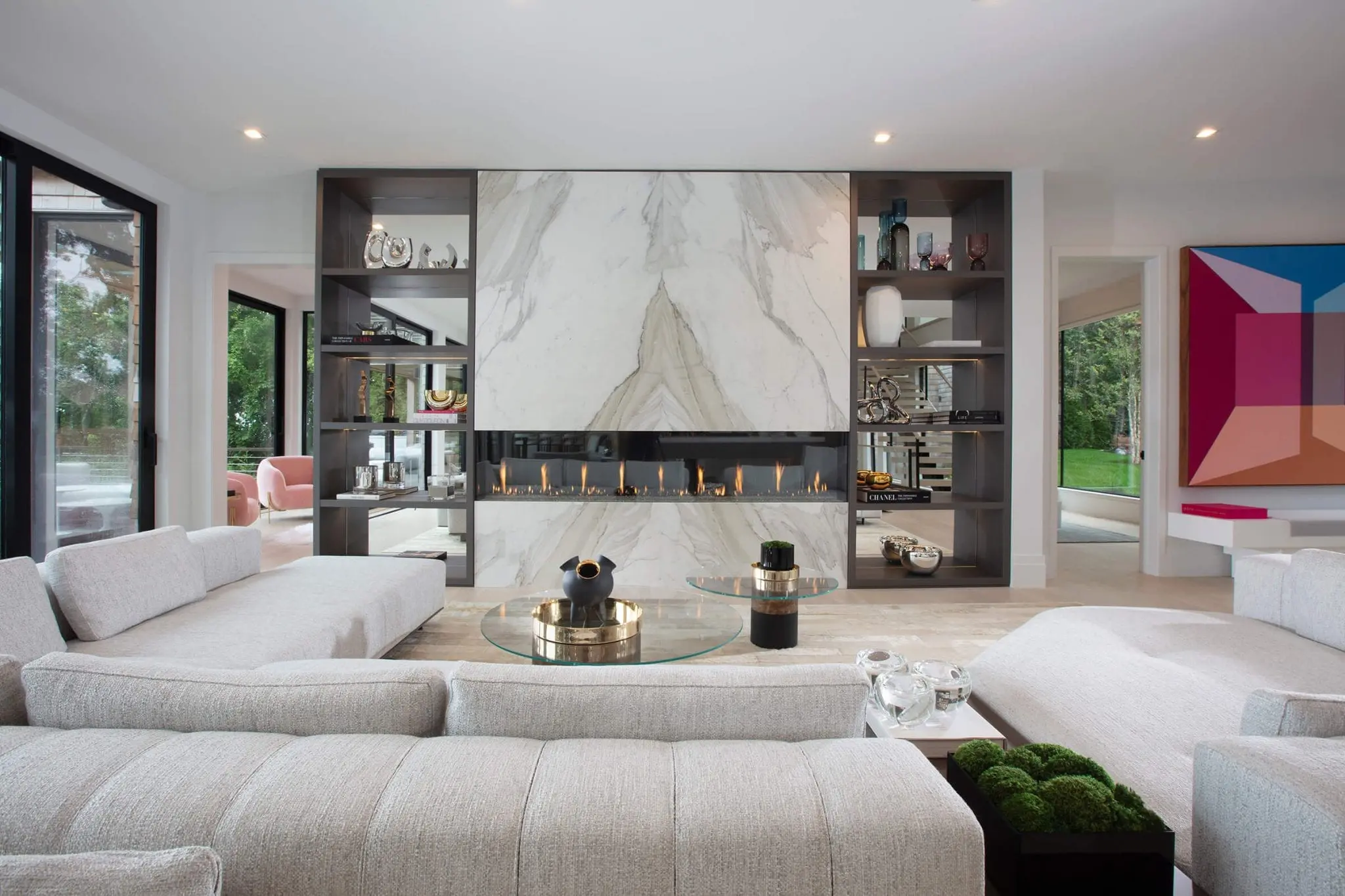 When Britto Charette's esteemed clients expressed their desire for a guest bedroom that would transcend the ordinary, they embarked on a journey to create a beautiful space that would leave a lasting impression on every visitor. Their vision was clear: the homeowners wanted their guests to embark on a captivating journey, immersing themselves in an experience that would be as unique as it was memorable.
With boundless creativity and an unwavering commitment to excellence, Britto Charette meticulously curated a design that would transport guests to a realm of elegance and delight. Embracing a rich and deep blue palette, Britto Charette employed the velvety touch of plush fabrics and intricate decorative wall details to elevate the ambiance and evoke a sense of refined luxury.
Within the residence, Grafton's artistry is a testament to its commitment to creating timeless pieces that transcend trends. Their unwavering dedication to perfection infuses the space with an aura of exclusivity, where every element has been crafted with intention and meticulous care.
2. Regalia II
An excellent partnership between the Britto Charettes creative design team and Britto Charette's prestigious clients is at the core of Regalia's allure. Their essential suggestions and steadfast faith in us enabled us to design a room that skillfully merged their distinctive vision with Britto Charette's knowledge, creating a slick and stylish hideaway that would elegantly fit their family's needs.
Within the interior realm, a symphony of sleek lines, sumptuous textures, and carefully curated details come together to create a space that resonates with sophistication and grandeur. Every element, meticulously selected by Britto Charette, paints a canvas of refined elegance.
3. Regalia III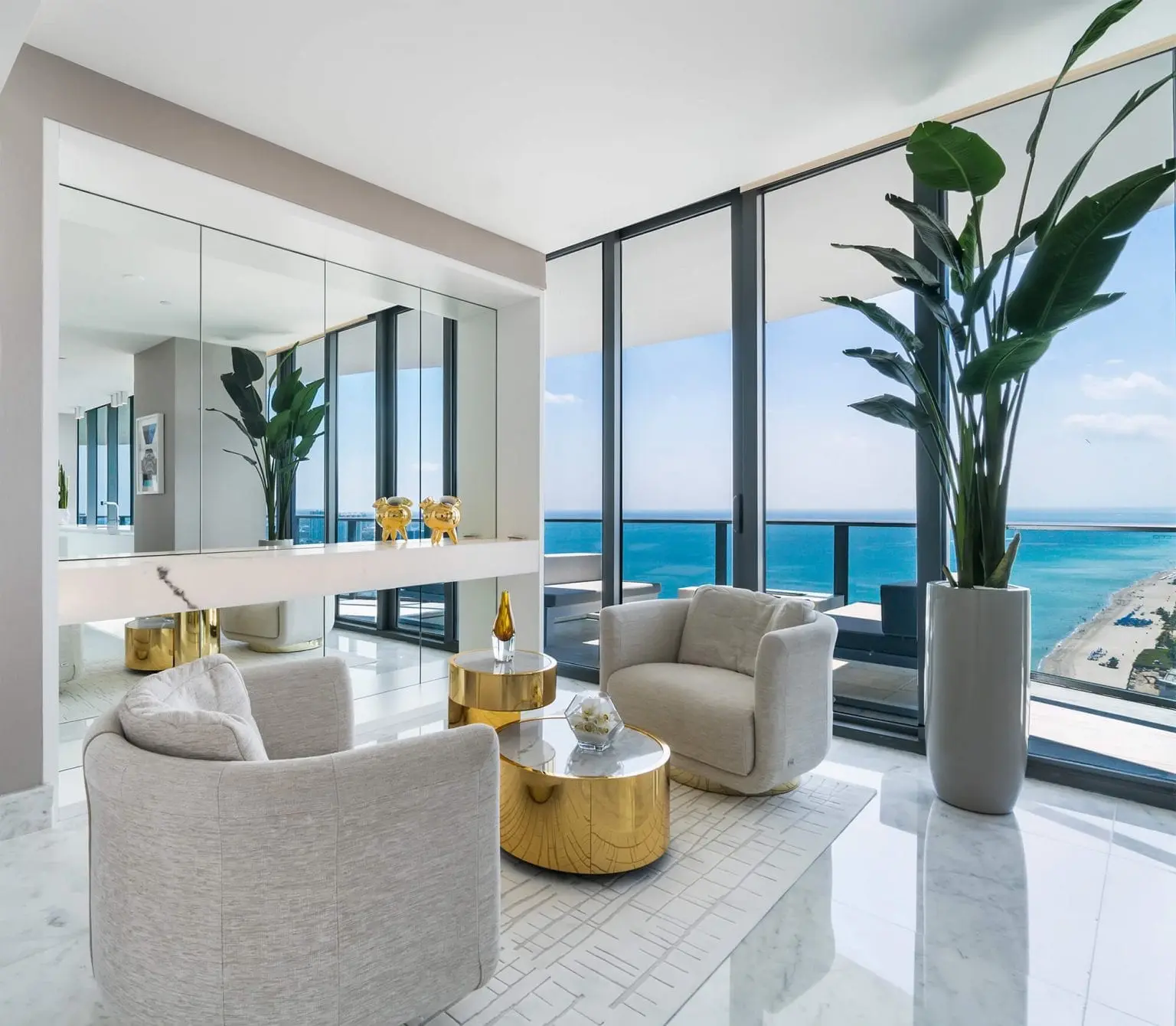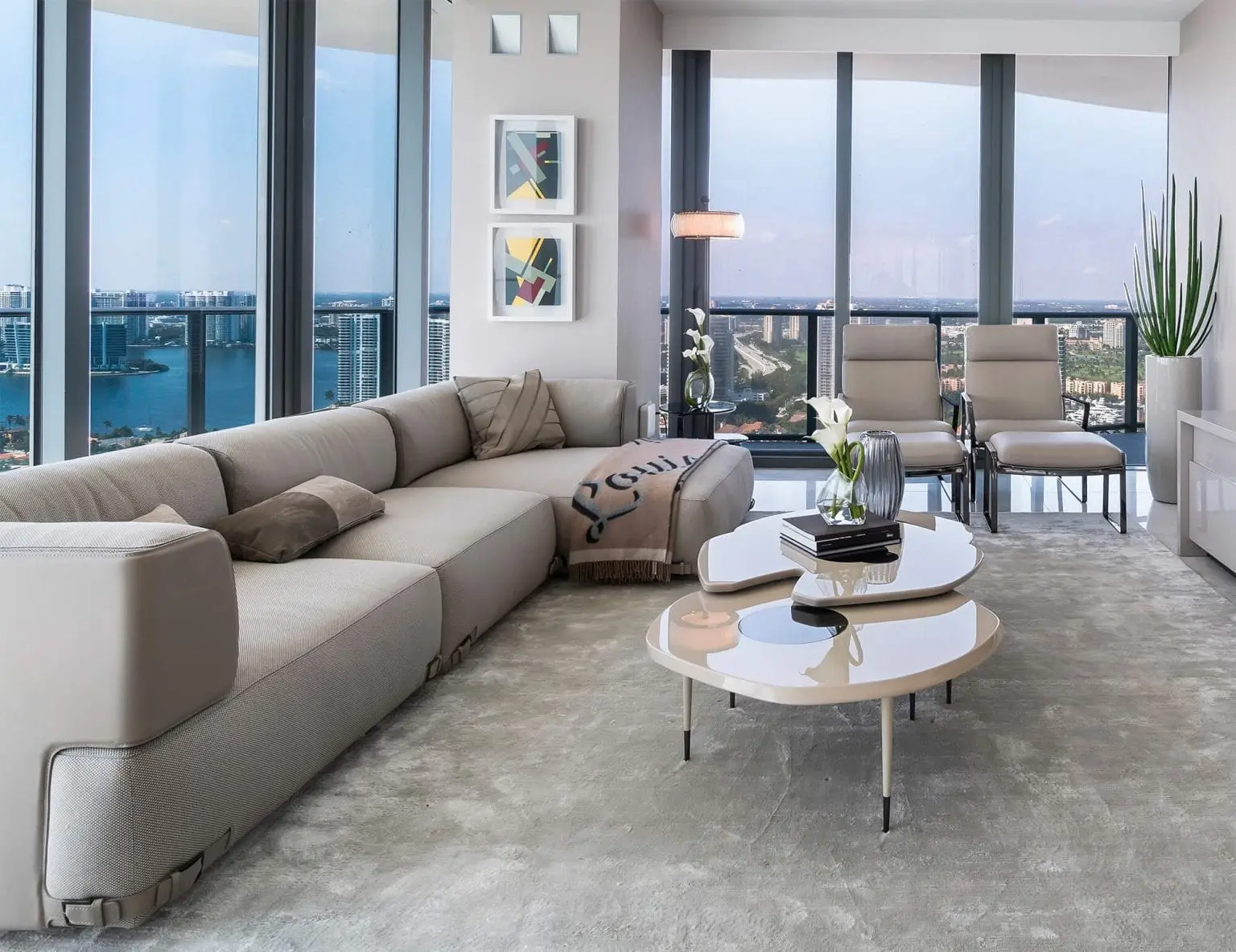 Nestled along the sun-kissed shores of Sunny Isles, Florida, Regalia stands as an emblem of unparalleled oceanfront luxury.
At the heart of this endeavor lies a private client's desire to redefine their living space, seeking a complete remodeling of their unit. Britto Charette rose to the occasion with a personal art collection and carefully selected furniture awaiting their integration, infusing every corner with bespoke features and elevating the essence of luxury to extraordinary heights.
Because of Britto Charette's skillful hand and exceptional craftsmanship, elegance has become ingrained in everyday life. As the house takes shape, a symphony of unique features dances perfectly harmoniously with the curated art collection and carefully chosen furniture. Each little thing is carefully thought out, resulting in a flawless fusion of form and function.
4. Modern Villa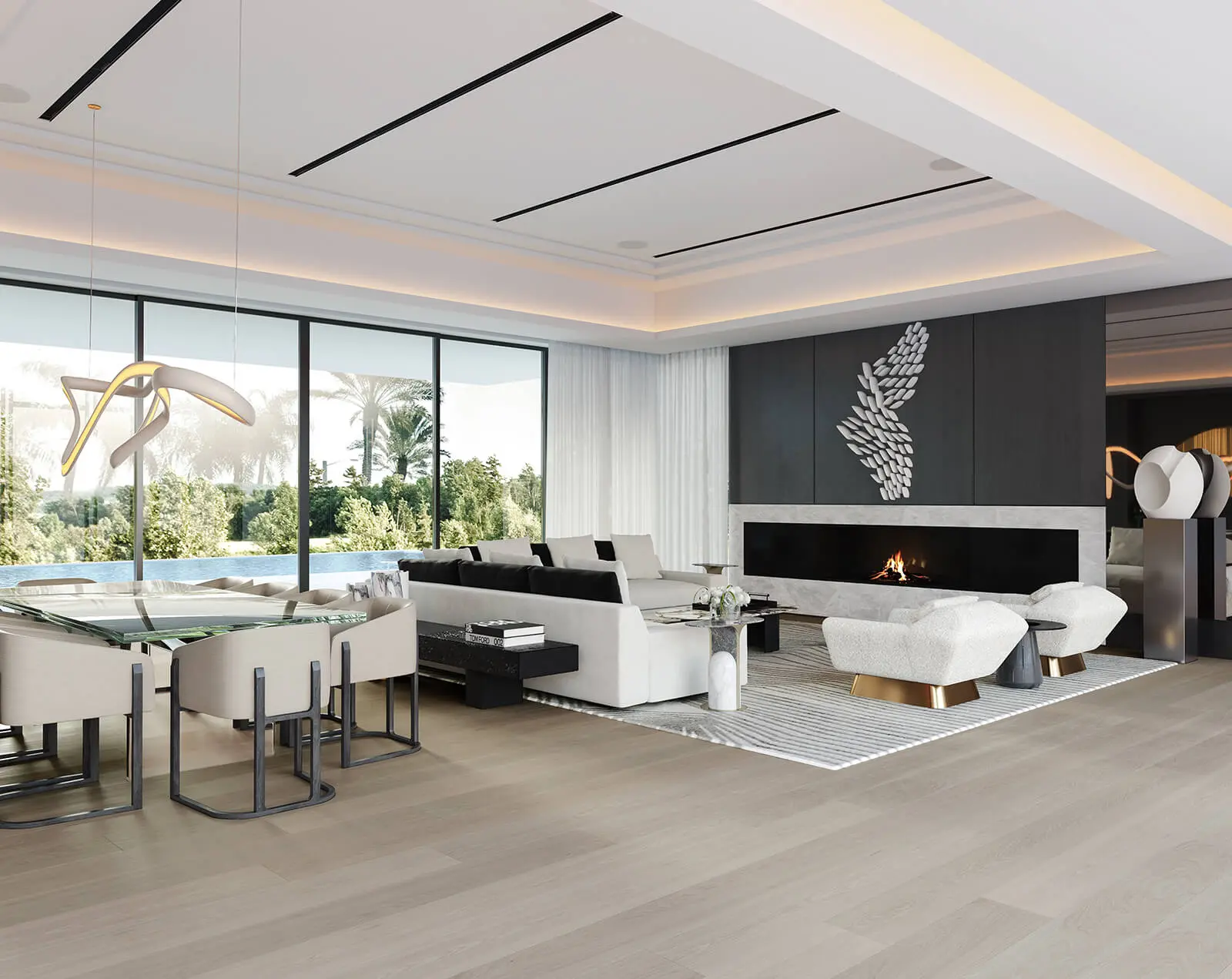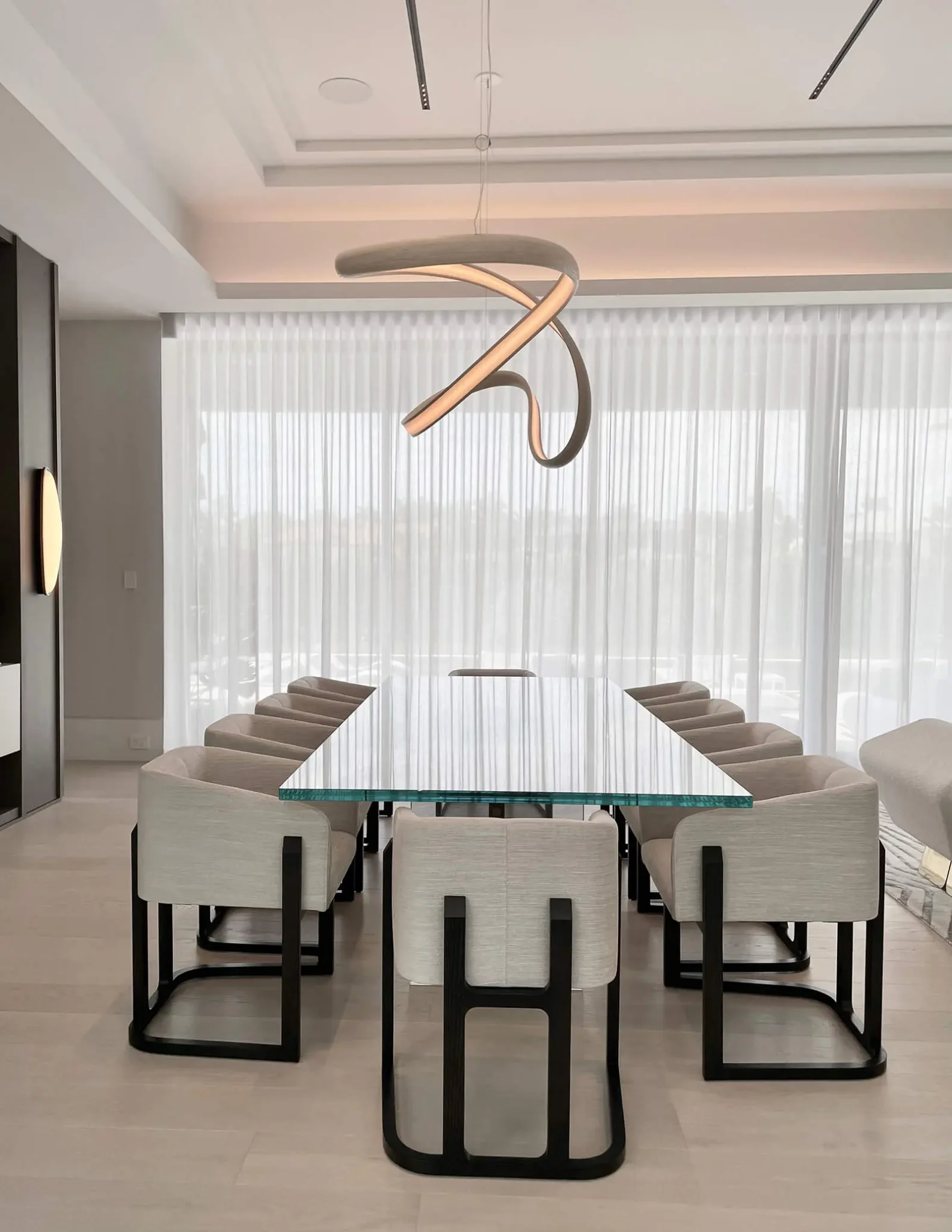 This grand undertaking, known as the Modern Villa, presented a canvas of boundless possibilities, allowing Britto Charette to weave together a tapestry of refined luxury and impeccable design.
Cleverly crafted wall dividers take center stage, separating the open-plan living and dining rooms from the kitchen and family rooms. These architectural marvels by Britto Charetteadd add a touch of modernity and create a sense of fluidity, allowing natural light to dance effortlessly throughout the space.
Beyond the interior realm, the Modern Villa extends its enchanting embrace to the outdoor spaces. Meticulously designed by Britto Charette to reflect the elegance and tranquility of the interiors, the outdoor areas become an extension of the home—a sanctuary where nature intertwines with artistry.
5. Jade Signature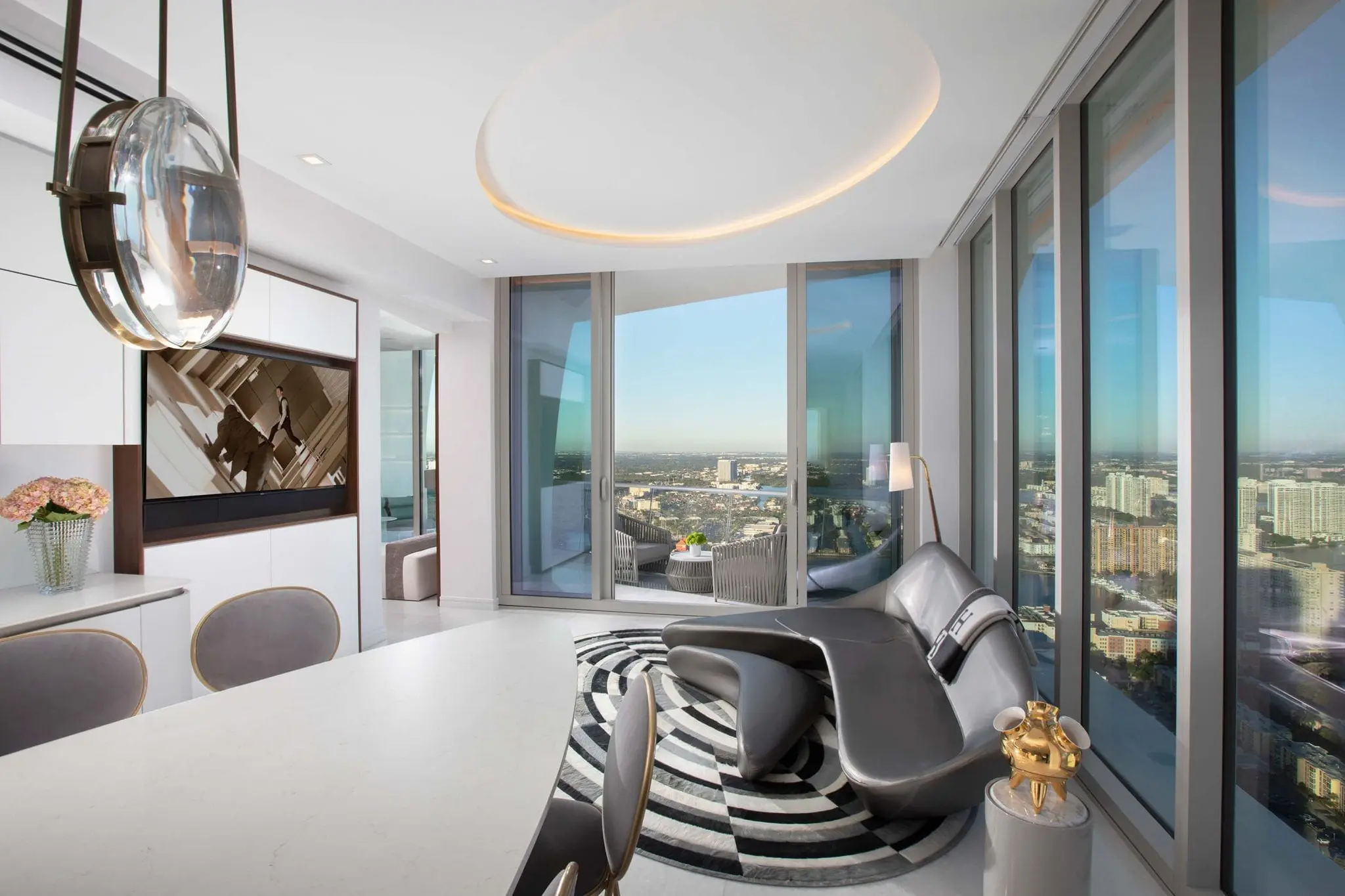 Nestled along the pristine shores of Sunny Isles Beach, Florida, Jade Signature stands as an architectural marvel brought to life through the collaborative efforts of Fortune International Group and renowned Swiss architects Herzog & de Meuron.
As the residence unfolded, each room became a canvas for Britto Charetteartistic expression. The allure of bespoke craftsmanship resonated in every corner, as Britto Charette carefully curated furnishings that embodied a sense of timeless beauty.
Recognizing the Britto Charette client's desire for abundant storage, the Britto Charette team rose to the occasion, ingeniously integrating custom built-ins throughout the living areas. Jade Signature became a testament to the power of design, where architectural prowess meets the design team's creative vision.
6. Marquis Miami
Nestled proudly on the iconic Biscayne Boulevard in Miami, Marquis stands as a pinnacle of luxury residential living. Or Britto Charette's esteemed founder, Jay Britto, this architectural gem became more than just a building; it became a labor of love and an opportunity to manifest his creative vision.
Jay set out with a goal to completely redesign his home because he wanted to give it a fresh feeling of elegance and usability. He set out to design a home that would meet his necessities and serve as a haven of fantastic beauty and individual expression. He did this with meticulous attention to detail and a dogged quest for perfection.
Every renovation element was carefully considered, as Jay's discerning eye and unwavering commitment to excellence guided every decision. From the selection of materials to the arrangement of furniture, each choice was made with intention, harmonizing the elements to create a cohesive and inviting ambiance.
Marquis is a testament to the power of personal vision and exquisite design. It is a reflection of Jay Britto's dedication to his craft and his unwavering commitment to creating spaces that inspire and elevate the human experience.
7. Sunny Isles Ritz-Carlton Residences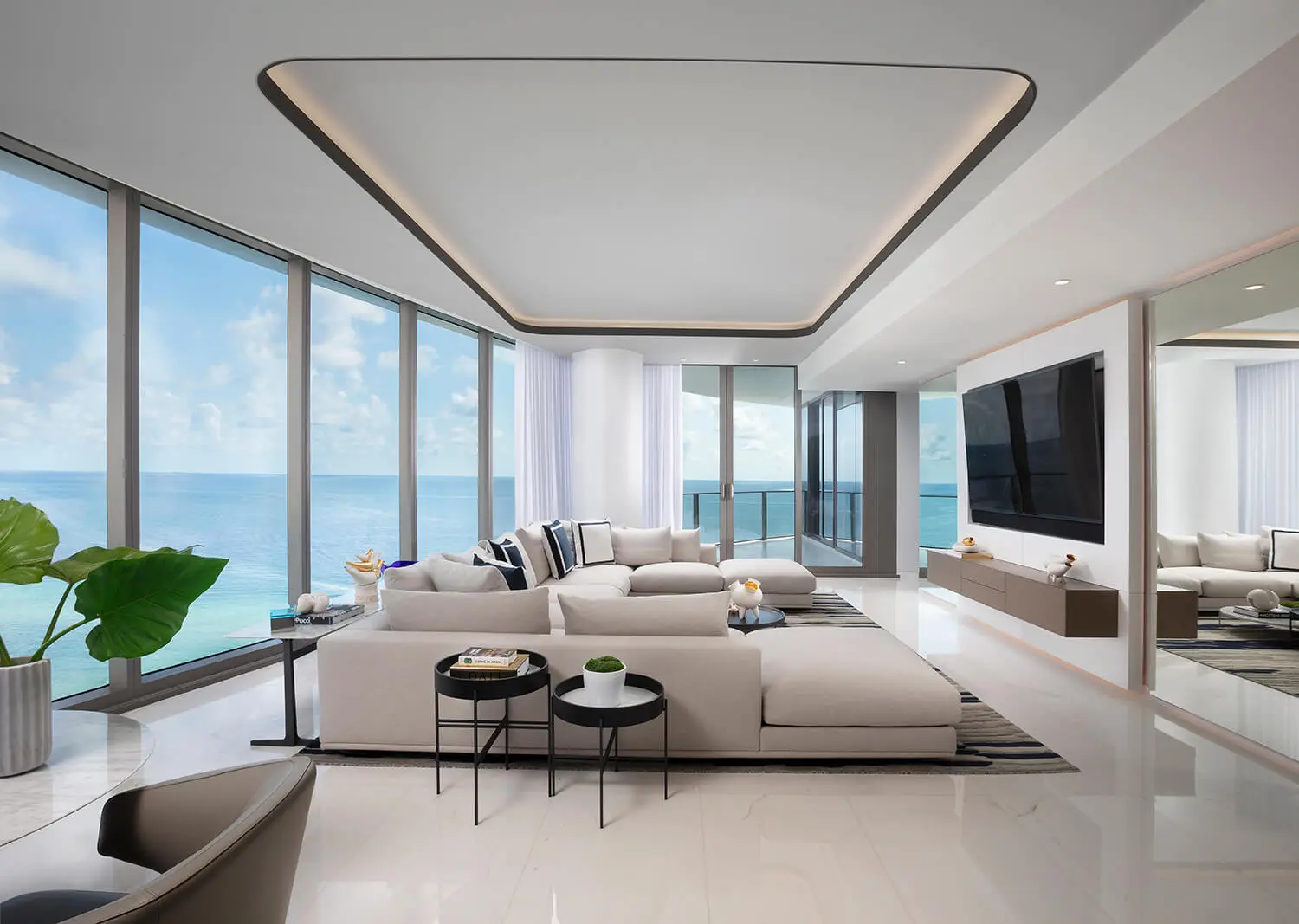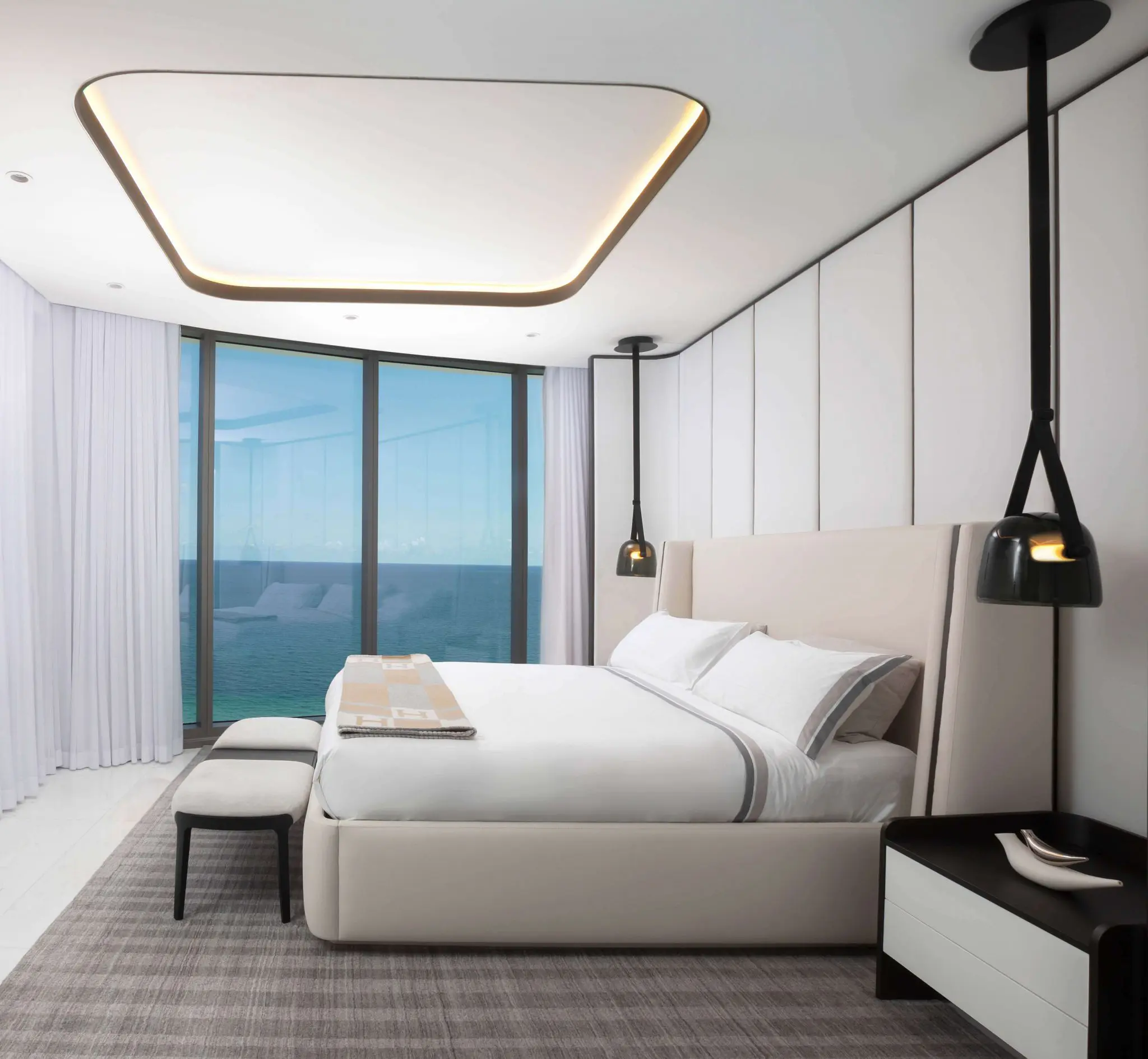 Nestled within an awe-inspiring new development of opulent condominiums, the Ritz Carlton Residences stands as a testament to unrivaled luxury.
Entrusted with the task of transforming a designer-ready unit into a haven of refined elegance, the Britto Charette team embarked on a creative journey, breathing life into every corner of this exceptional space.
Every element was carefully curated to harmonize with the architectural grandeur of the Ritz Carlton Residences, seamlessly blending with the serene surroundings to create an ambiance of unparalleled sophistication.
Through expertly curated furnishings, carefully selected lighting, and artful accessories, these spaces became a seamless extension of the homeowner's personal style, while also paying homage to the grandeur of the Ritz Carlton Residences.
As the final touches were meticulously placed, the unit became a masterpiece of design, embodying the essence of refined living in a tropical paradise.
8. Acadia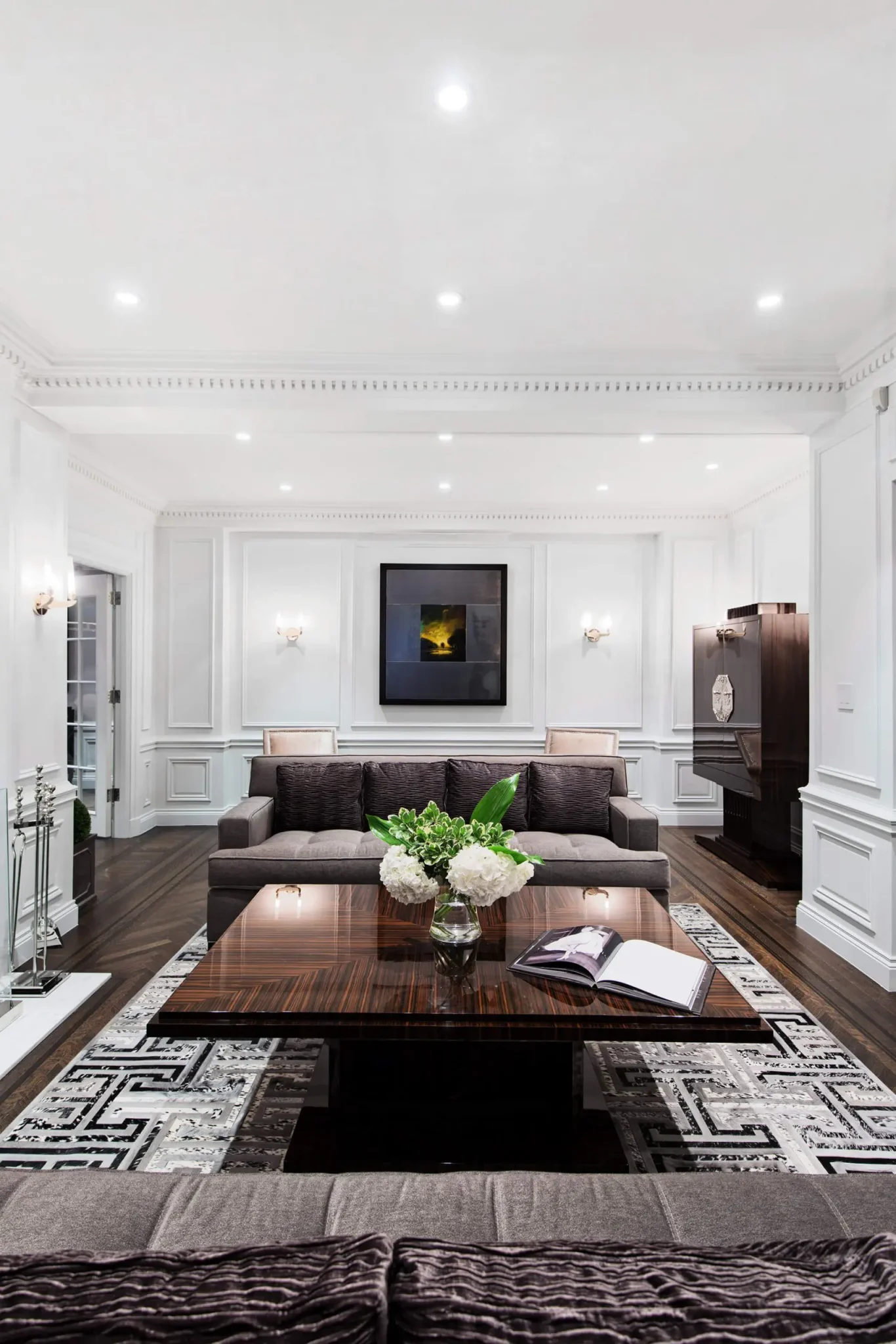 Commissioned by a discerning homeowner with three children, the primary focus was to create a home that catered to their unique needs while reflecting the owner's modern tastes and love for travel. Britto Charette's team embraced this vision, embarking on a design journey that would transcend time and culture.
The frigid winter temperatures of Montreal were not forgotten in the pursuit of comfort and functionality. To ward off the chill, heated walls and floors were ingeniously incorporated, ensuring a cozy and inviting ambiance throughout the residence.
Preserving historical integrity while infusing the space with contemporary elements. The result is a harmonious fusion of old and new, where rich heritage blends seamlessly with modern design sensibilities.
9. Portofino Tower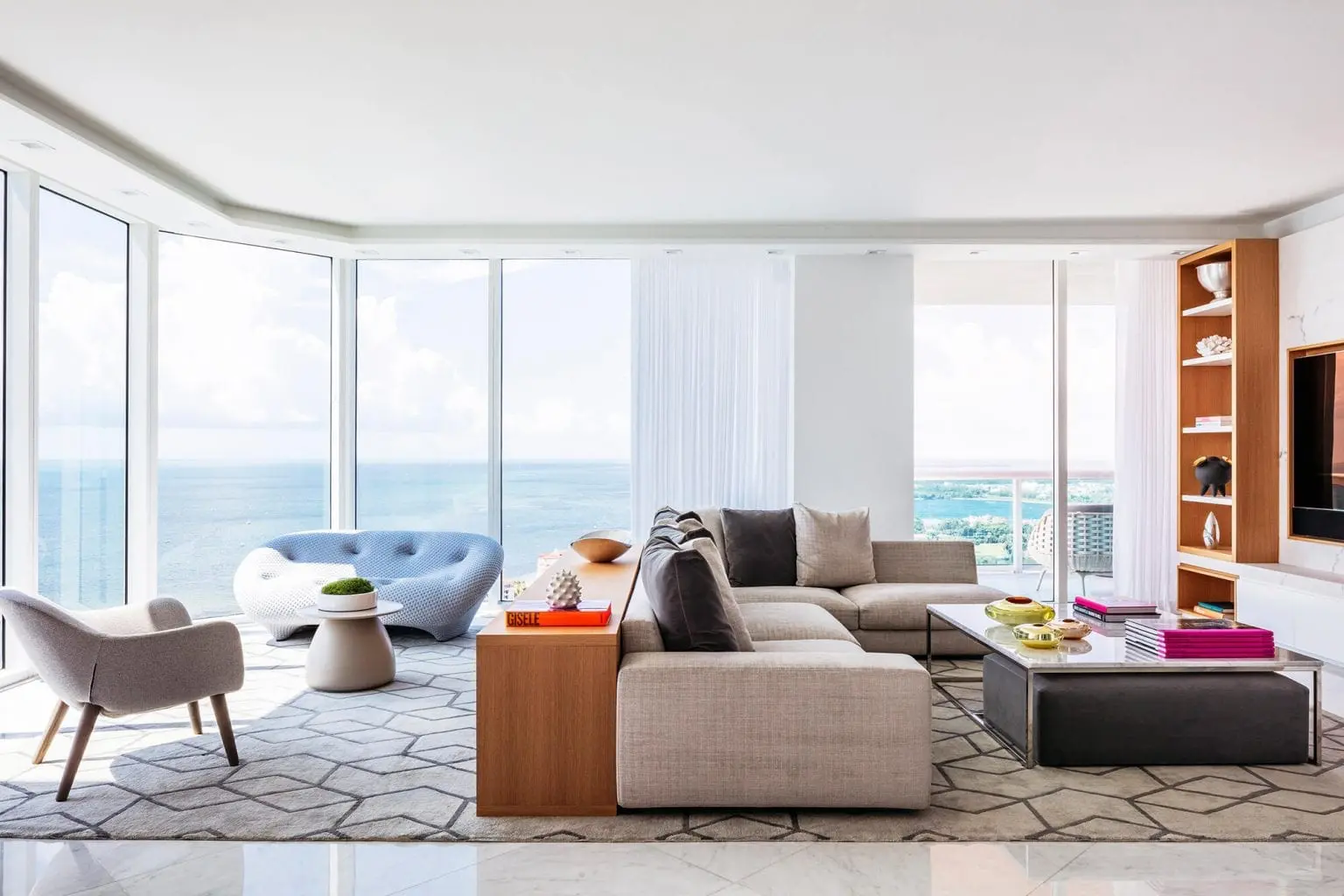 Located in the South of Fifth (SoFi), Britto Charette's latest project, Portofino, stands as a testament to the exquisite design and the allure of South Beach living. Portofino emerged as a haven of sophistication, a space where timeless beauty intertwines with modern luxury.
This sought-after location, with its captivating blend of Art Deco buildings, contemporary residential architecture, and glistening high rises, provides the perfect backdrop for a residence that exudes timeless elegance and modern allure.
To achieve a sense of understated elegance, Britto Charette opted for a clean color palette, allowing the beauty of the space to shine through. Accents of oak and wood wall paneling were strategically incorporated, infusing warmth and texture into the design. These elements not only added visual interest but also created a sense of depth and sophistication.
With innovative design techniques and creative ingenuity, Britto Charette devised unique storage solutions that seamlessly blended with the overall design, ensuring functionality without compromising on style.
We invite you to indulge in this captivating article, where luxury and sophistication intertwine with the Britto Charette projects to ignite your imagination and inspire your future projects. For further inspiration check out our Interior Project.