Enter a world where Aline d'Amman puts beauty, art, and design converge to create a truly breathtaking Paris apartment that inspires and uplifts the soul.
Located in France this magnificent Paris apartment. Transport us into a realm of pure elegance and sophistication. An impeccable sense of style and inventiveness are displayed in every carefully selected corner.
Aline Asmar d'Amman is a renowned interior designer and architect, known for her unique approach to design that blends vintage and contemporary elements to create luxurious and harmonious spaces. She is also a writer and a curator, having organized exhibitions on design and architecture in cities such as Paris and Beirut.
Aline d'Amman is widely regarded as one of the most influential designers of her generation, and her unique style has inspired many in the design world.
From the luxurious fabrics to the exquisite artwork and furniture, Aline d'Amman chose every element of this Paris apartment has been carefully selected to evoke a sense of harmony and balance.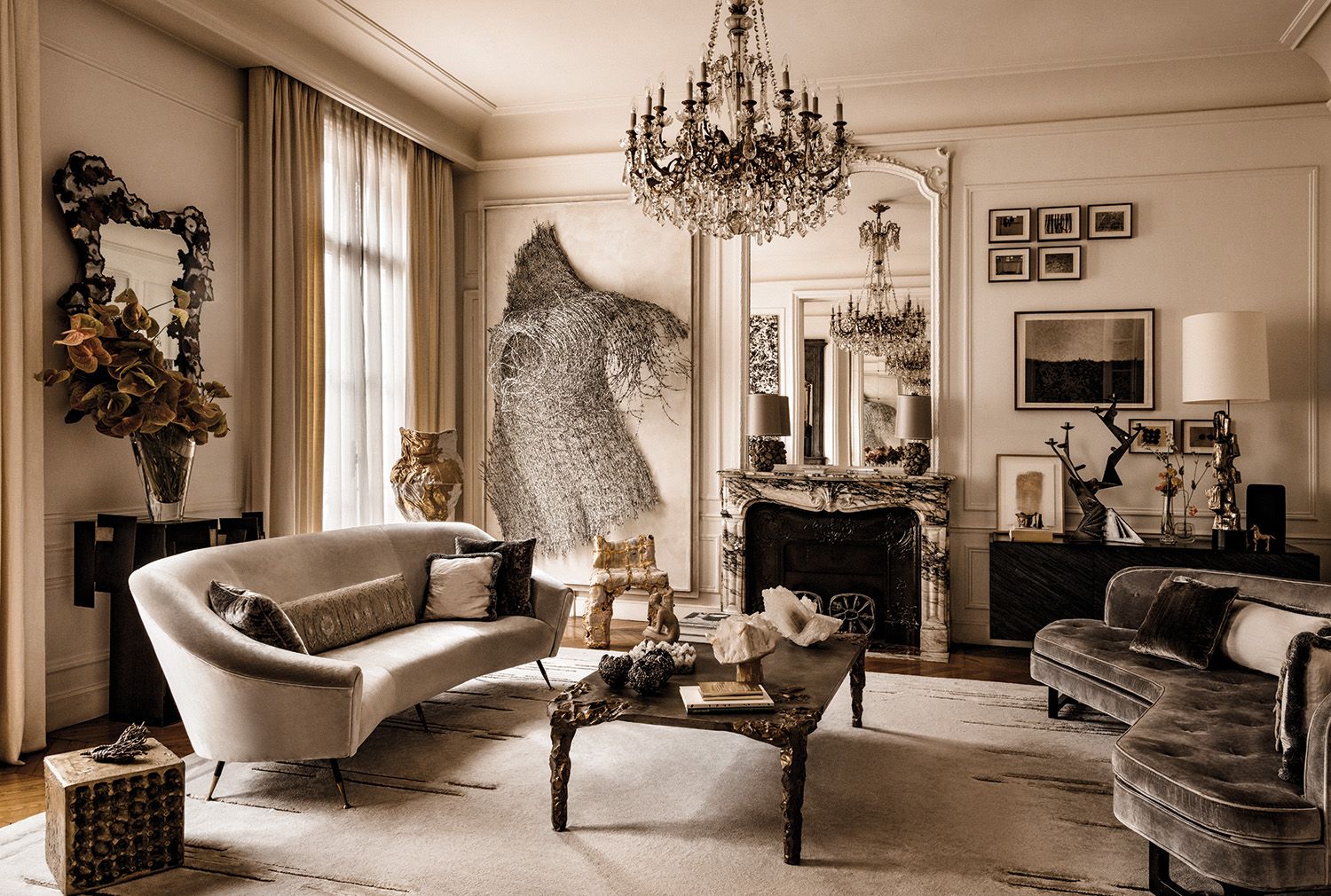 Beyond its aesthetic appeal, Aline d'Amman's Parisian apartment creates a sanctuary that is both functional and inspiring, where beauty and comfort coexist in perfect harmony.
In the image above it's the stunning and elegant living room that combines modern and traditional elements within the Paris apartment creating a striking and harmonious balance, a hallmark of Aline d'Amman's unparalleled style.
Within this timeless Paris apartment living room the designer Aline d'Amman chose to decorate with a late-19th-century chandelier, two stunning sofas sit facing a striking center table, which exudes both elegance and refinement. Adjacent to the table, a vintage Italian torch-cut metal mirror adds a touch of antiquity and character to the room.
The stunning silk and metal rug bears Aline d'Amman's signature design, masterfully crafted by Pinto.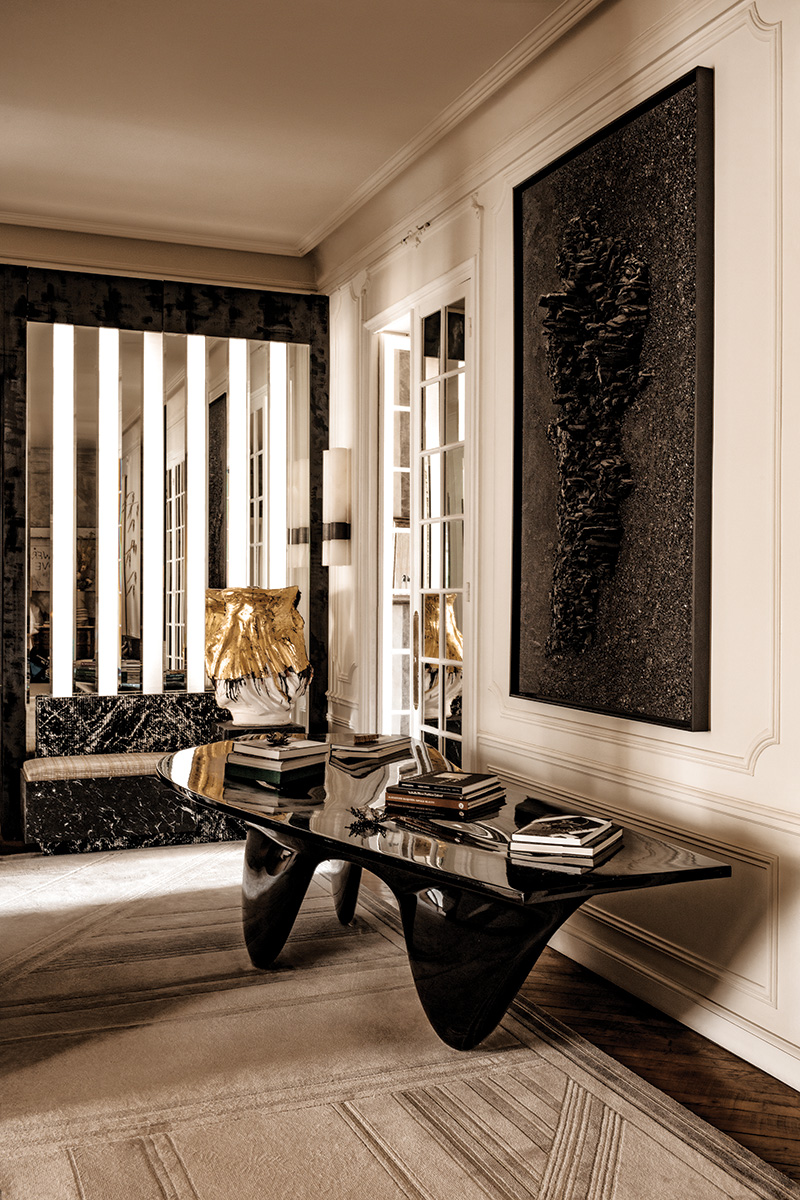 The entrance area, where a captivating aqua table takes center stage. Beneath it, a stunning work in charcoal by Marie Khouri commands attention, while a Johannes Nagel gold-painted vessel adds a touch of glamour and luxury to the Paris apartment. The Tai Ping rug, thoughtfully designed by Aline d'Amman, features geometric accents that infuse the area with a cozy, Art Deco-inspired vibe.
In the bedroom, we are greeted by a serene sitting area that exudes warmth and comfort. A vintage lounge chair takes center stage, surrounded by a carefully curated collection of other vintage finds that enhance the room's charm and character.
Through Aline d'Amman's masterful design, the Paris apartment is transformed into a haven of tranquility and relaxation.
In this eclectic library, Aline D'Amman chose to polished-bronze chair and a leather-cushioned wood lounge chair. A circular painted mirror top by Florence Girette, supported by legs found at a Paris flea market, serves as a striking centerpiece for the table around which the chairs are arranged.
The Gent swivel slipper chair from Aline d'Amman's new collection of designs from the Invisible Collection. It adds a contemporary and luxurious touch to the room, seamlessly blending with the eclectic array of vintage and modern elements.
The mantel clock, a true gem, was created for the International Exhibition of Decorative Arts in 1925, lending a touch of history and heritage to the Paris apartment. Aline d'Amman designed rug, exquisitely crafted by Tai Ping, you will feel the warmth and comfort of the Paris apartment envelope you.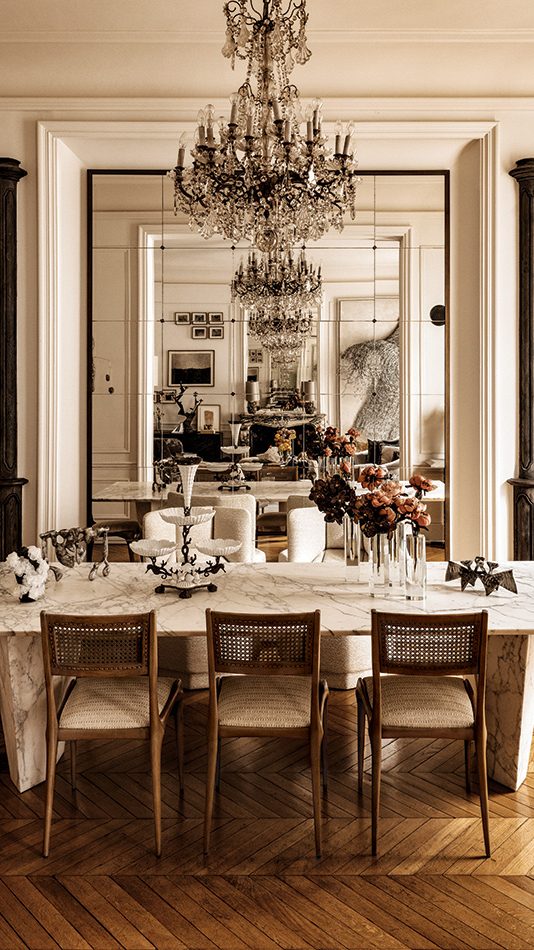 The luxurious dining room of Aline d'Amman's Parisian apartment combines vintage and contemporary design elements. The stunning Colosso table in Arabescato marble with a vintage chair.
The sleek cabinet displays a striking sculptural ceramic mirror, serving as a stunning work of art that elevates the aesthetic of the Paris apartment room. Through Aline d'Amman 's masterful curation, the dining room becomes a true embodiment of luxury and refinement, reflecting her unique ability to seamlessly blend vintage and modern elements to create a Paris apartment that is both timeless and contemporary.
In the Paris apartment kitchen exists the pendants designed by Aline d'Amman that add a touch of elegance and sophistication to the Paris apartment. The upper cabinets showcase a beautiful ceramic, which serves as a stunning work of art that accentuates the kitchen's aesthetic.
The island is a true masterpiece, combining the practicality of stainless steel with the luxuriousness of black marble. The same marble was also used for the tabletop.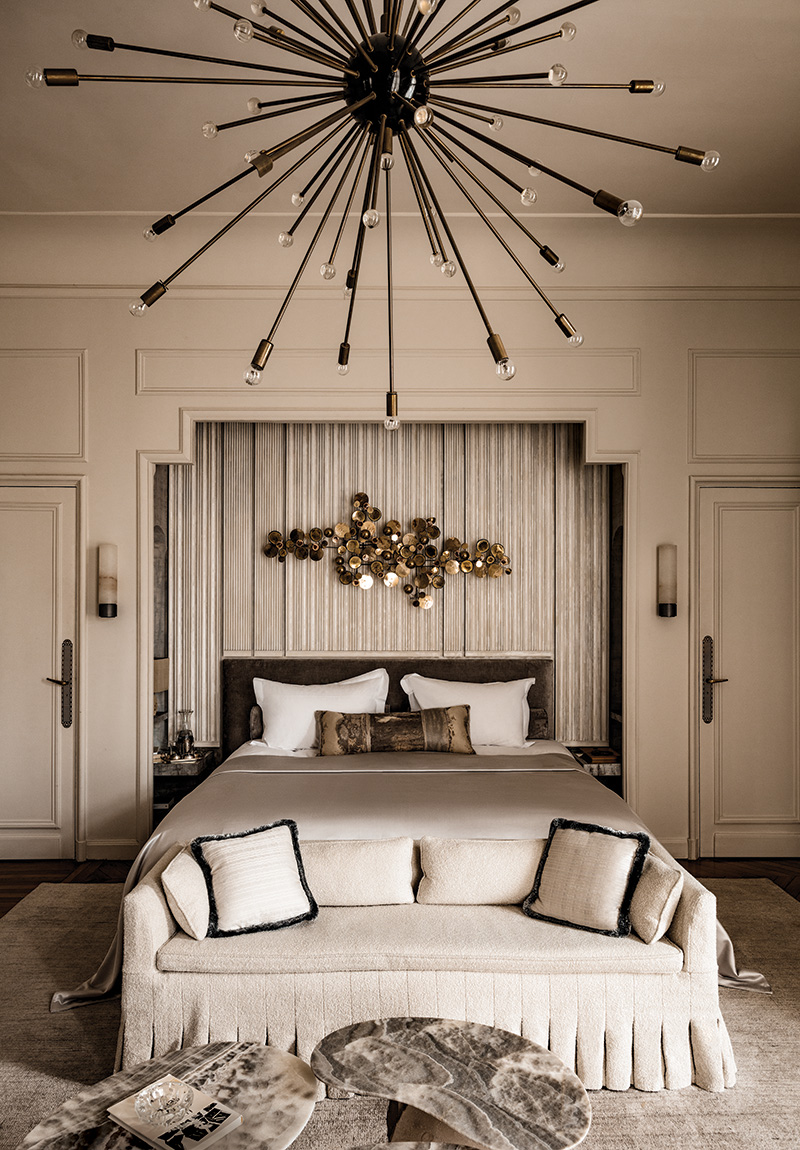 In the primary bedroom of Aline d'Amman 's Parisian apartment, Alabaster-and-steel sconces, designed by d'Amman, serve as a beautiful addition to the space. The bed features a headboard upholstered in Jim Thompson silk velvet and dressed with a coverlet adding a touch of softness and comfort to the room.
The Stone Cloud tables from the Invisible Collection by Aline d'Amman hang above a comfortable sofa above the classic Italian Sputnik chandelier. A commissioned cutout wall sculpture stands side by side with an 18th-century beveled mirror in the room.
Through her exceptional design skills, Aline Asmar d'Amman has created a space that is not only beautiful but also functional, proving that beauty and functionality can coexist in perfect harmony. Her Parisian apartment is an inspiration to all who appreciate the art of design and a testament to her exceptional talent as a designer. For further inspiration, please visit our Interior Projects.

Photos: Matthieu Salvaing