A good, solid bookcase is an essential part of every home office. It can store your favorite books, family photos, souvenirs collected for years and other important items. But it shouldn't be treated only as storage furniture, because nowadays there is plenty of designs and styles to choose from.
A unique bookcase can add great value to the room, sometimes it can even play the first piano. Choose one that is both functional and tasteful, with playful aesthetic structures that will reflect your personality.
Check out our selection of some home office bookcase ideas that will add some sophisticated touch to your interior:
Alba is another bookcase that will work well as both container and divider. Its coloured glass shelves, thanks to the fixing with a single pin, allow you to create round composition. It will beautifully display your treasured items.
Its geometrical diversity will work as an interesting statement in both living and office spaces, as well as dining rooms, etc. If you are looking for an elegant and minimalistic bookcase, Alba is your choice!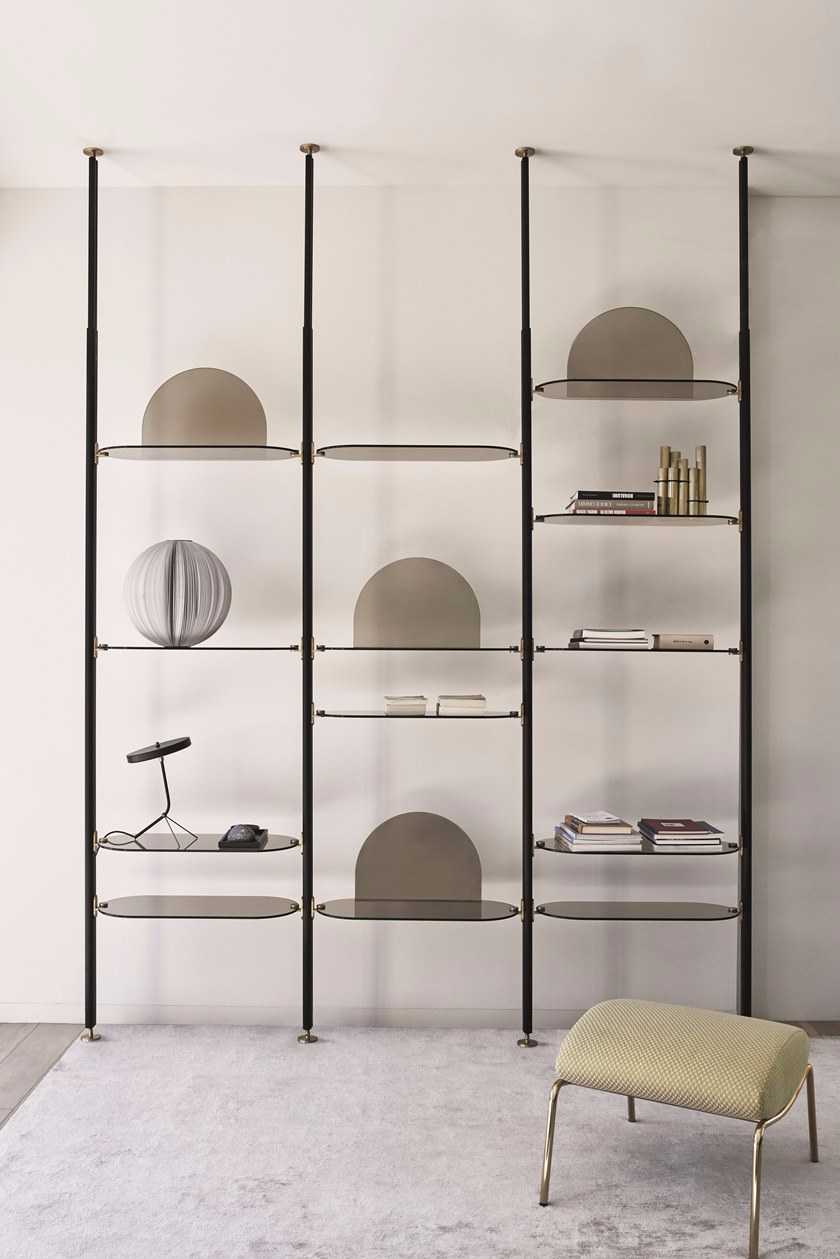 The Italian Ebony Bronze Designer Display Shelf will suit every home office. This remarkable piece of furniture is both classy and stylish, with its simple but well-balanced design. The combination of modern and classic features with excellent attention to details makes it an outstanding bookcase.
The housing embedded LED lights turn the furniture into the perfect showcase place for your treasures. It will look well in the living room, where you can display vases and decorative items but it will also be a perfect choice for a home office.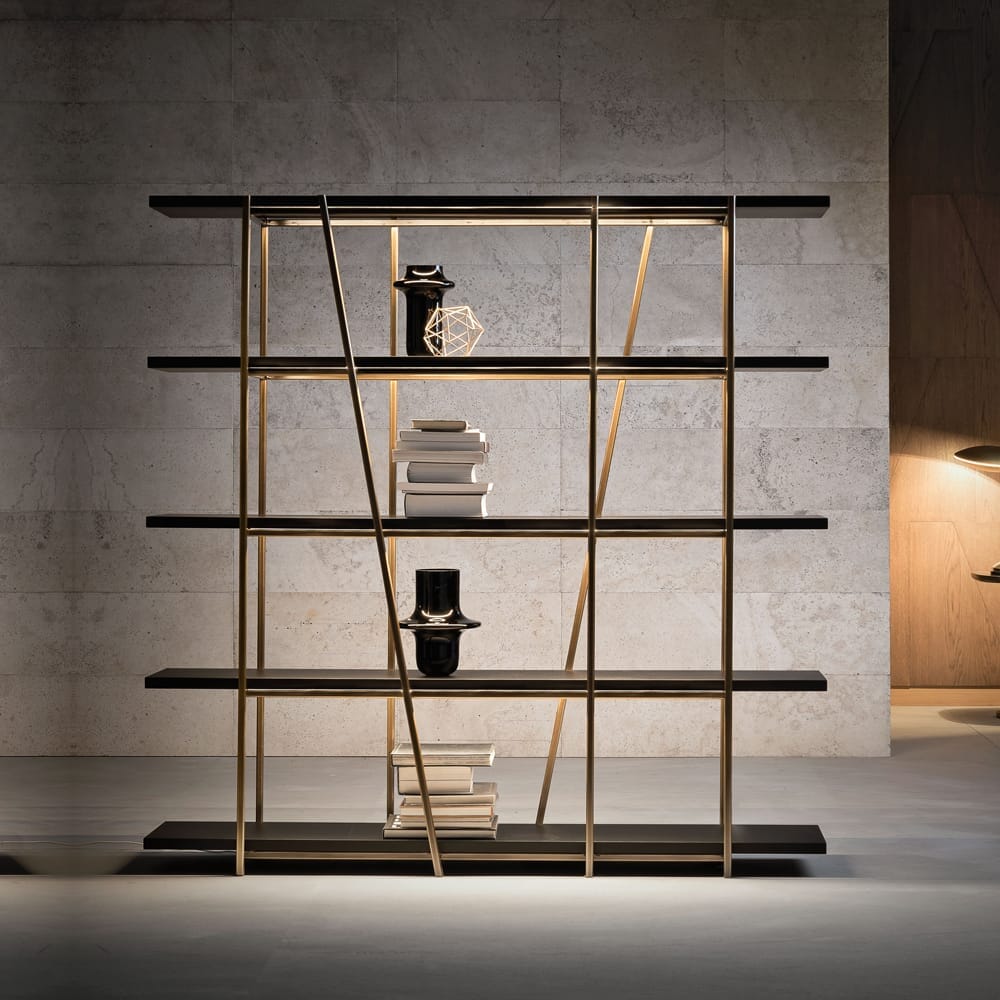 As we can read on the designers' website, the idea of this bookcase was born from the desire to create a light object, which will function both as a container and as a dividing element. This relatively big bookcase will look well in bigger spaces. It can be used for storing books and other items but at the same time will work well as a divider, for example, between living room space and the dining area.
The structure is composed of the repetition of three metal profiles that alternate full and empty spaces, supporting the shelves asymmetrically. The integrated panels are styled in polished brass to add a touch of metallic whilst a high gloss ebony shine completes the look.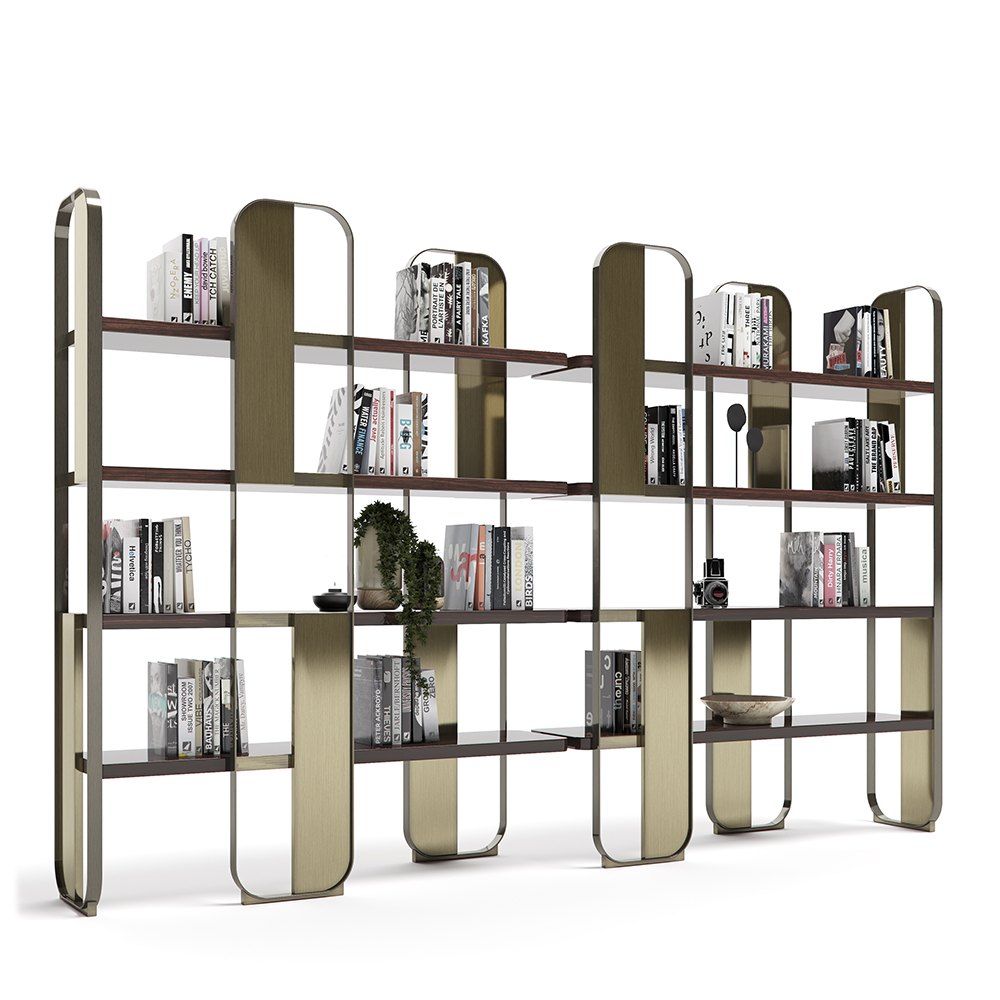 Ovus wall unit is one of the pieces of the Objects of Desire collection by Nabil Issa. It's a 2018 debut furniture collection of this wonderful Lebanese-American designer, that fast became a great hit.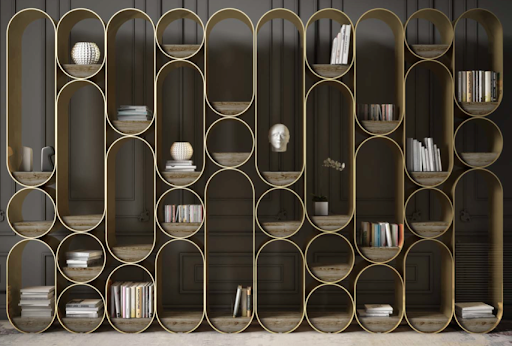 The series includes shelving, seating, dining tables and bed frames made in Portugal with high-quality materials such as wood, brass, copper and marble. The furniture were in a minimalistic black and grey tones, enriched with gold that adds audacity and personality to the overall look.
The Octaval Yolumetric Unit System (OVUS) is a combination of classy and harmony, that can truly be called an object of desire. This massive wall unit can be used to store all kinds of items and used as a dividing piece will make a statement in every interior.
This bookshelf designed by Italian Marioni Studio will add some of the funky yet classy vibe to your interior. Made from brass structured accompanied by lacquered wood and two-coloured glazed ceramic supports captivates the eye and moves the heart!
This bookcase belongs to Palm collection of furniture, that will suit both luxury and modern interiors. If you're interested in this outstanding piece, check out the rest of the collection. There is also a big choice of material combinations to match personal tastes.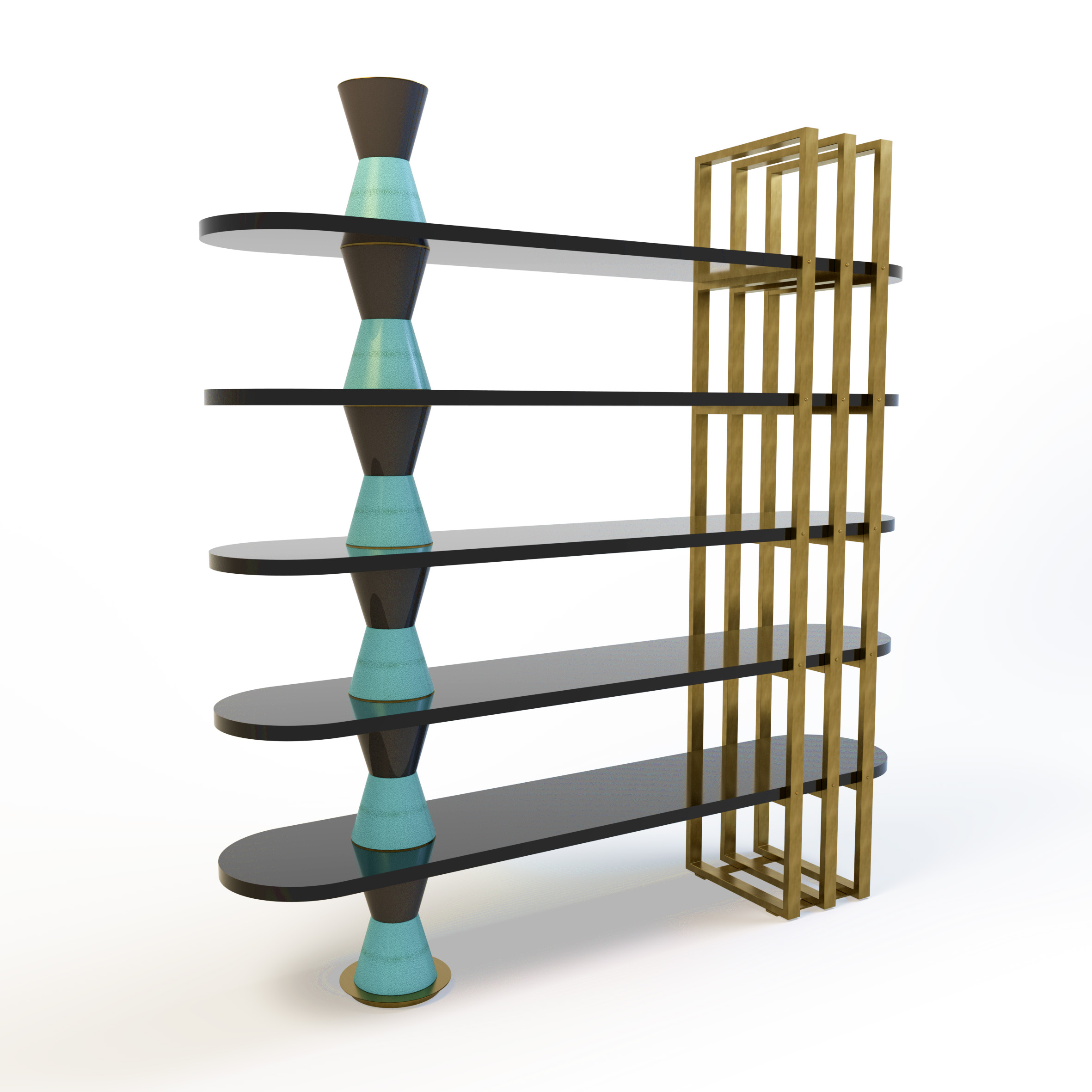 Guffy bookcase is a statement piece, inspired by the Memphis style, but also the Bauhaus movement. This polished brass multi-level bookcase will grasp the attention and attract everyone.
It's black coloured leather fringes add a little of the casual touch. But black leather shelves and golden legs turn this piece into luxurious and classy furniture. From the top view, the brass structure has a "w" shape (zigzag) offering stability.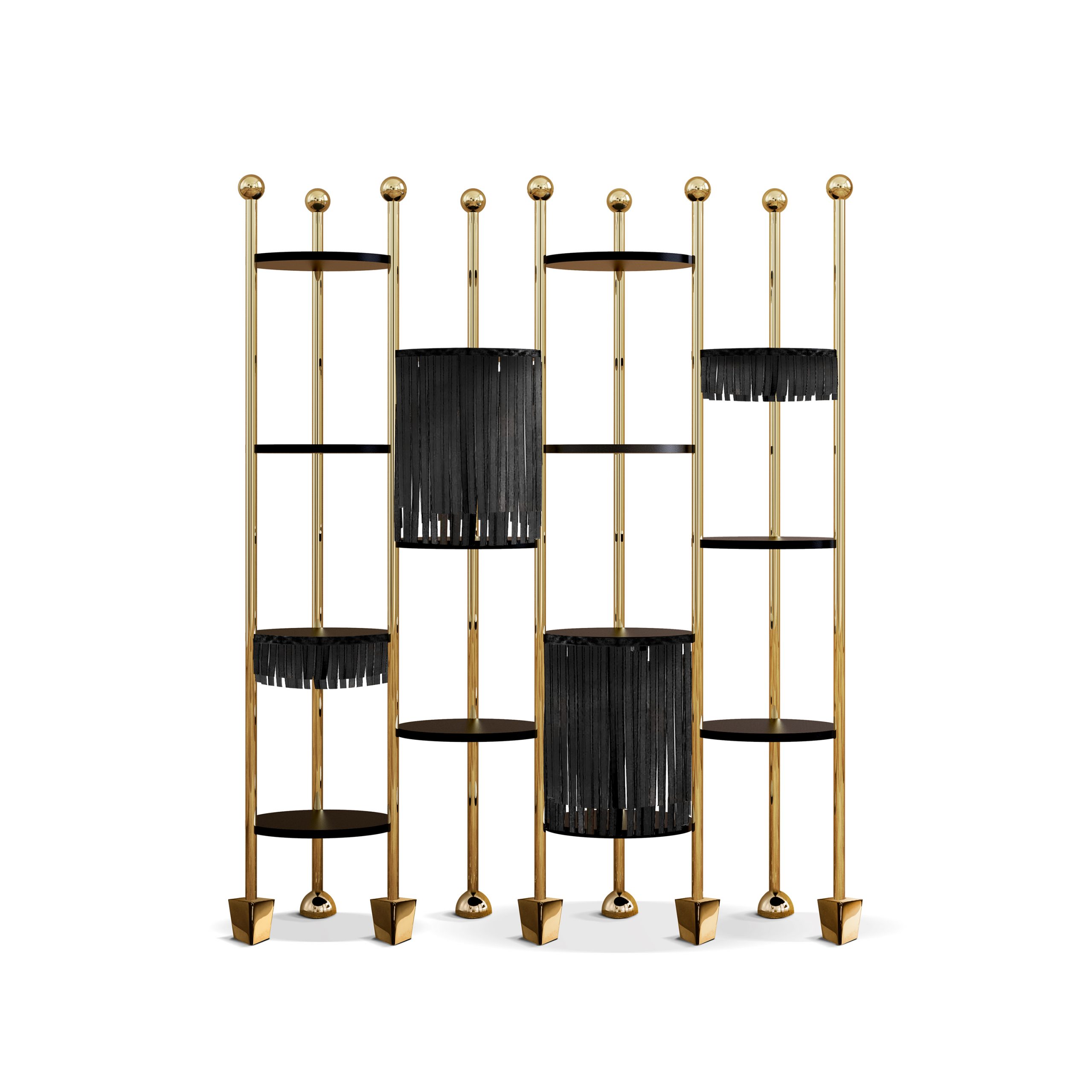 Colonnata bookcase designed by an Italian designer Piero Lissoni is a true masterpiece. Its combination of dark oak punctuated by dividers in natural stone ranging from classic white Carraca to regal greens, reds and black will steal the show in every interior.
It can be used both as a divider and as a regular bookcase placed in front of a wall. It's solid stone construction and big capacity make it a great book storage piece.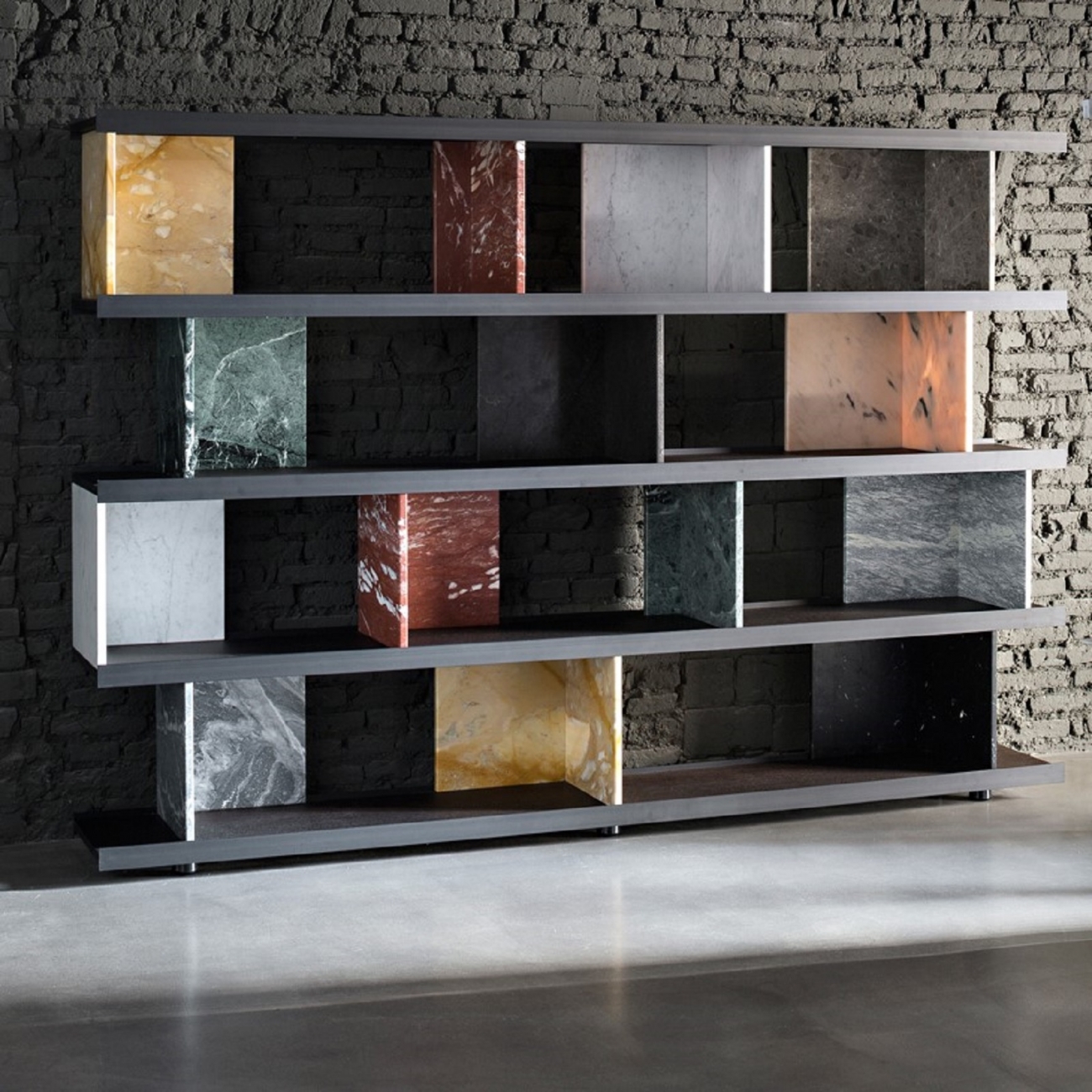 Libelle designed by Pietro Russo for Baxter is a modular bookcase with bearing structure in matte black-varnished metal, fastened to ceiling and floor through satin brass pressure pins. Shelves with frame in black-stained maple with inside in cane or leather-covered are supported by satin brass.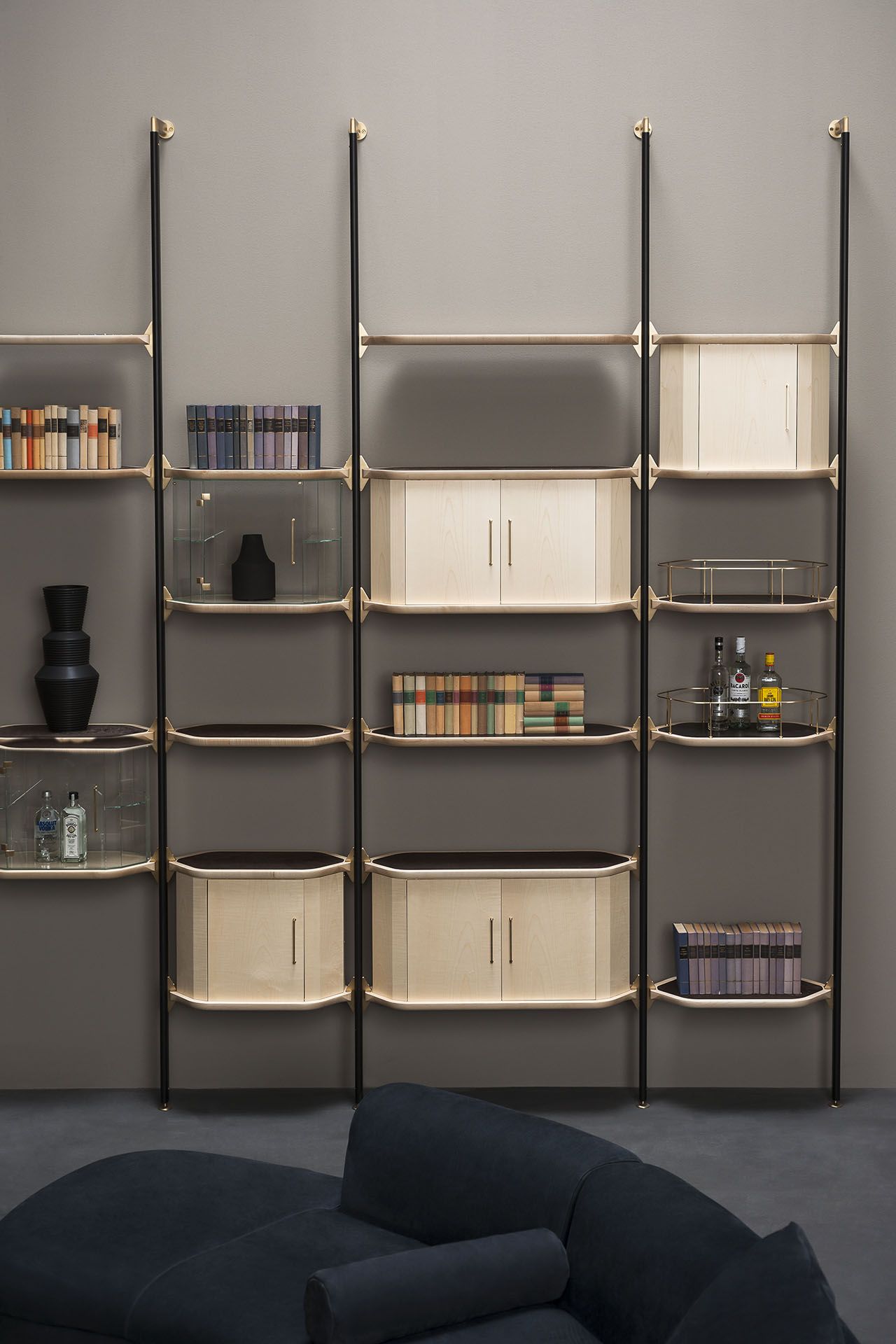 This remarkable piece will suit all classy, modern or even vintage and retro offices and living spaces. Both open shelves and closed cupboards make it a functional and interesting piece. Libelle comes in a variety of colours and sizes, that will be individually made to suit the need of every customer.
Established in 1955, the prime Italian brand Gallotti & Radice is well known for its dedication to excellence and innovative modern design. The Isola bookcase is one of their most remarkable pieces, that make them a valued world-class brand.
This avant-garde, modern glass bookcase breaks the rules of horizontal shelving, placing them in sharp angles. It's light yet solid glass structured frame makes it a piece that will look well in all types of interiors. Isola is available in either transparent tempered glass or smoked 'grigio Italia' glass.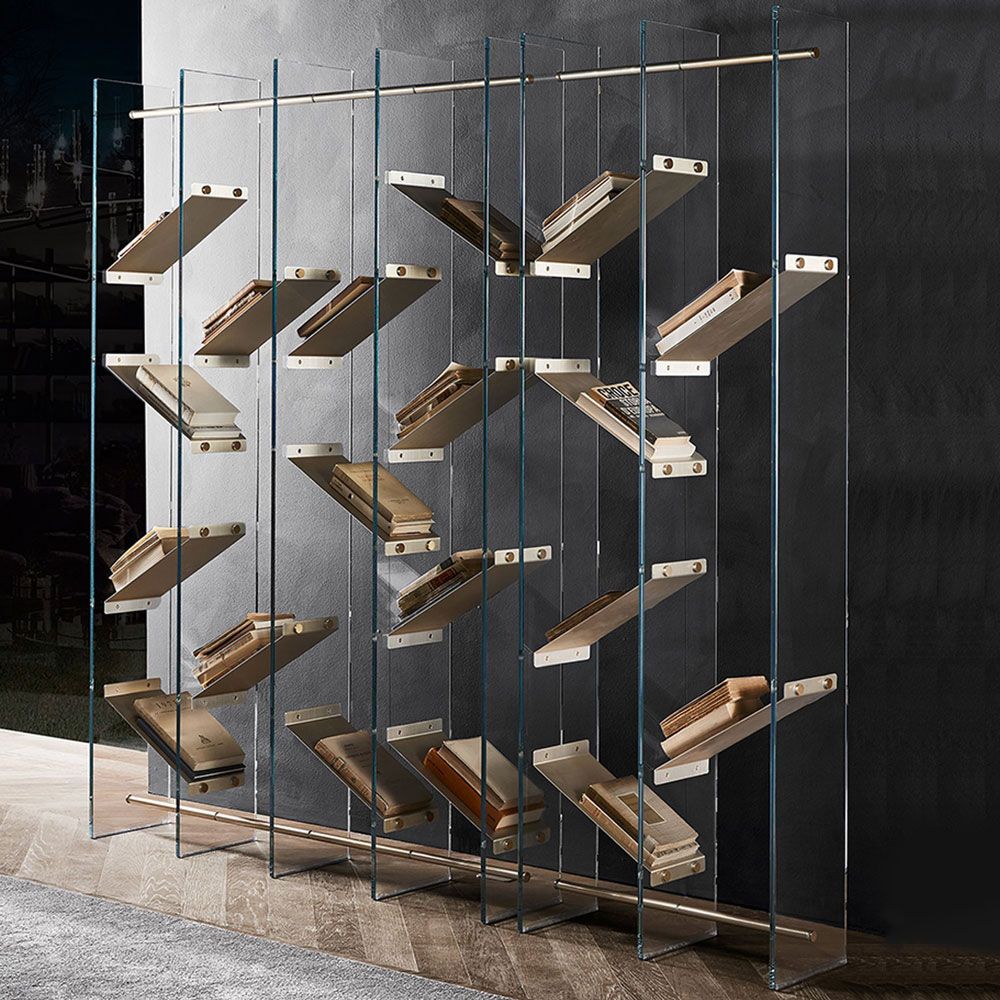 Named by Japanese city Sendai, this bookcase reflects the artist's Oriental philosophy. Designed by Toyo Ito, the Sendai bookcase is another glass piece with an elegant and fresh look.
It is composed of six light and delicate shelves (base made from aluminum) with a mirror finish and connected through sinuous elements made of solid alder and walnut, curved in different shapes. The shape resembles natural lines of trees or waves, and the mirror shelves reflect the curves. The visual play makes it a unique piece, that will add elegance to every interior.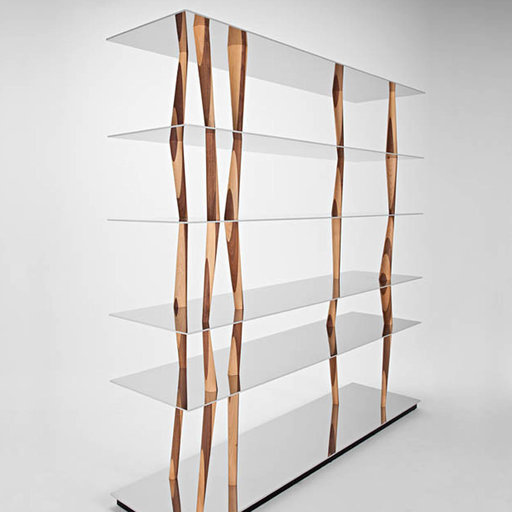 We really hope you liked our article. Feel free to pin all the images to your favorite Pinterest board or to print it and use it on your projects' mood boards. You can also visit our Pinterest boards in order to get more inspirations.
Get more ideas for your projects and find functional, stylish and sizable lighting and furniture choices: