The fashion designer Tommy Hilfiger turn a stately lakeside mansion into a family-friendly sanctuary with help from Martyn Lawrence Bullard.
Tommy Hilfiger is already accustomed to living near water and has recently retreated to a holiday property on Mustique, where the estate's swimming pool laps up against the Caribbean sands.
The Hilfigers previously retreated to a villa with 100 feet of ocean frontage in Golden Beach, Florida. However, the couple considered a new type of frontier when they made the decision to leave their home in Greenwich, Connecticut and relocate to Palm Beach, Florida, permanently, last year. The Hilfigers, referring to the west side of Palm Beach with its view of the Intracoastal Waterway, Lake Worth Lagoon, say, "We fell in love with this home and the fact that it was on the lake and on the lake trail."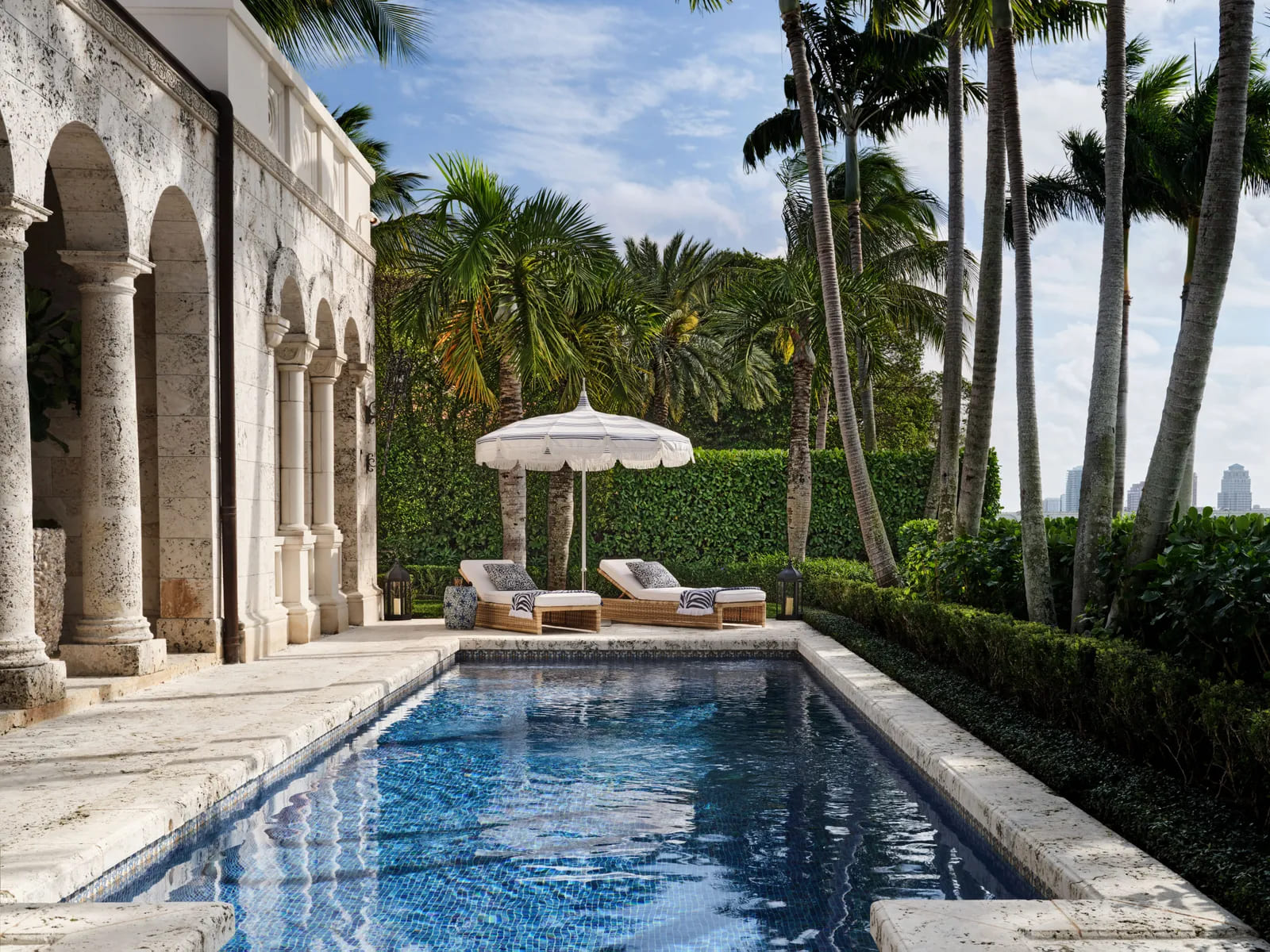 Tommy Hilfiger's Passion with Palm Beach
"We undoubtedly wished to have an unique experience", Tommy continues, "We always liked being on the lake, but this was a pleasant surprise because it's not quite as windy, and it's beautiful to look at morning, noon, and night."
Although they have made this house their home, Dee says, "We're still figuring out what we like and don't like." She adds that although they have made this house their home, the family can still consider perhaps living at two other neighboring residences they also happen to own. "This is a fantastic change for us because we had never lived in Palm Beach."
A Mediterranean-inspired mansion
The couple's primary Palm Beach abode is a 2006 three-bedroom, 5,000 square foot Mediterranean-style home. Everywhere you turn, there are columns and arched ceilings, as well as several courtyard corners and lush gardens. In addition to the family's homes in Miami and New York City, Tommy Hilfiger also sold the Connecticut house because "we lead much more busy lives here". They were traveling into and out of the city while residing in Greenwich, in the Northeast. Additionally, the weather prevented them from spending a lot of time outside. Dee continues, "Palm Beach is so lush and green all year long. We never discard the orchid plants that people gift us; instead, we tie them to a tree."
In fact, the Hilfigers were immediately captivated by their new home's indoor-outdoor design. It has an inside courtyard and is based on several of Palm Beach's older houses. "But the lighting and brightening was the first thing we wanted to accomplish", explains Tommy Hilfiger. He notes that the previous owners used dark and somber colors throughout their home. "The wood was mahogany and cherry. All the windows had ​​blinds on them, blocking the light. There was a lot of art, patterned drapes, patterned wallpaper, patterned furniture. Paisleys, florals, Oriental carpets. We did a clean sweep."

To open up and redesign the space, the couple relied on AD100 designer Martyn Lawrence Bullard. Dee Hilfiger says, "We built the look around the location". "Something fresh and easy. The palette: coral stone ivory. And it's a beautiful Spanish/Mediterranean-style home, so Martyn brought in some Moorish accents, and we've also got splashes of blue and white", adds Dee Hilfiger.
Ironically, Bullard says he wanted to open up the interior by "stripping the house back, bleaching the wood, and expanding the patio." "We then decided to bring in the foliage—the enormous palm trees—to dismantle the walls and calm the atmosphere overall."
When questioned about his extraordinary ability to communicate in shorthand with his clients, Bullard mentions that this is the fourth home the trio have done together, in addition to a big hotel project. "So I know them very well", Bullard states. "Because they are both fashion designers, I am familiar with how they both choose. They cherish ongoing progress, just like I do, and they like a variety of design elements as well as the concept of how to live within them."
"It has also helped that I've been on their boat, gone on holiday with them, and traveled with them. Together, we have witnessed a number of things that have been motivating and have entered our shared language", adds the AD100 Designer.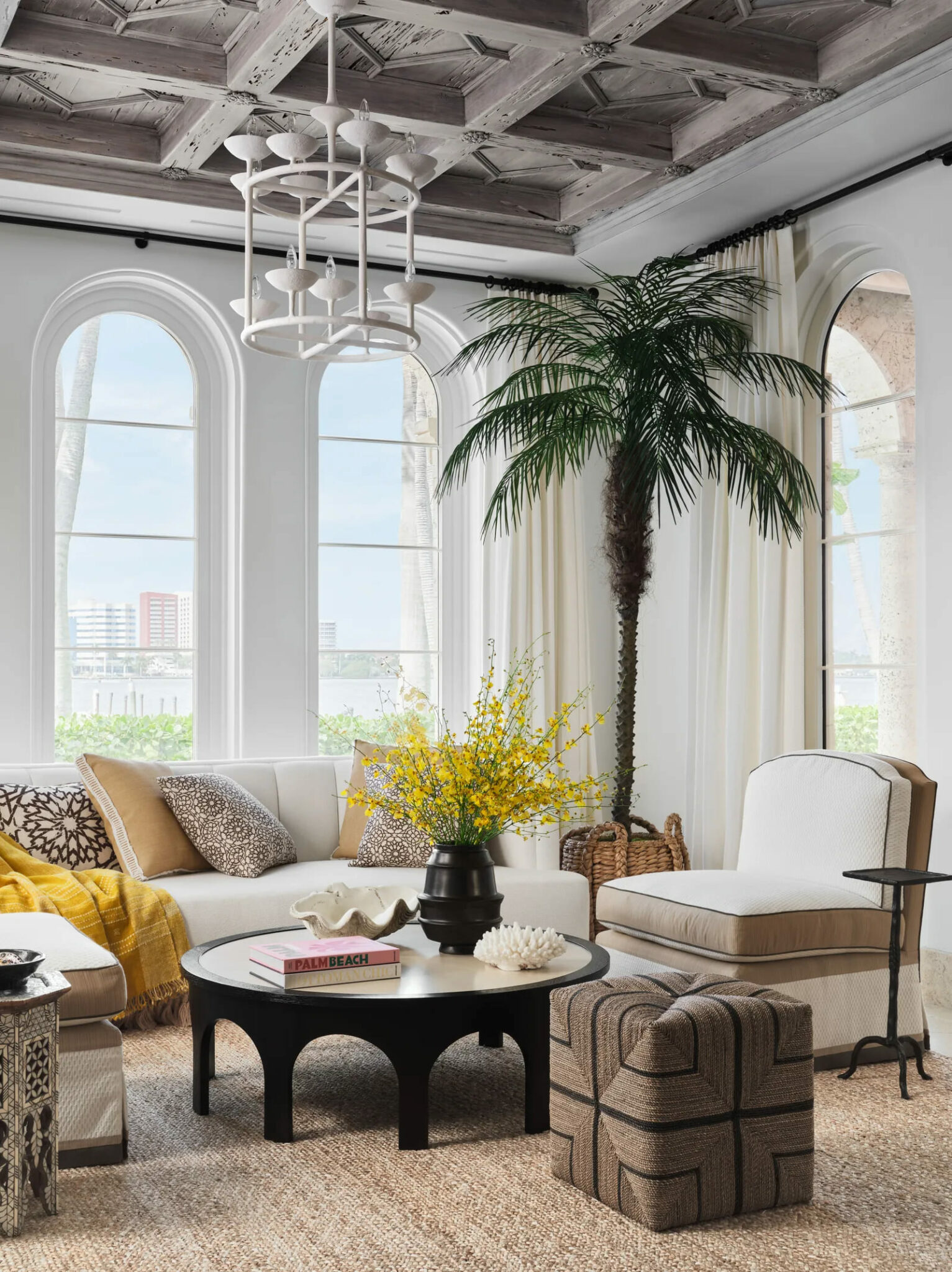 The Hilfigers' enthusiasm
"Tommy in particular has very set ideas and parameters, and Martyn knows that," says Dee. Tommy Hilfiger definitely appreciates order and a touch of pattern. "Working together is quite simple for us". Although believing they have distinct needs, they are certainly not clients who say, "Oh, do anything you want.", affirms Dee.
They all agreed that the structure of the house would be ideal for them and their family's needs, even though the decor needed to be completely updated. "We didn't do much structurally," states Dee. "There were these unnecessary decorative columns in the bedroom that we took out." Of the refresh, Bullard simply says that "the house has a wonderful soul. We just had to take away the formality and make it feel a bit younger, sexier, looser."
One room, nevertheless, received further care. Tommy Hilfiger reveals that Dee insisted on remodeling the kitchen because of its hefty marble counters and caramel-colored surfaces. It turns out that the family tends to congregate in the kitchen the most, which is a good thing.
ARE YOU INTO INTERIOR DESIGN?
If so, discover modern furniture and lighting designed by design lovers for design lovers. All you need is to download the Hommés Studio catalog. To complete your interior design project, choose the high-end homeware by ACH Collection.

Source: Architectural Digest