Modern dining room lighting fixtures are as important in a dining room as the dining table. We curated five different ways to set the perfect light in a modern dining room.
Having the perfect dining room is not only about a good table and good chairs, nor good decor. In order to achieve the perfect dining room, designing light is necessary. When doing it, we must foresee all the scenarios around the table, such as family gatherings, dinner parties, or a quick breakfast before work. Additionally, we need to have into account that moving an electrical system, or a big chandelier, is not as easy as turning a table.
SUSPENSION LAMP ABOVE THE TABLE
Suspension lamps above the table are the best option. They are decorative and easily adorn the dining room, but also functional and… intimate. There's nothing like a suspension close to the tabletop, with warm light, obviously.
If you're looking for a theatrical atmosphere in your modern dining room, playing with many suspensions is the go-to.
WALL LAMP NEXT TO THE DINING TABLE
Undoubtedly, the best modern dining room lighting fixtures for rooms with natural light are wall lamps. Especially if the dining table is next to a window.
MODERN DINING ROOM CHANDELIERS
Chandeliers are objets de désir. However, not all rooms can have it. Even though they are opulent, their opulence can suffocate the room. Always try to choose the right size of it, having into account not only the size of the room but also the size of the dining table. And don't forget to take into consideration the natural light that comes into the room.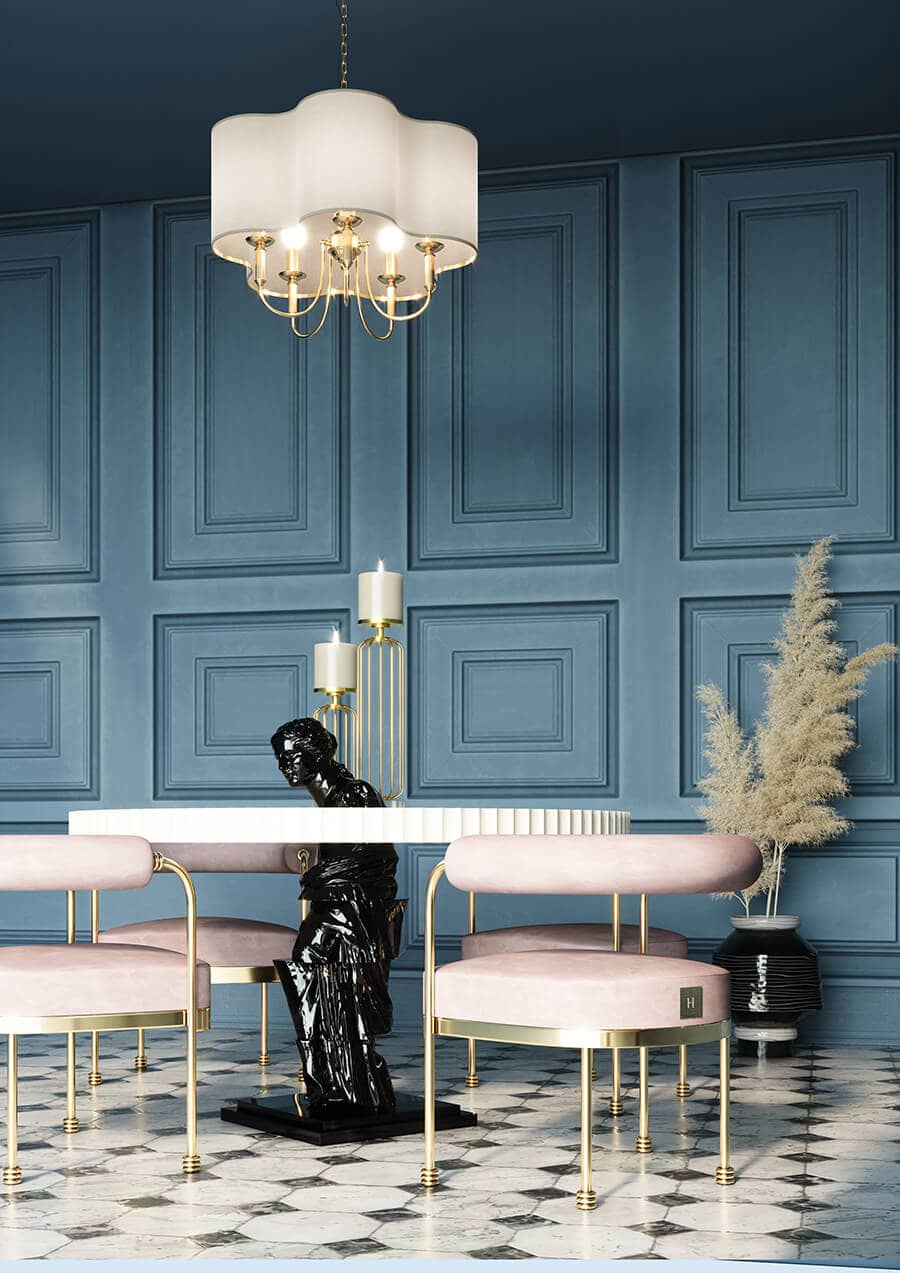 In rooms with natural light, a crystal clear chandelier will increase the light and create an ethereal lighting performance on the tabletop. It will enhance the sophistication of the dining room. In addition, it will create an amusing experience for guests on the plate, as much as the food.
MODERN DINING ROOM LIGHTING WITH TRACKS
Although tracks might not be the most stylish lighting feature for a dining room, they are highly functional and efficient. Designing interiors is about that, to enhance the potential of rooms, turning a house into a home.
Despite looking really good in minimal interiors, tracks are the best option for rooms where natural light doesn't exist as much as it should. Furthermore, they are a great option for kitchens and dining rooms that are not divided. Using tracks, light can be adjusted accordingly to the needs, either when preparing a meal or having a romantic dinner. Like we said, functional and efficient.
LAMPSHADE FOR DINING ROOMS
Lampshades are a great decorative option for modern dining rooms. The customization of the lampshade, such as its fabric, may allow it to macht with the dining chairs and other furniture in the room. Nevertheless, their traits don't provide enough lighting. An additional lamp will be required.
All these interior design ideas are overwhelming and you want to get more of it? Check on our Modern Dining Tables moodboard on Pinterest. It won't disappoint you.
Source: https://www.admagazine.ru/how-to-make/osveschenie-dlya-obedennogo-stola-pyat-variantov-oformleniya-s-fotografiyami