Inside a Melbourne Hideaway House for a family of five, that features an absolutely incredible modern basement, sure to dazzle you.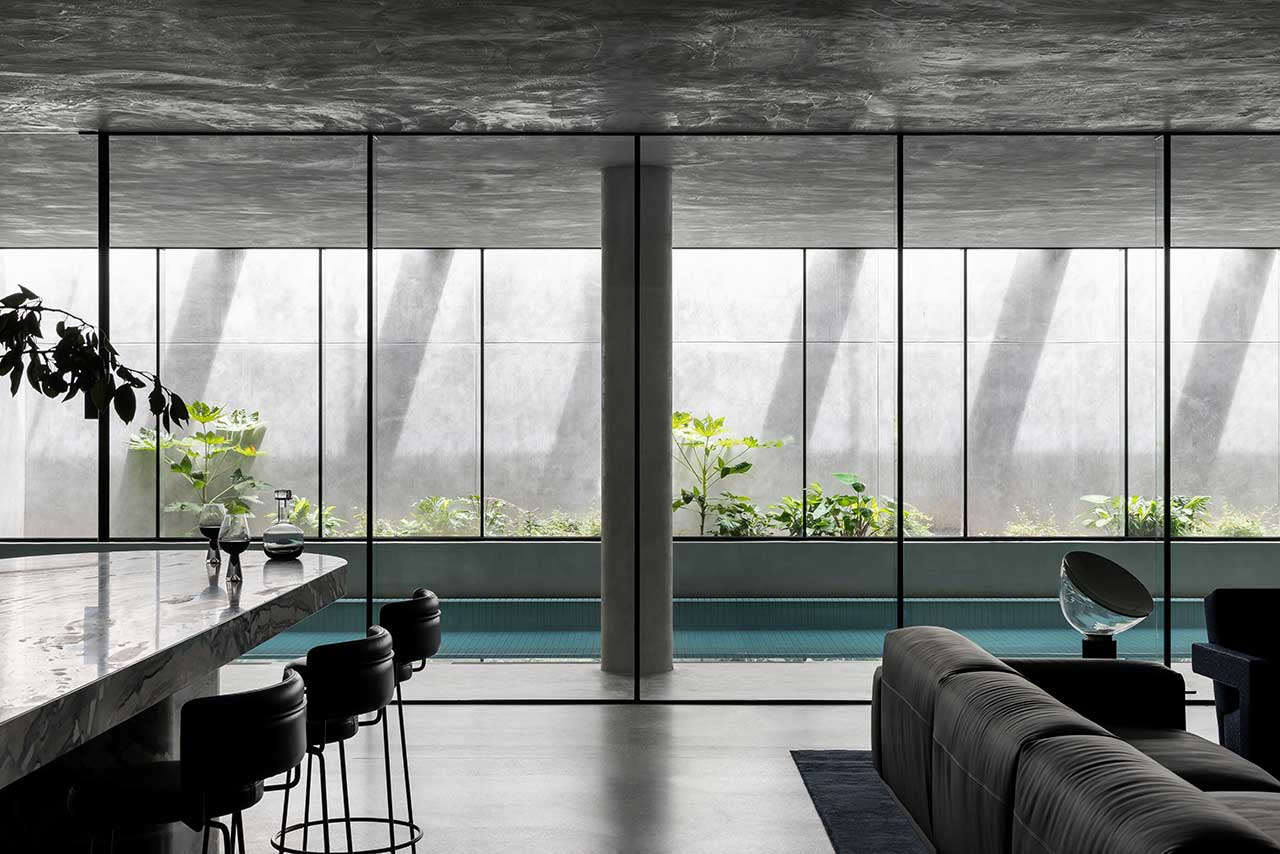 When a young family of five's neighboring property was put up for sale, they bought it to build their ideal hideaway house since the family's existing three-story dwelling, although big and spacious, was not enough to grow and play in.
To develop this hideaway house, this family trusted Cera Stribley to manage both its architecture and interior design, which did a great job in building a testament to the creativity and ingenuity of Melbourne's architectural community with a design that is both beautiful and functional.
Intending to make the most out of the recently purchased area, the team behind this project decided to dig the nearby plot in order to build a fantastic modern basement that features an indoor lap pool, a golf room, a gym, a basement bar, and a lounge.
Down Bellow an Adults Lair
The new modern basement was designed from an adults' lair perspective, so the team at Cera Stribley went for a sophisticated and moody approach, evidenced by the dark color palette that makes this space feel elegant but also atmospheric.
However, when it comes to basements, it can get very tricky to bring natural light into these types of spaces, particularly when you have an indoor pool that requires a lot of privacy. To go around this problem, the team behind this project had the ingenious idea to add a lightwell and a planter box at the northern boundary of this modern basement, covering almost the entire length of the pool and bringing light and nature to the otherwise heavy atmosphere of this modern basement.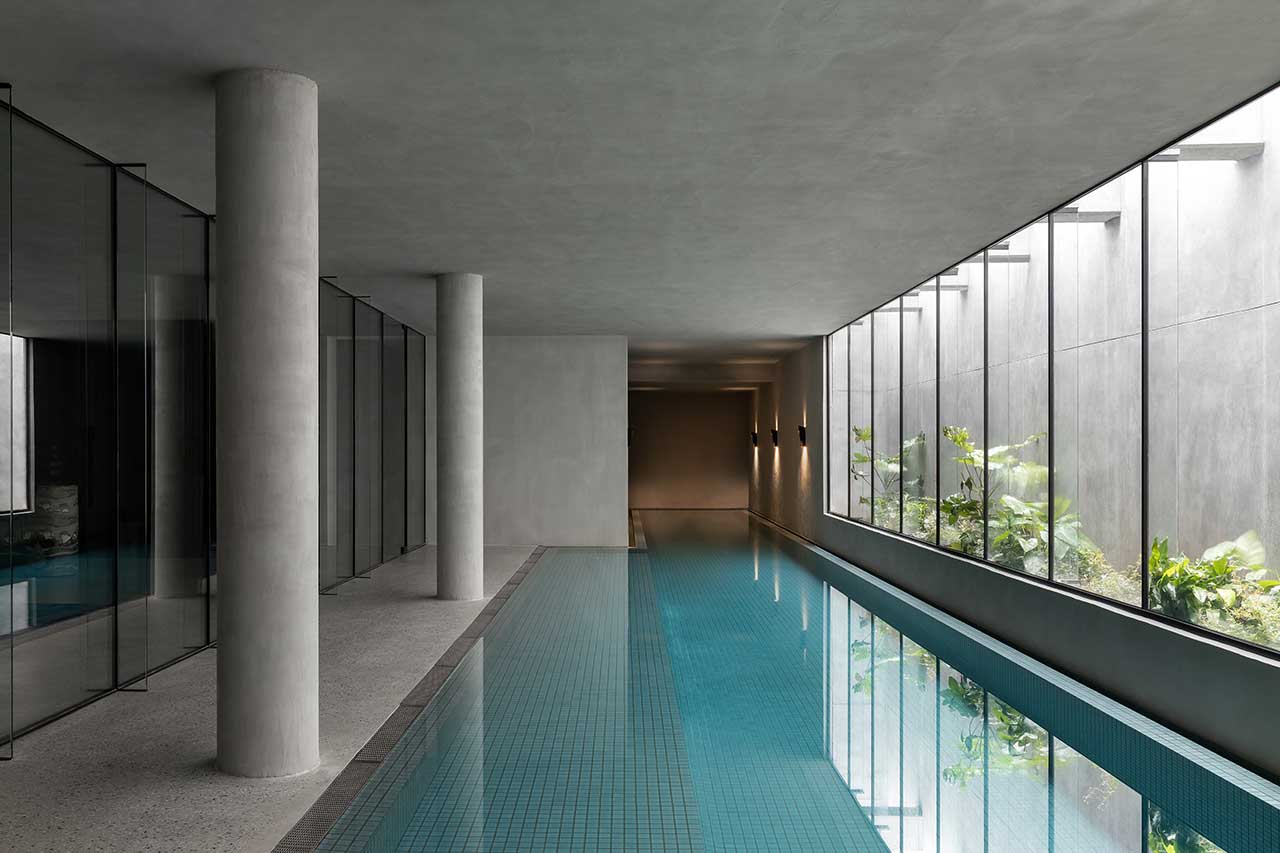 Through another wall of glass windows that divide this modern basement, one can find a sitting area and bar both decorated in the modern style and dark color palette of this project, from all matching, dark blue armchairs, carpet, and leader bar chairs that contrast with the black modern sofa and side tables, to the massive marble bar that stands out in this modern basement, as well as its glass-fronted wine cellar.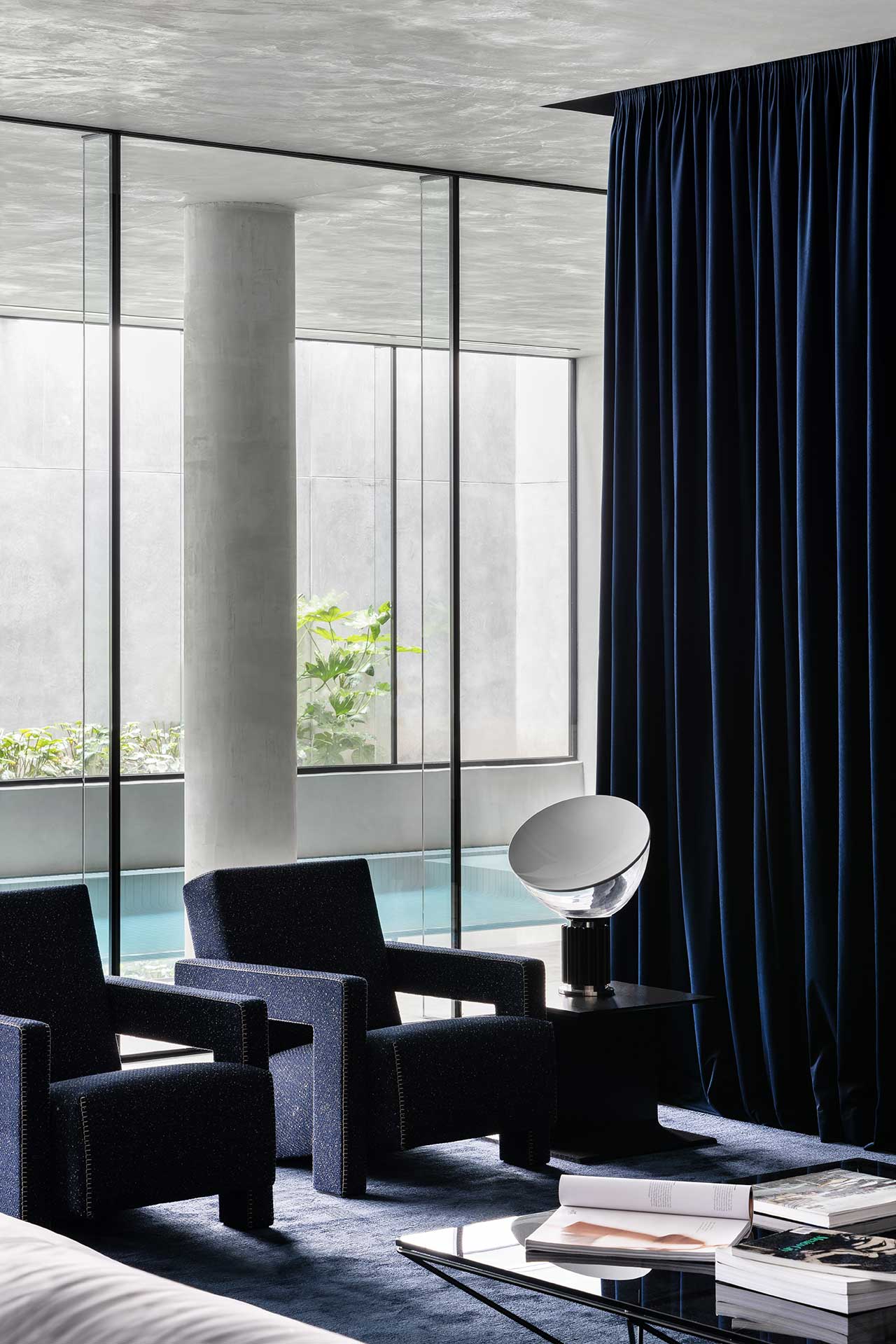 Shop The Look
Inspired by this modern basement, we "decided to make a quick stop in this article and select a few of our own products, that we"feel would totally match its sophisticated and moody aesthetic.
Fifih Side Tables Arabscato Set 10

Side Table

$

15.785
Up Above Family Time
Moving on to the top of this hideaway house, the gravitas of this home design is still present in the rest of the house, although be it with a more light approach, focusing now on coziness and fun, through a more neutral color palette with pops of vibrant and warm colors, as the red sofa on the living room, the yellow painting in the bedroom and the golden suspension lamp on the dining room are examples of.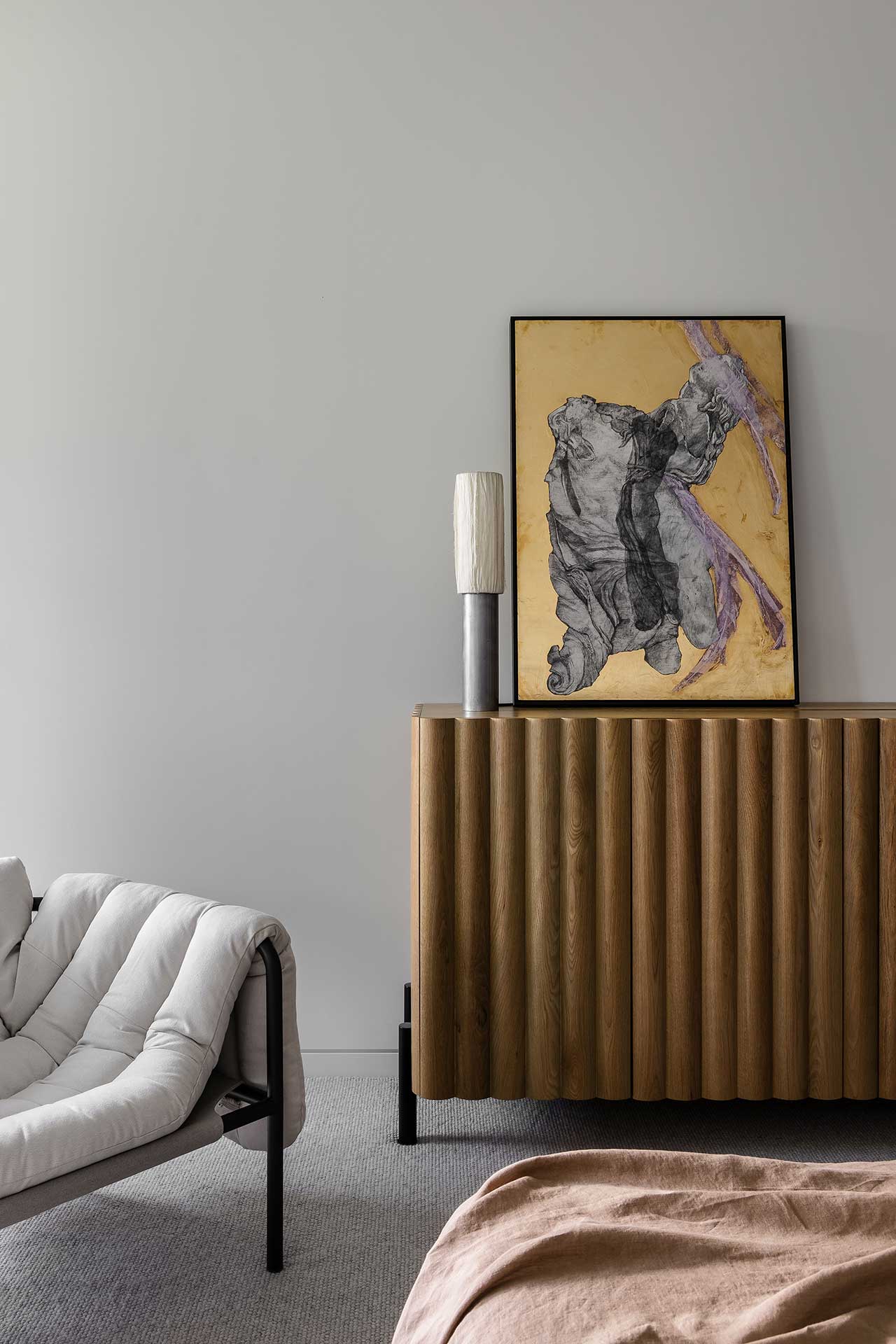 These choices also make sense when you consider that "the living spaces have all been curated to minimize screen time and enhance family living" (as said by the Cera Stribley team).
Minding this same focus on quality family time and the connection with nature, the main living areas now spill out over the tennis court and into the backyard, thanks to the ground floor's reorientation which provides a sense of connection between the indoor and outdoor spaces of this hideaway house, creating a seamless flow between the two.
Shop The Look
The rest of this house is also clearly worth of inspiration, so we rounded up a few modern furniture pieces to match its cozy and elegant style.
Leafus Suspension Lamp

Suspension Lamp

$

5.721

Malala Chest of Drawers

Chest of Drawers

$

7.734

Lisola Armchair White

Armchair

$

5.085

Utah Center Table Natural

Center Table

$

12.607

Billie Oval Dining Table Travertine

Dining Table

$

24.260
The Perfect Hideaway House
This hideaway house by Cera Stribley is a stunning example of modern design that is both stylish and functional. Its unique design features and clever use of space make it a perfect family home, while its tranquil setting provides a welcoming retreat. But the real heart of this house is its modern basement, which is both a brilliant example of well-thought-out architecture, as much as a reference for modern home design.
If you too are looking to create a project that feels like the perfect hideaway house, then check out Mediterran Resort – Cool & Elegant Modern Outdoor Furniture, and find the perfect furniture to add luxury and cool elegance to both your indoors and outdoors.

Source: Hideaway House by Cera Stribley