Mirror wall decor is a great addition to any room since the furniture has many benefits. The variety of shapes and mirror styles allows you to profit from their advantages while still expressing style, personality, and good taste.
Here are the best mirror wall decor tips to inspire and take your interior design project to the next level. Check them out!
How To Choose A Mirror Wall Decor?
Mirrors not only reflect light to brighten spaces, but also give the impression of extra area. For interior design professionals, they work perfectly as wild cards for projects because besides providing solutions to objectives, are also attractive.
A mirror's form, size, and design style are all essential factors to consider. Therefore, choosing the ideal model for your project is essential to guarantee the finality of the furniture in the final proposal.
If you live in a small apartment or have a few small bathrooms, for example, mirrors might be an excellent option to create the illusion of space. At the same time, a mirror in Art Deco style can transform the atmosphere of any room with luxury, glamour, and beauty. Check out some tips to make the right choice for your mirror wall decor.
MIRROR WALL DECOR BY STYLE
Modern wall mirrors: Modern spaces are clean and organized, with some contrasting chromatic introductions. Maximalist or modern wall mirrors will enhance your home decor. They combine style and elegance to frames with metallic finishes, creating a lighter surface.
Art Deco wall mirrors: They reflect all the luxury and grandeur that this style of decoration imprints. Mirrors with elaborate frames, light glass, noble woods, marble stones in their different variations. You can place an art deco-style mirror in your entryway paired with a modern console table or play with a set of mirrors to create a unique wall decor.
Mid-Century wall mirrors: This style is characterized by being elegant, classic, and retro. The secret to adopting the Mid-Century style in your mirror wall decor is to combine it with iconic design pieces, antique and minimalist furniture, and contemporary items.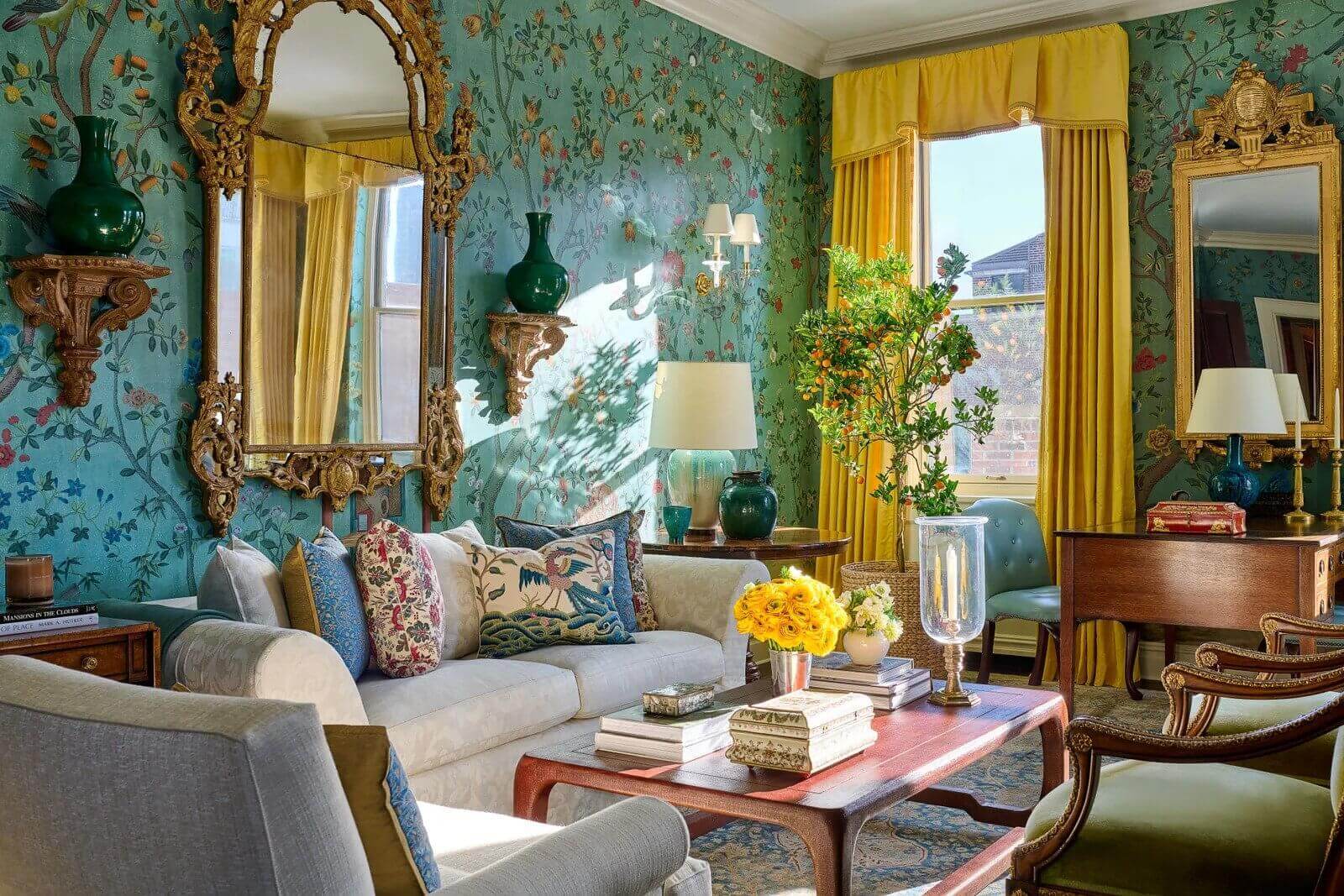 MIRROR WALL DECOR BY SHAPE
Round walll mirror: In interior design, the most common places to use mirrors in this format, considering practicality and functionality, are bathrooms, washbasins and bedrooms (combined with make-up tables). The special highlight for round and oval mirrors are for entrance hall, when used above sideboards, for example.
Rectangular wall mirror: They have always been the most traditional shapes. This is because the understated shape easily matches the shape of most furniture in Minimalist Decor. One of the advantages of these mirrors is that the feeling of spaciousness is enhanced.
Abstract wall mirror: Unlike traditional rectangular ones, the abstract mirror in interior design is usually the decorative object itself. Due to its distinctive shape and with little reflective function, it is designed precisely to be the center of interest for those who visit the space. They are excellent options for offering authenticity and personality to projects.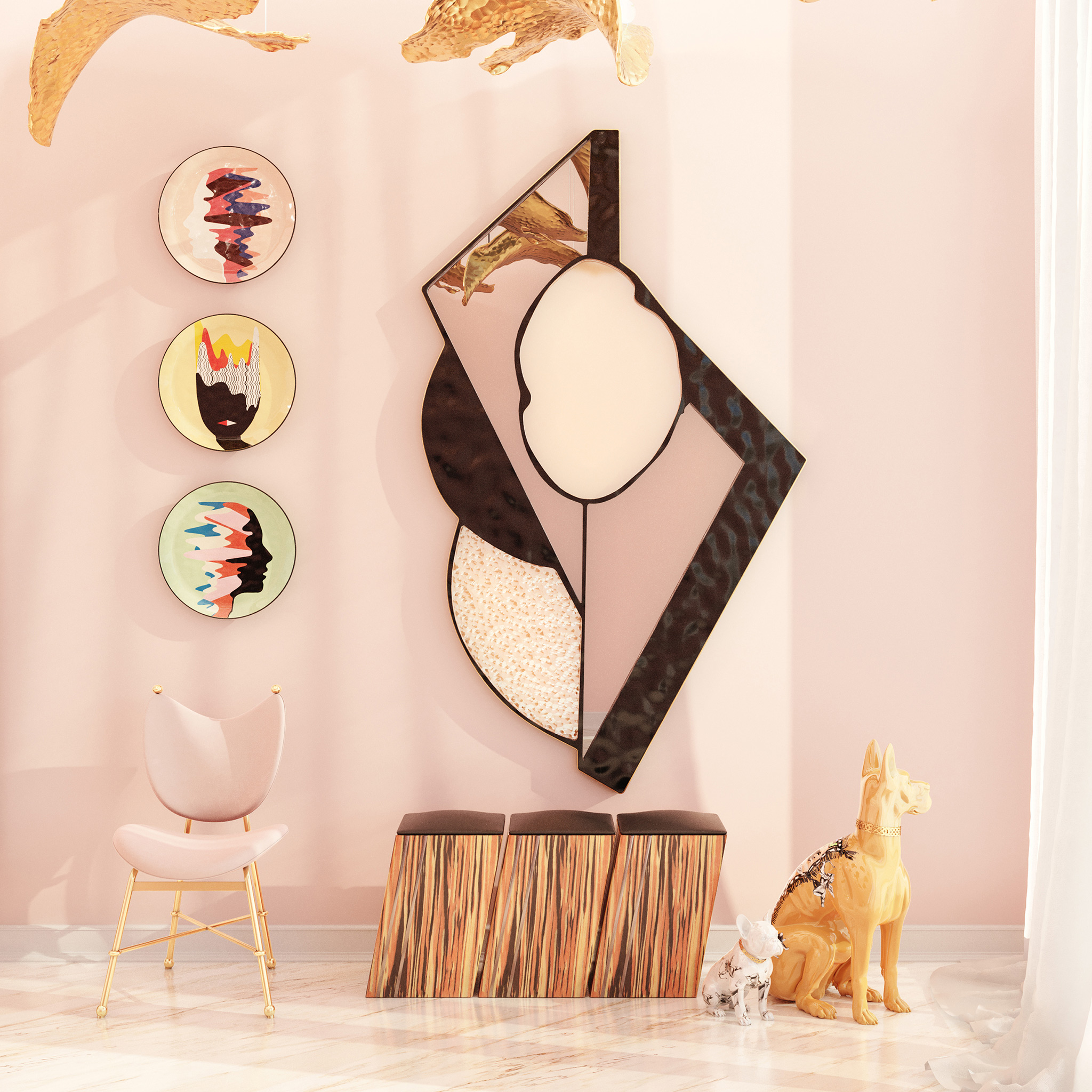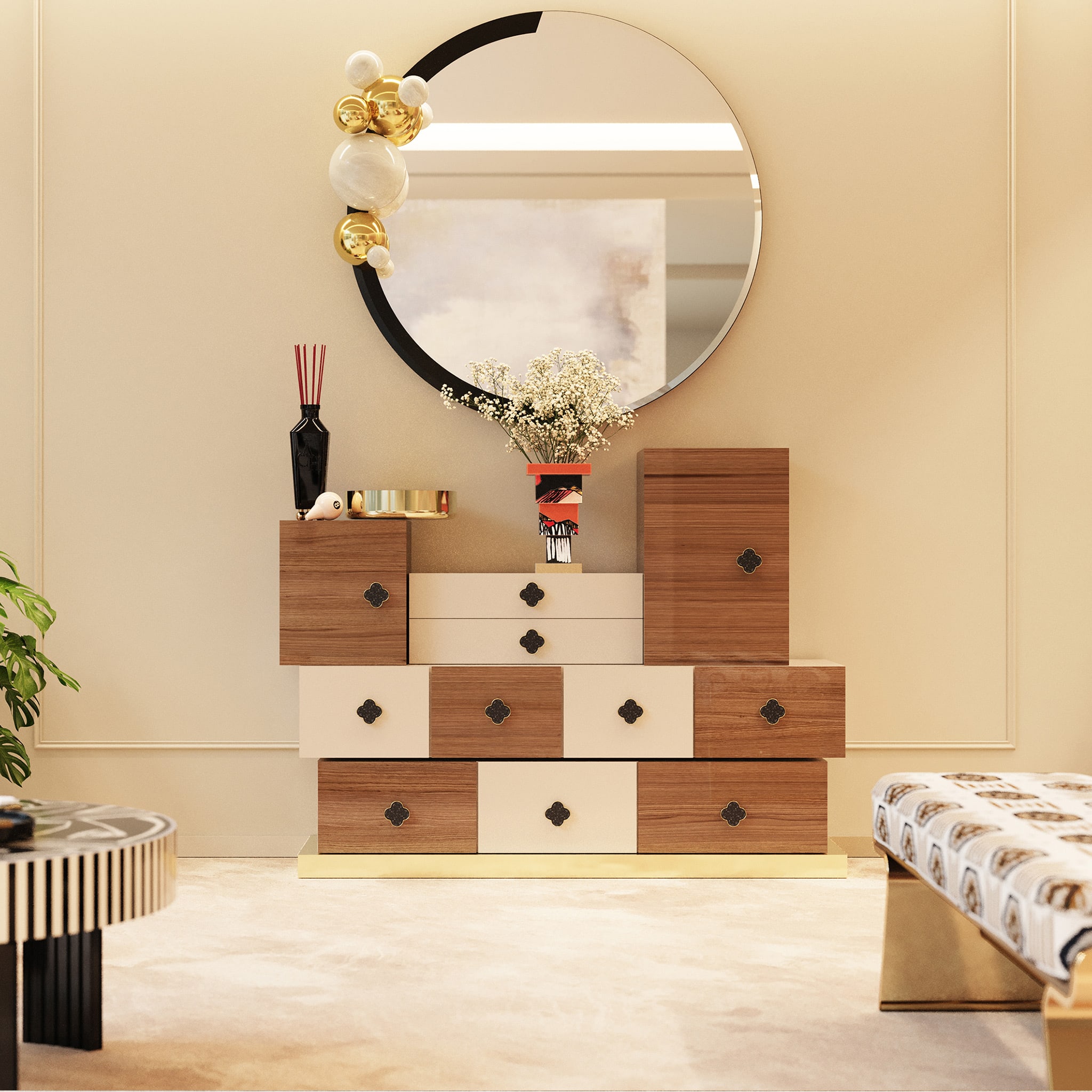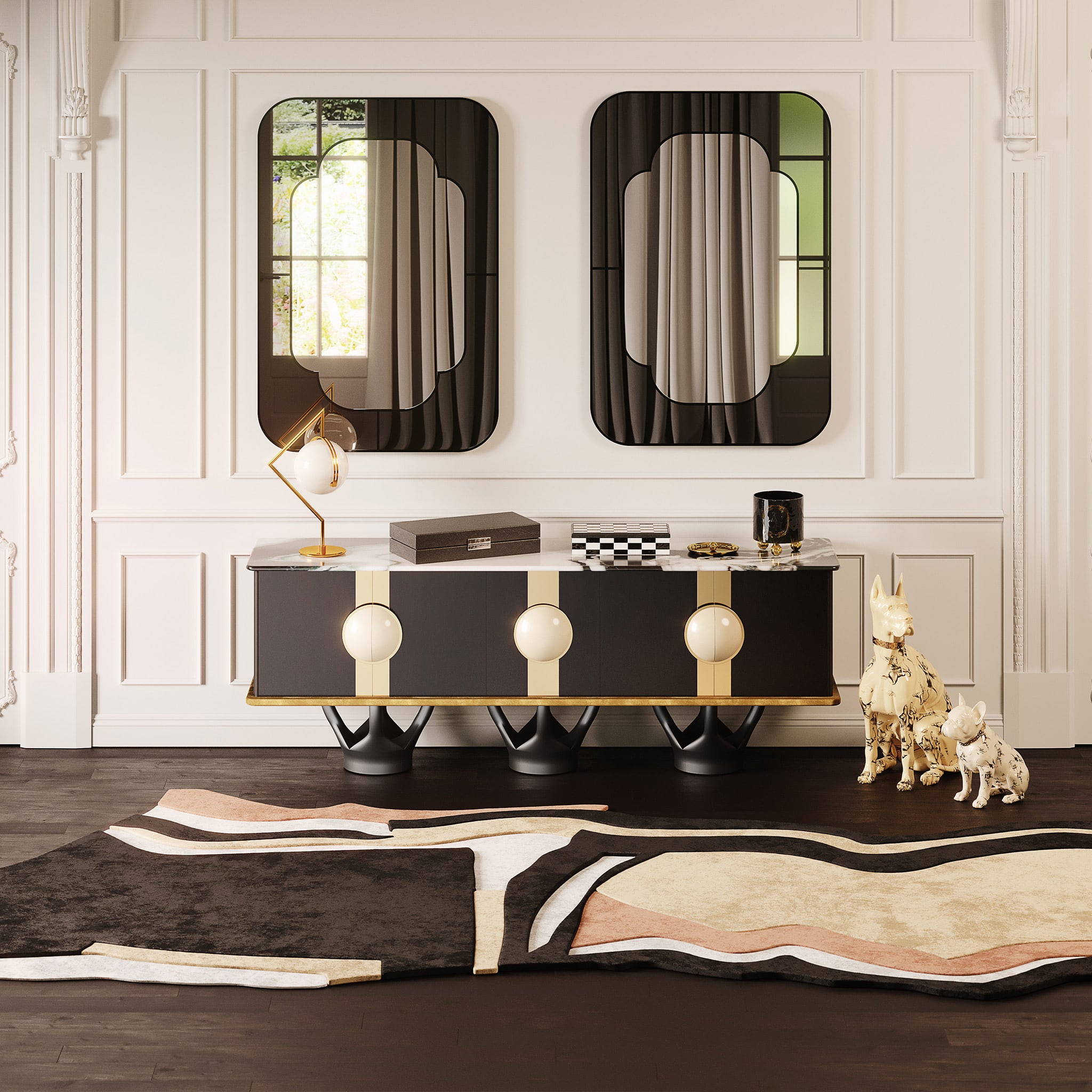 MIRROR WALL DECOR BY SIZE
Small: Carefully positioned are practical examples of mirror wall decor to create a vignette, especially when hung as a gallery, creating a light-reflecting, space-enhancing focal point. They are most often used in quantity and in smaller rooms.
Medium: They are the most common in size, and are often used to complete some interior design project, as the "icing on the cake". Perfect for use in dining rooms, hallways, bedrooms, and living rooms.
Full size: Generously sized mirrors, especially rectangular ones, are intended to enlarge spaces, to convey power and luxury. They are very common in dressing rooms, hallways, and dining rooms.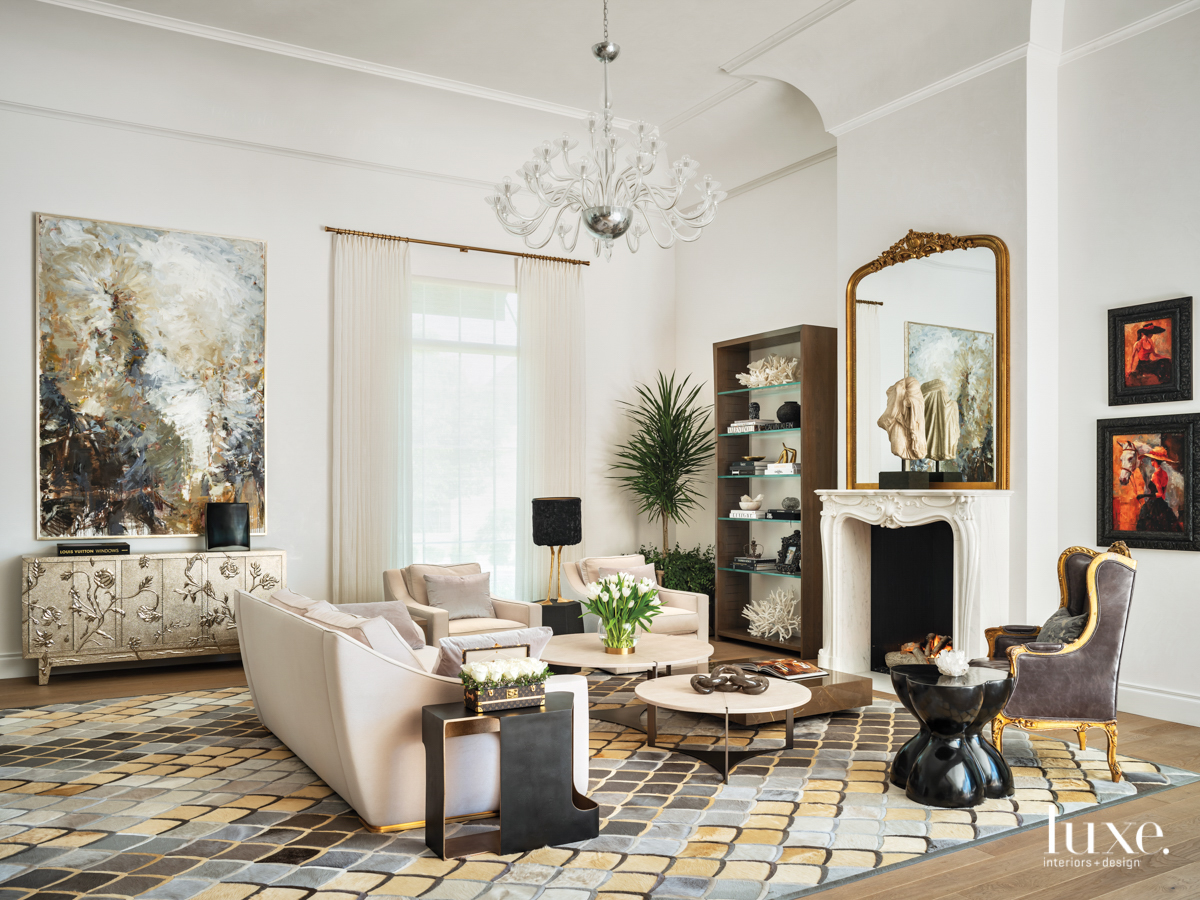 Mirror Wall Decor Tips:
We've put together a list that summarizes some of the main practical tips to keep in mind when decorating with wall mirrors:
Think of mirrors as pieces of art and use them as decor in any room.
Different mirrors evoke the feelings of different design eras! Before you choose the piece, make sure it fits the main decoration style detailed in your Mood Board.
Since they are fixed, make sure you buy quality materials that can support the weight of your wall mirror.
Try to use it as a focal point with a variety of interior design styles.
Large mirrors will help you to add a sense of depth and also provide a sense of dimension in small spaces.
Be aware of the height and positioning of your wall mirror.
Keep proportion in mind: A small mirror often looks out of place in a large room, and a big mirror can overwhelm a small table or another piece of furniture underneath it.
Complement your mirror wall decor with furniture! Coffee tables, side tables, armchairs and cabinets are a perfect match.
How To Decor a Wall Using Mirrors
ENTRANCE HAL: This is probably one of the most suitable rooms for mirrors, leaving a lasting impression on your guests and being a source of comfort when you return home. You can choose between placing it just above the furniture, or closer to the floor. For an incredible effect, it is important that the frame or the space intended for the mirror wall decor be well-lit and prominent. To complete the effect, use vases, sculptures, and complementary furniture.
CORRIDOR: Wall mirrors are excellent for enlarging spaces that, like hallways, are often small and narrow. Try a horizontal model, with a nice set of lights and under some decorative furniture of thin thickness. The result is stunning!
LIVING ROOM: The trick to placing decorative mirrors in the living room is to observe the space and think about where they might fit perfectly. For example, if your room lacks a window, use a mirror in an arched frame. These kinds of architectural elements can create a sense of openness and refresh the space. Mirrors also look great above fireplaces and stylish cabinets.
BATHROOM: A round hanging mirror can, in addition to reflecting natural light, bring more coziness to small or dark bathrooms. For a glamorous look, choose mirrors with unique frames and large sizes. To create a more relaxed atmosphere, use more than one piece, side by side.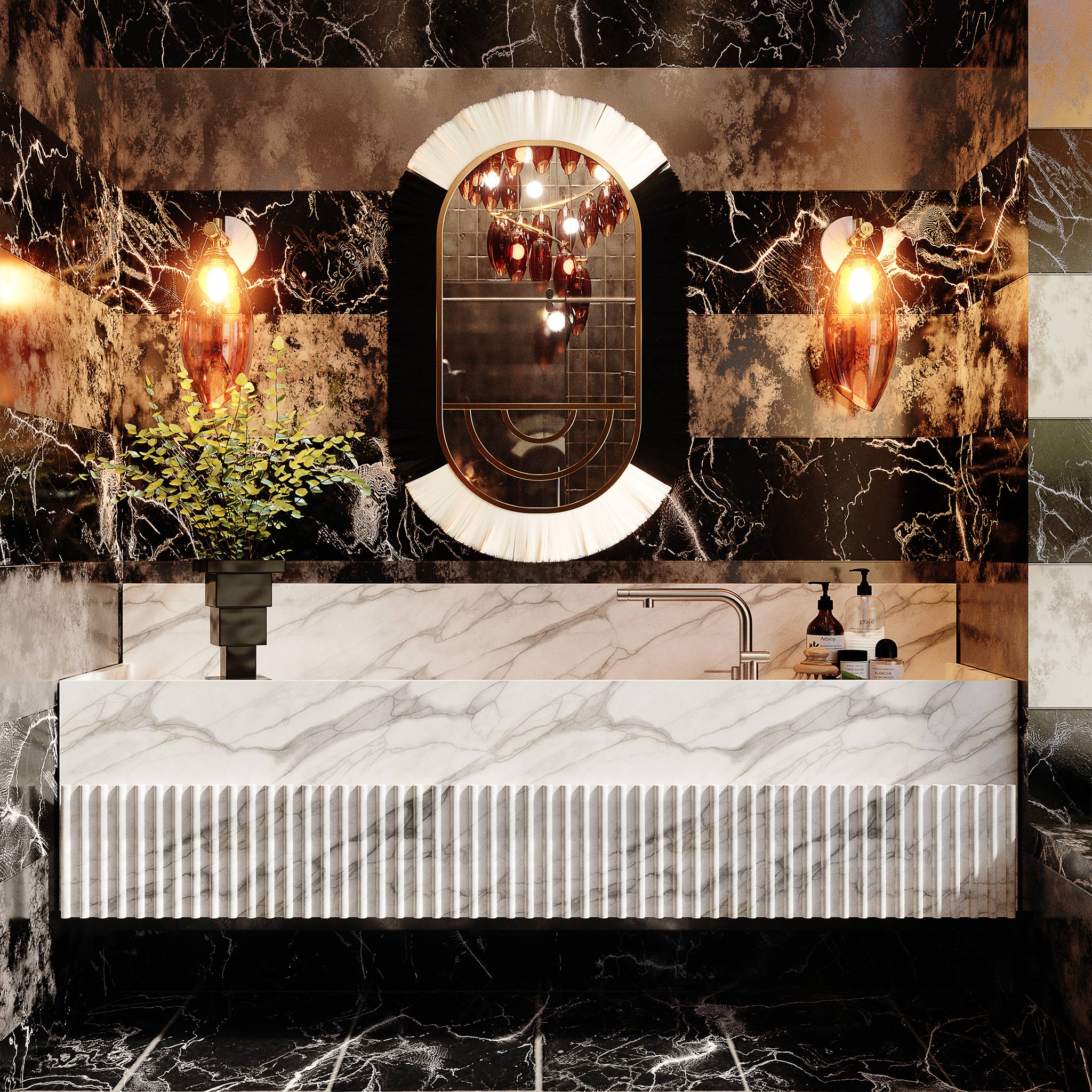 DINING ROOM: Add a pop of luxury and brighten a dining room or other eating space by painting a mirror in a stunning frame. To create an even more unforgettable atmosphere, try completing the decor with a nice set of tables, chairs, and rugs.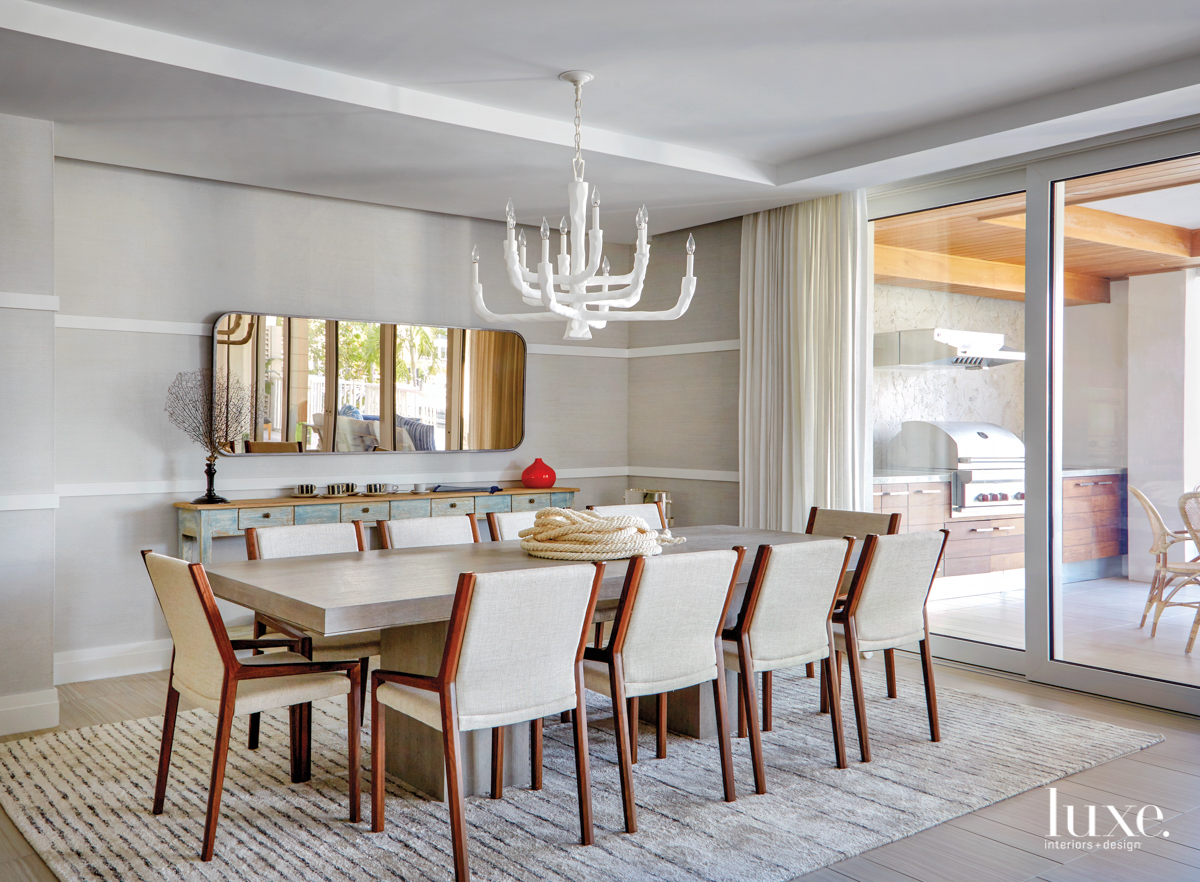 Now that you understand the importance of finding the ideal model for your mirror wall decor, to complete your reading, check out some inspirations on how to style a modern mirror in a interior design project .