Top interior designer Kelly Behun designs a modern artistic apartment in Manhattan for an international couple with a very interesting collection of art.
When it comes to interior design, and residential design in particular, it's important to always keep in mind the client's identity (who they are, what they do, what they like, value, etc.). This is something that renowned top interior designer Kelly Behun made sure to focus on when designing this project – an amazing modern artistic apartment in Manhattan for an international couple with a very interesting collection of art (real estate investor Marcus Meijer and his wife, Maria, who bout this amazing apartment as a Pied-à-Terre in Manhattan).
In this sense, this artistic apartment designed by Kelly Behun is an exquisite example of modern luxury living. Situated in one of the most sought-after areas of New York City, it offers breathtaking views of the Hudson River and the iconic skyline, as well as of the Statue of Liberty, the World Trade Center, and the Empire State Building, which for the clients meant only one thing: to maximize the views and the light.
That's exactly what top interior designer Kelly Behun did, as she managed to craft a beautiful and serene city escape right in the middle of manhattan, that feels like you're looking down at the whole world inside your comfortable secret room In the sky where nobody sees you.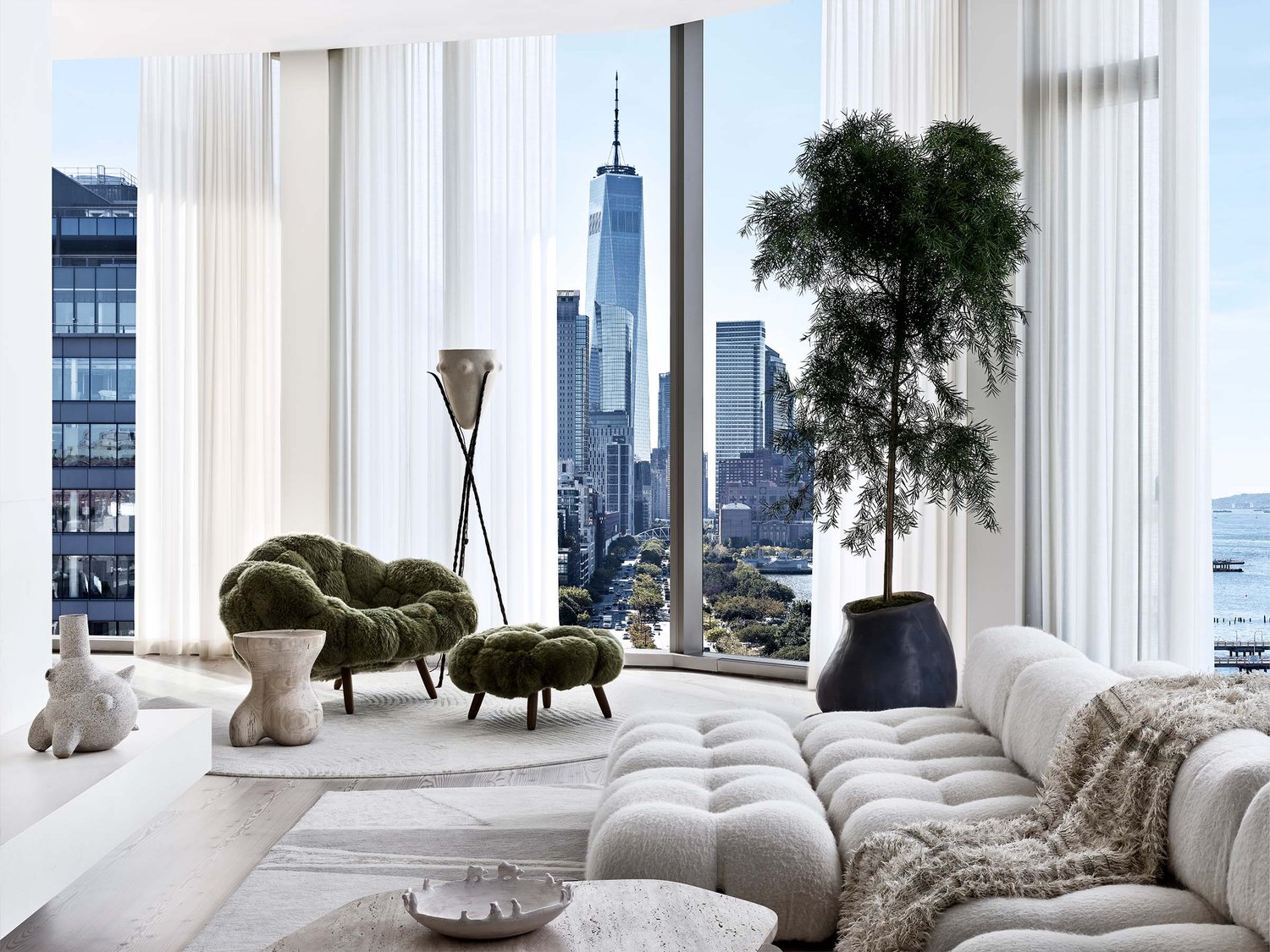 But it seems that we have been invited in, so let's take a tour of this amazing artistic apartment by Kelly Behun.
The canvas
When one first enters this fantastic apartment, there's an overall sense of serenity and peacefulness that can immediately be felt.
On the one hand, one can argue that that same feeling is provided by the soft neutral color palette that works as the foundation of this design. From creams to soft corals and earthy browns, these choices in color set the rooms as the perfect canvas for all the art that fills this artistic apartment.
On the other hand, the calm feeling of this design project can also be attributed to the slightly minimalistic approach taken by the designer Kelly Behun, which opted for more organic shapes, arguing that "It's a minimally furnished apartment, but it has these rich touches,".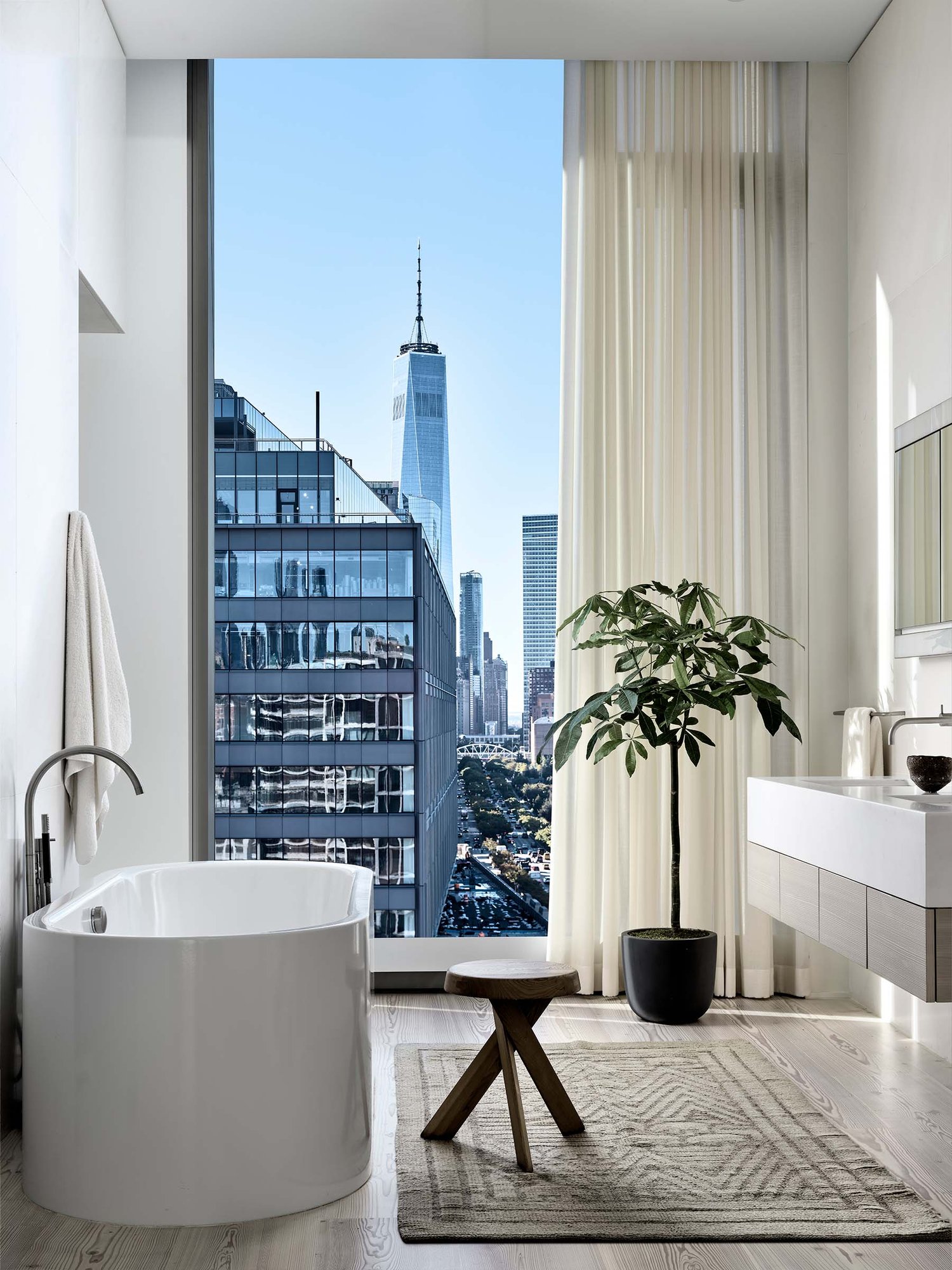 Art everywhere you look
When it comes to the art that fills this artistic apartment, this design is elevated by some beautiful art pieces from the couple's collection that are placed front and center as the main element around which the whole design centers, like Veil of Love Everlasting by Hirst (that amazing abstract multicolored painting that gives life to the whole living room), Anna Weyant's It Must Have Been Love (that sepia-tone painting of flowers that adds depth to the kitchen) and the sheep and lamb by François-Xavier Lalanne (which make the bedroom more fun).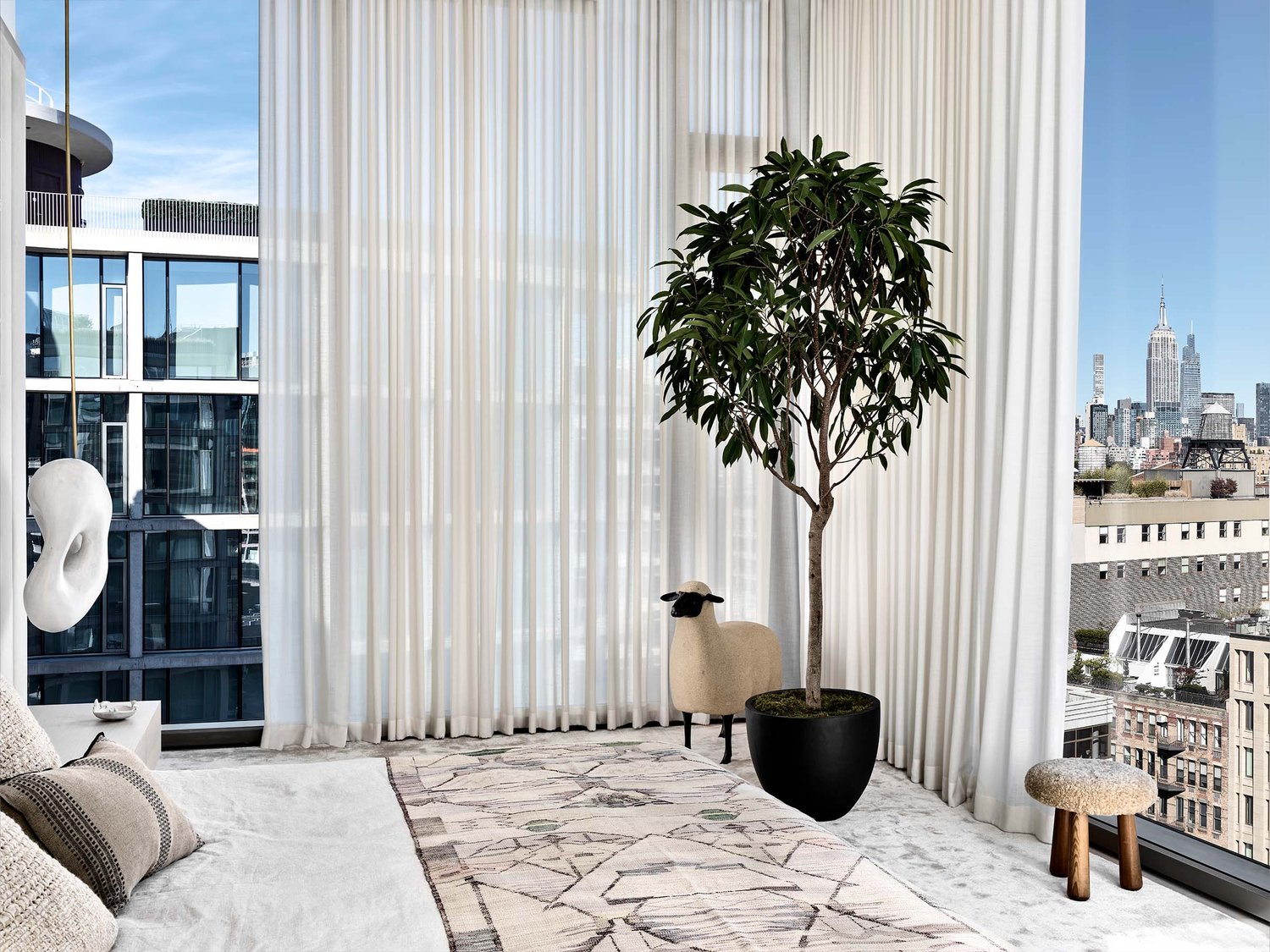 Besides this, the furniture rigorously curated by Kelly Behun, also minds this artistic approach (focusing on this defining trait of the clients) with the designer betting on artistic shapes, sculptural pieces, and playful textures. A few standouts of this are the pistachio green seating in the living room (which is like a grass cloud that stands in the middle of the room) or the blue and grey armchair in the children's room (a fun and playful take on an armchair, that is both very artistic and innocently childish).
There is also a careful selection of decorative objects scattered throughout this artistic apartment that add detail to the design (from vases to bowls and even a totem), minding this same artistic approach.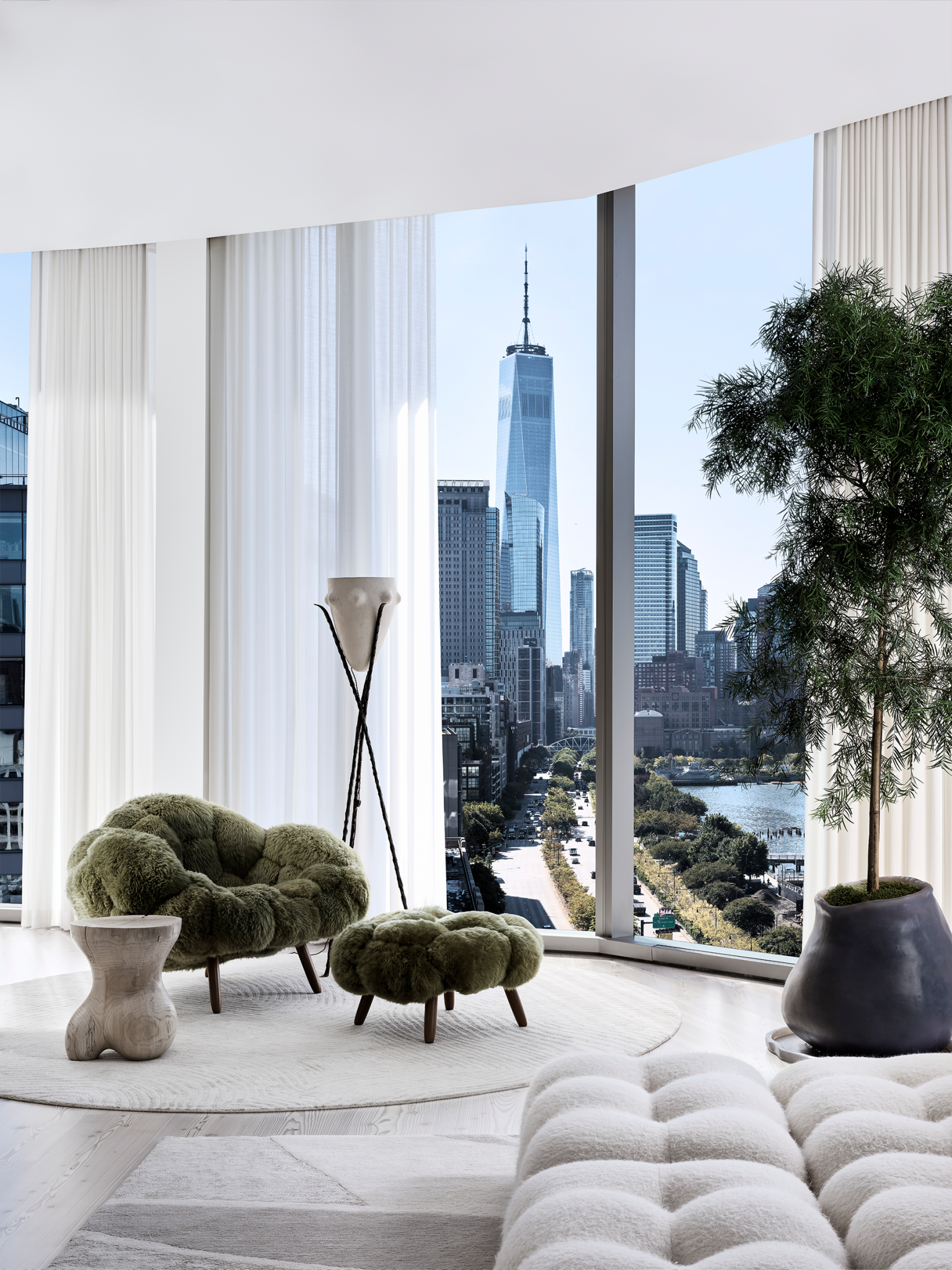 A welcoming home away from home
Overall, this artistic apartment in Manhattan designed by top interior designer Kelly Behun is a stunning example of modern luxury living that combines comfort, luxury, and functionality. The space is a reflection of the owner's unique taste and personality, and it offers a comfortable and welcoming home away from home in the heart of New York City.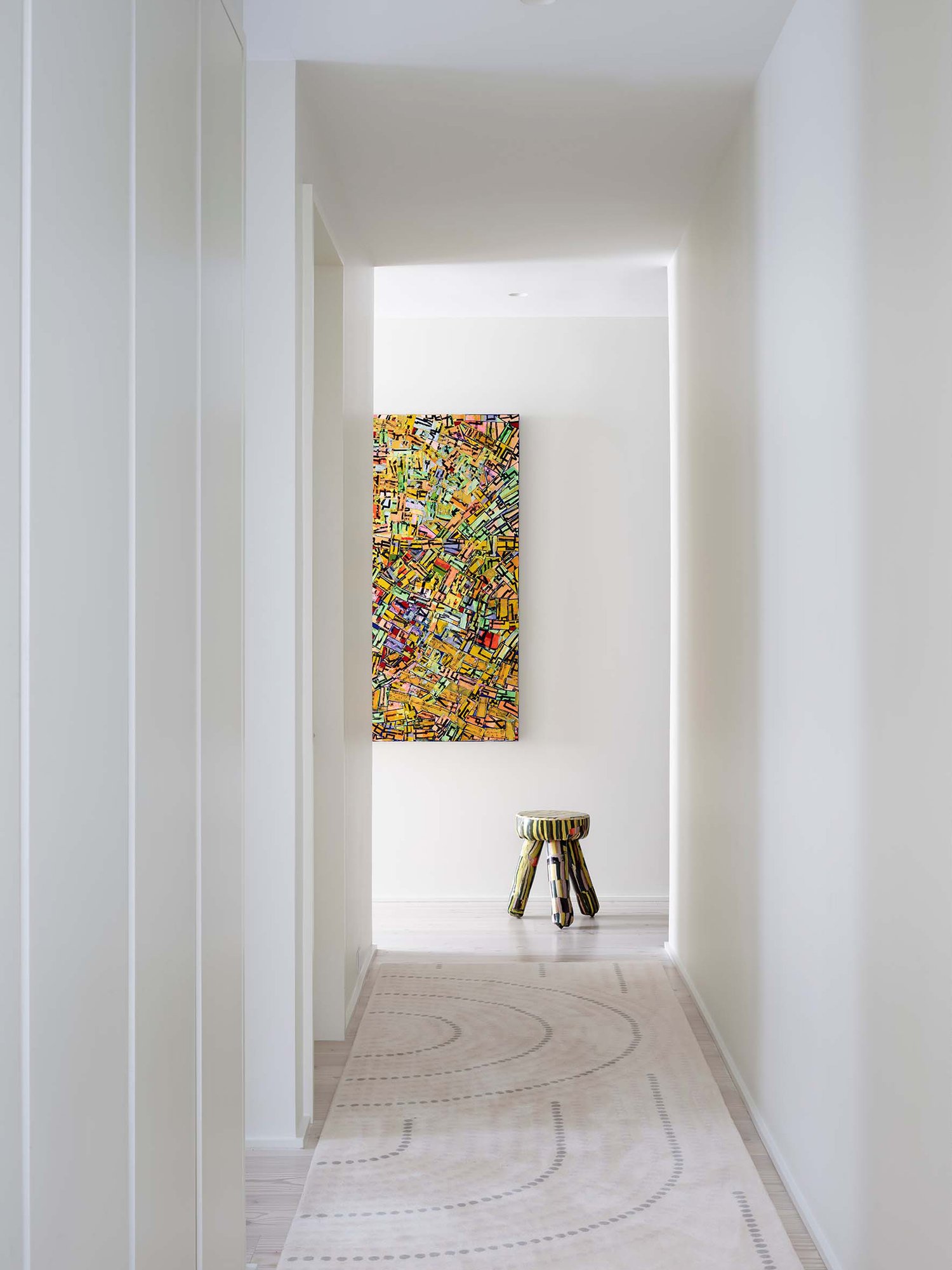 Shop The Look
This artistic apartment design by Kelly Behun is such an inspiration in itself that we had to make our own selection of furniture to match its vibe. So make sure to check it out below!
And if you're looking for more artistic furniture to create a project just like this one, then make sure to check out our Art Genius Collection – A collection that embarrasses the aesthetics and pure expression of the most disruptive artistic movements of the times.

Source: Kelly Behun