Ceiling lamps usually serve as the main lighting in the room. Thanks to them our interiors are bright, comfortable, and harmonious. It is difficult to do without this type of lighting, regardless of the room and its function.
Ceiling lamps come in a multitude of types, designs, colors, and details.
How to choose a perfect ceiling lamp?
First, let's take a look at the most common ceiling lamp types:
Pendant lamp
This is the most common type of ceiling lamp for any room. Pendant lamps add task lighting to space. They come in a variety of shapes, sizes, and materials, creating one strong focal point in the room. Because of that, they are often purchased in multiple quantities and used in areas with a specific purpose, ex. above the dining table.
Now we can choose from the traditional ones with lampshades or without them. Recently pendant lamps with non-transparent lampshades are having its five minutes. Almost completely covered bulb and a narrow inlet at the bottom of the lampshade allow for directional lighting. The light beam falls only on a selected, relatively small piece of space, a piece of furniture or equipment. Therefore, the light becomes very discreet, even cozy, and additionally exposes the illuminated elements.
Hanging lamps with lampshades open only downwards, again with a rather narrow opening at the bottom, but with milky glass, give a similar effect. The light gently seeps through the walls of the lampshade.
This luxury lighting ensures that the entire room is subtly but evenly lit.

Flush lights
Flush lights are those without any cable hanging from the ceiling. They sit close to the ceiling, so it's the best choice for low and small interiors. They provide a minimalist look and are commonly used in bathrooms and hallways. There are also semi-flush ceiling lights, that come with a short downrod. It adds a decorative touch to space without being too distracting.
Chandeliers
On the other side, there are ceiling lamps for glamour and luxury lovers. These are classic chandeliers. They can have light points pointing upwards, without any lampshades, reminiscent of old chandeliers mounted under the ceiling. Another solution is the modern fancy chandeliers – expanded lamps with bulbs covered with various lampshades. Elegant, luxurious, sophisticated, often combining the colors of gold, silver, and copper.
A more modern interpretation of chandeliers is cluster lights, with a lot of light bulbs in one. Nowadays the most popular are the ones without any lampshades, that add a little of a lofty vibe to interiors.
Ceiling fans
Ceiling fans are the best choice for those who live in hot places. They provide light and circulate air in the room at the same time. They come in a variety of sizes and types, with or without download.
Accent lighting
Accent lighting, also called spotlights are those lamps that point at the exact space. They are usually used in bathrooms and kitchens or near beds and armchairs (for reading purposes). Accent lighting can be also used to highlight a specific piece of art.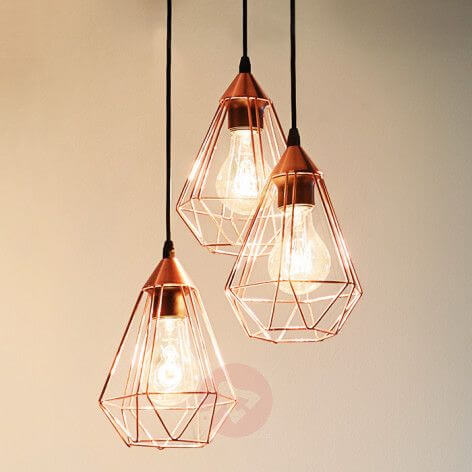 Which lamp to choose for my interior?
Along with the popularity of minimalism, industrial and loft interiors, interest in simple solutions is growing. So if our apartment refers to these trends, it is worth choosing a simple lamp with a classic lampshade, without unnecessary decorations. Those finished with a metallic gloss and those made of natural glass or paper will work here.
Many simple arrangements can be enlivened with a strong accent in the form of a sumptuous, decorative lamp. It adds an elegant chic with a pinch of modernity to the interior.
In modern arrangements, natural materials are valued. They do not overwhelm with decorations or sophisticated forms but are only a complement to a simple, harmonious interior.
Very impressive are also fashionable lamps without a lampshade – only with a large, decorative bulb.
For rustic interiors, you can choose lamps with floral ornaments or decorative lampshades – made of fabric and paper or with interesting ceramic decorations.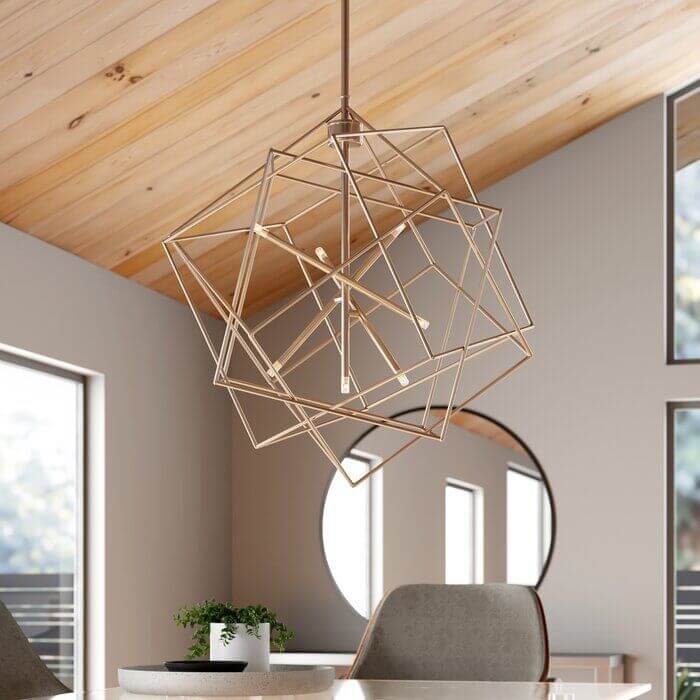 We really hope you liked our article. Feel free to pin all the images to your favorite Pinterest board or to print it and use it on your projects' mood boards. You can also visit our Pinterest boards in order to get more inspirations.