A Collaboration Between the Art Adviser John Wolf and his Long-Time Friend Adam Bram Straus Resulted in this Luxury Home in Hollywood Hills, California.
The art adviser John Wolf has teamed up with the designer and old friend Adam Bram Straus to revitalize a house in the Hollywood Hills, California, but this time, as John Wolf's home.
Nearly 20 years ago, the Los Angeles-based John Wolf lived his best life in a midcentury Hollywood apartment, which he remembers as a friendly and jovial small complex. When Wolf lived there, he was drawn to another tenant, Adam Bram Straus, a former investment banker who had reinvented himself as an interior designer. Adam's apartment was one of the trendiest there, and then the two became friends. Later, when Wolf moved to his new apartment, he asked Straus to design it for him.
Straus suggested Wolf as an art adviser to some of his interior design clients, and shortly Wolf was picking up his clients, including renamed designers.
Fast-forward to the present, Straus's design firm and John Wolf Art Advisory & Private Brokerage are succeeding, and the two friends and collaborators concluded their third L.A. home for Wolf. Situated in the Hollywood Hills, this 1971 luxury home, with generous outdoor spaces and alluring views of the city, was purchased by Wolf from a person with distinctive tastes. Although the old house had a massive infrastructure investment, the finishes were senseless and confusing.
Outside the 1970s home, a chain sculpture, cactuses in ceramic pots, and a custom bench line the swimming pool's perimeter. It also overlooks Nicholas Canyon beach in Los Angeles.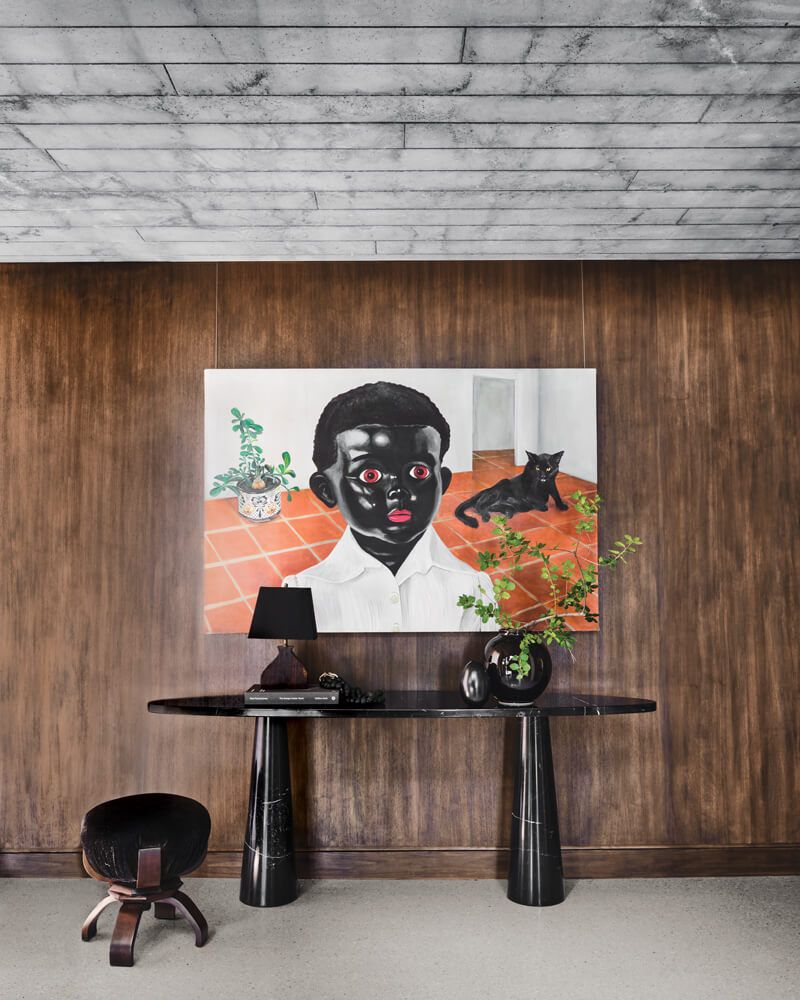 Wolf urged on conserving a few of the previous homeowner's quirky touches. The perfect evidence is the powder room with a Star Wars-themed flocked wallpaper and its display of wall-mounted vanity mirrors on top of the sink. He also decided to keep the dazzling mosaic tilework, a storm of psychedelic glass pixels, lining the shower and tub in the primary bath.
For the rest, Straus had a carte blanche to do everything he wanted in this luxury home.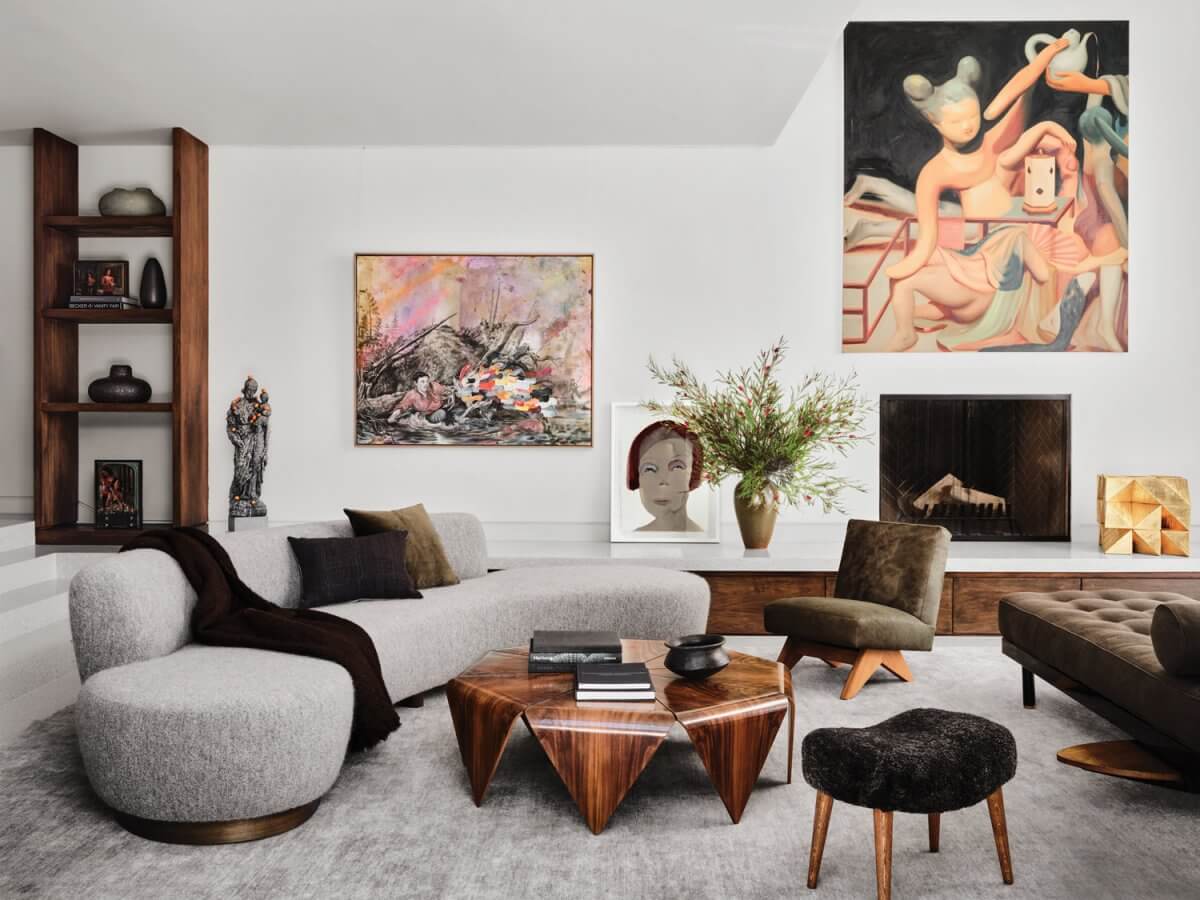 Before this sumptuous interior design project, the kitchen looked like a "black hole," which is now a serene focal point equipped with lavish walnut cabinets and expanses of Silver River marble. The interior wall's chosen shade was a smooth, chalky white, while the exterior plays the opposite role, being an all-black area. The seating throughout the luxury home can be found, from the chairs in the indoor dining area to a sofa and armchairs in the family room.
A combination of pieces by diverse designers in this luxury home are placed against this neutral backdrop – a stool paired with vintage gems such as the cocktail table in the living room, a floating burled-wood console in the family room, and multiple marble tables. The muted mise-en-scène also gives Wolf's art collection, which he constantly rotates, to have a chance to breathe.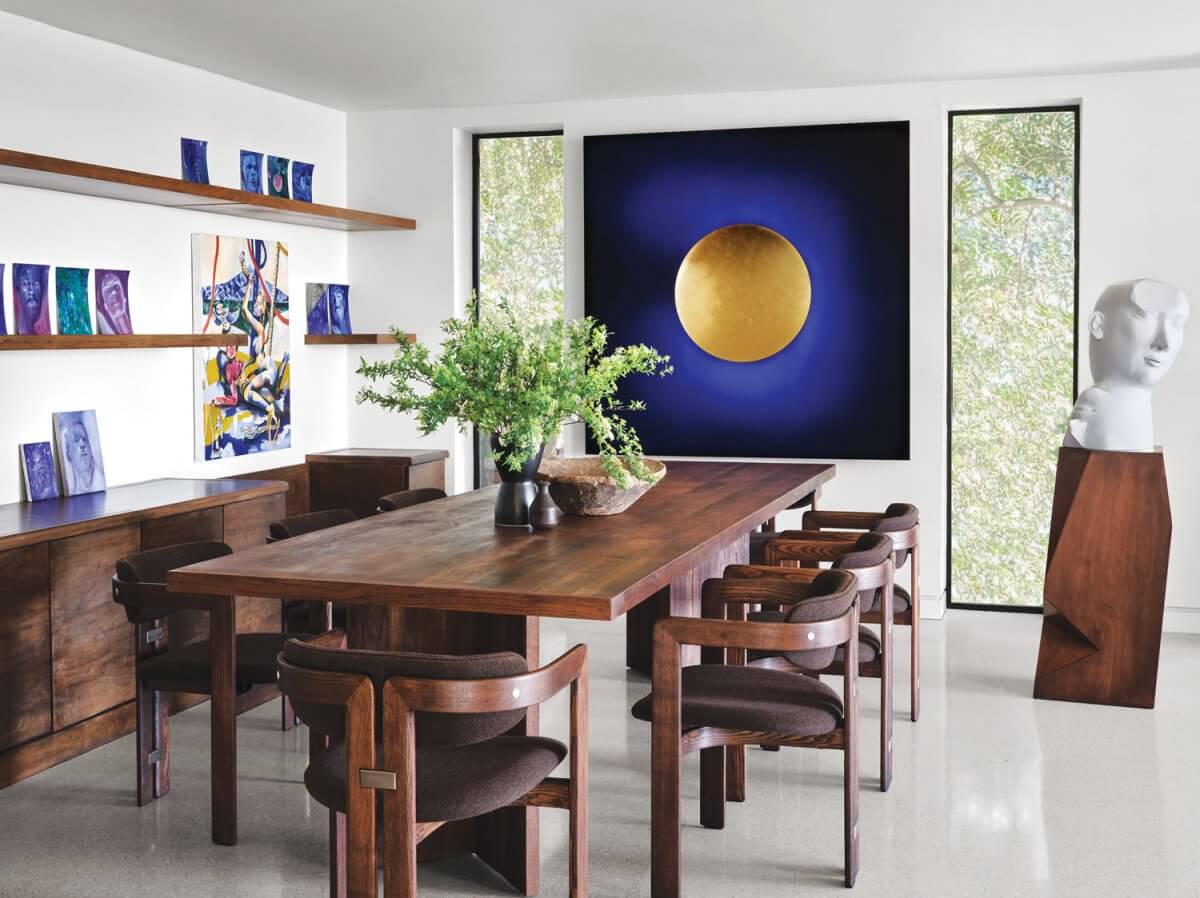 An elegant artwork overlooks the dining room's wood table and is combined with elegant vintage chairs, which are upholstered in beautiful brown cashmere. The tiny portraits surround a painting above the sideboard. An outstanding sculpture stands opposite.
Wolf enjoys having art pieces from artists he works with. He considers this luxury home as a living record of those relationships, filled with works from shows he has curated.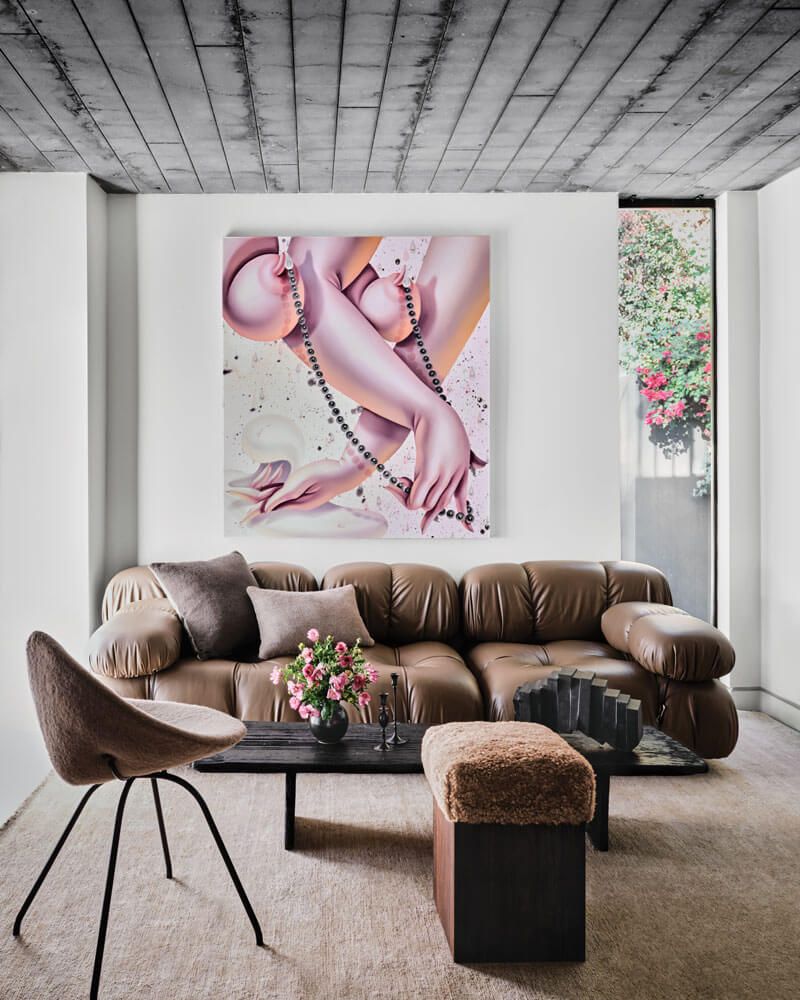 A massive, striking painting transmits animation to the luxurious home seating room. This area is complemented with an exquisite brown puffer sofa alongside a pair of shearling stools.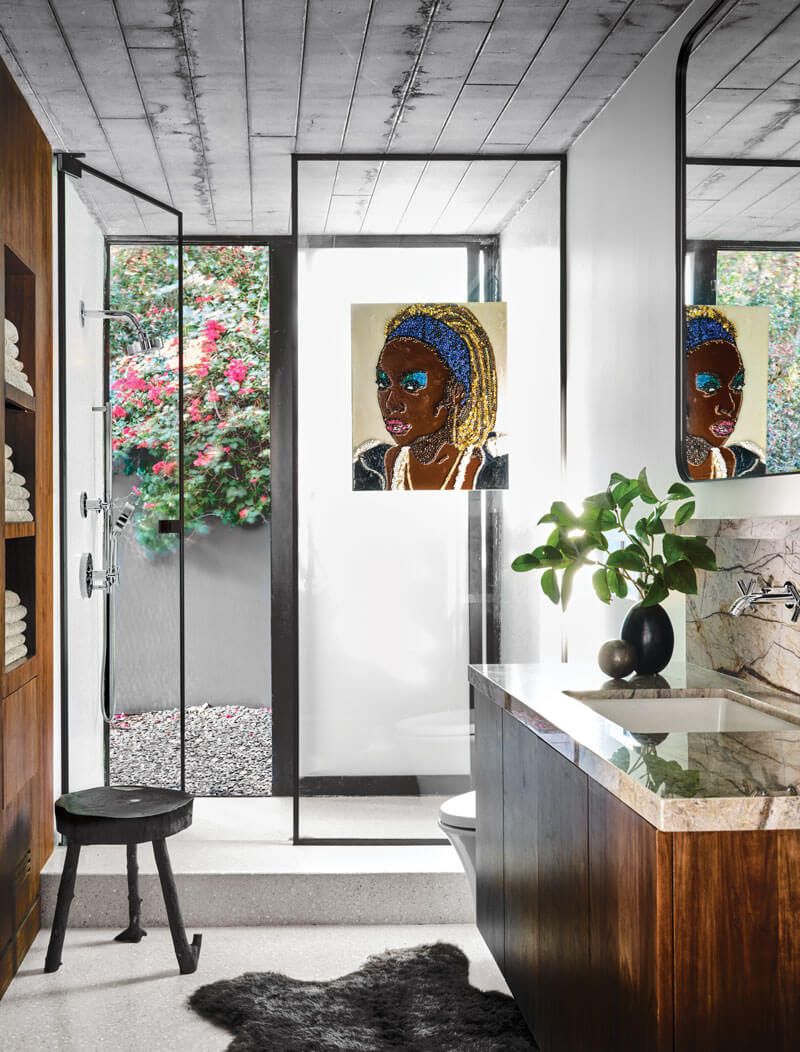 The guest bathroom gives continuity to the artsy aesthetic of this luxury home, featuring an exclusive artwork that is combined with a unique black stool.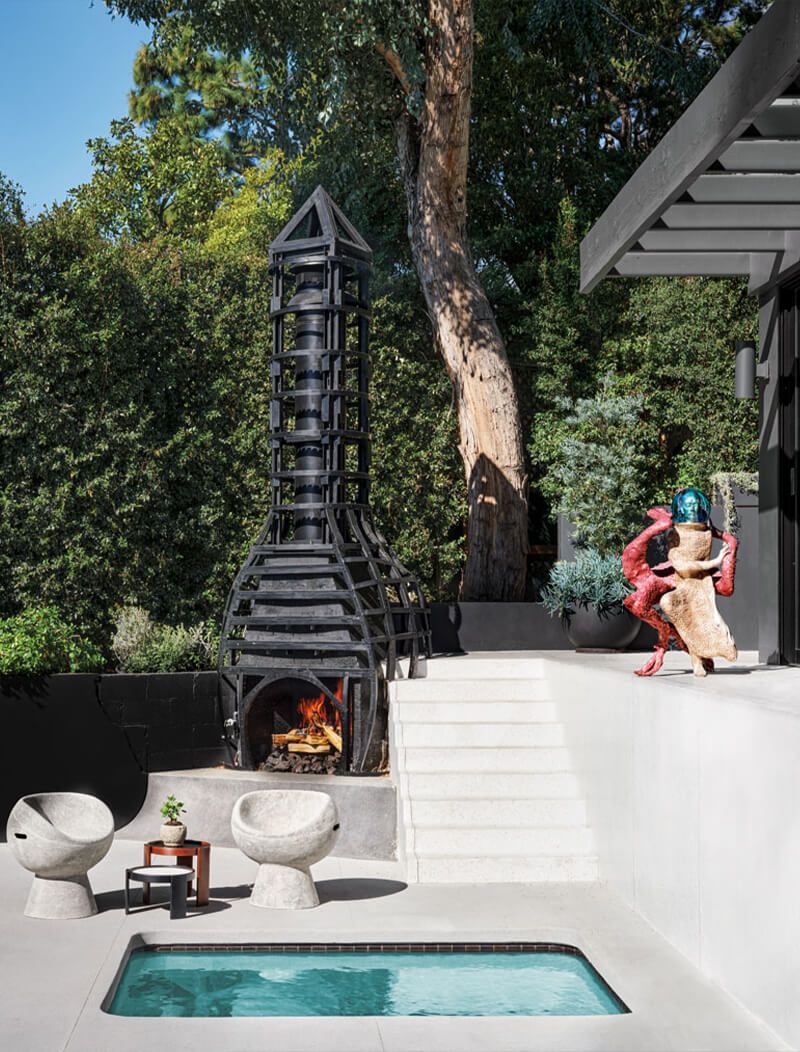 The concrete floors and brick patio were replaced with a gray terrazzo.
This renovation wasn't only focused on the interiors. Wolf notes that Straus has created spaces for beautiful self-growth. The luxury home's charming rooftop with a garden viewing deck is loaded with lush plantings that thas a pair of stone benches to chill up with a book by the firepit on the terrace lounge or even relax in the hot tub.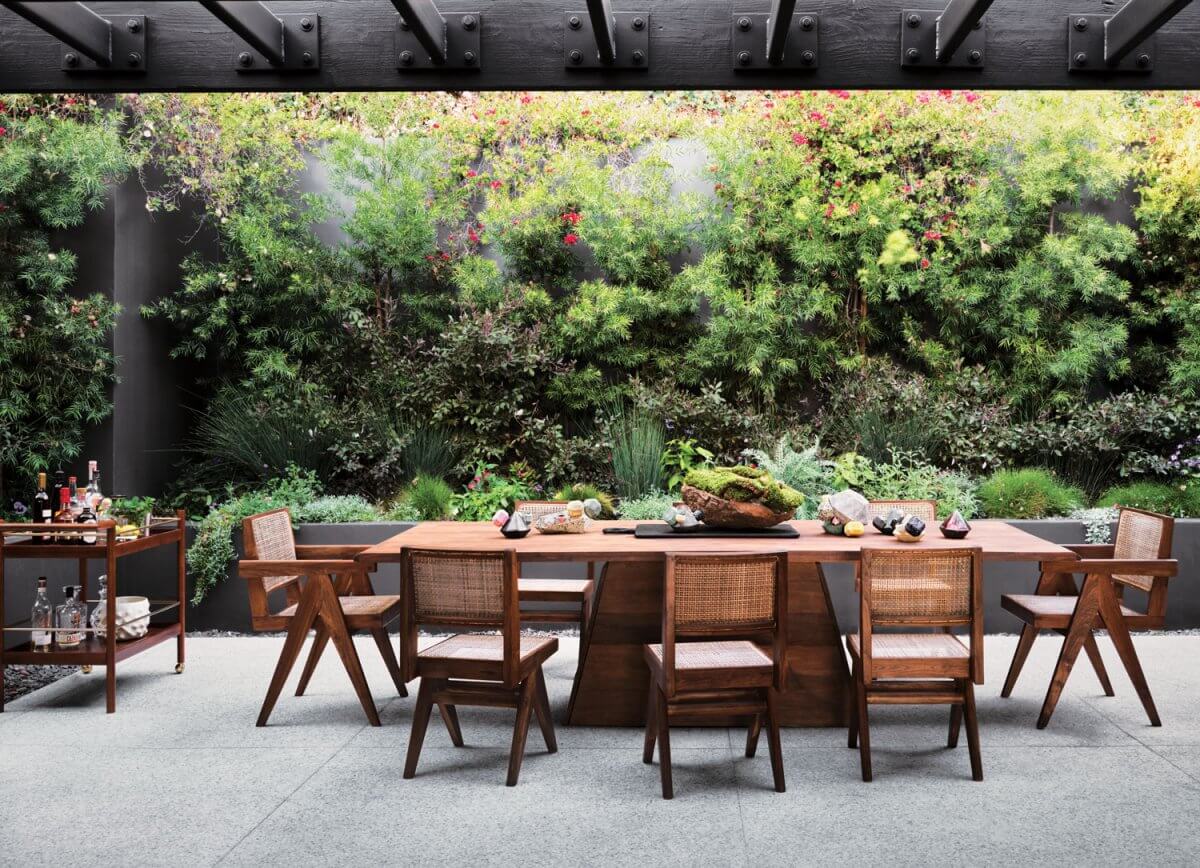 Lush plants drape a wall along the dining terrace.
Now that Wolf is settled in, he plans to write the next chapter for this sanctuary with the same kind of profoundly personal vision he brings to his exhibitions. He loves the concept of bringing somebody's creative tradition and then adding details to it, giving it a shared history, to independently who owns this house next, will have a story to tell about the people who lived in this luxury home before.
Source: Yinji Space
ARE YOU INTO INTERIOR DESIGN?
If so, discover modern furniture and lighting designed by design lovers for design lovers. All you need is to download the Hommés Studio catalog. To complete your interior design project, choose the high-end homeware by ACH Collection.