Finish your interior design project like a professional using a decorative wall mirror. Check out the 7 best models to surprise with style, elegance and personality.
A decorative wall mirror is much more than just a home accessory. When it comes to finishing an interior design project, every final detail matters. Thus, the great challenge for professionals is to combine both functionality and style, in a single piece.
To help those who are looking for decorative wall mirror models, we have made a selection of HOMMÉS Studios products to make your room stand out. Find options among different styles, for different rooms, and with unique designs.
Using Decorative Wall Mirror in Projects
Mirrors not only reflect light to brighten up your home, but are also great allies of interior designers as a trick to provide the impression of extra space. It is also important to remember that mirrors of different shapes, have different functions. In the case of the wall mirror, considering that it is a fixed piece of furniture, the choice of location for installation also makes the difference.
If you would like to understand more about the advantages of having them as part of an interior project, you can read our article about how to decor using mirrors.
For now, forget the idea of simple objects, without expression and with no identity! In case of decorative wall mirrors, a multitude of combinations can be made to complete the space. Whether in the hallway, corridors or dining rooms, when used with frames or certain materials, mirrors eventually even gain the status of a piece of art.
Decorative Wall Mirror Models
To transform the space and help create an even more glamorous atmosphere, check out the example of the exemples below:
1 – NILO MIRROR
Inspired by the vintage Art Deco furniture vibe that evokes bold patterns, finishes, and shapes, this stunning decorative wall mirror fits perfectly in a corner or hallway. In order to elevate, brighten, and create an even more elegant atmosphere, you can combine this mirror (made of polished and aged brass) with a bold sideboard.
2 – MARTINEZ MIRROR
This model is an example of a trendy modern decorative wall mirror with a contemporary style. Perfect for design projects, this full-length wall mirror is ideal for those who want to boost any room with a stunning, statement identity. Remember the statuts of a "piece of art"? Intended for design collectors, Martinez promises to impress and draw the eye when your guests are around.
3 – TITAN MIRROR
Titan is a decorative wall mirror designed for a modern decorating style. Inspired by the solar system, the piece references Titan, Saturn's largest moon. Thus, spontaneous and sophisticated, this wall mirror represents a vision of multifunctional design. While humans cannot live on the Titan moon, the Titan round mirror can certainly be part of their living areas.
4 – IBIZA MIRROR
Considered eye-catching, Ibiza is also the perfect piece for a decorative wall mirror in a modern design style. The hanging mirror is inspired by the raw and timeless textures of the tribes' decorations, jewels, and artistic elements.
To create an even more sophisticated atmosphere, this decorative round mirror is made of lacquered wood in the structure and ornamented with natural fiber. Ibiza is a unique piece that can be used in the dining room, bathroom, or in the reading corner.
5 – LUSH MIRROR
Thought of as a luxury decorative wall mirror, this Art Deco-style furniture is perfect for an entrance hall design. As a stunning mirror, Lush carries us to another dimension through its exuberant shapes. The primary function is to prolong identity by its reflection, whether our own or from the surrounding space. To make it even more memorable, try combining it with furniture such as sideboards, armoires, and generously sized chairs.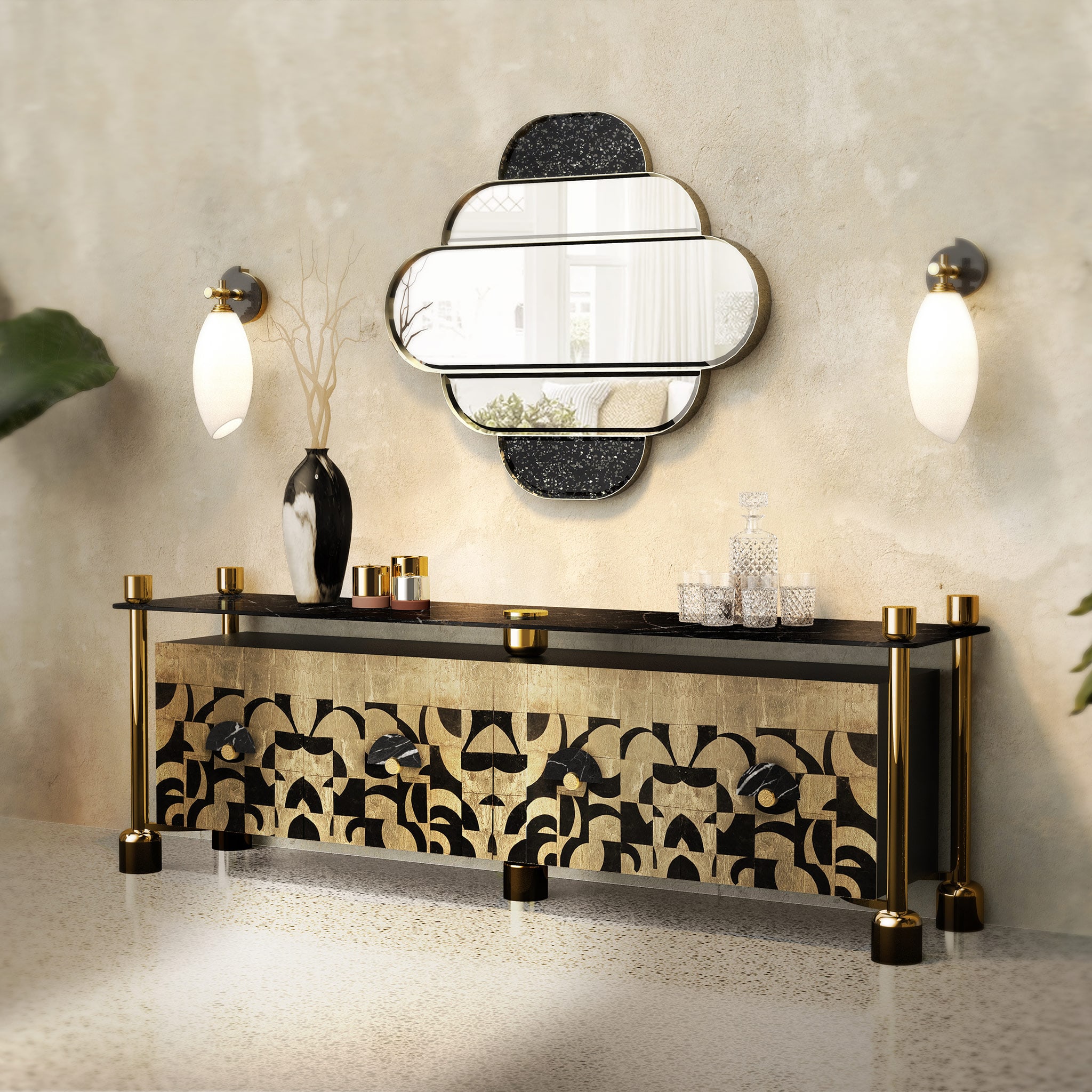 No products were found matching your selection.
6 – ZADINE MIRROR
Zadine is a modern decorative wall mirror with a stylish shape though to add the feeling of luxury and modernity to your design project. This statement full-length colored mirror is ideal for those who want to boost any space's design with a delightful style. Also intended to design collectors, Zadine is the perfect mirror to attract attention of the most diverse guests.
7 – PALM MIRROR
An oval piece made of stainless steel with gold-finished and vibrant colored fiber, Palm is an outstanding decorative wall mirror. Also considered a luxury furniture, Palm features a functional and cultural value that reflects a robust graphic character inspired by the raw and timeless textures of the tribes' decorations, jewels, and artistic elements.
Now that you have found some examples of unique decorative wall mirrors to make your room stand out, get to know our collection of products to combine and complete your project. At HOMMÉS studio, each piece is handcrafted and has a customization option.