Haute Minimal is a master bedroom decor idea with peachy and blush shades, cozy textures, and midcentury modern furniture design.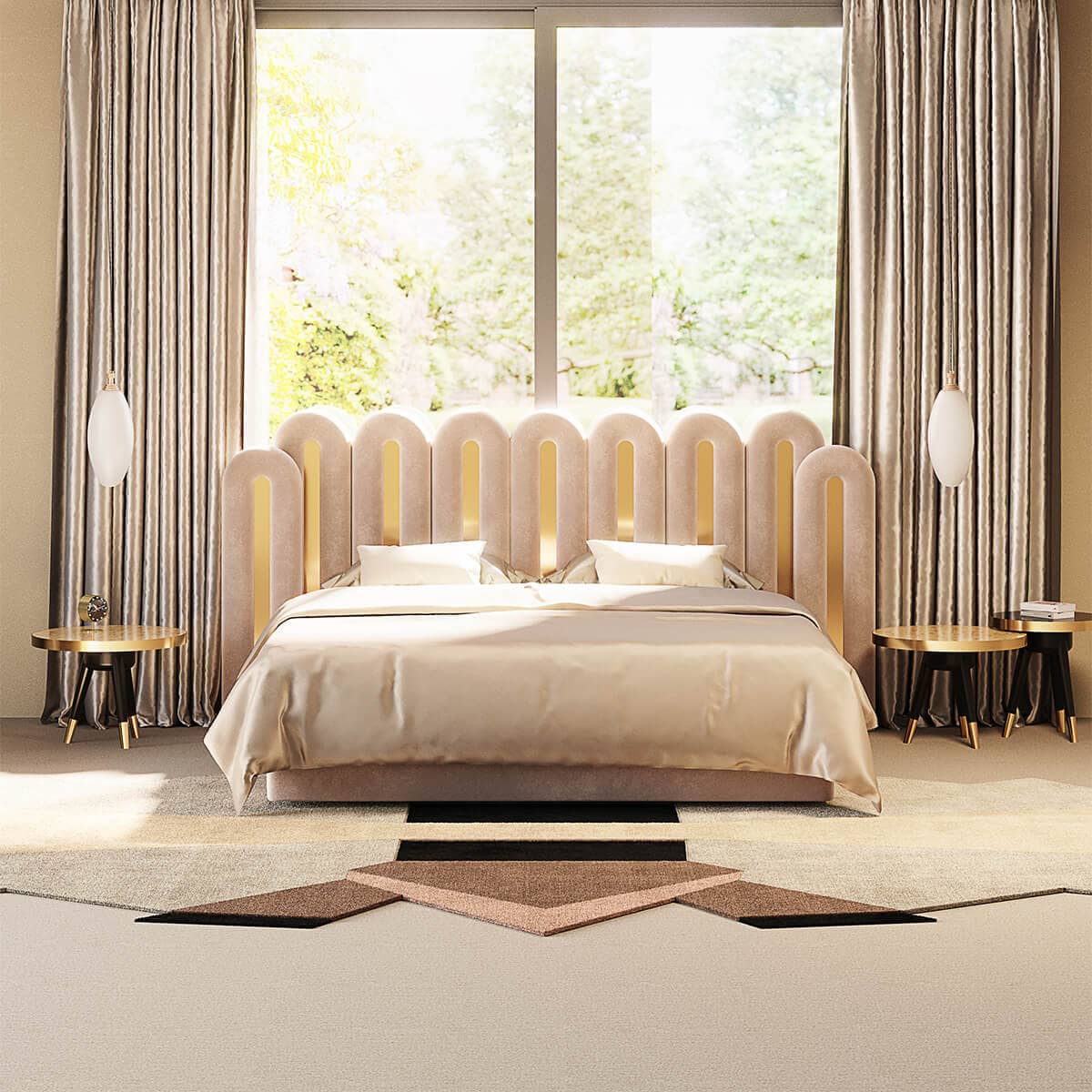 Among peachy and blush shades, warm winter sunlight reveals the sparkling glow of champagne hues in this luxury master bedroom.
Dramatic floor-to-ceiling curtains followed by midcentury modern suspension lamps make it a sophisticated and elegant bedroom.
This is a serene space with a multitude of textures. Layer after layer, this luxury master bedroom reveals its refined materials and richness of sensory fixtures.
Discover Haute Minimal below.

HAUTE MINIMAL: SHOP THE LOOK
DEMIZ BED
Demiz Bed is a modern vibe statement piece. It's the perfect bed to be used on a high-end boutique hotel project or on a private bedroom full of personality and charisma.
NIAGARA SIDE TABLE
Niagara Side Table features a geometric design shape. Inspired by the Memphis movement vibe, it incorporates a selection of different types of marbles.
3 MARIAS COFFEE TABLE
3 Marias Side Table Set reflects the meaning of discreet luxury. This coffee table set plays with a rigorously calculated heights difference that will help you to achieve a simple yet elegant living area design concept.
COMBO RUG
Combo rug arises from a powerful combination of materials and shapes that collide in the same dimension. With an abstract design, this modern rug can be the protagonist of your contemporary interior design project.
Made by the wisest hands, this rug features a versatile and innovative design thanks to its patchwork. This modern rug can be the protagonist of your next Interior Design project.
LUMINOUS PENDANT LAMP
Luminous Pendant Lamp is a classic reinterpretation turned into a modern unique lamp. This piece's design revives the timeless shapes of the 30s. An accent suspension lamp with bold and elegant forms for your next high-end interior design project.
HAUTE MINIMAL: SHOP THE LOOK
AJUI ARMCHAIR
Ajui Armchair is a luxury armchair that features an artsy interpretation of a cactus and a swivel base. This accent armchair is a conceptual piece and the perfect choice for a modern living area.
ALICE ARMCHAIR
Alice Armchair is a luxury armchair composed by exquisite materials. This eclectic armchair is perfect for a contemporary interior design project. It features the most comfortable materials that anyone can ask for in an armchair. This is a piece whose design incorporates influences from the past.
MATRIOSKA CHEST OF DRAWERS
The Matrioska Chest of Drawers is a visual wonder — from its exquisite workmanship to its bold impact. The exceptional design of this piece allows it to become a centerpiece in any space it occupies.
CLAIRE DRESSING TABLE
Claire Dressing Table embraced an Art Deco vibe with curvy and opulent shapes. This eye-catchy piece owns the promise of enriching any master bedroom design project.
AVOCADO FLOOR LAMP
Avocado Floor Lamp is a charismatic piece that will upgrade the personality of any living space. Inspired by the most popular fruit in the world, the Avocado Floor Lamp set summarises the Pop Art design concept: distilling the beauty out of the popular.
HAUTE MINIMAL: SHOP THE LOOK
Go to Shop The Look and discover a selection of products to style Nude Extravaganza. We kindly suggest you get winter-ready with our FW21 Lookbook with modern luxury interior styling which you can discover here.
Download the Hommés Studio catalog and discover furniture, lighting, and home accessories to design a modern and sculptural interior.
Also pay a visit to ACH Collection website and discover high-end homeware and pet accessories for a wholesome modern lifestyle.