With These Ten Patio Furniture Ideas, You Will Be Able To Create Your Ideal Alfresco Space With A Sumptuous Vibe
In order to create your ideal patio, it is necessary to choose the right patio furniture tips so it can be created the perfect outdoor space design to please you and your guests in the warmer months. It can be a valuable and versatile area to relax and recharge your energies in your own home, or you can use it also for entertainment and festive nights.
This space should be an appendix of the interior, and it would be ideal for picking some interior elements and reflecting them on the outside's patio furniture to deliver the sensation that you are still in your home.
You can make this space whatever you wish by using these key tips. You can reach the immaculate outdoor space by adding color, patterns, and textures to your patio furniture.

1. BALANCE MONOCHROMATIC WITH STRIKING TONES
If you appreciate a monochromatic palette for your patio backdrop, you can combine it by making a chic contrast and adding vibrant hues to your patio furniture. Pieces with zingy tones will bring a dynamic focus area, and besides it's shapes and looks, it is crucial to make sure they were designed for outdoor usage.
In case your outdoor backdrop is encircled by dark walls, it's an elegant choice to add some contrast by combining it with vivid hued patio furniture and decor, such as this orange vime chairs set. This will instantly bring more intensity and liveliness to your patio.
When you add bold contrasting pieces, it immediately makes a difference and your patio obtains notability, which turns this space not indifferent to anyone that steps into it. With this being said, it's fundamental to avoid choosing green furniture when your patio is surrounded by plants and trees.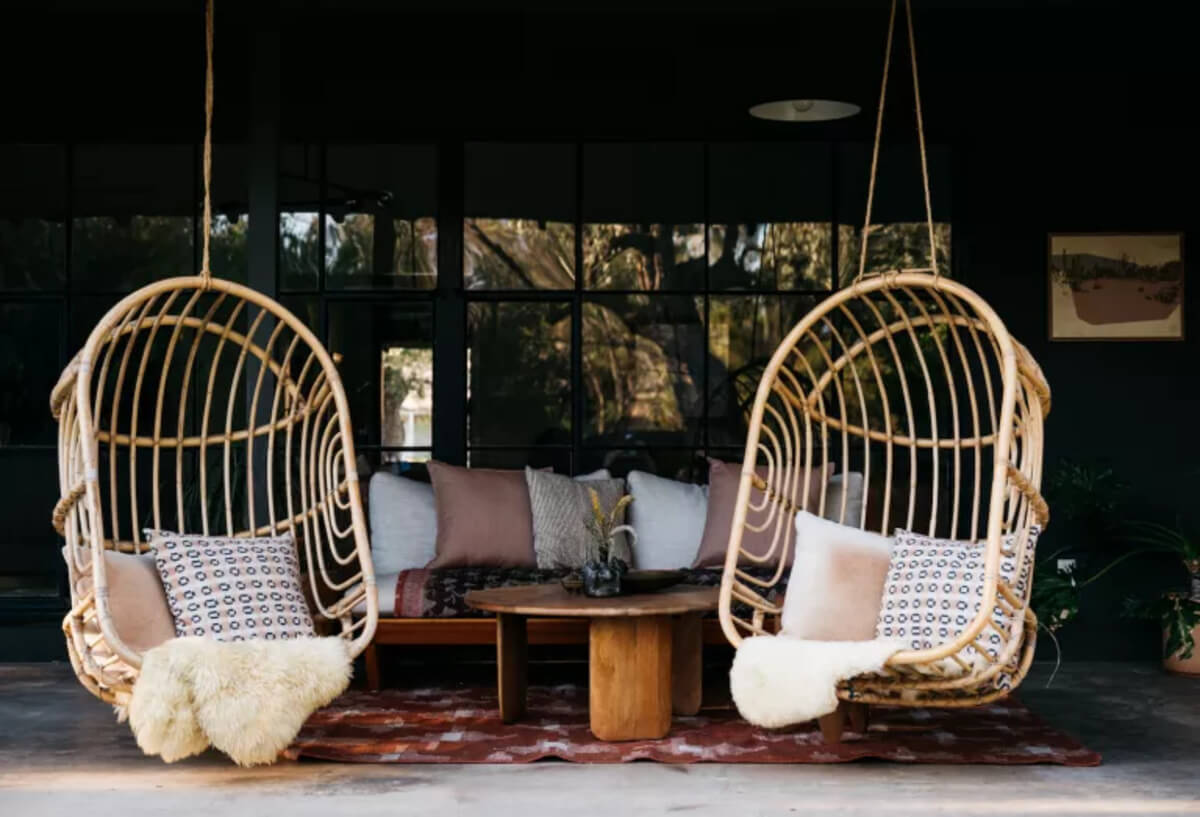 2. ADD HANGING CHAIRS AND SAVE SPACE
If you are looking up to maximize space and at the same time have an exquisite element on your patio, hanging chairs are a great option. When integrated with the proper decoration, this tip can provide the sensation of harmony and tranquility to your outdoor space.
This rustic hanging chair pairs offer extra seating as well as a sumptuous note by adding natural materials with cozy vibes. This patio furniture option can also be easily moved according to the climate condition.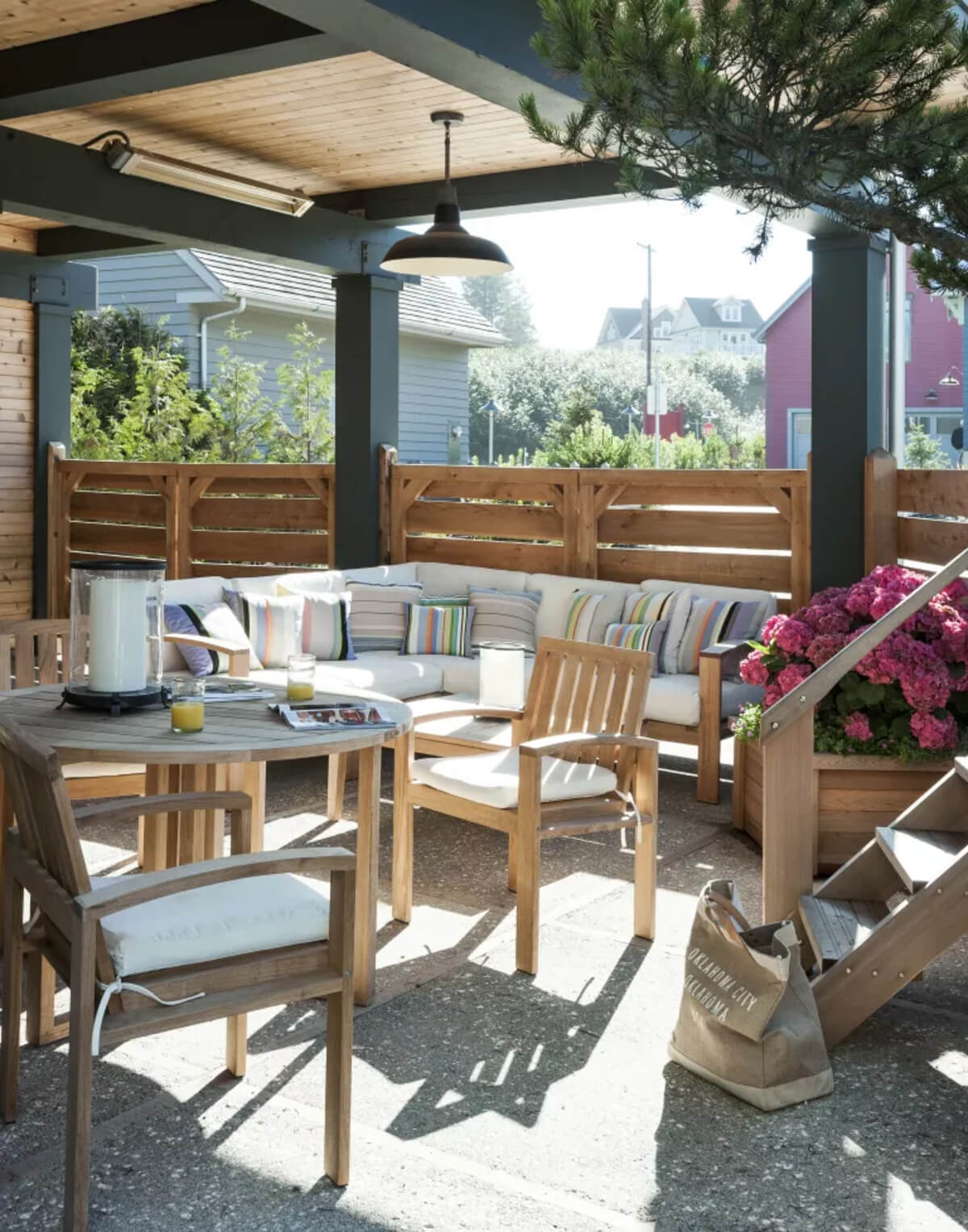 3. SEPARATE THE EATING AND SEATING ZONES
An outdoor living room is an excellent option if you give much usage to your patio or simply just want a complete space. A complete outdoor area that takes advantage of the patio or terrace size, having a proper lounge with adequate patio furniture (sofas and chairs) and a separate dining area, will give you the power to multiuse the patio, permitting you and your guests to relax, socialize and eat.
It´s essential to distinguish zones, especially in small spaces, in order to not have a confusing and overwhelming space. To differentiate between these spaces, the eating and seating zones can be divided using planters or trees, or even a BBQ area.
Protecting the space with a pergola that mirrors the same materials as the patio furniture is also an excellent tip.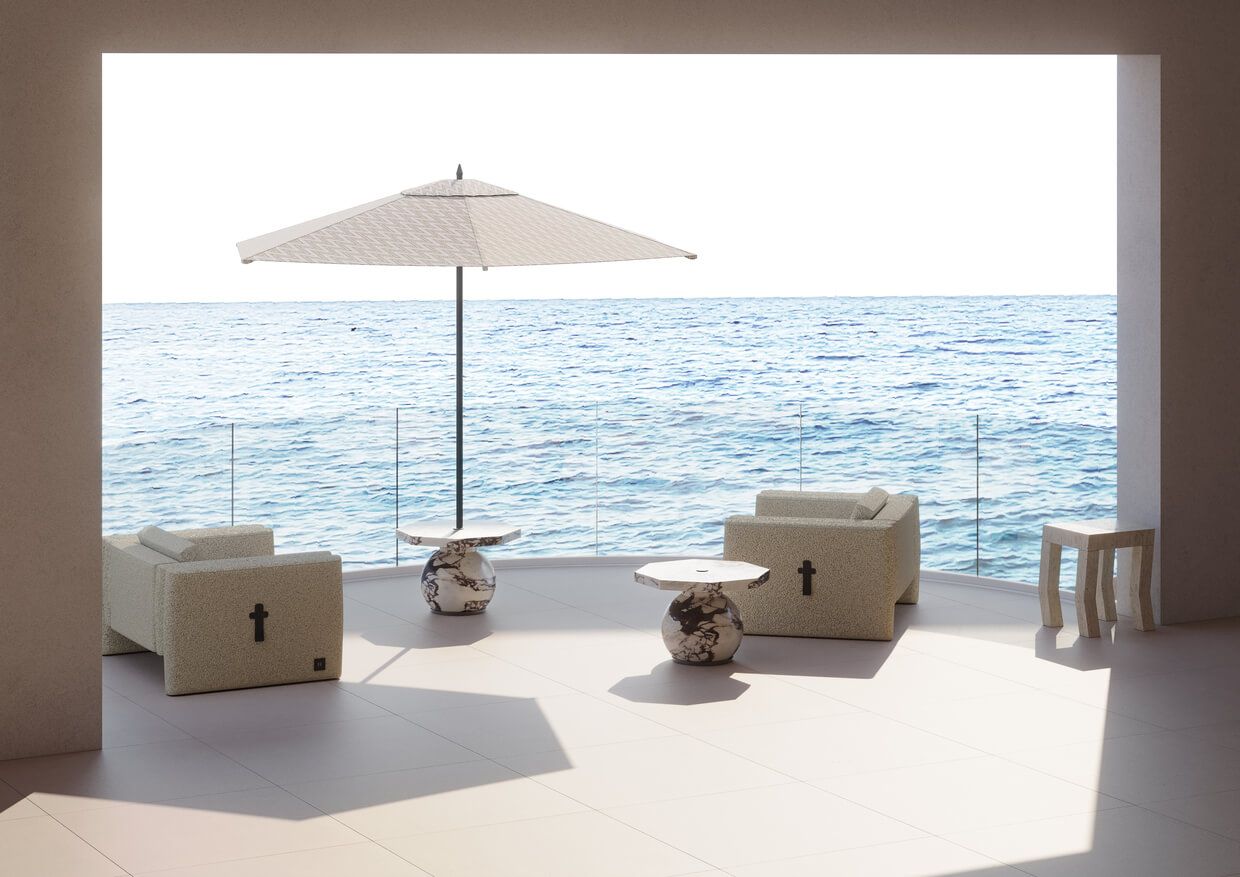 4. LIMIT THE COLORS TO FOCUS ON THE VIEW
If you have an outdoor space with breathtaking views and desire to take advantage of that privilege, an essential tip is to restrict the color palette and select patio furniture that does not have an obtrusive style – lookup for furniture with similar tones that will not take the attention, with the aim to firmly keep the focus on the landscape. Limiting the color palette and picking furniture that fits within a hue range will transmit a serene effect. If you want this effect on your patio, don't choose statement pieces with vibrant tones but instead select items that will fit together harmoniously.
The selection of the patio furniture materials and textures is also a necessary topic to consider in order to achieve an overall cohesive effect. Artificial rattan is a suitable choice for outdoor furniture as it doesn't require the same continuous maintenance as wood.
It's not only important to pay attention to the color scheme and the textures that you pick. Positioning the seating pieces in strategic points is vital so you and your guests can capture and relish the surrounding panorama.
SHOP THE LOOK: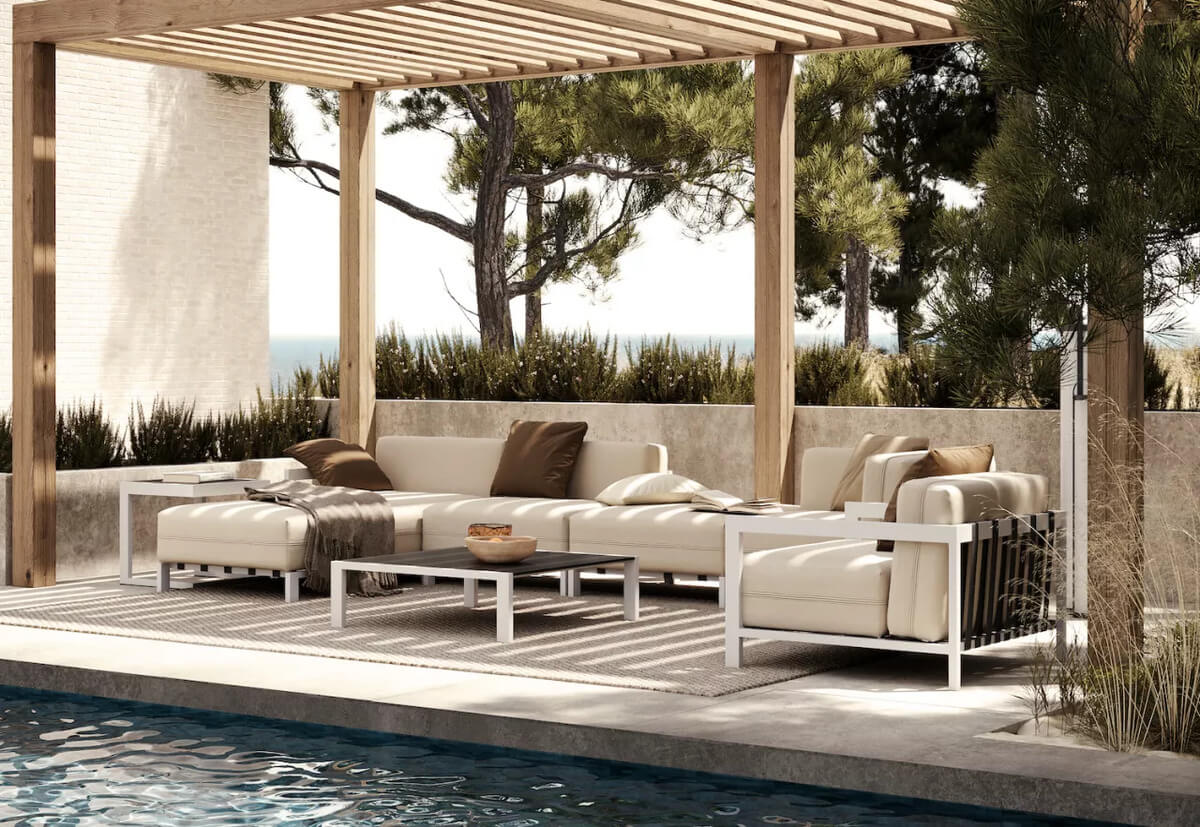 5. CHOOSE THE PERFECT SEATING OPTION
Choosing the perfect seating for your patio is essential to turn the space into the perfect spot to socialize with friends or family. A multi-purpose, low and modular seating such as this L-shaped sofa with a chaise is a fantastic patio furniture option due to its comfort and versatility. With these features, you can spend quality time just being laid back and relaxed in your perfect seating choice. Before starting the search, don't forget to consider sizing the space properly to choose the ideal proportions and size.
It's essential to choose quality pieces that will fit perfectly on your patio. Having a large area with insufficient furniture can transmit an uncomfortable and unwelcoming sensation, so a great tip is to combine furniture with planting beds and multi-stem trees to soften the whole effect and fill the seating area.
The FOIL SOFA is a great comfortable and elegant choice for your patio:
Foil Sofa Smoke Blue

Sofa

$

8.220
6. PICK A THEME FOR THE ACCESSORIES
If you have a neutral color scheme in your furniture, you can add spice to your patio by choosing a theme or a style to pick up the accessories. This tip is a great way, especially for the smallest outdoor spaces, adding moments of color and patterns and turning them into an elegant mini oasis. The accessories can turn a neutral and basic area into a gorgeous and appealing patio.
The example patio above has been remade by adding multicolored Berber-style cushions, throws, lanterns, rug, footstool, and the painted earthy red walls behind it, that completely upgraded the space.
You can discover these and other more luxury accessories in our exclusive decoration brand Ach Collection: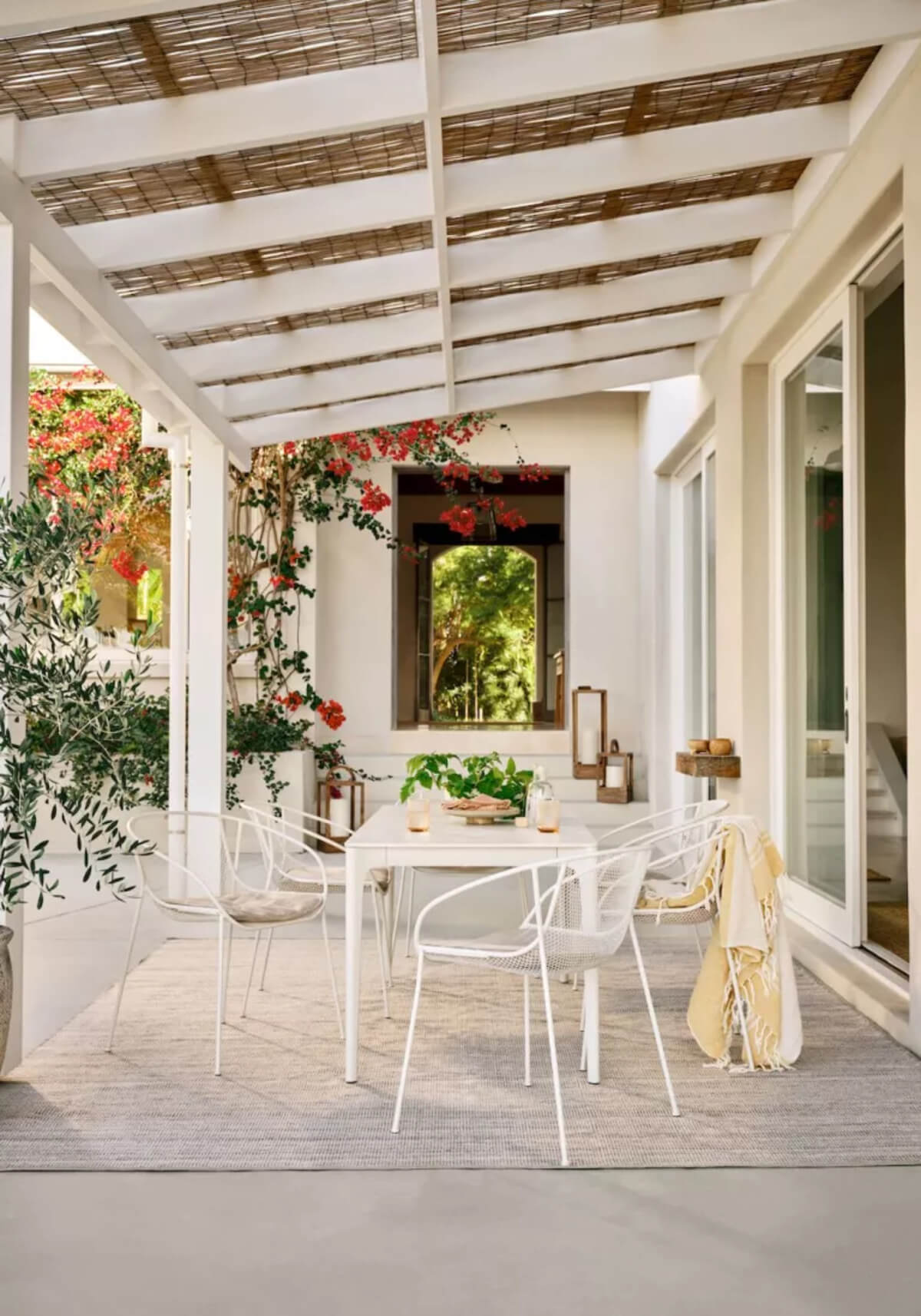 7. GO FOR A SERENE COLOR PALETE
Decorating a house with white is a traditional must because it's so versatile and creates a cool and calming atmosphere. White never fails, so choosing it for your patio is not an exception. Go to this hue option, especially if you live in a place where blue skies are ensured.
Choosing chic white patio furniture with simple pale walls and natural woody materials will exude understated style and serenity. It also allows the nature on your patio to stand out, which creates a dreamy scenario.
Combining the white and natural elements is an easy way to achieve an oasis in your outdoor space. It spreads harmony and serenity – everything that you want when you look up to recharge your energies and relax. Using soothing whites and a variety of matching tones helps to create visual coherence.
8. MAKE YOUR PATIO MULTI-FUNCTIONAL
If you use your patio a lot, it is essential to think about what type of usage you will do and how you would like it to look all year. This will crucial when choosing the right patio furniture.
It is important to choose patio furniture pieces that will be adequate for every season, such as the built-in bench above. This is a great all-year and multifunctional option. It can be positioned against the wall, maximizing the patio space, and it can be painted in the way you desire. The cushions above it are proof of their functionality – they can be changed easily, having the colors and patterns you want for each season. For a classic look, adhere to neutrals, as they feel timeless. On the other hand, add different tones, textures, and designs for a modern and eclectic style.
By introducing a fixed bench painted in a neutral color, you can have it throughout the winter, while in the summer, you can add supplementary items by positioning extra seating or dining furniture around it for socializing.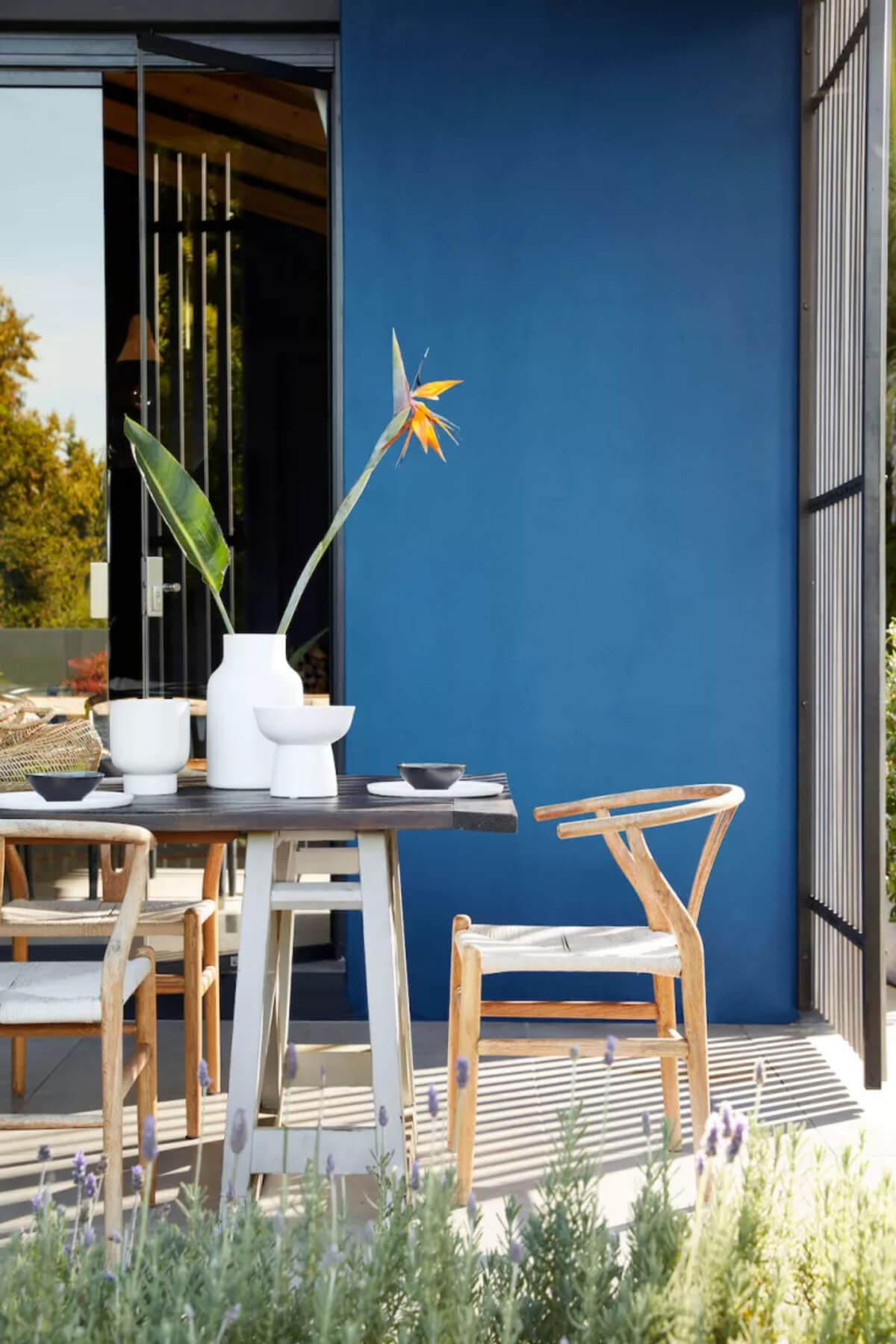 9. SELECT FLEXIBLE FURNITURE
If you usually invite guests over to your house, it is essential to lookup for flexible patio furniture choices. Having a primary table that permits to seat numerous people and completing it with a folding table is a great example of furnishings you can use if you want to have flexible options. The folding tales can be placed next to the main table to make a long table for long alfresco lunches. For more informal occasions, these can also be used separately. Correspondingly, having a core set of chairs with the main table and supplementing them with stacking chairs is an excellent adaptable option.
If the space is limited and the outdoor area is positioned near the kitchen dining area, you can consider choosing the same indoor and outdoor dining chairs so that they can be used outside in summer.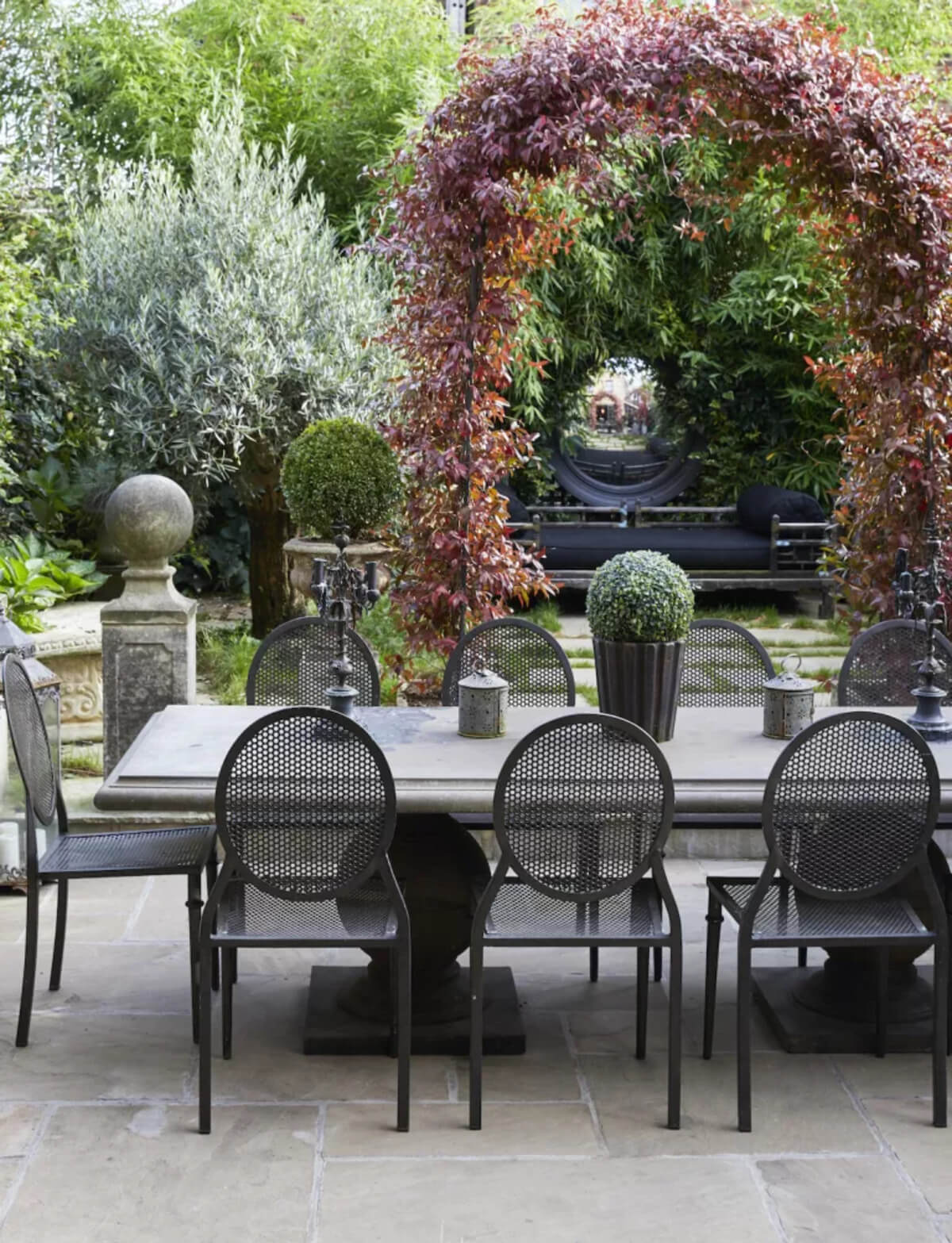 10. CHOOSE ITEMS THAT CAN WITHSTAND THE ELEMENTS
Except that you live in a hot and sunny place, it is not probably that you will utilize your patio all over the year. This implies that the patio furniture will need to be stored or covered throughout the colder months.
You can opt for covers to ensure that the patio furniture quality is maintained. However, these types of protection are not good-looking, so if your furniture is visible from your home's inside, it's better to choose appropriate outdoor furniture that can be left on the patio all year without being protected, or that is possible to take off their scatter cushions.
Tables made with stone or concrete tables with stackable chairs are a good patio furniture idea, as they can be left outside, and the chairs will not occupy too much storage space.
Source: Livingetc
ARE YOU INTO INTERIOR DESIGN?
If so, discover modern furniture and lighting designed by design lovers for design lovers. All you need is to download the Hommés Studio catalog. To complete your interior design project, choose the high-end homeware by ACH Collection.