It is no longer a secret that, apart from skills and knowledge, our mood and surroundings also influence the good results of our work. It is therefore important that the office where we spend a large part of the day is an asylum where we can devote ourselves to work in peace. Particularly now, during COVID pandemic, a lot of people started arranging some office spaces at home, so they could work from there. Well-planned modern office space is therefore essential to our good results.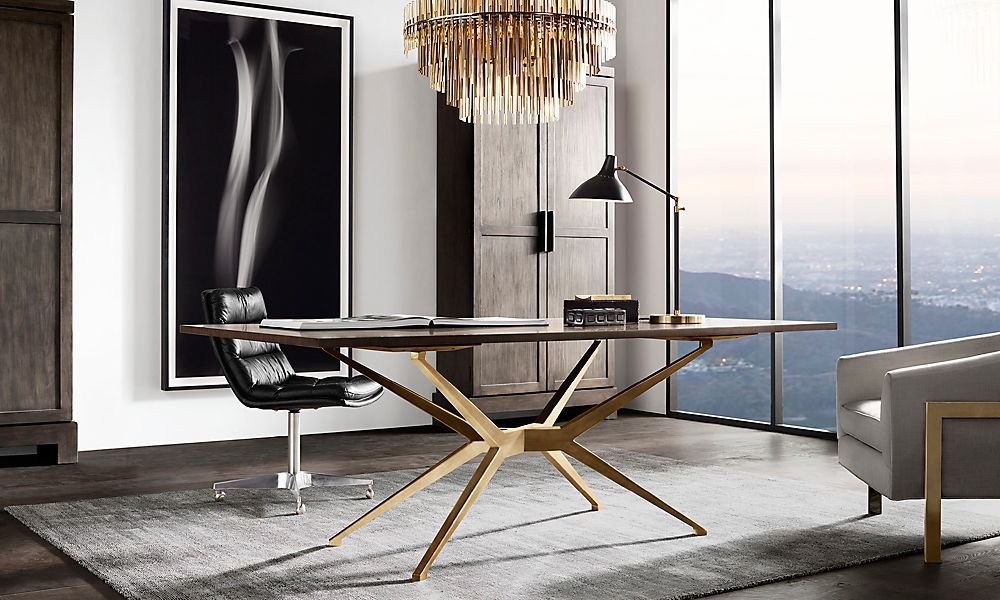 A well-thought-out office is not only an asylum, which will allow you to focus on work but also a place where you will be happy to read or meet with clients or colleagues. Therefore, when arranging an office, you should remember not only about its luxury character, which will be reflected in the best materials and furniture but also about its functionality. Hommes Studio selected some of the finest modern office inspirations for your future project:

BLACK&WHITE MODERN OFFICE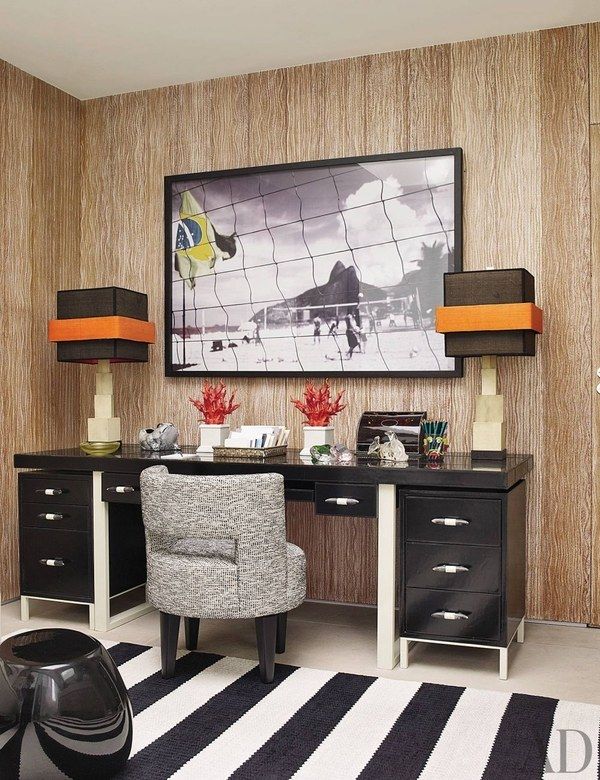 Some may consider them cold, others would say they are unpractical. However, black and white interiors are very sophisticated. They always look elegant and chic. This modern office, kept in black and white palette, looks very glamorous yet cozy, with those retro orange lamps.
A KEY TO PRODUCTIVITY – NO DISTRACTIONS!
Minimalism is one of the best interior design styles to go for while planning a modern office space. Simple, bright colours and a smart selection of only most necessary furniture and accessories will create a perfect work environment.
ROUND SHAPES AND WARM COLORS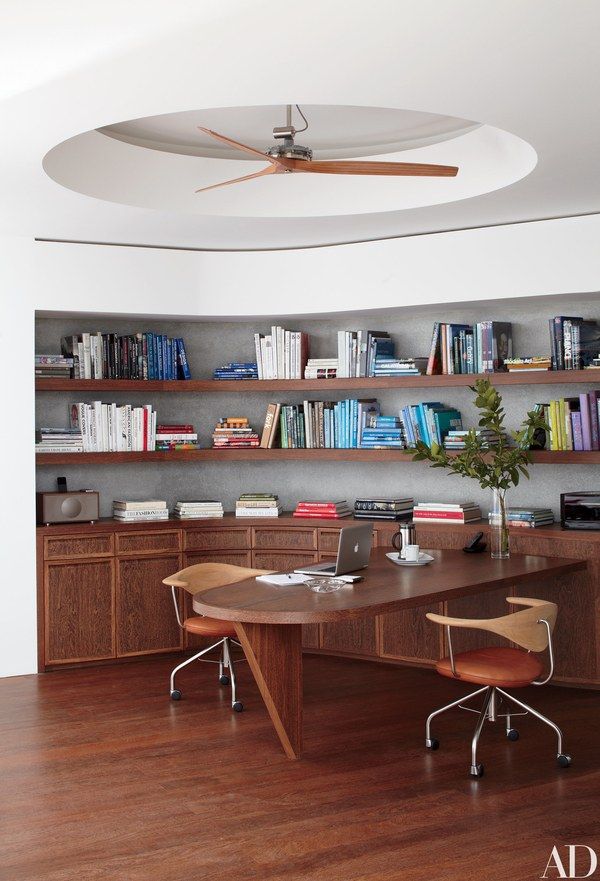 Rounded furniture and curvy silhouettes are one of the biggest trends in interior design this year. They create very elegant and classy spaces, that help to create a feeling of flow between the rooms. This luxury office is kept in the white – brown palette, and the rounded furniture pieces bring a sophisticated touch to the interior.
DEEP BLUE FOCUS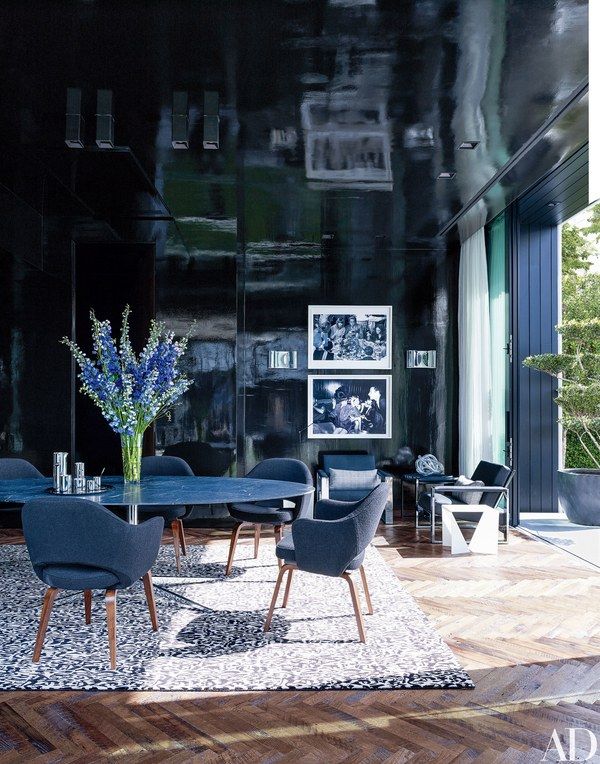 Announced by American color company Pantone, the Classic Blue color, or Pantone 19-4052, was chosen to be the Pantone color of 2020. According to experts in chromotherapy: blue – from classic blue to night blue – symbolizes breathing, space, relaxation. Thanks to the wealth of shades and appropriate complementary colors, this color allows creating both retro and modernist arrangements.
BRIGHT COLORS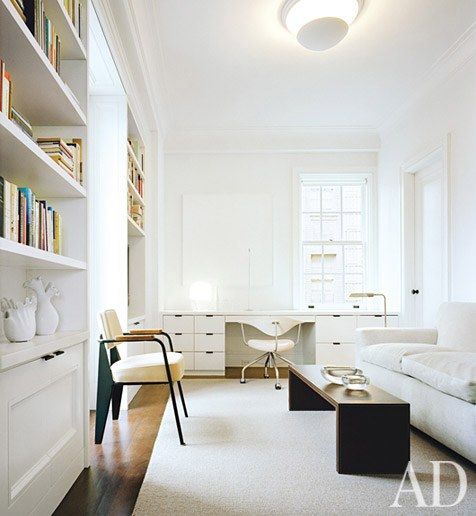 Bright and light colors can be also very helpful in creating a perfect working atmosphere. A functional and enjoyable office should be filled with natural light, so it's good to choose the room or area in the house with big windows. Light walls and furniture will bring a calm, creative vibe that will help you focus.
DARK TONES

This modern office in New York with its cozy fire place and dark brown walls creates very familiar atmosphere. The choice of colors, textures and accessories make a very well-balanced whole, that invites to some productive time.
MODERN OFFICE SPACE
Elevate your Modern office room with an exquisite selection of Furniture and Lighting. Offices time must be creative, comfortable, and most important, it must reflect your style identity. With an extra dose of gold, eco-leather fabrics, large and colorful paintings, oversized windows, and comfortable seating will provoke an oniric effect to your work time. Luxury and glamorous elements to make your modern office design a welcome place to be yourself.
ECLECTIC COLORS AND VIBRANT PATTERNS
For those working in creative fields, an office full of colors and textures could be a better option. This project by Kelly Wearstler spills over the good vibe, and that's what is necessary for some amazing ideas.
CLASSY RETRO VIBE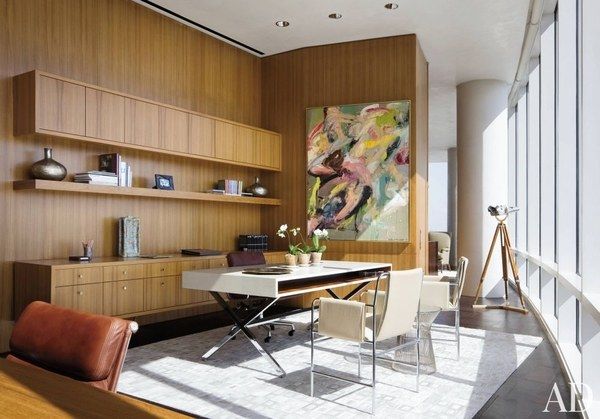 This modern office space features some of the most classic element, that create very professional yet familiar atmosphere. Warm colors of wooden furniture and walls accompanied with vintage comfortable chairs and simple elegant desk make a perfect combination.
JOYFUL CREATIVITY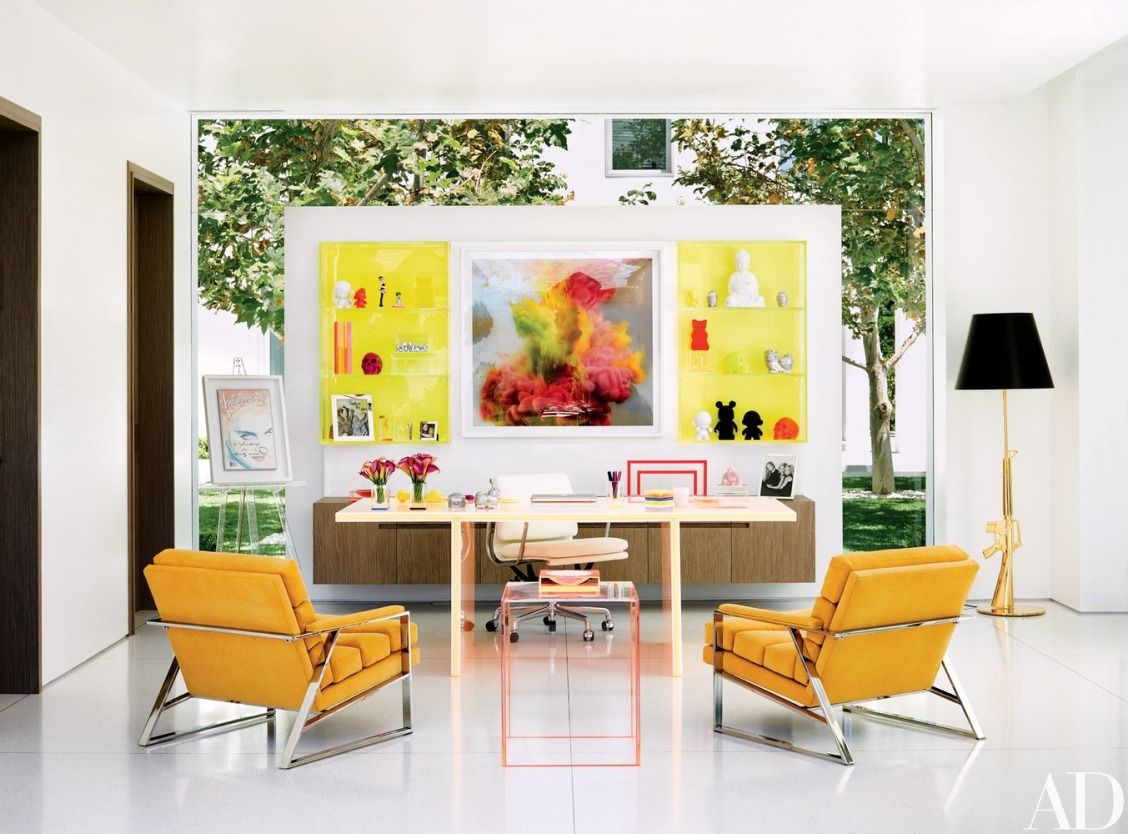 This retro office space pops with bright orange and yellow accents. The choice of colours and materials is balanced by minimalist office equipment, while colorful accents add a sophisticated touch to this luxury office space.
PARISIAN HIGH-SOCIETY BUREAU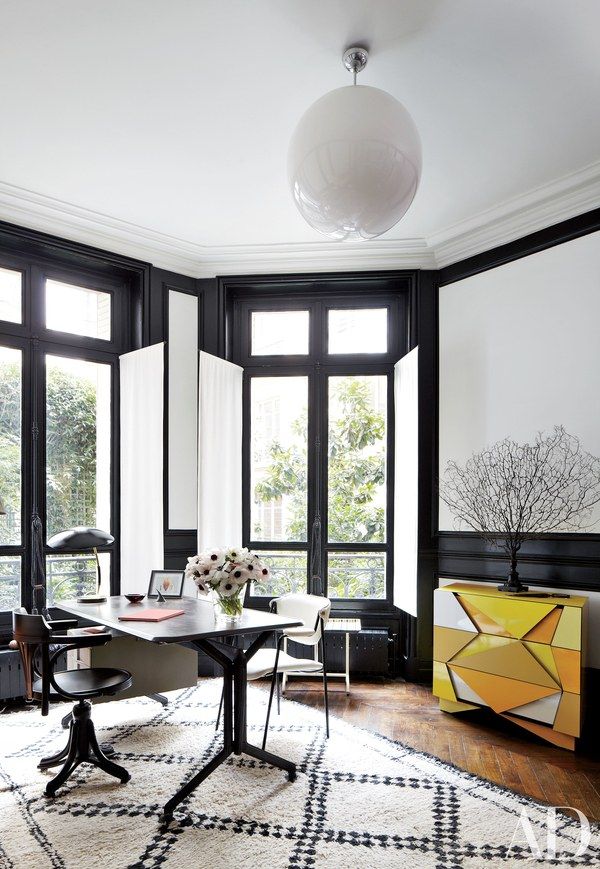 This luxury office of fashion designer Stefano Pilati's Paris apartment represents a French high-society interior design style. Classy black and white room with crisscrossing elements on the Moroccan rug features an eclectic yellow sideboard. This combination of Parisian classical style with a more modern eclectic accent makes this modern office a very captivating space.
[Images source: Architectural Digest]