Whether you have a large backyard or just a small patio to work on, there are many things you can do to create the perfect outdoor living space. But before you start the work, make sure you're up to date. These are the top 2022 outdoor design trends.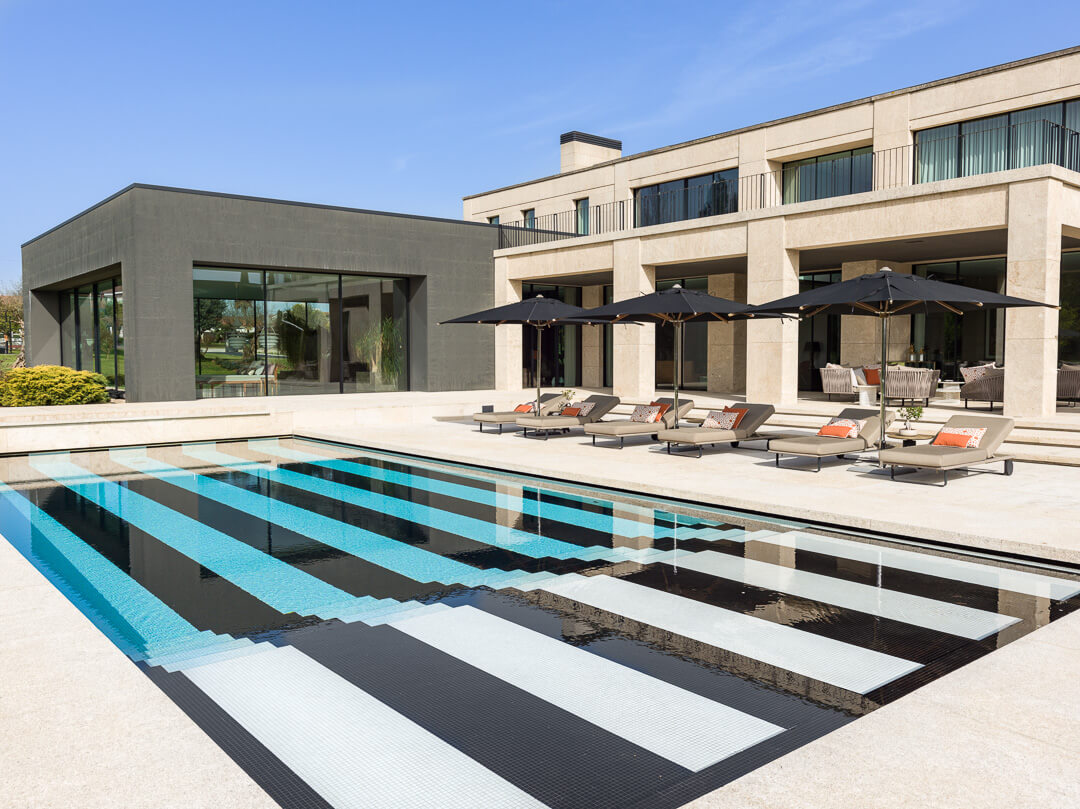 EARTHY TONES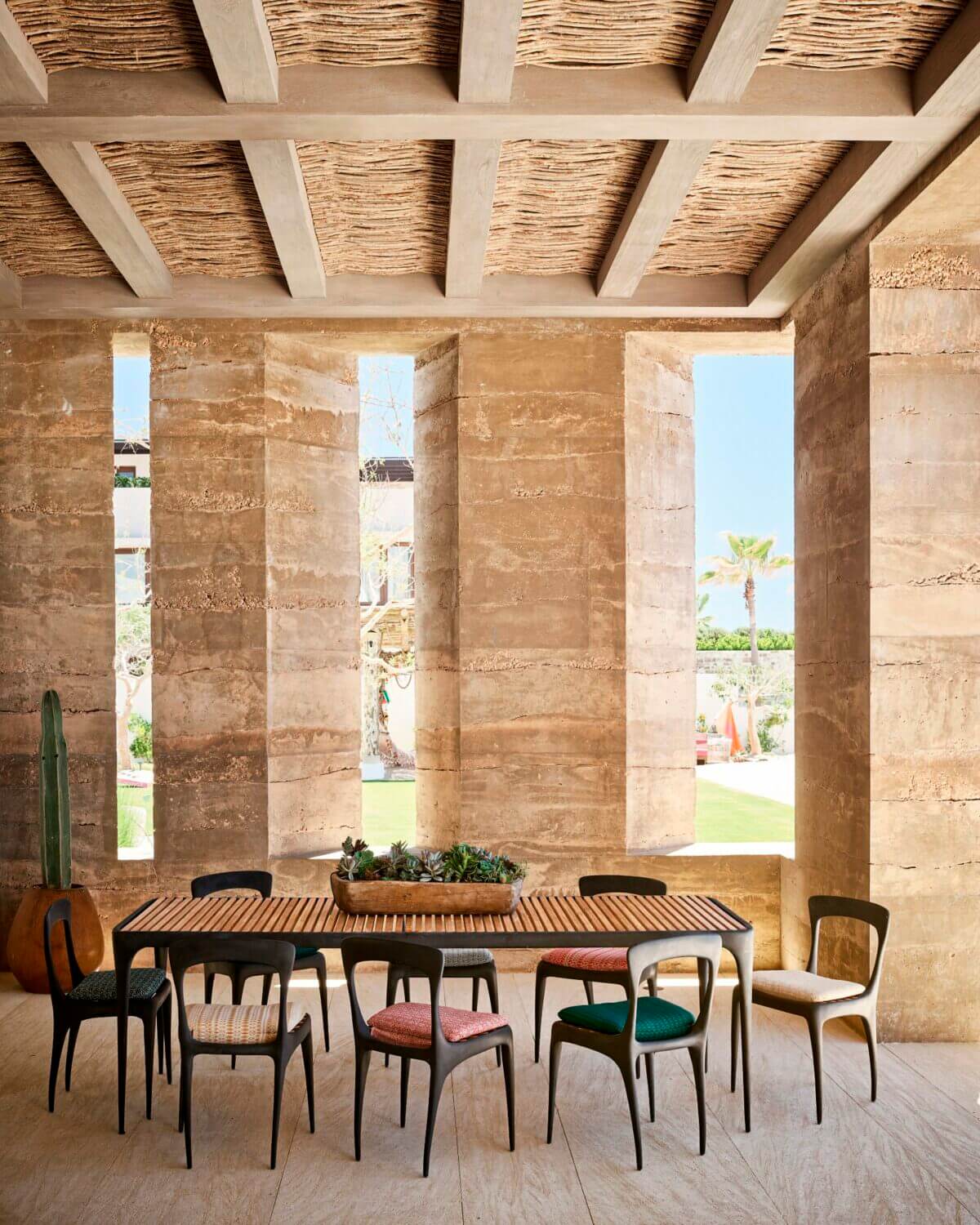 From nature to our homes. Earthy tones are the color scheme that has been dominating interior design projects, residential and commercial. The natural palette has proven to be very versatile and its beauty shows up on neutral hues, such as dusty and sandy tones or light shades of blue.
Nevertheless, warmer earthy tones are the biggest color trend in 2022. The color of choice for indoor and outdoor interior design projects is… terracotta. Take it as inspiration, and add furniture, decorative pieces and ornaments in red, orange, magenta, golden, and other saturated earthy tones.
INDOOR-OUTDOOR SPACES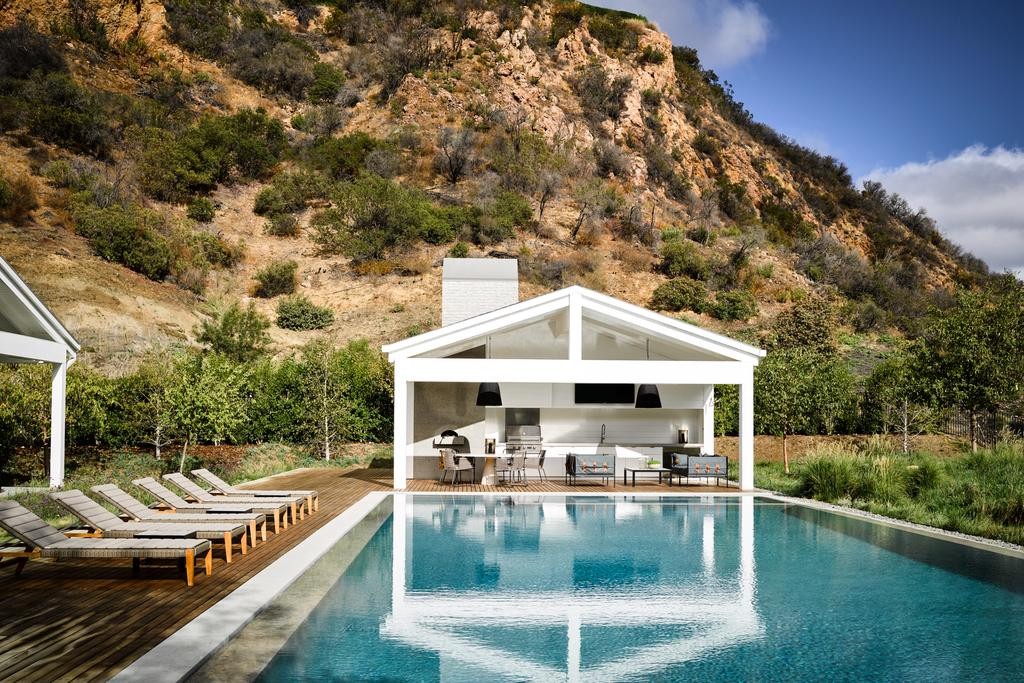 Blur the lines between indoor and outdoor spaces. This is another huge 2022 outdoor design trend. Create a sense of cohesion and blend the interior of the house with the exterior. In recent years, outdoor furniture design has been rivaling modern furniture traditionally used indoors rather than what we used to identify as 'outdoor furniture'.
New materials, such as vegan and eco-friendly fibers, and multipurpose furniture pieces take down barriers to creativity. It's easy to design an outdoor area that feels like an additional room to the house instead of the impression of an 'outsider' space.
To maximize your outdoor design, create communal areas under a patio covering. In order to make an outdoor living room or dining room feel like a curated interior space, add rugs, ceramics, candles, and decorative lighting. Many high-end furniture brands have a selection of outdoor furniture or customizable outdoor materials.
WELLNESS AREA
'Home' gained a new meaning with the pandemic. This new perspective of 'home' is a place where we can truly and fully enjoy ourselves. For this reason, it is important to design communal areas that can welcome family and entertain friends as much as it is important to have a private nook to exercise, meditate, and nurture a holistic lifestyle.
The 2022 outdoor design trends bring outdoors something that interior designers have been doing indoors – designing wellness rooms.
OUTDOOR DINING AREA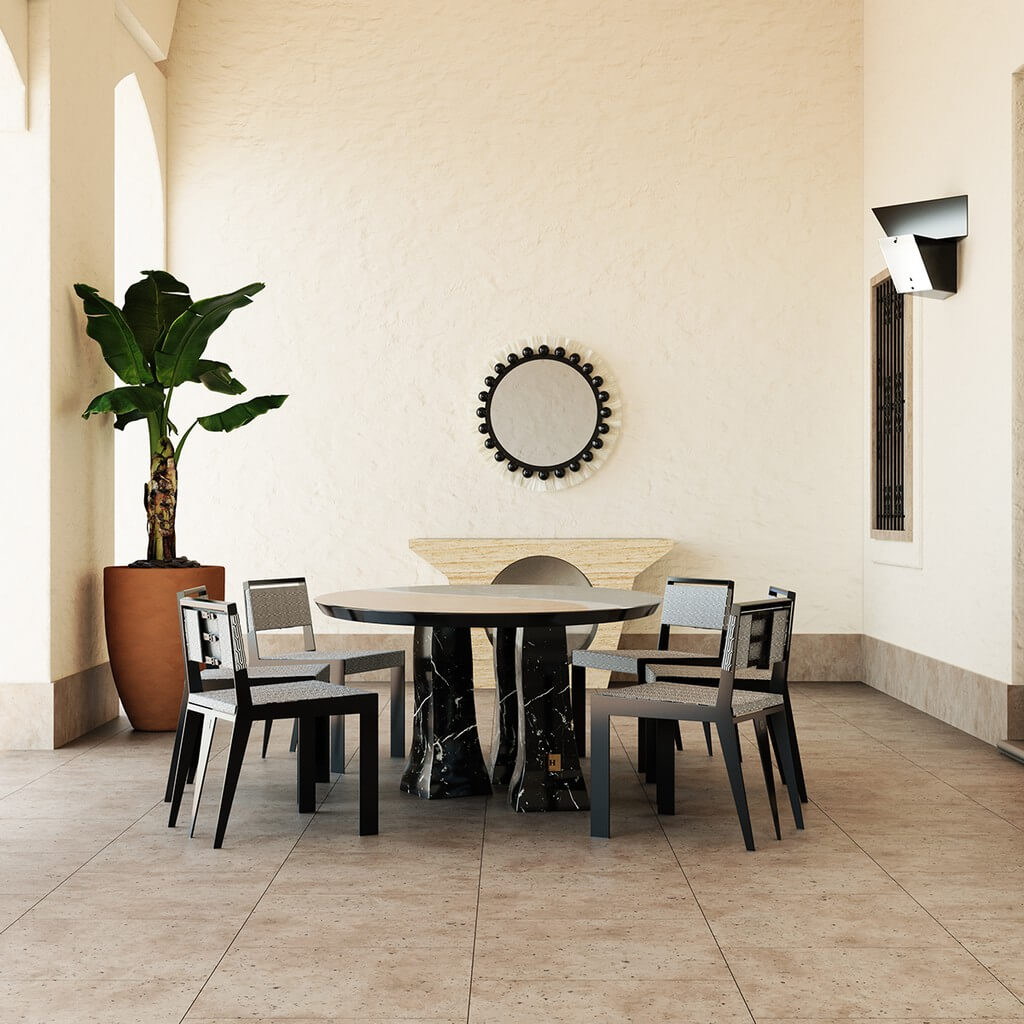 Almost everyone dreams about an open-air dining room, there is no better way to entertain family and friends during the summertime than an alfresco dining moment.
Imagine the feel of the summer breeze, a refreshing glass of white wine, and the taste of fresh fruit. An outdoor dining area is likely where we will create the best memories… so it must be a carefully designed space, right?
This 2022 outdoor design trend demands functionality and comfort. Design an outdoor dining area under a patio cover or a natural shade, choose outdoor materials for the furnishings, like concrete, travertine, and faux leather, dedicate some time to the lighting design, and create an extra seating area. These are just some tips to master an outdoor dining area design in 2022.
READ OUTDOOR DINING AREA – THE GOLDEN RULES HERE
OUTDOOR KITCHEN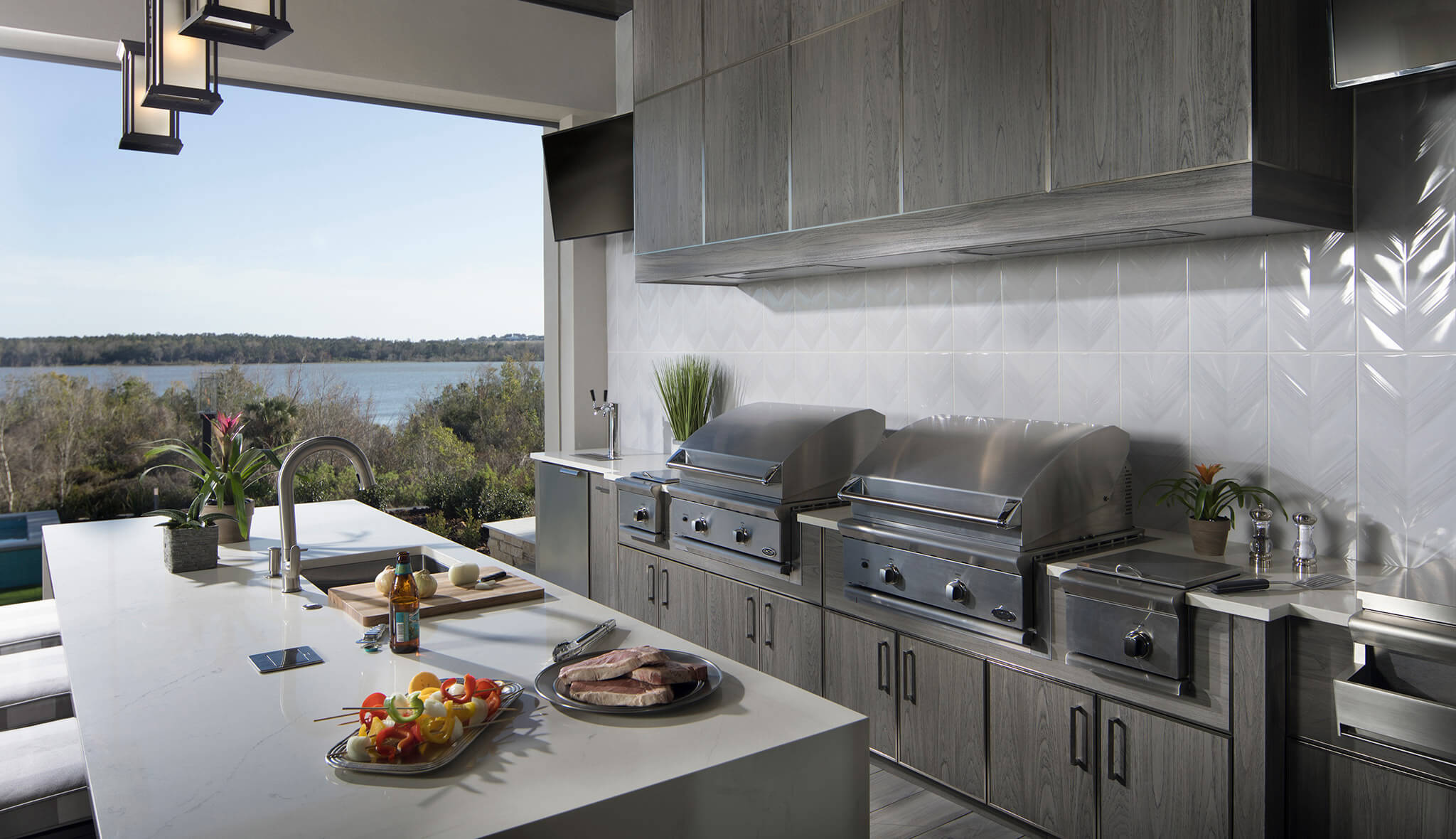 There's no better way to spend a summer evening than having a good meal with the sunset as background. For those who love to entertain and cook, an outdoor kitchen is a mandatory element in the backyard. It can be fully equipped, a simple barbecue grill, or even a fire pit to melt marshmallows or to toast some corn. A good meal is often defined by who we share it with.
However, if you're committed to following this 2022 outdoor design trend, take into account that one of the most important things in an outdoor kitchen is storage, shelving and cabinet, and a multipurpose countertop where you can cook and have a meal right away.
READ HOW TO DESIGN A LUXURY OUTDOOR KITCHEN HERE
MEANINGFUL GARDENS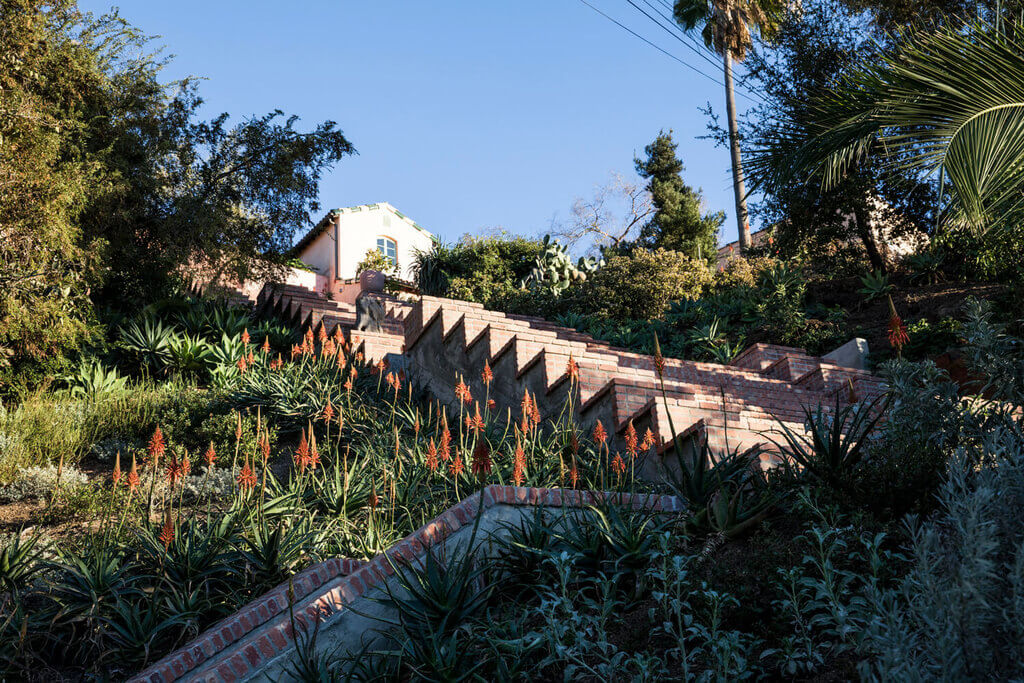 Meaningful gardens are another 2022 outdoor design trend. Think of natural materials and earthy colors, multipurpose furniture, and indoor-outdoor areas. Outdoor design is all about functionality. Therefore, gardens are meant not only to be beautiful but also to be useful.
This outdoor design trend is responsible and eco-friendly. What does this mean? Meaningful gardens mean to plant in order to later harvest, such as aromatic herbs, vegetables, and fruit trees.
OUTDOOR LIVING ROOMS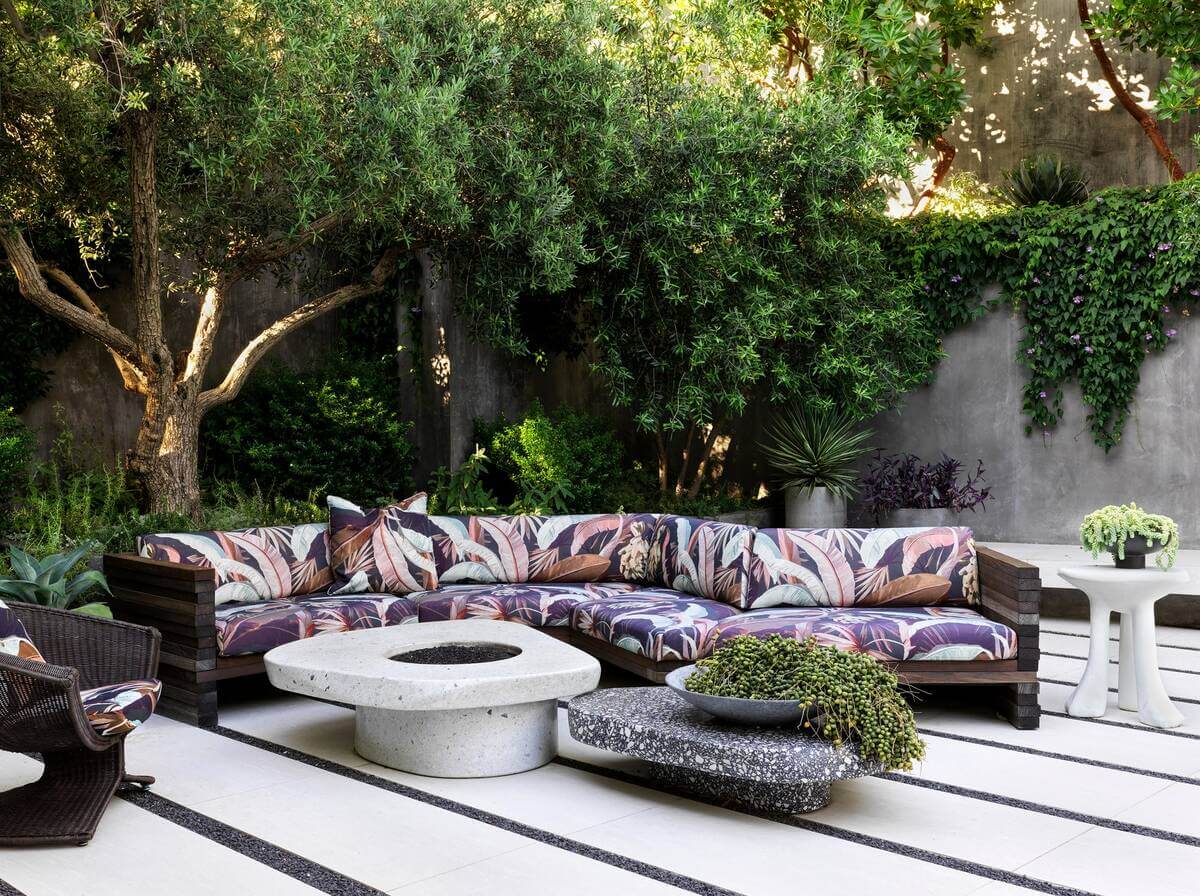 It doesn't take much to design a stylish outdoor living room yet it takes as much care and creativity as designing an interior living room.
For a good outdoor living room design, choose a location, then a layout, and consider materials. Think of designing a space to take nap and to engage in conversations all night long. An outdoor living room must serve both opposite purposes. For that reason, cozy furniture is mandatory – and luckily there's plenty of comfortable outdoor furniture on the market – as well as a temperature regulator, like parasols and fire pits. And finally, outdoor and weather-resistant finishings are everything.
BOHO DESIGN STYLE
Bohemian interior design with its bold angles, eclectic patterns, and saturated hues is perhaps the most important interior design style for 2022 outdoor design projects.
Even though this vibrant and soulful interior design style is trending, that doesn't mean that an outdoor design project needs to go by the book. Instead, add some subtle boho notes to the modern outdoor design. Textured pillows, shaggy rugs, sleek furniture pieces, colorful decorative objects, and a firepit will bring it all together.
DO YOU LOVE INTERIOR DESIGN?
Since you have come this far, we kindly invite you to download the Hommés Studio Catalog and discover furniture, lighting, and home accessories – designed by and for interior design lovers.
Pay a visit to ACH Collection website as well and discover high-end homeware and pet accessories that no design lover has ever imagined even in their wildest dreams.