Rue de Rivoli located in the heart of Paris is a dream place to have an apartment. Who wouldn't like to drink a morning coffee overlooking the iconic Place de la Concorde or Louvre? Jean-Louis Deniot – a talented French interior designer helped one Belgian couple to fulfill this dream, modernizing a classical 18th-century Parisian luxury apartment.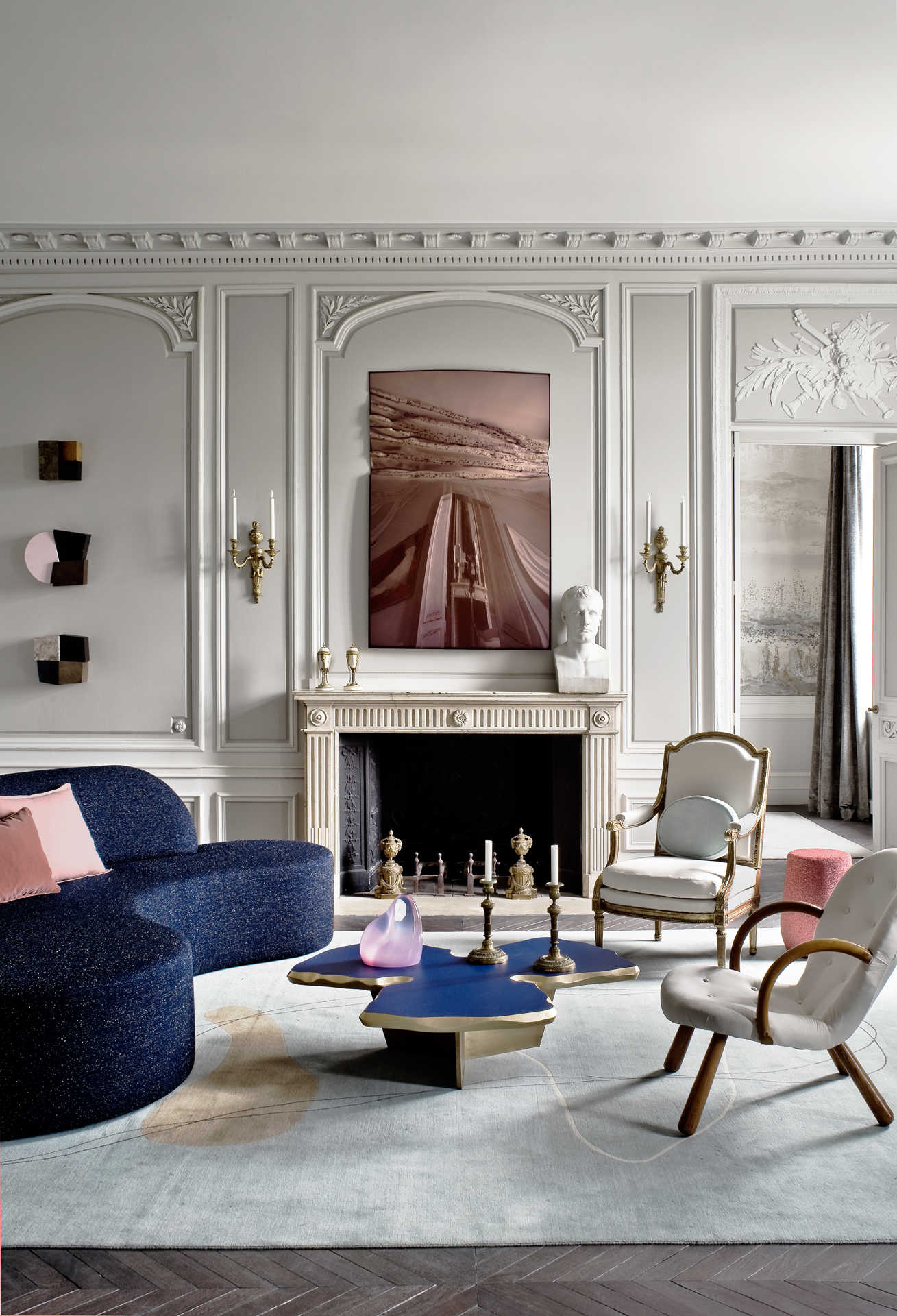 Jean-Louis Deniot is one of the most recognizable French architects and interior designers. His known for his eclectic and emblematic interiors that create very magical atmosphere. As he states "I play in a multiplicity of repertoires, letting my academic training translate into a vocabulary that is both informal and bold".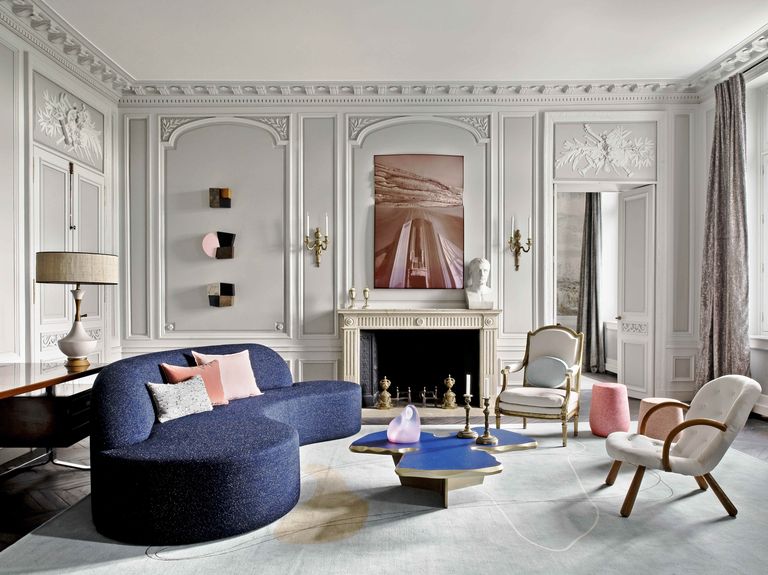 The designer is neither a fan of minimalism, nor a fan of excess, trying to find the greatest balance in spaces he creates. This mesmerizing harmony is visible in his reimagination of an 18th-century Parisian luxury apartment on Rue de Rivoli. Jean-Louis was put into a challenge to update an apartment, that hasn't been renewed since 1940s.
His first decision was to rearrange the space and the layout, so the flat will look more fresh and modern. "It was very conservative and traditional with separate his and hers rooms and the kitchen all the way in the back, because that was a time when there was service staff" – says Deniot.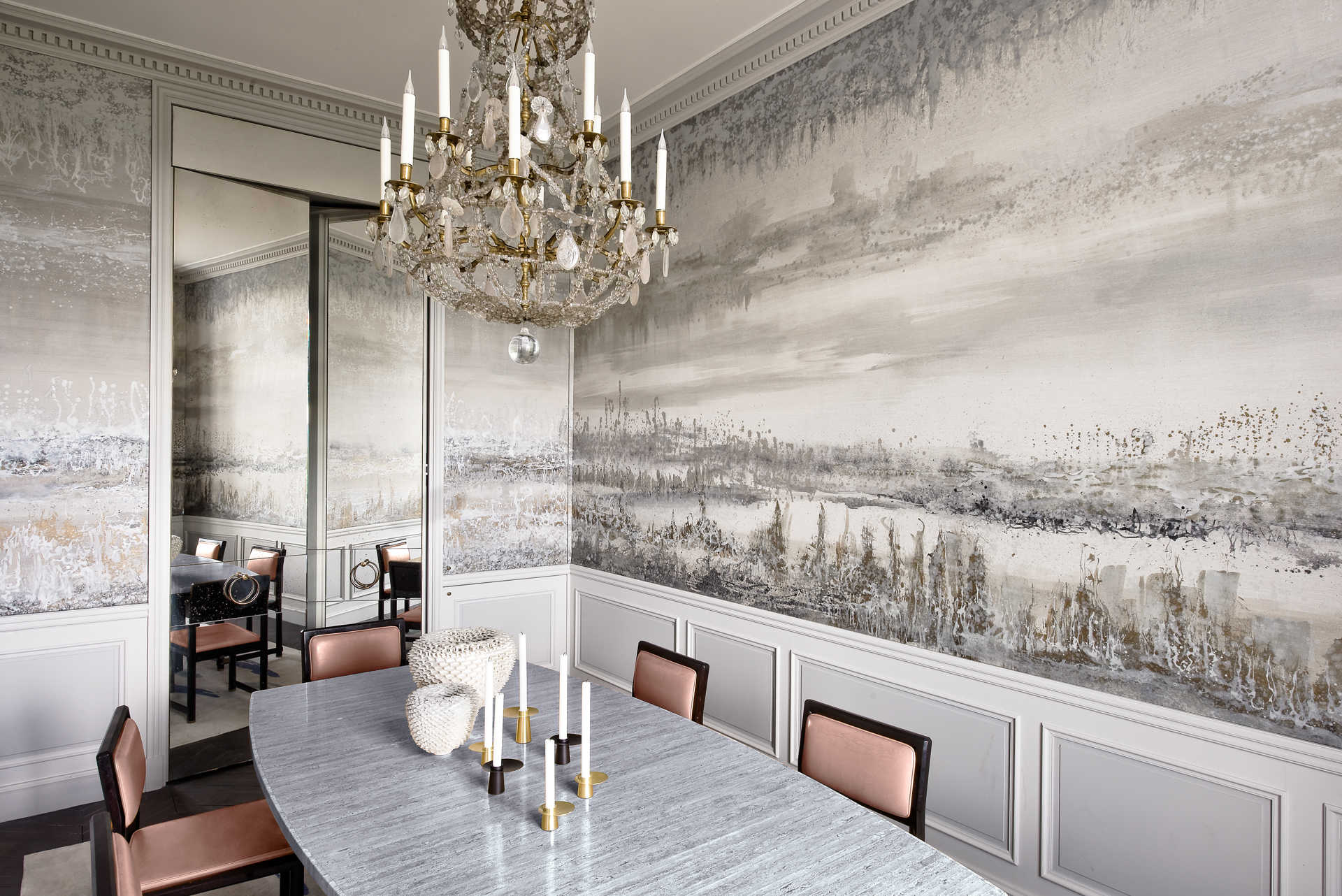 Jean-Louise skillfully mixes classical layout of the apartment and its French heritage with modern furniture and playful art pieces, which is one of the biggest trends of 2020 interior design. This harmonious blend is already visible right after putting a foot in the entrance hall. There, Deniot pushed the ceiling up and covered it and the walls in creamy Carrara marble, mixing it with the black-and-white cabochon floor. His goal was to expand the space and create a sense of drama.
Deniot decided to go with dark floors, are some of the interiors lack natural light; "using the darker floor makes the walls look brighter". Dark floors are also visible in the dining area, but this time the designer decided to cover them with an artistic rug in pastel blue and white colors. This modern rug makes an amazing contrast to the classic wall grisaille mural of an abstracted landscape and vintage furniture.
This luxury apartment is full of surprising combinations like this, because as Deniot comments; "Juxtaposing elements that don't normally belong together makes everything feel more exciting". The living room definitely corresponds to this thought, where the modern furniture in pastel hues and smoky tones are displayed with traditional French white boiserie from 18th century.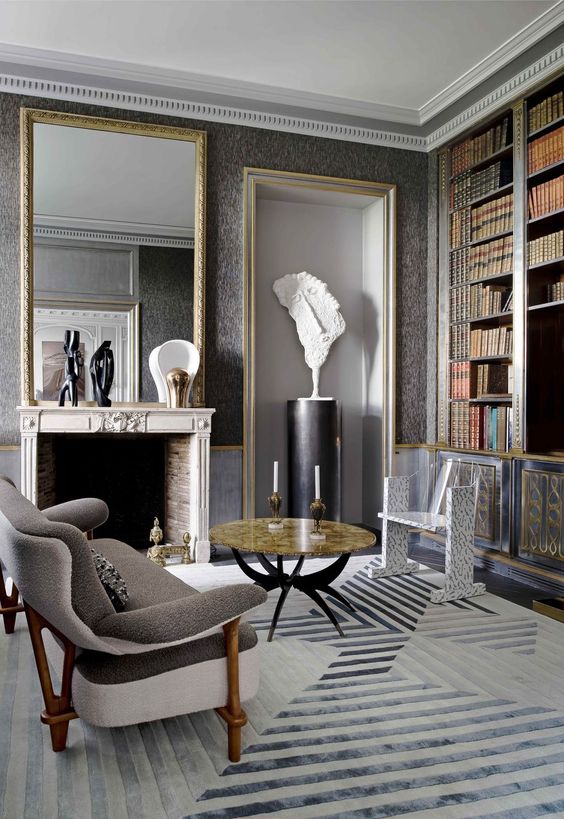 Our definite favorite of this apartment is a small space adjancent to the living room, which serves as a bar and laundry room. There, the walls and cabinets are covered in bands of crushed gold anf silver leaf alternating a terrazzo-like treatment of metallic leaf crushed atop a black background.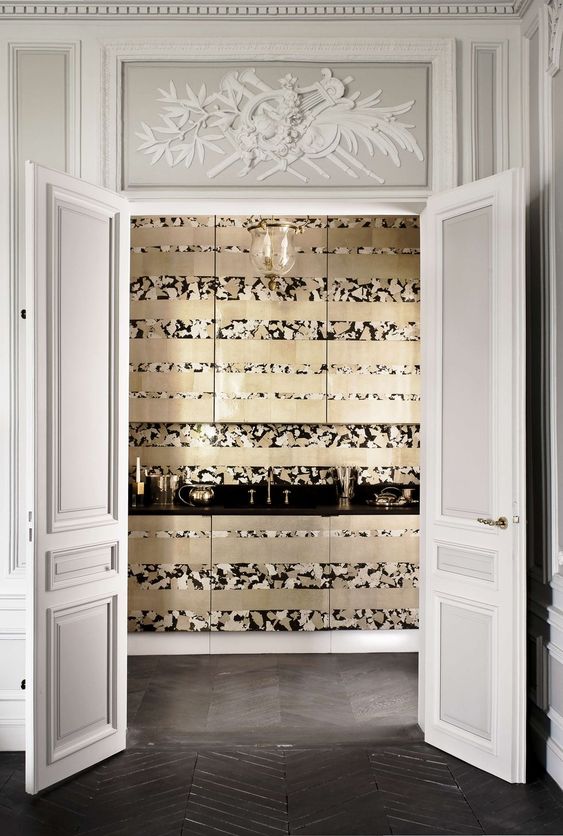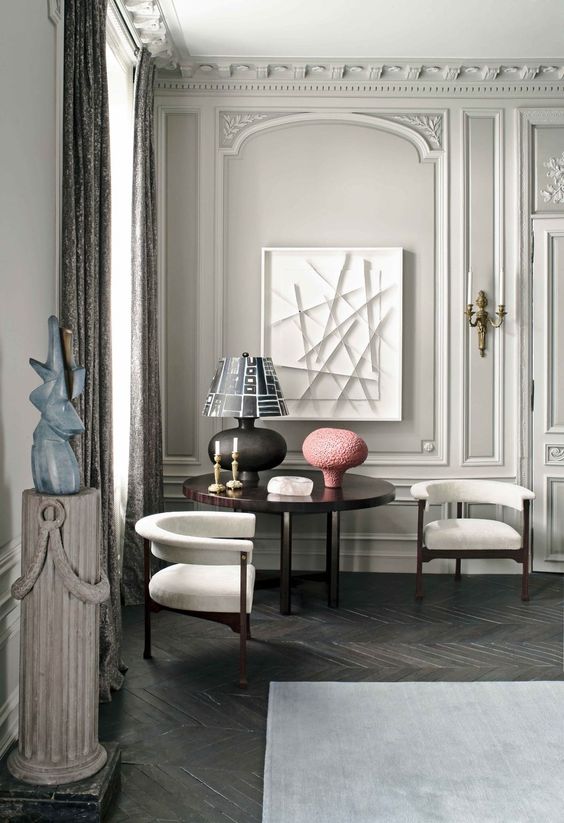 The place is full of amazing artwork, like the painting by Jerome Robbe mounted above the fireplace in the living room. The tangerine-hues cube light fixture by Herve Van der Straeten in the master bedroom is also a true eye-catcher. "Just because you have a classical apartment doesn't mean you can't inject a bit of bubbliness. You don't have to be overly respectful". This apartment is definitely an example, that combining styles and epoch can look book luxurious and exciting.