Boho style at home – an excess of form over content, kitsch, or an interesting alternative to classic or minimalistic and austere spaces? Called 'the style of free souls', it has been en vogue for several decades, especially in fashion. We value it for its naturalness, nonchalance, and comfort, but also for the unhindered freedom in choosing patterns, materials, and cuts.
For some, it is a memory of a journey, for others, a longing for the unknown. In both cases, the boho style draws inspiration from distant cultures and landscapes. It introduces the African climate and the colors of South America. And what is it really about?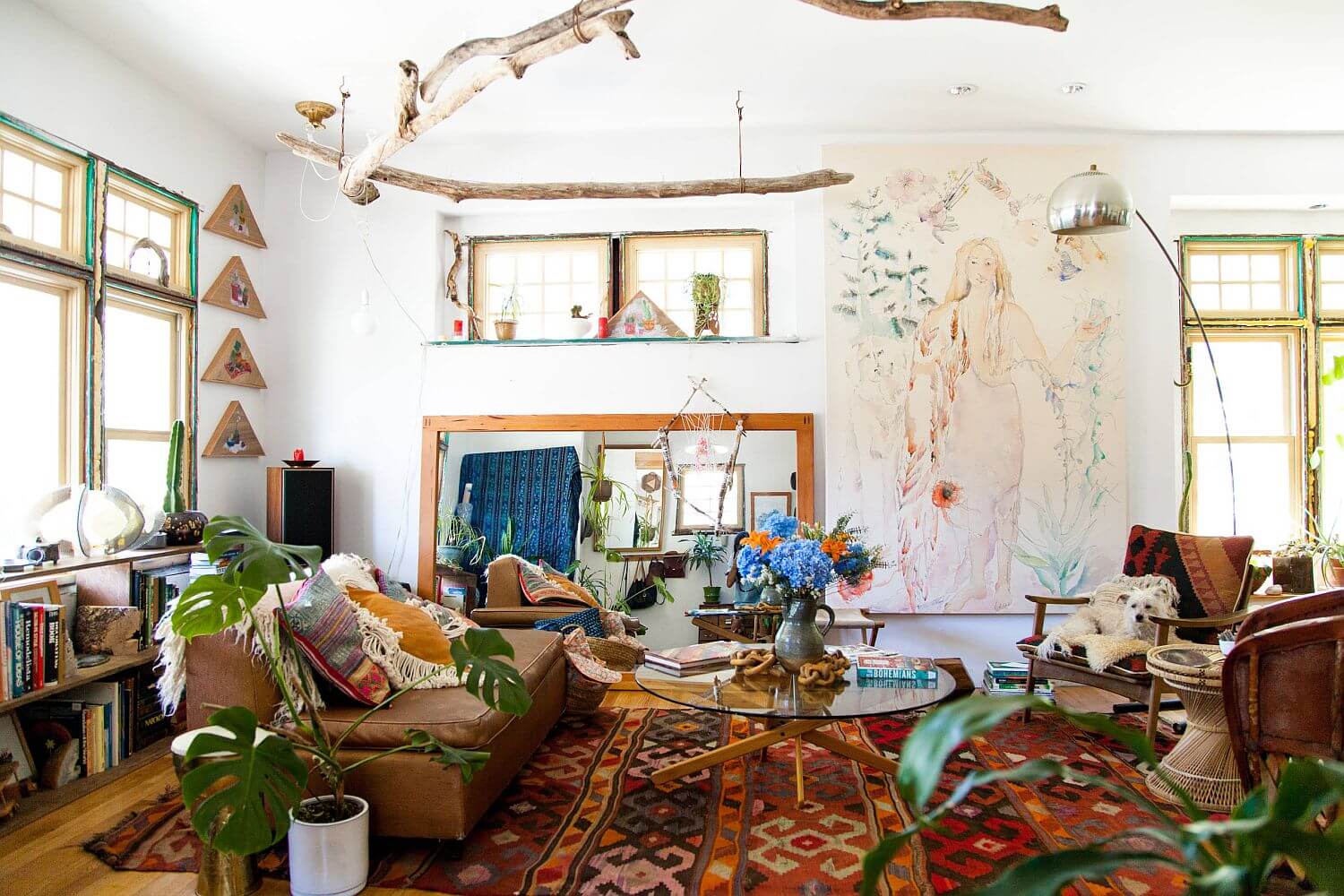 What do we know about boho?
The popularity of boho style began in the 1970s, when young people wanted something different. In the flood of mass-produced things, plastic and disposable items available in every supermarket, there was a need to look for originality. It led to exotic and unknown places. The turn towards cultures often considered primitive was then a kind of rebellion manifested in fashion and interior design. Though it did not last long, it opened eyes and minds to distant worlds.
Years ago it was simply called 'ethno', which refers to folk culture. Although by definition it can refer to any culture, in interior design it is mainly about the cultures of Africa, Australia, and South America.
The word 'boho' comes from the word 'bohema'. Bohema was a distinctive group of artists – writers, painters, musicians, and actors leading a nomadic lifestyle. They did not fit in with existing frameworks and conventions. The free time of the 19th-century artistic bohemianism was filled with travels, parties, meetings in cafés, and vernissages.
Strongly imbued with absinthe, loud feasts maintained in the pessimistic atmosphere of the modernist fin de siècle perfectly describe the extreme, dualistic nature of the bohemian style. There the dark meets the casual and the creative and craftsmanship meets primitive nonchalance, making the bohemian style a colourful and unpredictable mixture perfectly suited to interiors.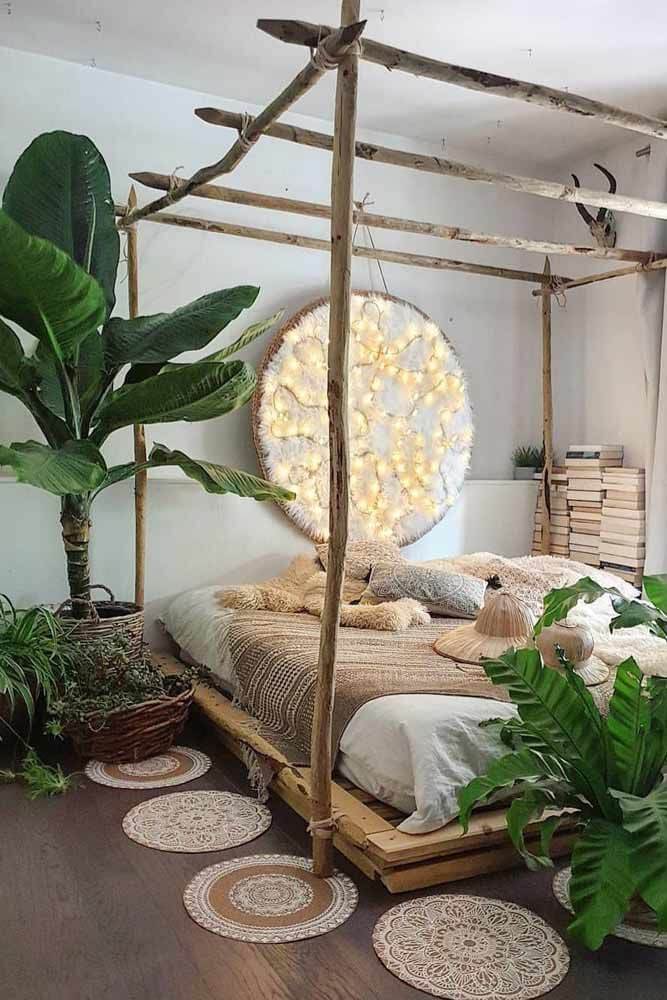 What is boho style?
The boho style in interiors is relatively easy to achieve because it resembles a patchwork. It is a mixture of hippie slack and 1960s design with ethnic and ecological elements, folk motifs, and the artistic nonchalance of Parisian bohemia. The charm of the bohemian style is mainly due to its casual character.
Interiors in the bohemian style are a feast of colors, patterns, and stylistic conventions. The mish-mash, strong colors, and a festival of patterns collected from a variety of styles: ethnic, psychedelic, floral, folk and geometric – these are its hallmarks.
Materials and furniture in boho style
The boho style is based on accessories and decorative fabrics. Many of them are homemade knitted out of multicolored yarn crochets – a bit gypsy, a bit rural.
Patchwork is also a must, whether in the form of pillowcases sewn together from scraps of different materials or a multicolored collage of patterned wallpapers on the wall.
The characteristics of the patchwork fit into the bohemian lifestyle philosophy, which can be summarized by the term 3R: "reduce, reuse, recycle".
It is an expression of an ecological approach to reality, which attracts many young people. For older, it is a nostalgic memory of hippie youth.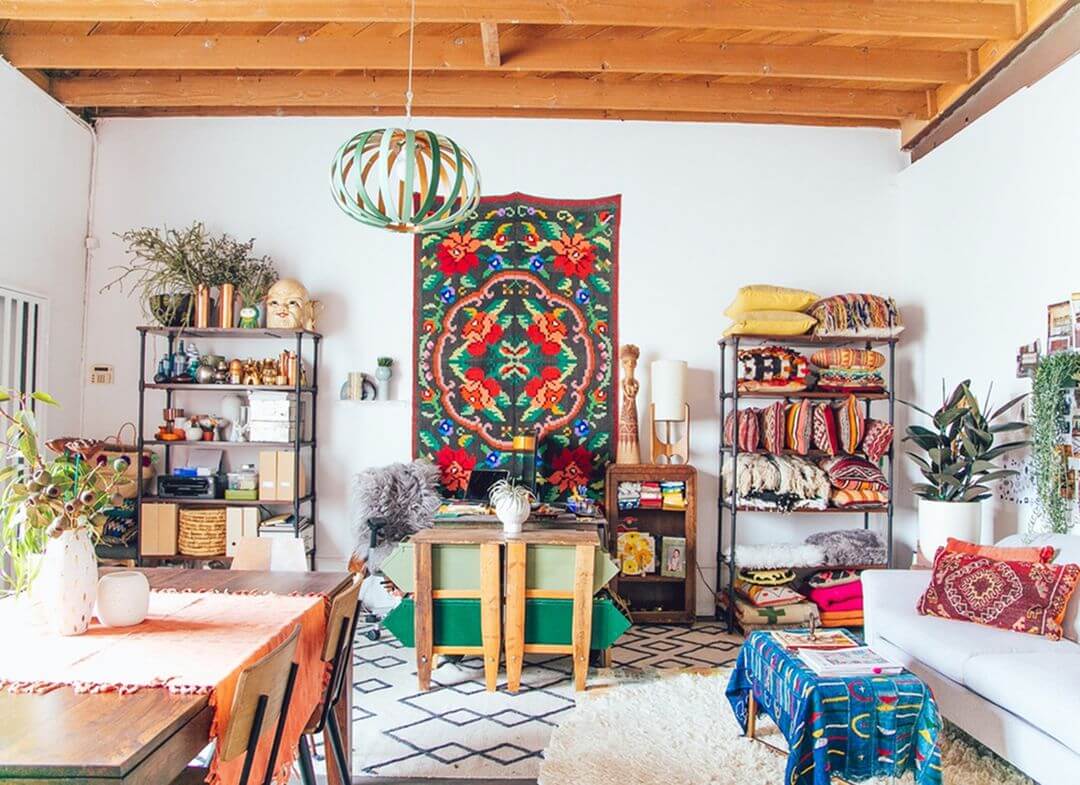 Strong and expressive colors
Intensive and dominant colors are an important element of the boho style. Boho loves extravagant, pesky, and loud combinations.
However, in interiors, this style is dominated by earth and natural colors. They resemble the sunburnt African landscape or the colorful villages of the Amazon tribes.
An exception to this rule is the so-called scandi boho, which took a lot of elements from the Scandinavian style. The boho in this edition is maintained in subdued colors.
A good choice is decorations in the form of cushions, carpets, baskets, bedspreads, paintings, and potted plants.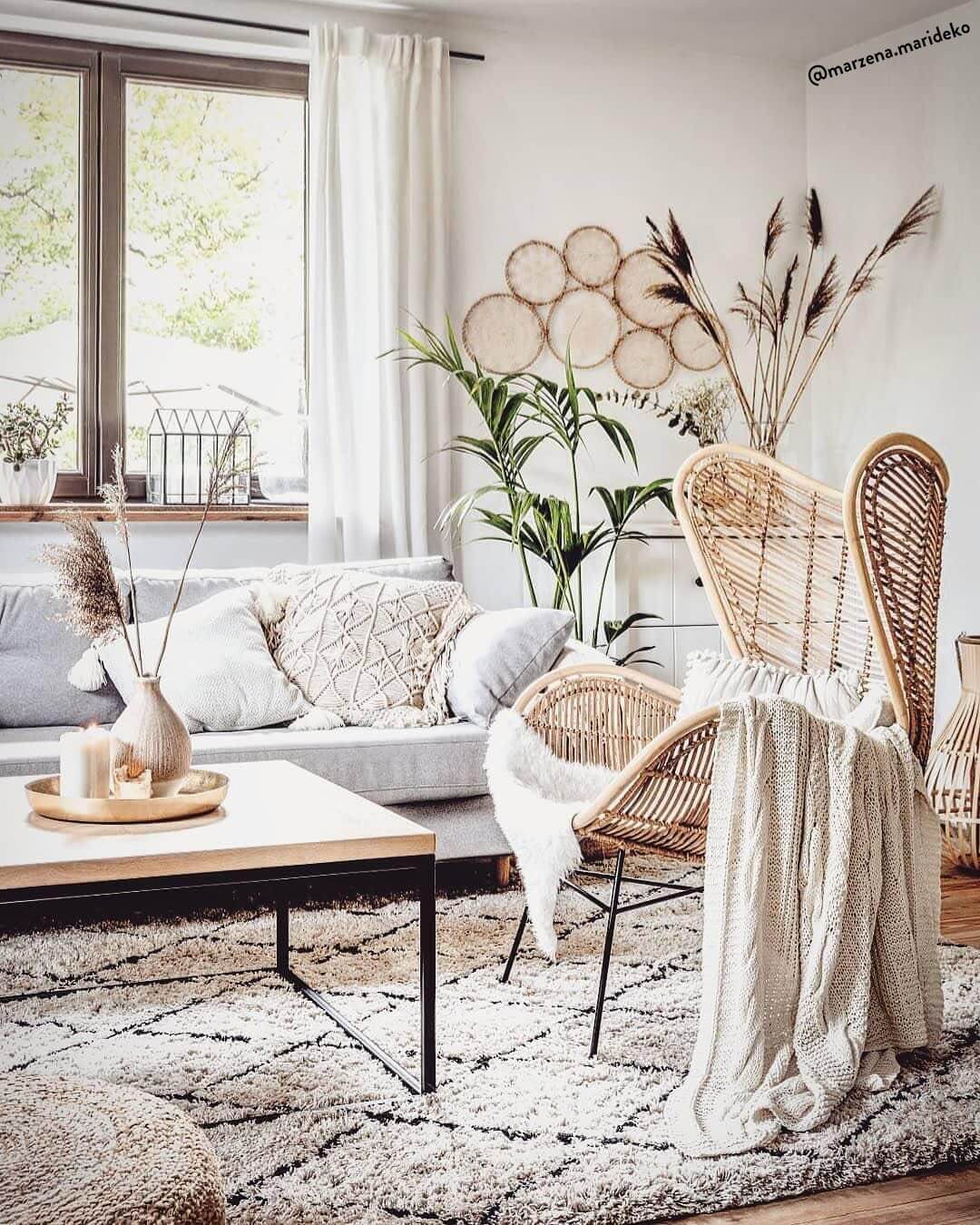 Wide variety of patterns and ornaments
Boho is a big mixture of patterns and ornaments emphasizing the cultural syncretism of this style. The hallmark of Boho are multicoloured textiles – patterned blankets and pillows, elegantly finished carpets and rugs, extravagant kilims and embroidered throws.
For the boho style, choose ethnic or folk patterns. Moroccan arabesques and exotic stitches are juxtaposed with folk embroidery and rustic ornaments, which results in a stylish and still consistent mish-mash.
The decorations from faraway expeditions will perfectly match the oriental boho style. Family decorations and souvenirs will emphasize the native character of the interior. This style will also go well with the bustling wallpapers, fleshy carpets, or oriental tiles.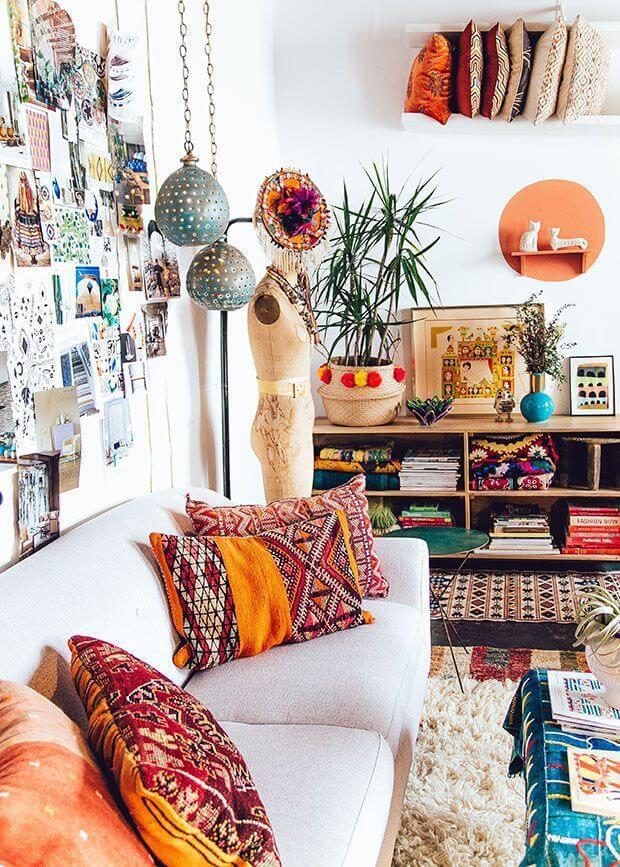 Handmade accessories and natural plants
The Globetrotter nature of the boho style is best reflected in exotic souvenirs from faraway trips and excursions. Hand-decorated figurines, vases, platters, candlesticks or plates will find their place in a colourful and unpredictable boho-style interior. Diversity, freedom and cultural syncretism is always a plus there.
The boho style is a tribute to natural materials. The currently popular jungle clothing trend will perfectly fit the loose aesthetics of boho. So it is worth putting massive pots with large plants such as palms, figs or bonsai trees in your room.
While decorating a boho-style apartment, let yourself be carried away by your fantasy. It is a style of freedom, so you don't have to stick to any rules in it!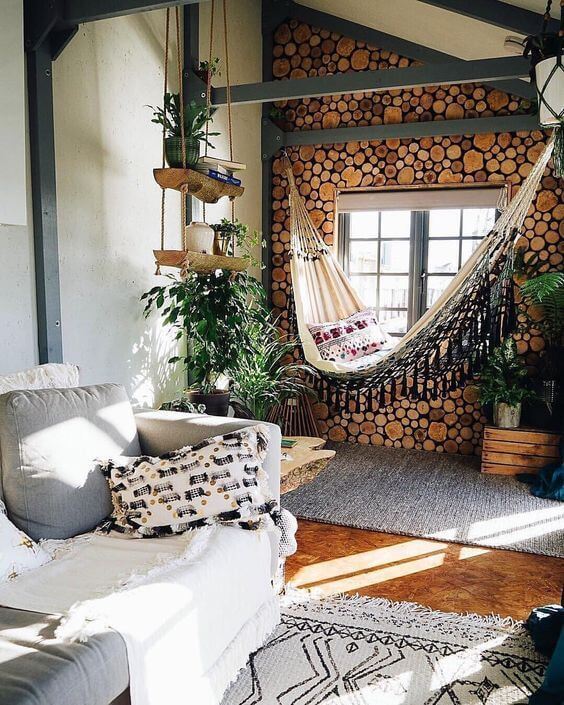 Combine and match stylish furniture and completely ordinary equipment and even individual modern elements – accompanied by an explosive mix of fabrics and decorative accessories. All of them will become avant-garde. Weaved furniture, as well as recycled or second-hand items, will also be a hit.
The glamorous boho style is in opposition to all conventions and rules in interior design and – just like the 19th-century bohemia – follows its paths, being a stylish avant-garde rather than a mannerist and predictable classic.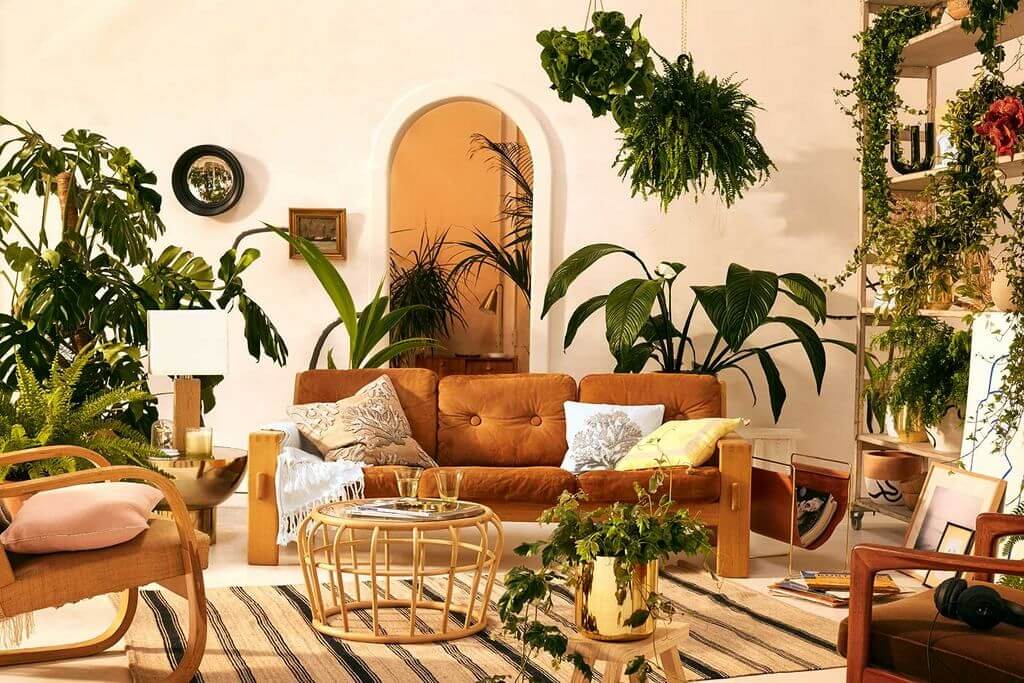 We really hope you liked our article. Feel free to pin all the images to your favorite Pinterest board or to print it and use it on your projects' mood boards. You can also visit our Pinterest boards in order to get more inspirations.