This year an amazing duo of famous interior designers – Nate Berkus and Jeremiah Brent rocked the world of architecture with their amazing Californian project called "Hancock Park Estate". But this dreamy house full of light and energy hasn't always looked like today. It was originally a Tudor house comprised of small, dark rooms built in 1925, before the era of modern indoor-outdoor living that California is known for. Follow the article to check how they managed to turn the old, dark and grumpy house into a spacious and happy living space.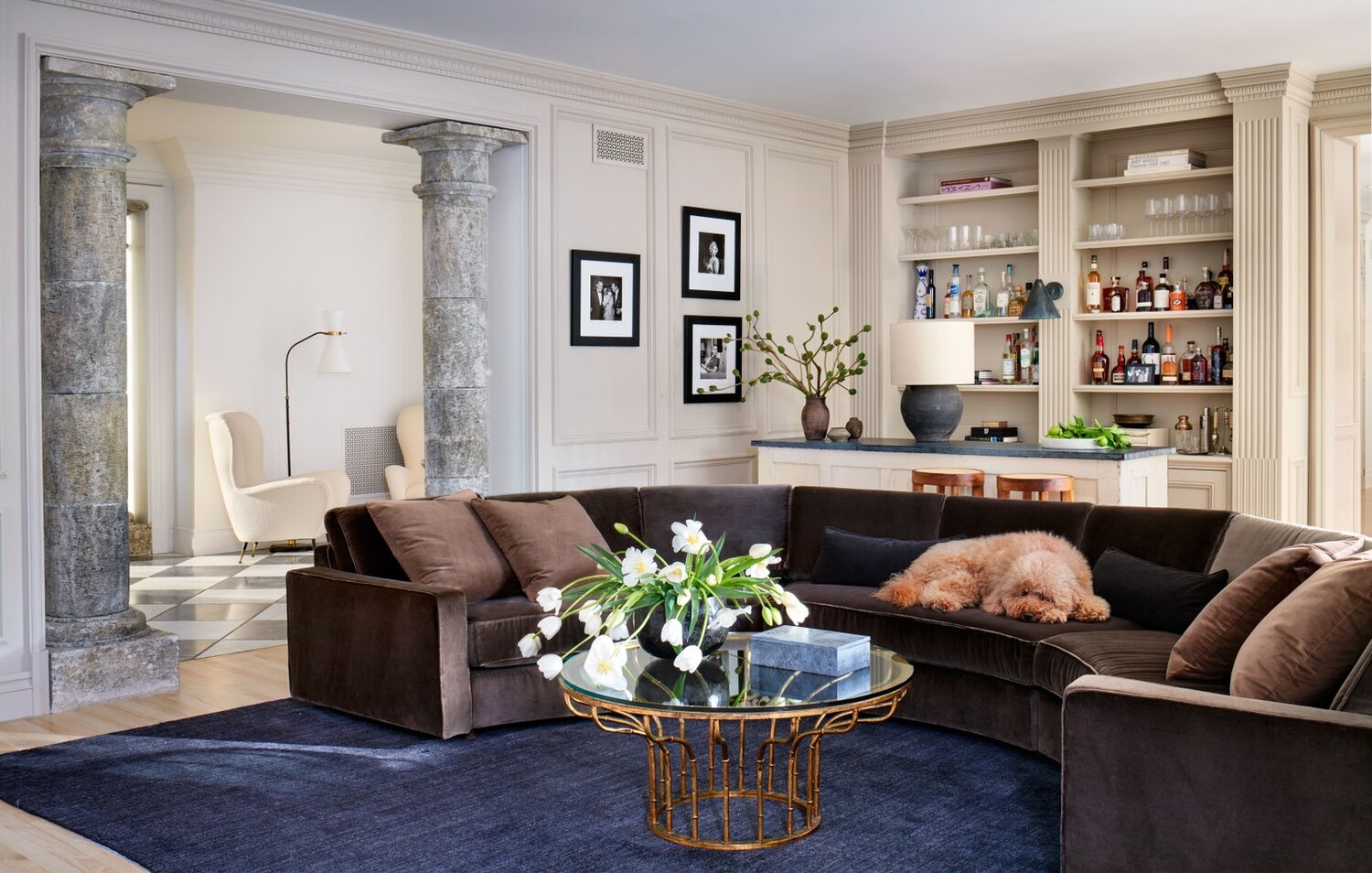 It seems like the collaboration of this couple of two very talented designers was a wonderful idea. Nate Berkus is one of the most-known American designers, who established his award-winning interior design firm at the age of 24. He specializes in transforming houses and apartments into magnificent projects. When he designs a home, his main goal is to tell a story of the owners life through things that they choose for their houses. For him, home is simply a collection of the things that we love and value most in life.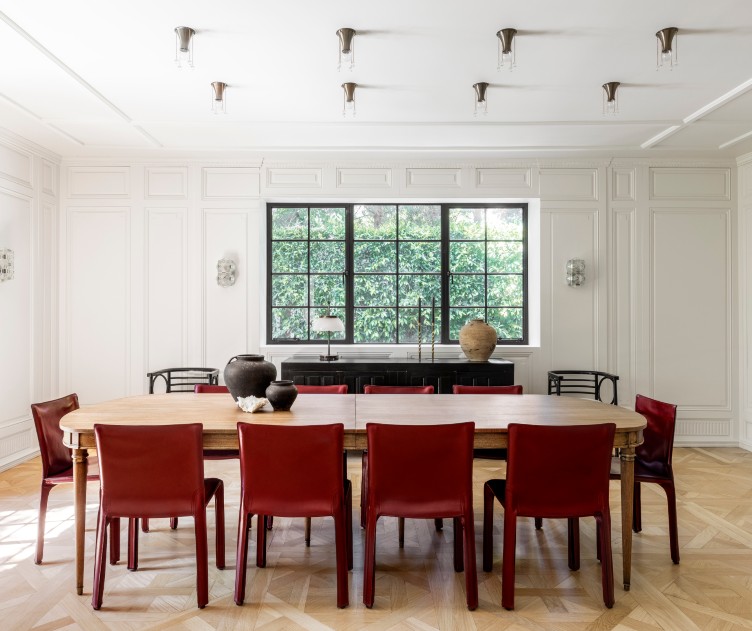 Nate's partner on this project – Jeremiah Brent is also his husband. Unlikely Nate, Jeremiah entered the design world through furniture design. After founding his design company in 2011, he has transformed countless homes, restaurants, and public spaces across coasts. Featured in publications such as Domino Magazine, Architectural Digest, and Harper's Bazaar, his work shows the effortless depth, fearlessness, and creativity behind his designs. As he says; "Your home is your opportunity to showcase not only where you've been in your life, but also who you are now and, most importantly, who you hope to be".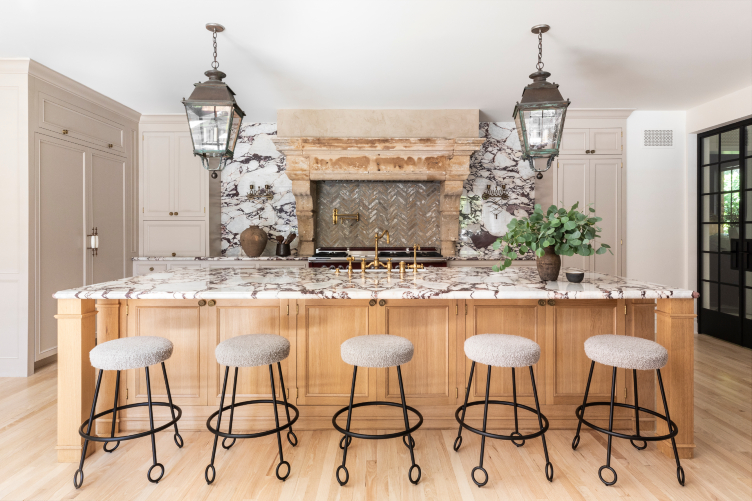 The Hancock Park Estate is a Californian House owned by Brian Robbins – the president of Nickelodeon, and his wife Tracy James, who is a stylist. The couple along with three kids wanted to have a modern, bright house with a lot of open and common spaces so that they could enjoy spending time together there. But, the original Tudor from 1925 was a dark house with a lot of tiny rooms and corridors, so the designers were put into a challenge.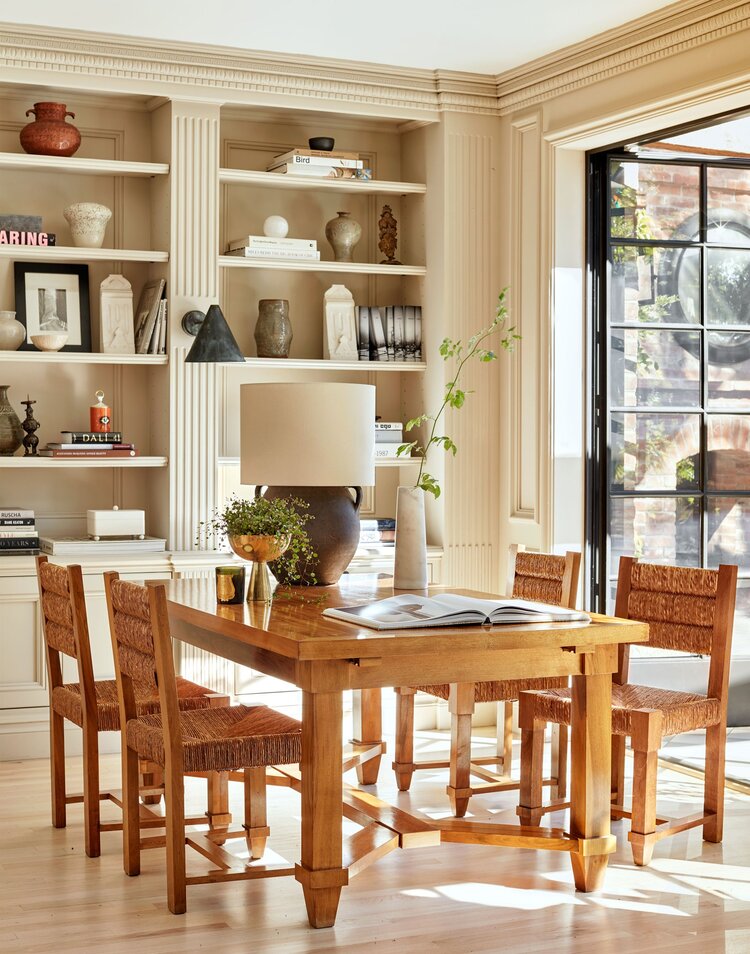 Nate and Jeremiah decided to "crack open" the house to create a more gracious floor plan, and invited the natural light in through replacing nearly all the doors and windows with iron & glass. They wanted to get rid of the stiffness of the house without changing it completely, so that it would lose its character. "The front door is the only original door or window we left. Every layer we stripped out opened up the house and gave it an entirely different presence," says Nate.
The open spaces that they managed to achieve through consolidation of the smaller discrete rooms can be seen in the bright and spacious kitchen, living room and dining hall as well as the master bedroom.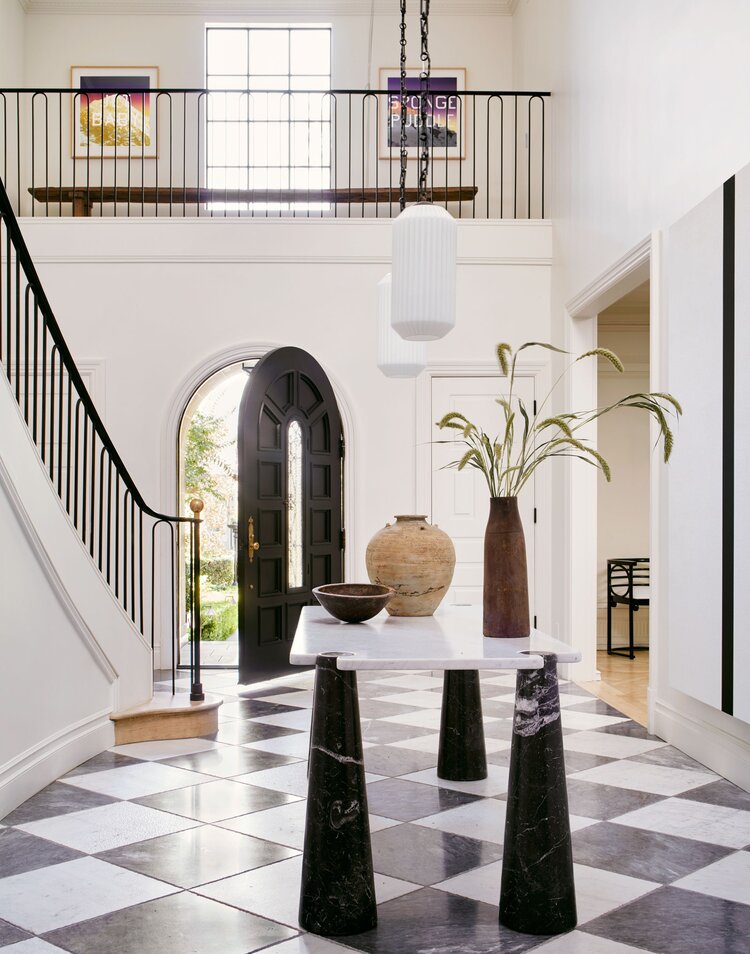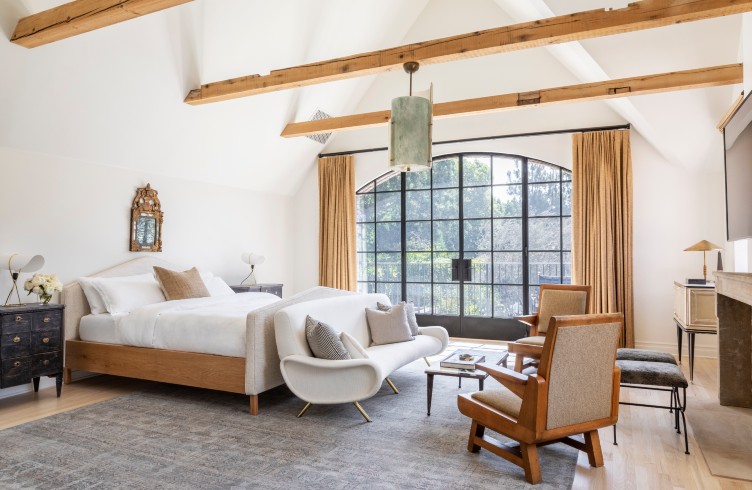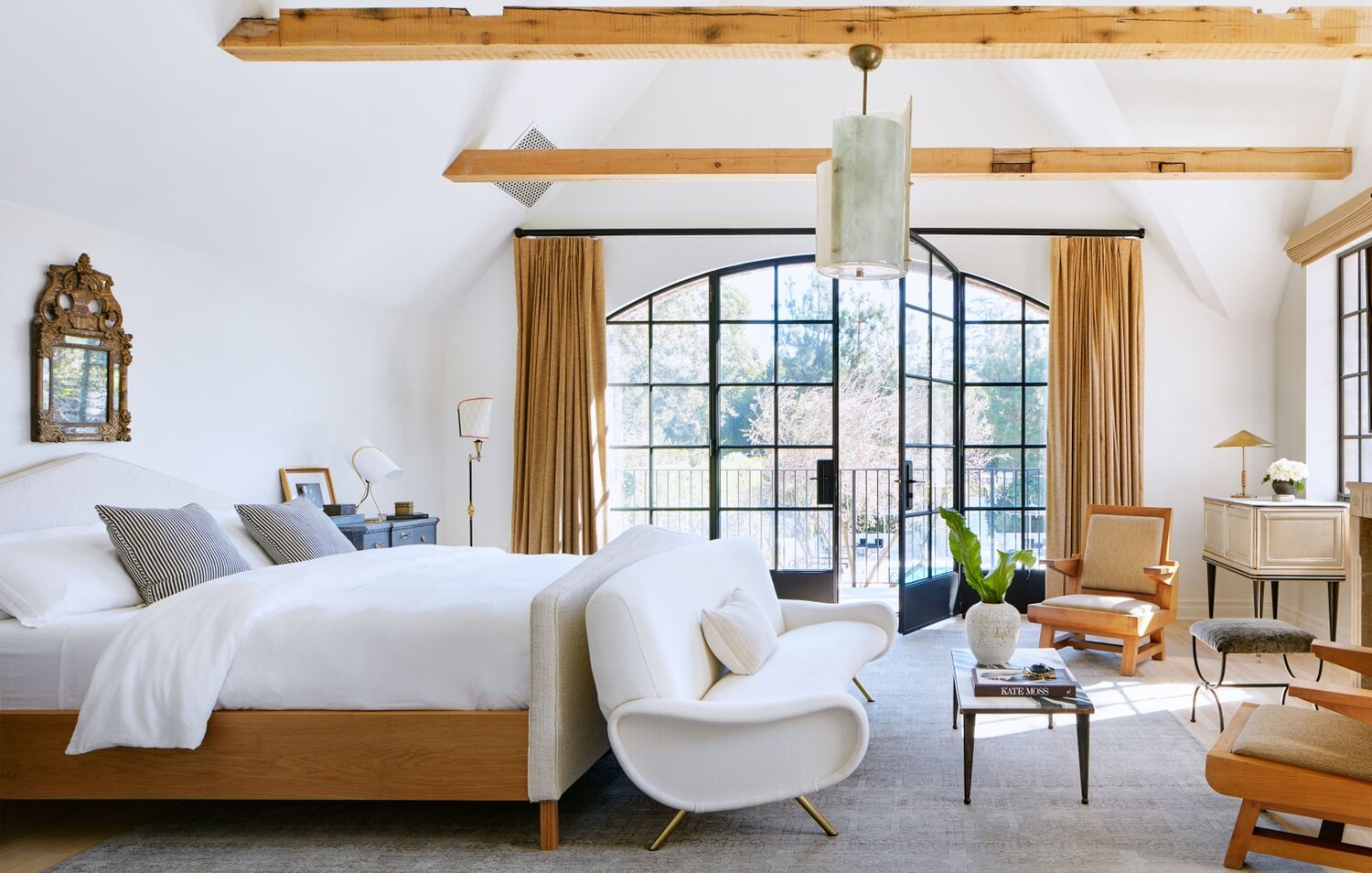 In the living room, they decided to stick to the white and neutral tones, to create a spacious room full of light. As a result, space looks like it was made for family gatherings or lazy evenings in front of the fire. It features cozy Vintage Pierre Guariche armchairs that are facing the Lunarys Center Table from Hommes Studio. Even though the room is kept in one color palette, the choice of different textures and shapes makes is a perfectly balanced relaxation space.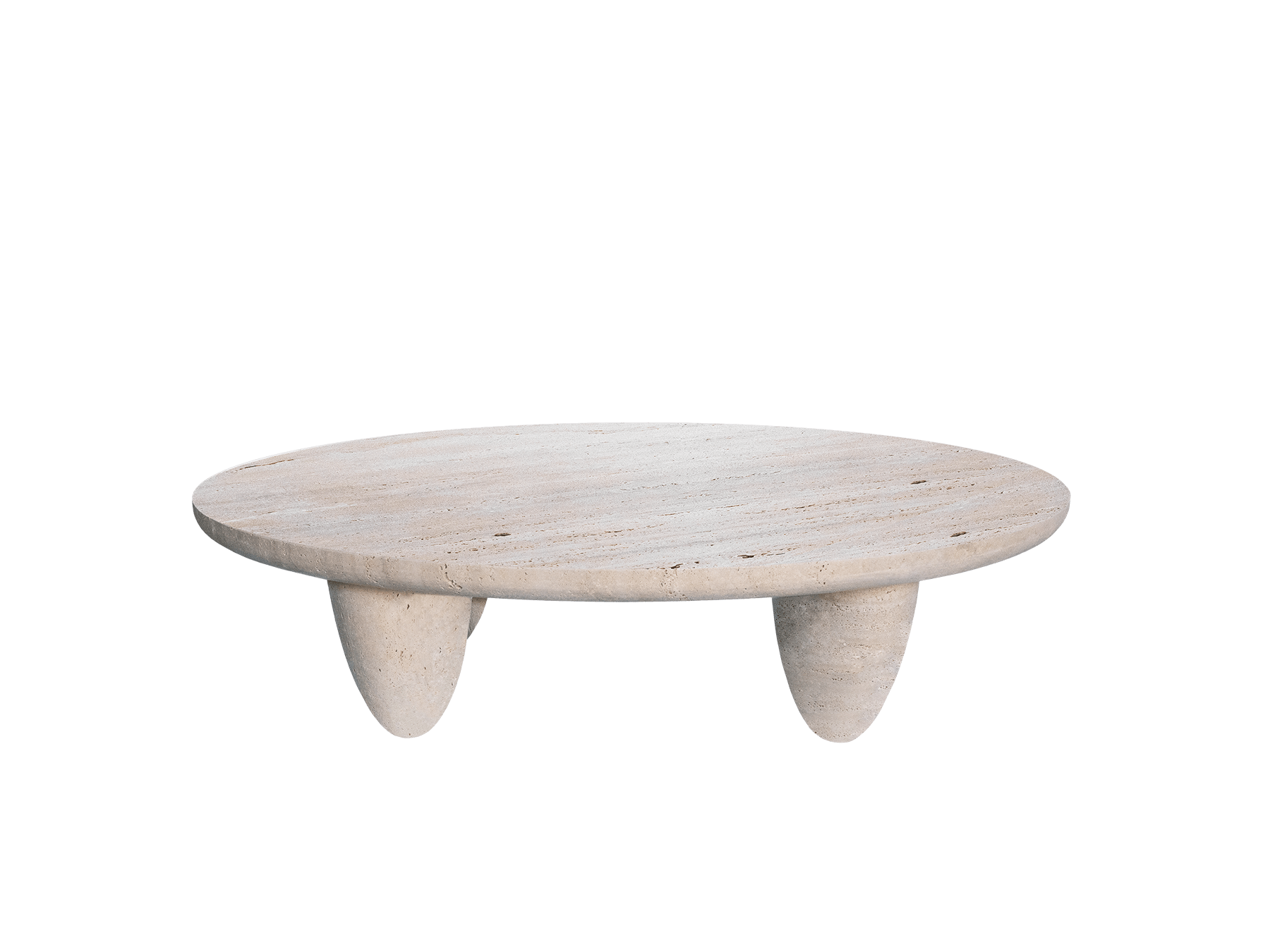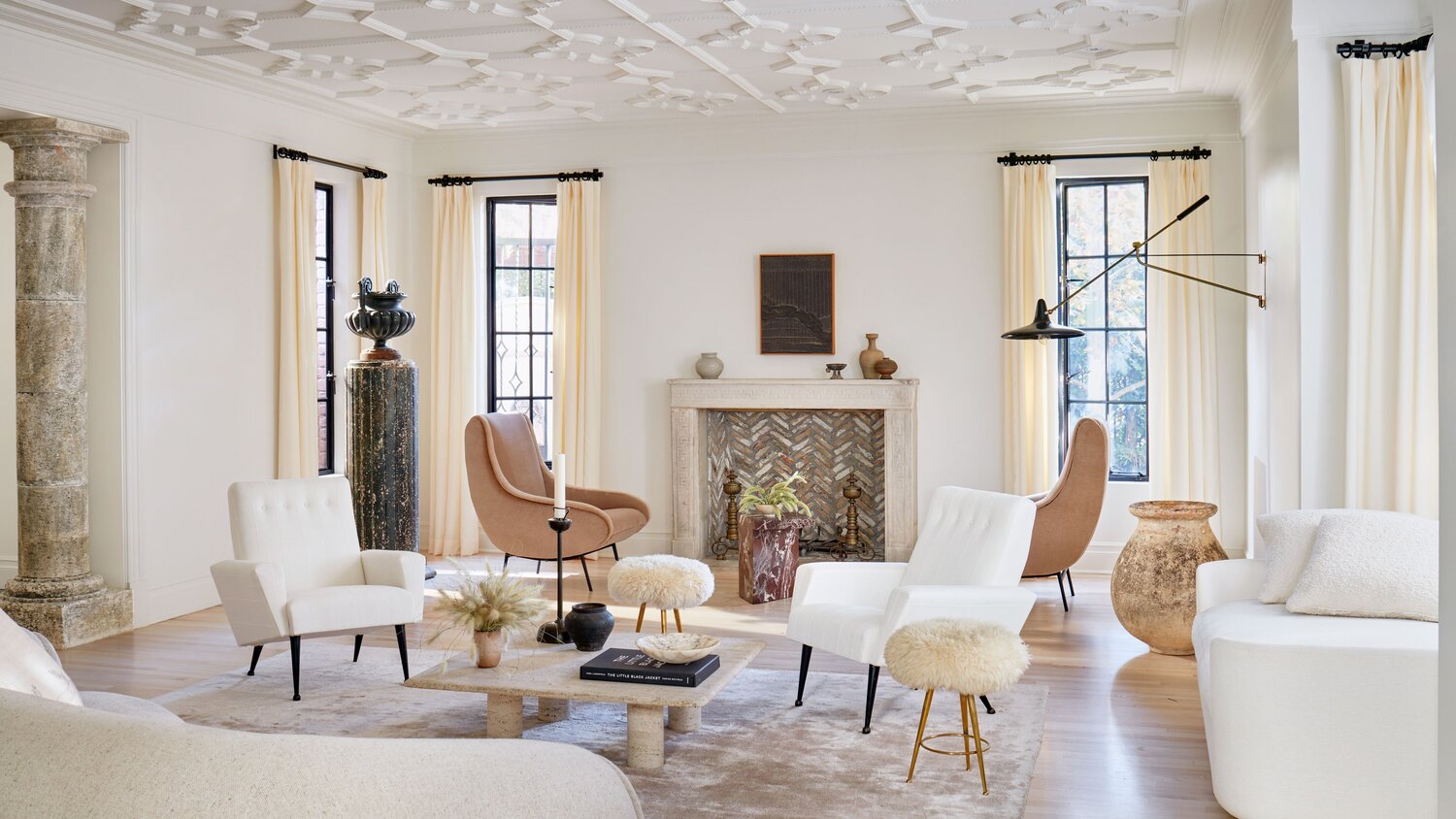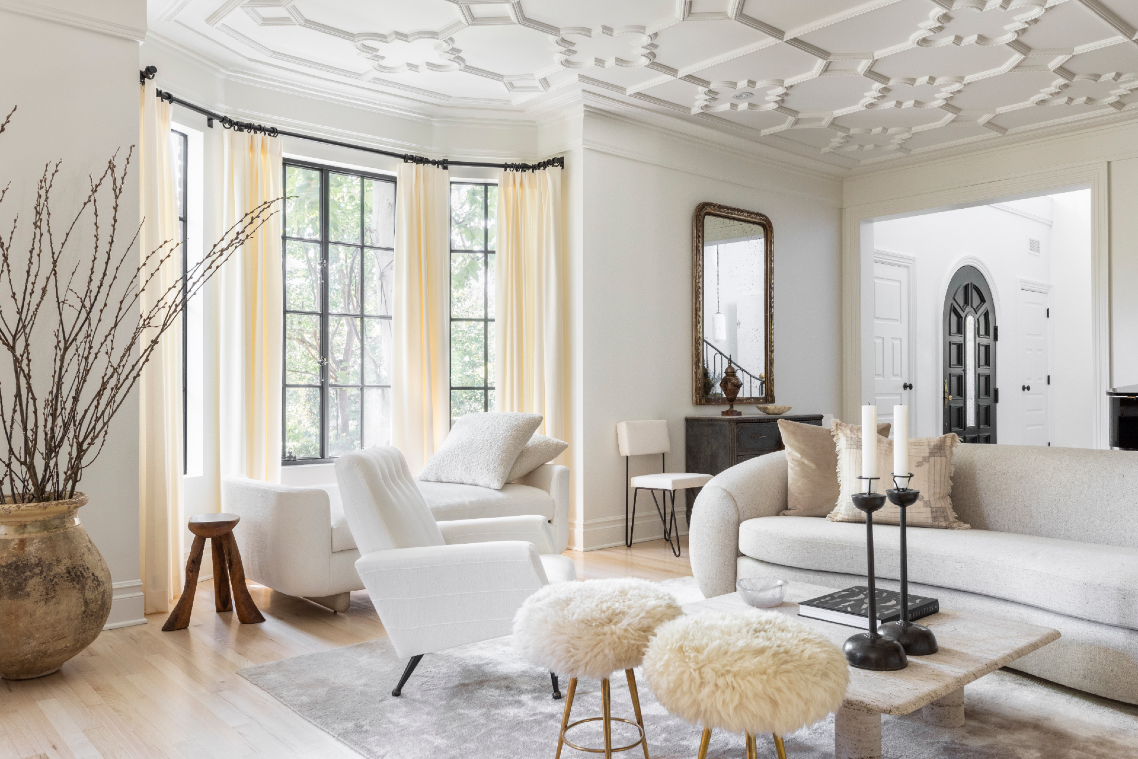 The Hancock Park Estate is an intriguing mix of modern and contemporary pieces of furniture and decorations and the Tudor architecture. "The soft, curved lines of the furniture instill a sense of fluidity," says Nate Berkus.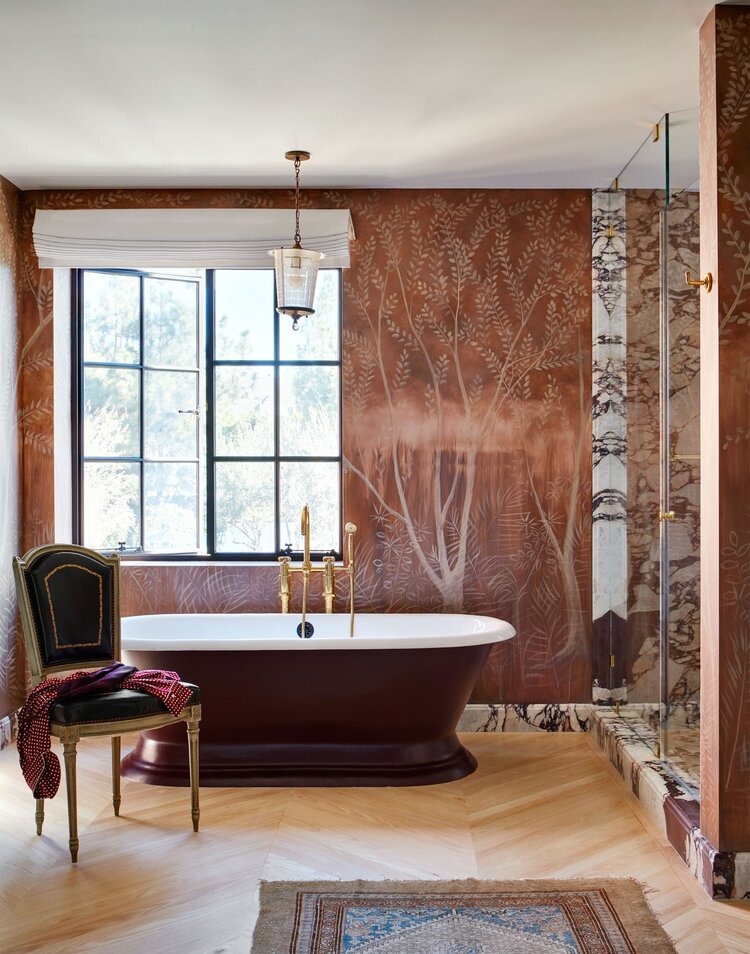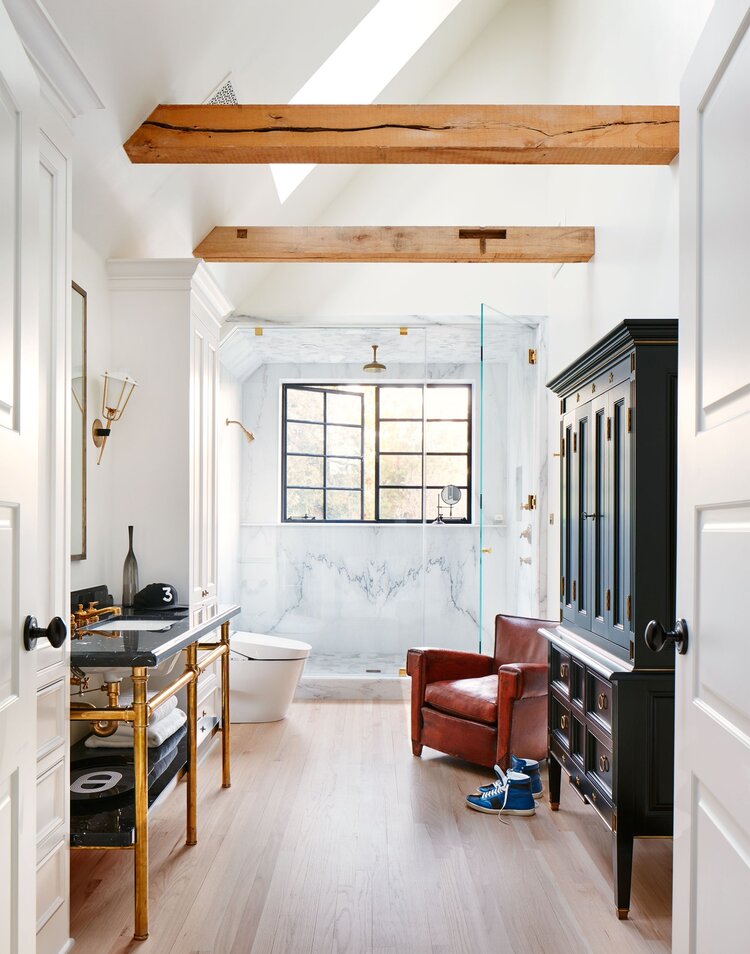 This house feels like a perfect harbour for a happy family. Every room looks invites to spend time in it and create unique memories from this lovely home. Both designers stated that it was a real pleasure to work for the Robbins family. "We really fell in love with these clients. They were the kindest, most engaged people we've had the pleasure to work with, so we wanted to give them a home that truly reflects the beauty of their family". No wonder that in such an atmosphere they've managed to create such wonderful house.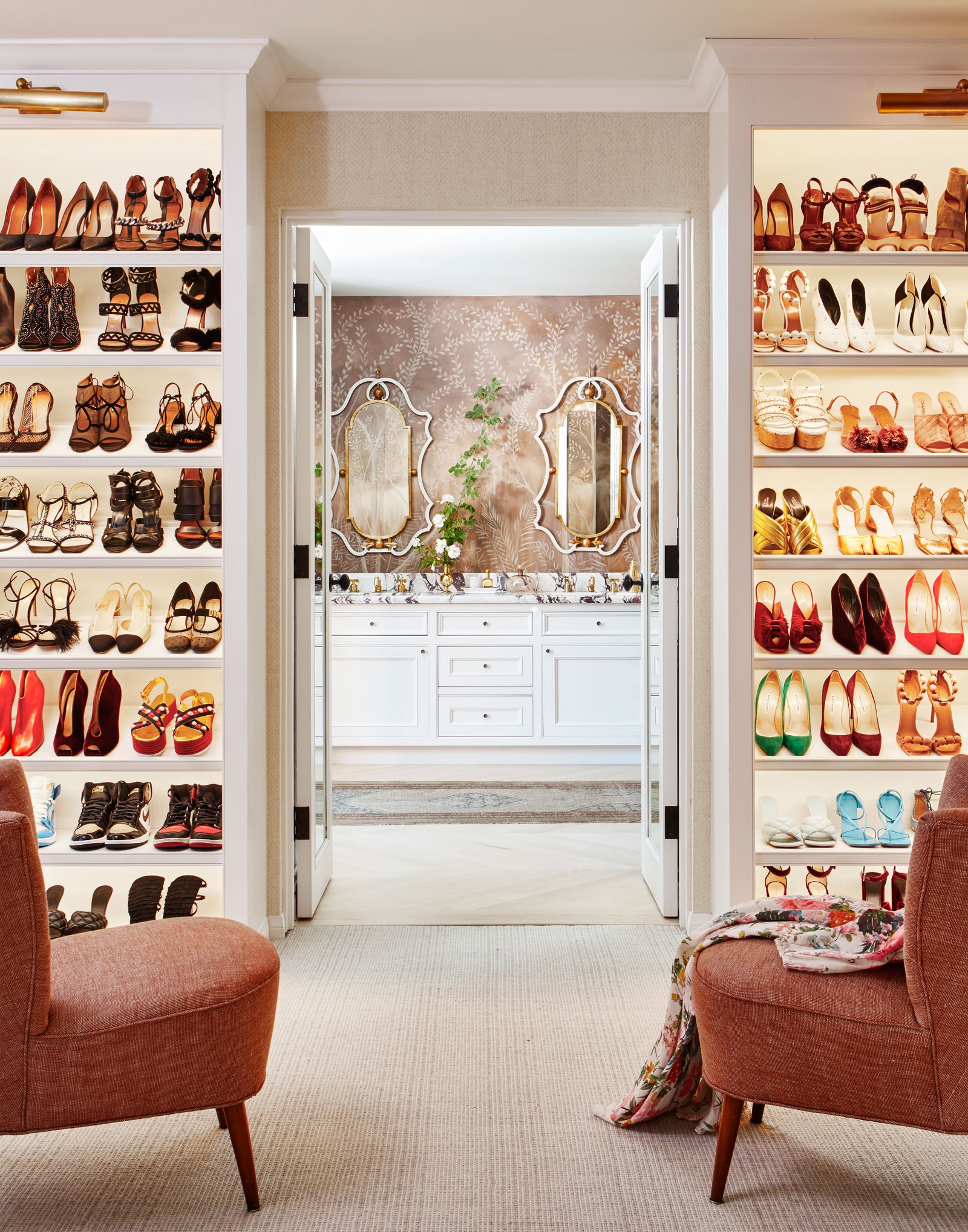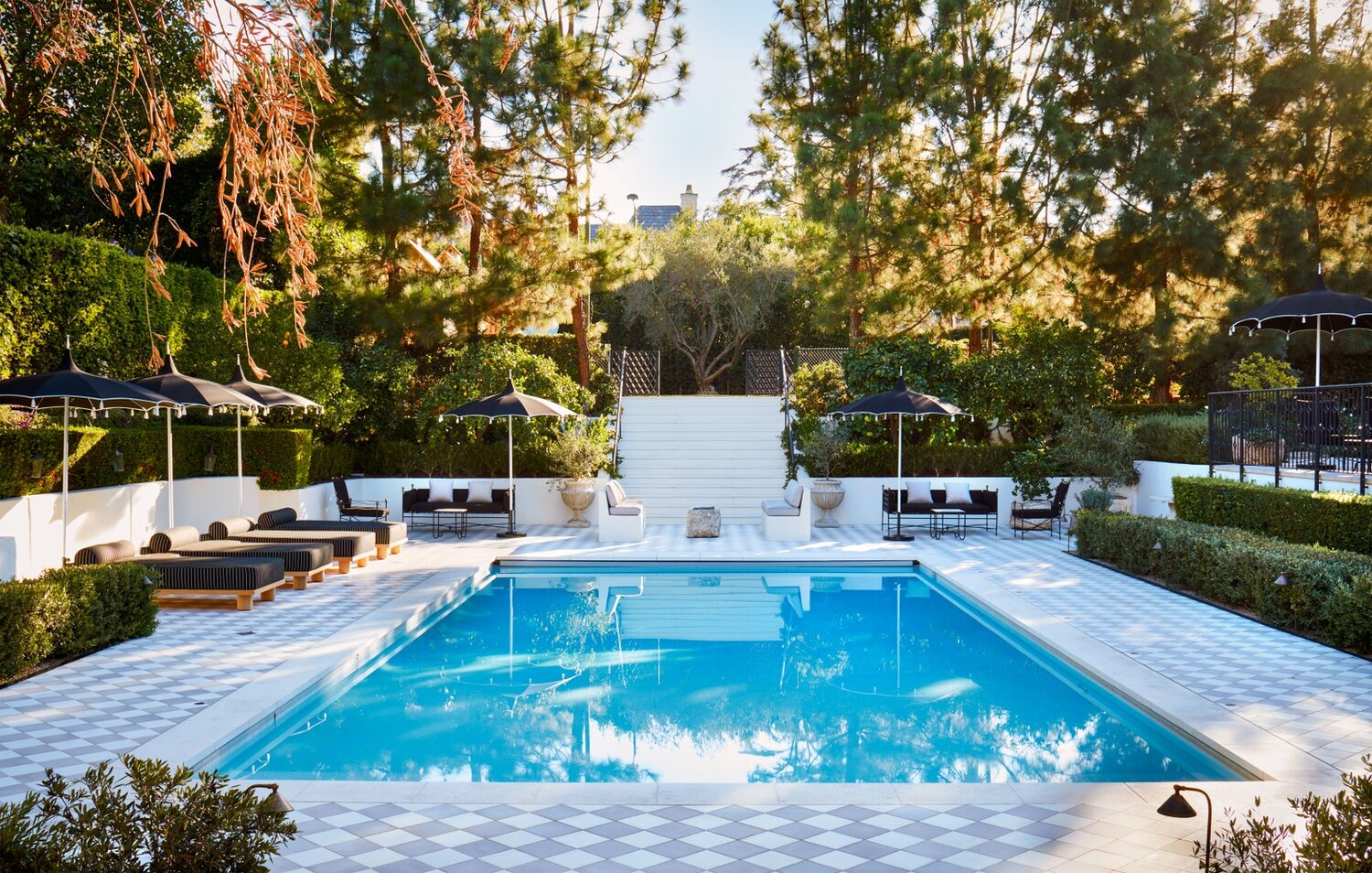 [Article written thanks to Architectural Digests' text and photos]