How to design a bathroom? And how to design an exceptional bathroom that doesn't feel like one?

Learning from leading interior designers, we selected essential features for a modern luxury bathroom design. Some of them have outstanding tubs, while others combine tubs and showers. A bathroom with a view is obligatory for some people, and others don't like to share their bathroom vanity. Sometimes bathrooms are also dressing rooms, but other times they are like a spa.

Putting interior design styles aside, bathrooms are a self-care temple, a paradise where we can escape to.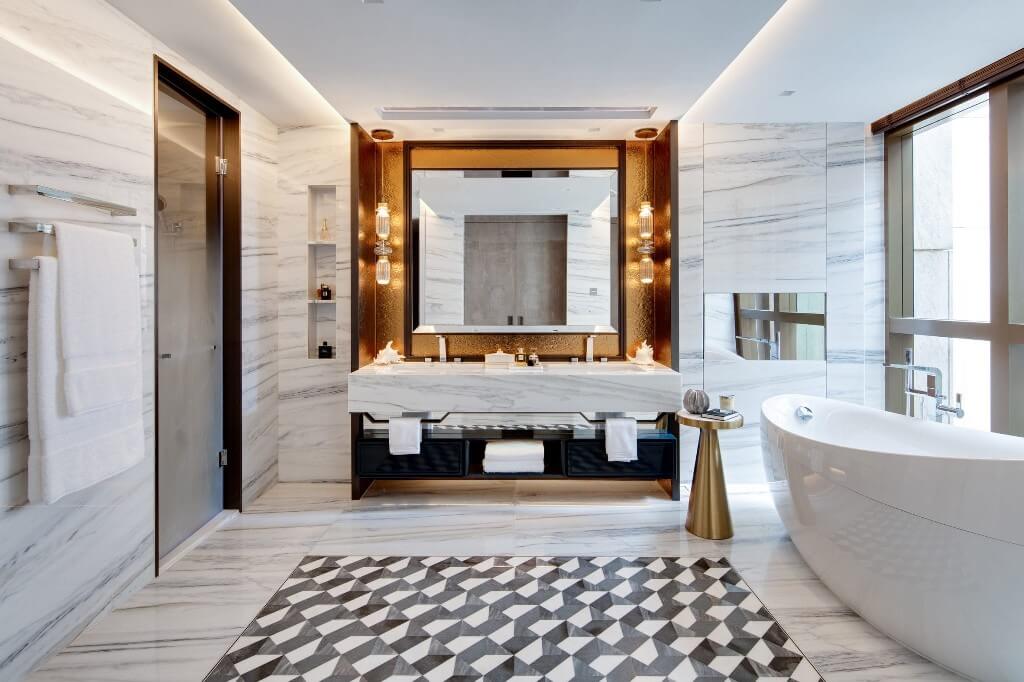 In bathroom design, function comes first, then comes usability. But how to design a bathroom that is really useful? That's simple – as your client!

To make a bathroom functional, you don't need much – a tub, a toilet, a sink, pipes, and running water. But to make a bathroom truly useful, you need to make it unique. Usability is uniqueness. Your client's personality is injected in one room where they will have time by themselves, either getting ready for a long day or relaxing after a long flight.

Bathrooms get personal in the best way. What's your client's ultimate desire?

HOW TO DESIGN A BATHROOM?
TUBS AND SHOWER STALLS
What is the difference between powder rooms and bathrooms? Powder rooms only count with a toilet and a washing basin. On the other hand, bathrooms have the toilet, the washing basin, and a tub or a shower stall – some bathrooms have both – a tub and a shower stall – especially if it is a master bathroom.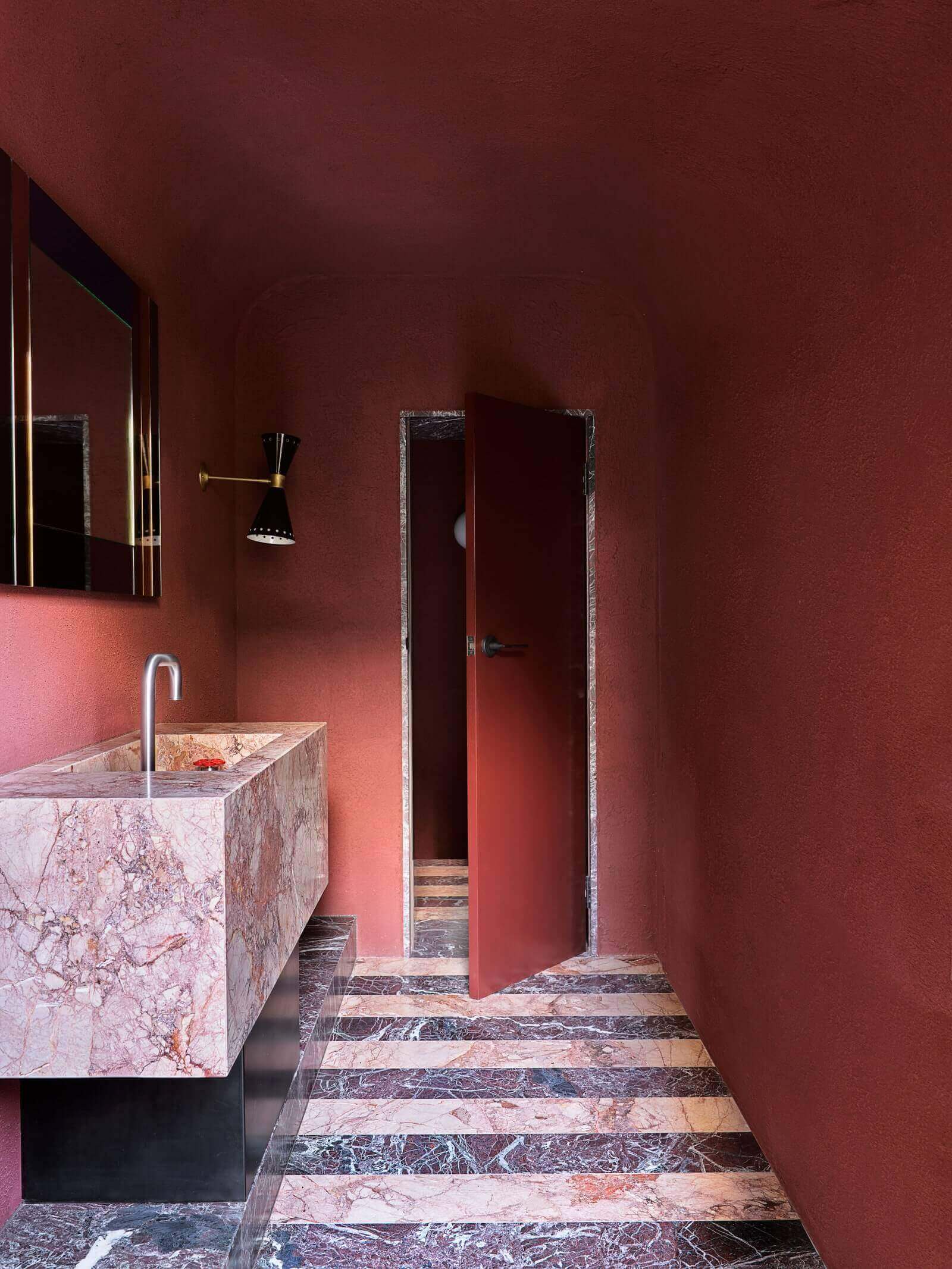 Flack Studio designed the powder room of Troye Sivan for his home in Melbourne.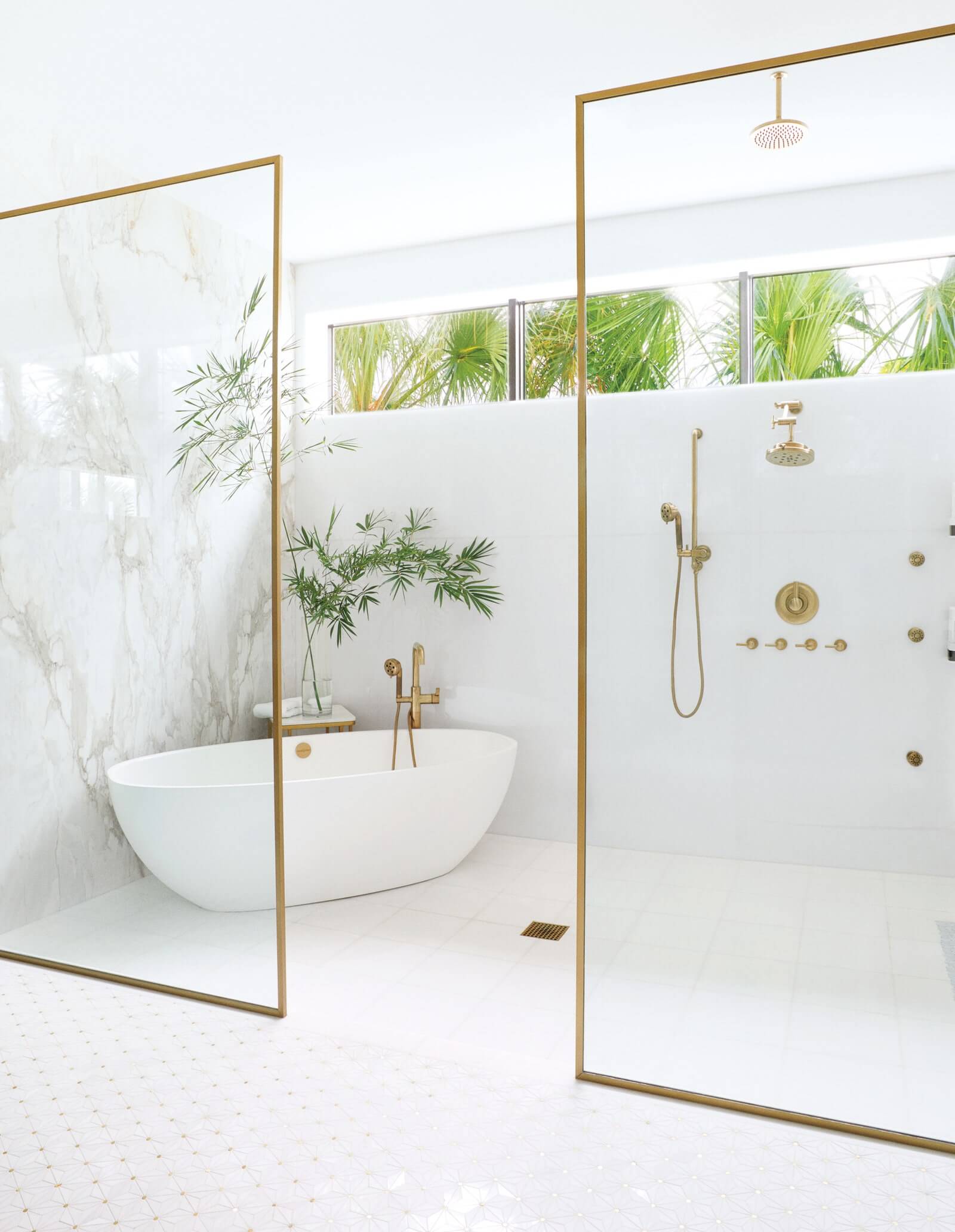 The master bathroom of Serena Williams' home in Florida has a walk-in bath area separated by glass panels. On the right is the shower stall; on the left is a minimal tub for relaxing moments. The interior of her home was designed by her sister Venus' interior design practice V-Starr.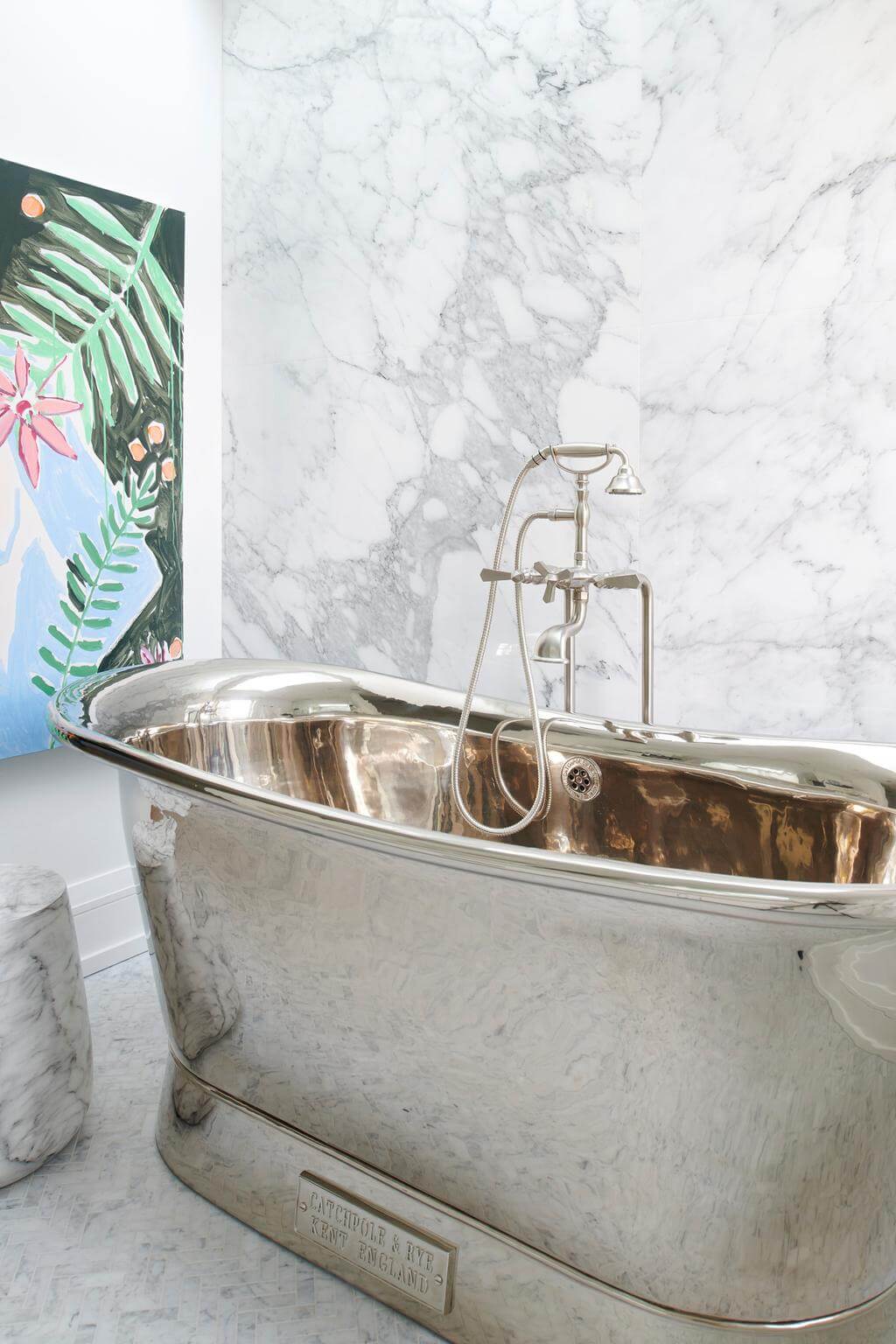 The master bathroom of a family home in Toronto has a brass bathtub with a silver finish reflecting the white marble mosaics and panels. This modern bathroom is a design of Ali Budd Interiors.
What to choose? A tub or a shower stall? It all depends on your client's needs and lifestyle. It can be a combination of both – a master bathroom with a bathtub and a stall – or it can simply be a tub. Bathtubs are essential in a bathroom whose purpose is self-care and relaxation.
SINKS AND VANITIES
Sinks and vanities can make it or break it when it comes to defining a bathroom design style. Choose black mate pipes and you have a contemporary bathroom or choose curvy pipes in brass and you'll have a midcentury or an art deco style bathroom. It is pretty much the same with bathroom vanities – they help you define the identity of the bathroom.
However, bathroom vanities are something more – they are highly decorative. A marble or onyx bathroom vanity will add style and sophistication to the bathroom. Yet bathroom vanities go further – they are an owner's mirror. Is it a couple or a single person?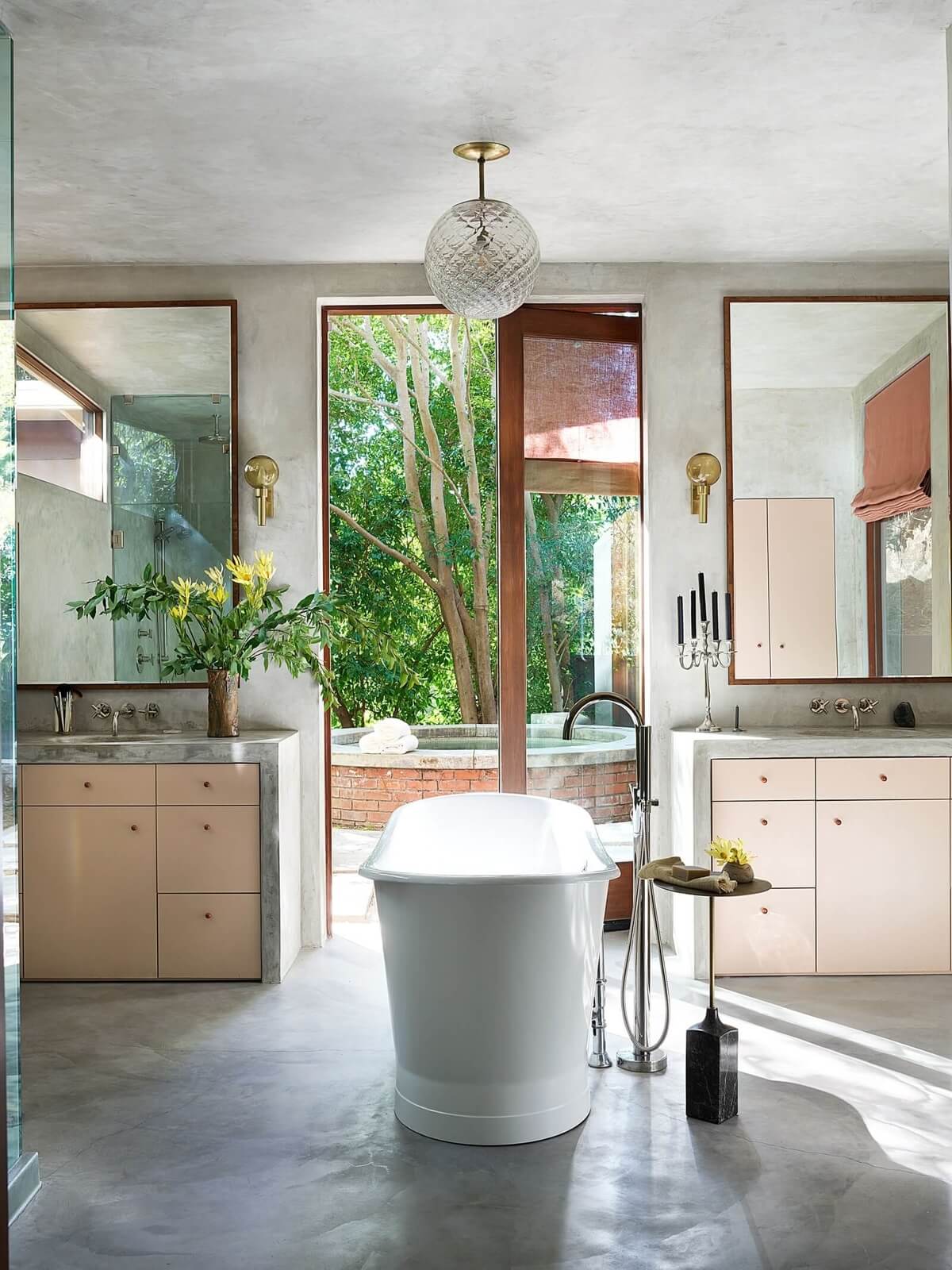 In her LA home, Dakota Johnson's master bathroom has two vanities. One of hers and another of her boyfriend. The midcentury modern bathroom was designed by Pierce & Ward.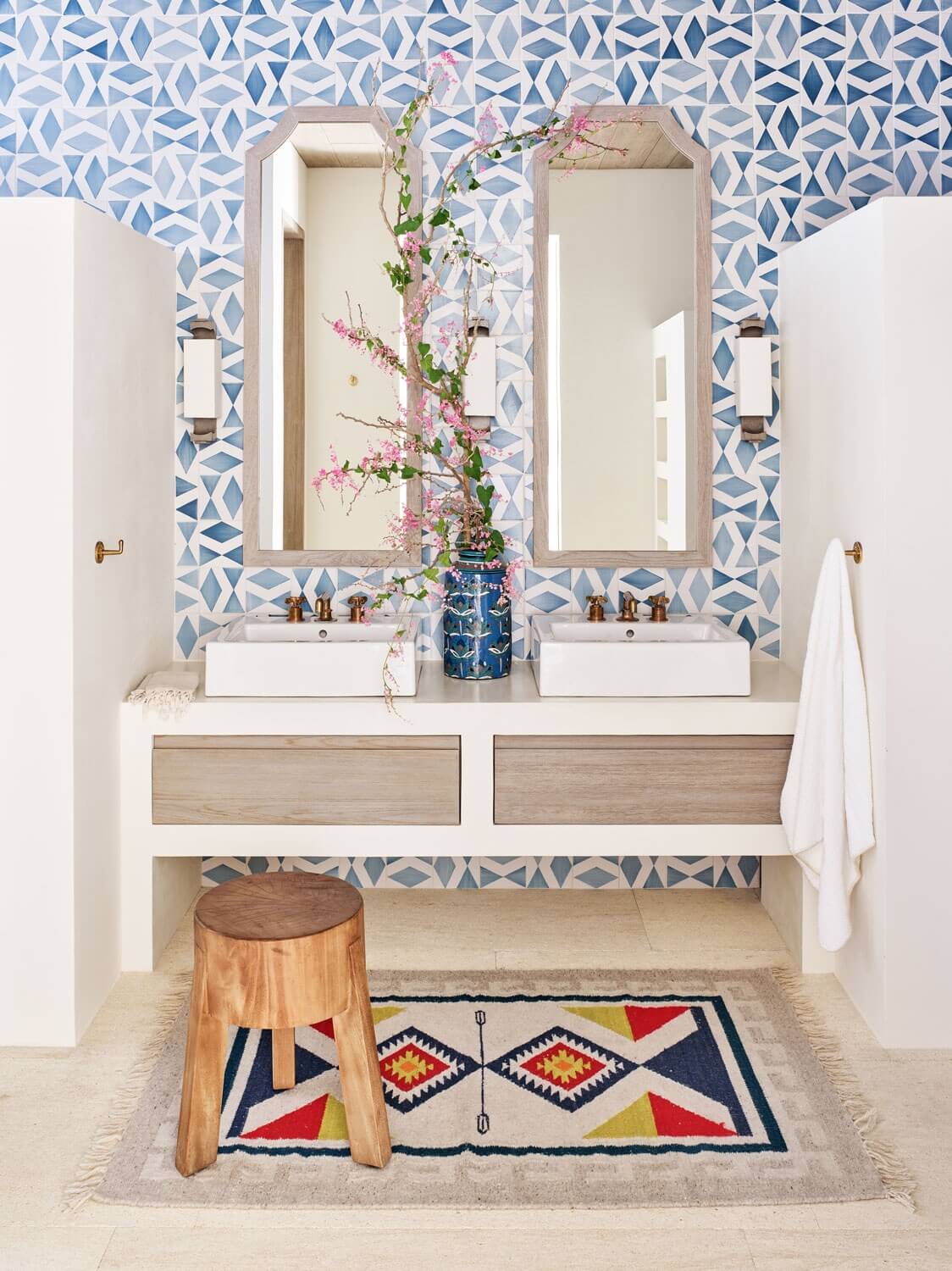 Ken Fulk designs a minimalist bathroom vanity against a wall with an eclectic pattern for a holiday retreat in Mexico.
FURNITURE
What type of furniture goes in a bathroom? Any kind as long as it is helpful for your client. Nevertheless, three furniture pieces are obligatory in modern bathroom design – side tables, stools, and mirrors. Every room needs a side table, usually next to the bathtub. A side table can hold your artisanal soap or a vase with fresh flowers (it is equally helpful for holding a glass of wine). When it comes to stools, there's always room – and purpose – for having one in a bathroom.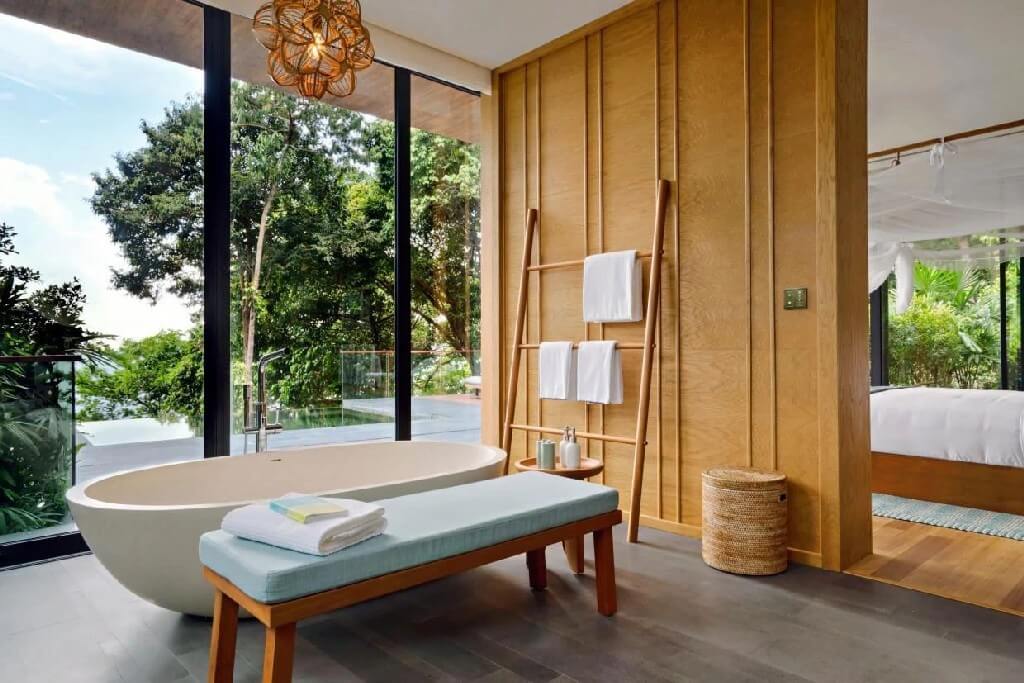 SIDE TABLES BY HOMMÉS STUDIO
Discover all Side Tables by Hommés Studio here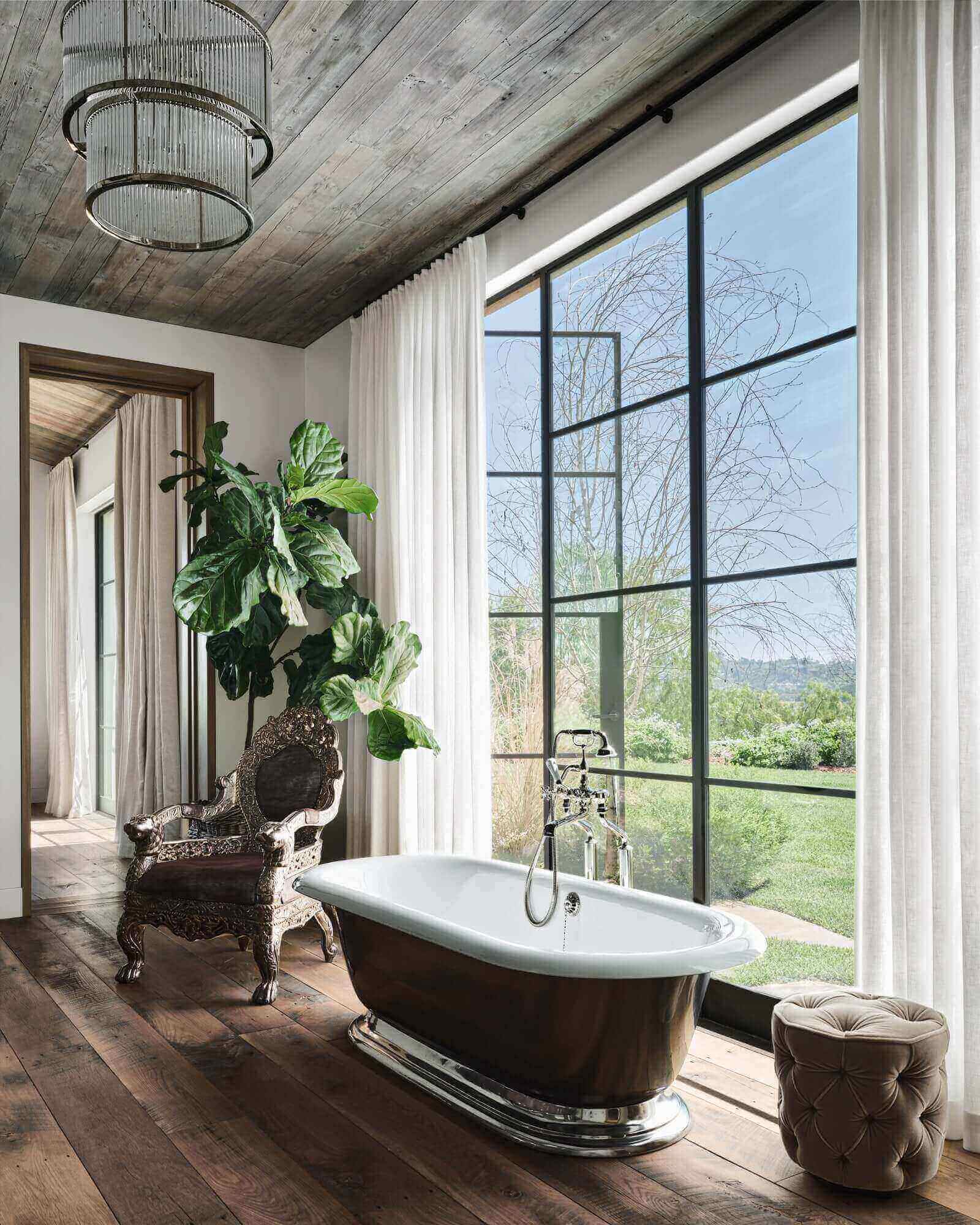 STOOLS BY HOMMÉS STUDIO
Discover all Stools by Hommés Studio here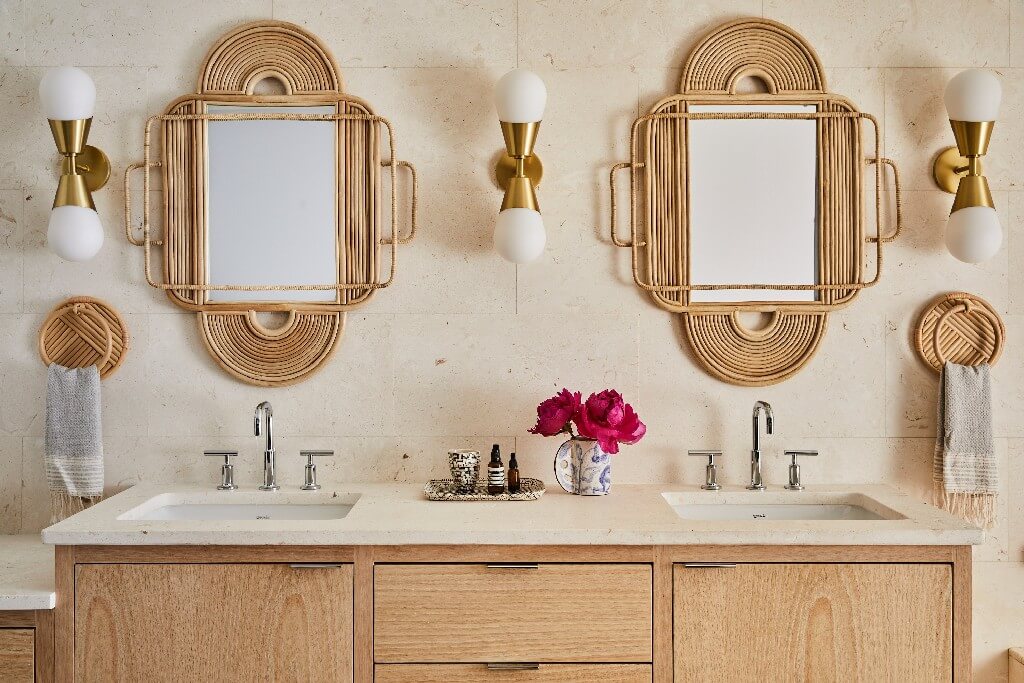 MIRRORS BY HOMMÉS STUDIO
Discover all Mirrors by Hommés Studio here
Biggers bathrooms may demand other type of modern furniture, such as benches and armchairs, especially when the bathroom is a dressing room as well.
Discover high-end modern furniture to furnish your bathroom design project in our catalog below:

STORAGE
Even an exceptional bathroom design has storage. The bathroom may not look like a bathroom, and definitely don't feel like one – but both function and useful bathrooms demand storage options, to keep bath towels, bath salts or anything else you want to keep away from your guests' sight.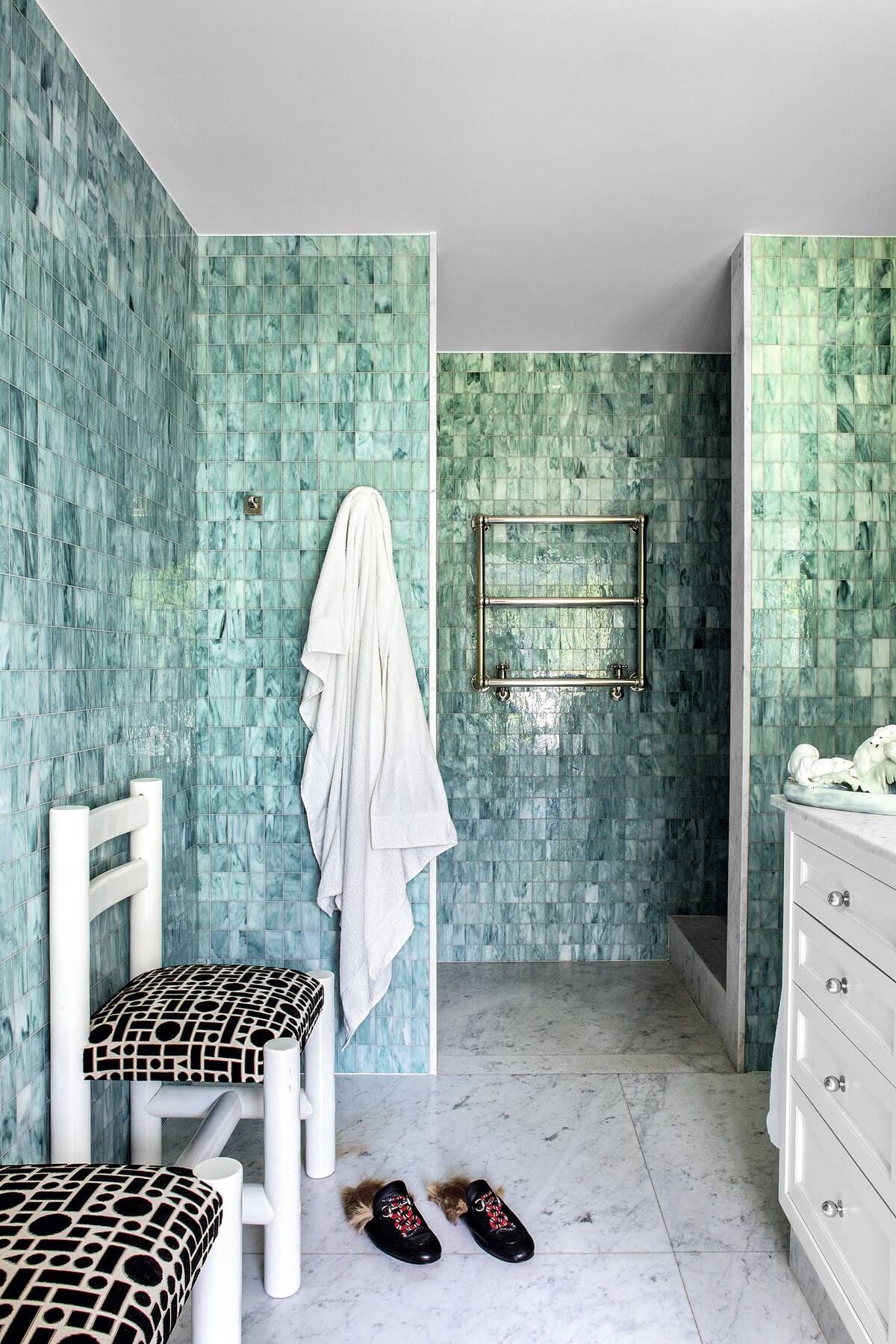 Gert Voorjans decors a children's bathroom in a family home in Belgium with midcentury modern chairs and a midcentury modern white furniture piece.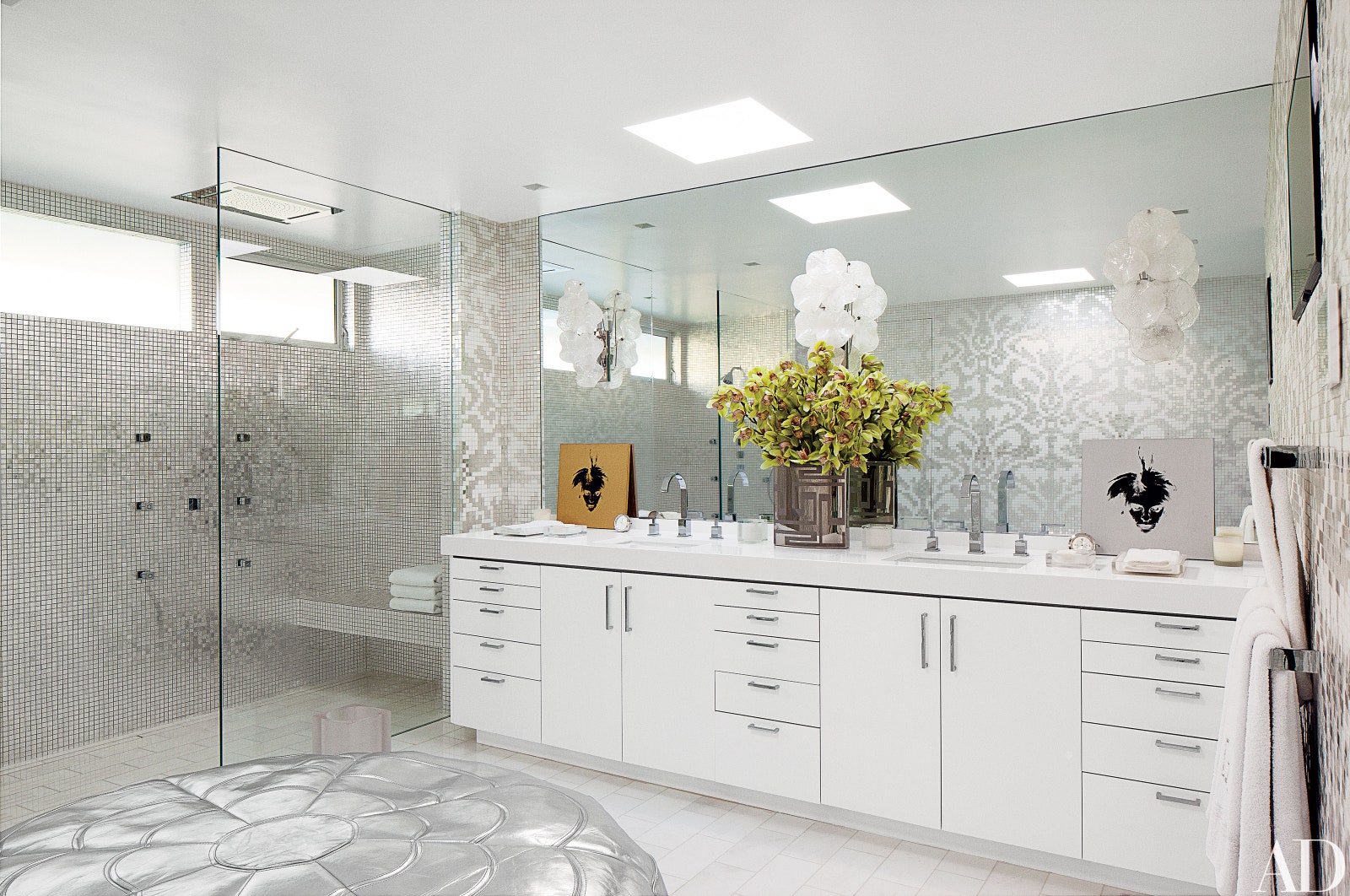 Martyn Lawrence Bullard decorated the home of Elton John and David Furnish in Beverly Hills. Their master bathroom has a big bathroom vanity full of storage.
ACCESSORIES
To design an exceptional bathroom, accessories are essential. For instance, a stylish tray can be the base for perfume bottles or a vase of flowers. A modern tray can also be on the top of the bathroom's side table and carry all bathroom essentials. In addition to decorative trays, scented candles are a bathroom essential – especially if you client aims to have bubble baths often. Lighting fixtures with a warm glow and a scented candle set the perfect ambiance for a relaxing moment. It is that modern bathroom against the rest of the world.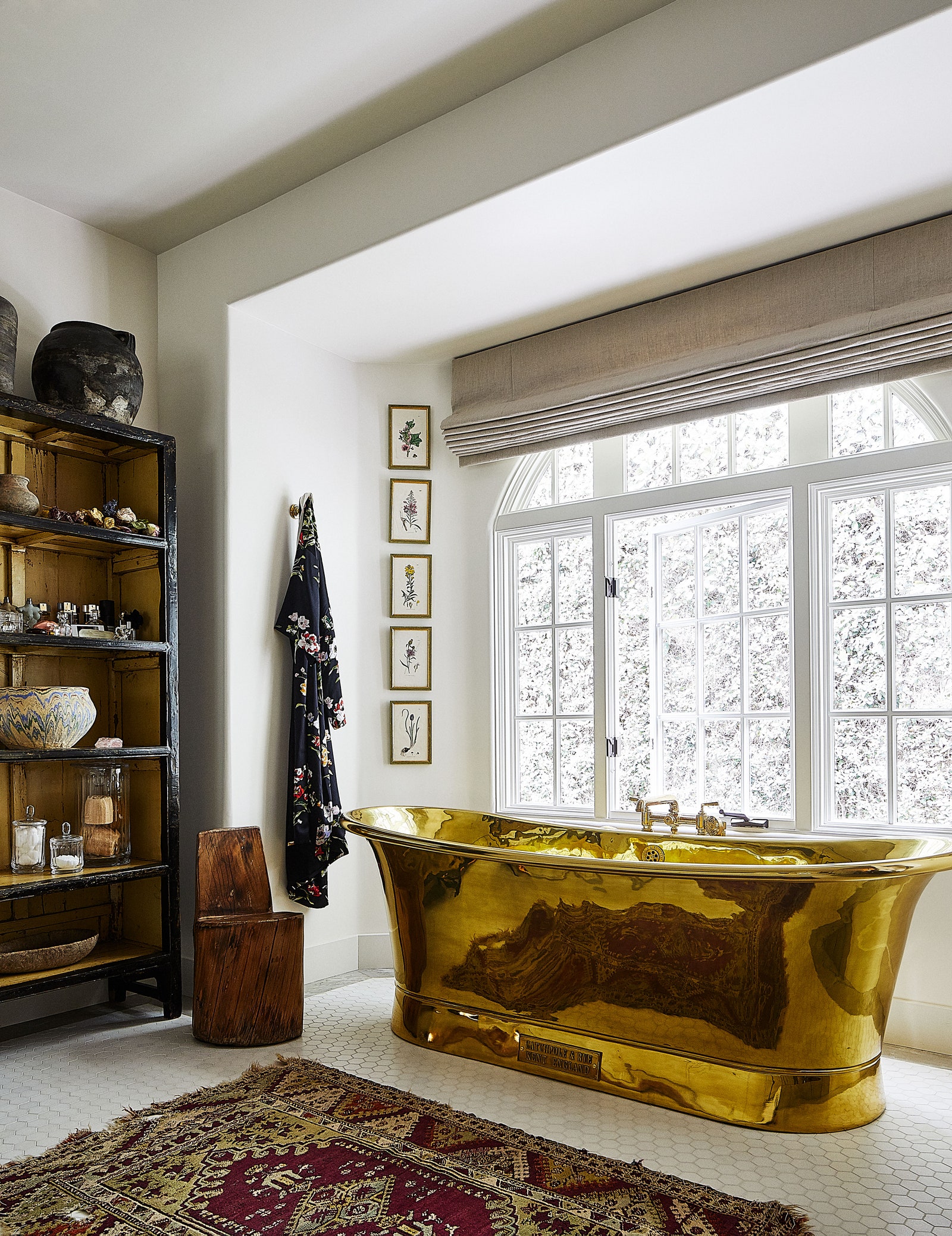 In the master bathroom of Kendal Jenner home in Los Angeles, Clements Design use a shelve next to the opulent brass tub where accessories and bathroom essentials – such as bath salts – are showcased.
SCENTED CANDLES BY ACH COLLECTION
If you still want to collect inspiration for your bathroom design project, discover the Bathroom Design moodboard by Hommés Studio on Pinterest or read our article Modern Bathroom Design For Residential Projects here.

.