From soft living, earthy elegance, and eclectic synergy, explore the fall decor trends for 2023 and welcome this season in style.
As the leaves slowly change colors, the air becomes crisp and cool, and the bright colors open space to warm tones; it's time to welcome autumn! In a season where earthy colors, cozy textures, and a sense of togetherness reign – there is still room for new trends and updates.
From stunning comebacks to timeless choices, wherever your interior design approach is – plenty of tendencies are waiting to highlight your project. This article gathers the most-anticipated fall decor trends that promise to dominate this 2023 autumn season. Check it out and be ready to cozy up your design by exploring the best tendencies of this season, plus furniture inspiration from HOMMÉS Studio to follow them.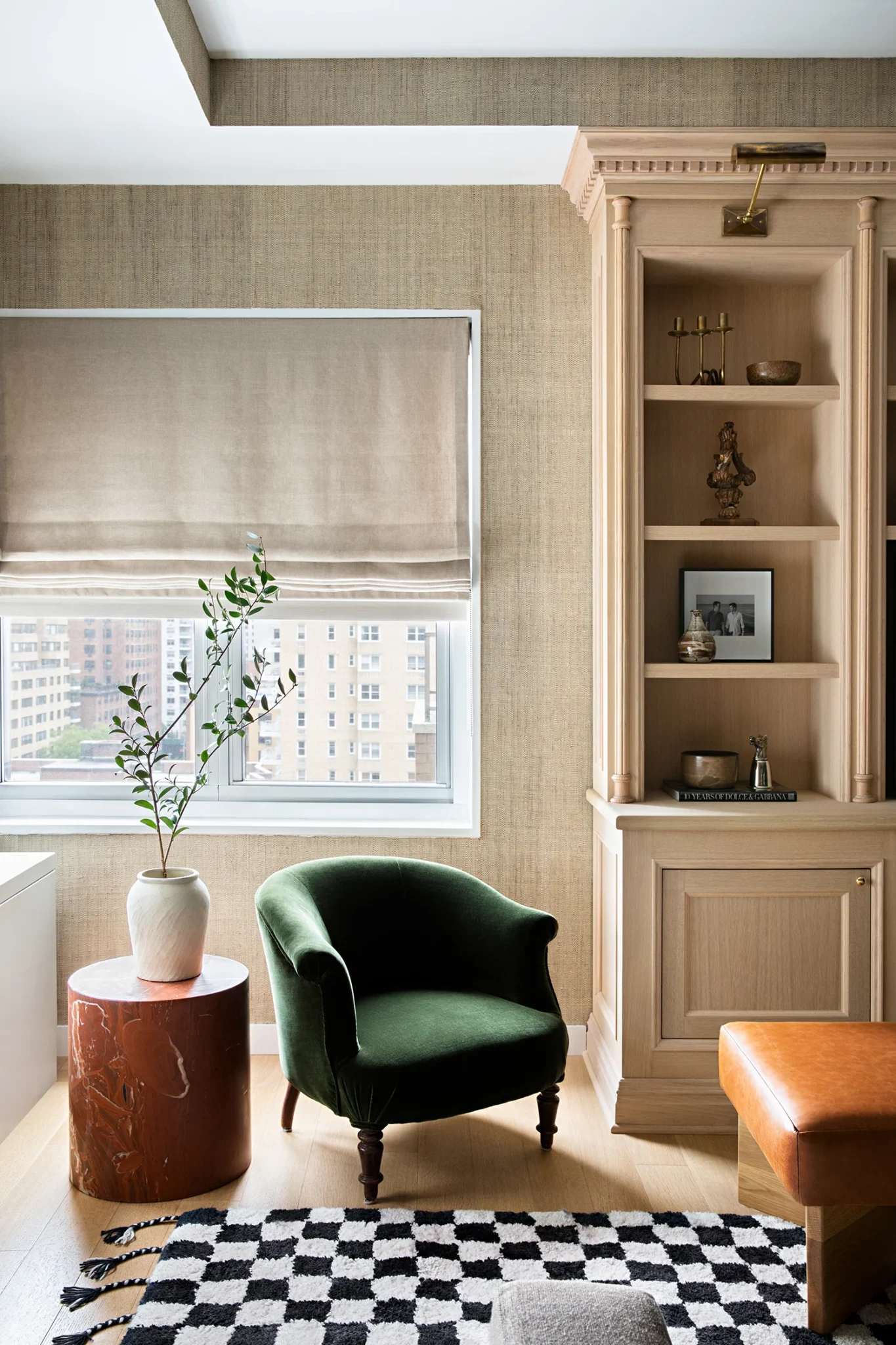 Interior Trends Forecasting
1. Soft Living
Fall decor is all about embracing warmth and comfort, and what better way to do so than with soft, plush textiles? Velvet will take center stage this season, adorning everything from throw pillows to upholstered furniture. But it is not the only cozy addition to living spaces; a pop of color with rich jewel-toned sofas, oversized armchairs, wooden furniture pieces, and layered rugs will also star this fall season, creating a harmonious blend of comfort and style.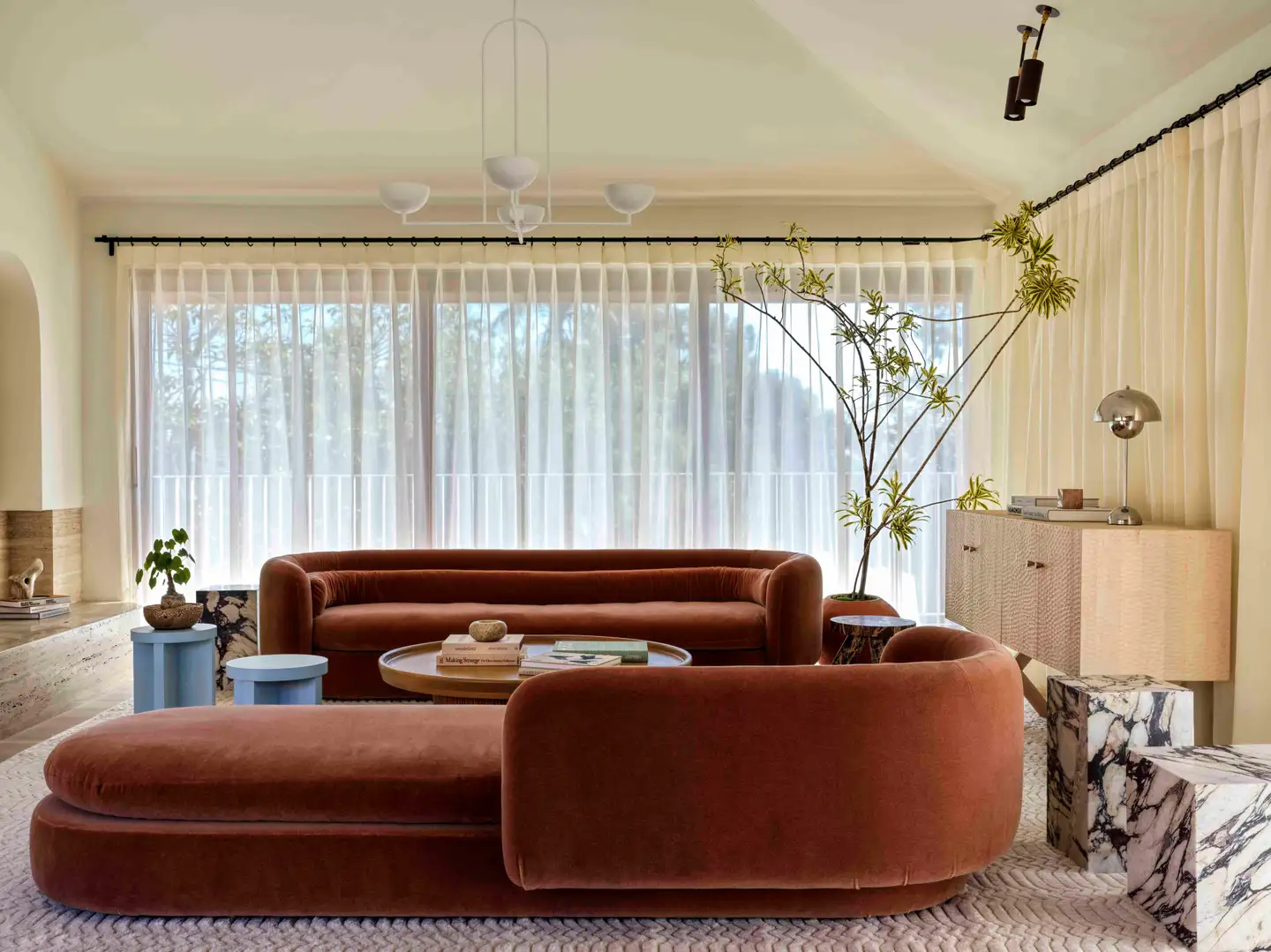 2. Glowing Glamour
In this fall decor trend, lighting becomes an essential element to break with the short days and bring a little glow to the inside. But more than just an ordinary lighting fixture, this season asks for a touch of glamour; create it by incorporating fixtures featuring metal and glass accents, pieces that can bring more light while also making a statement. From eye-catching suspension lamps to wall lamps – metal and glass materials will bring a touch of glamour and sophistication.
3. Earthy Elegance
Autumn is synonymous with warm interiors- and as expected, the fall decor palette that promises to take center stage is inspired by the beauty of nature and with a touch of elegance. This year – together with the traditional earthy colors – the honey tones will take the spotlight and infuse interiors with the warmth of golden yellows and soft browns. Bring these tones to your fall decor by incorporating natural elements that mimic the beauty of the outside colors to the inside and pair them with warm and cozy natural textures to bring a feeling of wrapping that the autumn season asks for.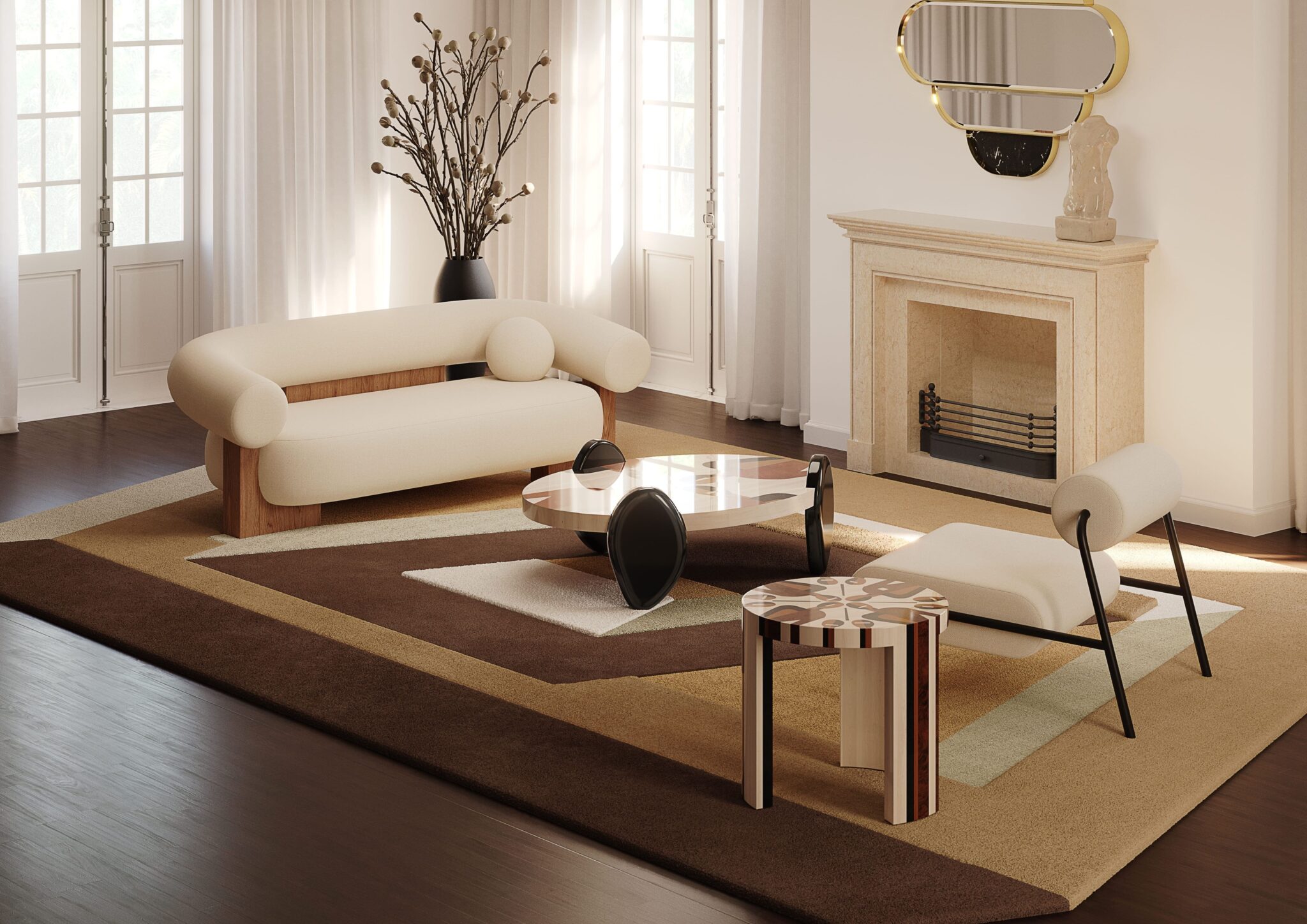 4. Concrete Comeback
Unconventional and striking, the return of brutalism (emphasizing the concrete comeback) adds a touch of industrial chic to break with traditional fall decor. Incorporate this trend in your fall interior decor by selecting a bold statement piece and balancing it with organic complements to bring warmth and visual balance; you can also invest in warm tones and raw and refined materials to create a captivating visual harmony.
5. Surrealism Unleashed
Besides the traditional fall aesthetics that remind of coziness, warm tones, and nature beauty – the extraordinary interiors will also be in the spotlight this fall season. As surrealism waves in the world of interior design – we can expect dreamy and whimsical elements to bring a sense of a wonderland. Embrace the surrealism trend in your fall decor by incorporating furniture with unconventional shapes, vibrant and unexpected color combinations, and artistic and abstract patterns.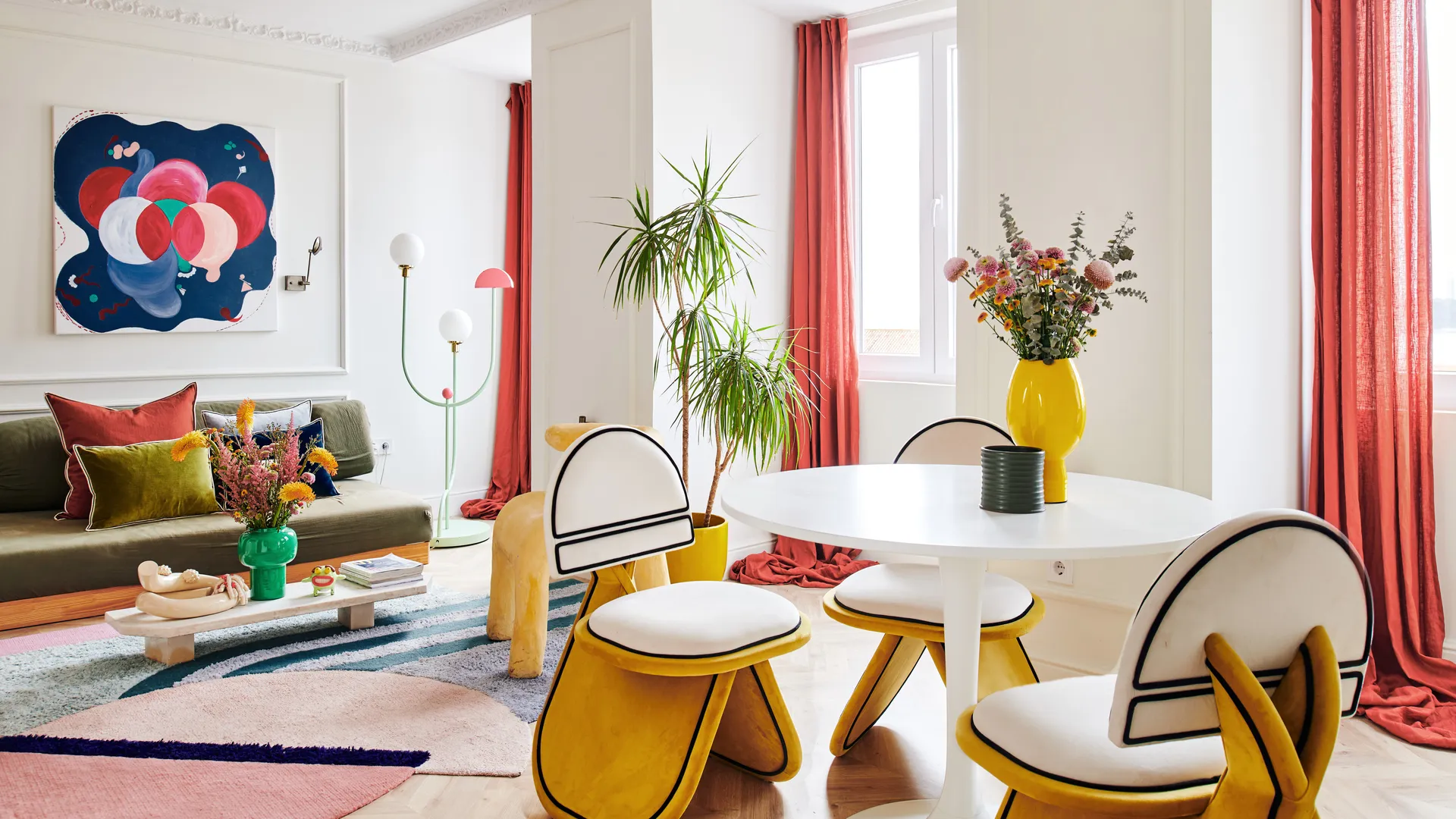 6. Eclectic Synergy
This season, the fall decor trends encourage a break from the traditional and experimentation with eclectic aesthetics. Mix and match styles, materials, and patterns to create a unique interior – where fall vibes and authenticity walk together. Create an interior that resonates with creativity and also welcomes the best of fall by embracing the unexpected by pairing traditional and modern furniture pieces and incorporating unexpected color combinations and materials.
7. Mid-Century Nostalgia
The 70s are back in style, and with them, the iconic charm of mid-century modern design wouldn't be missing in the fall decor, which will embrace the nostalgic feeling of the interiors and a journey into time. Bring it to your interior by picking handcrafted furniture and armchairs with bold shapes. Invest in earthy hues and retro-inspired decor references to complete the look, creating an interior that integrates past and present with the beauty of Mid-Century nostalgia.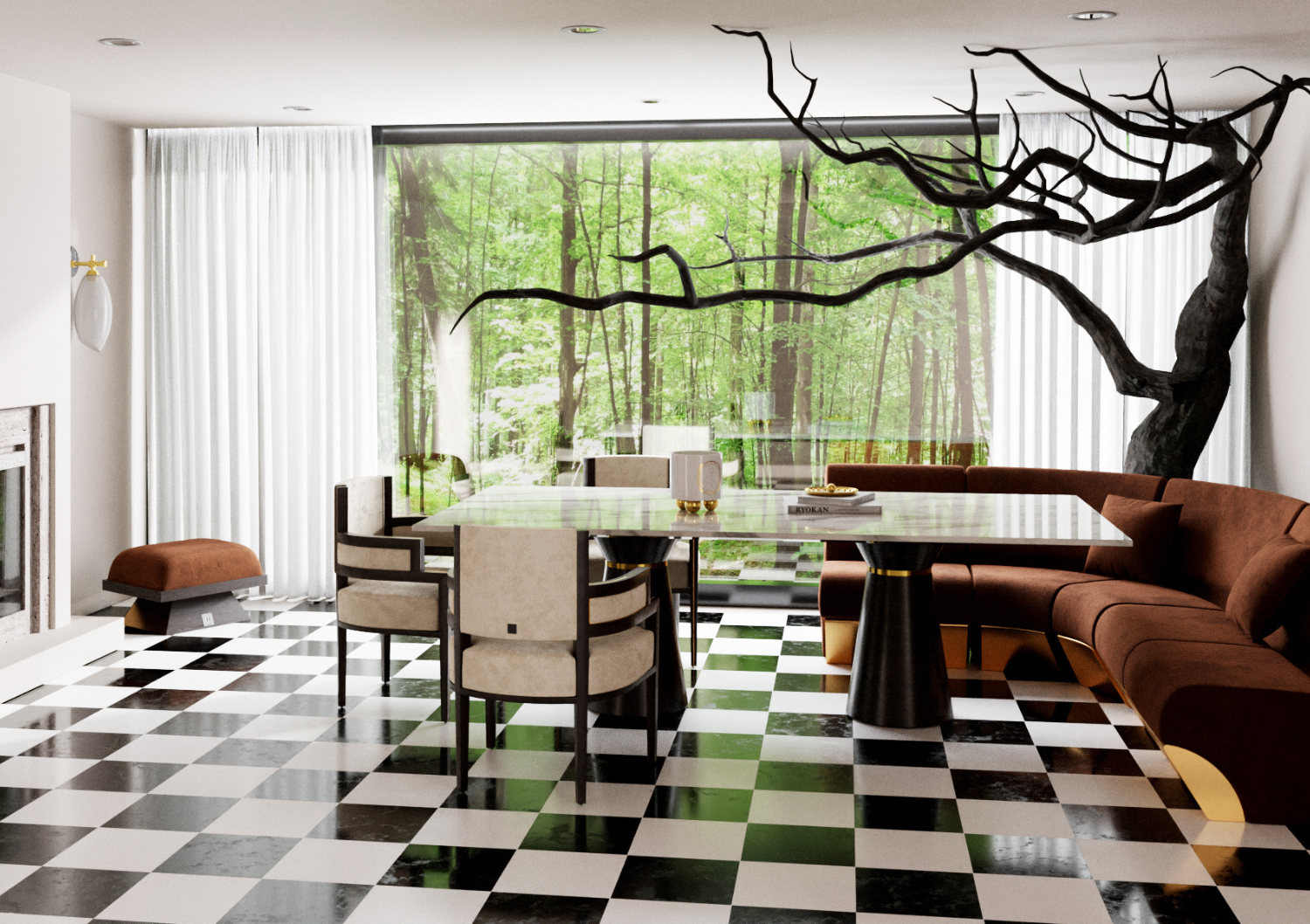 Fall Decor is about embracing warmth and comfort in the interior, but it's also about creating an interior that resonates with personality and creativity. From natural inspirations to interior trends comeback, we have explored the main tendencies for this beautiful season. Experiment with these trends in your next interior design project and indulge it with comfort and character.
For more fall vibes, check out our Marquetry Furniture collection, which highlights a collection of eye-catching tables, each carrying in its pattern the captivating technique of wood marquetry perfect for welcoming an artistic, natural, and remarkable aesthetics to any interior.