Discover Jordan Carlyle 's stunning East Hampton home, a beautiful example of contemporary interior design with rustic decor and unexpected artistic touches.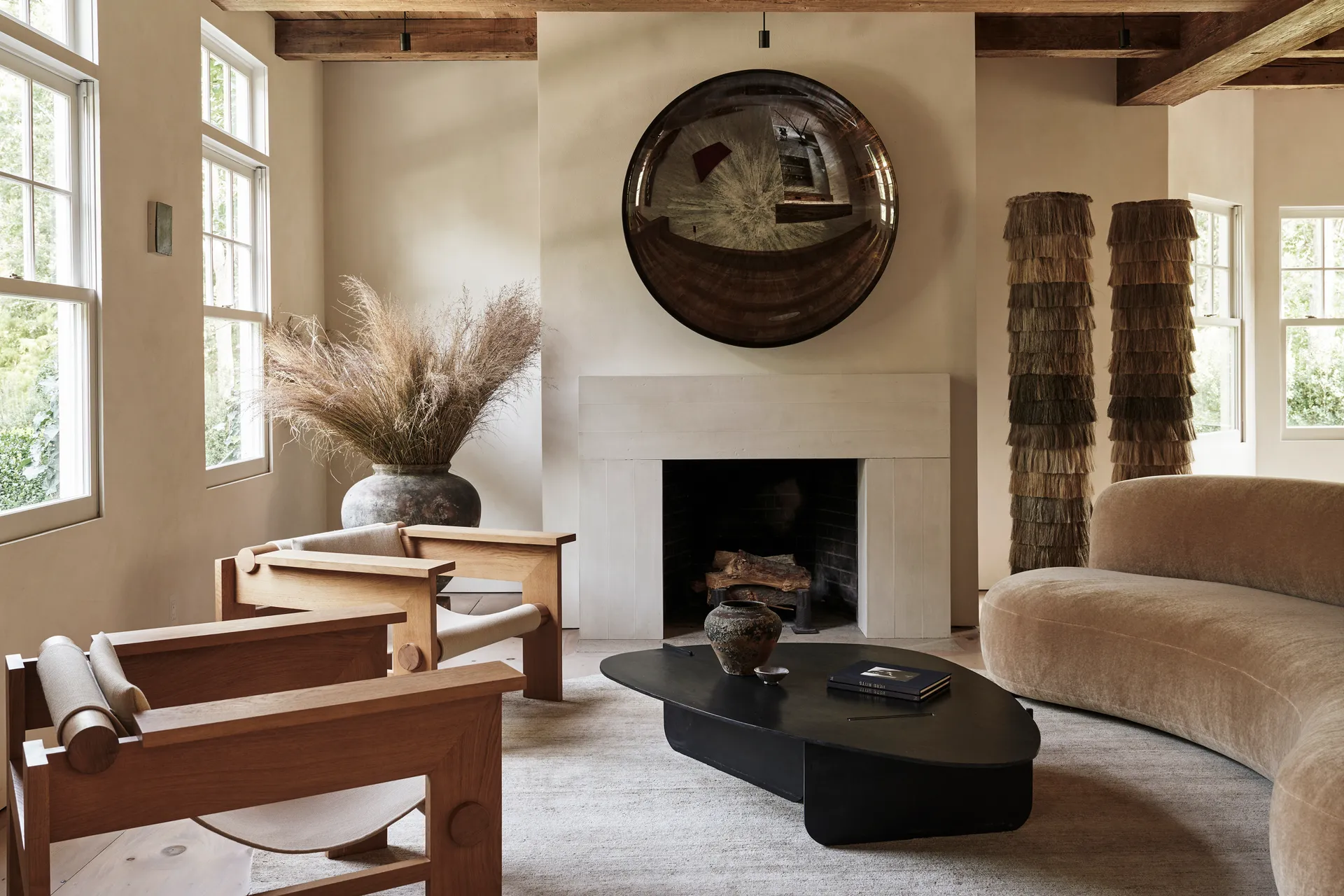 Jordan Carlyle East Hampton home is a perfect reflection of the interior designer's artistic style, which "interweaves old and new world for a decidedly modern finish" while maintaining a luxurious aesthetic through meticulous attention to detail.
About the Designer
Jordan Carlyle is an interior designer, artist and the president of Carlyle Designs (and Carlyle Collective) who quickly took the city of Los Angeles by storm, transforming penthouses and townhouses, and being recognized as one of the industry's most prominent innovators.
The designer can capture and convert a mood into a physical environment with exquisite taste and attention to detail, revitalizing spaces with a contemporary and elegant aesthetic, taking either a daring or conservative approach to design, depending on the requirements and objectives of the client (which are very important to the designer, Jordan Carlyle, who always focuses on making the client's dream a reality).
Minding the designer's personal preferences and style, it comes as no surprise that Jordan Carlyle decided to move with his husband, Mario Margelist, to this renovated old farmhouse in the beautiful coastal town of East Hampton, New York, which he describes as "a peaceful and relaxing retreat" for the couple (being that that was actually the goal in the approach taken by the designer).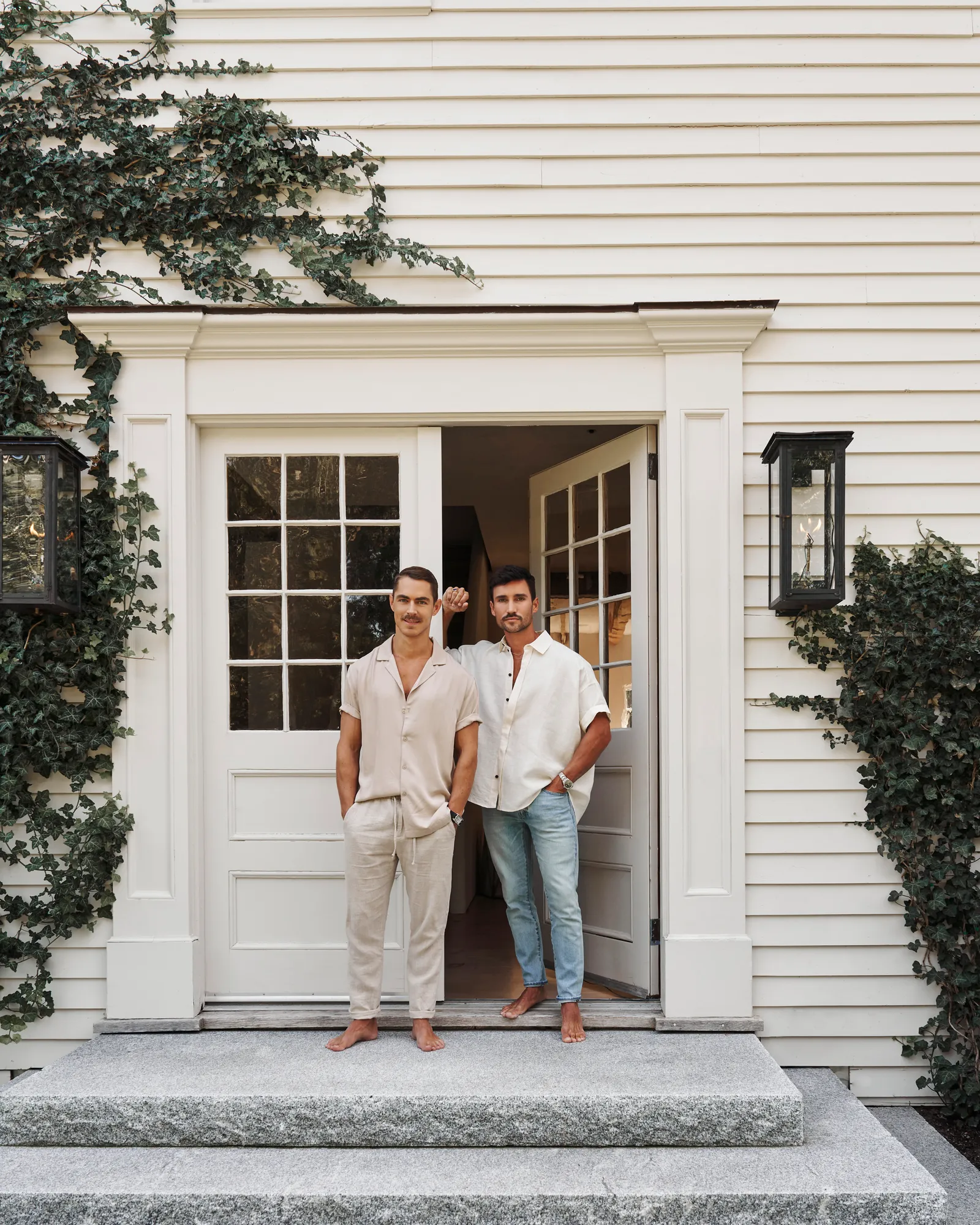 In this sense, this contemporary interior design is characterized by sleek lines, minimalist design, and a warm neutral color palette that creates a sense of harmony and tranquility.
Rustic Decor
But the main standout here is the rustic, organic decor that adorns this house, intending to preserve "the charming character of the original residence," providing a chic and cozy overall aesthetic, which meant, on the one side, maintaining some of the old architectural details (such as the surviving original 18th-century entry door and flooring all in pine wood) while on the other side adding new components to this contemporary interior design.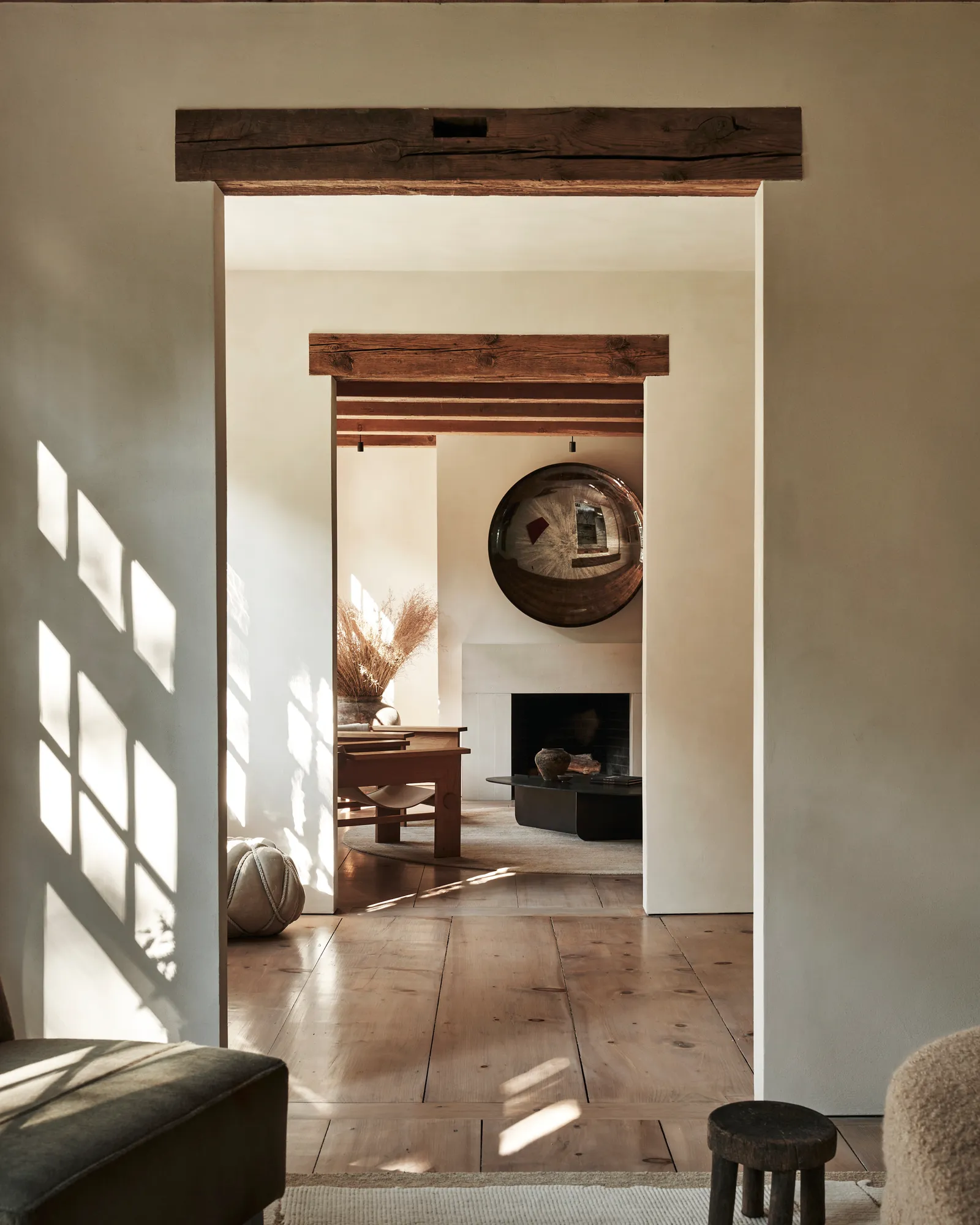 This meant a significant investment in textures such as wood, natural stones, and ceramics (incorporated into some of the tables, stools, chairs, vases, bowls, etc.), which with their rustic appeal, make this home even cozier and charming, building on the character of this house.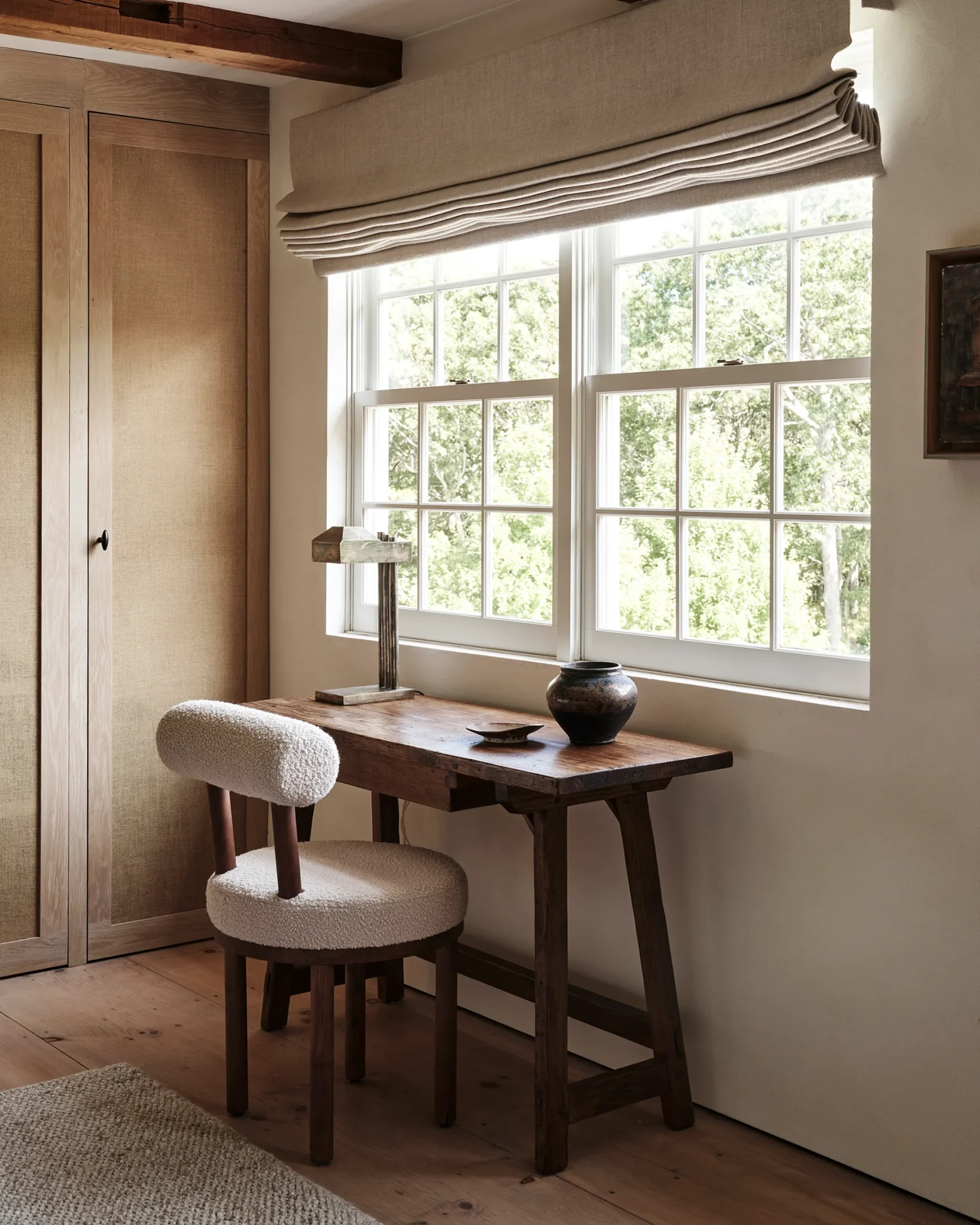 Contemporary and Modern Furniture
On the other side, designer Jordan Carlyle also invests in contemporary furnishings, which contrast with the ancient elements, lightening the mood of this contemporary interior design.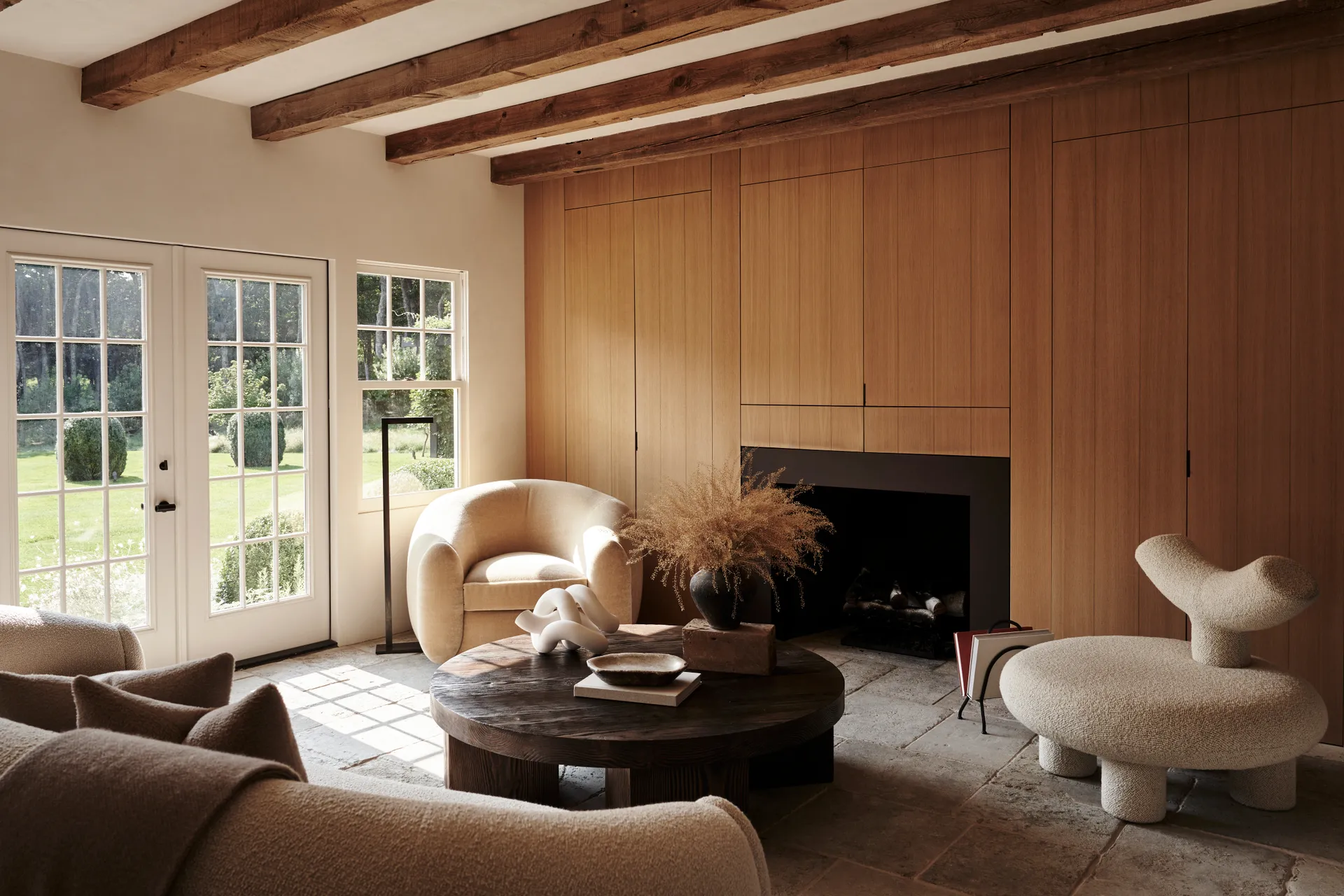 These include highlights such as the curvy sofas and armchairs, the curved black center table in the living room, the modern soft carpets layered in multiple rooms, and even the sun loungers by the pool.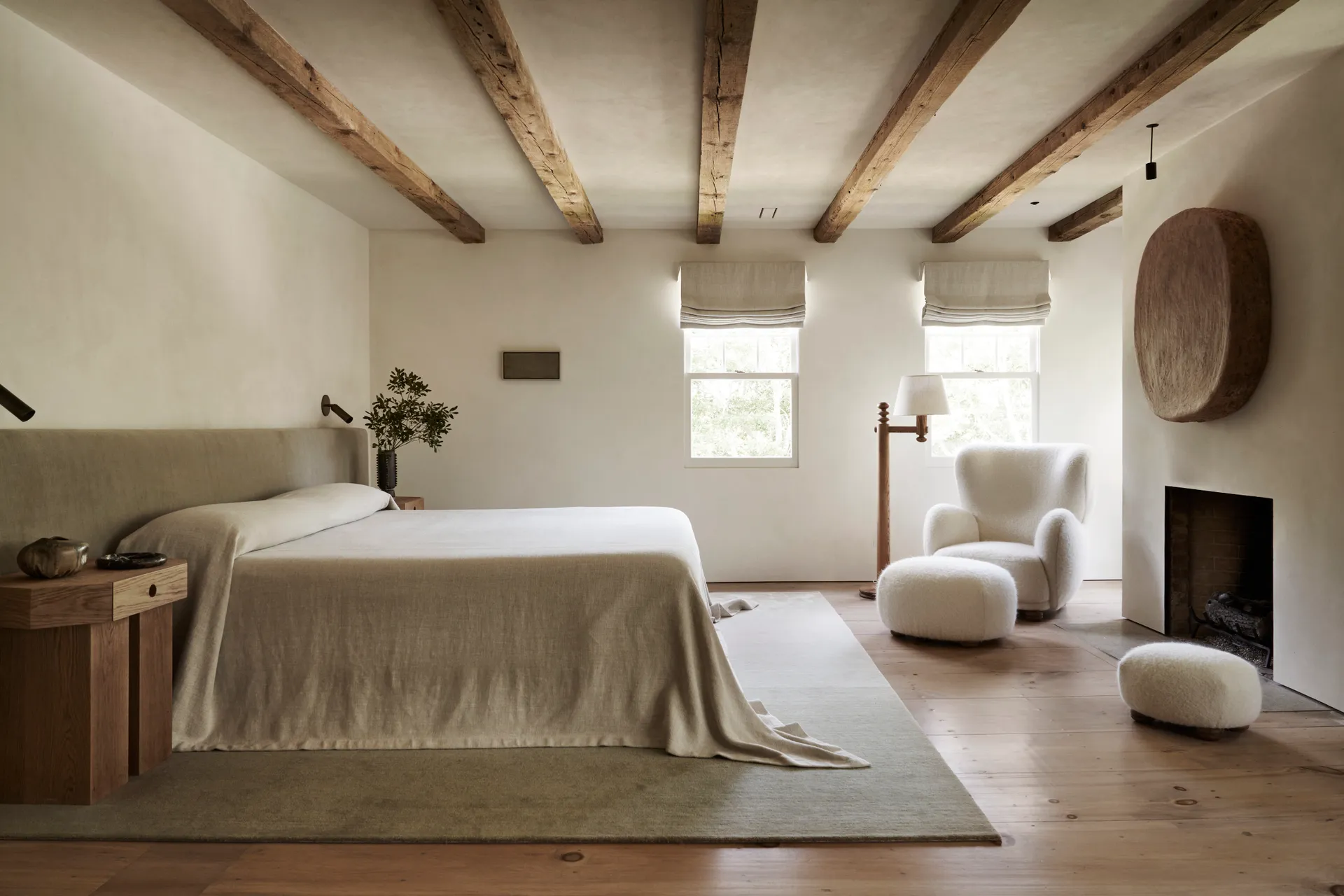 A mix of vintage and contemporary design
This mix of period and modern pieces is precisely what makes this contemporary interior design so unique. On the one side, you get all the coziness and natural feel of the more antique and rustic pieces that go with the architecture of the house. On the other side, the modern renovation on it is also being represented in the furniture that fills the interiors, which bring some lightness, elegance, and convenience to this home design.
The result is an inspiring, comfortable, and welcoming setting that incorporates contemporary design features and furniture while maintaining the charm and character of a bygone age, all of this in perfect harmony.
Shop The Look
Inspired by this contemporary interior design, we here at HOMMÉS Studio have selected a few of our own favorite pieces to match the unique aesthetic of Jordan Carlyle and Mario Margelist's home, minding both the rustic antique approach and the more contemporary nuances implemented.
In conclusion, Jordan Carlyle East Hampton home is a perfect example of how contemporary interior design and art can come together to create a space that is both functional and beautiful. The attention to detail and the use of clean lines and simple colors create a sense of calm and tranquility that is perfect for a beachside retreat. So this couple must be really happy with their house.
If you too want to create contemporary interiors as amazing as this one than you need the right products, so check out our article on Modern Marquetry Furniture For Contemporary Interiors and discover beautiful patterns and designs using thin layers of wood.

Source: Jordan Carlyle