Step into a colorful apartment in Lisbon, designed by Sergio Prieto, where Memphis Interior Design and Pop Art set the tone for a lively home.
Welcome to a kaleidoscopic tour that will take place in the city of Lisbon, Portugal. Here, where the streets share vibrancy and energy, a lively Memphis interior design apartment blurs the lines between elegance and irreverence, showing no boundaries for creativity and colorful touches.
In the heart of Lisbon, in a lively neighborhood that is home to many tourist spots and with stunning views of the April 25th Bridge and the Tagus River, this historical apartment was reimagined by the designer Sergio Pietro, from Dovain Studio, who decided to combine Memphis Interior Design and Pop Art references to set a home for a young couple who loves the buzz of the city center.
Now, more than a historical place, this apartment is a testament to creativity and luxurious living. Explore all its details in this fantastic home tour and be ready to fall in love with the beautiful fusion between Memphis Interior Design and Pop Art.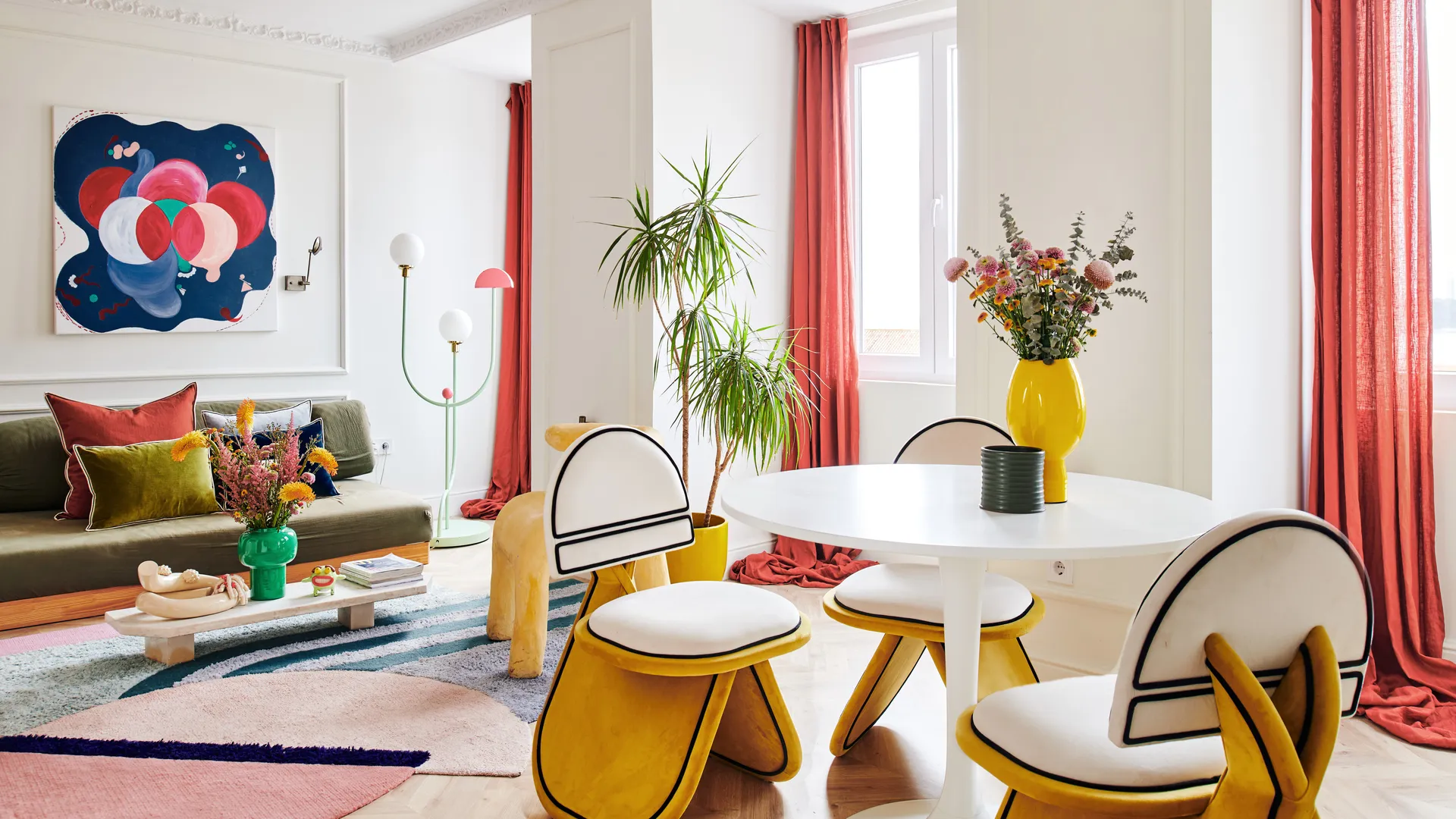 History Meets Modernity
Who looks at this lively apartment can´t imagine that before the intervention of Sergio Prieto, the scenario was totally different. It needed a full renovation to create this playful scenario where colors and creativity take center stage.
As a historical apartment, the attention to the details was essential to maintain the historic features while embracing modernity touches. The designer revitalized almost every inch of this home, from the structure to the ceiling, including the arches, floor, and the addition of a bathroom in the main suite.
As a result of the excellent work of Sergio Prieto, this apartment maintains its history between its architectural features while sharing modernity. Even with the impeccable attention to detail during the renovation, the colorful and geometric furniture that fulfills the spaces makes the interior shines bright.
Playful Home – A Kaleidoscopic Tour
The fusion between Memphis Interior Design and Pop Art captured the attention – every spot and corner of this historical apartment seems to share an extraordinary tale about creativity and originality. As we enter this lively home, bright colors and geometric patterns appear with organic silhouettes, thoughtful decor items, and abstract paintings welcoming playful vibes.
The living room is bright, airy, and comfortable – the warm hues contrast with candy color accents, geometric motifs, and a stunning asymmetrical rug, creating a welcoming spot that shares coziness and eye-catching details. Regarding the furniture choices, there is a mix of Memphis style pieces with bold shapes and unconventional designs blended with modern pieces with straightforward lines.
Sharing the room with the living space, a beautiful dining area appears – charming, bold, and full of character. With a color palette of primarily white, the bold yellow accents and the pop art references in the chairs make it a unique space – where the best meals occur. Between the living room and the dining area, pops of colors emerge in the decorative art – from vessels and flowers to stunning paintings. The fusion between Memphis Interior Design and Pop Art follows the home details to share a playful and unique vibe.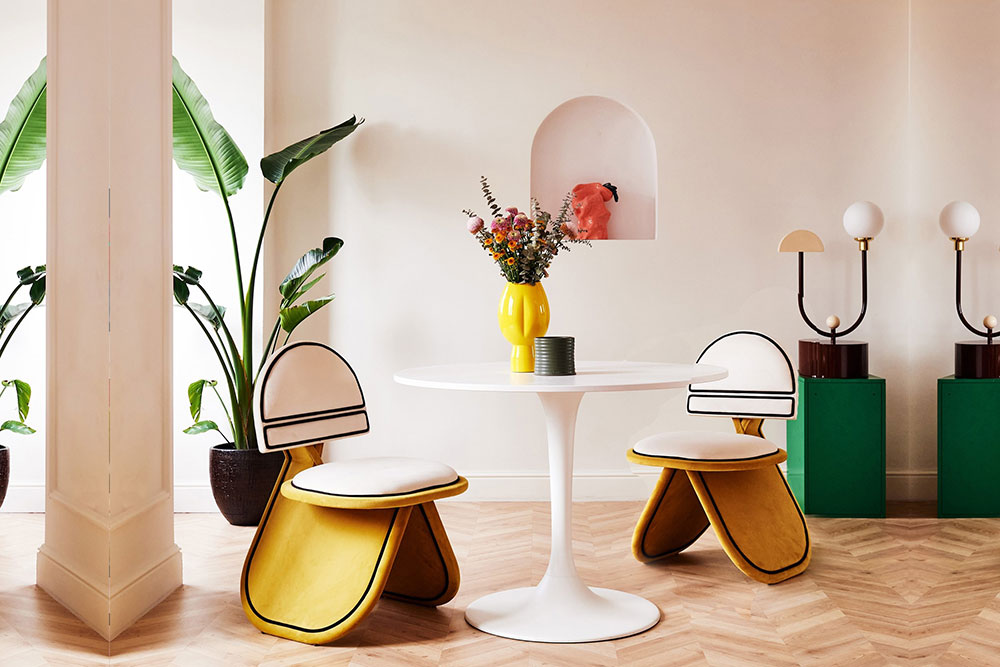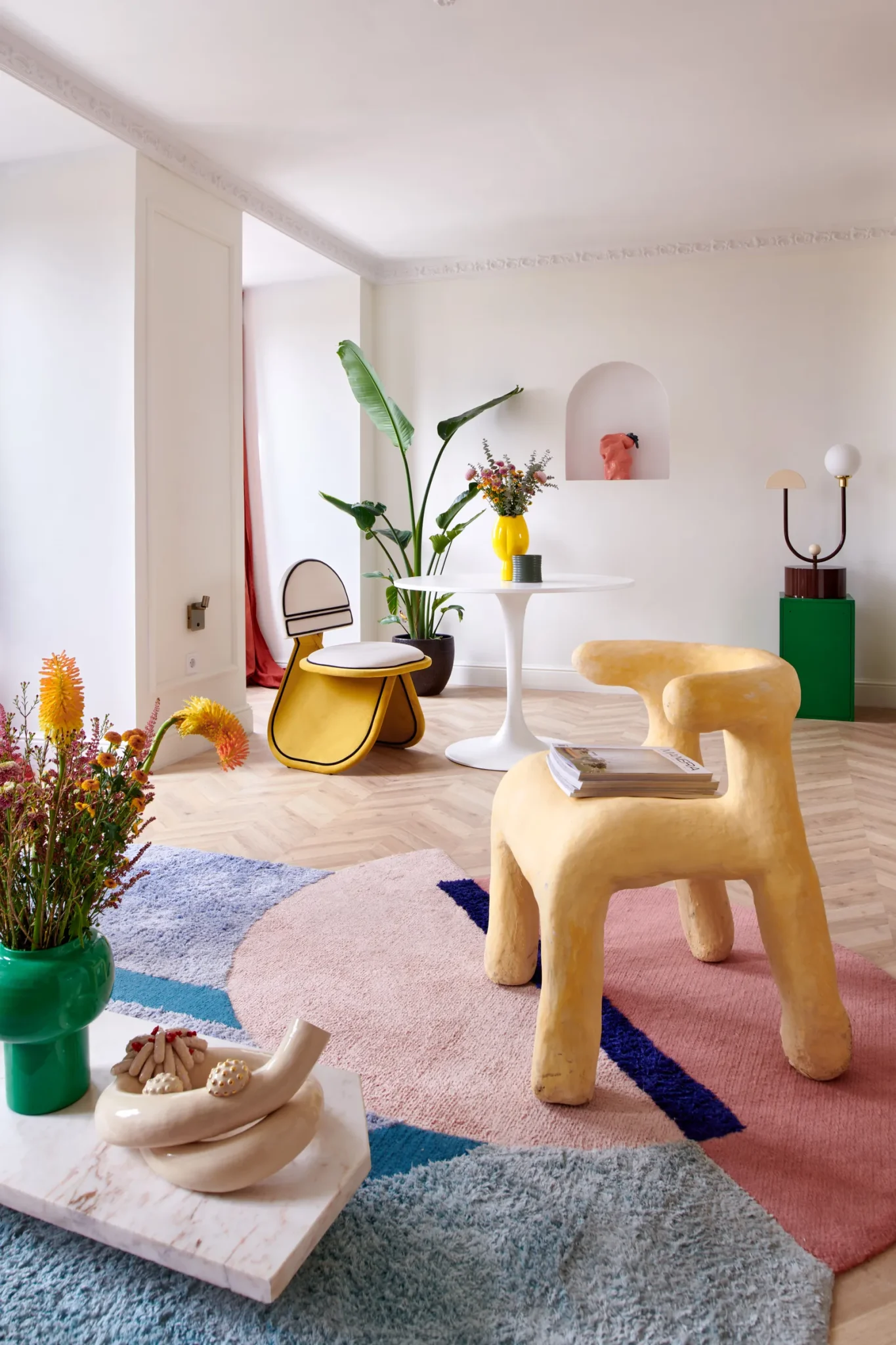 As we venture into the other rooms, the vivid narrative is still in the air – with an explosion of colors and furnishes that make this historical apartment seems like an art gallery – full of geometric pattern echoing the Memphis Interior Style and Pop Art fusion.
In the kitchen, light green walls emerge as a backdrop for a peaceful space where the playful vibes open space to a functional home space. Even though they share a different aesthetic than the rest of the home, this space still shares the same narrative where Memphis Interior Design and Pop Art blend, but here in the details, showing that each room can be extraordinary.
Now, heading to the bedroom – a private haven of comfort in warm colors emerges. Even with a color palette of mainly red and mustard, it feels comfortable and peaceful. Bringing in the details of the fusion between Memphis Interior Design and Pop Art, the bedroom is a reminder that even the unconventional design can hold a serene spot. Highlighting the furniture, the Memphis style table lamp, and the custom headboard makes the room feel even more special.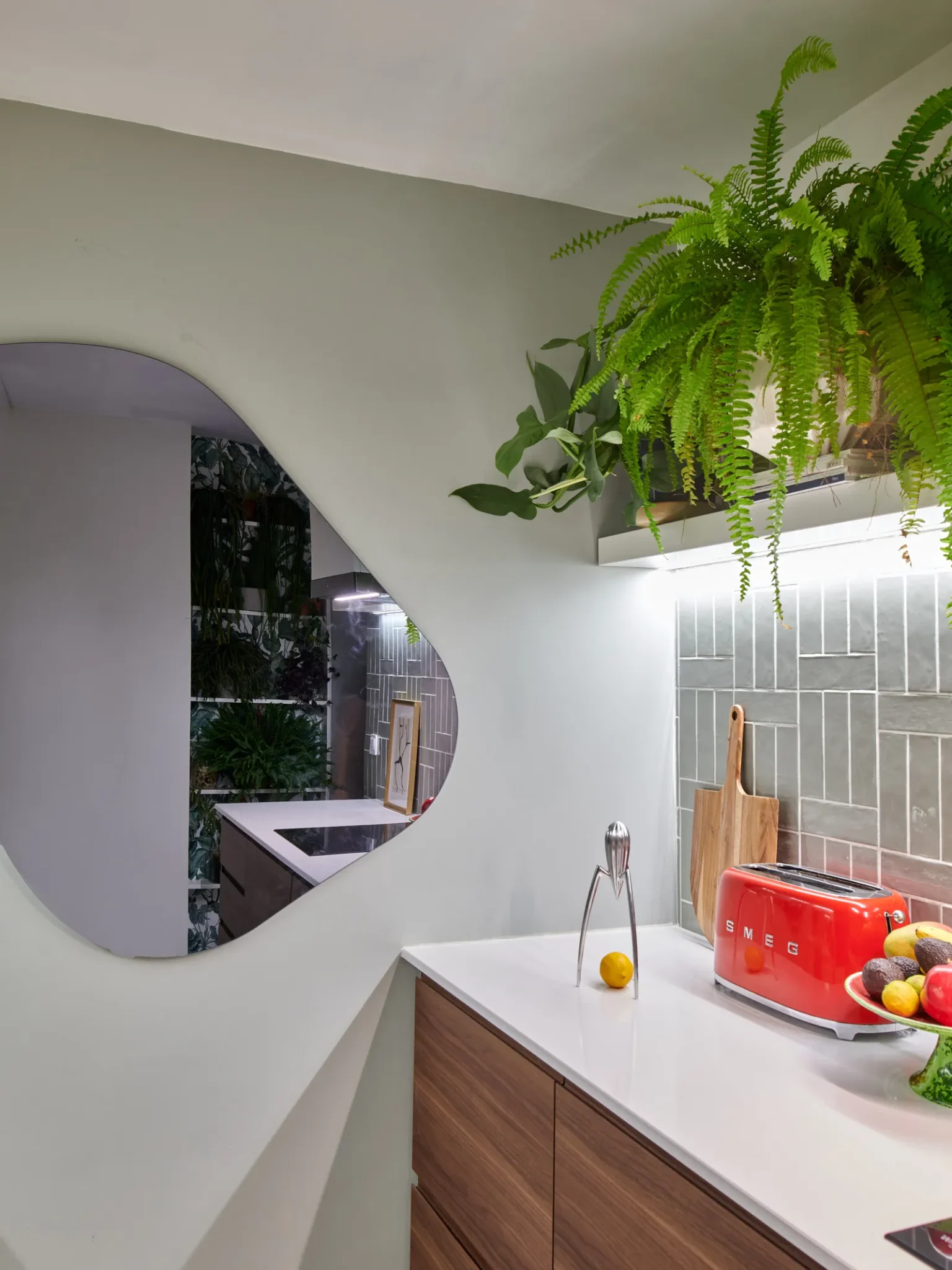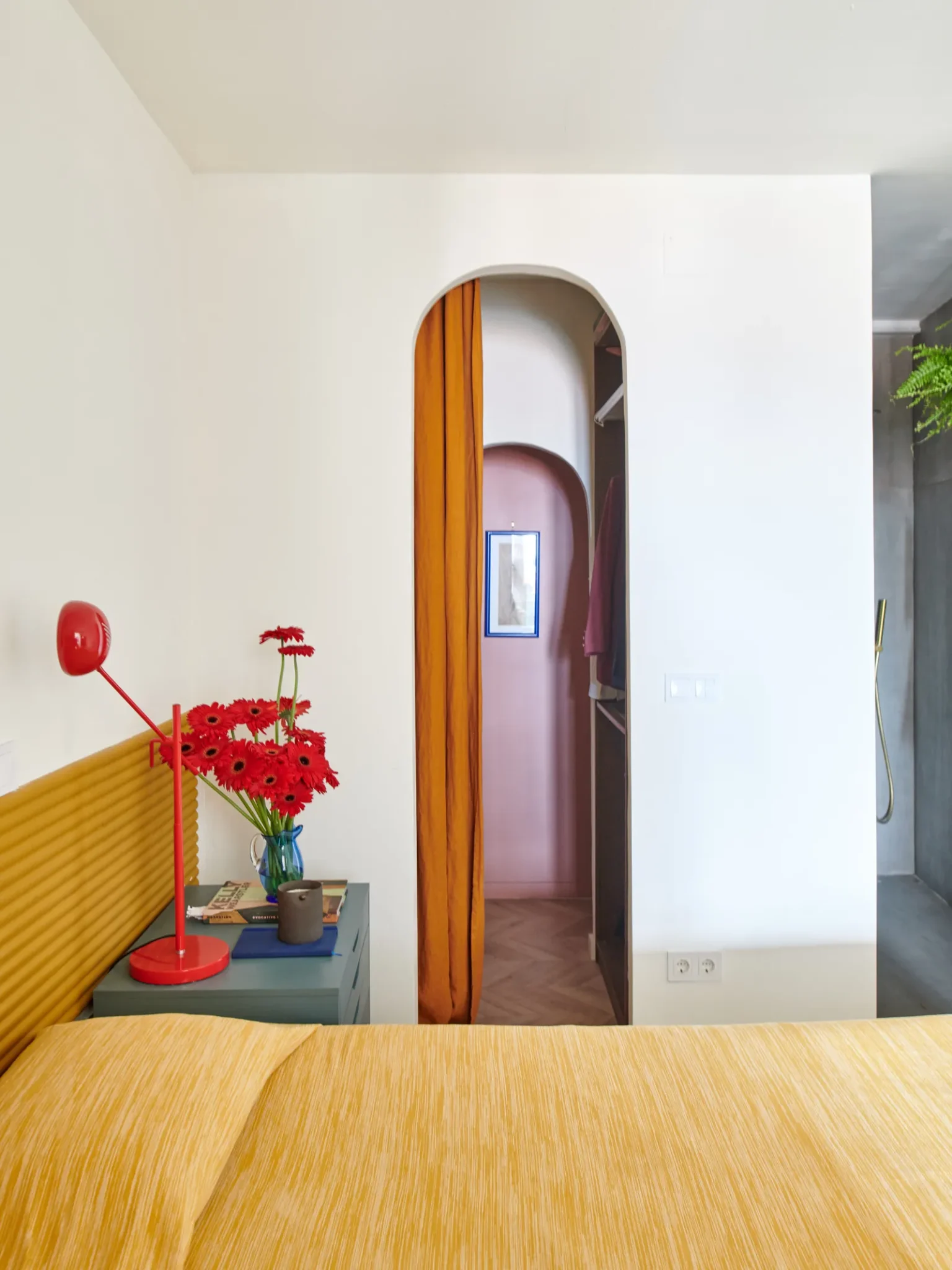 Memphis & Pop Art – An Incredible Fusion
The brilliant fusion between Memphis Interior Design and Pop Art turns this historical apartment into a treasured gem, where creativity, unconventional choices, and colorful accents create a unique tale that rewrites history and adds a new chapter of luxury living, showing that boldness is also elegant and comfortable.
For More Creativity Interiors
This historical apartment in Lisbon not only shares a beautiful fusion between Memphis Interior Design and Pop Art but also inspires more creativity in innovation into ordinary space to make them extraordinary. For more creativity in the interiors, we have gathered some stunning pieces to embrace a lively vibe to any interior; check it out:
Our Kaleidoscope home tour has ended – but the beautiful inspiration we took from this historical apartment in Lisbon that perfectly blends Memphis Style and Pop Art will continue with you – showing that embracing colors and creativity is always welcome. We hope you have enjoyed this home tour as much as we did, and if you still need a little punch to create extraordinary interiors full of colors, download our Color Gambling Lookbook – The  Future trends for Interiors 2023.