Martyn Lawrence Bullard is a multi-award-winning Los Angeles-based interior designer. Renowned for his broad range of residential projects, Martyn creates sophisticated and inviting interiors.
Martyn's A-list clientele include Kylie Jenner, Khloe Kardashian, Elton John, Kourtney Kardashian, Tommy Hilfiger, Cher, Ellen Pompeo, and Eva Mendes.
Bullard's extraordinary attention to detail and commitment to quality have won him international acclaim, featured permanently in top publications such as Elle Decor or Architectural Digest.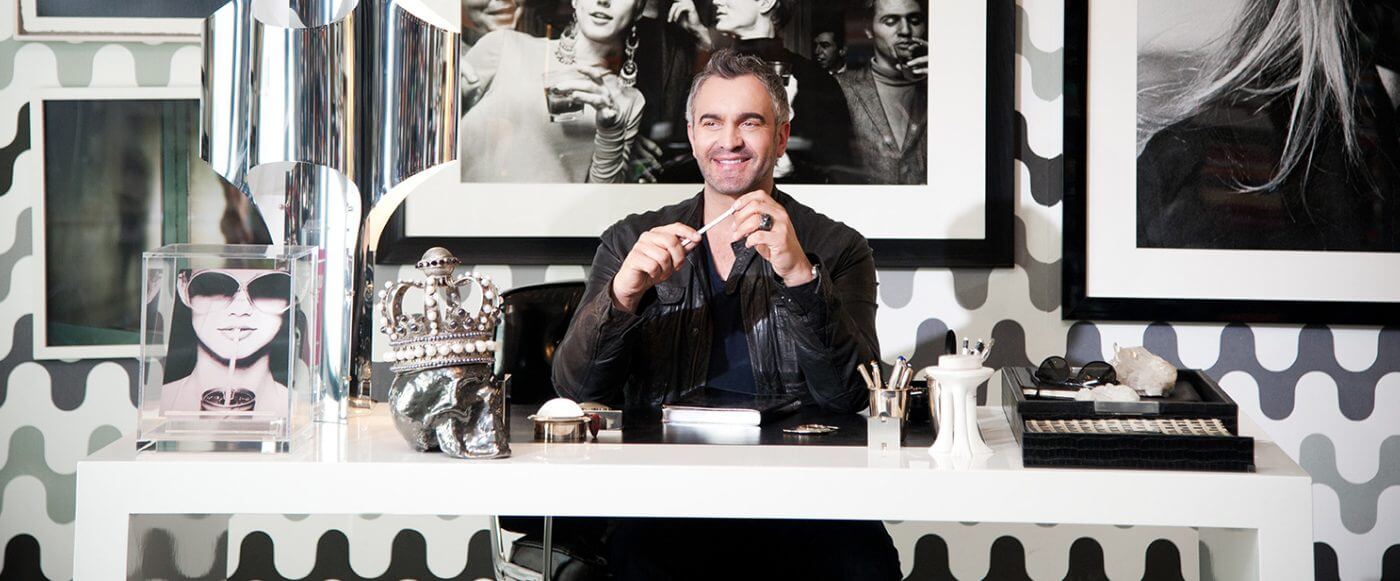 .
Hidden Ridge – Kylie Jenner House
One of the residential projects by Martyn was Kylie Jenner's house.
The interior designer has transformed Kylie Jenner's house into an amazing and magnificent mansion. In this famous residential project, he establishes the most elegant and eccentric settings throughout every room.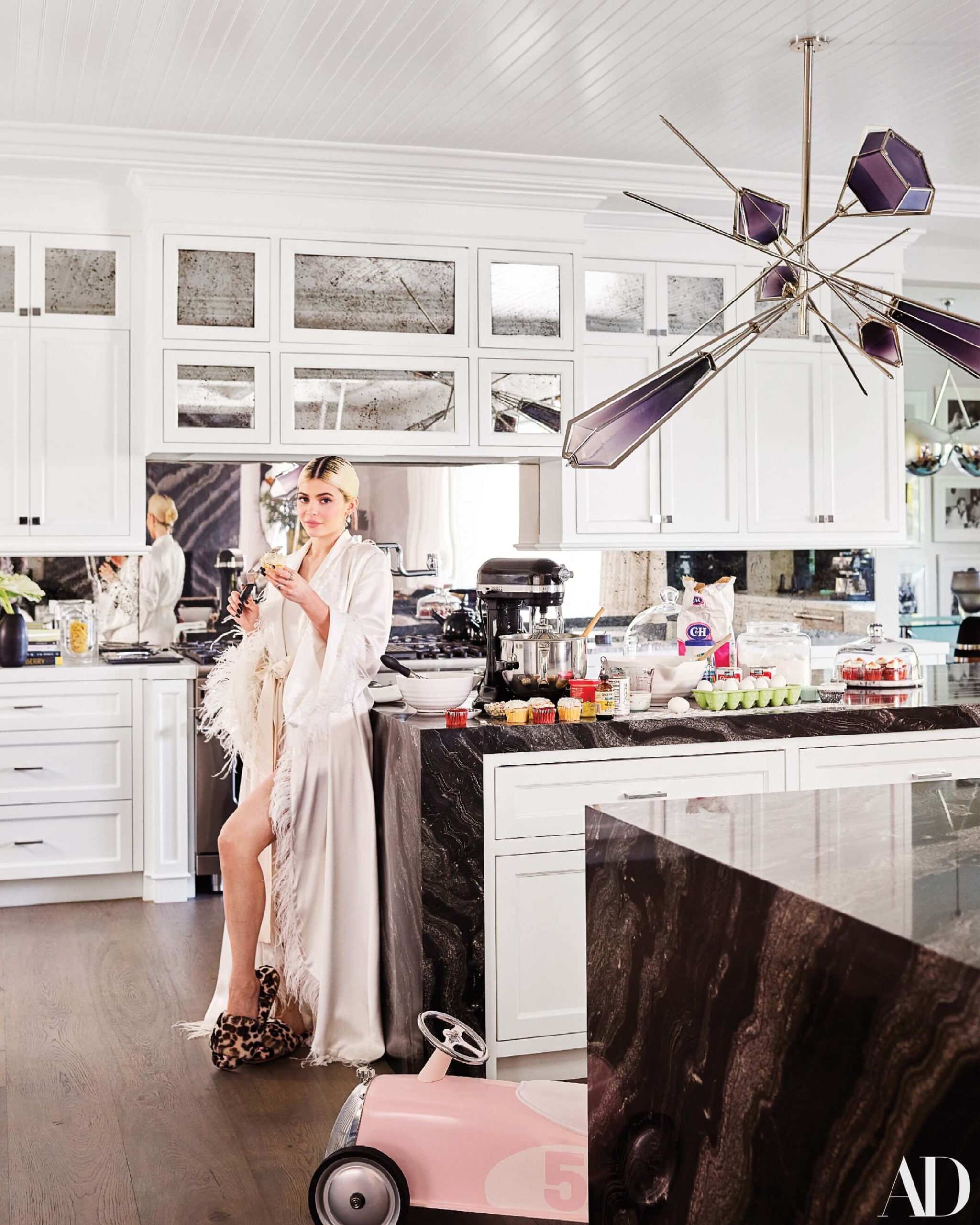 Jenner—wearing a vintage robe, an LPA bodysuit, and Shay Fine Jewelry—in her kitchen. Blown-glass chandelier by Gabriel Scott; custom cabinetry by Martyn Lawrence Bullard.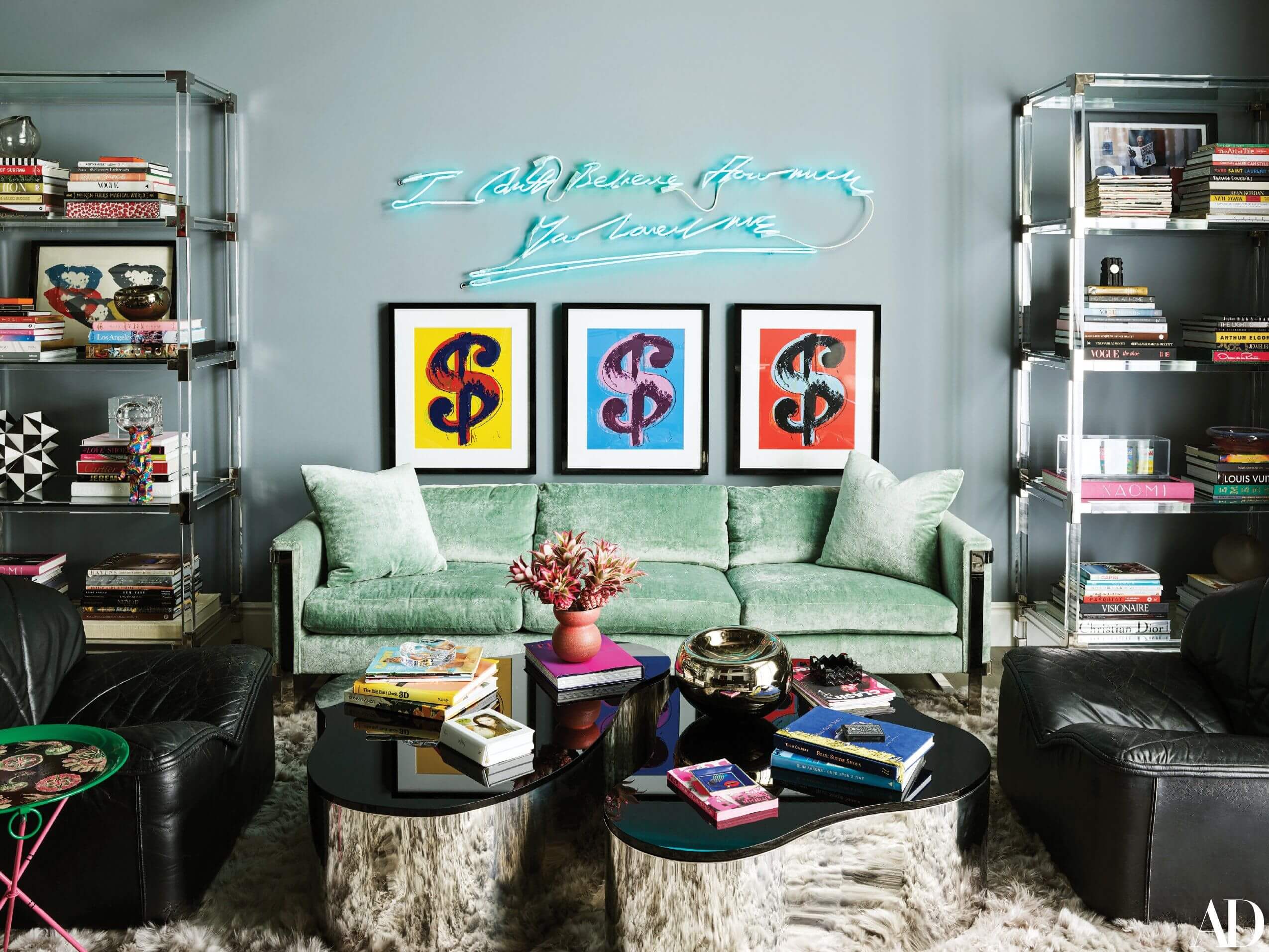 The bar lounge, a neon installation by Tracey Emin, and Andy Warhol lithographs' trio hang above a vintage Milo Baughman sofa. Also, vintage Karl Springer cocktail tables; Victoria Morris Pottery vase; on walls, Benjamin Moore paint.
For Kylie Jenner, the color was essential, mostly pink. The residence is located in Los Angeles, the suburbs of Hidden Hills, close to Kylie's high-profile siblings' homes and their mother, Kris Jenner.
Pieces from Damien Hirst's "I Love You" series anchor the dining room.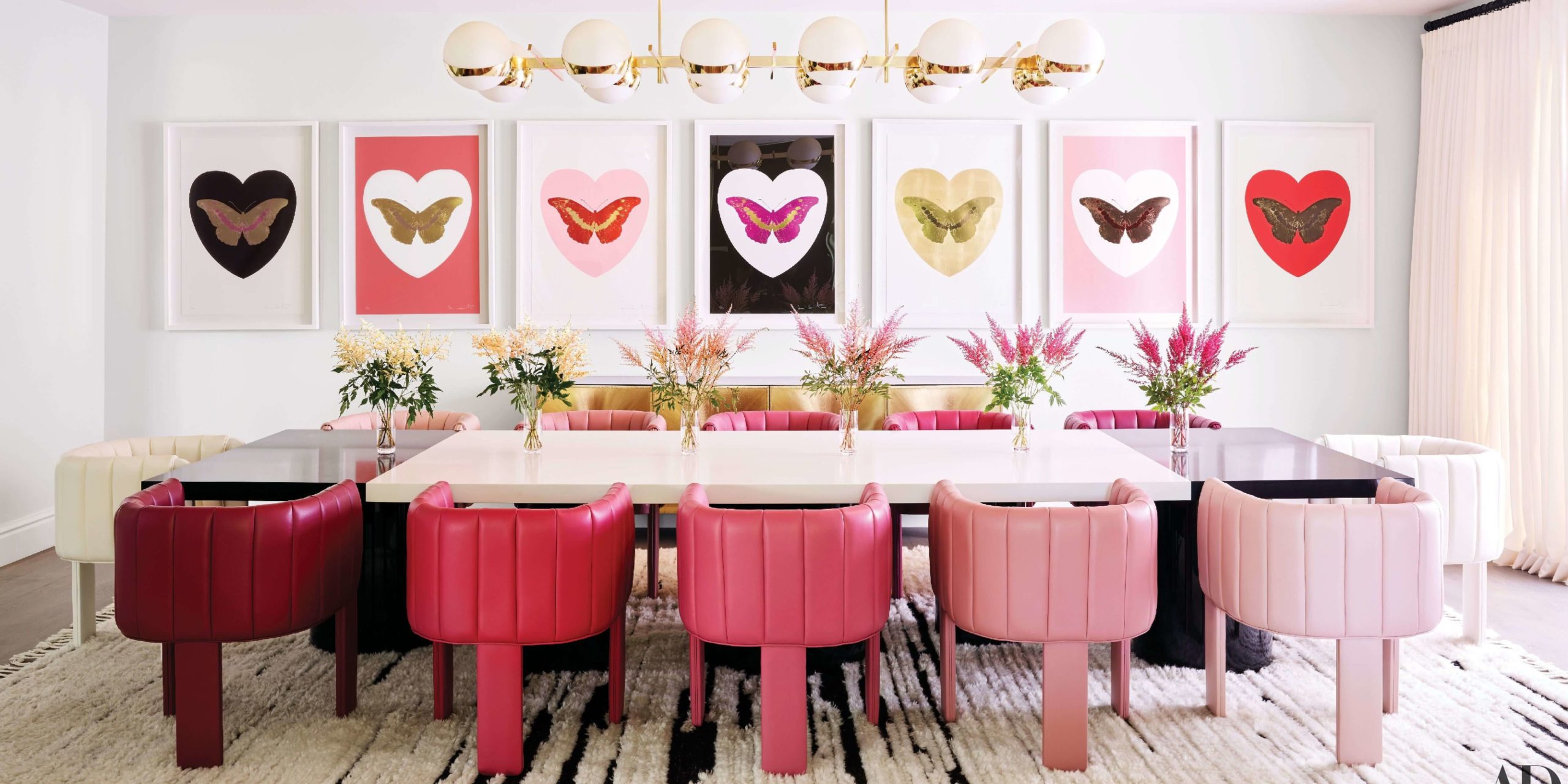 Brass chandelier by Coup D'etat; custom table and chairs by Martyn Lawrence Bullard; shag rug by Woven.
The art-filled bar features a painting by Alec Monopoly (left), condom art by Beau Dunn, and also a Saint Laurent surfboard. Moreover, vintage Milo Baughman barstools in a Scalamandré print; Kallista sink fittings.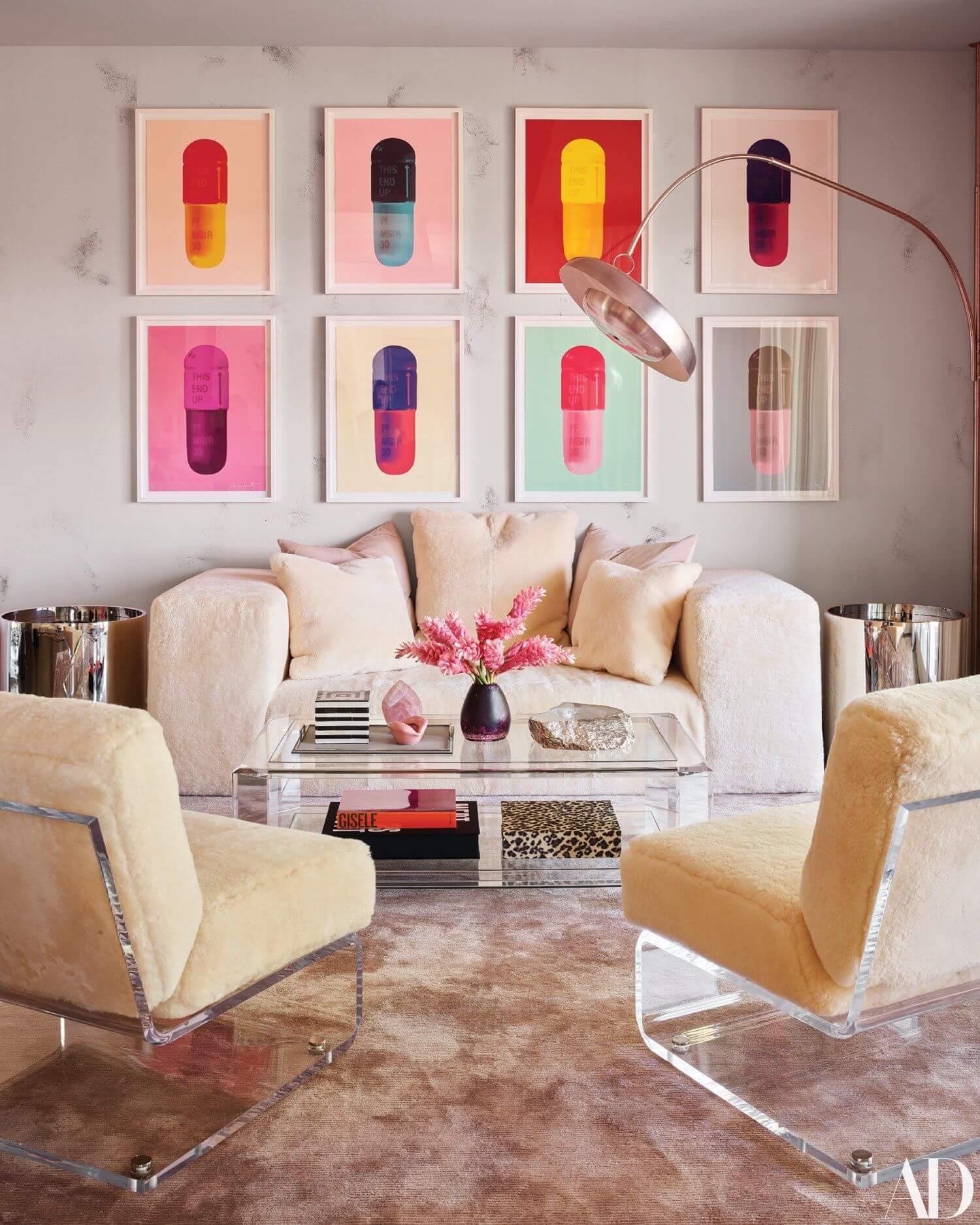 Eight Damien Hirst prints hang above a custom Martyn Lawrence Bullard daybed in the master bedroom's sitting area. Lucite chairs by Bullard. Moreover, a rug by Anthony Monaco Carpet & Textile Design; on a vintage cocktail table, Dinosaur Designs vase.
The designer opted for a design scheme that is equal parts sparkle and sumptuousness.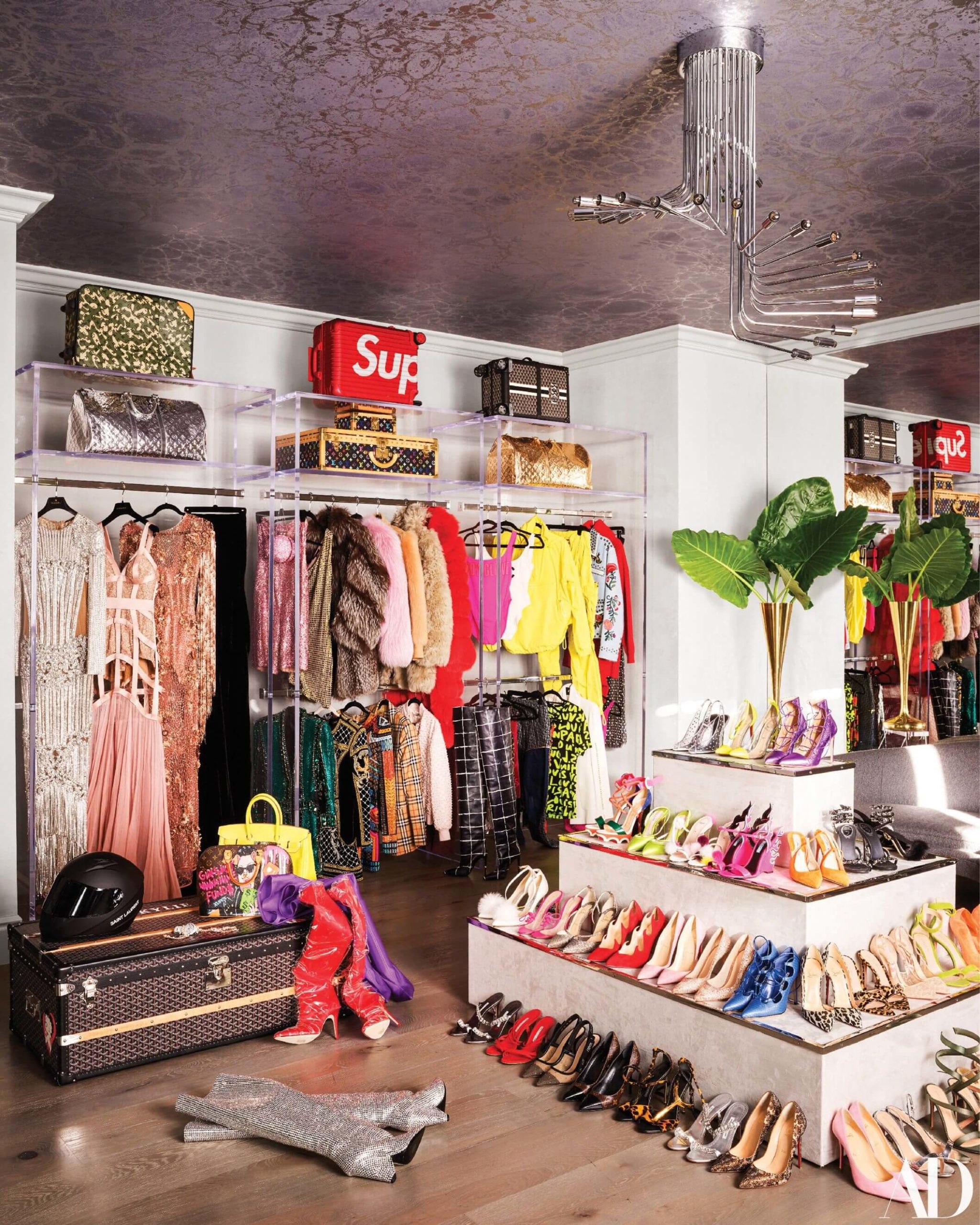 A vintage chrome chandelier illuminates the dressing room. Custom lucite shelving by Martyn Lawrence Bullard.

.
Calabasas Modern – Kourtney Kardashian House
The concept of a house as a sanctuary is one of the great clichés of magazine writing – and for a good reason, as anyone who finds comfort in their home can attest.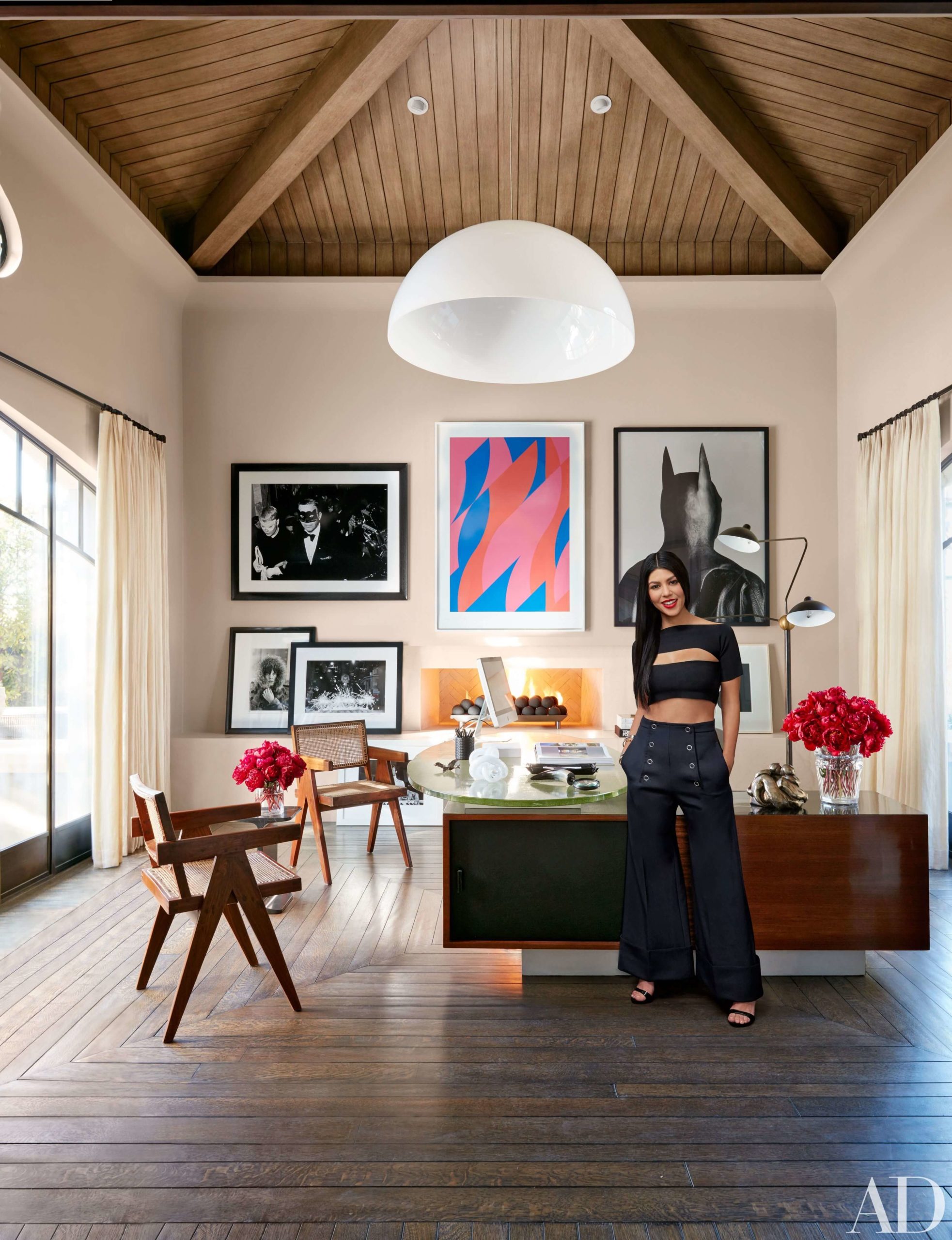 Her home office is furnished with a vintage Jules Leleu desk and Pierre Jeanneret chairs; the arrangement of art includes Harry Benson's photograph of Mia Farrow and Frank Sinatra Truman Capote's Black and White Ball. Additionally, a vibrant work on paper by Bridget Riley; and Batman, a gelatin silver print by Herb Ritts.
Nevertheless, for Kourtney Kardashian, the idea reaches a whole different level. After all, when you are members of America's most famous family, you need someplace where the eyes of millions are not watching 24 hours a day.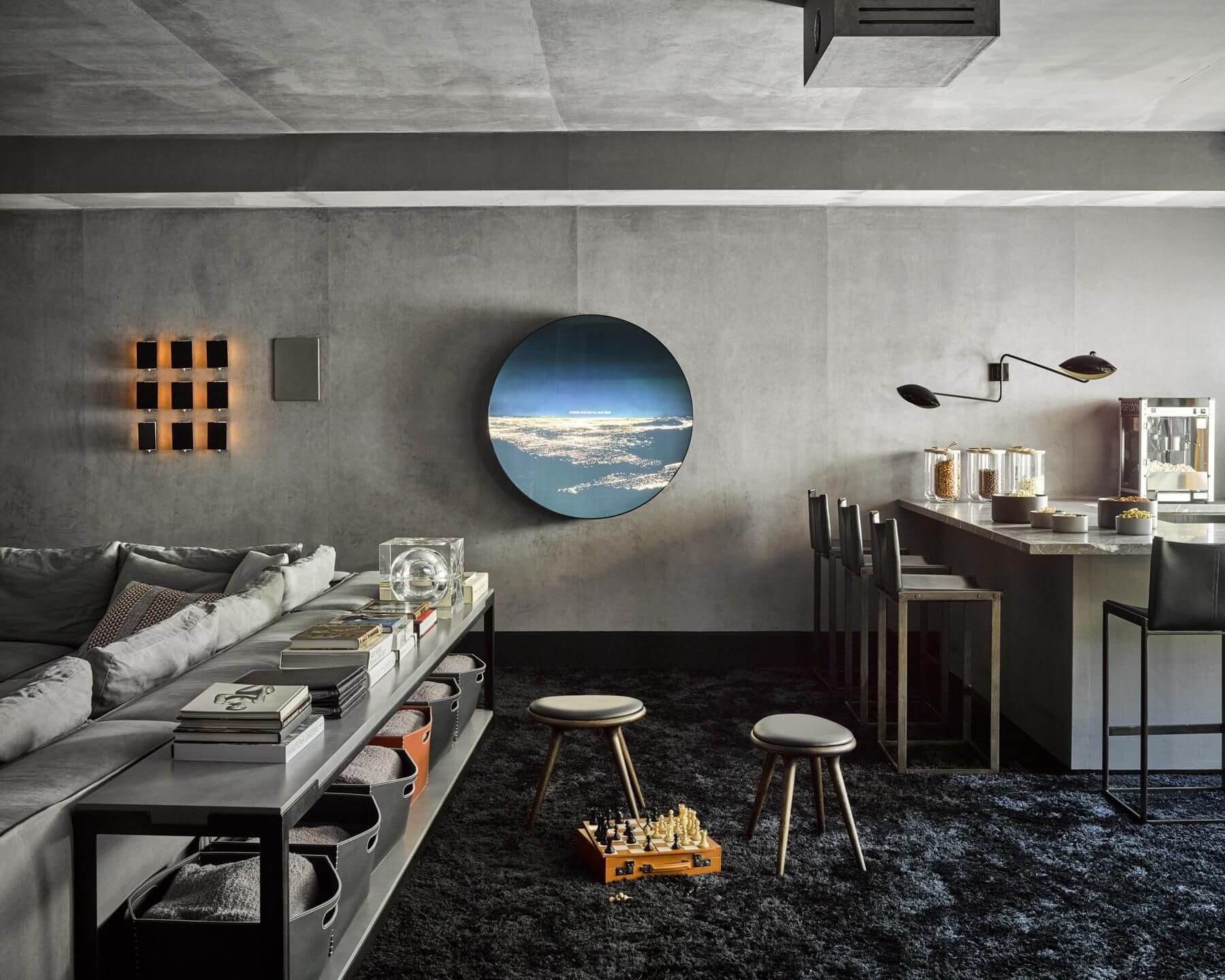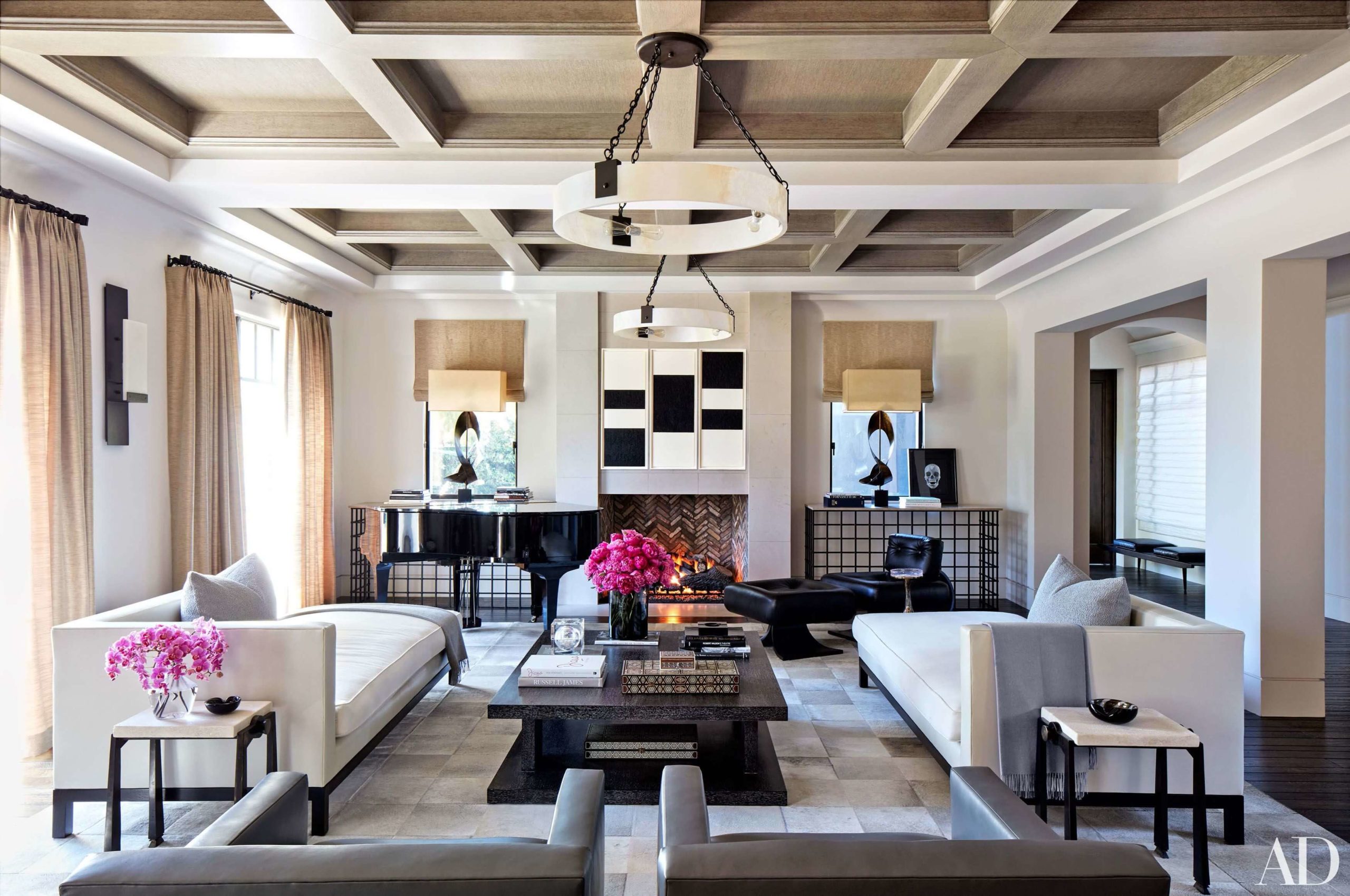 Even in such a close-knit family, it is impressive that Kourtney decides to entrust show-business favorite Martyn Lawrence Bullard with the task of tailoring the house to her respective taste.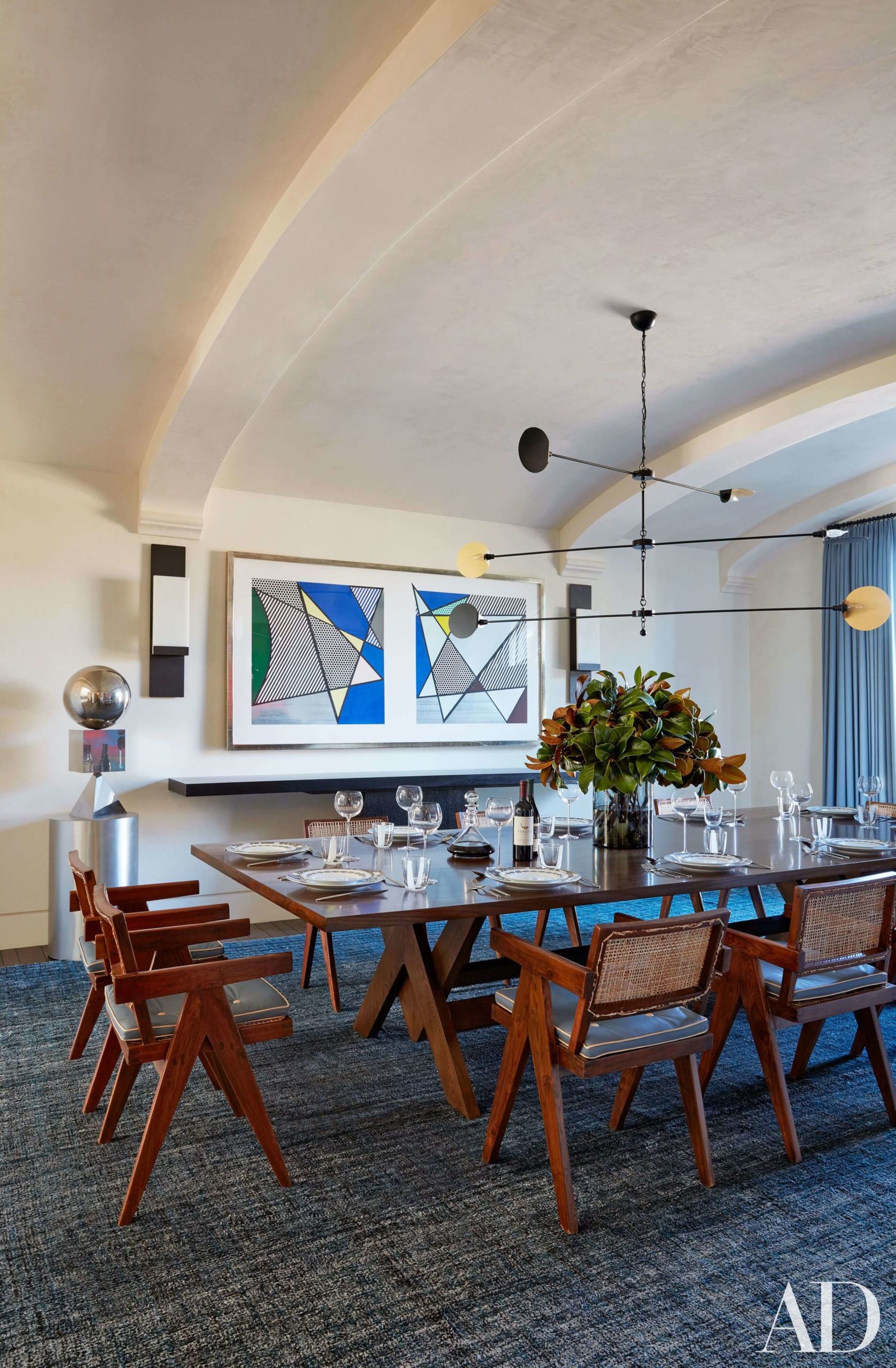 In the dining room, Martyn Lawrence Bullard placed a bespoke table and a suite of vintage Pierre Jeanneret chairs from JF Chen under a José Esteves chandelier from Intérieurs. Moreover, the framed artwork is by Roy Lichtenstein, the James Prestini metal sculpture at left is from Blackman Cruz, and the carpet is by Mansour Modern.
"I am amazed how many styles he can interpret," raves Kourtney.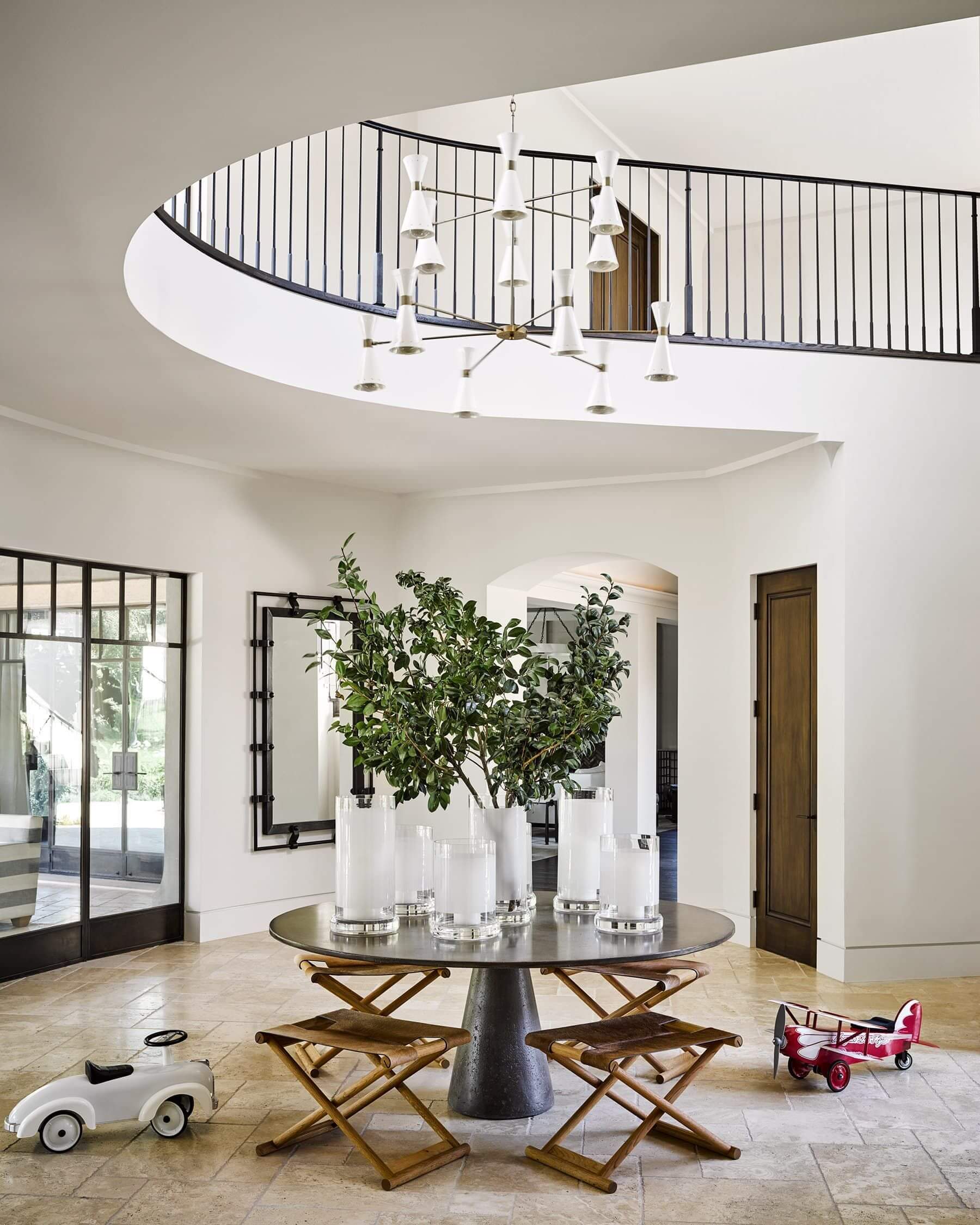 The light-filled entry at Kourtney's house.
For Kourtney, the focus was her three children: sons Mason and Reign, ages six and one, and three-year-old daughter Penelope. "We wanted to make it sophisticated but family-friendly," notes the decorator. "She is all about her kids."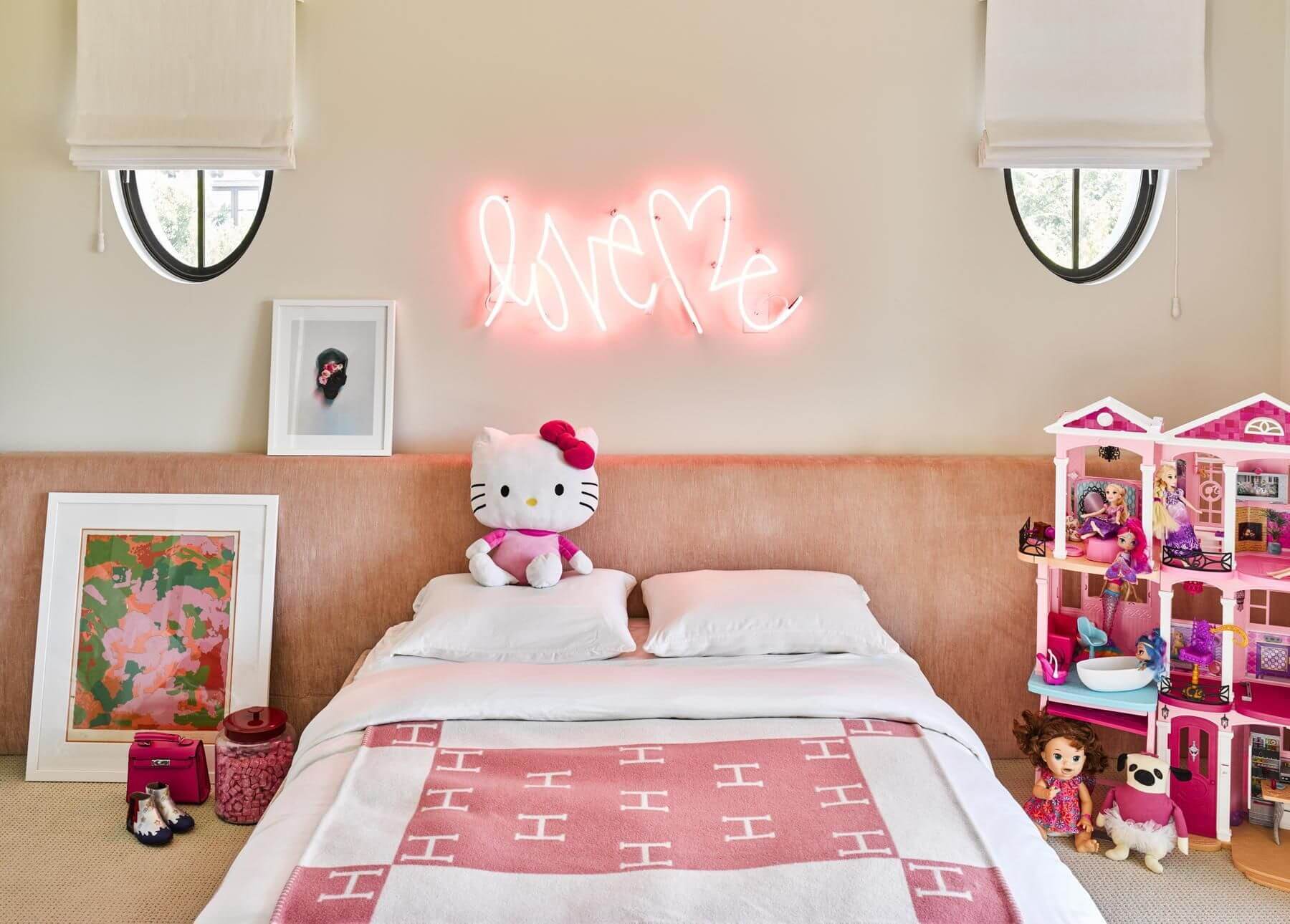 A neon light installation is mounted above Penelope's bed, which is topped with an Hermès throw.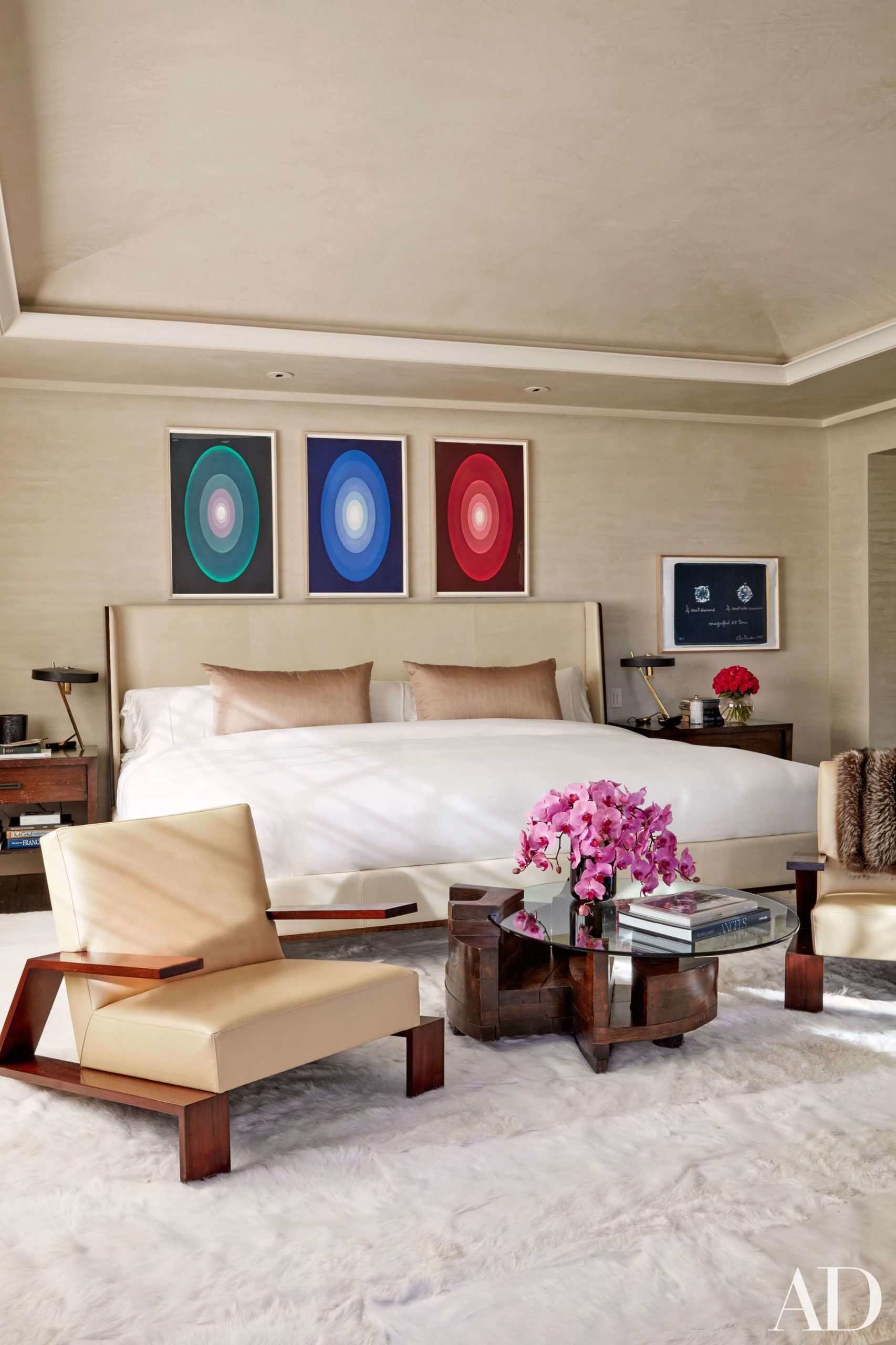 James Turrell artworks are displayed above Kourtney's bed; the vintage Jean-Michel Frank lounge chairs are upholstered in an Edelman leather. The 1970s Belgian cocktail table is from Lucca Antiques, and the carpet is by the Rug Company.
residential projects
Golden Beach – Tommy Hilfiger House
The last top residential projects of Martyn is Tommy Hilfiger's House.
Few houses are as extravagant, eccentric, and incredibly fascinating as Tommy Hilfiger's residence in upscale Golden Beach.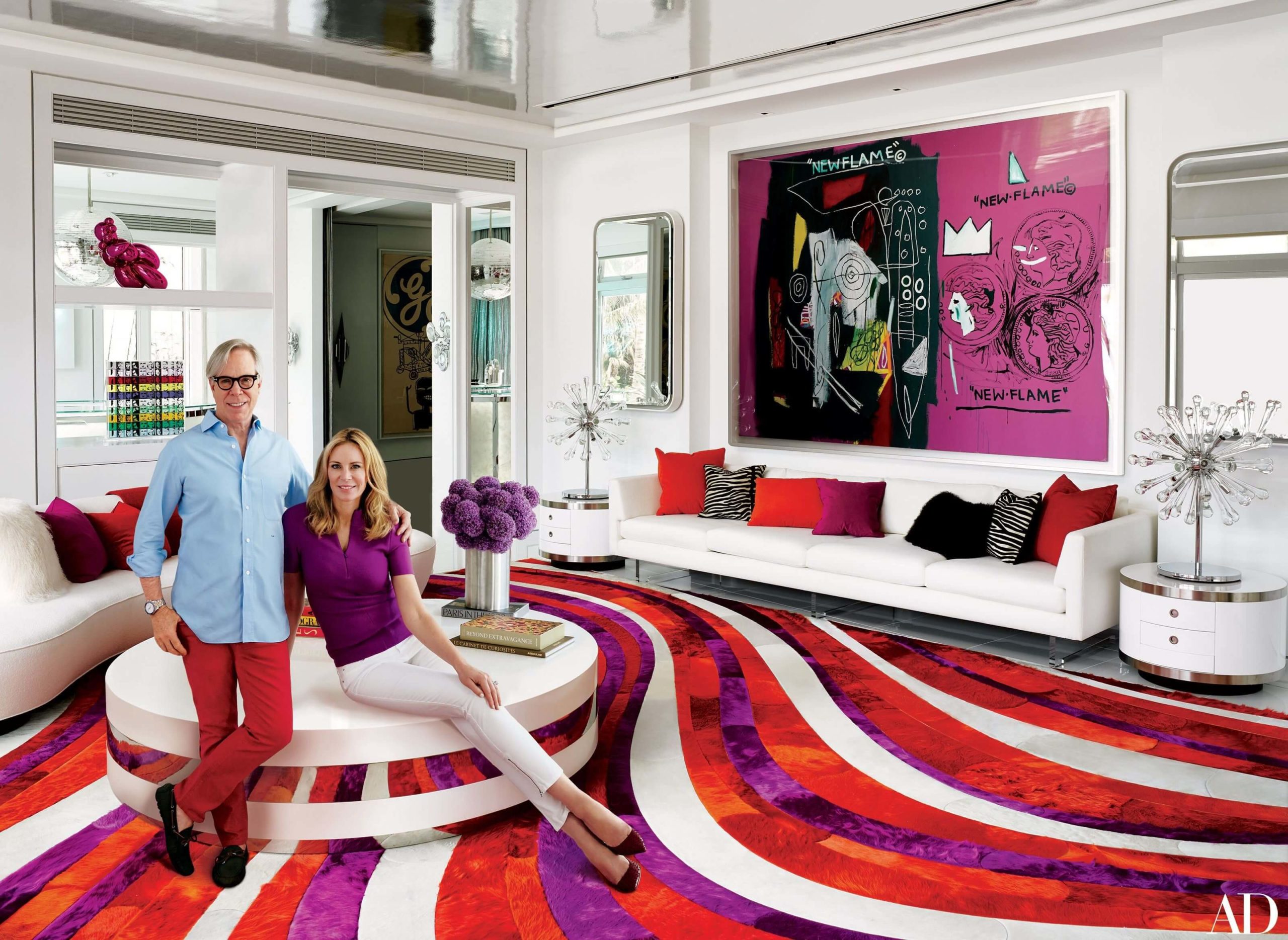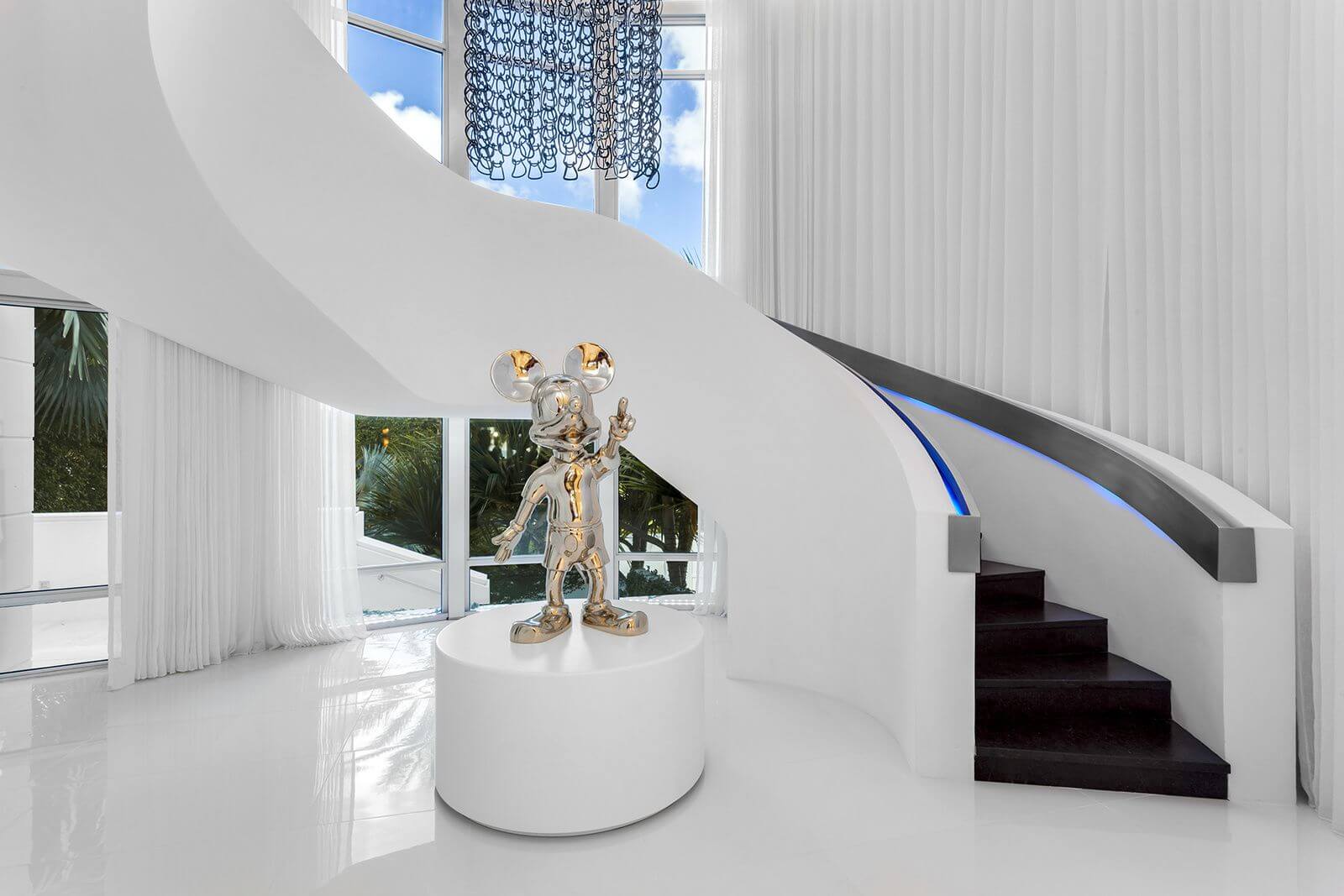 This residential project has roughly 14,000-square-foot, whose backyard morphs into the ocean.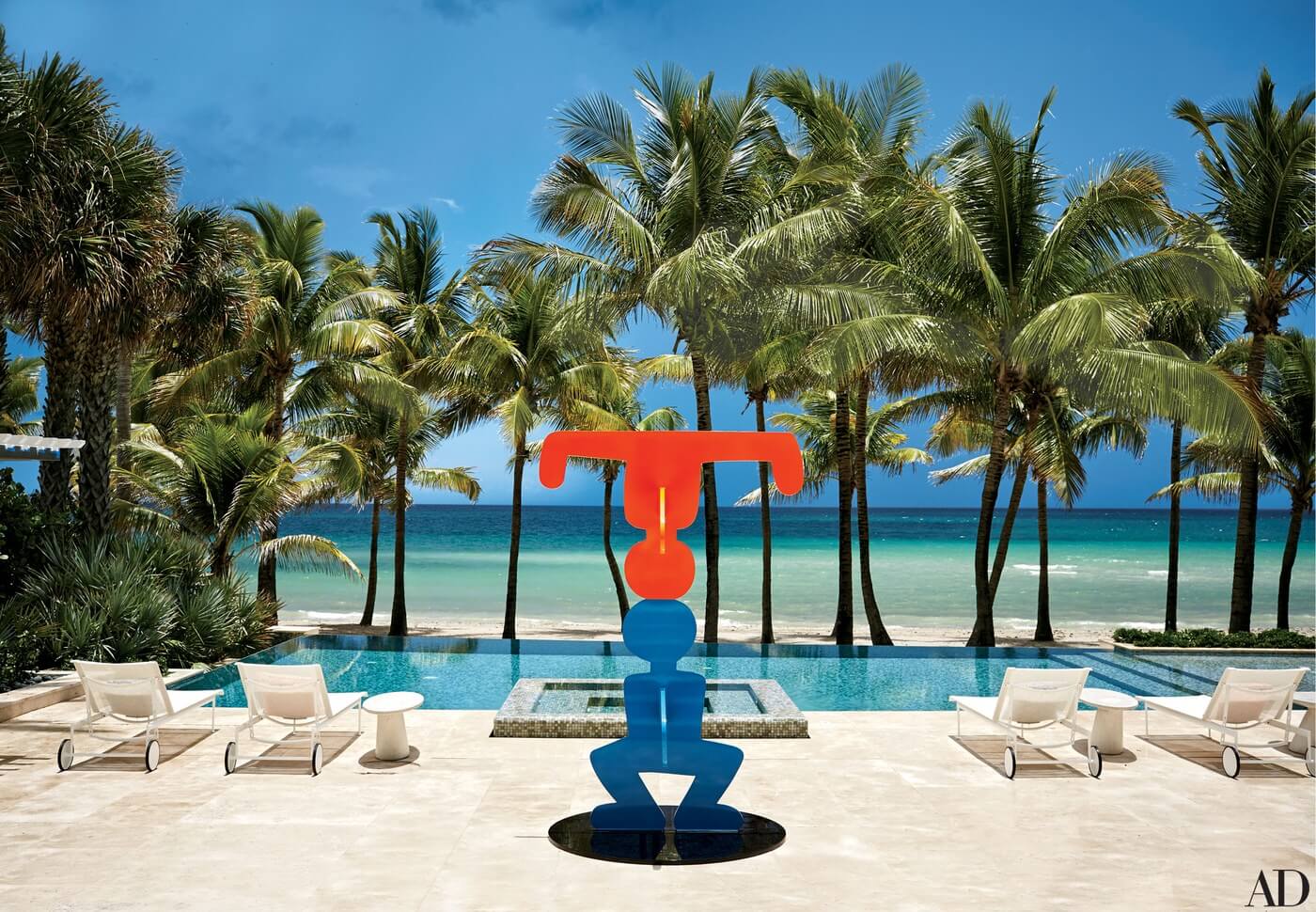 The fashion and retail magnate and his wife, style expert, and high-end handbag designer, purchased the house and engaged the services of internationally renowned and famously designer Martyn Lawrence Bullard.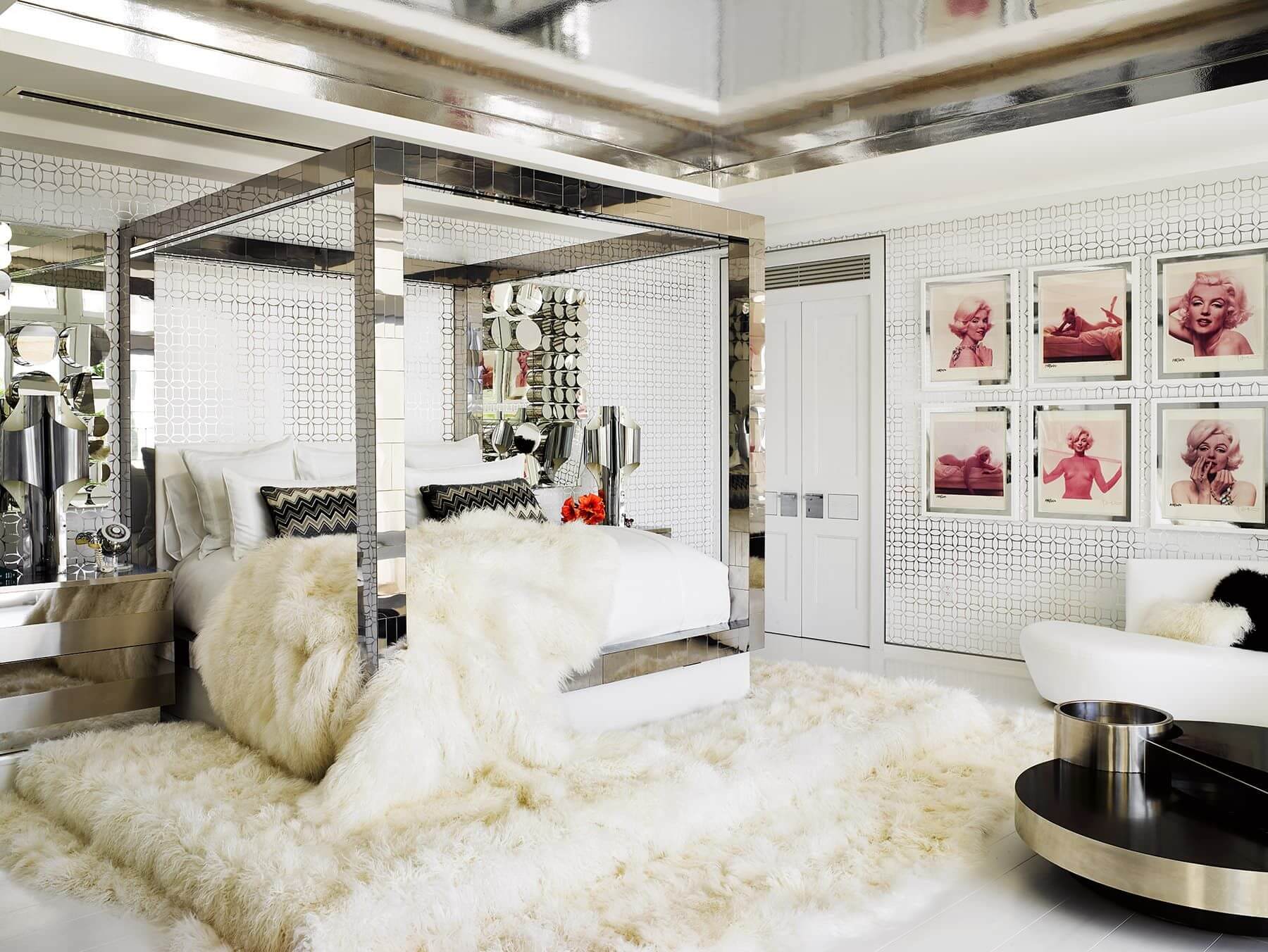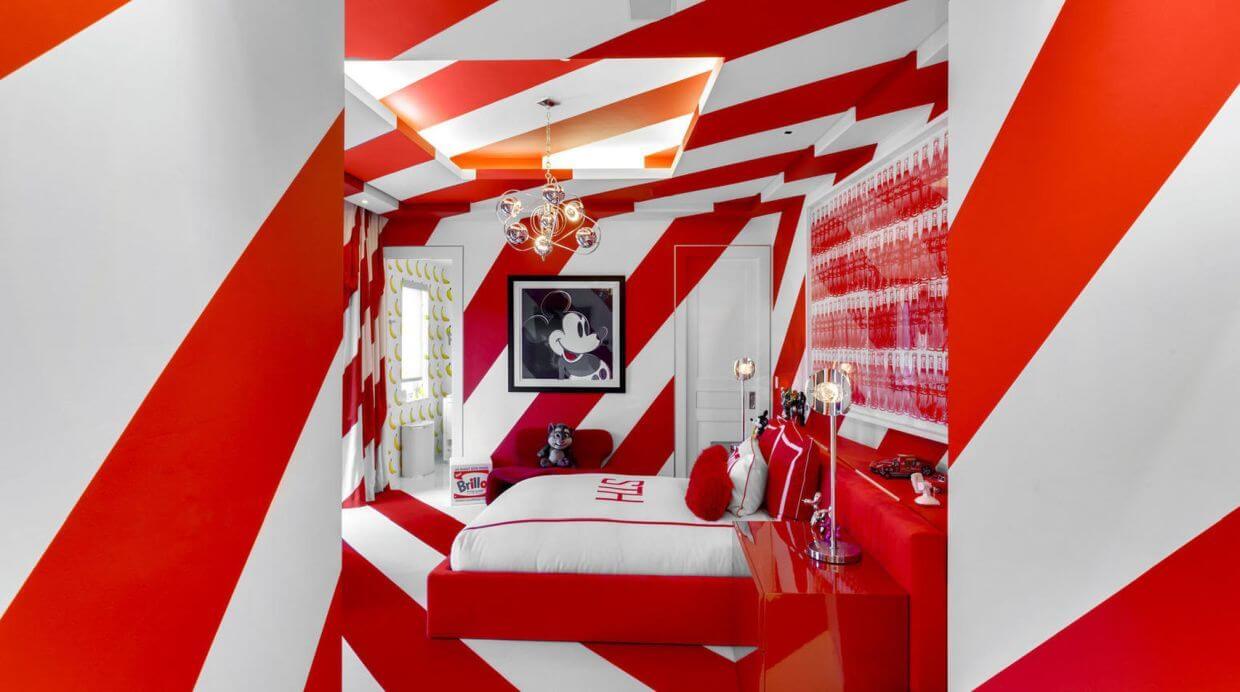 The objective was to fashion an unabashedly bold filled with pricey furnishings and contemporary artworks by Jean-Michel Basquiat, Damien Hirst, Marc Quinn, Bert Stern, and Tracey Emins.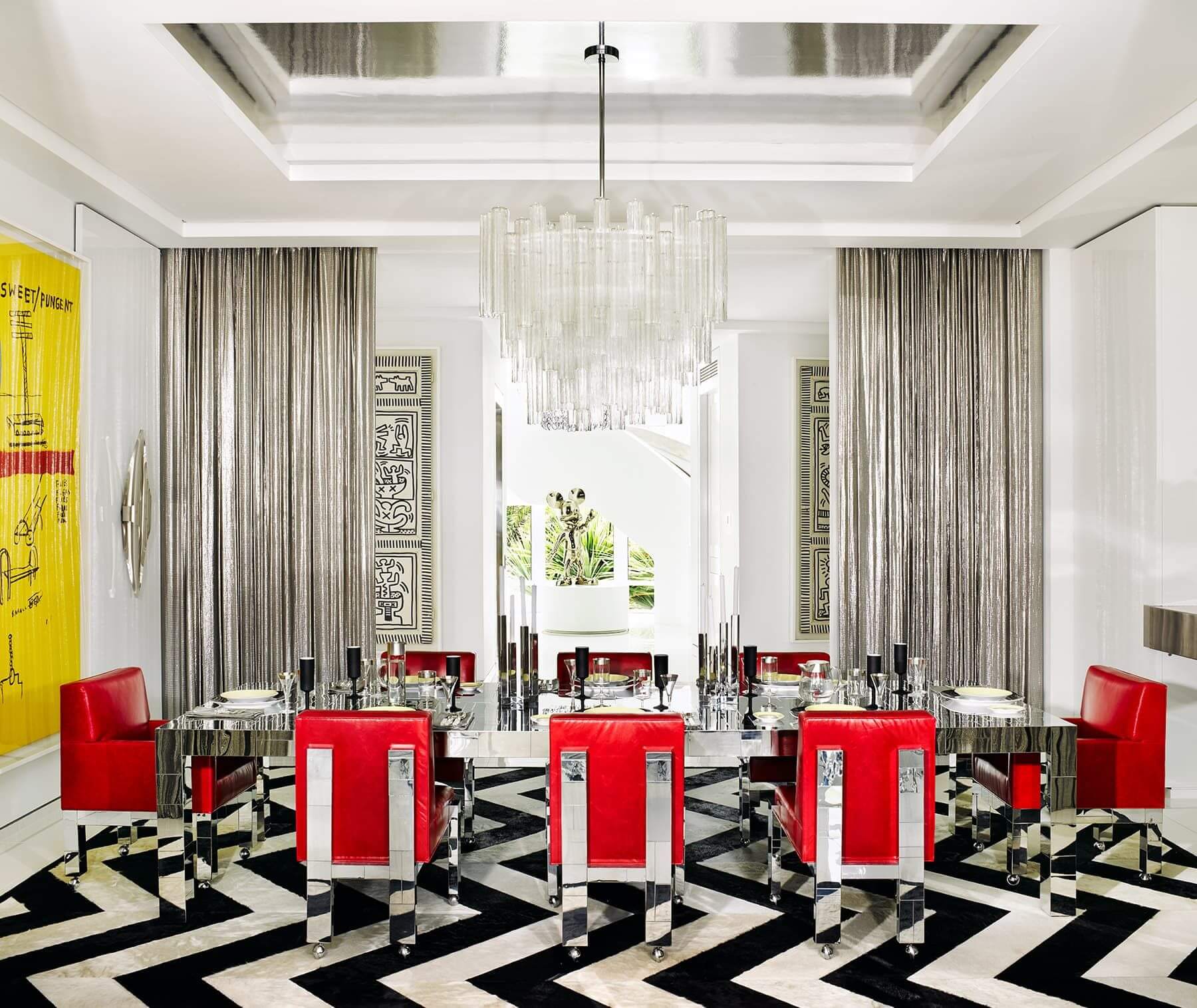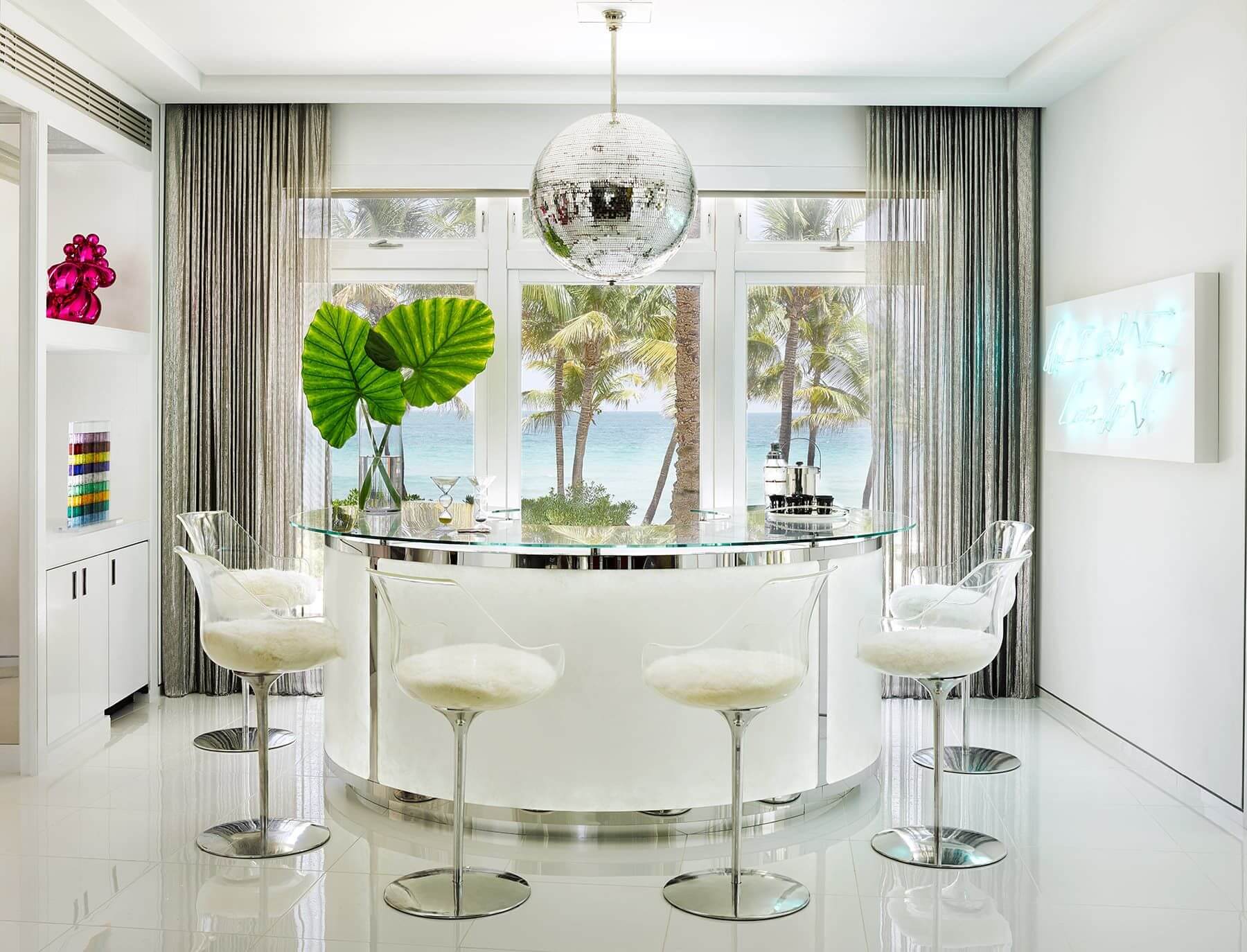 Built-in 2007, the house has seven suite bedrooms and eight full and four half bathrooms. Some of their bathrooms have wallpaper playfully, with fruit-patterned.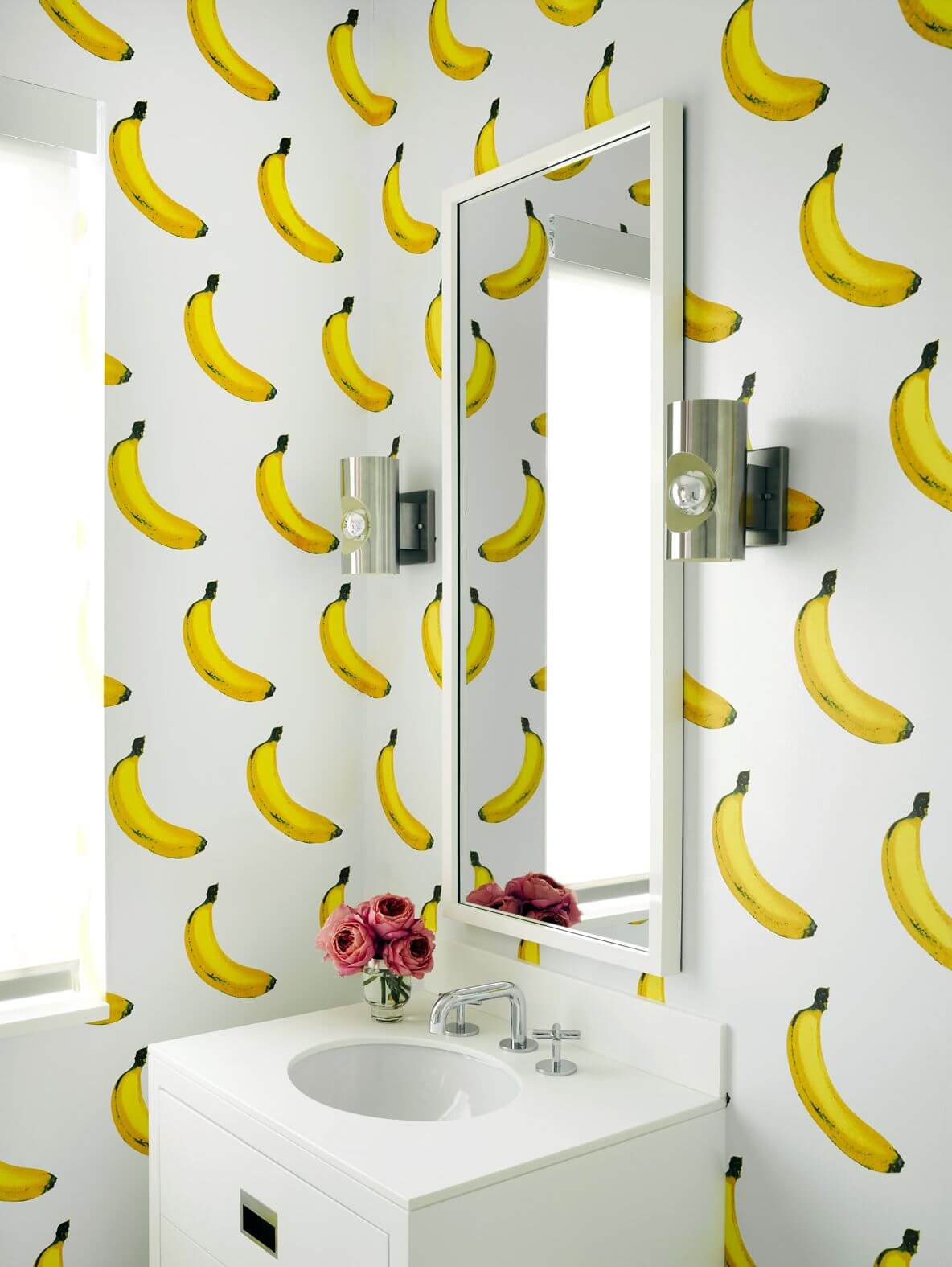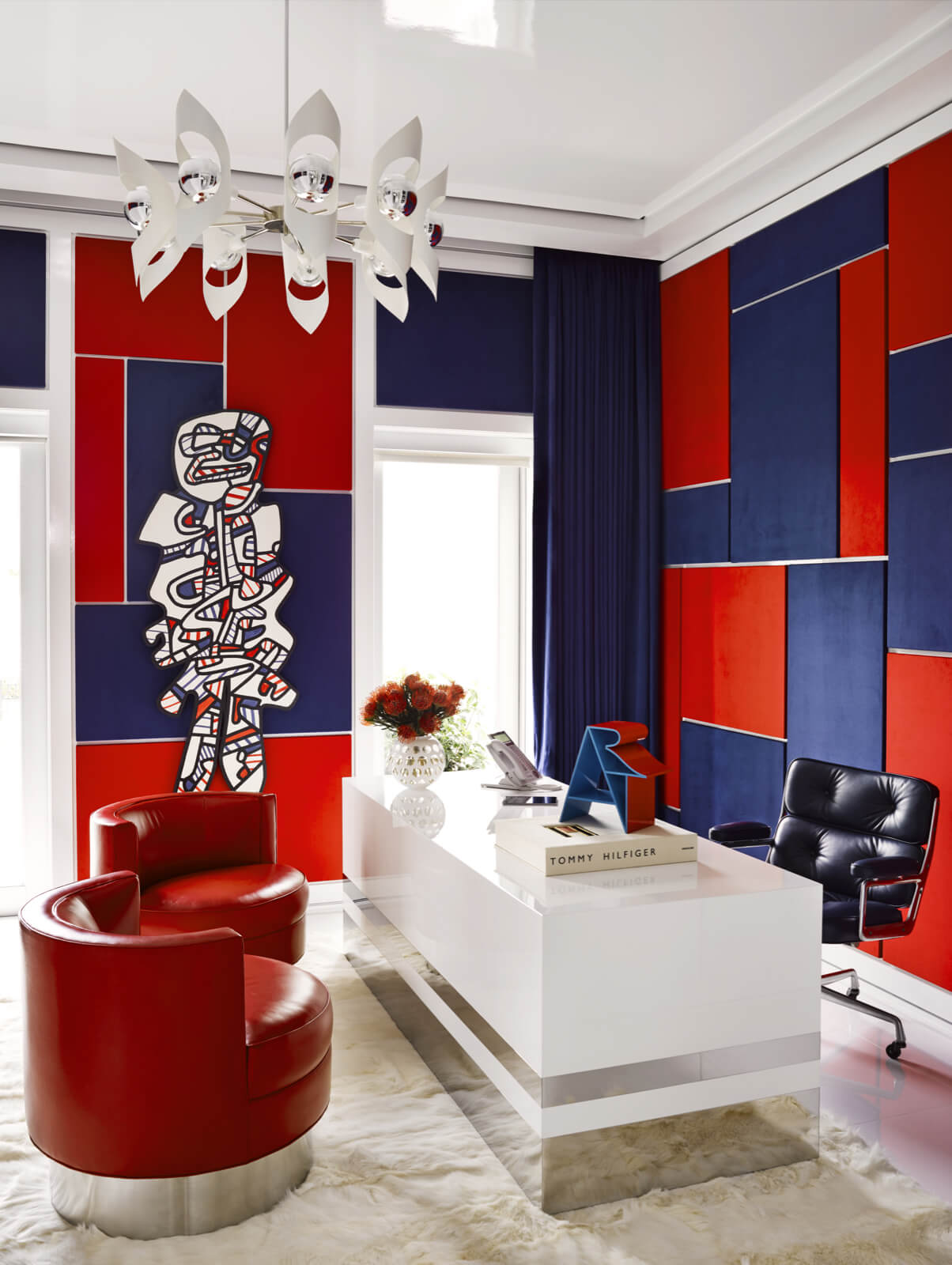 We really hope you liked our article. Feel free to pin all the images to your favourite Pinterest board. Meanwhile, you can also visit our Pinterest boards to get more inspirations.
Get more ideas for your projects and find functional, stylish, and sizable lighting and furniture choices: