Bel Air California was home to many celebrities. This acclaimed neighborhood offers stunning views of the Santa Monica Mountains. Let's look at this magnificent project.
Bel Air California is home to numerous celebrities, from Elvis Presley to Beyoncé. This sanctuary, nestled in the foothills of the Santa Monica Mountains, blends old-world glamour with unique modernism. The residence is designed so that natural sunlight and nature are visible from every angle.
This fantastic home boasts an open-plan design filled with natural light and characterized by sleek lines and neutral tones. It combines three primary materials – wood, natural stone, and bronze – to create a gentle, warm glow and a harmonious living environment for its residents.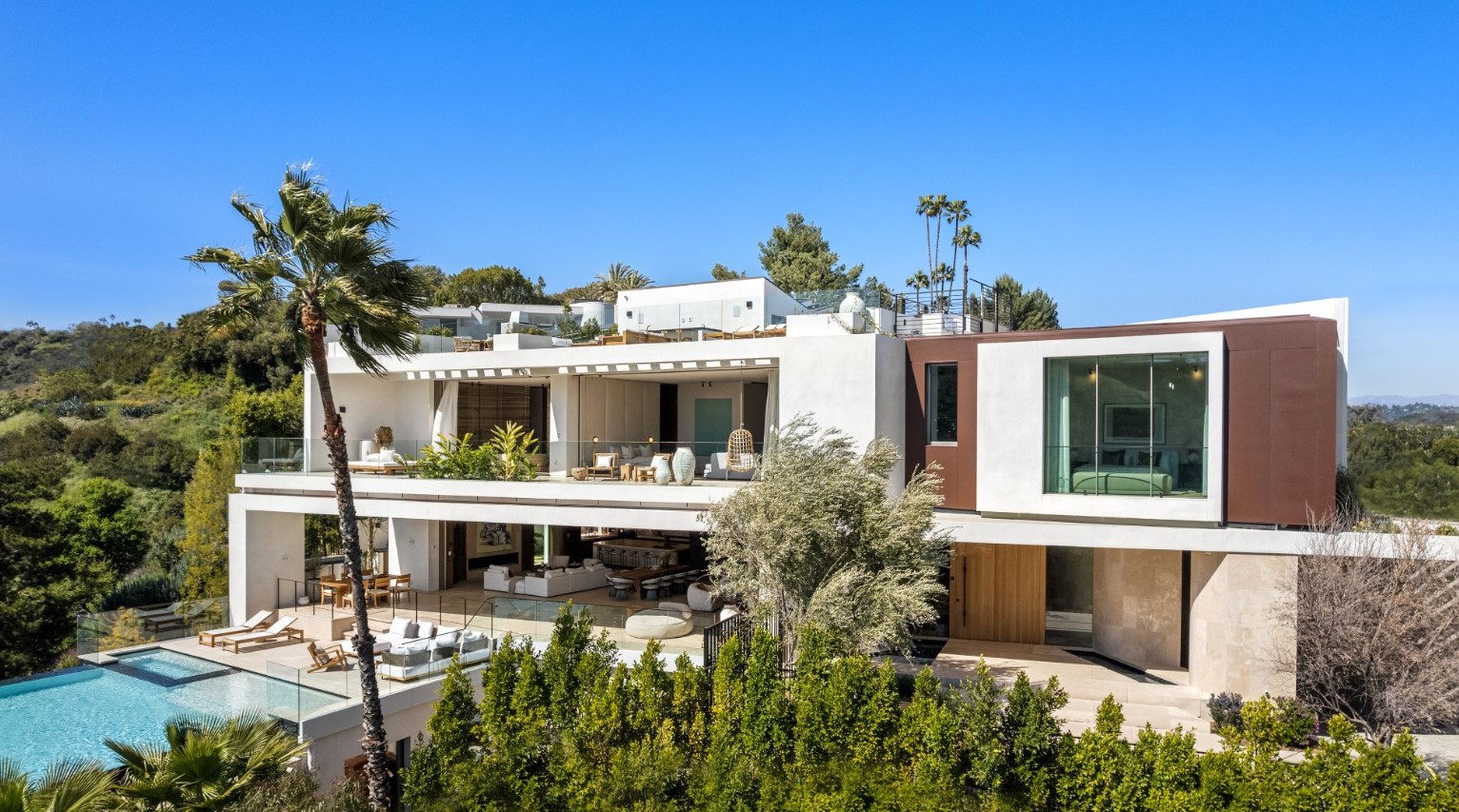 This exquisite residence was designed by Saota Architect from South Africa and David Maman, an architect-builder, in collaboration with Belgian architecture studio Dieter Vander Velpen. This remarkable house's living room, dining room, family room, and kitchen are well-segmented. The residence seamlessly connects the inside and outside, thanks to a travertine stone floor that flows into the outdoor terrace.
The interior design features materials like stained oak paneling, patinated bronze shelving, and custom millwork, contributing to the earthy tones. Plush boucle fabrics and smooth upholstery on furniture with soft curves and rounded edges are combined with stone walls to achieve a contemporary yet minimalist look. The contemporary Chinese large canvas and the Little Petra chairs perfectly enhance the minimalist and modern decor.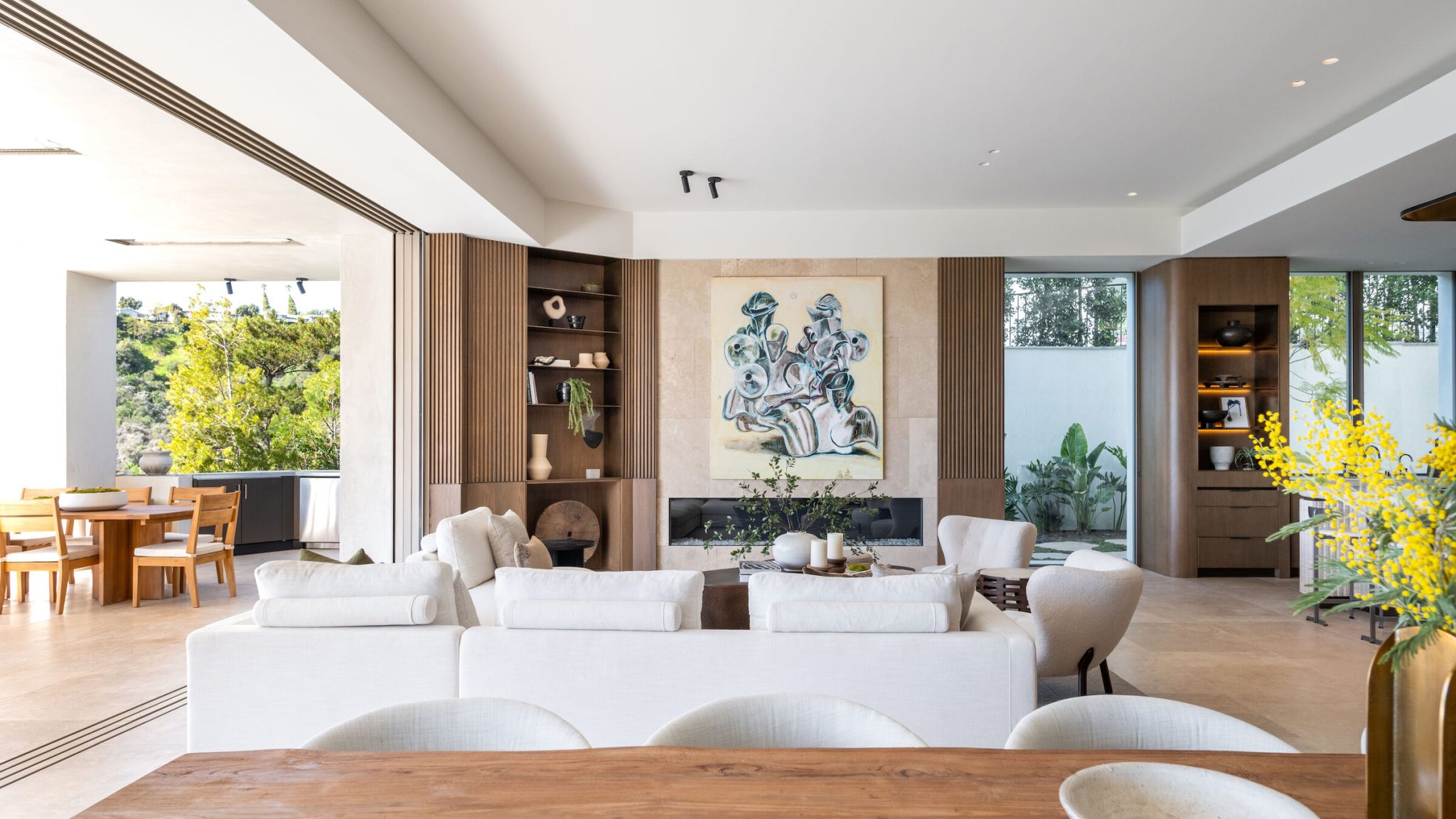 The Bel Air California residence has an open-plan layout connecting the living spaces. Its kitchen is a minimalist and modern masterpiece, with three core materials perfectly blended and an extra-large island with a fluted base carved from solid travertine.
In addition to its other features, the kitchen boasts oak cabinetry and polished bronze components, including shelving and a striking custom hood. The bar is beautifully crafted with well-defined structures that offer optional extras, like a chunky rectangular wood frame inset with strips of light that add an artistic touch to the space.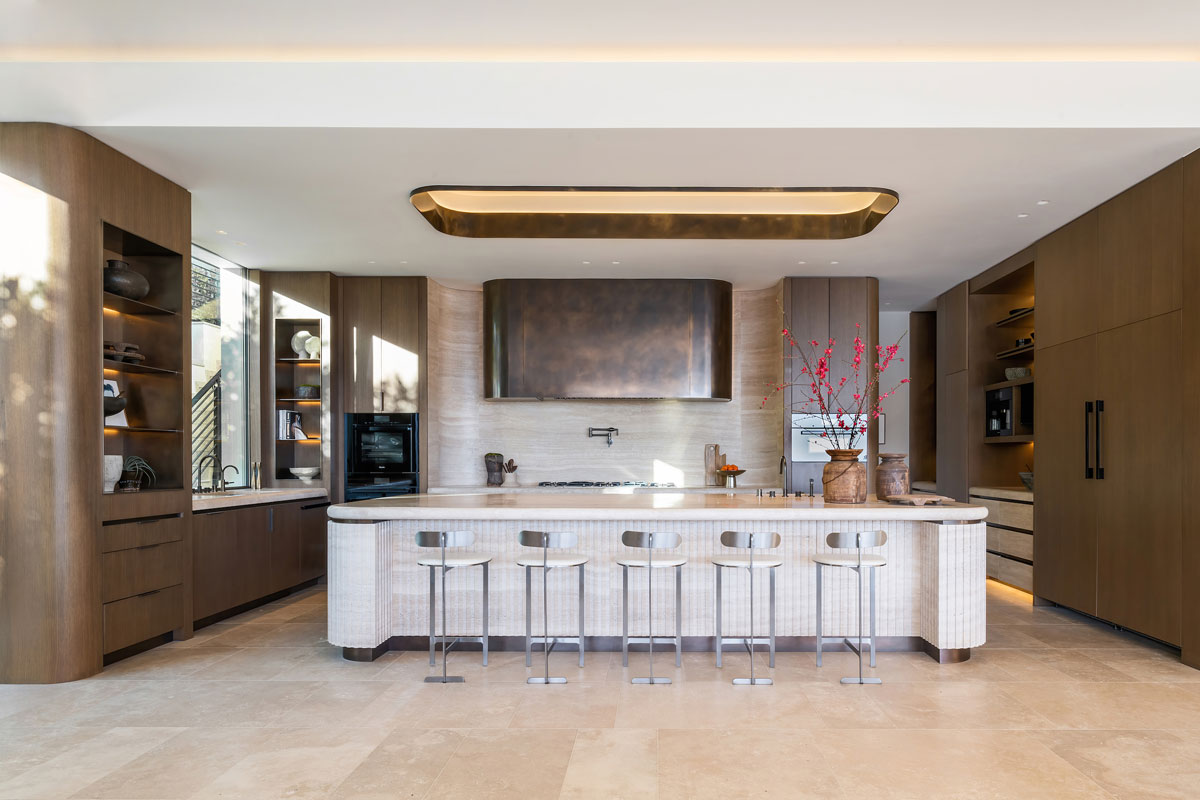 This impressive Bel Air California residence features six spacious bedrooms and eleven bathrooms. The design has been carefully crafted to prioritize scale, texture, and materials to create a warm and inviting ambiance. The main bedroom was designed with the owner's comfort in mind, allowing them to spend an entire day there. It includes a luxurious custom-made bed, plush cream velvet upholstered floor-to-ceiling wall panels, and a stunning neutral-tone rug to complement the minimalist yet modern look.
The main bedroom in this residence, located in Bel Air California, boasts two "his" and "hers" dressing rooms" a kitchenette, a private terrace, and a seating area. This suite was intentionally designed to be a personal sanctuary.
The main bathroom is a magnificent design entirely covered in silver travertine. It has a sliding window that offers breathtaking panoramic views of the Bel Air California Valley. The highlight of this exquisite bathroom is the unique round bath, hand-carved from a single block of marble. Bronze doors frame the double shower.
It's the perfect place to watch the sunset over the Santa Monica hills. This room's minimalist yet modern look is fantastic, with the combination of the core materials of the residence and the neutral tones creating a warm and cozy space.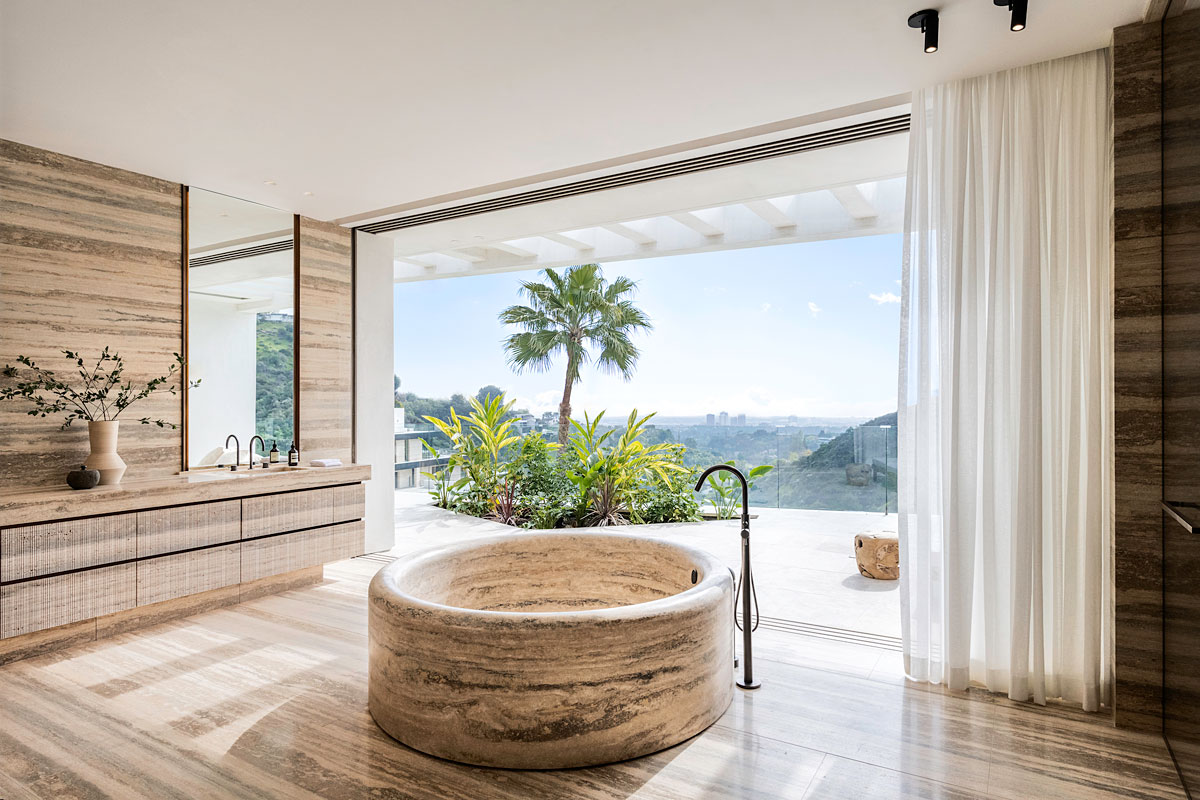 The Bel Air California Residence boasts breathtaking views of the ocean and the Santa Monica Mountains. While the bedroom and main bathroom offer prime viewing spots, the stunning outdoor space is also great for seeing the beautiful surroundings. This residence was designed to blend indoors with outdoors from the ground floor to the rooftop.
On the ground floor, the terrace is furnished with comfortable lounge chairs and boasts an incredible infinity pool, making it the perfect spot for summer relaxation. The dreamy atmosphere continues on the rooftop terrace, where you can unwind in a jacuzzi or enjoy a meal in the kitchen, bar, and dining areas. The lounging areas provide a peaceful and inviting ambiance, perfect for soaking up the breathtaking panoramic views.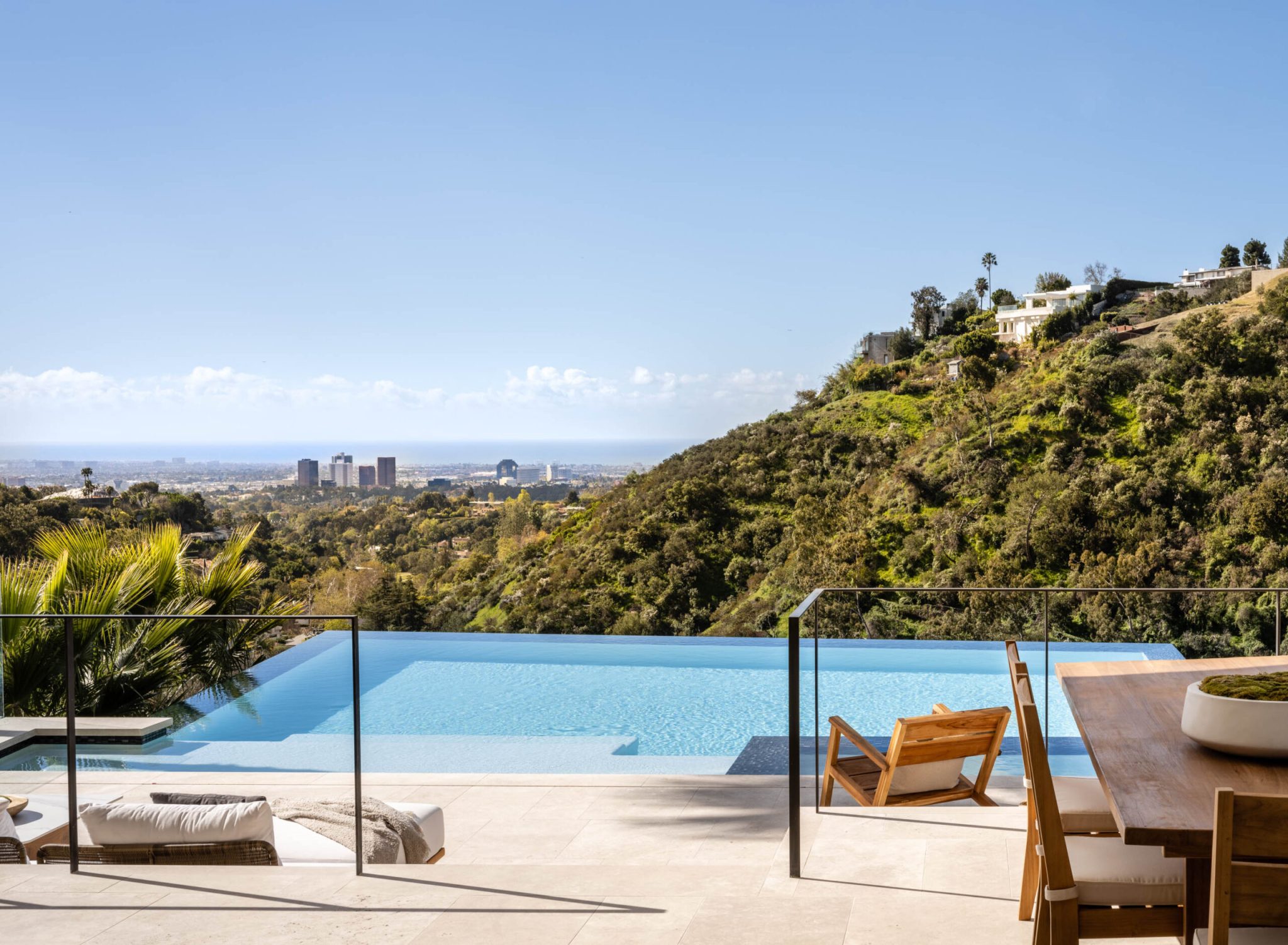 Paradise on Earth
The Bel Air Residence is a truly heavenly abode. Its interior design is a masterpiece, combining three core materials to create a warm, cozy, and stunning atmosphere for residents. The minimal yet modern design perfectly integrates indoor and outdoor spaces, creating a harmonious living experience.
We hope this Bel Air California abode has inspired you as much as it inspired us to create our paradise on Earth. If you're seeking more inspiration, we invite you to explore How to Create a Cozy Minimalist Project, a professional guide to help you create your dream project.