Right outskirts Porto, a luxury home in Portugal, takes our breath away with its immense landscape, modernist architecture, and a charming interior with midcentury modern Italian flair – all this beauty created by Porto-based design studio Oitoemponto.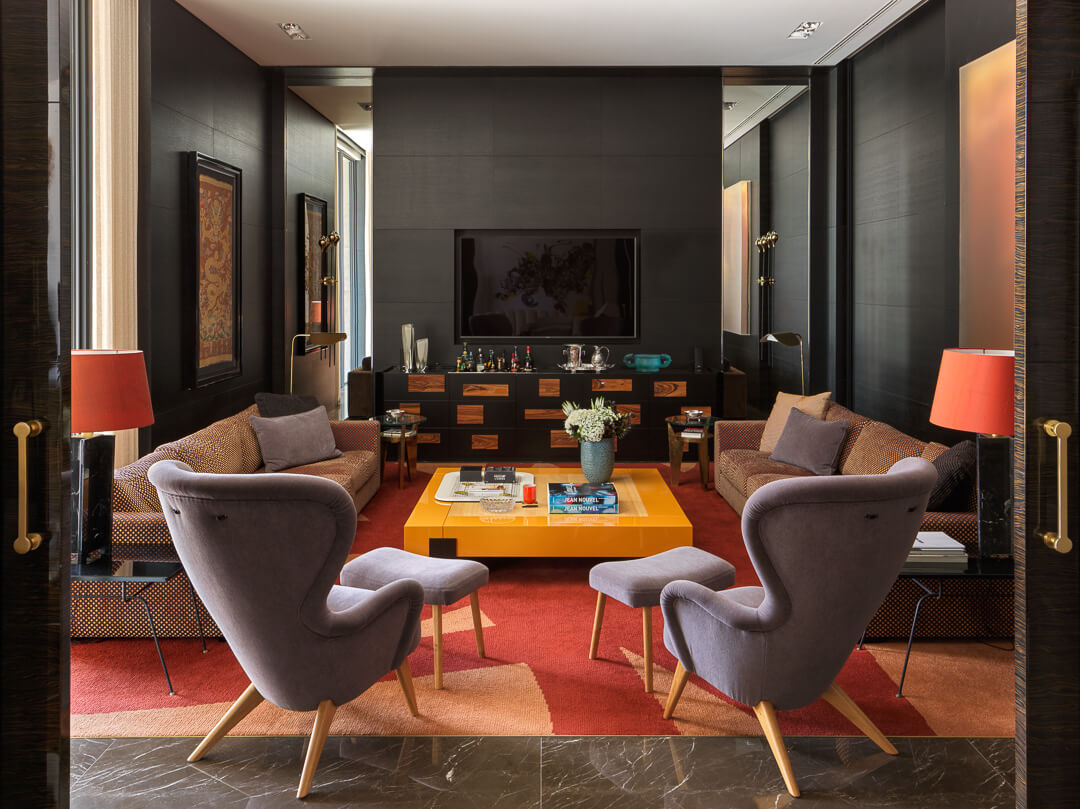 OITOEMPONTO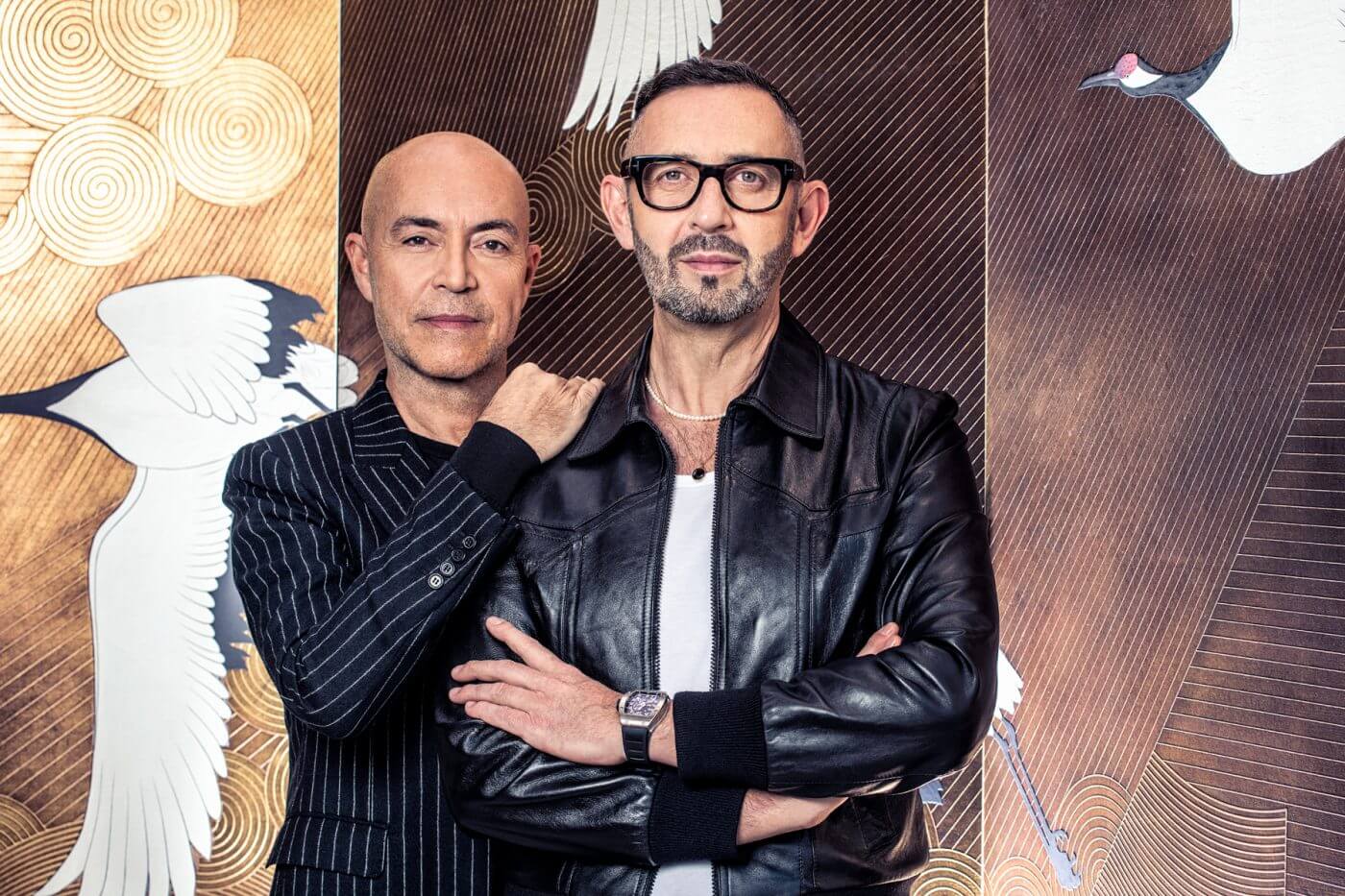 Oitoemponto ('at precisely eight o'clock') is a Porto-based design studio founded in 1993 by the Portuguese Artur Miranda and the French Jacques Bec. In their words, Oitoemponto is the collision of 'terribly complementary personalities' with a happy ending.
To recognize the DNA of OITOEMPONTO is to understand that this story is made of many others that moves back and forward, whenever a project so requires.
LUXURY HOME IN PORTUGAL WITH ITALIAN FLAIR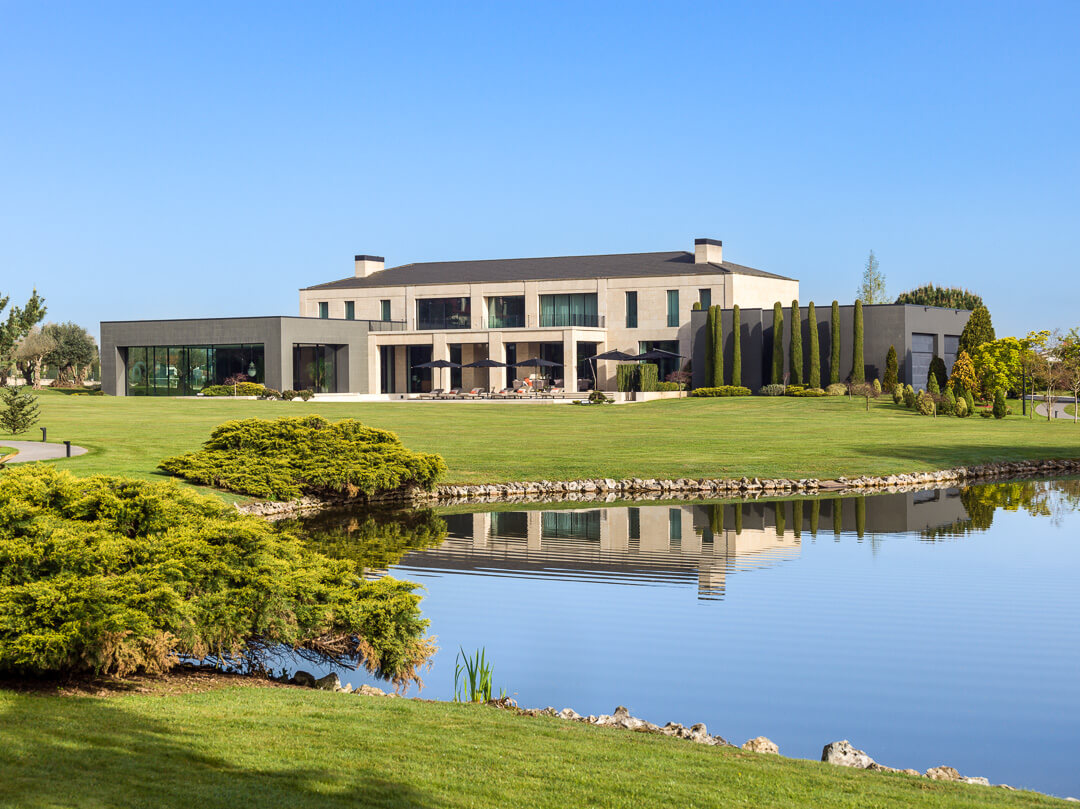 Jacques Bec and Artur Miranda, founders of Oitoemponto, mastered the luxury residence outskirts of Portugal's second-largest city and one of the trendiest European cities at the moment, Porto.
In a 50 acres area outskirts Porto, this family home – a couple with three boys – sits. The briefing appealed to a massive construction. Even though Jacques Bec and Artur Miranda project robust architectural structures, the owner's original idea was more prominent than necessary.
Oitoemponto design studio loves proportion and combines solid elements with subtle notes. Overall, interior, architectural, and landscape design nod to midcentury modern Italian design.
The house, still a massive compound, is mainly built of local white granite locally sourced – no better way to blend the architectural project with the landscape.
On the inside of the luxury home in Portugal, Oitoemponto employed a limited yet luxurious cluster of materials: bronze Armani marble, polished Venetian plaster, lacquer, wood veneer.
Each room is spacious, and despite the extra size of adornments, all areas of this luxury home in Portugal are airy and have plenty of empty spots. Corridors are equally large and carry a unique luminescence, as light enters the house from all sides. These connecting halls resemble a gallery with a blend of exquiste design pieces and vacant areas.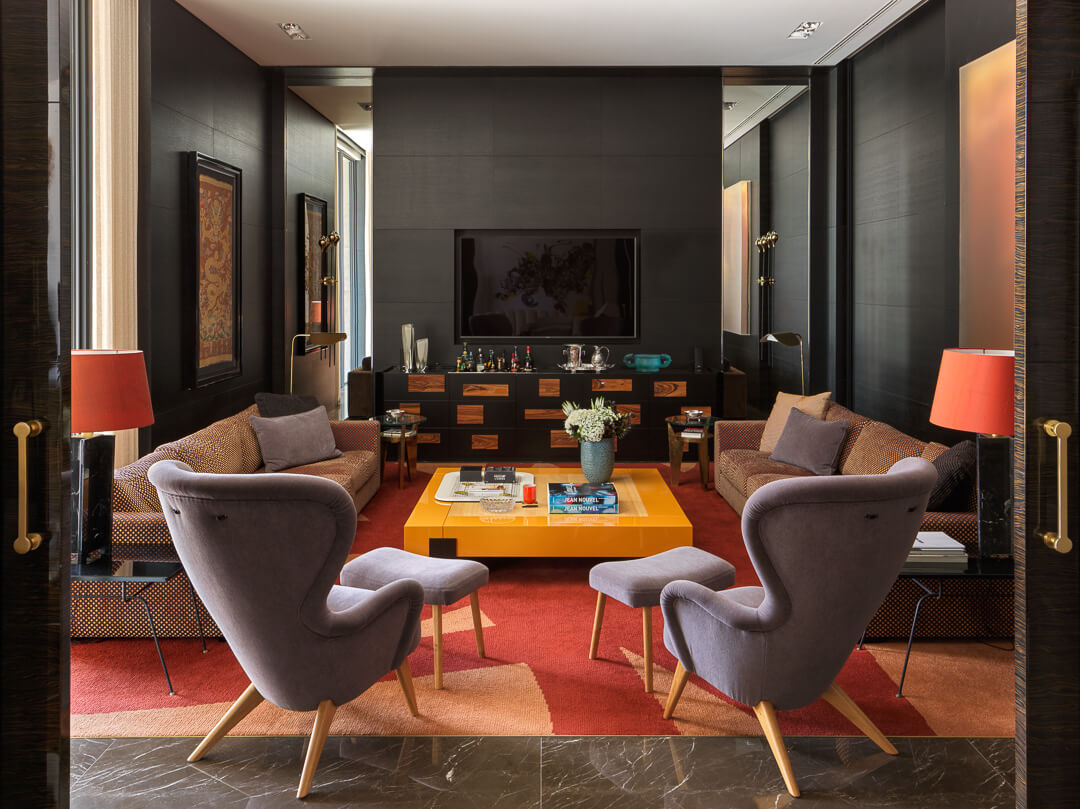 Following the modernist structure, the interior was fitted with high-end design objects – most of them acquired by the house's owners over the years.
Around the house, there are several iconic 20th-century designs. Nevertheless, more conservative design pieces are founded. The intent was to create a visually rich interior yet to avoid the eclectic standard.
The interior design is fully committed to midcentury modern Italian design – iconic designs, rich colors, a cluster of materials, and the finest finishings.
For instance, the foyer, living room, family room, and dining room have bold colors against vintage browns. Saturated blue, orange, yellow, and green are some tones that, when combined with bronze, silver, and golden, fill the expansive rooms.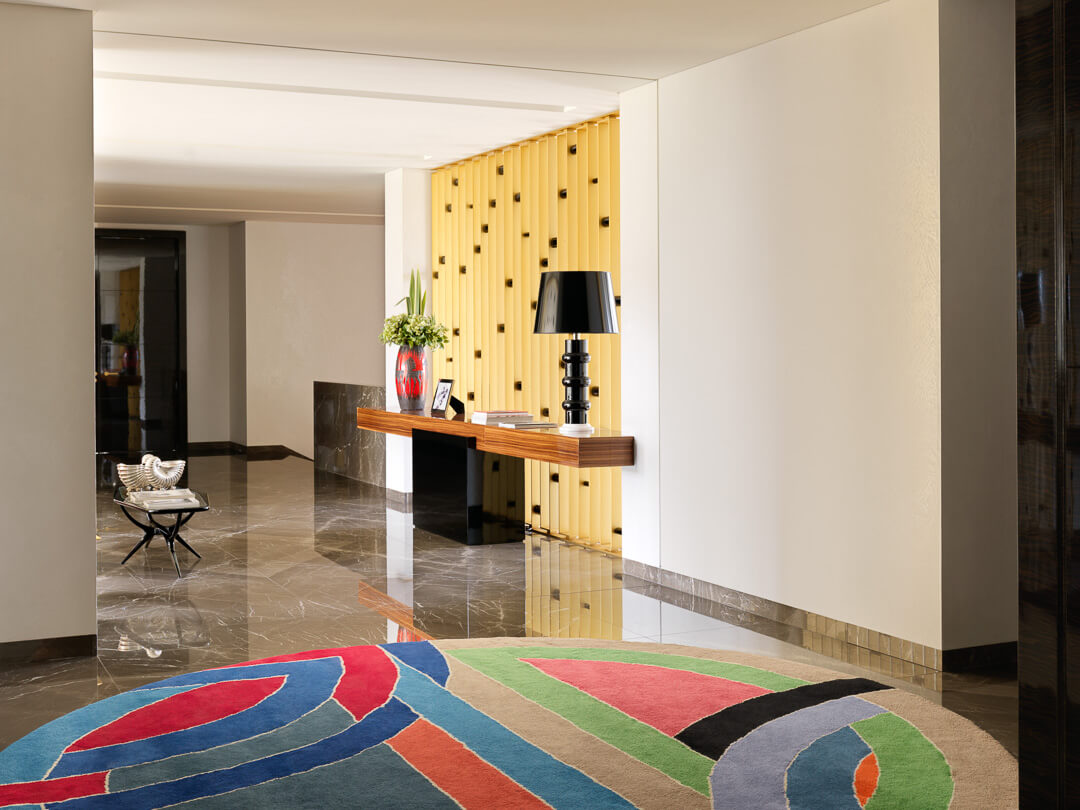 Almost every room of the house has a statement rug – bold shapes, irreverent patterns, and color blocks. The colorful elements add warmth and fill muted spots around the luxury home in Portugal.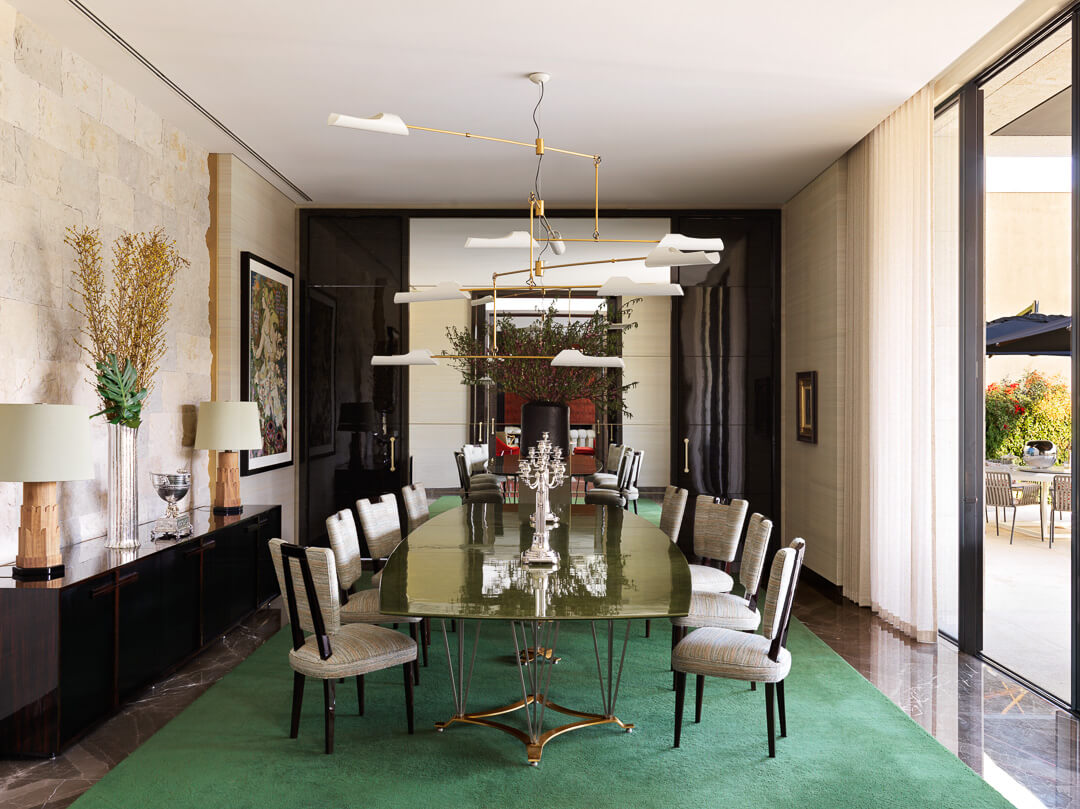 In contrast to conversational areas, private rooms, such as bedrooms, bathrooms, and dressing rooms, have a quieter color palette. The master bedroom is a beige paradise. The all-white bathroom coated with marble certainly feels like utmost luxe.
Finally, the dressing room has a classic tone of voice with beige carpentry, wood cabinetry, and modern design benches in brown leather.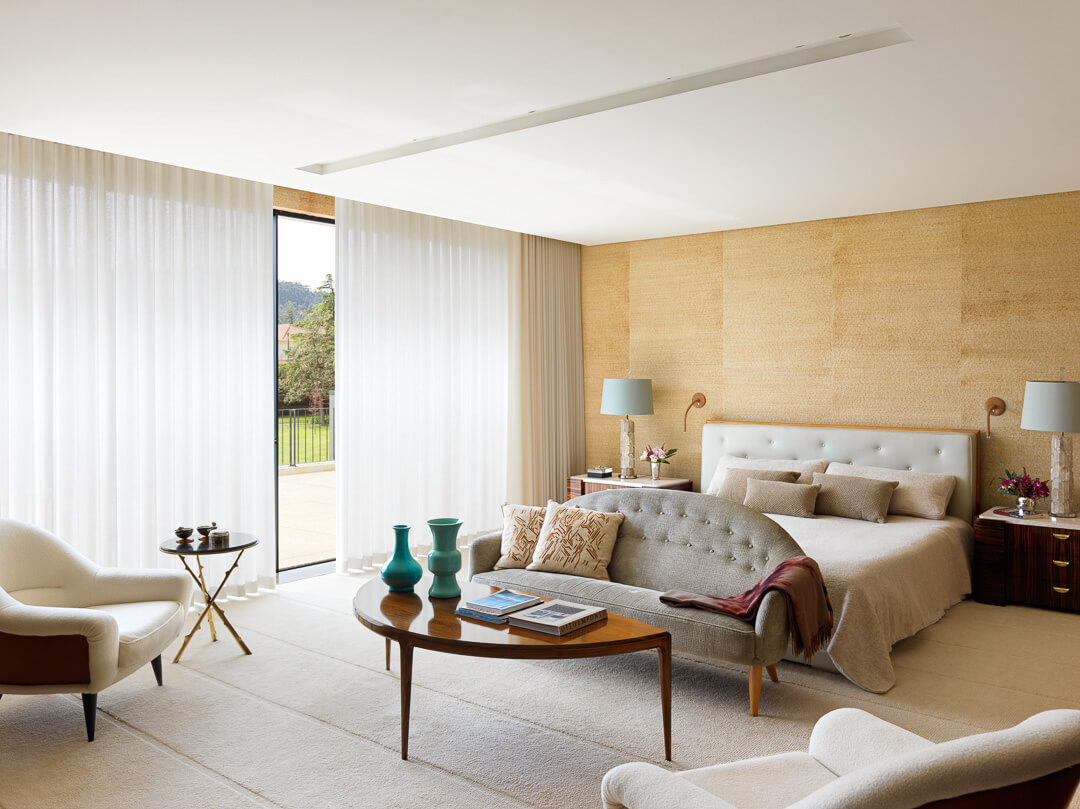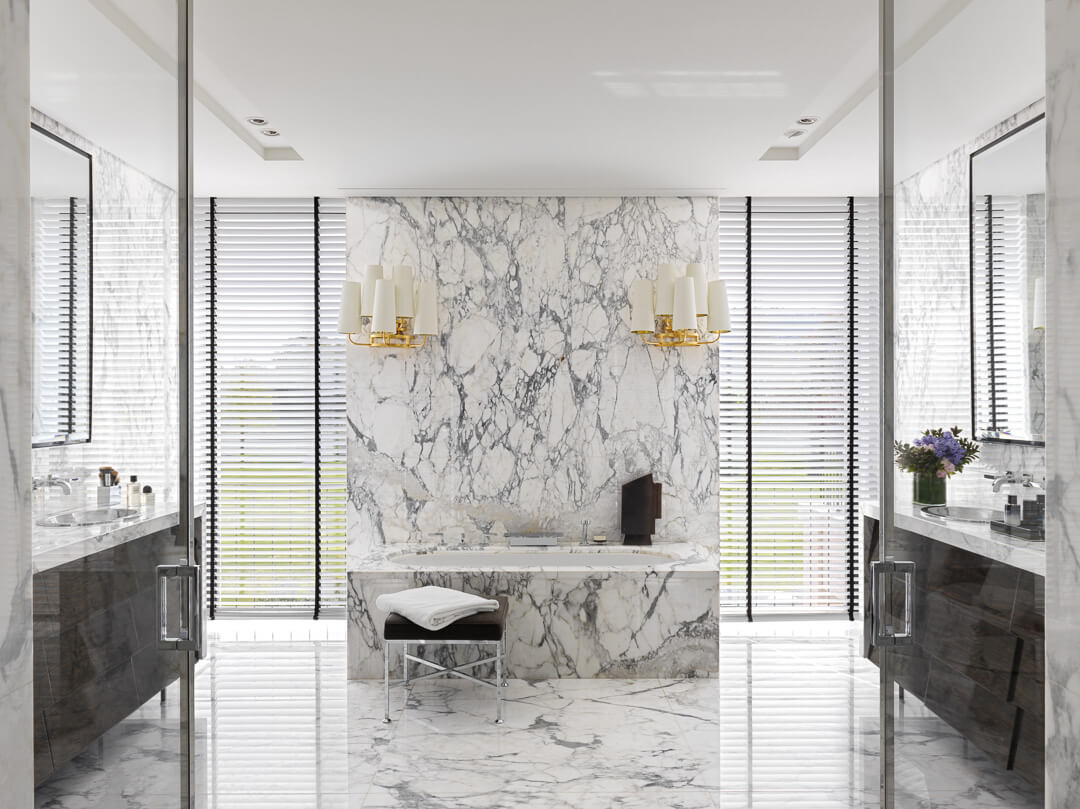 A healthful indoor swimming pad faces the breathtaking landscape in measure and design. On the other side of the indoor's pool walls, an outdoor pool with a black-and-white tiled pattern is the cherry on the top of Oitoemponto's luxury home in Portugal with midcentury modern Italian flair.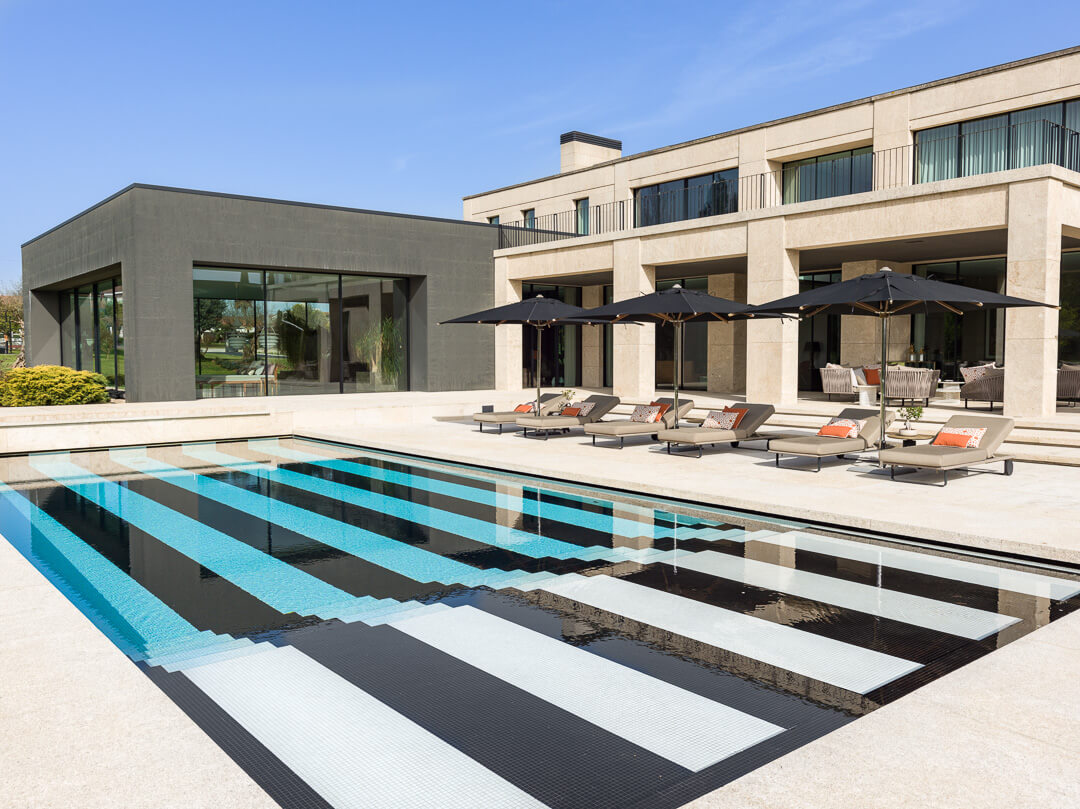 GLAD YOU'RE HERE
Since you have come this far, we kindly invite you to download the Hommés Studio's Catalog and discover furniture, lighting, and home accessories to design an iconic home.
Pay a visit to ACH Collection website as well and discover high-end homeware and pet accessories for a wholesome modern lifestyle.

Source 1stDibs