A growing digital community of 3D artists is creating fantastical visions which suggest interesting possibilities for the future of design and promise dreamy escapes.
These playful environments were particularly seductive during a pandemic when physical and emotional freedoms were unimaginably curtailed. Nevertheless, while they might seem purely hedonistic, these visions are also part of a wider movement in design, one which seeks to reassert the primacy of nature. This new art suggests that design might work better in the future, with greater harmony between our built environment and the world beyond. Big brands are taking notice, too: here are eight 3D artists names making waves.
Cape Town artist Alexis Christodoulou is proof that 3D art is a democratizing force in design. A professional copywriter, he taught himself 3D rendering as a hobby and now has the tech, furniture, and cosmetics brands vying for his attention. His interest stemmed from the video games he played as a child, which he found stylistically lacking; instead, he has inspired by David Chipperfield buildings and Aldo Rossi drawings.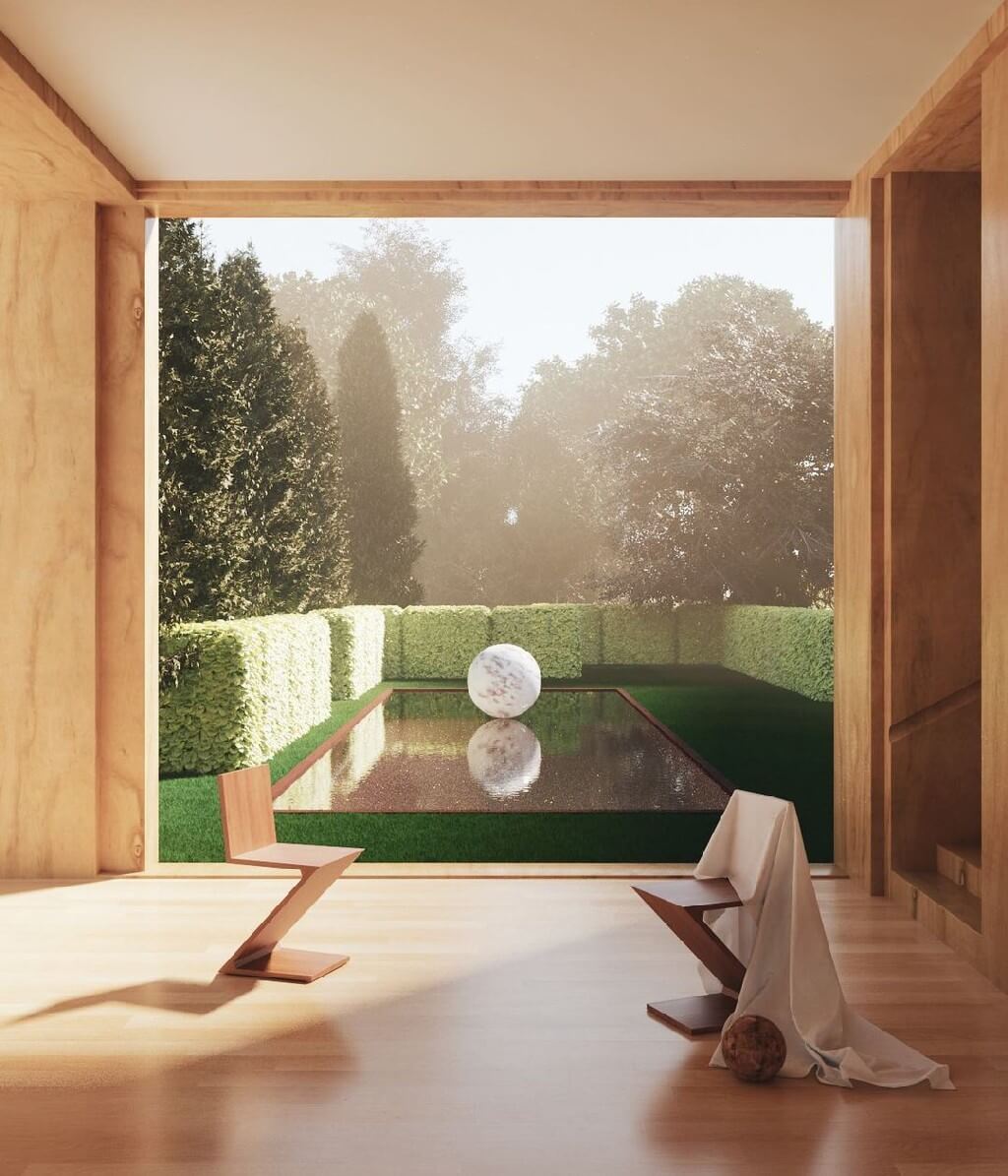 His work combines all the architectural movements I find fascinating, but I also look to the cinema, photography, and the natural world. For him, it is about escapism. The furniture elements add a touch of reality to something that's otherwise surreal.
Follow: @teaaalexis
Parisian Benjamin Guedj started out studying graphic design but quickly outgrew the medium. "I was frustrated by 2D," he says, "so I started exploring 3D and never looked back. I have always been fascinated by hyper-realistic 3D renderings."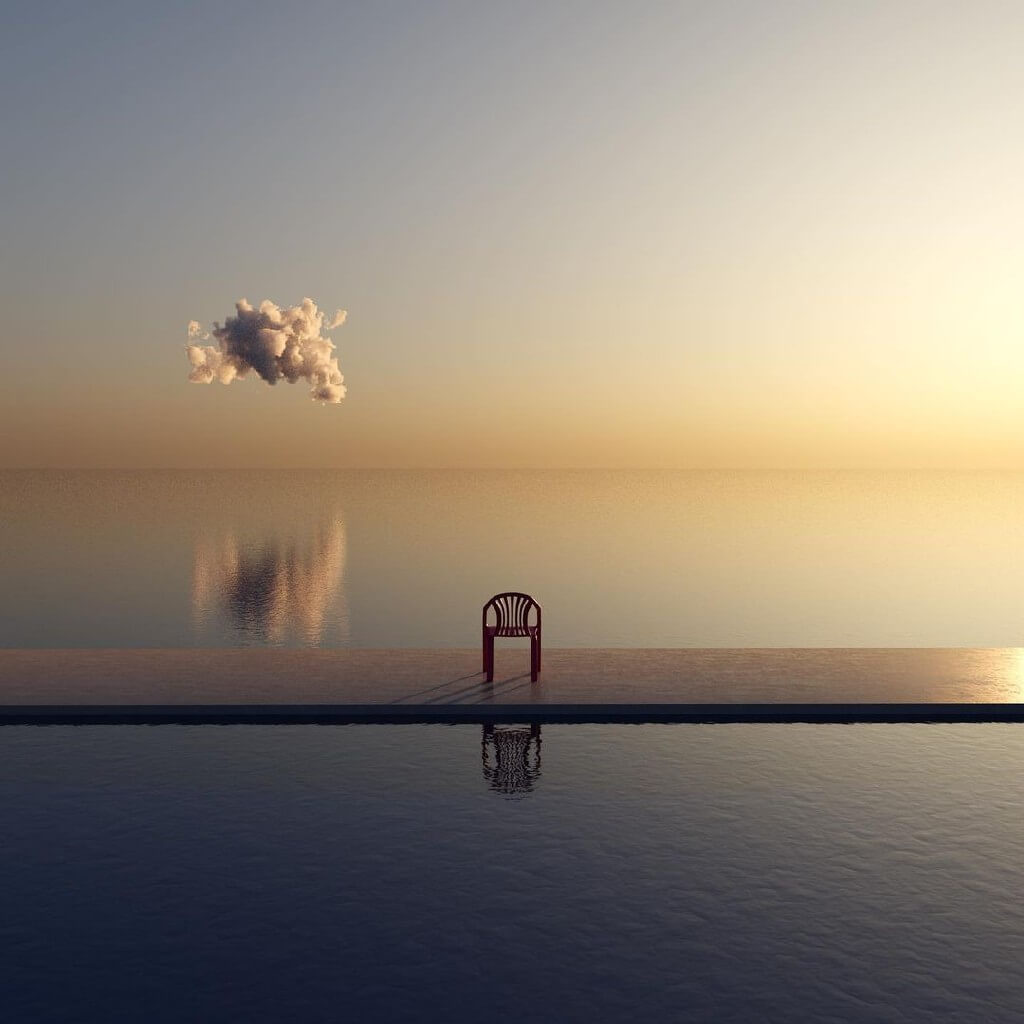 Graphics continue to inspire him, though, especially if they feature minimalist shapes and striking color palettes. You can also detect the influence of 1960s architecture in his work, "with its smooth shapes and lines." Guedj has collaborated with Apple, and he is a co-founder of the boutique hotel brand Grand Numéro, which has properties in Madrid, Nepal, and Morocco. Perhaps it is this experience with real spaces that gives his images their atmospheric feel.
Follow: @oursroux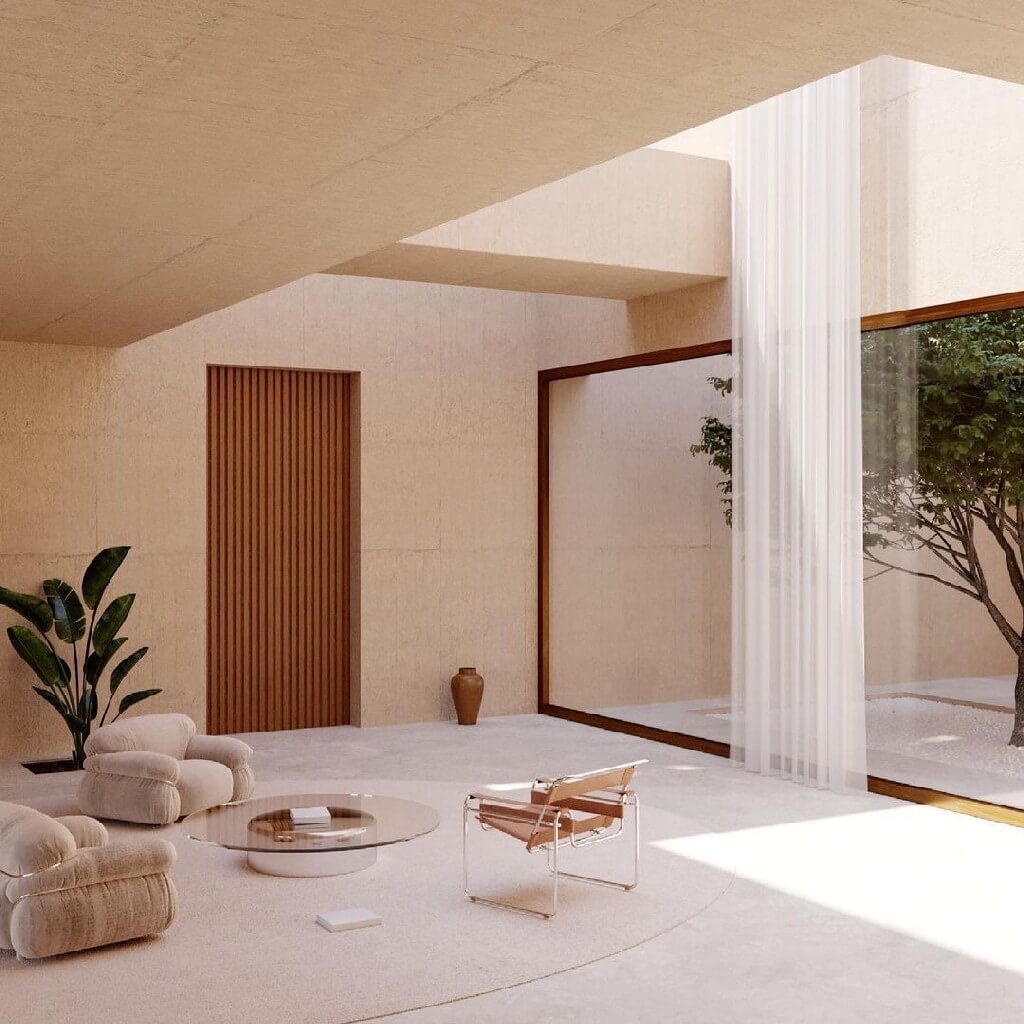 This sunlit pink palace is a typically uplifting work by Lyon artist Benoit Challand, whose background is in art direction. He has made films about luxury watches for Chanel and still-life imagery for Louis Vuitton. Benoit has a whimsical side, indulged when creating fantasy landscapes based on Monopoly games for McDonald's or an imaginary ecosphere for Nissan's electric car, the Leaf.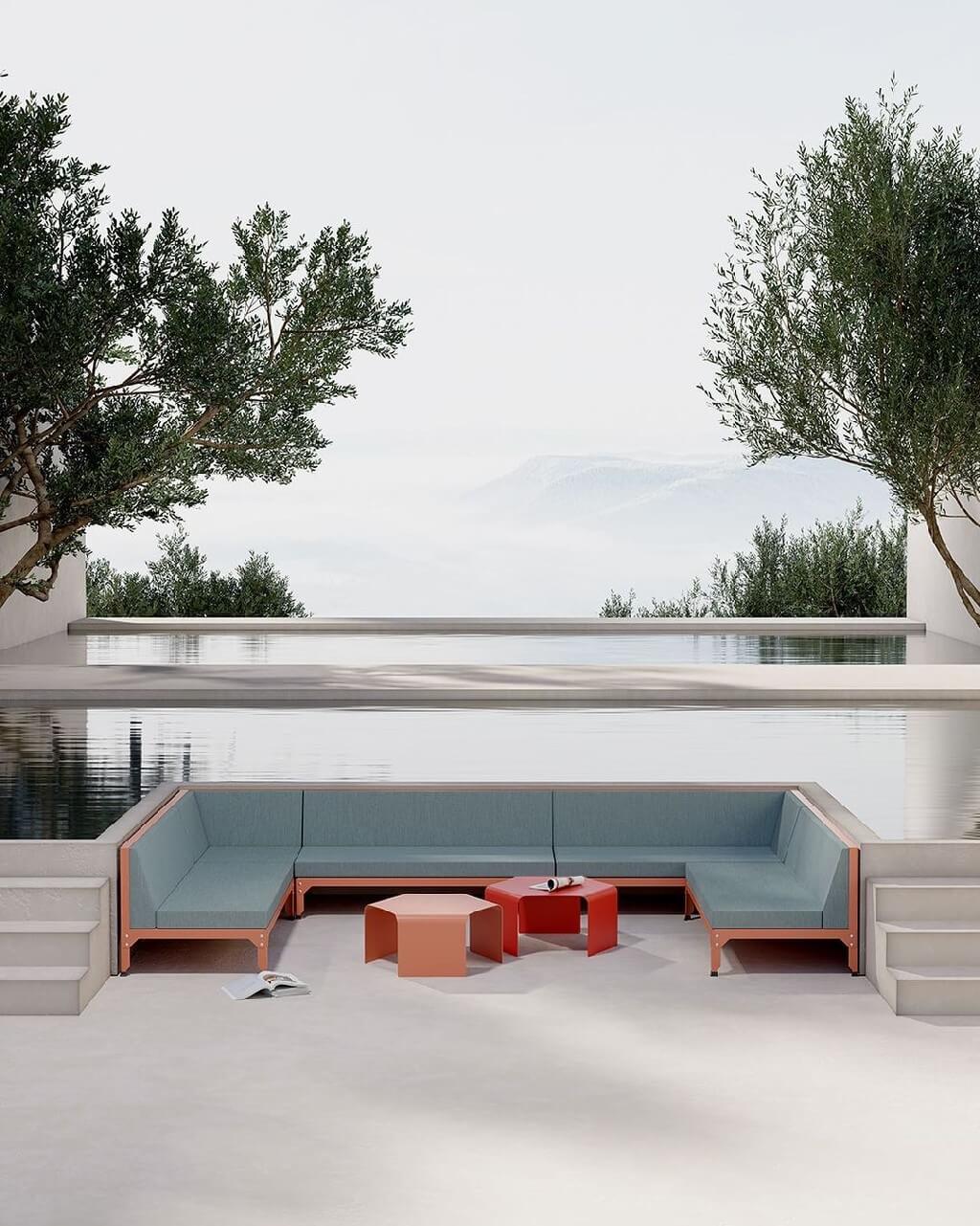 He likes to twist simple ideas into unexpected visions. Colour is important in his work, as is nature – he tries to evoke quiet places with a sense of freedom. Posting his work on Instagram and seeing the responses flood in gives him an immediate sense of reward. He appreciates the impact such platforms can have in popularising technology and thinks they will shape its future direction.
Follow: @benoitchalland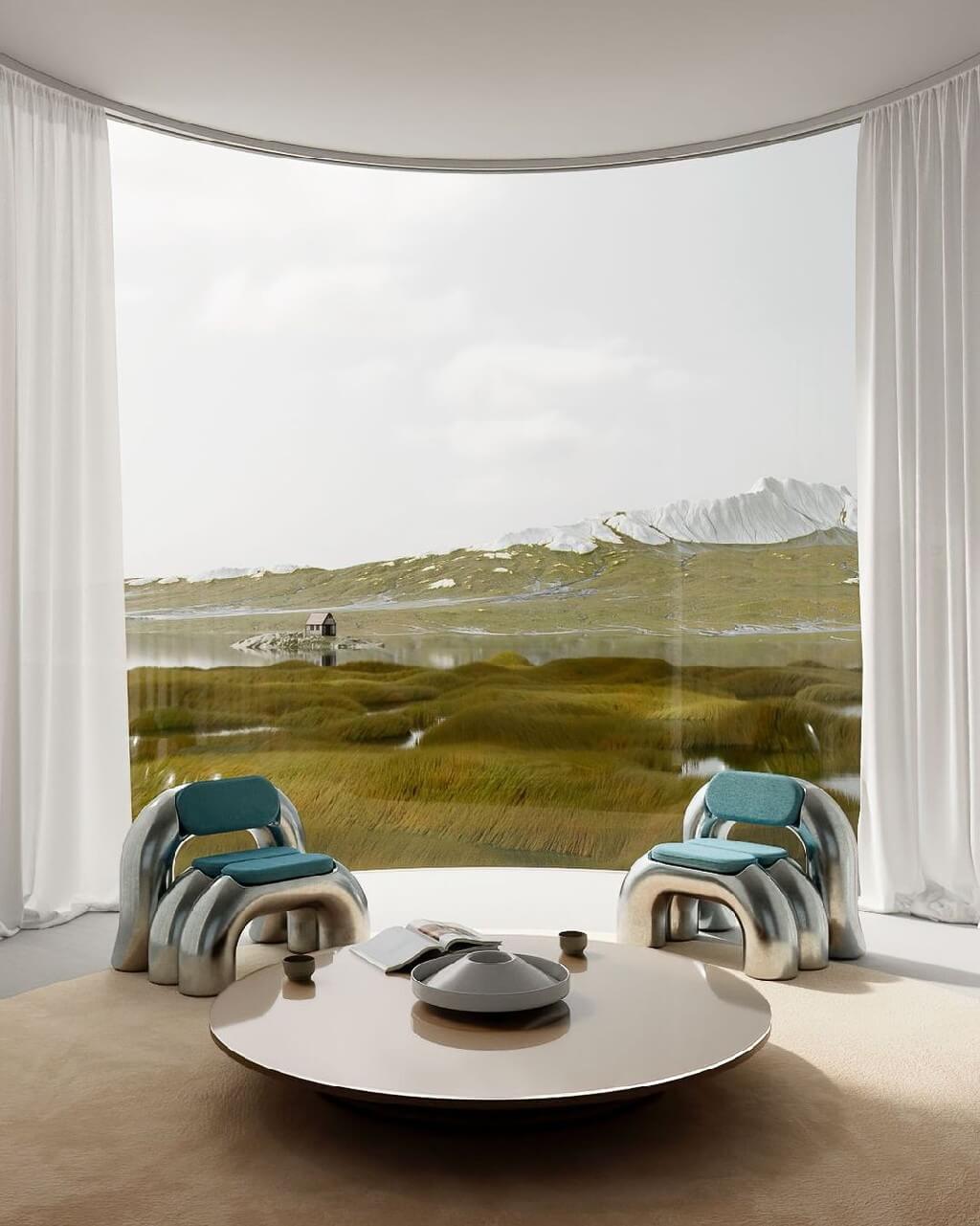 This London artist's interest in 3D technology started at college – she has BAs in design from Goldsmiths University and Fine Art from Chelsea College of Arts. The 1970s and 80s interiors inspire Taylor, but like many 3D artists, she sees her work as essentially playful.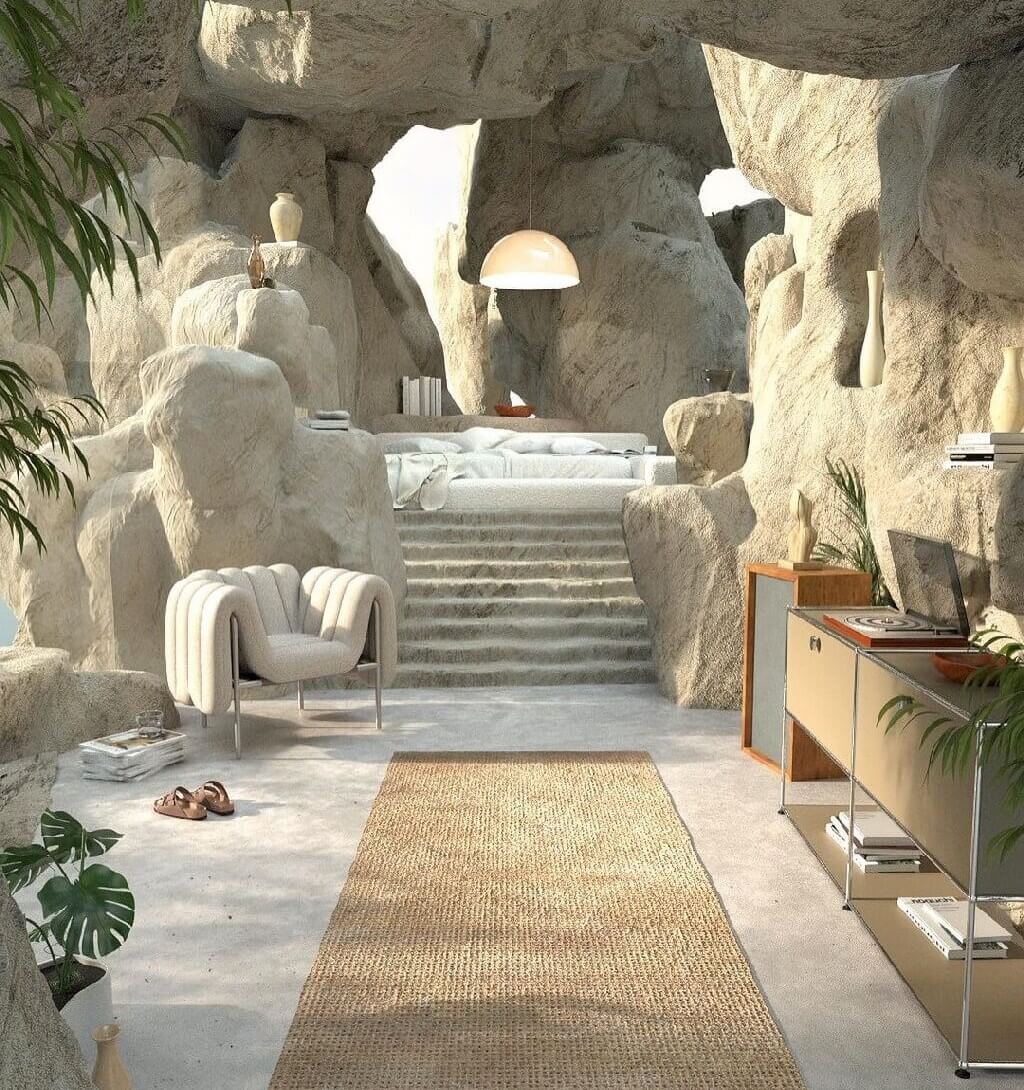 Indeed, she likes to explore the concept of impossible and even "illegal" spaces. Her soon-to-launch creative agency, Maison de Sable, is already discussing collaborations with furniture and product designers. "Brands are turning to 3D more and more, whether for backdrops for fashion shoots or digitalized events," she reflects. "Designers are also realizing that it is an economical, sustainable, and time-efficient way to trial products."
Follow: @charlottetaylr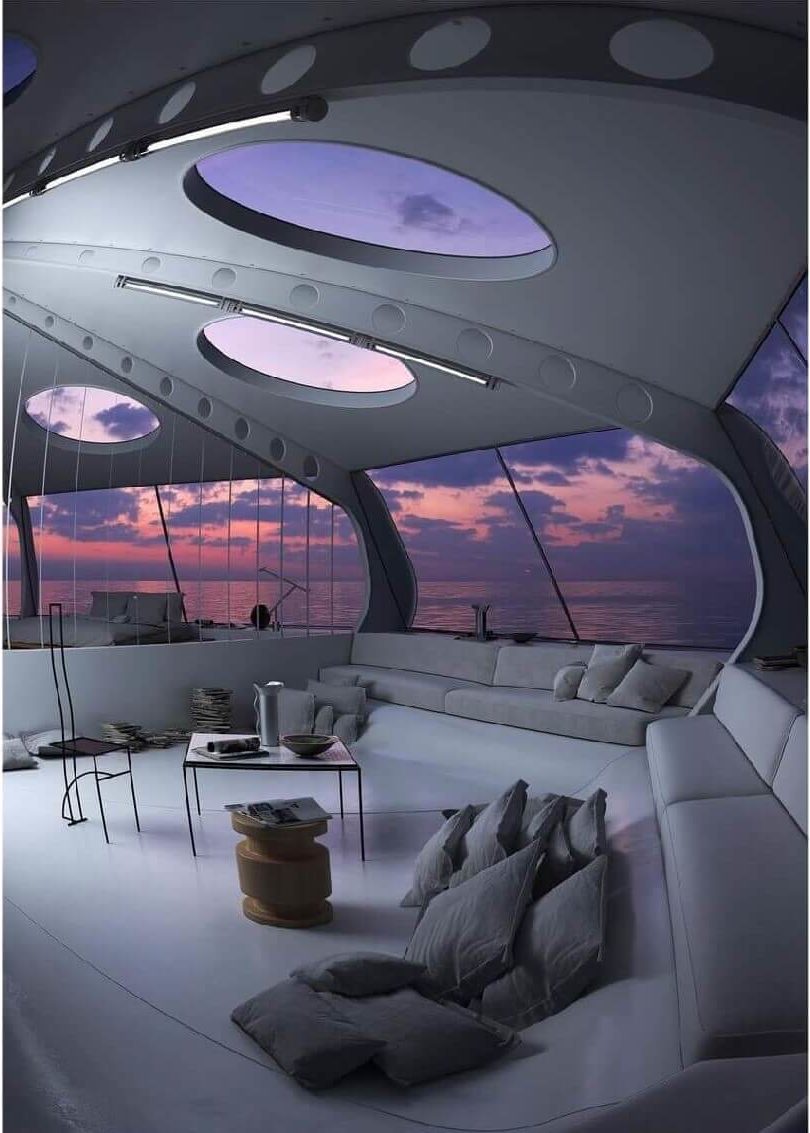 There is a surreal quality to Daniel Medina's work that stems from his love of art – in particular, Salvador Dalí, Edward Hopper, and David Hockney, as well as his grandfather, a painter. Born in the Canary Islands but now living in the British city of Bristol, Medina discovered 3D technology as an architecture student.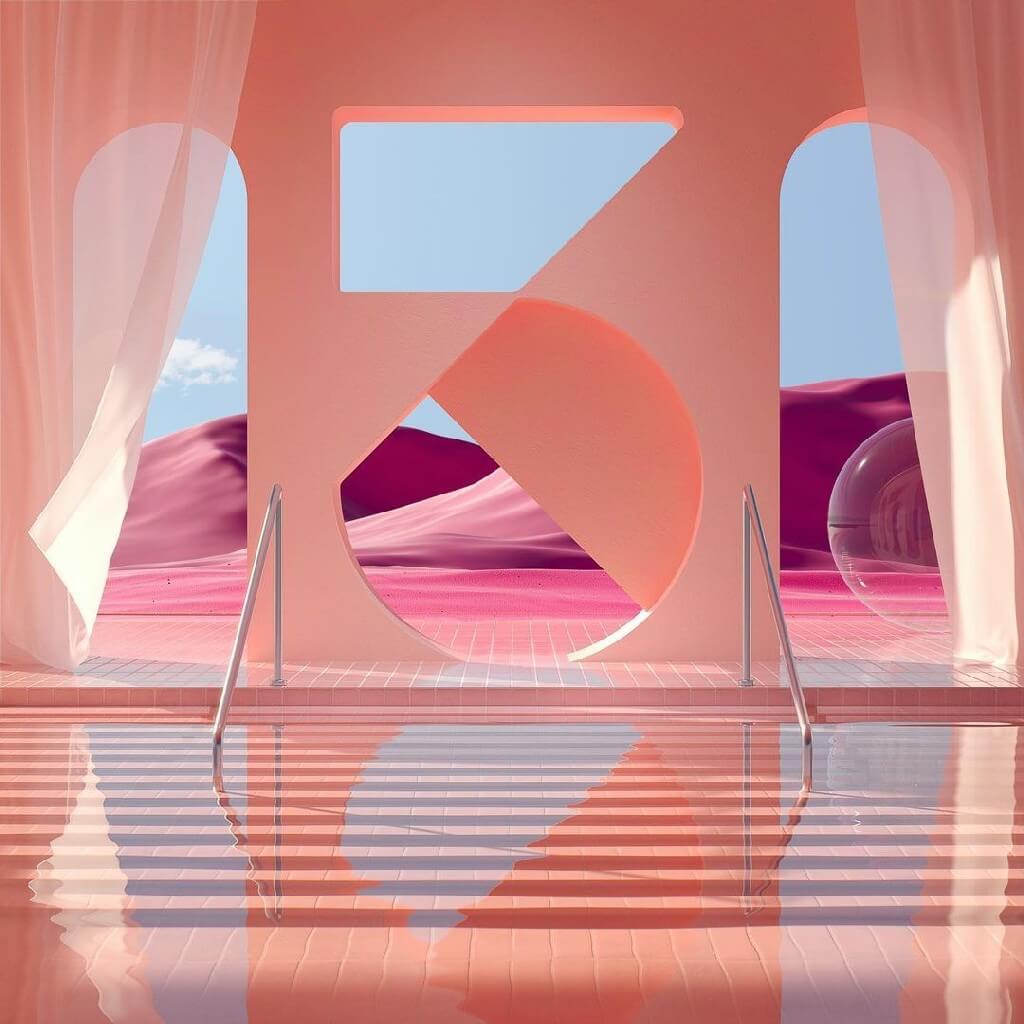 He loved it because it had no limits. Since then, he has created artwork for Sony and animations for Adidas and describes his designs as "imaginative and playful, driven by exploring the unexpected." Lately, he has been inspired by his homeland, creating scenes featuring volcanoes and seascapes alongside colorful furniture.
Follow: @danielmedina3d
This Iranian-born designer creates furniture, interiors, set designs, and 3D art, which he came to from an unusual angle. He studied civil engineering in Iran, followed by a master's in structural design.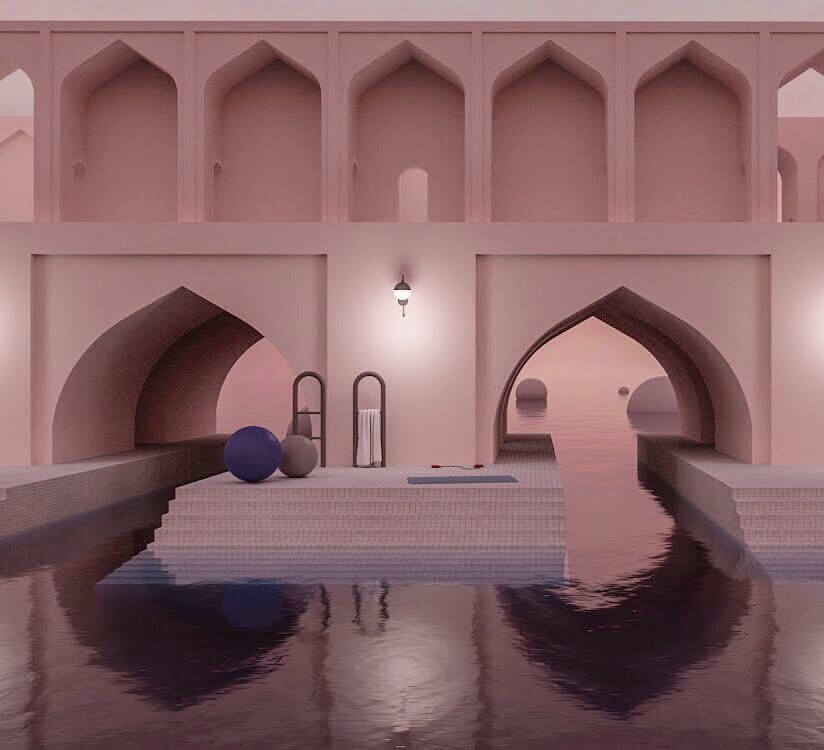 Early roles in the engineering industry led him towards 3D rendering technology, which he could use to further his creative ambitions. Now living in LA, Taimoorian counts interior decorator Kelly Wearstler among his clients and creates deceptively realistic 3D imagery. "My style is modern, colorful, calm, and dreamy," he says. "I like to combine interior and exterior spaces in such a way that you can hardly separate one from the other."
Follow: @nareg_taimoorian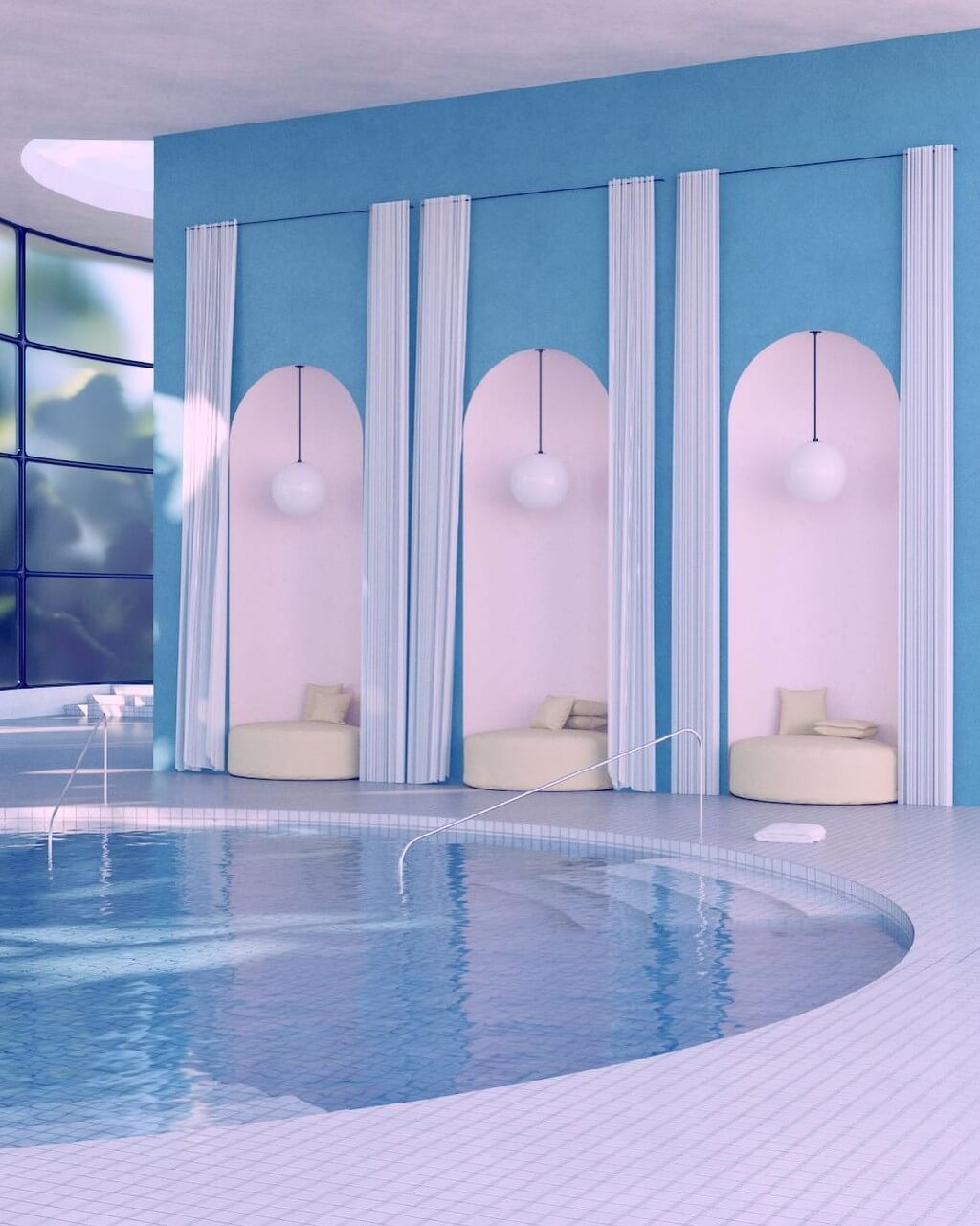 Founded by graphic designer Ezequiel Pini in 2014, this Barcelona studio counts Microsoft, Apple, and Cassina. Pini has watched the possibilities of 3D design mushroom over the past decade.
When they first started, it was almost impossible to imagine how things are now – they were considered users of a tool more than artists or designers. Now, it is seen as a mode of expression.
Pini's five-strong team is influenced by fashion, architecture, and industrial design and creates imagery that he describes as "visual mind-trips." "Our style is meditative, utopian, and sometimes provocative," he adds. "Sometimes we show the sun or moon, or even our interpretation of a planet that has not yet been discovered. We're inviting the viewer to jump in and feel themselves to be part of the scene."
Follow: @sixnfive
Does your dream home combine Modernist furniture with big skies and a perfect beach? Step into the world of Montreal designer Stefano Giacomello, who collaborated with artist Charlotte Taylor on this heavenly poolside scene.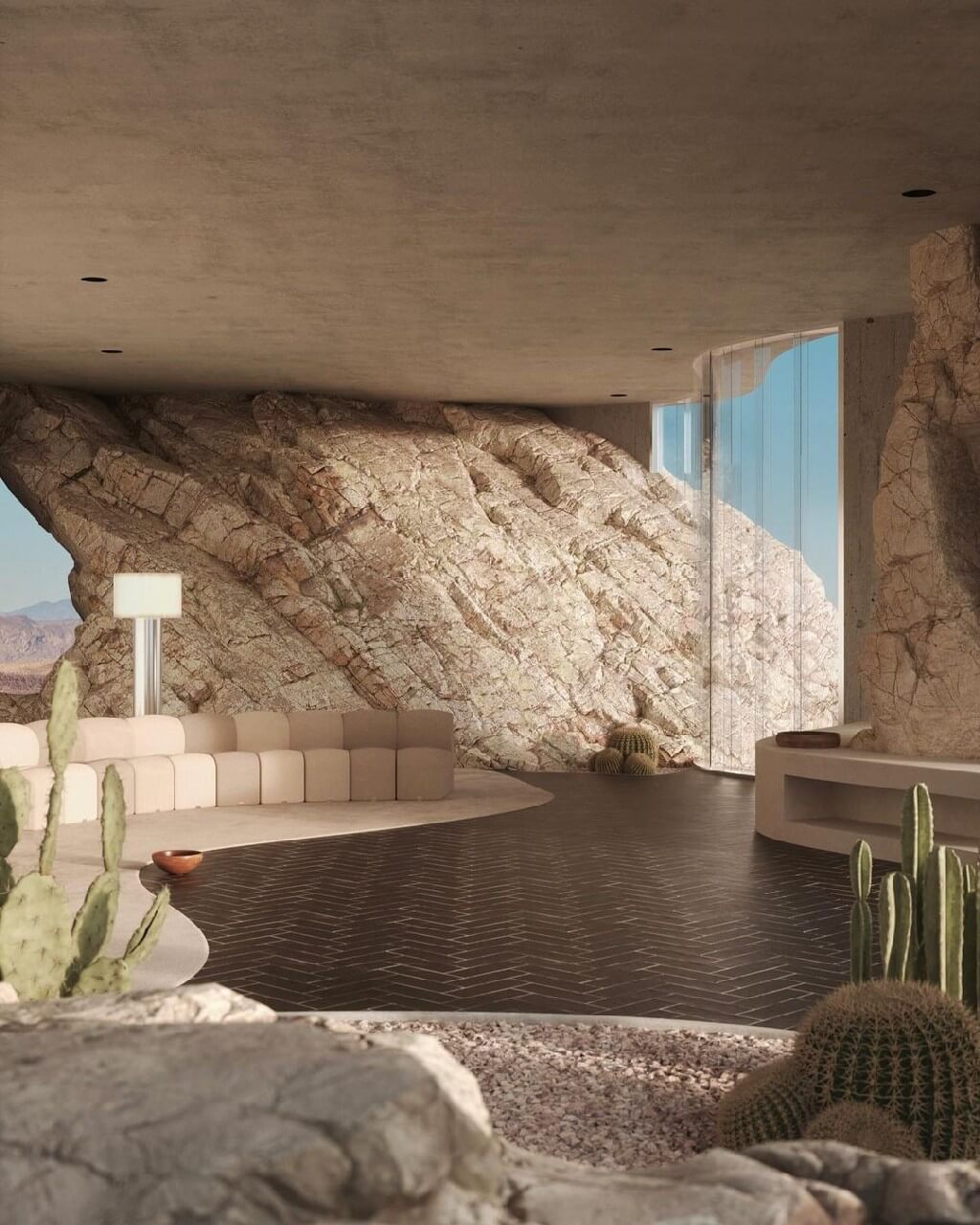 Giacomello studied interior design in Barcelona and Rome and has created immersive environments for Comme des Garçons. He started making 3D art as an Instagram sideline about a year ago and was so successful that it is since morphed into a full-time job. Like many artists in the medium, he emphasizes the light in his images and wants them to feel warm and calm. "There is a boom happening in 3D design right now, which Covid-19 has greatly accelerated," he says.
Follow: @stefo_rotolo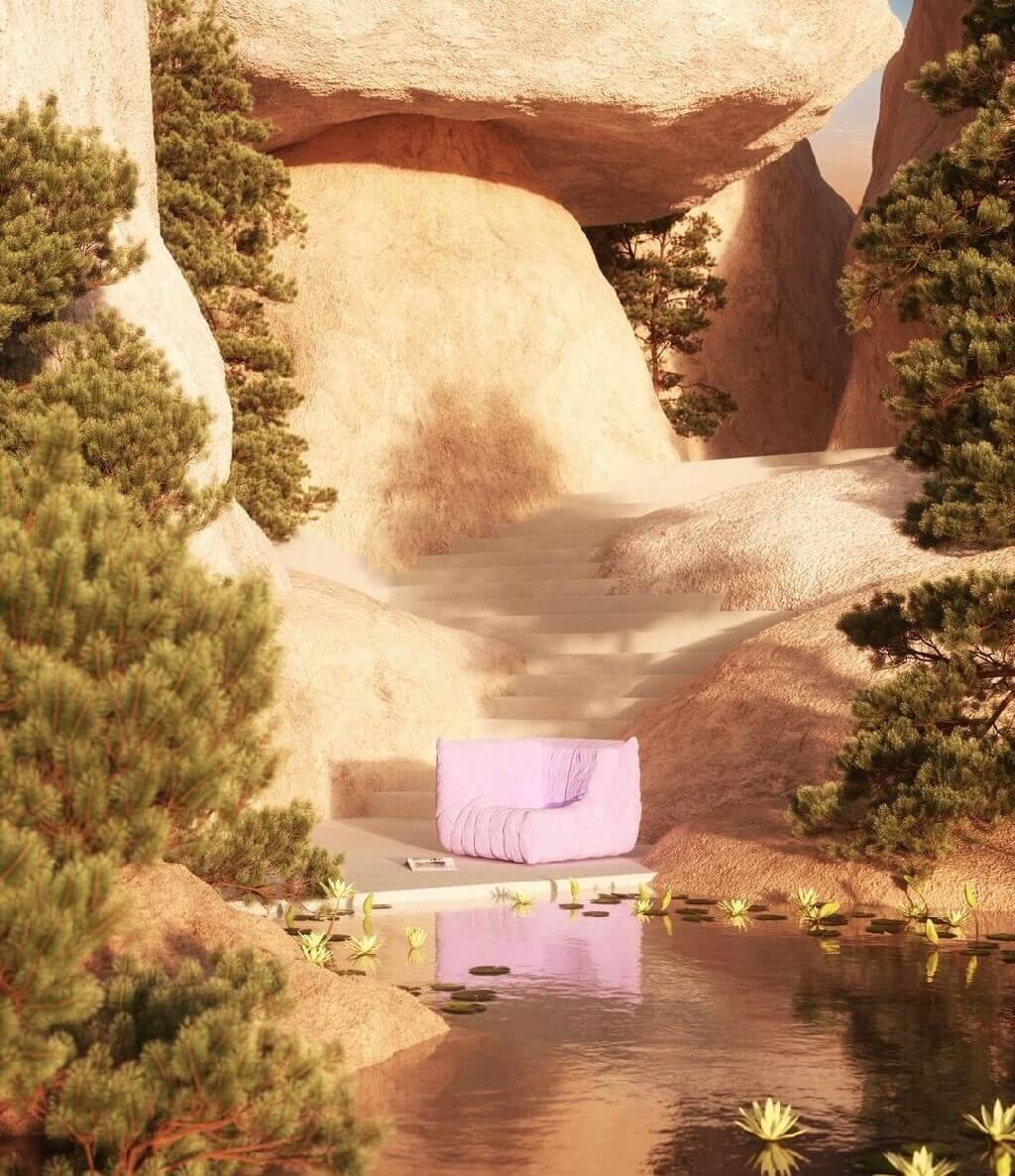 We really hope you liked our article. Feel free to pin all the images to your favorite Pinterest board. Meanwhile, you can also visit our Pinterest boards to get more inspiration.
Get more ideas for your projects and find functional, stylish, and sizable lighting and furniture choices:

Source: AD Middle East