Discover 10 luxury outdoor kitchen ideas that elevate the outdoor living experience, and get inspired to create your culinary retreat.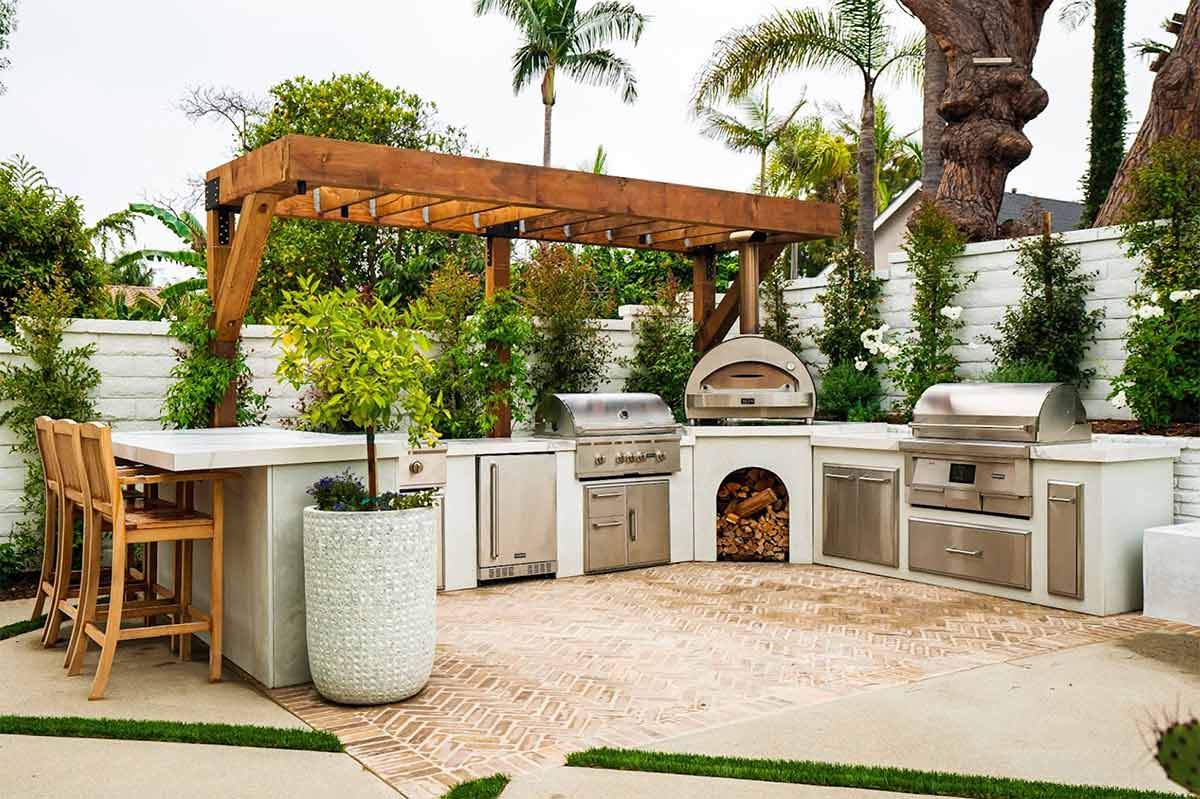 Outdoor kitchens have revolutionized how we entertain and embrace our outdoor spaces, delivering a harmonious fusion of functionality, aesthetics, and convenience. Whether you're a culinary enthusiast or a social butterfly, a luxury outdoor kitchen can transcend your outdoor living experience. In this article, we delve into 10 breathtaking outdoor kitchen ideas that will ignite your imagination and inspire the creation of your very own opulent outdoor culinary retreat.
Color and Texture Outdoor Kitchen Ideas
1. Seamless Transition
When designing a luxury outdoor kitchen, one of the critical aspects to consider is creating a seamless transition between the indoor and outdoor spaces. The goal is to blur the boundaries, allowing for a harmonious flow and effortless connection between the two areas.
To achieve this, incorporate design elements that mirror the indoors' style and materials. This could involve using similar flooring materials, matching cabinetry finishes, and coordinating colors. Consider extending countertops from the indoor kitchen to the outdoor space, providing continuity and a cohesive look.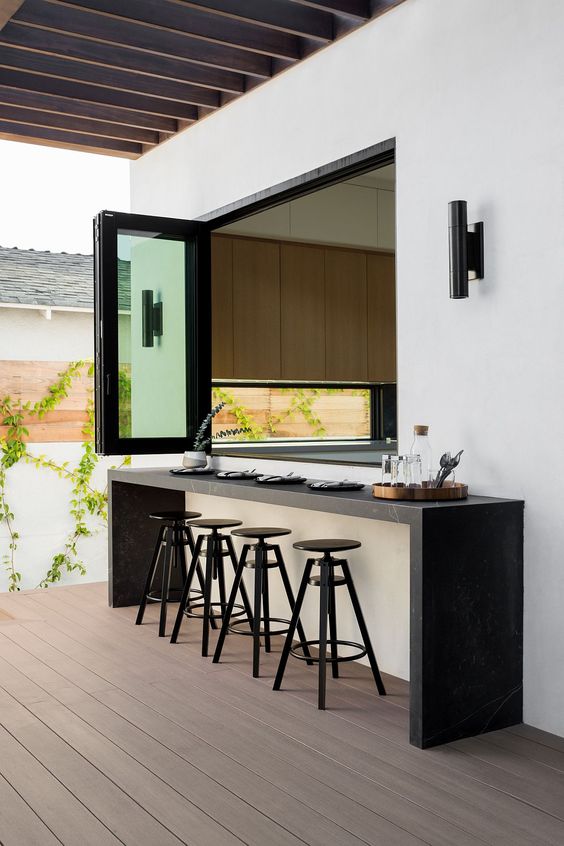 2. Mixed Materials
Another of these great outdoor kitchen ideas to explore is mixing materials. This can be a powerful tool to unleash your creativity and add visual interest to the space, enhancing the aesthetics and contributing to the functionality and durability of your outdoor culinary haven.
Consider combining materials like stainless steel, stone, wood, and tile to create a dynamic and textured look. Stainless steel appliances lend a modern and sleek touch, while natural stone adds a rustic charm. Wood accents can introduce warmth and a touch of nature, while tiles offer a splash of color and patterns.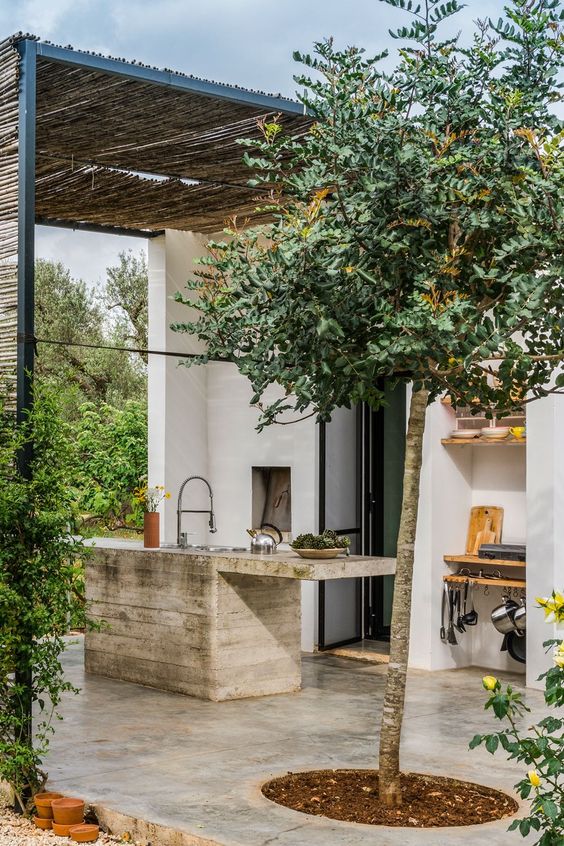 3. Contrasting
Incorporating contrast can also add depth to the space, elevating its overall aesthetic appeal. By juxtaposing different elements, you can create a captivating and dynamic outdoor culinary experience. The interplay of colors, textures, and materials will transform your luxury outdoor kitchen into a stunning culinary oasis that delights the senses.
For example, combining white countertops with dark-colored cabinetry or incorporating vibrant pops of color against a neutral backdrop are some great outdoor kitchen ideas you can take advantage of.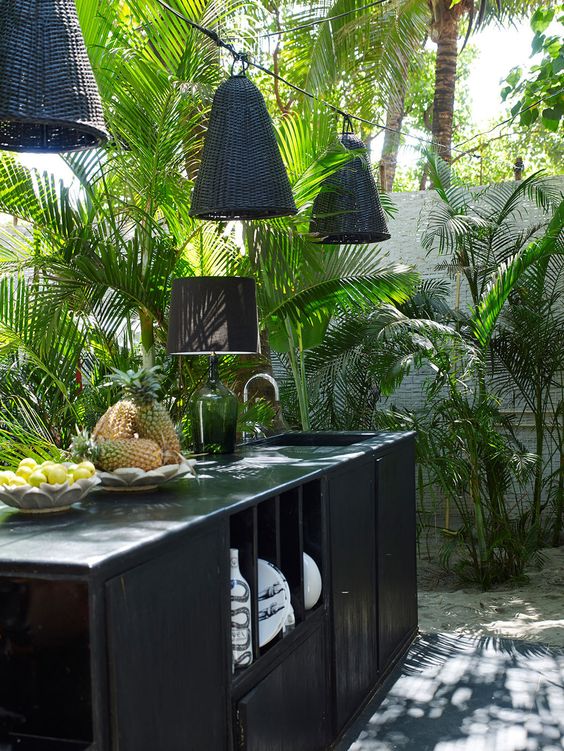 Layout Outdoor Kitchen Ideas
4. Semi-Outdoor Kitchen
In regions with unpredictable weather or extreme climates, opting for a semi-outdoor kitchen can be a practical and versatile choice.
A semi-outdoor kitchen provides a covered or partially enclosed space that offers protection from the elements while allowing you to enjoy the outdoor ambiance. This design approach ensures that you can use your outdoor kitchen throughout the year, regardless of rain, wind, or intense sunlight.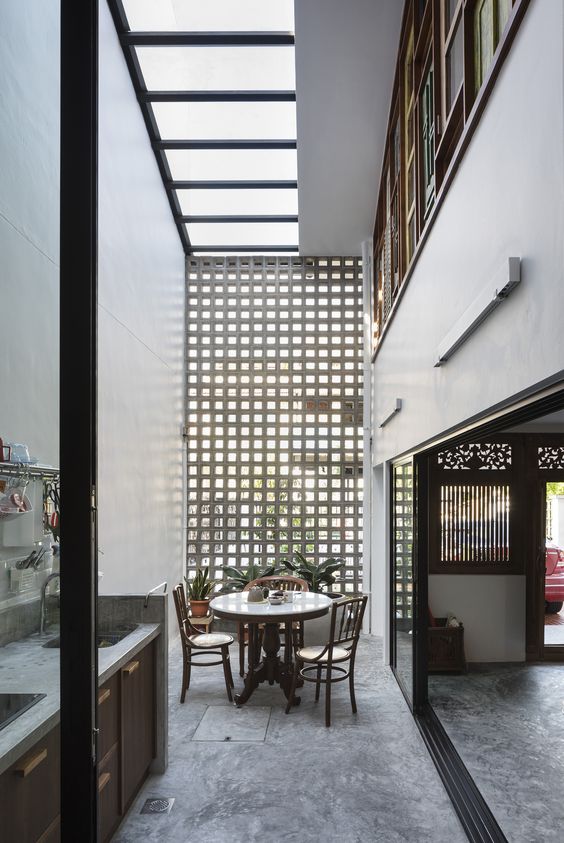 5. Kitchen Island
Taking the concept of a kitchen island to a whole new level, you can create a free-standing structure in your home dedicated to outdoor culinary experiences. This is almost like creating a little restaurant inside your house, and who doesn't love that idea?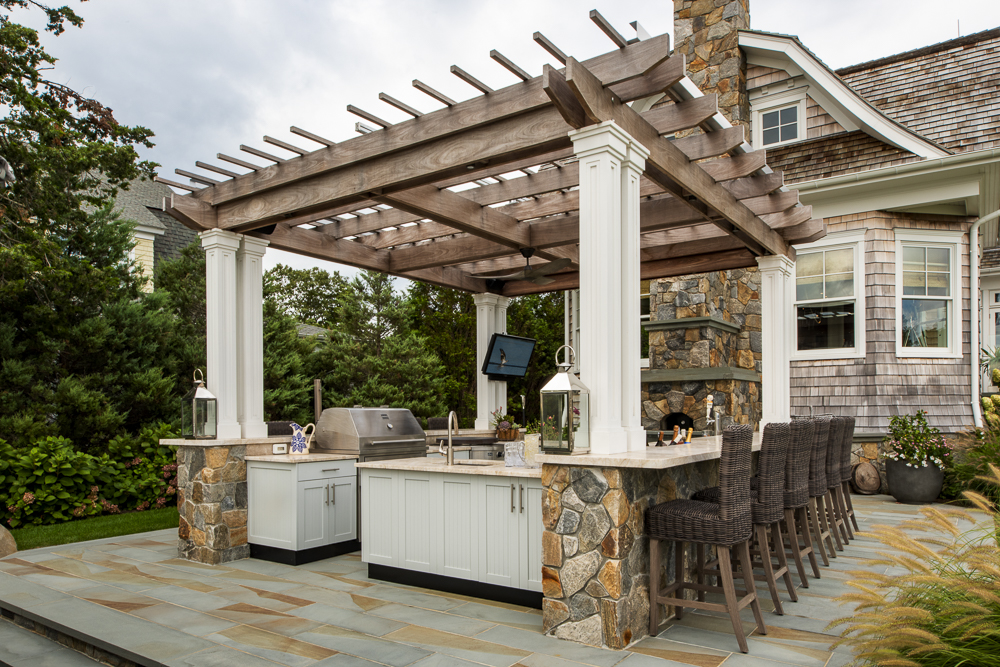 6. Bar Style
Since we're talking about restaurants, what if you turned your luxury outdoor kitchen into an outdoor bar? Opting for a bar-style setup can create a lively and sociable atmosphere, transforming your outdoor space into a vibrant entertainment hub.
With a bar-style design, you can incorporate a raised countertop or an outdoor bar counter that offers ample seating space, and you can invest in bar stools or high chairs that complement the style of your outdoor space (be it rustic, modern, or something else).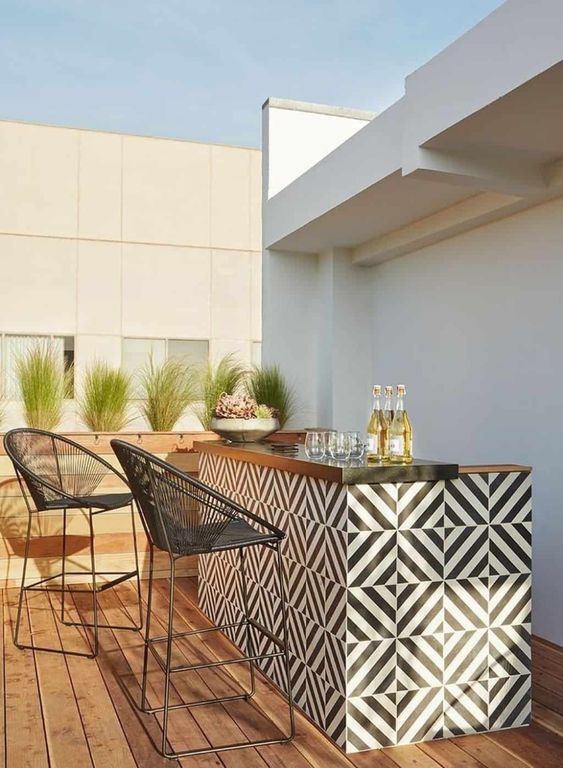 7. Full Size
By opting for a full-size outdoor kitchen, you're investing in a complete culinary experience right in your backyard. It allows you to unleash your culinary creativity, entertain with ease, and savor the joys of outdoor cooking and dining, making every meal an extraordinary event.
Opt for big and opulent dining tables, an impressive set of chairs, and, of course, don't forget to incorporate a full range of appliances, including a large grill, cooktop, oven, refrigerator, sink, and ample counter space.
Other Outdoor Kitchen Ideas
8. Vertical Garden
By implementing a vertical garden in your outdoor kitchen design, you introduce the serenity and vibrancy of nature into your culinary space. It elevates the aesthetics, improves air quality, and provides a source of fresh herbs and greens, creating a truly immersive and refreshing outdoor cooking experience.
Choose different plant colors, textures, and sizes to create an artistic and eye-catching display. Incorporate built-in irrigation systems or self-watering planters to simplify maintenance and ensure the plants receive the proper care.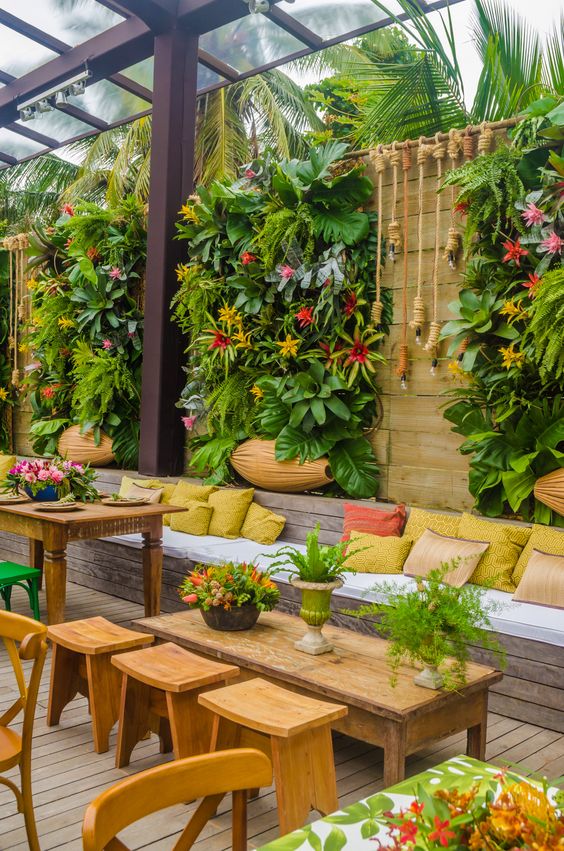 9. Fine Dining
When creating a luxury outdoor kitchen, you should consider incorporating a designated dining area with a stylish table, comfortable seating, and an elegant setting. This creates an intimate and elegant space where you can host sophisticated outdoor dinner parties or enjoy romantic meals under the stars.
Pay attention to the finer details, such as luxury table linens, fine dinnerware, and exquisite glassware. Thoughtful touches like fresh flowers and decorative and artistic objects add an extra layer of sophistication and create a refined dining experience.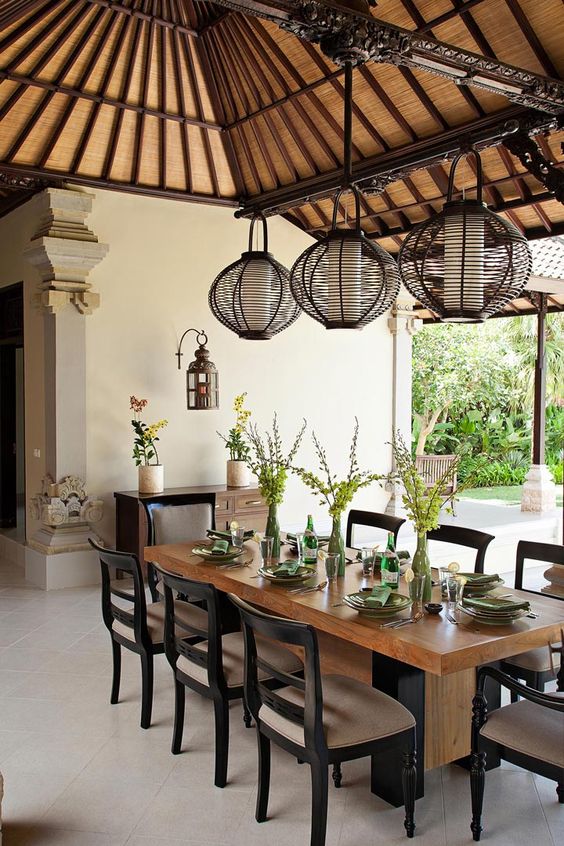 10. Vacation Vibes
To evoke holiday home vibes, focus on creating a laid-back and casual ambiance. Choose comfortable and inviting seating options, such as lounge chairs, hammocks, or cozy outdoor sofas, that invite relaxation and encourage leisurely enjoyment of your outdoor kitchen.
Incorporate natural elements that reflect the beauty of nature, such as wooden furniture, woven accents, or tropical-inspired patterns. Add outdoor rugs, cushions, or drapes in vibrant colors or beachy hues to create a rich and refreshing atmosphere. You can even consider installing a tiki bar, complete with a thatched roof and tropical-themed décor.
Discover More
By exploring these 10 outdoor kitchen ideas, you now have a wealth of inspiration to embark on your own journey of designing a lavish outdoor culinary retreat.
So go ahead, let your creativity soar, and design an outdoor kitchen that reflects your style, suits your needs, and enhances your enjoyment of outdoor entertaining. Embrace the beauty of nature, indulge in culinary delights, and create unforgettable moments with family and friends. Your luxury outdoor kitchen awaits, ready to be transformed into a haven of culinary excellence and outdoor bliss.
Shop The Look
To help you on that exact mission, we selected a few of our favorite outdoor dining furniture pieces by HOMMÉS Studio.
And if you're interested in discovering more amazing outdoor furniture like this one, we kindly invite you to discover our IBIZA Collection – a collection that promises to eternalize the flair of eternal dreamy Summer days to your home.