An iconic furniture style. Learn how to decorate with Memphis Design furniture and make a statement in your next interior design project.
Bulky silhouettes, crisp lines, vibrant finishes, and bright colors. Memphis Design style is iconic, eye-catching, and remarkable. So is Memphis Design furniture. By merging the lines and geometric shapes of art deco with the cheerful colors of pop art, a single item of Memphis Design furniture makes a statement in any room. A Memphis Design object is, by nature, a pièce de résistance.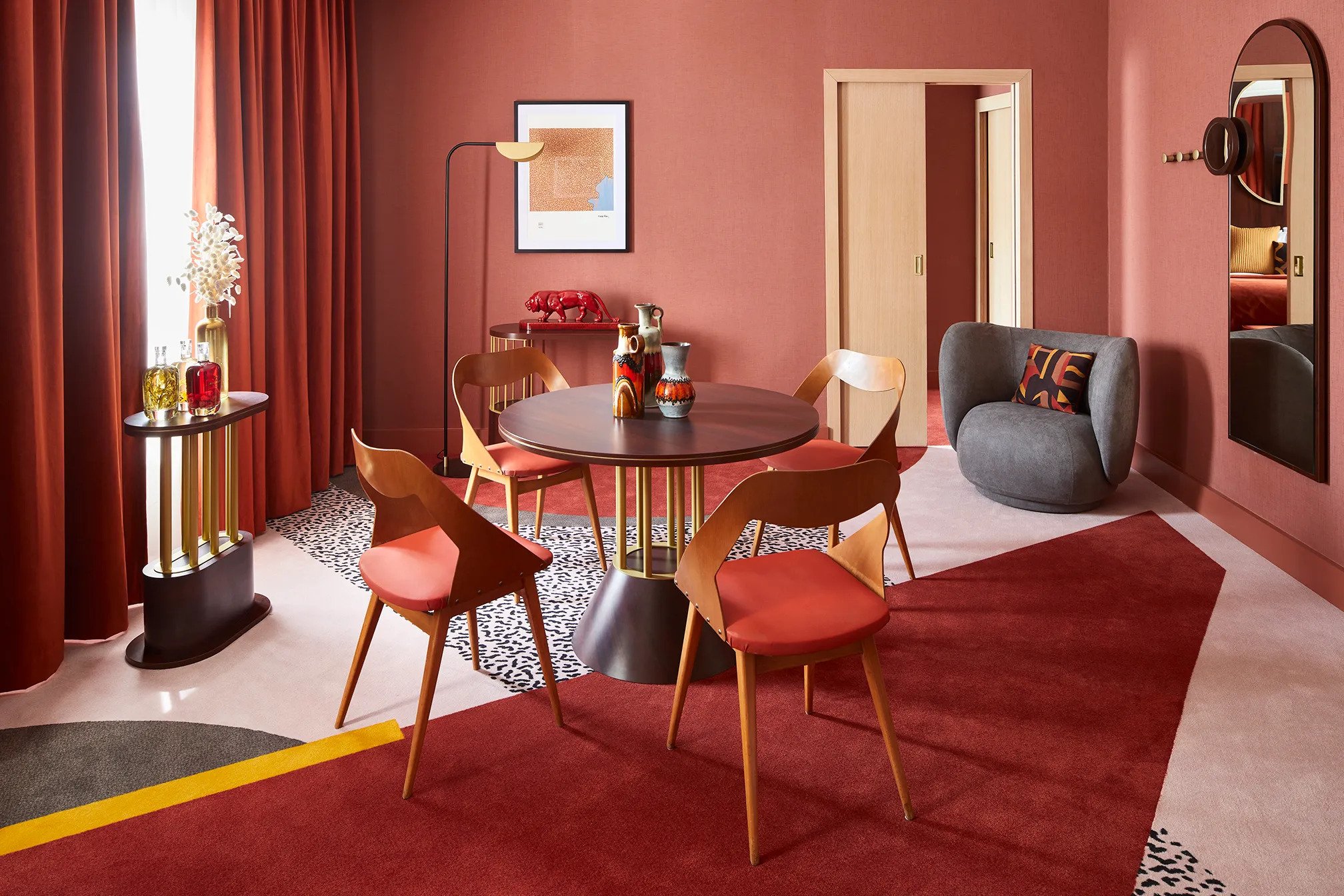 Founded by Ettore Sottsass as a rebellion against the simplicity, modest lines, bland shapes, and natural colors of mid-century modern design, the Memphis Design style is one of the most instantly recognizable – and beloved aesthetics. The funny, colorful, and provocative nature of Memphis Milano is still very popular, especially among Millennials. This young generation of homeowners enjoys a jaw-dropping moment – and nothing has a more jaw-dropping effect than a curated piece of Memphis Design furniture.
However, decorating with Memphis Design furniture easily turns a modern interior into a maximalist interior design. Moreover, combining all the sleek lines, repetitive patterns, vibrant colors, and glazed finishes can be a bit overwhelming. For this reason, even the most experienced interior designer might need a little guidance on how to decor with Memphis Design furniture.
What Is Memphis Design Furniture?
Memphis Design furniture is a merge of art deco with pop art and a pinch of 1950s kitsch aesthetic.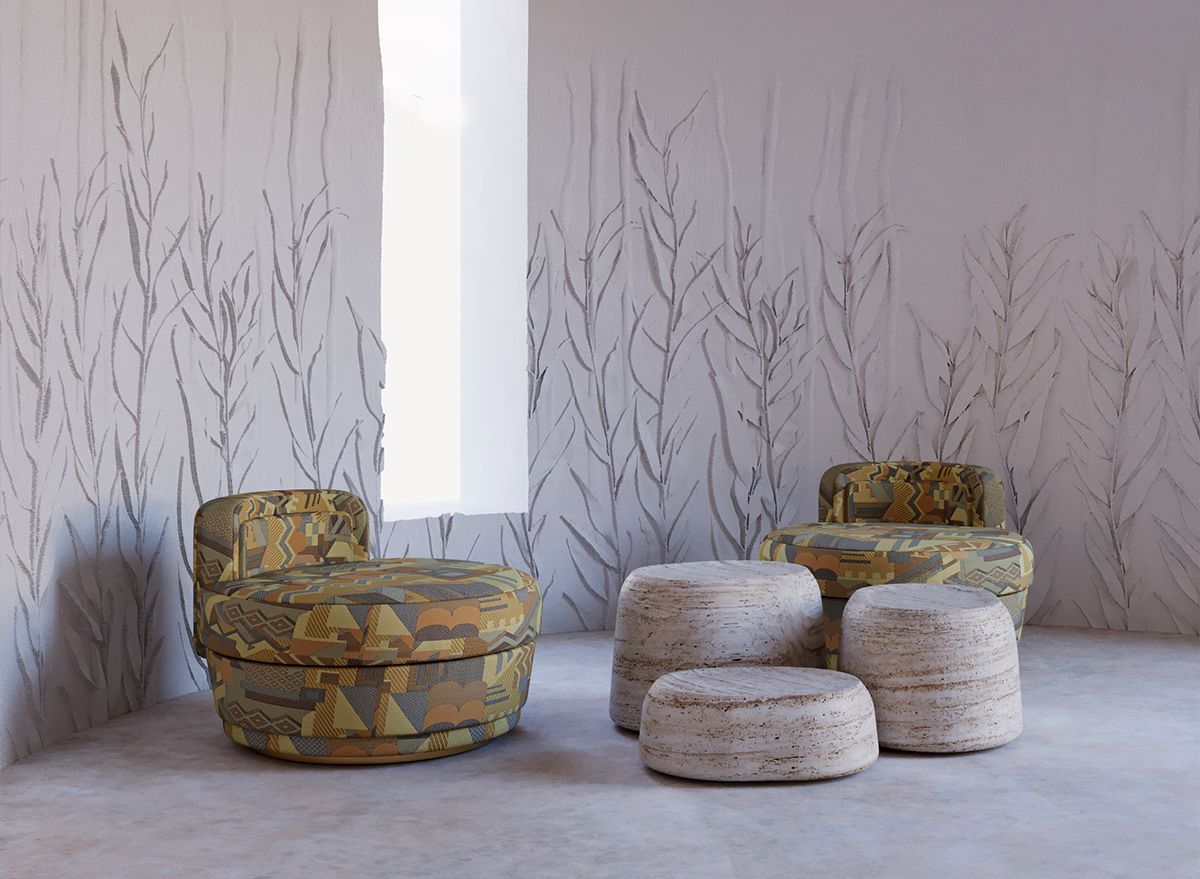 The postmodern design style was created by Memphis Milano, or the Memphis Group. This group of Italian designers and architects led by Ettore Sottsass delivered objects and furniture with streamlined shapes, maximalist silhouettes, and vibrant finishes. The main characteristics of this design style that got bad critic reception back in the 1980s are:
ART DECO INFLUENCE – symmetry, verticality, and a juxtaposition of geometric shapes define Memphis Design furniture.

BOLD PATTERNS – influenced by modern graphic design, the Memphis Design style introduces repetitive patterns that juxtapose different geometric shapes with contrasting colors.

VIBRANT COLORS – a palette of electric colors is often paired with neons, pastel colors, and neutrals hues to create airiness and blend in easily with different design styles.

BLACK AND WHITE STRIPES – a black and white composition of stripes is as Memphis Style as it gets.
How To Decor With Memphis Design Furniture?
Before decorating with Memphis design style, be aware that a Memphis Design object will get all the attention in the room. The silhouettes, the finishes, and the colors are eye-catching. But you need to combine Memphis Design furniture with other design styles wisely. Here are some tips on how to decor with Memphis Design furniture so you can get just the right amount of boldness and sophistication.
Add Stripes
Stripes are timeless. And are also a Memphis Design style's signature. This classic pattern adds just the right amount of visual energy to any room. But how to decor a Memphis Design style interior with stripes? Decor a wall with striped wallpaper in soft colors, use seating upholstered with stripes, or Memphis Design furniture with stripes lacquered finishing.
Mix & Match Materials
When decorating with Memphis Design furniture, look for a luxurious interior with a simple mix and match of materials. Many natural materials reveal a unique texture that has the same compelling effect as Memphis Design furniture. For instance, the natural patterns of marble, travertine, and wood, when combined, give a unique vibrancy to the room.
Curve Appeal
Memphis Design furniture is a reinterpretation of the symmetry and verticality of art deco furniture. However, modern interpretations of this iconic design style introduce a curvy appeal. If you're looking for ideas on how to decor with Memphis Design furniture, pay attention to all bold ideas that introduce round shapes and bulky silhouettes. It will add warm and flow to the room.
Neutral Colors
Memphis Design style is all about vibrant colors. Ceramics, objects, textiles, and furniture are coated with electric tones – blue, orange, yellow, pink, green, you name it. For a sophisticated and refreshing Memphis Design style interior, use neutral colors. If you want to bring together a room with several items of Memphis Design furniture but don't want it to be maximalist, soothing tones are your best tool.
Now that you know how to decor with Memphis Design furniture, get inspired with 5 Memphis Milano Interiors Design Projects from top interior designers, including Patricia Urquiola and Charles Zana.