In the year 2022, Makoto Restaurant underwent a remarkable transformation, thanks to the inspired vision of the renowned interior designer, India Mahdavi.
Now on the third floor of Bal Harbour Shops in the picturesque Miami Beach, Makoto Restaurant stands tall as a beacon of Japanese culinary excellence. Led by the acclaimed Michelin-starred Chef Makoto Okuwa, whose expertise has been honed through his collaboration with the visionary Stephen Starr, founder of the esteemed STARR Restaurant Group, this dining establishment is a true testament to the artistry of gastronomy.
The creation of Makoto Restaurant by Chef Makoto Okuwa, Stephen Starr, and India Mahdavi is a triumph of cross-cultural understanding and culinary ingenuity. It is a haven where exquisite flavors dance on the tongue, a monument to the incredible creativity and generous nature that underlay every feature of this exceptional eating institution.
India Mahdavi's idea expertly blended the characteristics of an American diner, a Japanese restaurant, and a French brasserie. Every square inch of the renovated area radiates a magical atmosphere that beckons visitors into a realm where cultural barriers disappear, and cuisines from all over the world coexist.
Within the walls of Makoto Restaurant, patrons are enveloped in an atmosphere that transcends mere dining. It is a serene oasis where the symphony of flavors marries the refined techniques of Japanese cuisine with a touch of French finesse, all while paying homage to the familiar comforts of an American diner.
This extraordinary fusion creates an experience that is both sophisticated and approachable, indulging the senses and stirring the soul.
As you ascend to the third floor of Bal Harbour Shops, anticipation builds, and upon entering Makoto Restaurant, one is immediately captivated by the meticulous details and graceful aesthetics. India Mahdavi's design effortlessly merges elements from each culinary tradition, seamlessly blending vibrant colors, sleek lines, and exquisite textures.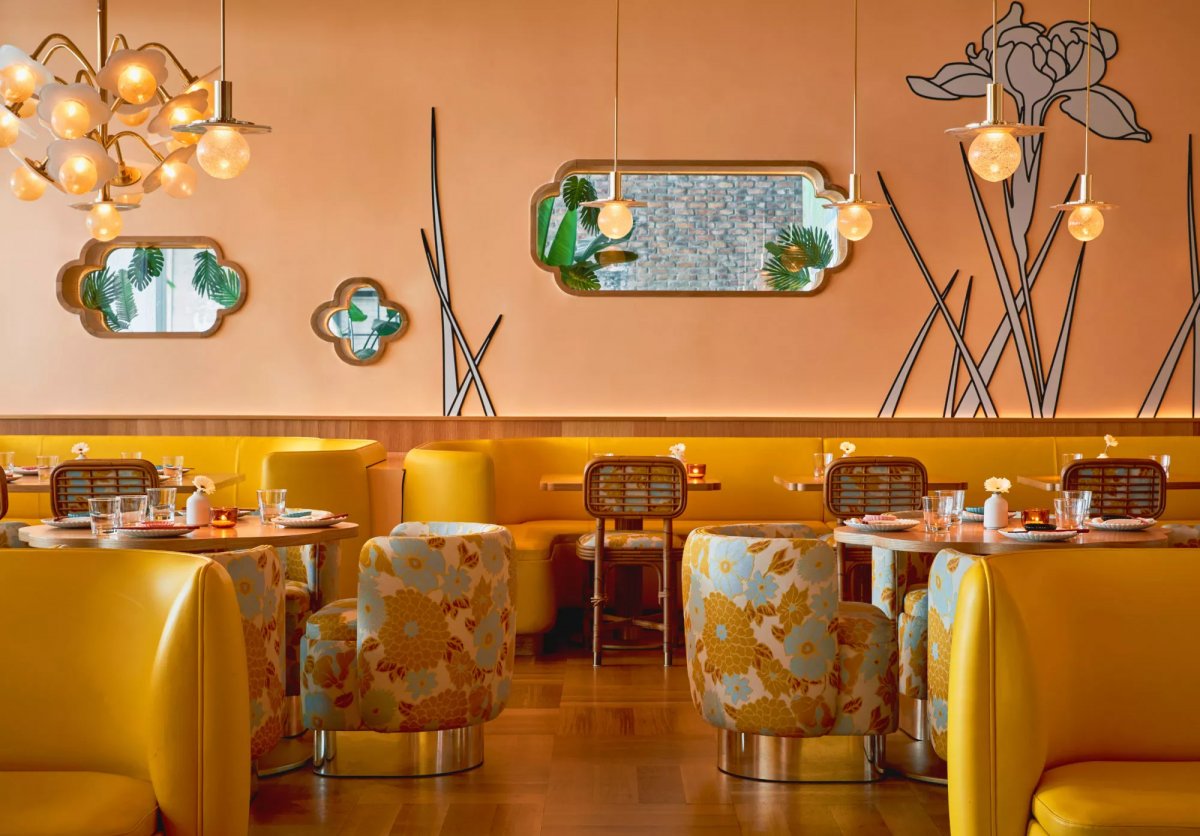 In this extraordinary project, the esteemed designer India India Mahdavi, known for her exquisite taste and meticulous attention to detail, has woven her magic to create a bespoke version of her Limited Edition Clover Chandelier, a masterpiece crafted exclusively for WonderGlass. This unique lighting installation serves as the centerpiece of Makoto Restaurant's
Artistic touch is evident in every corner of the restaurant. The meticulously chosen color scheme, with its shades of coral pink, saffron, and sandalwood, evokes a sense of serenity and serendipity.
Makoto Restaurant's design pays homage to the elegance and allure of the 1930s, where vintage-inspired chairs beckon you to take a seat and immerse yourself in the enchanting surroundings. Lush green florals add a touch of natural beauty, infusing the space with vibrancy and a hint of whimsy.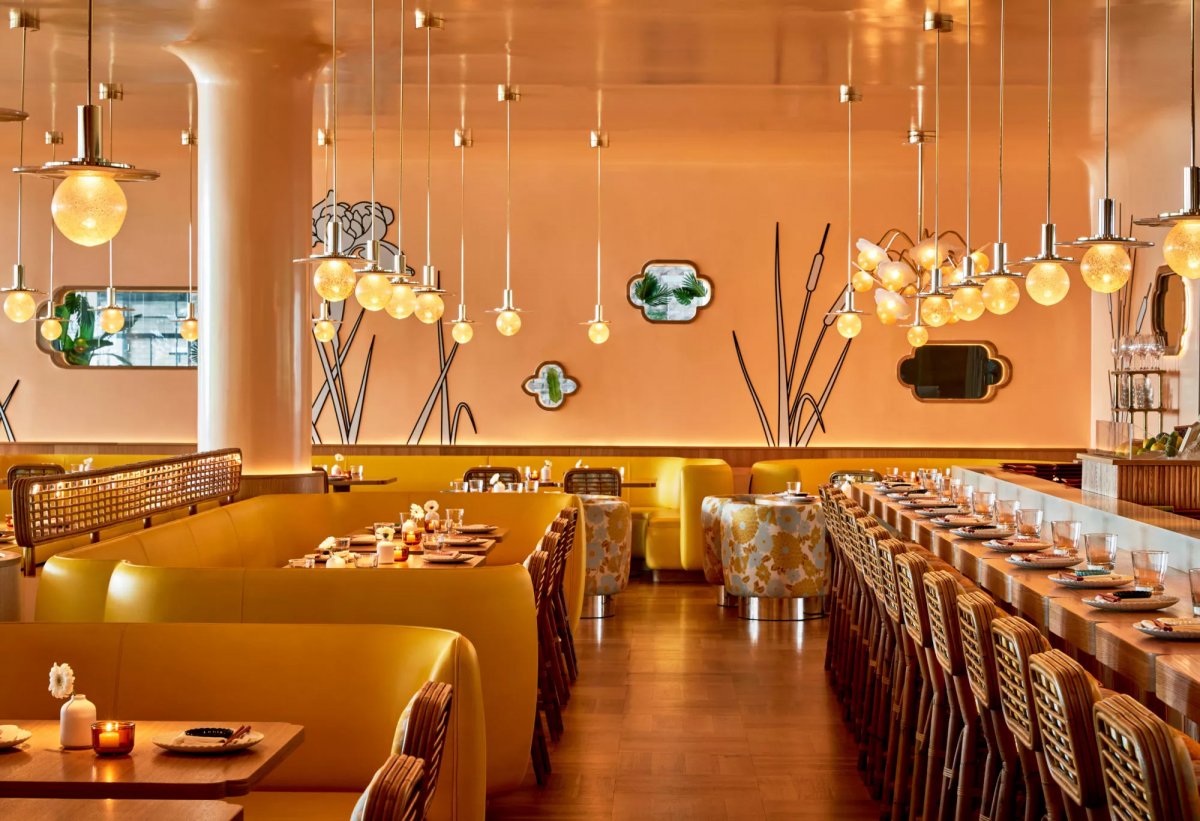 India Mahdavi's artistic vision effortlessly intertwines elements of the past with a contemporary flair, resulting in a space that is both timeless and captivating. Makoto Restaurant becomes a haven where the beauty of design and the pleasure of dining converge, allowing guests to embark on a sensory journey that transcends the boundaries of time and space.
India Mahdavi, with her extraordinary artistic sensibilities, has seamlessly translated these hues into an enchanting combination of amber and white, perfectly aligned with the Makoto Restaurant's unique atmosphere.
Collaborating with WonderGlass, India Mahdavi has created a series of Clover appliques that grace the tables of the Makoto Restaurant, casting a gentle and harmonious glow. The delicacy of pulegone glass, beautifully crafted into bespoke lighting fixtures, imbues the space with a sense of refined elegance.
These magnificent pieces, adorned with supersize floral motifs and palm trees, create an exotic oasis within the Makoto Restaurant, where vintage hints transport guests to a bygone era of charm and sophistication.
In a remarkable blending of cultures, the experience of gazing upon a sunset-kissed landscape harmoniously intertwines with the exquisite art of taste, all very well planned by the designer India Mahdavi.
Mahdavi's creative vision has brought forth a transformation that is awe-inspiring. The amber and white color scheme, alongside the bespoke lighting and captivating floral motifs, creates an immersive experience that transports guests to a world of refined beauty and enchantment.
It is a testament to India Mahdavi's ability to seamlessly blend cultural influences, crafting an atmosphere that captivates the senses and elevates the dining experience to new heights.
At Makoto Restaurant, the boundaries between art, design, and gastronomy dissolve. The amalgamation of captivating visuals and exceptional flavors creates a symphony of sensations that resonate with the soul. India Mahdavi's masterful touch has transformed the space into a haven of elegance and allure, where guests can savor both the visual feast and the culinary delights that await them.
We hope that this extraordinary project of Makoto Restaurant has sparked inspiration within you and that it serves as a catalyst to elevate your future endeavors. May the innovative India Mahdavi design and exceptional creativity of this project inspire and propel you to new heights in your own ventures. For further inspiration, please check out our interior projects.