Let's Dive into the Charming Artistic Apartment in Manhattan's Sky-High Tower and Explore a World of Elegance and Modernism in New York's heart.
Welcome to the world where elegance and mastery soar to astounding heights in the center of Manhattan's majestic skyline. We will take a fascinating tour of an outstanding, creative, artistic apartment designed by the architect Deborah Berke in a tall tower, where luxury and talent meet, and every corner has a tale to tell.
Elegance Unveiled: Mixing Luxury & Simplicity
Here we find a place with timeless elegance created in Manhattan's artistic apartment, located within a stunning 70-story skyscraper; this spacious 4,600-square-foot abode on Billionaires' Row is a testament to contemporary luxury living.
Starting with the living room had a subtle but significant transformation, with the dark wood pocket doors softly giving way to their light-beige suede rugs and the oak floors taking on a darker tint.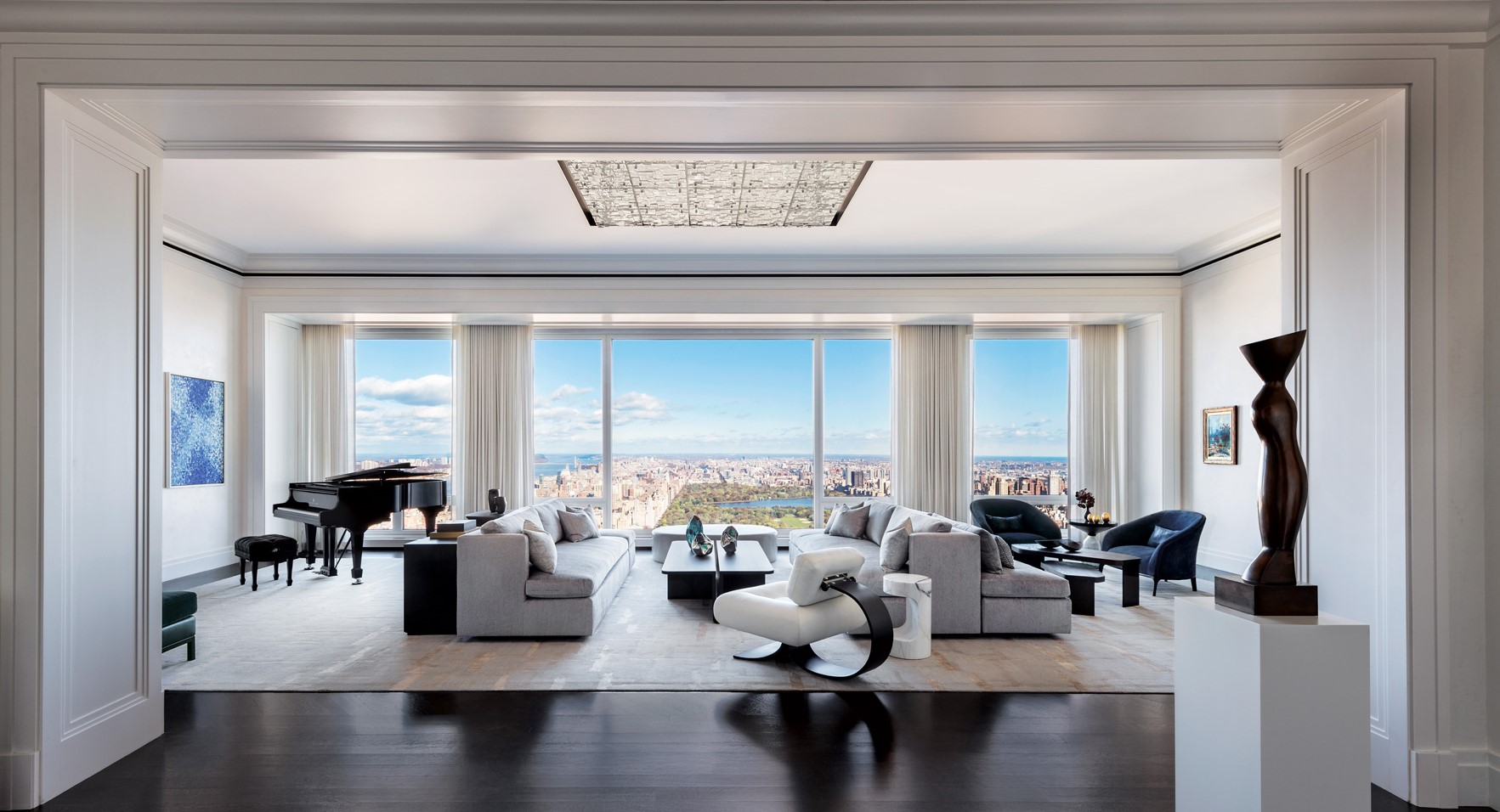 Little but substantial initiatives frequently bring about the most astonishing changes in interior design, and here we find an exemplification of the concept of carefully combining design elements with luxurious and simple touches.
Entryway Artisty: An Insight into Creativity
The entrance to this artistic apartment sets the mood for this aesthetic trip by providing a Zen-like atmosphere with concrete furnishings that are beautifully paired with minimalist bronze sculptures and eye-catching, colorful watercolor artwork.
Beneath these artistic expressions, two concrete benches with minimalist designs offer functionality and aesthetic balance. This entryway, bathed in the soft glow of natural light, is the perfect expression for simplicity.
Sublime Sophistication: A Quiet Elegance in Design
Moving into the living area, which has huge glass windows with views of the park, exposes the design's versatility. Various seating layouts make the area suitable for quiet conversations and active groups.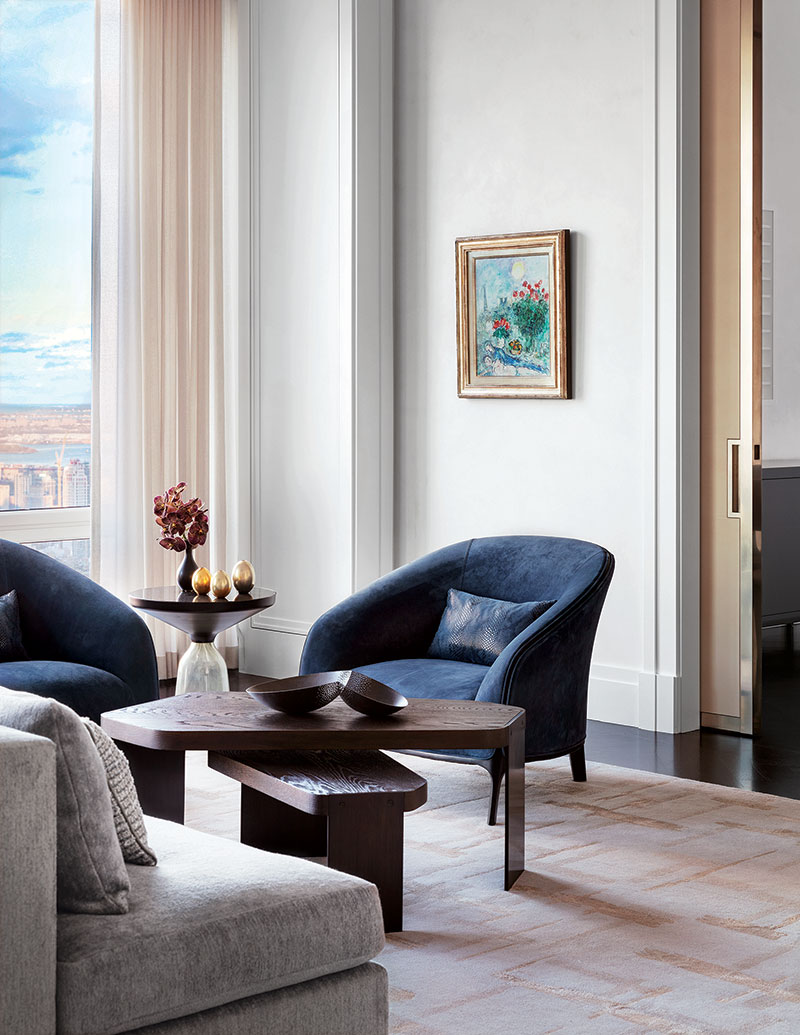 A set of cleverly soft palette sofas are positioned alongside a sculptural chair. Also called are two azure leather seats, ideal for enjoying beverages as the sun sets.
Every element in this artistic apartment exudes elegance, showing evidence of subtlety's effectiveness.
Office Ambiance: New York's Stunning View
An eye-catching and engaging painting takes the center position in the apartment's workplace, energizing the area with vitality and creativity. TenBerke's design talent emerges in this beautiful fusion of aesthetics and utility. The nude beige sofa offers comfort and flair, creating a welcoming space for working or unwinding.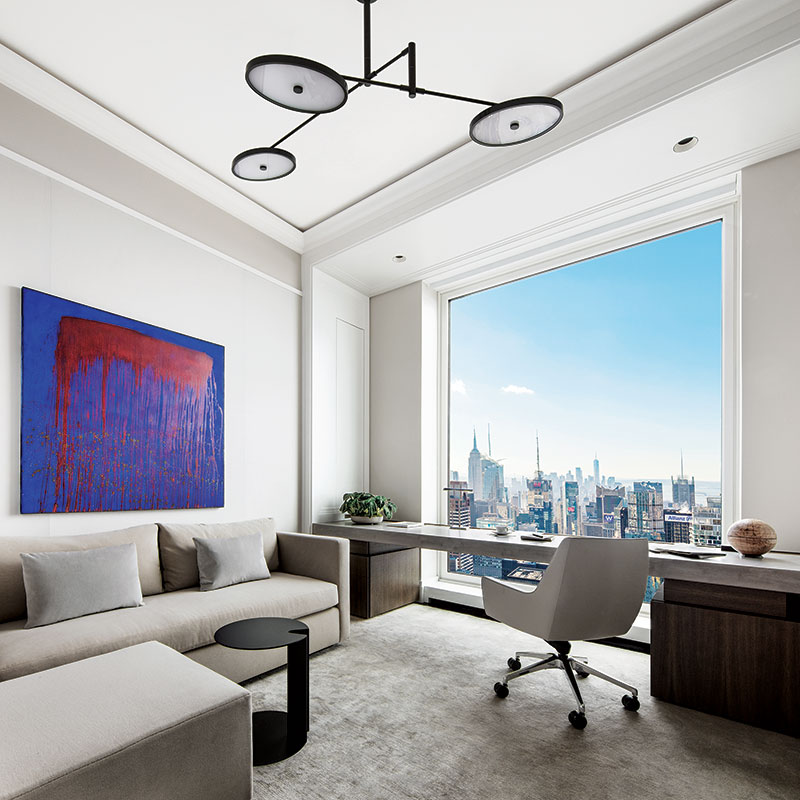 Another TenBerke creation, the window-facing work area, is a marvel of functionality and beauty. Combined with a comfy chair, it creates a workspace that encourages creativity and productivity. A warm and welcoming glow is cast from the light fixture above, offering a comfortable environment for focused work.
A side table completes the look by adding a dash of modern elegance and harmonizing the interior design components of the space.
Artistic Apartment's Tranquil Bedroom
This beautiful apartment's main suite is a refuge of peace and creativity. The bed in the middle of the nightstands, created by Deborah Berke, conveys a sense of serenity and sophistication and offers a peaceful haven for rest. Clean gray bedding provides both comfort and classic elegance.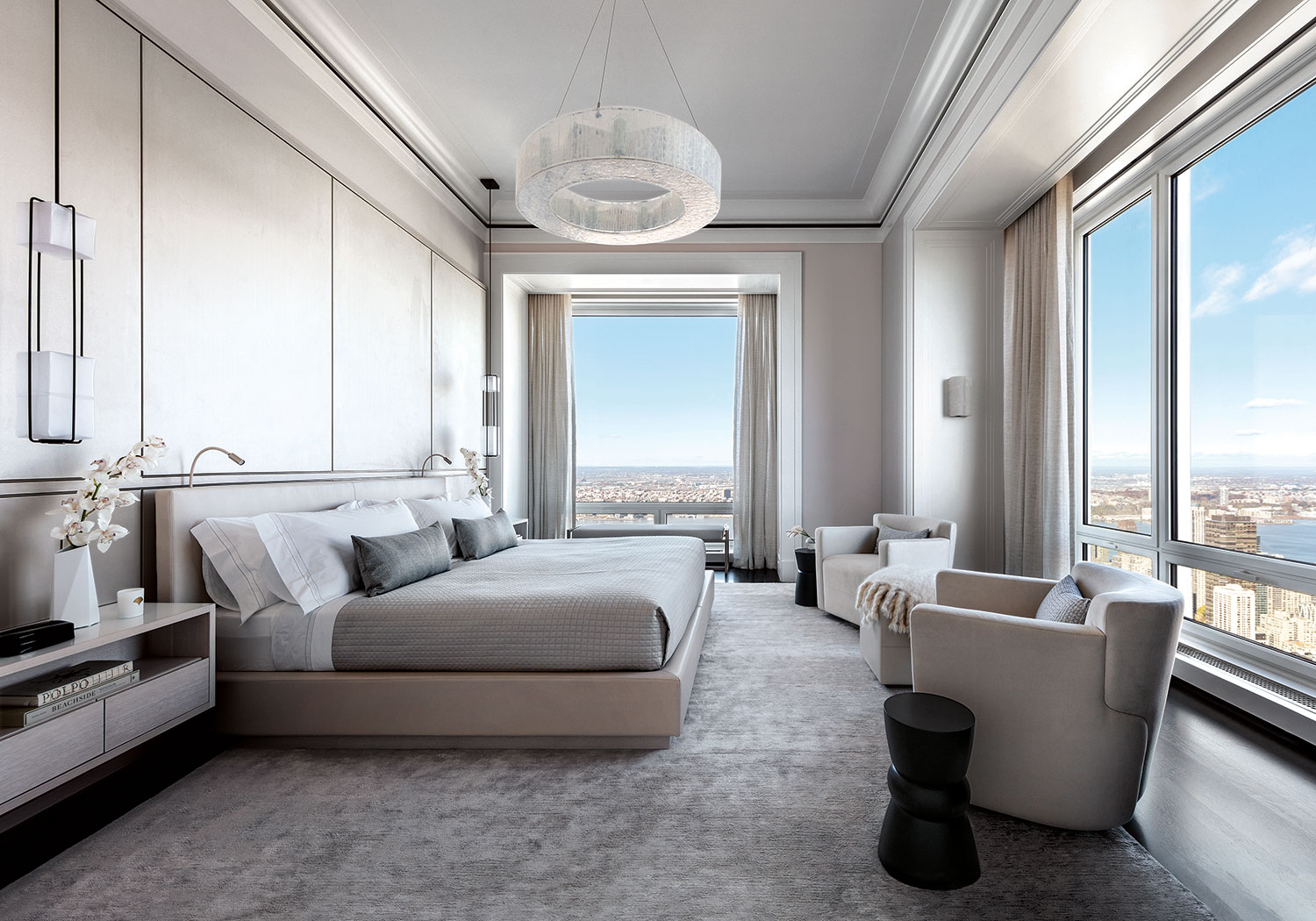 The round light fixture, a statement item that gives the space a contemporary flair, puts art center stage. The two chairs provide cozy seating alternatives, ideal for relaxing or reading a good book. The side tables offer functionality while maintaining elegance.
An area rug adds coziness and aesthetic appeal to the layout by bringing the space together in an artistic apartment like this.
Where Living Becomes a Timeless Work of Art
Every space is a piece of art in and of itself, carefully designed to evoke refinement, originality, and modest elegance in the heart of this Manhattan artistic apartment, where we have discovered a symphony of art and design unfolding.
This house proves that life can become an artwork in which every little element, every artistic stroke, elevates the ordinary to the extraordinary, from the captivating entryway to the peaceful bedroom.
We are left with a persistent sense of timeless sophistication and inspiration, demonstrating the transformational power of artistry and skill. Here, we discover that living artfully is more than just a goal.
In this exploration of art, we've delved into the beauty of luxury and decor, unveiling a world of creative possibilities. Now, you have to create your path to craft artistic spaces where each room will be a unique expression, and we invite you to explore our Furniture and Lighting Catalog for more inspiration.