These 14 home library design ideas with luxury bookcases will inspire you to create a modern home library anywhere around the house. Surely it depends on your collection of books and available space but mostly on your creativity.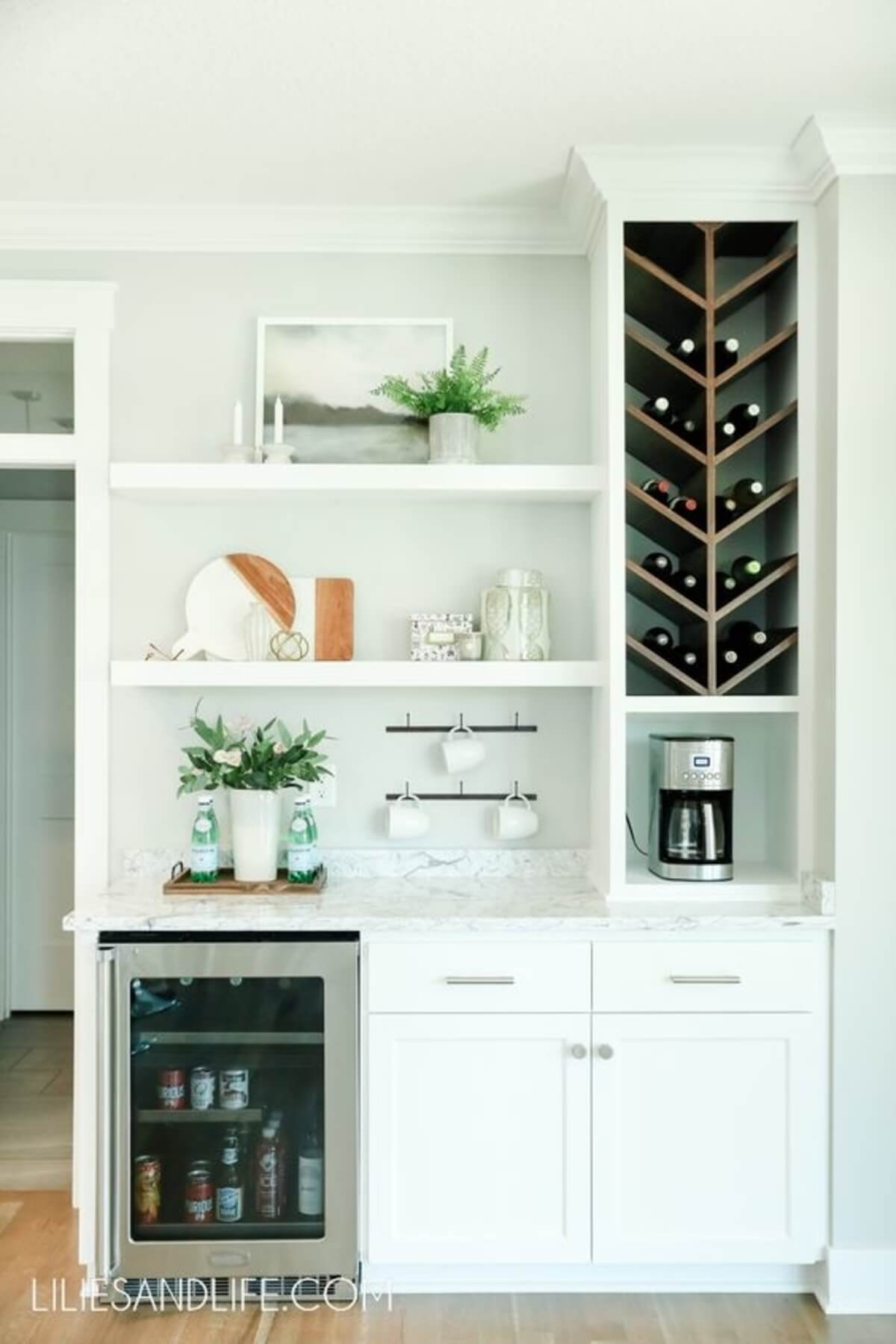 Have you ever thought about a built-in arched bookcase or an all-red home library? What about a home library that duals as a dining room? Or a home library on your entryway or hallway? You won't have any excuse to keep hiding your books.

1. SMALL HOME LIBRARY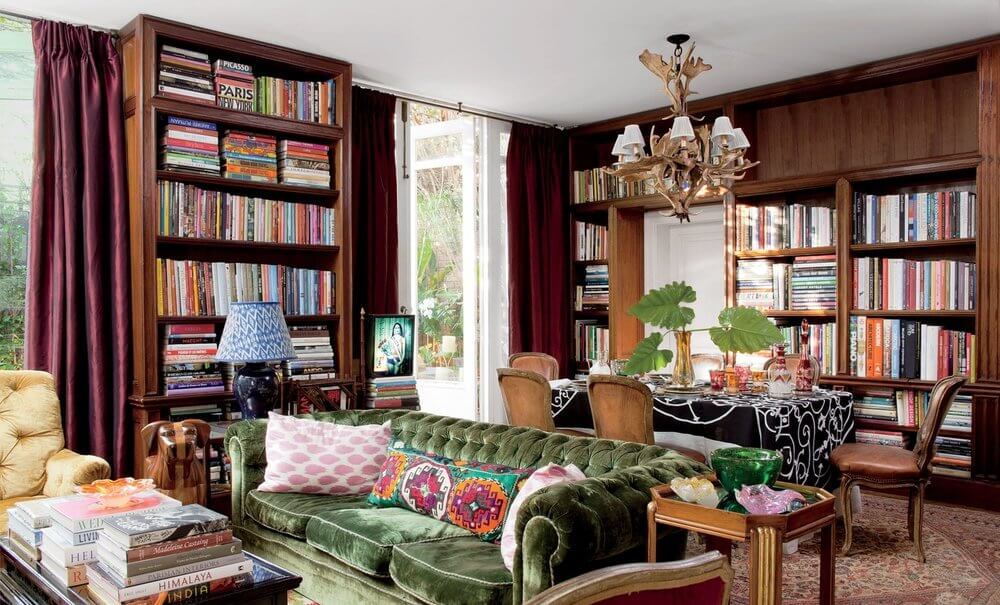 There is always room for a home library. Brazilian interior designer Sig Bergamin proves it. In his own maximalist eclectic home in São Paulo, Brazil, Sig Bergamin creates a small home library around the dining room and living room. Wood bookcases cover the walls of these merged social areas.
MINI GUFFY Bookcase by Hommés Studio
2. CLASSIC HOME LIBRARY DESIGN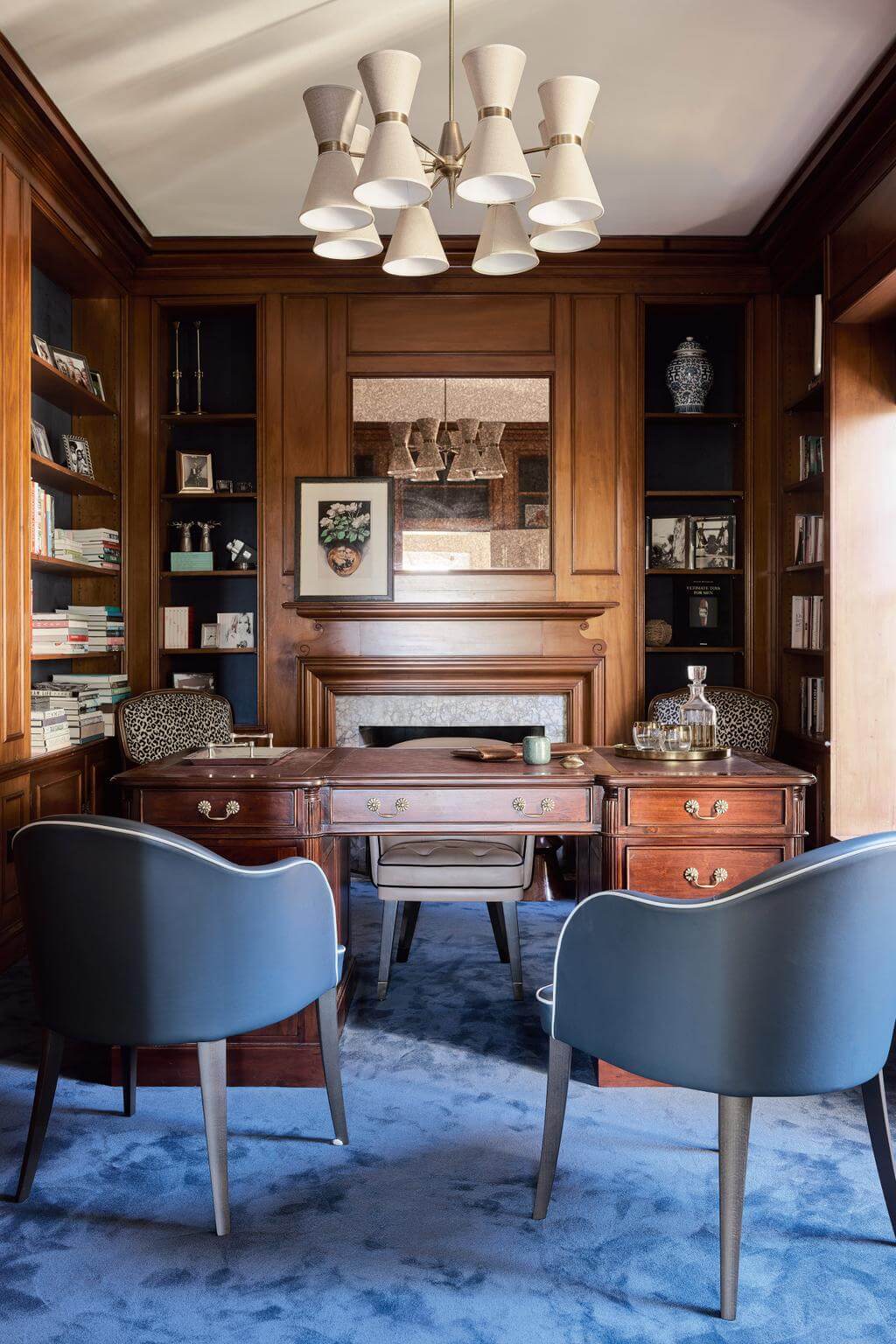 The top Australian interior designer Blainey North styles a classic home library design and home office in a modern Mediterranean home. Allala, the name of the Georgian-Revival-style property in Sydney, has a classic home library with wood bookcases, panels, and desk. Additionally, Blainey North places upholstered armchairs and a classic blue rug.
DISCOVER THE FULL PROJECT HERE
3. MONOCHROMATIC HOME LIBRARY DESIGN
For a New York City estate, Bruce Bierman designs a monochromatic home library. The bold home library has red sofas and armchairs and a large red rug. Desks and bookshelves are also red but in a glossy shade. In this home library designed by Bruce Bierman, the books' showcasing breaks the monochromatic aesthetic and is the all-red room's focal point.
4. BUILT-IN ARCHED BOOKCASE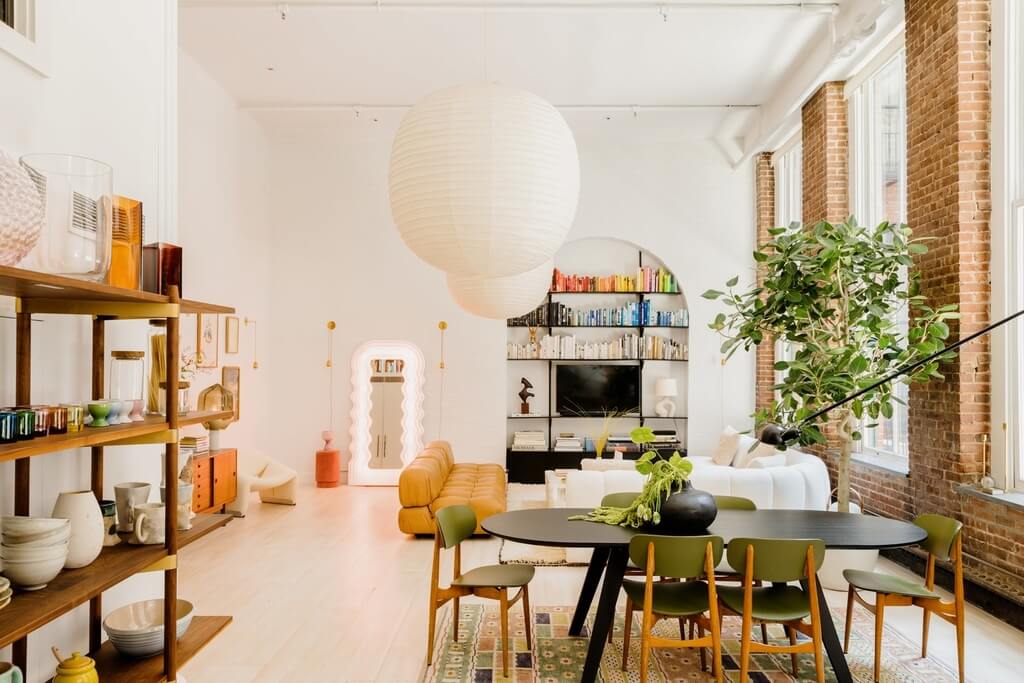 In Elsa Hosk's former home, the Instagram-loved loft in Soho, the supermodel had a built-in arched bookcase in the living area of the open-space apartment. Elsa Hosk organized the books by colors and decorated the arched bookcase with vintage home accessories. Similarly, the VS angel chooses a wood bookcase to display the kitchenware in the dining area.
SEE ELSA HOSK'S HOME DECOR AS WELL
OLAFUR Bookcase by Hommés Studio
5. DINING ROOM LIBRARY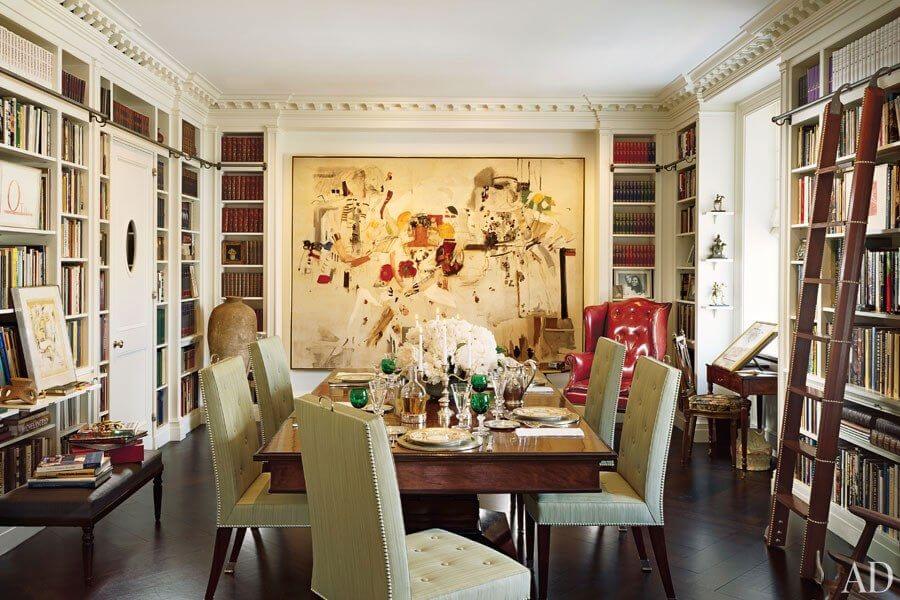 For food-lovers and reading-lovers, a dining room library is like a passionate novel. Interior designer Mica Ertegün creates a dining room that duals as a home library. The special home library design is part of best-selling author and historian Barbara Goldsmith's Park Avenue apartment.
6. PARALLEL BOOKCASES
In Alicante, Blanca Fabré and Alejandro Fauquié designed an authentical Mediterranean home. In the living room, the interior designer duo created a discreet home library with two modern bookcases. The parallel bookcases placed at the end of the room create a sense of depth.
7. ART-FILLED HOME LIBRARY DESIGN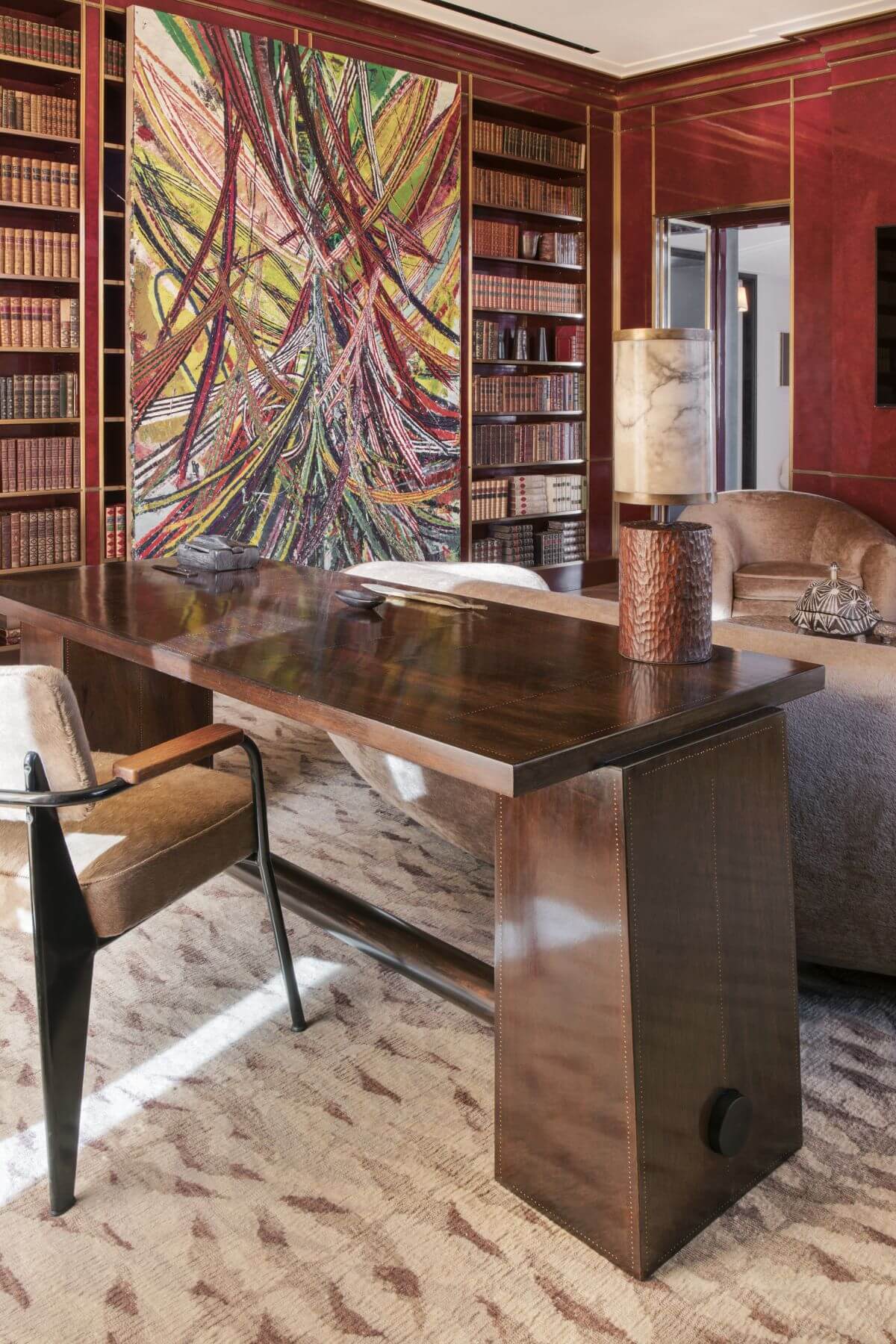 Julie Hillman is known for her unique modern eclectic interior design style. And for her art-filled interiors as well. Julie Hillman imagines a home library design where the bookcases work as a canvas for a large contemporary art piece.
44 OFFICE Desk by Hommés Studio
8. WALL-COVERING BOOKSHELVES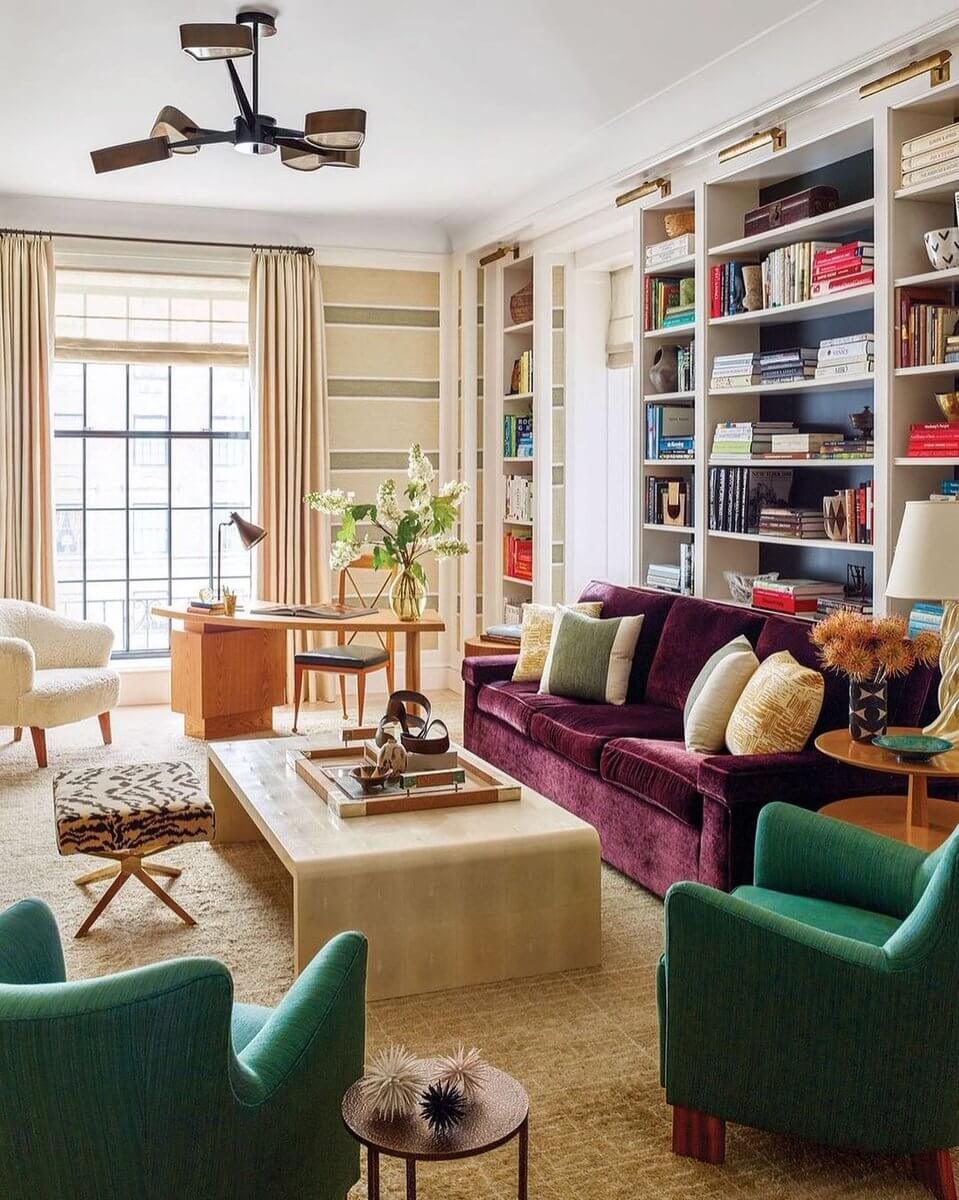 Top interior designer Peter Pennoyer covers the walls of a family room in a historical Park Avenue apartment. The white modern bookcases go from floor to ceiling and contrast with the colorful upholstery of the room.
STEP INSIDE PETER PENNOYER'S PARK AVENUE APARTMENT
9. NOOK HOME LIBRARY DESIGN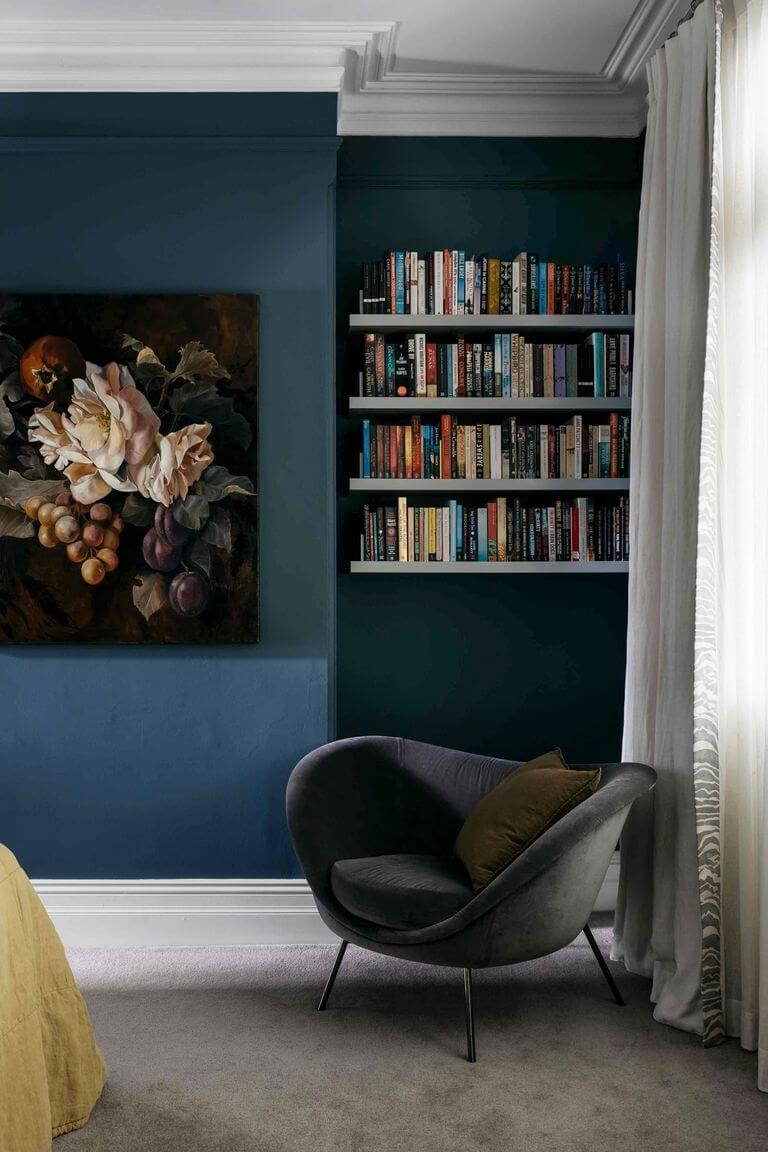 Arent & Pyke, the Australian interior design studio, pull off a home library from an architectural nook. Arent & Pyke placed floating shelves in a dead corner. A custom-made bookcase would also highlight the room and make the best use out of the empty nook.
10. MAXIMALIST HOME LIBRARY DESIGN
Design a maximalist home library that mixes styles, colors, and patterns and displays books in a fun and bold way.
11. MEMPHIS DESIGN BOOKCASE
Honor your favorite books and writers. Instead of displaying your books on an ordinary bookcase, choose one that will make your books stand out in the crowd. A Memphis Design bookcase is a good option to make a dramatic yet playful statement.
GUFFY Bookcase by Hommés Stufio
12. MINIMAL HOME LIBRARY DESIGN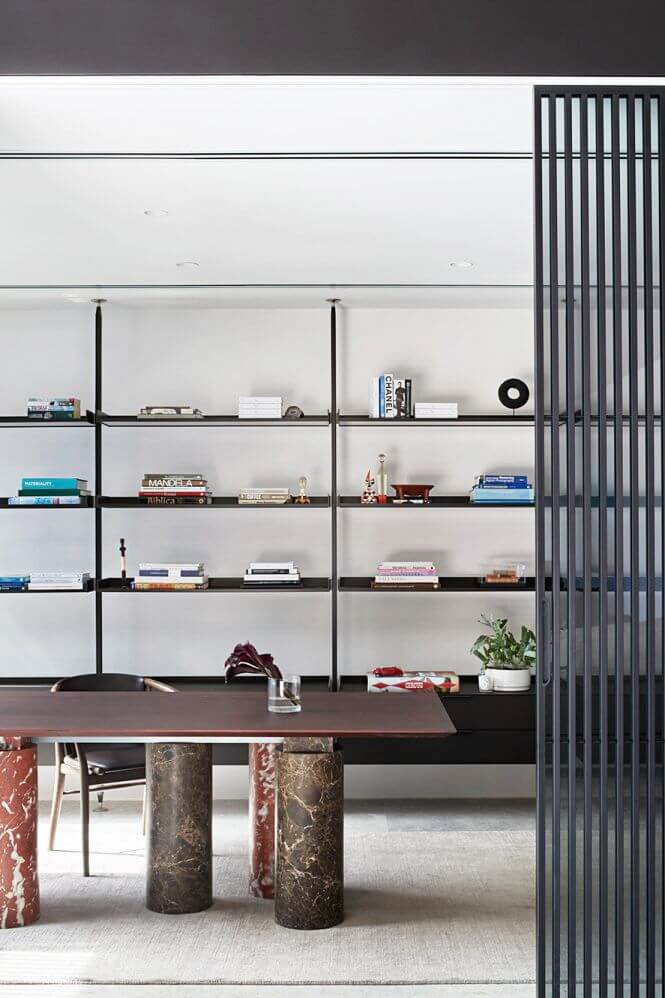 For some people, less is more. One of the top Australian interior design studios, Hecker Guthrie, proposes a minimal home library design. And that is more than fine. Hecker Guthrie's home library has sober hues, an imposing geometrical table in marble and wood, and minimalist bookcases with a clean aesthetic.
13. MOORISH-STYLE HOME LIBRARY
In the eclectic home of Ellen Niven in Long Island, her home library has a Moorish flair. Even though the interior design has French inspiration, the coffee tables and the eclectic cushion enhance Arabic culture in colors, shapes, and patterns.
14. COASTAL HOME LIBRARY DESIGN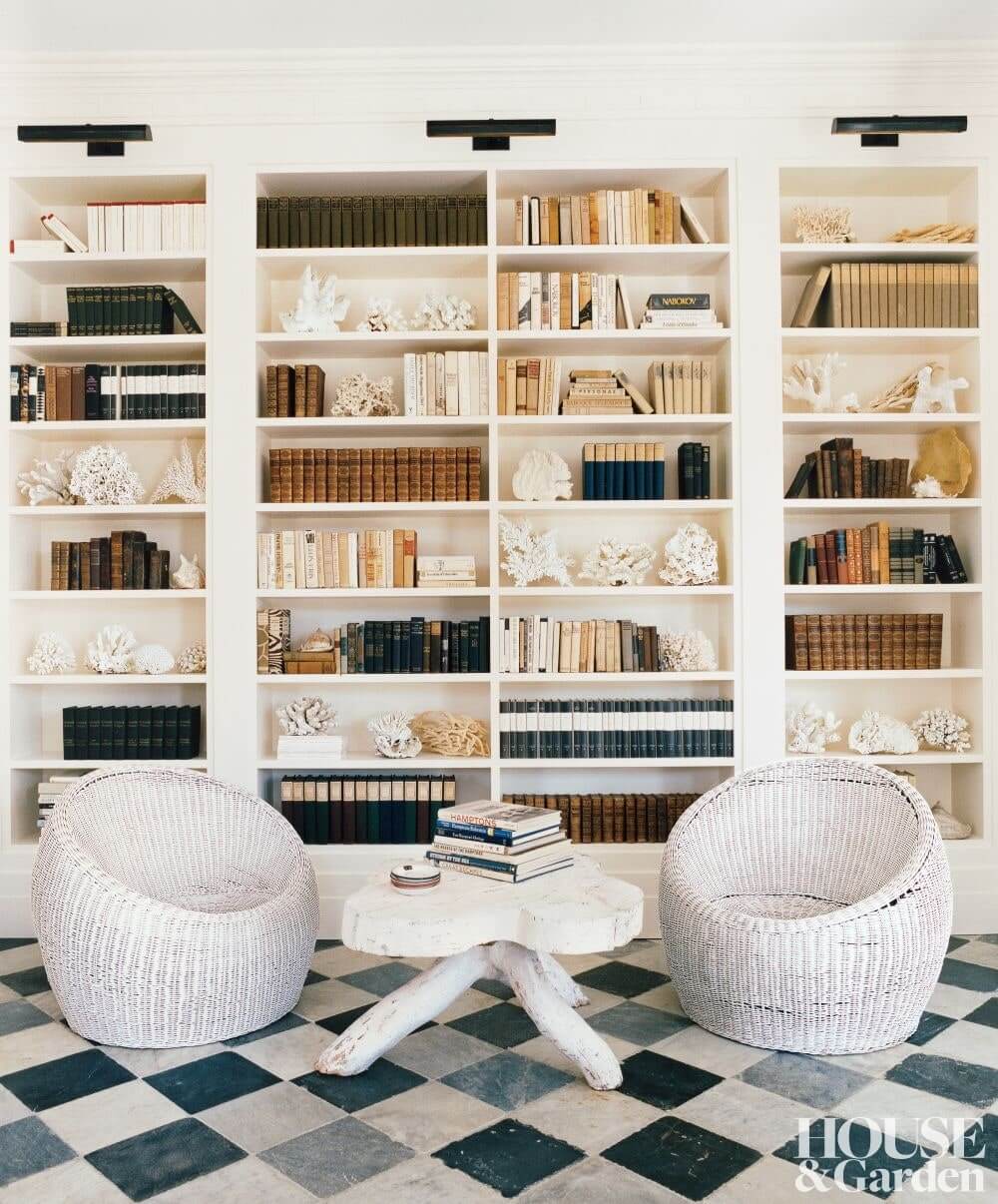 A home library with coastal flair is warm and inviting. As a matter of fact, this bright and light-weighted home library aesthetic can be recreated in any interior design style. Combine white modern bookcases with rustic and outdoor furniture. Usually, coastal interior design style is linked to a white and blue (navy blue) color palette. However, the color palette may vary as well as the remain decorative home accessories. In addition, this clean aesthetic is perfect for placing a home library in an entryway or hallway.

Discover Hommés Studio bookcases and other luxury storage furniture to design the perfect home for your favorite books.
Source: House Beautiful