Make the first look of your home stylish and full of glam with these 11 modern bench ideas.
If you are looking for a way to make your home more stylish – you should pay special attention to your entryway. The entrance gives the first impression of your home style, and that's why this space is so important. This article will share 11 modern bench ideas to help you active a glamorous and functional look.
1. Make it versatile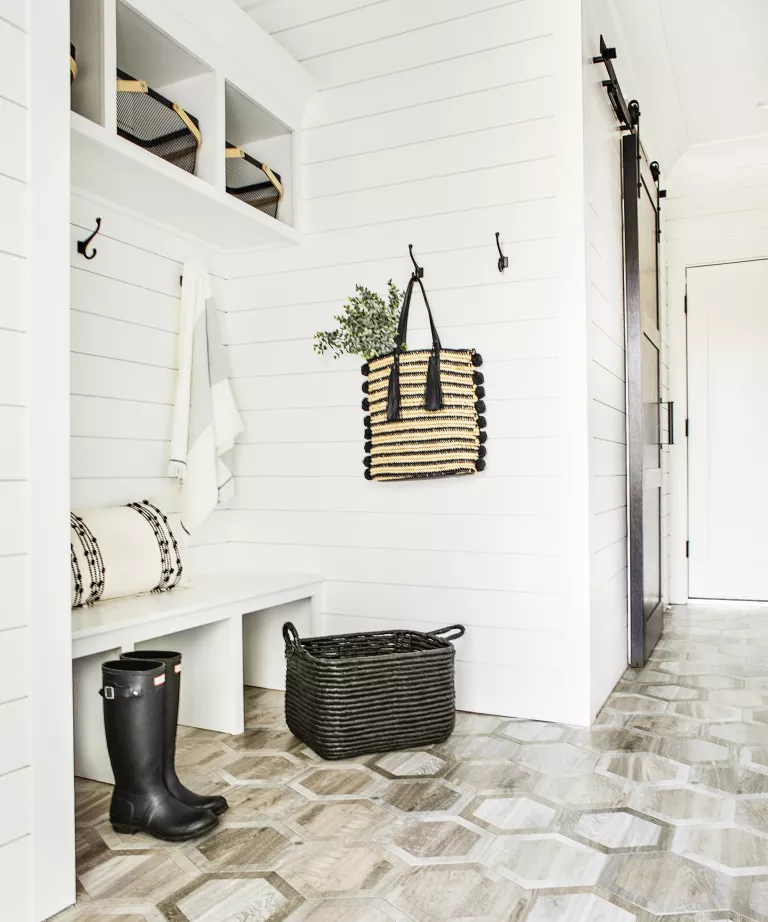 The best ideas for home decor come when we think outside the box. In this entrance hall, the interior designer, Marlaine Teich, creates a bench into the walls, enjoying the empty area and creating a versatile space. The white pallet color with black and the natural fiber details give the perfect amount of glam to roompace.
2. Think about storage
More than beautiful, your home interior design should be functional. The perfect modern bench idea for small spaces should be the one with storage, like this entryway designed by Ginny Macdonald, where she chose to built this oak bench with blue upholstery and with three drawers for storage. The contrast between the blue hue and the wood gives a harmonious vibe to the space completed by natural details.
3. Enforcing your home design in your entryway
The entryway is the first impression of your home – this space should embrace the style of your home and give a glance at what the whole interior is. Usually, the entranceway is not a big area, and that's why it's critical to pay special attention to the details to ensure a stylish and beautiful layout. In this project, designed by Helen Pett, the combination of the console table, mirror, and upholstered bench turn gives a charming welcoming and a first glance of the interior.
4. Color is always a good idea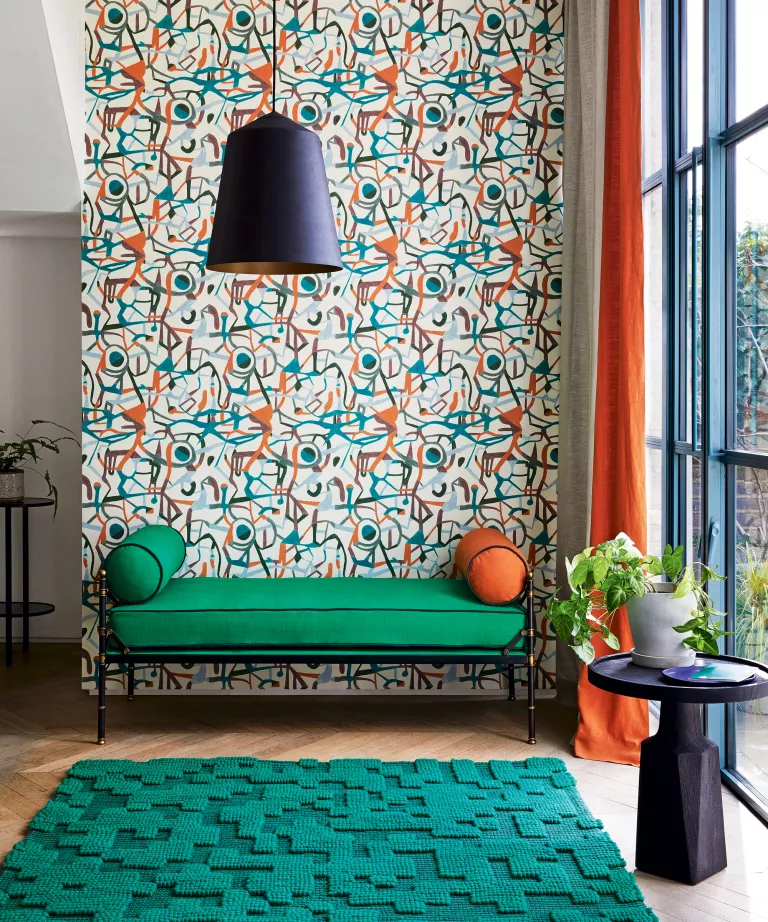 Don't be afraid to play with colors in your entryway for a bright welcoming. Colors can give the right amount of fierce and glowing, perfect for the first impression, and they can turn your entrance into a remarkable one. Like this stunning entrance, a colorful modern bench can match perfectly with a kaleidoscopic wallpaper.
SEE ALSO: HOLYWOOD HOME BY KRIS TURNBULL
5. Add a bench under the stairs
What about reinventing your stairs with a modern bench? Usually, the space under the stair is used as a storage space, which is perfect for that, but besides that, this space can be a good option for a comfortable bench. You can also incorporate some storage as the inspiration on the top.

6. Focus on high-quality materials for your bench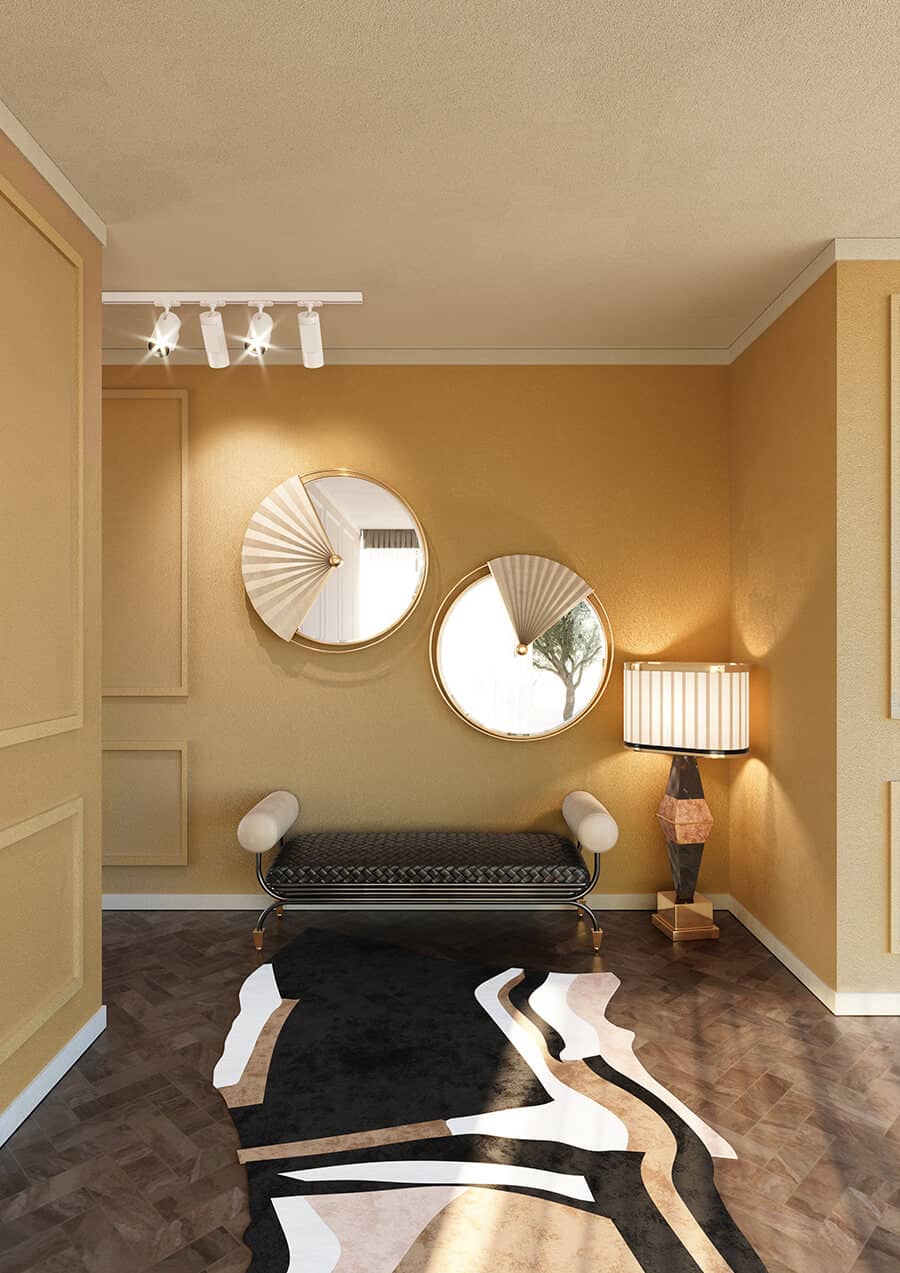 When decorating a home, the material used for the furniture is an important topic to pay attention to. For a modern and luxury entryway, choosing high-quality materials that add a glam vibe and have good durability is essential. A trendy leather bench can be a good option cause it can assure quality and is stylish for the room. Hommés Studio has modern benches that make any space look stunning, take a look:
7. Floating Bench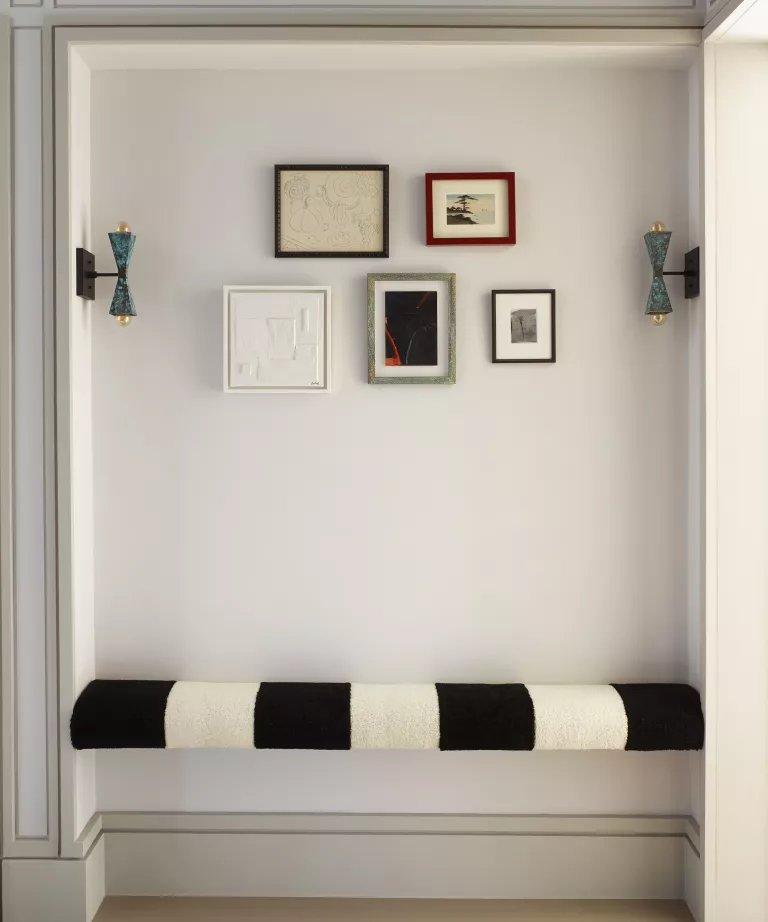 For a minimal layout, a modern floating bench can be the ideal choice. In this charming space, a suspense bench with a bold black and white pattern makes it look stunning and clean.
8. Circular bench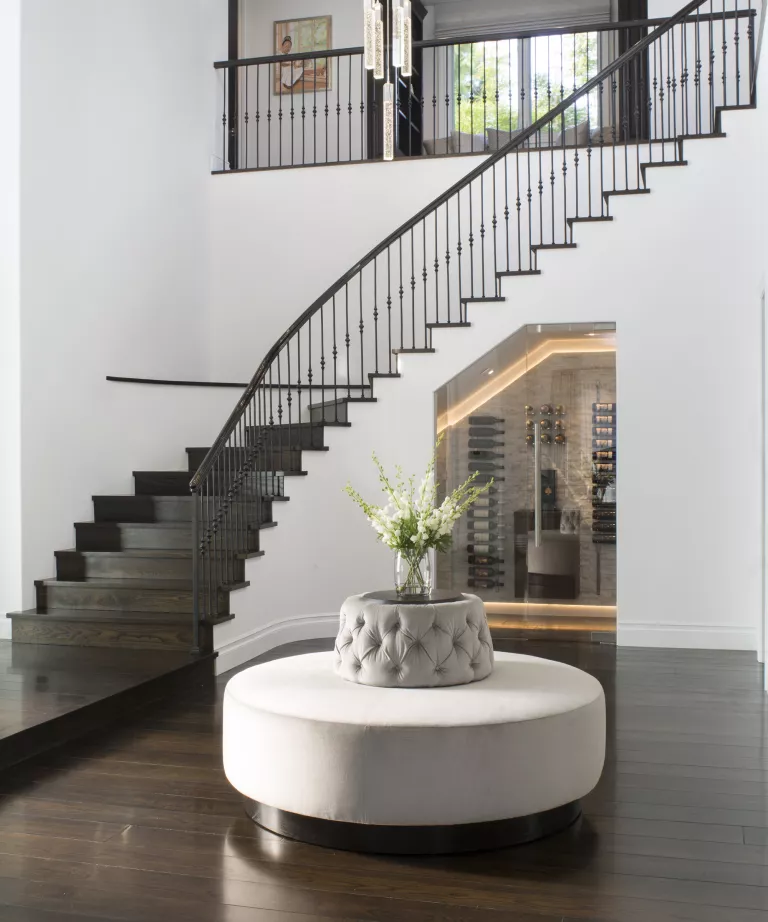 The best option for a big entryway should be a modern circular bench to fill the space. Another tip for those with a large home entrance is to place the bench in the center and increase the spot by adding a hanging chandelier. Remember, the entrance hall will give your guests the first impression of your home, so it's also essential to pay attention that this space is offering a tone about what is coming.
9. Combines the bench color with an artwork
For a contemporary look with a touch of the bohemian, consider matching your modern bench with artwork; it can increase any entryway into a stylish and stunning one. In this project by Hommés Studio, the hues from the pain reflect on the charming bench, adding a warm welcoming to the house.
10. GREEN TRENDY
Green is a vibrant color that can give a bright welcoming to any home entrance and is a trend in home decor. Besides being a bold option, this hue can be perfect for a naturalistic looking. In this entryway project, the modern bench with a green cushion is completed with natural fiber and a stylish grey wallpaper wall, a beautiful inspiration for a natural look.
11. Create a beautiful composition
In this entryway project, Kris Turnbull and his team worked on a beautiful composition for the entryway, the Moa Bench by Hommés Studio was chosen to complement the bold console table on the other side of the hall. This project shows that with a touch of imagination and good choices, even the smallest entryway can be full of glamour.
ARE YOU INTO INTERIOR DESIGN?

If that's the case, come and discover our modern furniture and lighting pieces designed by design lovers for design lovers. All you need to do is to download the Hommés Studio catalog. Choose the high-end homeware by ACH Collection to complete your interior design project with style.

Source: Home & Gardens