Oniric hallway design evokes dream products capable of elevating your design room by its beautiful selected colours, a harmony of forms, a love for shapes that follows functions.
Oniric vibes are a combination of different cultures, extending an eclectic and modern design style.
Check this hallway look by Hommés Studio decorated with extravagant and premium pieces.
HOMMÉS was born from a skilled merge of visionary identities, with distinctive perspectives of design, art, fashion, and cultures. Our brand's life motto is introducing an Haute Couture concept in the Interior Design industry.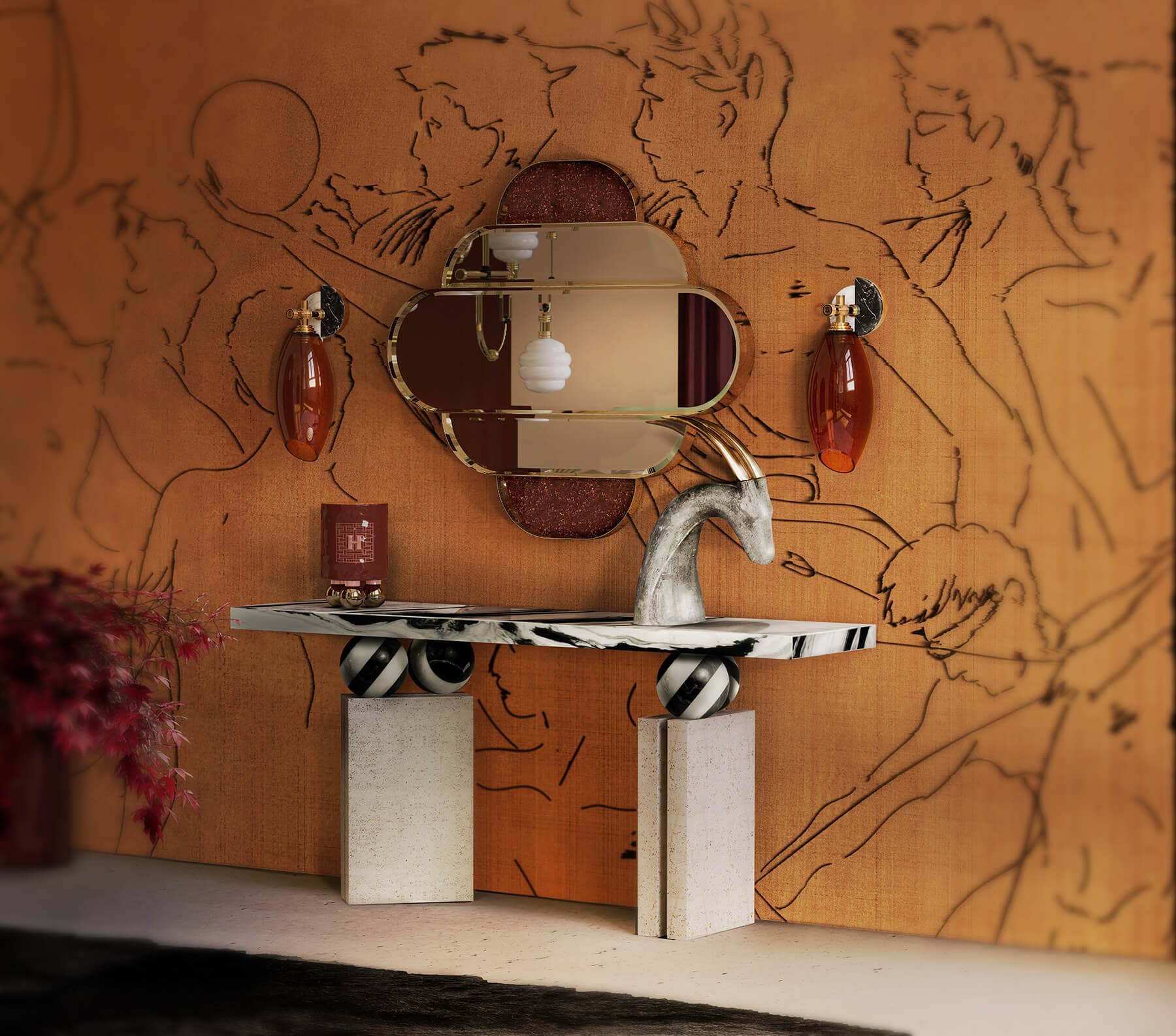 The furniture pieces used in the look above:
Quantic Console Table is an enigmatic piece. A futuristic console table that defies the laws of physics and impresses with its aesthetic balance. A marble furniture piece that suits perfectly a luxury entry hall project.
Materials: Top in Polished Panda Marble; Spheres in Polished Carrara and Negro Marquina Marble; Legs in Classic Travertine Stone and Details in Gold Polished Stainless Steel.
Width: 150 cm | 59,1 in – Depth: 42 cm | 16,5 in – Height: 95 cm | 37,4 in
Lush Wall Mirror is an Art Deco mirror, perfect for a luxury entrance hall design. It carries us to another dimension through its exuberant shapes.
The primary function of a mirror is to prolong identity by its reflection, whether our own or from the surrounding space.
Materials: Clear Mirror; Rims in Gold Polished Stainless Steel;
Polished Red Levanto Marble Top and Bottom Sections.
Width: 120 cm | 47,2 in – Depth: 8 cm | 3,1 in – Height: 108 cm | 42,5 in
Cocoon Wall Lamp was inspired by the shapes of Art Deco jewels. It was designed to bring elegance and character to any living area. A luxury wall lamp for a high-end interior design project.
Materials: Structure in Gold Polished Stainless Steel; Amber Colored Glass;
Polished Carrara Marble and Polished Negro Marquina Marble Details.
Width: 18 cm | 7,1 in – Depth: 22 cm | 8,7 in – Height: 52 cm | 20,5 in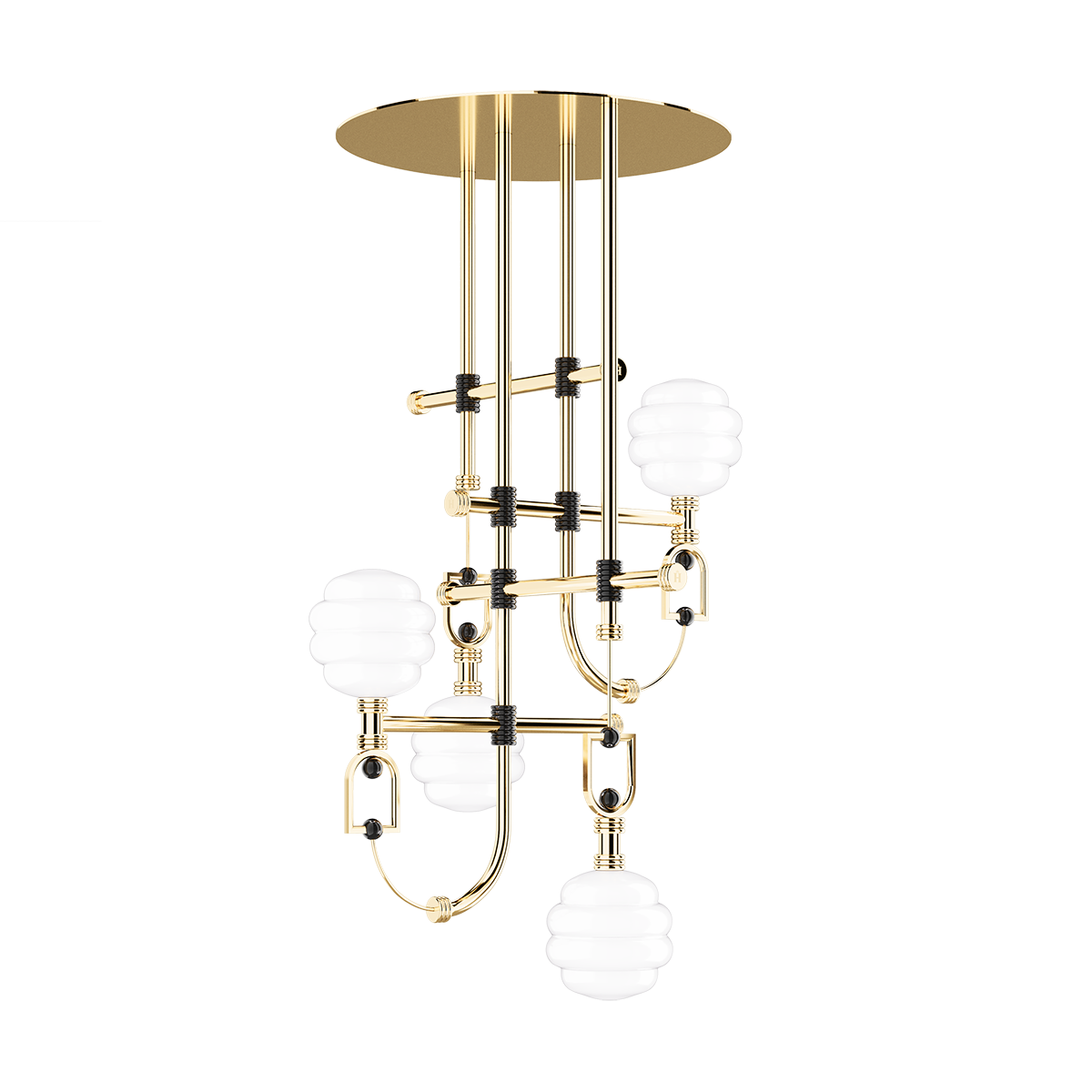 Luminous Suspension Lamp is a classic reinterpretation turned into a modern unique chandelier. This piece's design revives the timeless shapes of the 30s. An accent suspension lamp with bold and elegant forms for your next high-end interior design project.
Materials: Structure in Gold Polished Stainless Steel; Details in Black Stainless Steel; White Glass.
Width: 105 cm | 41,3 in – Depth: 105 cm | 41,3 in – Height: 175 cm | 68,9 in
Hommés Studio Suggests
ACHI candle releases a hypnotic perfume adding extra value to a space thanks to its eye-catching container design. The natural composition of scents promises to excite sensorial experiences through your Home.
ACH collection recommends you to continue the experience by using the container as a vase plant.
The ceramic item holds a high-decorative function that is inspired in a Bauhaus special edition, from ACH Collection by HOMMÉS Studio.
This luxury decor series of Bauhaus it combines traditional work with cut-off pieces in various size shapes for added texture and character.
Nagy bowl is more than a stylish homeware piece to serve food.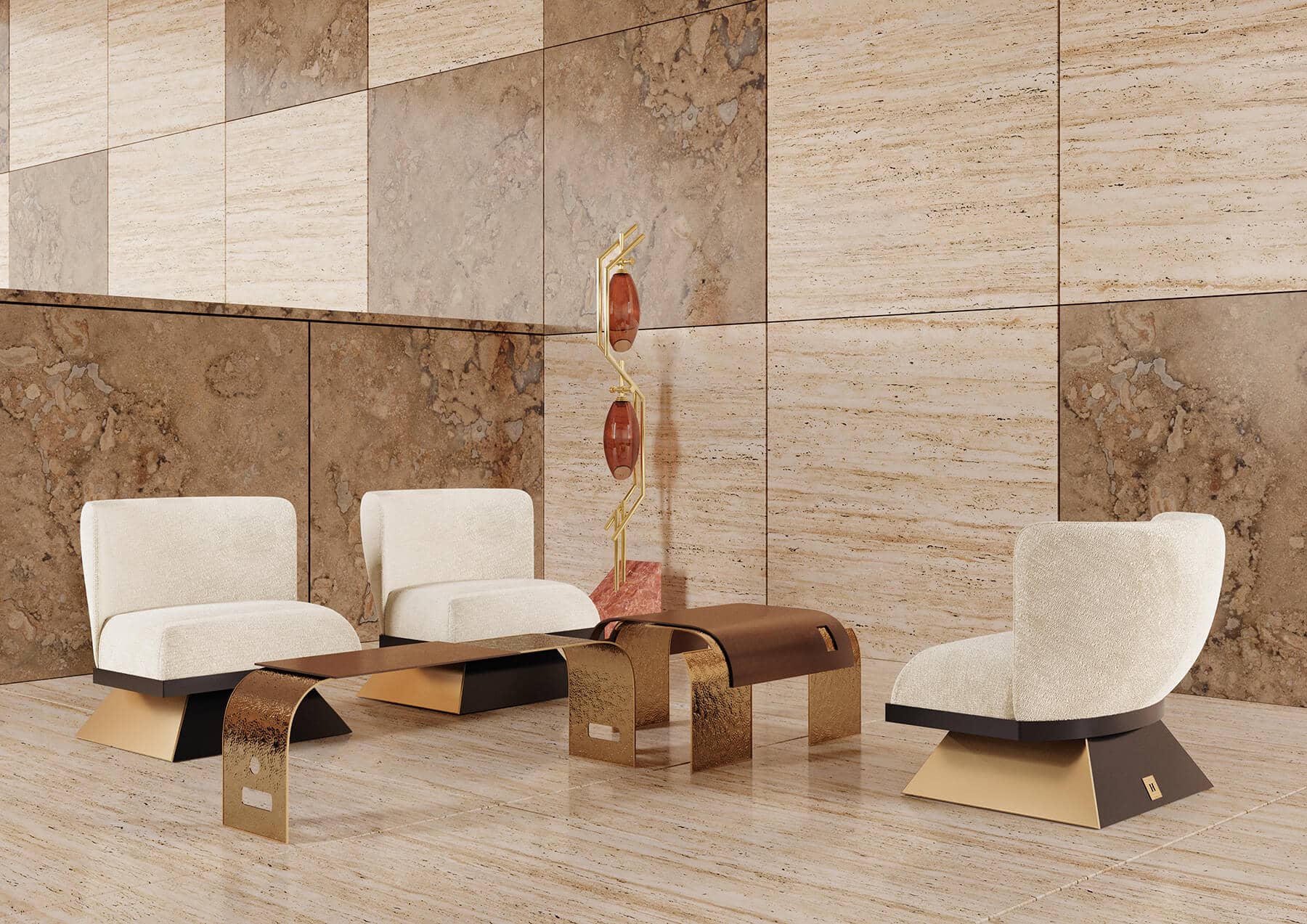 We hope you liked our article and the interior's suggestions. Feel free to pin all the images to your favourite Pinterest board or to print it and use it on your projects' mood boards. Meanwhile, you can also visit our Pinterest boards to get more inspirations.
Get more ideas for your projects and find functional, stylish, and sizable lighting and furniture choices: